The bathroom is indeed an extraordinary place in which we can find supreme relaxation, tranquility, serendipity. We can not simply afford clutter in our relaxation hub. The bathroom is the first room in which we enter in the morning and probably the last one in the evening. Further on we will present you 10 exceptional DIY bathroom storage projects that we've found highly efficient and stylish at the same time.
We are imagining that with three or four of the ideas materialized below you can declutter your bathroom and highly enhance its every day use.
Colorful DIY Bathroom Storage Projects
Refurbished Cans Carrying Colorful Towels
By far the most graphic idea in our small guide and one of the most useful as well. You can use 2-4-6 or even 8 metal cans to create a support for fresh colorful towels at you grasp in the bathroom. In this manner you can store a certain amount of towels in this graphic ensemble and leave the rest out of the bathroom to avoid clutter and enhance spatiality. Maintaining that six pack full will also help you in organizing them. You can personalize the cans in every color you want or need, starting from Darth Vader to pink roses as displayed above.
DIY Bathroom Storage Project- Interior Shelf on a Cabinet Door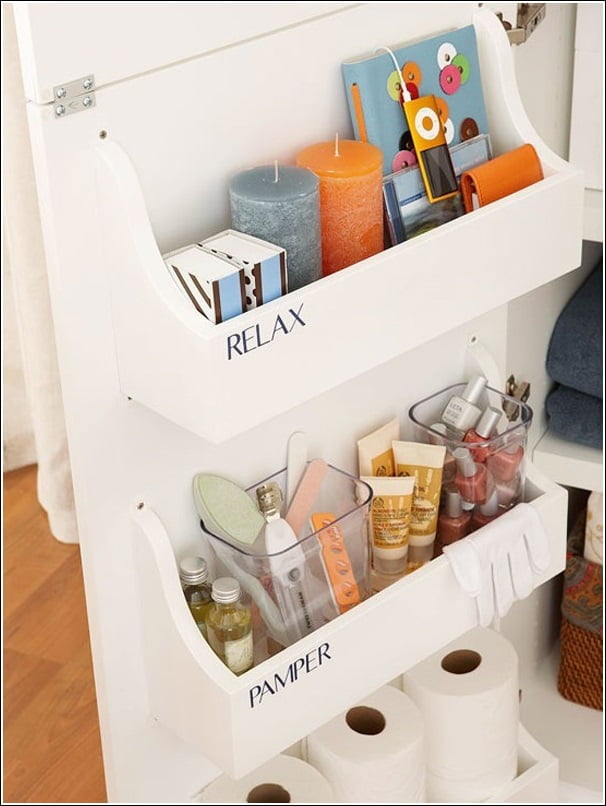 This simple shelving idea fits a very large selection of bathroom vanity cabinets, emphasizing the storage options magnificently. We've posted a similar guide on how to create a similar shelf in the kitchen cabinets that can be found here. Whether you store your cosmetics to have them at your grasp by the sink or towels, if the vanity cabinet offers you the space, realize it, it will enhance the organization as well.
Use The Space and Storage Potential of Your Bath Tub.Be Creative!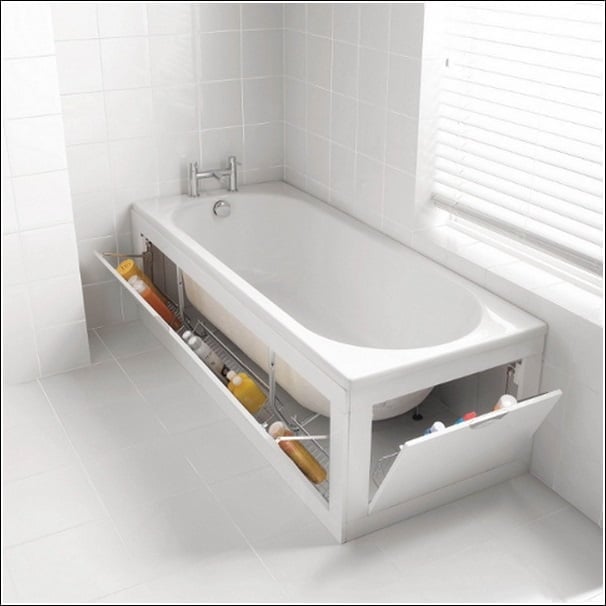 Most of us are using bathtubs ase the one showcased above, englobed in a rectangle usually wrapped in the same finishing with the walls or floors. If you have the nervs and time to start this DIY project we guarantee you that it will pay off. In our guide, this little trick creates the biggest storage and one of the best hidden ones as well. Besides the obvious trays carrying bottles and such you can deposit on the floor underneath as well if you really need too. With proper organization this trick can unclutter your entire bathroom.
Simple DIY Bathroom Project- Wall Cubbies
Classic, simple and highly graphic. While this DIY storage project isn't everybody's cup of tea it definitely gets the job done, it is graphic and easy to use. It allows you to get creative and really put some effort in the personalization process. You can close these cubbies with a glass door, with a MDF panel painted by hand with roses, Darth Vader or simply bubbles. You can also plant it in thousands of positions and ensembles to create whatever effect you want or need.
Exceptional Shelf Above The Door Enhancing Functionality
This DIY storage idea comes first in very tiny bathrooms. It can look simple, sharp and clean, even cozy and warm as showcased above, perfectly integrating in the bathroom`s color palette.
Repurpose Graphic Storage Items Like Cookie Jars and Gift Boxes
Using gift boxes, the cookie jars that you do not use anymore or simply highly graphic cans that you can create or find lying around in your home will save you a whole lot of time. In these you can store cosmetics that you do not use everyday yet which you use often enough clear your eyes with the beautiful cans. If they have a classic neat look similar to the ones above, showcase them in plane sight.
Simple Yet Effective Mason Jar Organizer
A very easy to realize simple mason jar organizer. This will keep everything at your grasp and in an ensemble that positions everything that you use in makeup or health care in one place, not wherever they fit at the moment. Make sure you keep them spotless, impeccable and you will enhance your everyday use magnificently with this project.
Rope and Wood Creative DIY Storage Organization Project For Your Bathroom
Highly used these days for the rustic neat apparel, the rope and wood shelf can be materialized in any height length or width you desire, this making him suitable for a multitude of space and organization ideas. You can also use wood textures that would fit your design line or simply paint the boards in a matching colors. Be carefull what you deposit on it if you do not pin it or stick it onto the wall for equilibrium, it might give you more hassle than help.
Magnetic Toothbrush Holder That Will Keep Your Sink Clutter Free
This is a highly useful especially if you have just 3-5 toothbrushes in your bathroom. It declutters space by getting rid of that annoying can sitting on the sink, taking space, or on the wall, never steady, always wet and unhygienic. This will also save you a few seconds in exploitation, vital seconds in the morning when you over slept or the alarm betrayed you.
Toilet Paper DIY Project Enhancing Storage Magnificently
Very important and highly graphic projects that can easily be realized with an old wooden box or a basket to keep toilet paper and fresh towels at hand. This will declutter your space and give it an organized feel, allowing you to store the rest of the towels and toilet paper out of of the bathroom, in the storage, whilst always having enough at your grasp.
These DIY Bathroom storage projects have inspired us and we've personally applied a few successfully, creatively enhancing everyday use and aesthetic values alike. We would love to hear your opinion in the comment section below.
Related Articles
13 Best Paints for Bathroom Ceilings.
99 Super Cool Shower Curtains to Transform Your Bathroom  
111 World`s Best Bathroom Color Schemes For Your Home
13 Best Electric Towel Warmers