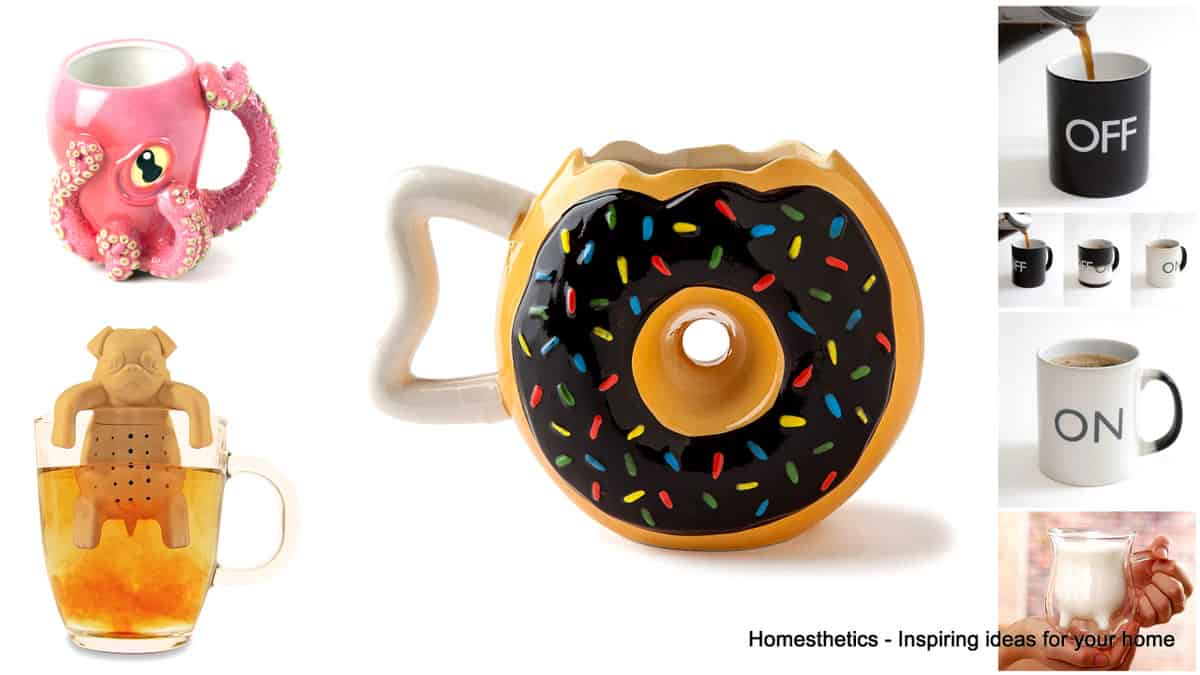 If you are a coffee fan and start the day with a warm cup of coffee, a cool coffee mug will be your  perfect companion. 
Not only for a regular coffee drinker, but it can also be a great gifting option for your friends and family. From the insulated mug that keeps your coffee warm for hours to meaningful tarot card mugs to collapsible mugs that fit your purse, there's something for everyone. 
Some people may prefer handmade mugs, while some may go for the high-tech ones. And some users like unbreakable mugs, while others are happy with something simple. So, considering the different preferences, we've rounded up the 85 best coffee mugs out there right now.
Without further ado, let's dig in!
Top 85 Cool Coffee Mugs
If you're a fan of cookie monsters and love having a cookie while consuming coffee, then this is probably the coolest coffee mug you can get. Keep your cookies right in this mug to munch on while drinking your favorite beverage. 
This funky, yet classy-looking coffee mug is for people who can't work at all without sipping into their coffee. It can hold 64 ounces of beverage, making it ideal for most people.  
Let's face the truth- many of us consume coffee to prompt our bowel movements. And this funny coffee cup helps you with just that!
Rubik's cube is bound to tickle your brain, whether you can do it or not. This unique-shaped mug can be the perfect gift for that intelligent friend, or you can just keep it for yourself.
All of you star wars fans out there, this item is a must have in your collectibles. The baby Yoda inscribed on the mug seems to speak with you when you sip that flavorful coffee. 
This unique-looking mug seems to have come from a high-budget action movie, where you need to rescue a high-profile interest. All you need is a big chunk of caffeine dose and an explosion in the background. 
If you love a coffee mug with a quirky or famous quote, this is the one for you. This stoneware-build option can be a perfect companion for your coffee breaks. 
If you take pride in drinking Irish coffee, this is the coolest mug for you. Plus, it can be a great gift for your family or friends who prefer a hint of alcohol in their coffee. 
For any game of thrones fan out there, this is a perfect coffee mug for you. It takes a spin on the classic pop culture reference, and caffeine, like winter, is coming. 
Despite missing out on any funny quotes or flashy colors, this mug doesn't fail to look amazing. And you can keep tasty treats inside it along with your coffee.  
This coffee mug helps you perform your daily regime by listing the most important things that need to be done. Being microwave and dishwasher safe, it's perfect for having coffee and getting things done. 
Pour your blazing hot coffee into the masks of the most villainous character of a well-renowned movie, Star Wars. This 18-oz capacity mug does a better job of quenching your coffee thirst than stormtroopers did of killing rebels.  
Shaped like a soccer puck, this oversized 14-oz mug can be used to score your perfect beverage with marshmallows or hot chocolate. Plus, engage yourself in the soccer vs football debacle while taking a sip. 
These key-shaped coffee mugs come in a set of three, viz., ctrl, alt, and delete, which we often use when our computer isn't responding. And these 11-oz mugs can be used to sip coffee whenever your brain isn't working. 
Once you finish the coffee, the phrase "you've been poisoned" pops out. Now, this might not be the funniest prank to pull off but it sure is an interesting piece. Besides, it's both dishwasher and microwave safe. 
This unique yet silly mug can be a perfect addition to your home and a gift piece sure to be enjoyed by that potty-mouth drinker. It's made of high-grade ceramic and is hand-painted to resemble a filled toilet bowl! 
When selecting the perfect coffee mug for all Marvel fans out there, the Hulk can never be left out. Now enjoy a strong coffee with The Hulk and power through the day!
If Brat Pitt from Once Upon A Time In Hollywood featuring in a mug is a perfect choice for all their fans. These images are of the best quality and won't fade off over time. 
If you're looking for unique coffee mugs, then this one is definitely for you. It doesn't just deliver hot coffee, but you can also interact with it. This amazing mug comes with an erasable pencil, and you get a new crossword update every month.  
These personalized mugs are ideal for your husband, irrespective of the occasion. A dye-sublimation method is used for painting, hence the design doesn't peel, fade or crack. 
Specially designed for kids, they can consume their favorite hot cocoa or marshmallow from this basketball-shaped mug with a hoop. Other than that, they can score goals, throw strikes, and slam dunk soup crackers or cereals.  
A simple yet high-quality mug with an 11-oz. capacity makes it a perfect birthday gift. Apart from its no-fade or scratch paint, it's dishwasher and microwave safe. 
Ergonomic design of these coffee mugs makes them easy to hold. Plus, they are made out of wood, and their unique shape brings more aesthetics to your morning routine. 
This is yet another product for all you Marvel fans out there. With a 20-oz. capacity, it fulfills your coffee thirsts, plus its unique design and shape turn it into a conversation piece. 
You can inscribe "keep calm and carry on" or other similar quotes on this coffee mug and gift it to your co-workers or friends. The premium glossy mug is sure to delight them. 
This unique ninja-shaped mug accompanies a ninja knife spoon and a dart coaster- how cool is that? Additionally, its cup sleeve is heat insulated, so you won't burn your hands while holding the hot mug. 
Black cat mug is another uniquely designed and personalized coffee mug on our list. You can add any text, photo, and layout design of your choice- just make sure not to put it in a dishwasher.  
This is probably one of the unique pieces for baseball fans. Now catch cereal, marshmallows, crackers using the attached glove and throw them into the hot beverage of your choice. 
A stoneware-made coffee mug with a silicone lid is a travel-friendly choice for people who carve for coffee while traveling. Also, the handle keeps your coffee warm for longer. 
Do you love photography? Then this stainless steel vacuum thermos cup is a perfect companion for your business or leisure trips. 
If you're looking for a unique gift for your father, look no more. These cups are made of 100% traditional ceramic and printed on both sides to provide him with an aesthetic coffee drinking experience. 
Hold the mug in your hand, and smash like the Hulk! It looks like Hulk's fist and is perfect for any Marvel fan. So, pour coffee into it and drink like one. 
This cool handmade coffee mug brings wonder and magic to your breakfast table. Changing color right before you brings a sense of curiosity and fun to those around you. It comes in two different sizes and hence is a perfect way to enjoy your beverage. 
Give yourself the honor of being in a Star Trek Starfleet academy with this comic-book-designed coffee mug. Treating yourself with hot coffee in this mug will let you "live long and prosper". 
This classy, white coffee mug is a unique piece for your daily dose of coffee. Its black pixel heart in front turns red when hot coffee is poured in. 
If you're into crime or mafia lifestyle movies, this mug is a must-have. Its chrome finger grips and handle bring a gangster vibe to your breakfast table to prepare you to fight for the toughest mornings! 
Want to surprise your husband or wife on your anniversary or their birthday with a sweet gift? Then this personalized coffee mug will fit the bill. Not only will your loved ones appreciate the warm coffee, but also your love. 
Having these colorful 16-oz. coffee mugs, which come in a set of six, will brighten your lives every day. They are made of a sturdy material, you can keep them on the center table, and the guests won't stop praising it. 
Pokemon was probably among the most-loved shows in the 90s. And this mug is ideal for all who want to become pokemon trainers and hold a Pokeball in their hands. Being an officially licensed product, it's a perfect companion for your daily tea or coffee. 
A funky-designed mug with crisp colors is great for cold or hot beverages. It is microwave and dishwasher safe. 
If your hands are aching from the constant stirring of coffee, this mug will come in handy. Powered by AAA batteries, it quietly stirs your coffee while you prepare breakfast. 
Get this truly personalized and handmade clay mug for your friends and loved ones. This gigantic 20-oz. looks gorgeous and comes in several color gradients. 
One of the coolest mugs featuring the coolest character of Marvel is a must-have piece for its fans. Make your friends envious by pouring hot coffee into it, which turns a modest Deadpool logo into a huge image. 
Gifting your friends this creepy octopus cup on Halloween will give them the chills. These creatures stay hidden beneath your dark liquid, waiting for their next victim. 
Like our previous product, this one also has a creepy monster underneath, but this time it's T-rex. These mugs are handmade and can be hand washed, microwaved, and put in the dishwasher. 
This mug will surely find its place in Jacob Black's (wolf leader in Twilight) cupboard. The ceramic wolf sticks out slowly as you finish your drink. It's a great gift for your friends on any occasion. 
Every pirate knows that a path to an invaluable treasure is tough and marked with a skull. And morning coffee is indeed a treasure, right? Trust us- you'll be amazed to find a skull emerging from the bottom. 
To fight a tough battle through the day, you need a strong dose of coffee and confidence. A minimalistic Star Trooper-designed mug makes you feel like a Jedi so that you can blast through each target. 
This thumbs-up mug has a wider mouth and a taller body to make room for extra beverages and more art. Start your morning positively with a hot cup of coffee and a thumbs up. 
Coffee and books mug ideally sums up the Sunday evening of every bookworm. It boasts an original and neat design for you to enjoy a fresh cup of milk or hot chocolate. 
This professionally printed coffee mug is a perfect gift for your father. Everyone knows the classic "world's greatest father" mug, and this piece plays with the words "father" and "farter." Dad jokes don't get better than this, does it?
The Lego mug is the best bet to stimulate the creativity of teen girls and boys. Also, made of non-toxic BPA-free plastic makes it suitable for drinking beverages. 
If you also feel lazy in the morning and get annoyed by energetic people out there, show them this funny mug. Sublimation ink is used for the image, so it lasts longer. 
This uniquely-shaped star wars mug with a lid is designed to keep your coffee warm. Plus, when hot, BB8 reveals his control panel. 
The iconic Breaking Bad character, Heisenberg, can now be on your coffee mug. Plus, the manufacturer guarantees a permanent image through the heat pressing technique, plus its sturdy design makes it a memorable gift. 
Coffee is probably the first thing you have in the morning. This handmade and elegant black design mug stays complacent with it, and you can get on with your day by taking a sip of strong coffee. 
Now have your favorite creature inscribed on a coffee mug to keep it as a memorial. Made of white ceramic, this piece will help you celebrate your pet's life. 
If you want to acknowledge your mom's doings by gifting something unique, this is a perfect gift. Your mother will smile every time she takes a sip of coffee out of it. 
Every camper needs love to have an enamel camping mug with them. This unbreakable piece is easy to use on any cooker available and spells out adventure in every way. 
This unique mug perfectly represents most's morning mood and can be a perfect gift for lazy heads. Along with a sturdy mug, you're also giving your loved ones a reason to laugh at. 
The Yoda-themed mug is a perfect gift to a Star Wars fan on any occasion. They will remember you every time they sip coffee from this mug. 
Coming in a set of two 11oz eco-friendly mugs, these cats seem to kiss each other when placed together. It's the best romantic gift for your boyfriend or girlfriend on any special occasion.  
For travelers, the Yeti mug is probably one of the best-insulated stainless-steel mugs available out there. Also, its 20oz capacity version is the right balance of slimness and volume. 
Porter ceramic mug is a smart buy if you're looking for a sleek, classy-looking traveling mug. Its silicone sleeve makes up for its lack of a handle and is dishwasher safe. Plus, the company offers a personalization option with it.  
Le Creuset offers a set of 4 sturdy and reliable stoneware mugs which give off major French countryside vibes. And its nonstick glazed interior allows easy and quick cleanup of foods. 
The ceramic-made Large Mug is a sleek and tall piece, with an optimal handle space to get your four fingers in when gulping the beverage. Its optimal heat retention ensures your fingers won't get burned. 
NotNeutral makes a perfect stout coffee mug for latte drinkers and is perfectly suited for barista lovers. Coming all the way to the top, the handle delivers extra leverage for making latte art. 
Heat resistant, dishwasher safe, and effortlessly elegant, these borosilicate glass coffee mugs deliver a retro vibe to your kitchen. Thanks to its double-wall construction, it keeps cold drinks cold and hot coffee hot. 
With this café-inspired cup, add some personality to your morning coffee. It delivers a nostalgic touch, yet its clean and proportional lines make it suitable for a modern home.  
Ember mug is a sleek-shaped piece and is integrated with features like setting ideal temperature using your smartphone and a LED light indicating the temperature of the beverage. The charging tray beneath the mug can charge your phone. 
Looking like a typical thermos, Stanley vacuum bottle is your perfect travel companion. You can keep your beverage hot or cold all day long due to its stainless steel insulated interior. 
This Stojo cup collapses down to 2 inches, so you can easily carry them in your pocket. If you enjoy smoothies or tea, then this portable cup will be ideal for your camping trips, travels, and commute. 
This hand-printed and handmade ceramic coffee cup is a superspecial replacement for the free one you've been using since college. Kept on the kitchen counter, and it is bound to be a conversational topic for the guests.
These handmade cylindrical-shaped glass coffee mugs are perfect for consuming any kind of beverage, from juice to latte. Made of premium and high-quality unleaded glass, this piece offers a unique work of art and adds to the aesthetics of the table. 
For all iced coffee drinkers, this one is a perfect piece for them. These are double-walled and vacuum insulated tumblers that keep your beverage hot or cold for hours. Also, it comes with an insulated flip lid and straw lid for easy drinking.  
Society6 travel mugs are crafted with lightweight stainless steel, adding up to their sturdiness. Plus, similar to other pieces on our list, its double-wall insulation maintains the temperature of your beverage. 
It has been one of our favorite reusable travel mugs on this list. Made of premium 18/8 kitchen-grade stainless steel, it's lead-free, will never rust, and is unbreakable. 
Bring ritual and symbolism to your morning tea or coffee with these tarot-designed stoneware mugs. It features major cards of the tarot deck, so you can take a moment to imagine the characteristics of your card with each sip of. 
This infinitely reusable ceramic cup comes with an easily recognized white and blue Greek motif. If you're an enthusiast of such unique art pieces, this is a must-have piece. 
With this uniquely designed mug, you won't need a separate coaster. It will float above the table surface. 
Look no further beyond this Nordic design piece for a rustic and minimalistic mug. This boat-shaped wooden cup is suitable for consuming beverages on camping trips.  
Tonfisk espresso cup features a Scandinavian design with an insulation cuff for you to savor your coffee. Also, its microwave and dishwasher safe. 
As the name suggests, this simple designed ceramic cup is sure to keep your coffee warm for longer. It includes a lid for preventing spill-off during travel. 
You'll see these twisted handle cups in many European cafes. Owing to its handy shape, sturdiness, eye-catching design, and apt height, it's a perfect fit for your everyday coffee consumption. 
Owls are a great omen for any house, so imagine what's there for you when you're consuming a beverage from it every day. Available in two colors, they can bring a touch of cuteness to any space. 
Cool Coffee Mugs Frequently Asked Questions
What perfect mug size should be for your regular coffee intake?
Although it will depend on the amount of coffee you like to consume, the ideal size is usually between 12 and 15 inches.
Which mug is better, earthenware or stoneware?
Stoneware mugs are more durable than the other ones, but design-wise the latter one precedes.
Does the personalization of mugs cost extra?
Yes, it does. The additional cost will depend on the type of picture, paint, or design you want.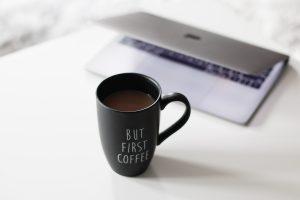 Final Words
With this, we've come to the end of our extensive list of coffee mugs available out there. 
We hope you'll find an ideal cup that will elevate your coffee experience to a whole new level. So, best of luck finding the perfect gift for you or someone worthy.

We will see you next time. Till then, goodbye!
Related Articles
32 Best Gifts For Coffee Lovers
18 Ideas on How To Store Coffee Mugs
23 Darth Vader Coffee Mug Gift Ideas From the Dark Side
16 Stunning Coffee Bean Crafts Coffee Lovers
49 Exceptional DIY Coffee Bar Ideas
13 Best Lift Top Coffee Tables
15+ Beautiful Cheap DIY Coffee Table Ideas