This article is about fun and interesting ways you can turn an old attic into a functional room in your home, proving  that your attic does not have to be that old abandoned part of your house that no one wants to venture in. It could be just another interior decorated room in your home that your kids, family and friends could enjoy and be a part of.
#1 creating a library around to the shape of your attic gives an interesting perception
This style not only is functional, but takes away from the dullness of the room as the books are of various colors. By carrying the library straight up to the ceiling, it shows of the form and silhouette of the room's borders in a whole new perspective, plus giving the room a more spacious appearance.
#2 Turning your attic into a T.V room for your family is a fun idea
With a separate room in your house for watching television, there is no need to have your living room be disturbed. This is a great idea for when you have guests to entertain and the kids may get in the way. Also a T.V room for kids where they can watch only their favorite movies and have enough space to play and relax seems like a good idea.
#3 Using Christmas lights to brighten and make your attic look colorful
If the ceiling of your attic looks old and worn, using colorful lights to draw attention away from this would work well. As long as the lights blend into the color scheme of everything else in your bedroom, adding color to an old attic is a fun way to to spruce it up.
#4 Turning an old attic into a kid's bedroom can be fun
This enclosed bunk made specifically for a young child looks like it's in any room in the house. Redecorating your attic to not look like an attic when your done is probably the point here.
Source: playfuldecor.blogspot.com
#5 Diamond shaped attic room giving an interesting appearance
The lighting fixtures helps you to see clearly every detail of this room and the added beams give it a diamond shaped looked, providing the illusion that the upper borders were also deliberate. Without the bottom beams, the upper ceiling would certainly tell you're in an attic.
#6 Turn an old attic into a room for your kids
Redesign your attic to suit the desires of your kids. Let them have most of the say in how they want it done. The paint color, the floor, the curtains, let them decide. This could even be redecorated into a play room, or a room for an older teenage child who may need more privacy away from younger siblings.
#7 Redecorate your attic by using lighting fixtures to enhance the beauty of A wooden wall
This very rustic looking attic looks very simple because not much redesigning was done. Instead, this person chose to maintain this attic by adding lighting fixtures and a few delicate furnishings. So it looks like a cabin in the woods.
#8 Enhance An old attic by painting the room with a color that will pull everything together
Using bold and strong colors can take away the fact that your newly interior decorated room was once your old attic. Here is yet another way to turn your attic into a functional room in your home- a bathroom.
#9 use chandeliers to bring about a more elegant ambiance
By hanging a chandelier on the ceiling of your old attic, you create a new mindset for the rest of your family. That is, the newly created attic is part of their home and everyone is welcomed in it, versus a place in the house no one wants to venture into.
Source: zsazsabellagio.blogspot.com
#10 Turn an old attic into a room that will create more space for your closet needs
This is always a problem with many people who have tons of clothes and shoes but little space for them. Well, here is one way you can store the clothing and footwear that you don't use on a regular basis but still have need for them.
Source: southshoredecoratingblog.com
#11 recreate your old attic into a computer room or home office
With your home office away from everyone and everything going on in the house, you can have peaceful time to concentrate on your work. Along with all you need at your disposal.
#12 remake an old attic into a  laundry room or linen closet
Here is another closet idea you can create with your old attic, a place for the tons of towels and linens you can't seem to find storage for.
Source: gardenhomeandparty.com
#13 An old attic can be remade into a guest room
With all the curtain partitions in this room it could not only be a guest room but a room for kids, most likely a large family. Plus it is beautified by curtains that blend with the color of the room.
Source: rosecitybungalow1913.blogspot.com
#14 Another fun, functional way to redecorate the interior of an old attic
This room is one that is designed for an adolescent child but is also used to store a toddlers extra toys. Rather than having toys in a box or scattered about the room, they are strategically placed in areas that add some more style and color to this room in contrast to the white walls.
#15 decorate an old attic to draw attention to your vaulted ceiling
This causes the room to appear more spacious that it really is. This room was built for each individual to have their own privacy with a wall between the two bed. Plus the items used to bring the eyes up to the shelf under the ceiling cost these home owners nothing.
#16 recreate your old attic to give it more character
Here is another way lighting fixtures can add more style to your room. This time with the use of two separate colors, yellow and blue.
#17 redecorate the walls of your attic for a more rustic appearance
This room was redesigned into both a living and dinning room. This also implies that you don't always need paint to enhance the beauty of a room in your home.
#18 turn your old attic into a library corner for your family
Many people have a reading room or library corner in their home. Mostly for their kids but which also can be used by adults.
#19 To recreate an old attic you don't have to stick to familiar styles
Try venturing out of your comfort zone or culture. It will be fun and intriguing to decorate your old attic using an European style or design for your kids.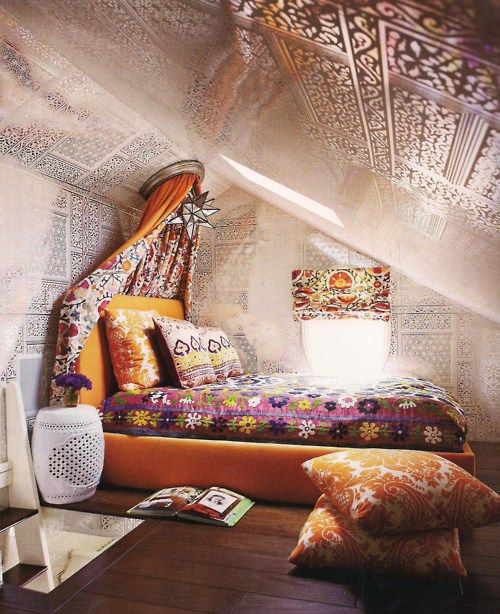 #20 recreate your old attic into a theater room for your friends and family
Given you have the space for this you can remake your attic into a T.V/entertainment room. Great for bringing friends over to watch a football game or girlfriends to watch a movie.
#21 An old attic could be turned into a music room for your teenager
Also, if you have a child with artistic abilities, let them decorate the walls of their new attic room with their favorite drawings and paintings.This picture implies that the attic was turned into a tree house.