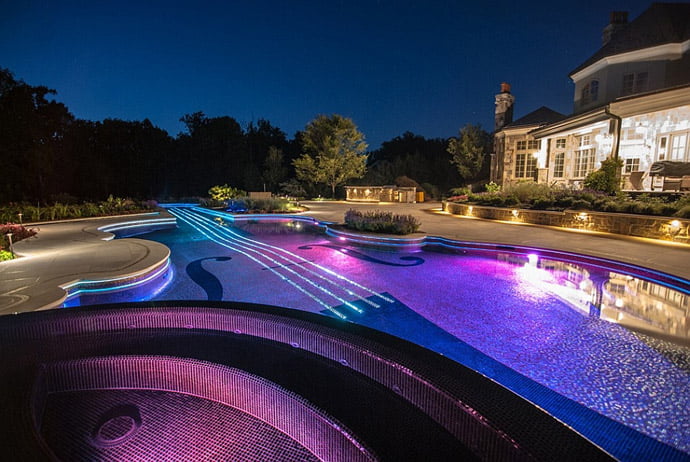 Smart backyard landscaping ideas are like aces in the sleeve, they can always save the day. A beautiful backyard can brighten your day and enlighten your mind, an oasis of relaxation and serenity they might become.
In this organized chaos in which we currently live any object can take any shape and form, everything can be realized with the right amount of money, this aspect being both thrilling and worrying at the same time. Ahead we have a living proof of the phrase ahead, a beautiful violin-shaped swimming pool, an almost perfect replica of a Stradivarius violin built professionally  by the  Cipriano Landscape Design & Custom Swimming Pools. The swimming pool is definitely as close as a swimming pool can be to a Stradivarius violin.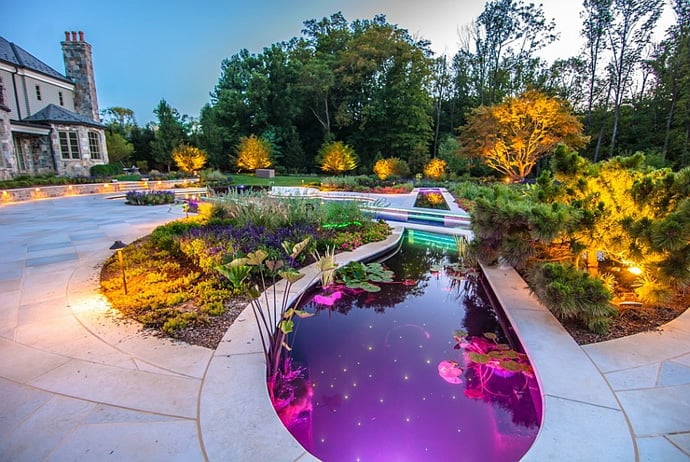 For those are not up to date with the rich heritage of the Stradivarius violins it might seem a really extravagant design and from many points of views it actually is. Even so, you should keep in mind that very few of those original violins can be found in the world today and many of them have been auctioned easily over ten million dollars. We can see this beautiful swimming pool as a tribute them, a memento to an extraordinary heirloom passed to the whole world.
We find this extravagant as well but what`s wrong with something extravagant after all? It`s a remarkable design with a splendid line, at night it`s animated by colorful lights better then any other swimming pool reviewed by us and it`s surrounded by vegetation in a wonderful manner . We are not even going to mention the mansion in the background. We would love to hear your opinion on this swimming pool in the comment section bellow along with pro and cons.
PS: The swimming pool actually has strings, tailpiece, a chin rest and f-holes!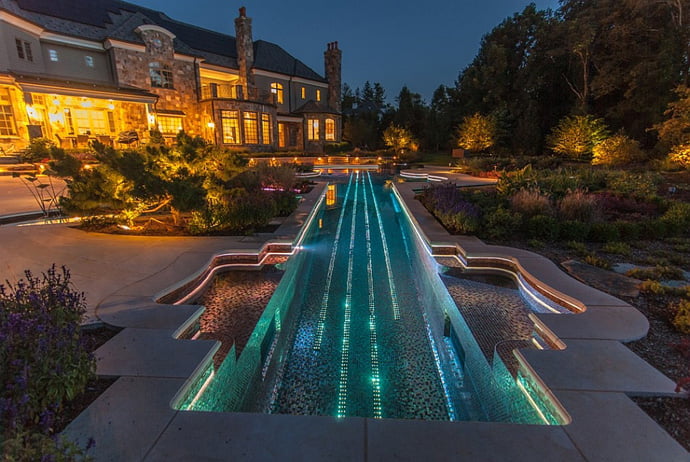 Related Articles
5 Best Above-Ground Pool Pad | Buyer's Guide and Reviews
5 Best Epoxy Pool Paint | Buyer's Guide and Reviews
10 Best Pool Cover Pumps of 2022 | Buyer's Guide and Reviews
Learn How to Install a Spa Cover Lifter
Dolphin M400 with Caddy Review & Buyer's Guide
Top Tier APEC vs. iSpring RCC7 | Water Filtration Systems Compared
Learn How to Keep Chlorine Levels Up In Your Pool
Aquabot X4 Robotic Pool Cleaner Review | Buyer's Guide
13 Best Pool Heaters of 2022 | Buying Guide
13 Best Salt Water Chlorinators of 2022
19 Best Pool Lights of 2022 Reviewed | Buyer's Guide
13 Best Pool Pumps of 2022 | Buying Guide
13 Best Pool Volleyball Nets to Enjoy This Summer
39 of the Best Pool Toys to Enjoy this Summer
13 Best Pool Test Kits of 2022 | Reviews & Buyer's Guide