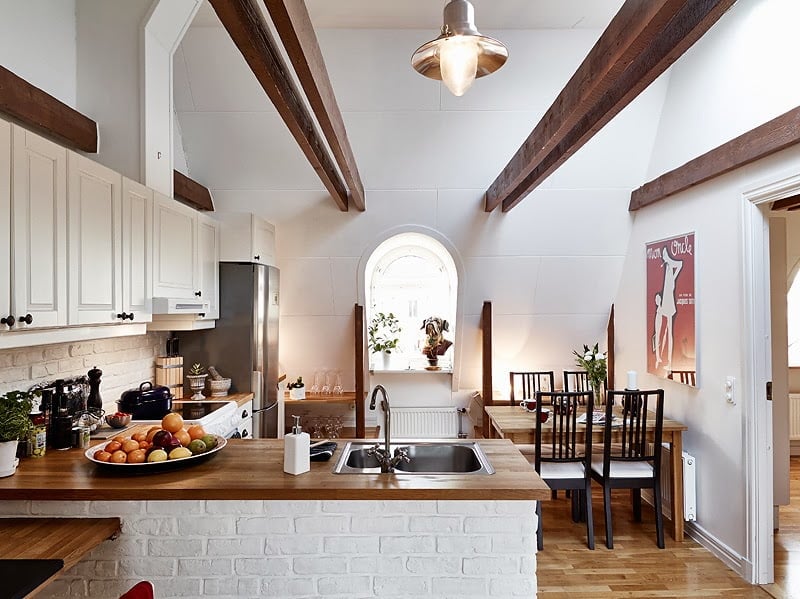 Attic spaces are cozy and intimate by default. Small attic spaces are ten times more cozy and warm though, they exude a simple familiar feel of nexus, they become a part of our self after we personalize them.
The small attic loft ahead covers 52 square meters and it`s located in Sweden. The whole apartment is dressed in white to make the space seem larger and much brighter, this along with the decor giving it a Scandinavian design feel. Every room in the loft has been carefully decorated with the inhabitant`s personality, nothing being out of its place. The living room has a small very cozy fireplace dressed in white, proof that such features can be sheltered in small spaces as well. The same living room has an aesthetic disadvantage too though; almost in all other the rooms apparent structural wooden beams are ordering the height of the ceiling, being a very beautiful element, in the living room the ceiling is rather unusual, it has way more slopes then it should, making it seem less more of an attic space and more of an accident in the execution. We are not too happy about the spot lamp in the living room as well but we are just nose picking with this detail.
Probably the most beautiful space in the loft is the small open kitchen and the adjacent dinning, apparent wooden beams, apparent brick counter painted in white; it`s just beautiful and very personal, very cozy. What do you think about this small attic apartment, what would you change ?
Photo Courtesy to Stadshem