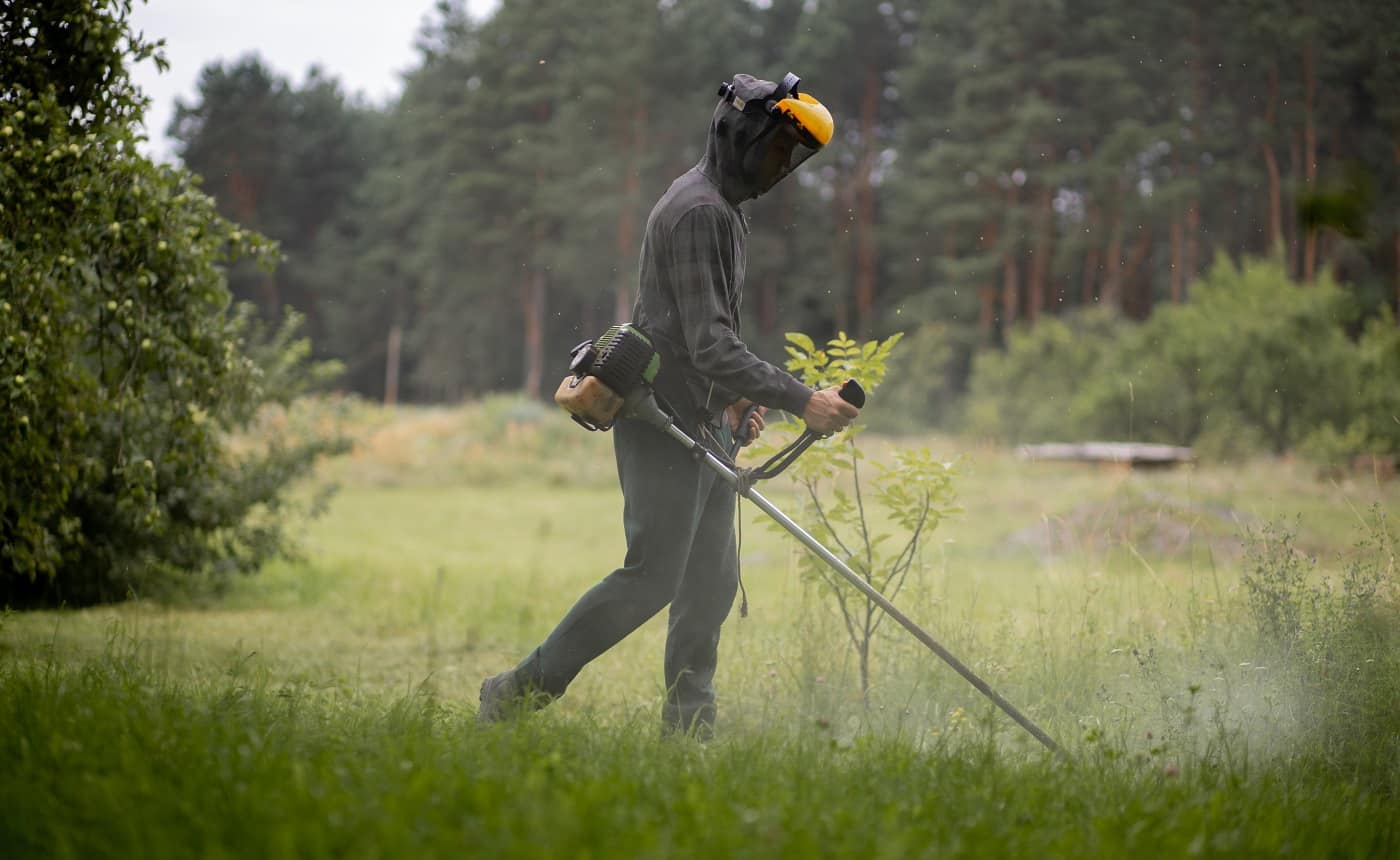 Uncontrolled and unwanted plant growth is every gardener's worst nemesis!
So, naturally, if you're here, it's because you want a solution. After all, who wants to spend time manually plucking weeds from the garden and scurrying in the most narrow places for it?
The good news is, we've got the one-stop solution for all your gardening woes. A weed eater or string trimmer will banish unnecessary sprouting from the garden while also trimming the grass – a win-win situation for everyone!
What's more, they are compact and can be accommodated in the most congested garden sheds. We love them, and we know you will too.
We have got a list of the 5 best 4-cycle weed eaters for your consideration here, and a buyer's guide to help you make the right decision.
So, let's get right into it!
Top 4-Cycle Weed Eater Reviewed
IMAGE
PRODUCT
DETAILS

Our Top Pick

Our Top Pick

Craftsman String Trimmer

30 cc engine
Quick-start technology
17-inch cutting width

VIEW LATEST PRICE →

Husqvarna String Trimmer

Professional-grade finish
Translucent fuel tank
Air purge technology

VIEW LATEST PRICE →

Wild Badger Power WBP31BCF

31 cc motor
Full crank design
Aluminum construction

VIEW LATEST PRICE →

SENIX GTS4QL-L

17.7-inch cutting width
Full crank engine

VIEW LATEST PRICE →

PowerSmart PS4531

31 cc gas engine
2-in-1 tool
10-inch cutting width

VIEW LATEST PRICE →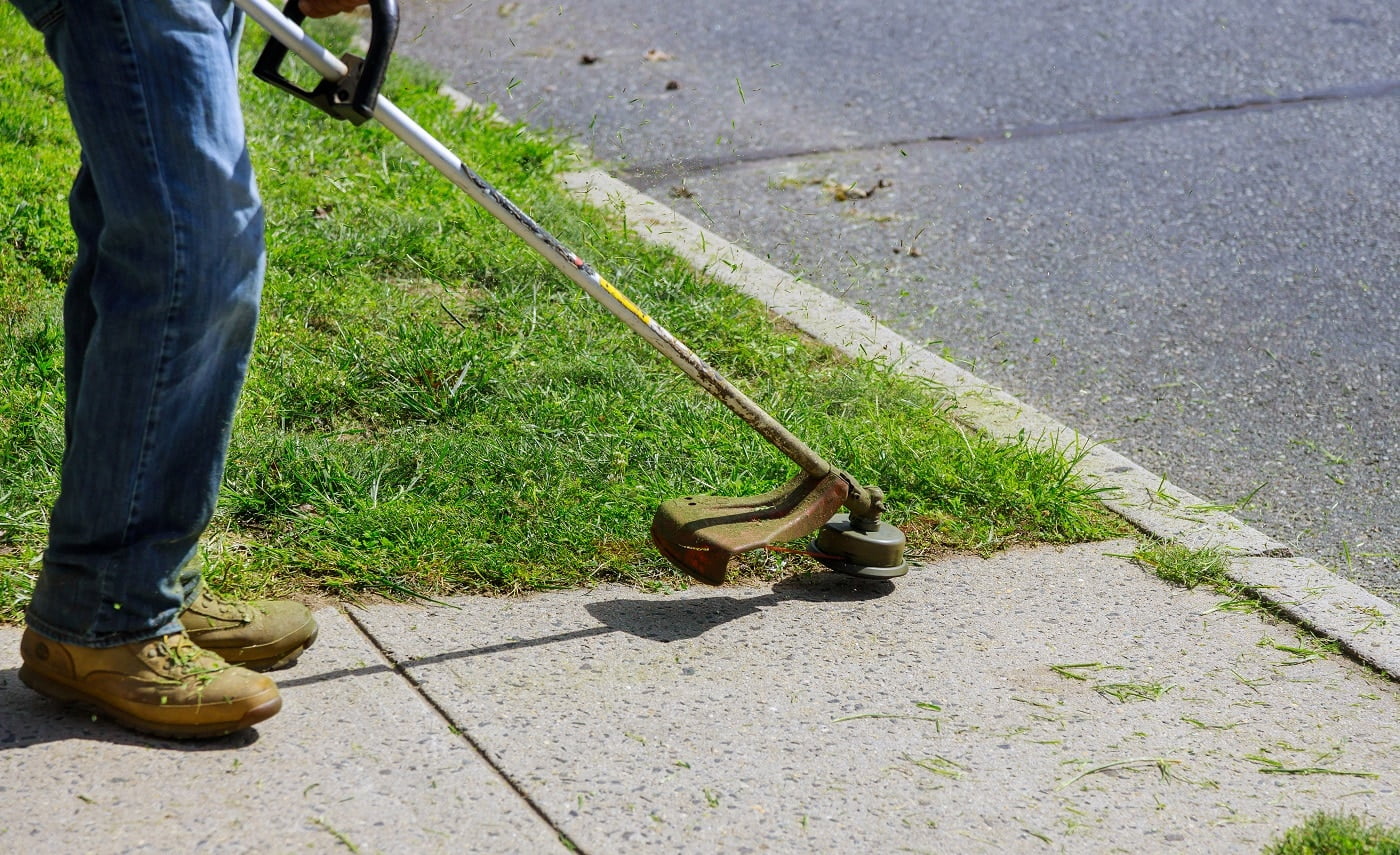 One of our top recommendations is this string trimmer from Craftsman. It is a straight shaft model, with a 30 cc powerful gas engine and a cutting width of 17 inches. So, here's a device that will produce less noise, take less time, and cut more grass. We couldn't have asked for a better deal!
Why Did We Like It?
This Craftsman weed eater features a straight shaft that simplifies trimming around bushes and hard to reach spots. This gas-powered tool comes with a fixed-line, high-capacity bump head.
Moving on, it has an advanced "prime and pull" quick-start process that allows the operator to start working right away. So, you no longer have to waste any time and can straightaway get to working on the lawn.
Furthermore, its ergonomic grip gives greater control and makes holding the tool from different positions easy. The multi-position handle also reduces fatigue by mitigating the effect of vibration. What's more, the TrimmerPlus tool system can convert the weed trimmer into other yard care products.
In conclusion, the Craftsman weed eater is comfortable to hold and is powerful enough to overcome challenging gardening tasks. In case it falters, you have the 2-year warranty to back it up.
What Could've Been Better?
Being a gas trimmer, it is slightly heavy, weighing around 18 pounds. So, operating it requires significant upper body strength. It can get difficult to maneuver, which is not a deal-breaker for us, especially since it comes with a shoulder strap to support the weight. That said, there's no denying that it can be a tad bothersome initially.
Pros
Ergonomic grip

Less noise production

Adjustable handle

No mixing of gas and oil
Next on our list is the Husqvarna String Trimmer, designed for both domestic and commercial use. Its 4-stroke, 25 cc engine runs entirely on gas, and it has a cutting swath of 18 inches. That's not it; read on to know all the details about this product.
Why Did We Like It?
This 4-cycle weed eater from Husqvarna is the ideal companion for homeowners who are looking for a powerful engine that runs entirely on gas. The engine comes with a SmartStart system that reduces cord resistance and allows the device to start quickly.
Moving on, it is easy to monitor and refill the fuel on this unit with the translucent fuel tank. Besides, it comes with several useful features, such as the air purging technology, which helps the unit start quickly by removing air bubbles from the fuel system and carburetor.
Furthermore, the bump head instantly releases the trimmer line when tapped on the ground. The cutting shield gives better visibility for the area while also protecting you from flying debris.
Lastly, this professional-grade trimmer from Husqvarna, with its unrivaled power, is backed by a 2-year warranty and is perfect even for cutting through dense grass and weed.
What Could've Been Better?
It is a semi-professional model and is quite a pocket-pinch compared to some other models we've recommended in this guide. Although the unit works efficiently, we were left slightly disappointed by the high price, and that's our only complaint with it.
Pros
Straight shaft helps in reaching inaccessible areas

Robust engine allows professional trimming

Easy to start

Cutting shield provides greater visibility
Another powerful weed eater on our list is the WBP31 model from Wild Badger Power, with its striking royal blue color and 17-inches cutting swath. Besides being a straight shaft grass trimmer, it is also an efficient brush cutter. So, read on to know all the details of this versatile tool.
Why Did We Like It?
Durable and multifaceted, this powerful weed eater from Wild Badger Power is quite renowned among passionate gardeners. While the string trimmer works on narrow areas and along borders, the brush cutter is for taming thicker bushes.
It is powered by a 31 cc commercial-grade full crank engine that is guaranteed to last. Not just that, the unit is also environment-friendly, given its full crank design that reduces emissions, increases fuel efficiency, and ensures that the tool glides smoothly across the lawn.
Moving on, we were quite impressed with the shaft's aluminum construction, which makes it adequately rigid and reduces any chances of bending during operation. The trimmer head operates on the 'tap and go' mechanism, and you can quickly reload the line.
Finally, we have to mention the aluminum tube that supports the transmission and reduces vibration. You can spend hours on the lawn with this device with no fatigue.
What Could've Been Better?
The only downfall of this near-flawless weed whacker is its weight. It weighs 15 lbs and is quite heavy to work with, but you can acclimate to it with time. To make up for its weight, it comes with a harness that goes over the shoulders and provides additional support.
Pros
Reduced vibrations and fatigue

Easy to power on

Full crank design enhances efficiency

6-years limited warranty for homeowners
Cons
Product is on the bulkier side
The Senix GTS4QL-L String Trimmer features a 26.5 cc, 4-cycle engine. The unit is perfect for those landowners ready to tackle heavy-duty jobs on their land without mixing oil and gas. This gasoline-powered device left us impressed with its high functionality and many features.
Sale
Why Did We Like It?
For starters, we liked its ergonomic design. It comes with a padded, adjustable, professional-style front handle that can maneuver the device in any direction and smoothly cut around bushes and difficult-to-reach places.
Furthermore, the straight shaft design improves comfort level by ensuring extended reach. With this, you can work around shrubs and all nooks and corners of your lawn without any issues.
Moreover, it is also the perfect gift for senior gardeners since it is comparatively lightweight and more comfortable to hold, weighing 14.9 pounds. The accompanying shoulder strap can assist them in operation as well.
Not just that, the unit also has an attachment-friendly design along with a standardized coupler. Besides, the translucent fuel tank allows the operator to monitor the fuel level and refill it as and when necessary.
What Could've Been Better?
Unlike our other recommendations, the weed eater from Senix operates on a recoil start mechanism. Once you pull the cord, it recoils to start the engine. This method doesn't facilitate quick-start, and we experienced some difficulties trying to start the device.
Pros
Comfortable to use

Attachment-cable

Easy to monitor translucent fuel tank

Comes with a standardized coupler
Our list would be incomplete without including the PS4531 Weed Eater from PowerSmart. Its stylish black-and-red design, along with the 2-year warranty, makes it a durable and sophisticated addition to your range of garden equipment. That's not all! We've all the deets about this product right here.
Why Did We Like It?
Being able to work on your lawn blissfully in the early mornings without disturbing the people around is what every gardener yearns for.
The PowerSmart String Trimmer has a powerful 31 cc motor and 4-stroke engine that produces more power at a lower RPM. However, despite the robust motor, the unit is relatively quiet, making it a favorite among buyers and has generated highly positive reviews for the device.
Next, we have its 10-inch cutting width with 3 blades that can easily slice through dense vegetation quickly and efficiently. Besides, the trimmer is attachment-capable and can also double as a brush cutter.
While we are talking about attachments and accessories, we must mention that the device comes with a shoulder strap and an online pdf manual that you can download for easier understanding.
Finally, it has a 2-year warranty. So, if you've any issues with the unit, the excellent customer service will be of great assistance.
What Could've Been Better?
Despite its high functionality, the product has one drawback. It weighs around 25 pounds, which makes it heavier than any of our previous recommendations. Although the shoulder strap helps balance the product, you're likely to end up with strained arms after extended use. So, we'd suggest not using the device continuously and taking breaks in between.
Pros
No mixing of oil and gas

Works as a brush cutter

Can cut through heavy vegetation

Quiet operation
Cons
Strained arms after continuous use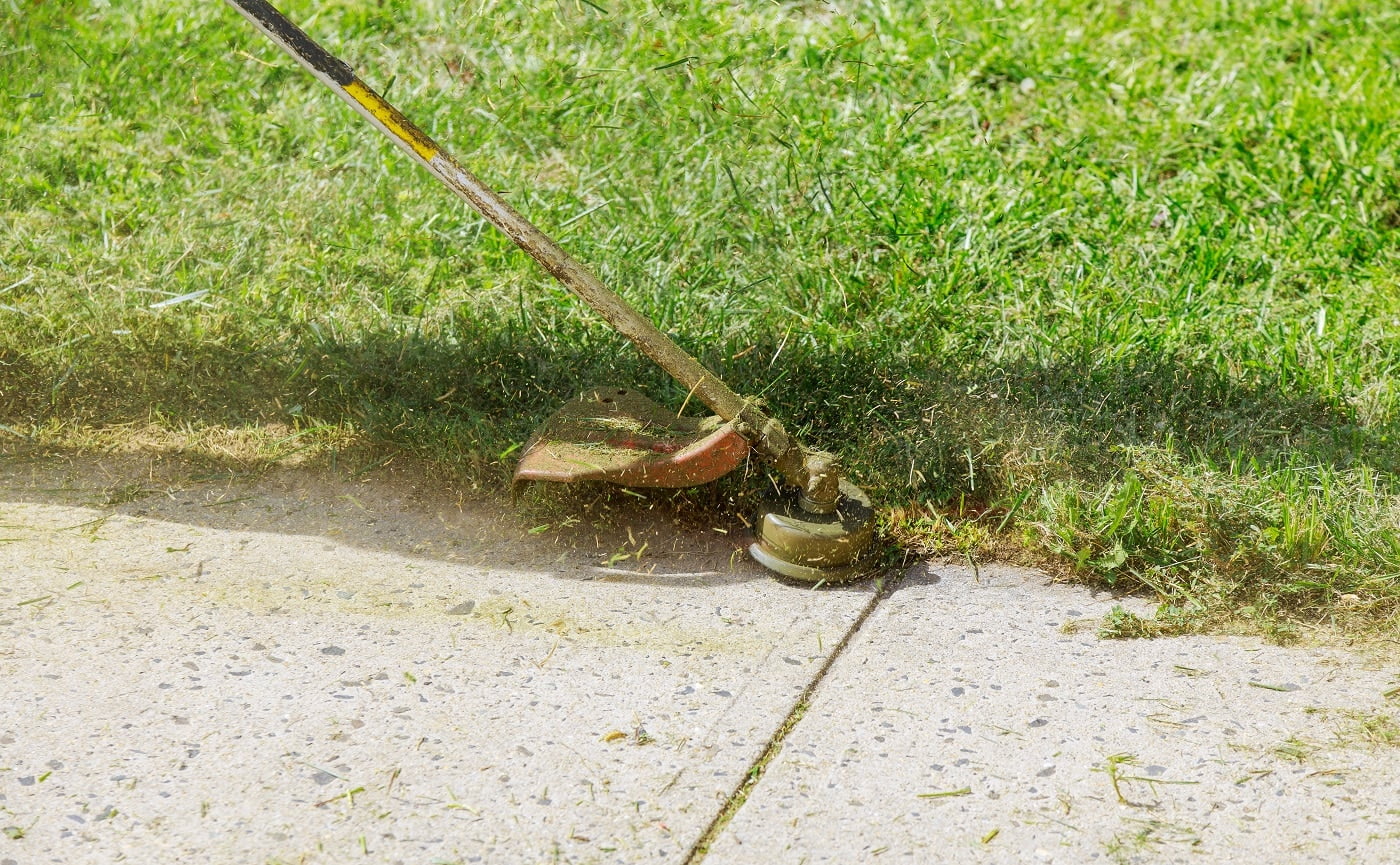 Best 4-cycle Weed Eater Guide
With that, we have come to the end of our detailed reviews. When purchasing gardening equipment, you must keep several crucial factors in mind.
Before anything else, remember that the device should be safe to use, not just for the plants but also for you.
So, here's a buyer's guide to help you in the quest for the best weed eater.
Type Of Shaft
There are two types of string trimmer shafts – curved and straight. A shaft's role is to make the weed whacker easier and more comfortable to use by adjusting the length to match the operator's height.
All the models we have recommended come with a straight shaft that allows the tool to work around obstacles, reach underneath shrubs and bushes to eliminate weeds without bending. Since it is longer, it is also better for taller users.
However, a curved shaft trimmer helps you get to different areas from a distance. Its design keeps the cutting head at a 90-degree angle from the ground and is relatively lightweight.
The type of shaft you choose depends entirely on the work you intend to do with it.
Cutting Width
A weed whacker's efficiency directly links to its cutting width or the area it can cover in one go. If the cutting width is 10 inches, the tool will cut a 10-inch broad patch of vegetation at once.
Thus, a device with a larger cutting width will cover a larger surface area and reduce the time you spend working on the lawn. If you have a large yard, opt for a device with 18-inch width, and if the lawn is smaller, a 10-inch width may suffice.
Speaking of cutting width, we'd also like to mention that tools that come with a brush cutter attachment can cut dense bushes with much more efficiency.
Handle
A weed eater's handle should be well-positioned and ergonomically designed to facilitate simple operation and longer work hours. If the handle is adjustable, it can be modified to match your height, making them more comfortable.
Besides, the handle should also be sufficiently sturdy so that it does not detach during operation.
Many handles come with padding to reduce the effect of the vibration produced. If you're planning to work in the field for longer durations, we recommend opting for a handle that is well-cushioned.
Engine
Another critical factor to consider is the engine of the string trimmer. There are two engine categories: 2-cycle and 4-cycle. 4-cycle weed eaters conserve more fuel, have greater torque, and operate with much less noise.
Additionally, it eliminates the need to mix gas and oil, which is why it has gained rapid popularity among landowners. Although they are more expensive, their efficacy makes them a practical purchase.
Weight
You will hold a weed whacker while working. Therefore, it is essential to take the weight of the unit into account. A heavy trimmer will strain your arms and will be challenging to maneuver.
Conversely, even though a lightweight trimmer is fantastic, it might not have adequate fuel tank capacity and a heavier trimmer's cutting width.
Thus, while shopping for a trimmer, look for a functional and well-balanced device.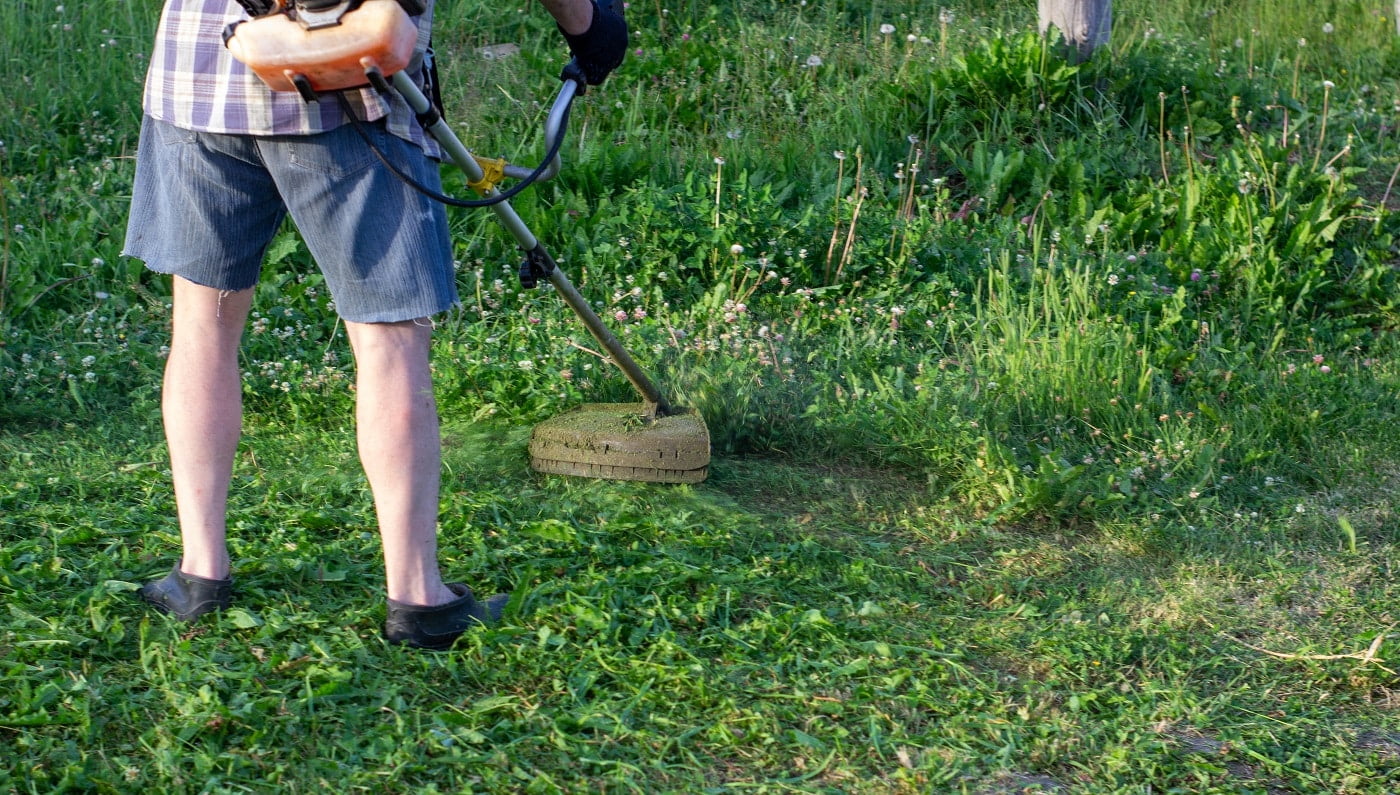 Verdict
So, those were the 5 best 4-cycle weed eaters on the market. We hope you will be able to get the perfect pick for your garden now.
The right weed whacker will help achieve an attractive and tidy landscape by trimming the grass and eliminating unwanted weed growth.
We will leave you now, but before that, here are our top picks. The Husqvarna String Trimmer is excellent overall and has a wide cutting width, while the Wild Badger Power Weed Eater is the best budget buy and a reliable machine.
Having said that, we'd love to know what you think. Do let us know which product impressed you in the comments below.
Until next time. Happy gardening!
Related Articles
11 Best Crabgrass Killers Right Now
13 Best Weed And Feed For Lawns
13 Best Weed Killer for Flower Bed Reviewed
How to Install Landscape Fabric for Weed Control
13 Best Broadleaf Weed Killer for Lawns & Gardens