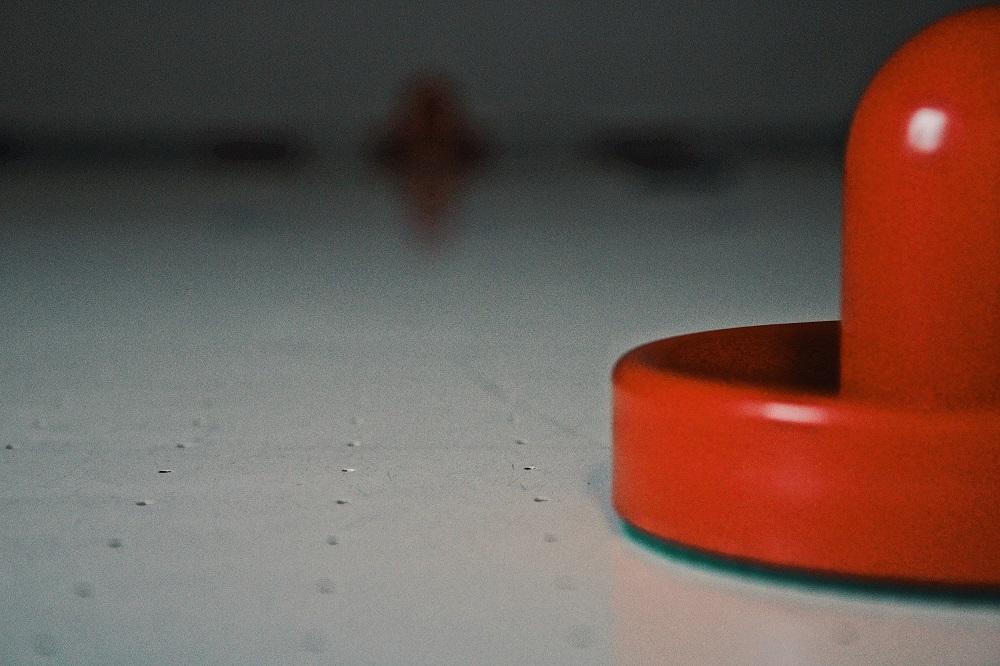 When the weather outside is very chilly or too scorching, you might not want to spend your holidays on the lawn.
Being engaged in an exciting indoor game with your loved ones is a much better idea in such situations. And air hockey is one such immensely entertaining game that anybody would simply love.
It is quite popular among all age groups and just requires a table, two pucks, and two pushers. Hence, you need to bring home a nice air hockey table that can be conveniently used anytime for a fun-filled play session.
But choosing an ideal table becomes difficult because there are lots of options available out there. So, we try to make your task easier by putting forth this carefully curated list of the 13 best options to consider.
Read on to know more.
Best Air Hockey Table  
IMAGE
PRODUCT
DETAILS

Our Top Pick

Our Top Pick

Triumph Fire 'n Ice Air Hockey Table

LED electronic scoring
Cross braces

VIEW LATEST PRICE →

Sport Squad HX40 Air Hockey Table

VIEW LATEST PRICE →

Rally and Roar Tabletop Air Hockey Table

Fiber wood material
LED scorer

VIEW LATEST PRICE →

MD Sports Multi Game Combination Table Set

Uses ABS, MDF, metal, solid wood and PVC material
Stack up design

VIEW LATEST PRICE →

Best Choice Products 58in Mid-Size Arcade Style Air Hockey Table

58 inch long surface
Weighs around 43 lbs.

VIEW LATEST PRICE →

ESPN Sports Air Hockey Game Table

Include sound effects
Magnetic playfield

VIEW LATEST PRICE →

MD Sports Air Powered Hockey Table

12V DC motor
Cross panel between legs

VIEW LATEST PRICE →

Triumph 4-in-1 Rotating Swivel Multigame Table

Central system of air distribution
Rotating swivel action

VIEW LATEST PRICE →

Giantex Multi Game Table

Includes scoring device
Lock clasp

VIEW LATEST PRICE →

Atomic Air Powered Hockey Table

PVC-playing surface
LED lights use Lumen-X technology

VIEW LATEST PRICE →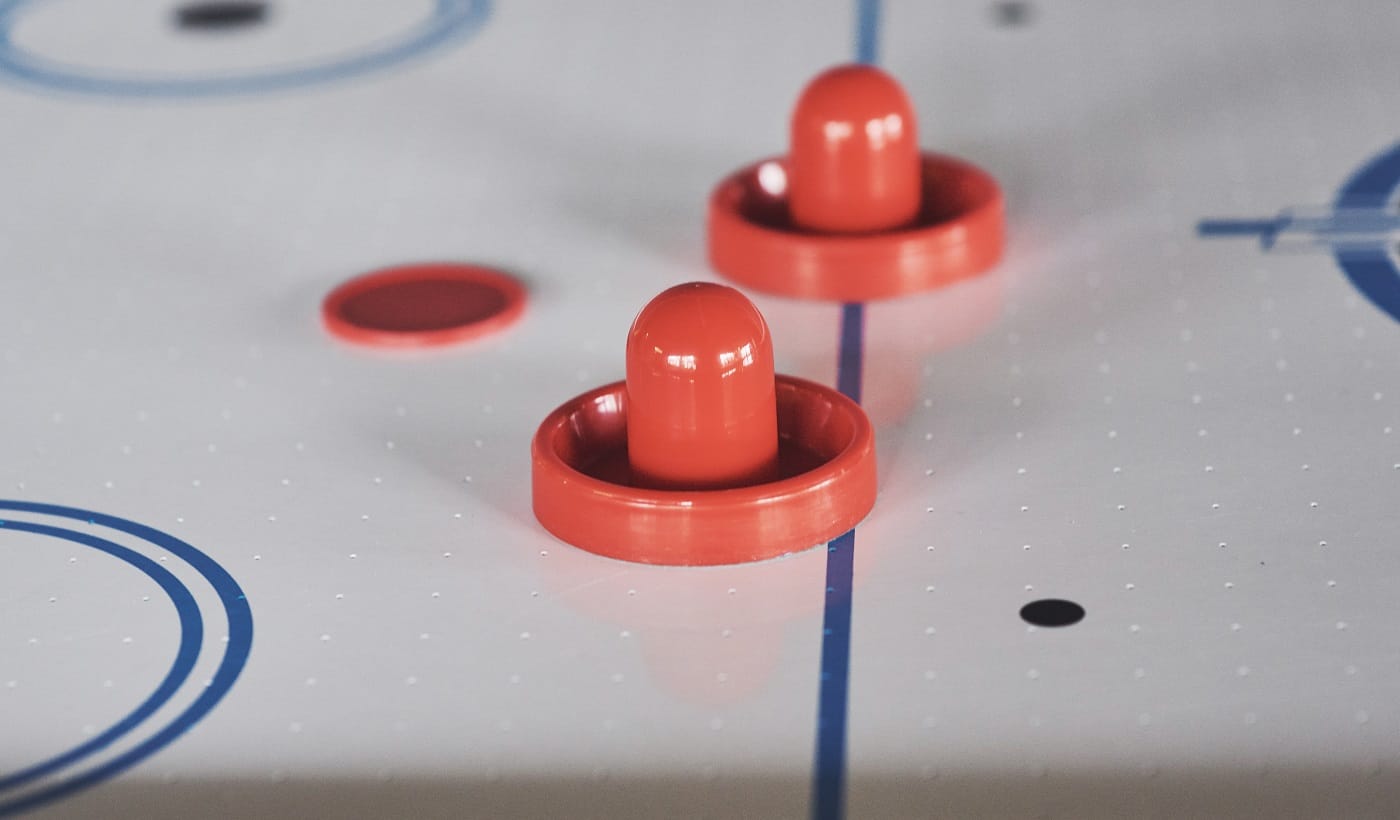 Love playing air hockey with the lights of the room turned off? Then this one from Triumph is the perfect option to go for. It comes with a number of lighting systems and also makes your game as enjoyable as it can be. You get a lot of beneficial features packed in the table, so read on to know what all it offers.
Sale
Why Did We Like It?
What we liked the most about this product were the LED lights fitted on the corners of the table. Each corner lights up when you score a goal, which creates a really intense playing experience. And it would be more exciting if the lights of the room are turned off.
As for the display of scores, the table comes with an LED electronic plus abacus scoring system so that you can track the score easily. Additionally, the four cross braces in the bottom portion help in maintaining stability and support during the game.
Furthermore, this table has leg levelers, which make sure that the playing surface is on a uniform level even if the floor is uneven.
What Could've Been Better?
Although this product works wonderfully to offer you a highly enjoyable air hockey playing experience each time, it is a bit difficult to install. That's because fitting the cross beams with the small screws provided is really tough. Also, the guide holes may not light up properly during installation, so using an electric screwdriver would make the job easier.
Pros
Corner lights create an intense playing experience

Leg levelers make sure that the playing surface is uniform

Cross braces maintain stability and support

Abacus and electronic scoring system helps track the game easily
Cons
A bit difficult to install
This hockey table from the popular brand Sport Squad is equally exciting for people of all age groups. It helps to deliver a fast-paced game and comes in a size that is suitable for any room. This table comes along with 2 round pucks, 2 strikers made from plastic, and an AC adapter.
Sale
Why Did We Like It?
To begin with, this table is powered by a strong AC-12V fan that provides consistent and quiet airflow. This, in turn, makes the playing surface frictionless and really smooth for the ultimate air hockey playing experience. Plus, the table comes with non-marking pads of rubber, so that the table surface is always protected.
We also loved the product because it required almost no assembly other than simply attaching the goal boxes. Added to this, the plastic strikers provided with the table are 2.25 inches in diameter, making them ideal for good slap shots.
Last but not the least, the compact design of this table makes it ideal for any space. All you need to do is find a solid surface, and you can start the game then and there!
What Could've Been Better?
We found that there was no on/off switch on the product, so it started as soon as we plugged it in. This is a disadvantage if you want to just set it up for the time being and play later. In comparison, there are other products which come with on/off switches, which makes them more convenient.
Pros
Powerful fan provides consistent and quiet airflow

Rubber pads protect the table surface

Requires almost no assembly

Strikers are ideal for good slap shots
Cons
Doesn't have an on/off switch
Relieve yourself from the everyday stress due to rigorous work schedules by enjoying a refreshing air hockey match during holidays. This sturdy table makes each game really memorable and comes with all the required accessories. Also, it has a small size, so that it can be put in anyroom you like. So, let's move on and have a look at all its amazing features.
Why Did We Like It?
We begin by discussing the material used to make this table as it is the most noteworthy aspect in our opinion. You will seldom find much premium quality fiber wood material being used in any other air hockey table available out there. This helps to maintain dual and optimal airflow for ensuring a sleek playing environment.
Further, we found that the table was very easy to move and could be stabilized on almost all tables, desks, and countertops. And it had a really cool and modern design, featuring attractive graphics that anybody will love.
What's more, this product comes with sturdy and durable legs that are protected with foam so that there is no scratch or damage to the furniture. Lastly, the dimensions of the table are 40" x 20" x 9", which makes it capable of being stored in a small space quite easily.
What Could've Been Better?
Sometimes the product may not be packaged properly, which may lead to substantial damage being caused to the table during delivery. Note that the corners are more vulnerable to damage, and hence the curved fixture might be seen coming out of the wooden structure. So, make sure you check the product thoroughly just after it arrives.
Pros
Premium wood material maintains optimal airflow

Comes in a cool and modern design

Easy to move and stabilize

Sturdy and durable legs protected with foam
Next, we've picked this efficient and elegant table from MD Sports that will last for years to come. If you have decided to go for a superior-grade product and won't mind going for one which is tad more expensive, this will be an ideal choice. It comes with a range of accessories and is multi-use gaming equipment.
Sale
Why Did We Like It?
The most notable feature of this table is that it suits your different gaming needs. It can be converted into an air hockey table, a TT table, a billiard table or a pool table as per your requirement. And all the accessories required for playing any of these games is provided with the product. So you need not worry about any extra expenditure.
Also, this feature makes the product perfect for all parties and get-togethers, where people might want to play multiple games. Plus, the stack-up design makes it easy to convert the table between two different games.
You will also like the incredibly sturdy and durable material used to make the table as well as the accessories. The materials range from solid wood to ABS, metal, MDF, and PVC, and ensure that all the parts are able to tolerate continuous wear and tear.
What Could've Been Better?
The only issue that we found in the product was that all the four corners were really sharp. As such, you must handle the table very carefully to avoid any skin injuries. This is especially risky when your little ones are also participating in the game. In comparison, several other products have less sharp edges, and are hence safe for everyone to handle.
Pros
Can be used for playing multiple games

Can be coveted easily between two games

Built of a variety of highly strong and durable materials

Perfect for parties and get-togethers
Cons
Sharp corners make it unsafe for small children
This easy-to-use air hockey table can provide you with unlimited fun and satisfaction. What does the trick is its set of top-notch features that combine to provide a highly efficient performance each time. With this table, you get everything you need for enjoying a competitive match and can also play the game in a very organized manner.
Sale
Why Did We Like It?
Firstly, this product has efficient levelers that are adjustable as per your requirement and also comes with crossbars between the legs to provide stability. Plus, the corners are protected with additional fixtures that enhance the durability of the product.
The next feature that caught our attention was the option of LED electronic as well as manual scorekeeping provided in this table. So, you can choose whichever you are more comfortable with. Also, each side of the table has a puck dispenser to catch the puck each time a player scores.
What's more, this table weighs just around 43 lbs., which makes it quite lightweight to be carried around anywhere with ease. Lastly, the table is 54-inch long, and thus provides enough space for each player to play their shots effectively.
What Could've Been Better?
We were disappointed to find that the surface of this table needed a lot of maintenance to retain the smoothness that is required for the game. That's because dust accumulates easily on the top, making it rough and unsuitable for playing smooth shots. So, cleaning it frequently, that is, at least once a week, with alcohol or any cleaning agent becomes essential.
Pros
Comes with efficient adjustable levelers

Corners are adequately protected

Offers the option of both manual and electronic scorekeeping

Very lightweight to be carried around easily
Cons
Tabletop needs a lot of maintenance
Though ESPN is world-famous for its coverage of sports news, it also offers an exclusive range of top-notch sports goods. And this air hockey table from the brand doesn't fail to impress a bit and thus totally lives up to its reputation. So, you are sure to have the most memorable time playing power-packed air hockey matches with this product.
Sale
Why Did We Like It?
We were highly impressed with the design of this air hockey table which is very futuristic. It would make a great addition to any room with a modern design, thanks to its glossy finish and high-quality MDF material.
Plus, the digital scoreboard is uniquely positioned at the middle portion of the table and stretches over it. As such, keeping track of the score becomes very easy. Another great feature is the set of integrated sound effects and lights that gives you a highly entertaining experience.
Furthermore, the table has cup-holders fitted in the middle to keep a drink within your reach while playing. Additionally, there is a full panel ½ thick leg support along with 6-inch levelers to provide the required balance and stability. which Lastly, the premium quality magnetic playfield ensures that the pucks slide swiftly and easily.
What Could've Been Better?
We found the goal boxes on the table to be less durable than the other parts, as these were made from plastic of cheaper quality. Stroger shots might lead to the boxes being cracked on even broken. And since the table is constructed from boards made of compressed particles, you cannot use wood screws to put them in position.
Pros
Futuristic design makes great addition to any room

Enables easier scorekeeping

Sound effects and light offer an entertaining experience

Cup-holder in the middle keeps your drink within reach
Cons
Goal boxes are made from cheaper material
If the recreational area at your place is not big enough, this air hockey table will be an excellent choice. It comes in a very compact size that is suitable for any space, and comes in an attractive design. This product offers an amazing air hockey playing experience for players of all ages and proficiency levels.
Why Did We Like It?
To begin with, we really liked the 12V DC motor of this table, which was UL certified and always provided consistent and strong airflow. So, shots could be played smoothly and with much more precision. Compared to the other ordinary products, its performance was much more efficient despite its compact size.
Additionally, there are two cross panels between the legs, which provide greater support and stability to the table. Also, the corners have sturdy protective fixtures that are highly durable and provide long-term protection to the table from any possible damage.
Moreover, the table has straight and reinforced legs with levelers, which can be adjusted to maintain a uniform playing surface. Finally, you get the option of manual as well as LED electronic scorekeeping with this table.
What Could've Been Better?
This model may also be packaged improperly, resulting in the product being damaged during delivery. The paying surface is most vulnerable to damage, and may have cracks in some places. In that case, you must report the issue immediately and ship back the package. However, the response from the manufacturer is quite prompt as the product is replaced within a short duration.
Pros
DC motor provides consistent and strong airflow

Cross panels between legs provide support and stability

Sturdy fixtures on the corners provide adequate protection

Offers electronic as well as manual scorekeeping
The next product that we have for you is this multi-game table from Triumph which lets you play four exciting games. It is made of strong and sturdy material that can last for years to come. Each game can be played in the best possible manner, with efficient and speedy shots. All the accessories required for those four games are included with this table.
Sale
Why Did We Like It?
The best thing about this air hockey table is the rotating swivel action that is used to change the games within a few seconds. You can bring an air hockey, table tennis, launch football, and billiards game anytime you wish with this extremely simplified system.
Further, the patented central system of air distribution in the air hockey table is very effective for maintaining uniform airflow throughout the game. So, you get non-stop action during the game, unlike competitive tables featuring "push" hockey that is not powered by air.
Plus, the support beams provided on the side braces at both ends lend extra sturdiness and strength to the table.
What's more, the legs are thicker than average air hockey tables, providing more safety and stability while playing. And with a length of 4 feet, the table is perfect for young and teenage players who wish to get the most of a small space.
What Could've Been Better?
The main drawback of using this table is that there are some really stiff bristle catches in place of the slots for the pucks to slide into. That might be a bit frustrating while playing as it became more difficult to score. In comparison, the models from ESPN and the Best Choice Products have better slots.
Pros
Four games can be played with one table

Easy swivel action changes the tables within seconds

Central air distribution system maintains uniform airflow

Support beams on side braces provide extra sturdiness
Cons
Stiff bristle catches in place of puck slots
This one from Giantex is yet another great multi game table to go for, since it comes with lots of beneficial features. It can make for a perfect addition to house parties or get-togethers, as you can enjoy hours of power-packed games one after another. To know more about all its features, move on to the next few sections.
Why Did We Like It?
The product comes assembled in the form of a billiard table and can be converted into an air hockey table very easily. You just have to bring up the soccer table, then reverse and place it on the billiard table frame. And you are all set for the most exciting air hockey match ever!
Another noteworthy feature of this table is its set of sturdy handles made from strong steel rods. These also consist of rubber fixtures for added comfort and make the table perfectly portable. Plus, there are 4 levelers on the legs to enable easy leveling and assembly of the table.
Furthermore, there is an efficient scoring device included with the product which facilitates accurate and convenient scorekeeping. As such, you can focus on the game entirely to play your shots with increased concentration.
What Could've Been Better?
This product works wonderfully to offer great playing experiences. However we found that the fan used to provide the airflow wasn't too efficient. That's because it didn't offer a consistent airflow after a year of using it, with some 'dead spots' developing on the playfield. As a result many of the shots played were not as perfect as desired.
Pros
One game can be converted to another very easily

Comes with sturdy and comfortable handles

4 levers on the legs to enable easy leveling

Scoring device facilitates accurate and convenient scorekeeping
Cons
Fan providing the airflow not efficient enough
This air hockey table is designed to give you the feel of a classic arcade at home and also delivers exceptional performance. It consists of durable and high-performing parts that combine to offer you a memorable air hockey playing experience. This table is suitable for both children and adults and is 82-inch long and 41-inch wide, providing you with a sufficiently large playfield.
Why Did We Like It?
Not only is the playfield large but made using high-quality MVF material that is laminated with PVC. This lends a smoothness to the surface that is missing in ordinary products and allows for a high-speed laying experience each time.
The material is also durable enough to provide years of entertaining air hockey games in your game room. Added to this, this table comes with unique LED lights which use the latest Lumen-X technology.
Such an efficient technology helps to illuminate the surface with multi-color lighting effects through the use of blue, red, and green lights. You also get to listen to music with high-tempo which makes the game more intense and entertaining.
As for the accessories included, you get two efficient red and blue LED pushers, one hexagonal red spinner with LED, and one traditional blue round puck. The hexagonal spinner puck provides unpredictable and challenging rebounds that advanced players would enjoy.
 On the other hand, the LED pushers provide greater visibility to make the shots more accurate.
What Could've Been Better?
We were disappointed with the scoreboard of this table since it had lots of defects and was also not durable enough. The scores can be barely read from the screen, and often stopped functioning in the middle of a match.
Once it even happened that we had to keep track of the scores manually by pen and paper! Also, after using the table for years the scoreboard may even stop functioning totally.
Pros
High-quality MVF material provides smooth playfield

Efficient LED lights provide multi-color lighting effects

Lets you listen to high-tempo music while playing

Hexagonal spinner puck makes the game more challenging
Harvil, as a brand, has been highly appreciated by customers for its range of efficient power-packed indoor game tables and sports goods. This air hockey table from the brand makes for a fun-filled and power-packed playing experience. The 5-foot long table is ideal for adults and offers a stable and durable performance throughout.
Why Did We Like It?
The most significant feature of this table is the two 100V electric blowers which are certified by CUL. These send a stable air steam to the surface, and hence help to provide smooth gameplay each time. Also, this table comes in an improved design and features vibrant graphics that enhance the appeal of your game room.
Further, the scoring system is new and improved as the electronic scorer enables efficient scorekeeping and can even tolerate rough play. An added advantage is the high-quality packaging material that keeps the product safe during shipping. This is something that you will seldom find in many products.
Moreover, this table comes with L-shaped legs that have adjustable levelers that help to keep the table on a level during the game.
What Could've Been Better?
Installing this product is quite difficult as the instructions are not described in enough detail. So, you will need to refer to the internet for quite a few of the steps. Needless to say, it will take a long time as well.
Also, some screw holes are missing and a few others may not be aligned. If you face these issues, it is best to contact the manufacturer for advice on proper installation.
Pros
Blowers provide smooth gameplay each time

Vibrant graphics enhance the appeal of the room

High-quality packaging keeps the product safe during shipping

Improved electronic scorer enables efficient scorekeeping
Cons
Difficult to put together
Our next pick for you is this multi-game table that beautifully combines three classic exciting games in one package. It is designed and constructed entirely in the USA and comes with long-lasting parts that work to provide a great performance. Weighing 51 lbs, this table measures 48 inches long, 24 inches wide, and 34 inches high.
Why Did We Like It?
To begin with, this product comes with three sturdy, yet lightweight table tops that can be easily removed and stored anywhere. Thus, converting the table becomes super easy and quicker as well. You can play billiard, air hockey, and table tennis whenever you like, just by flipping the top. Plus, the 48-inch long frame of the table is ideal for teenagers and young people to play with.
Another highly beneficial feature is the good quality construction material of this table that is also highly durable. It ensures that the product renders a long service without showing any major faults.
Furthermore, the product is very easy to install, so that you can start playing just the day on which it arrives. It also comes with all the accessories you require for playing each of the 3 games. Lastly, the cross support between the legs lends greater stability and support to the table.
What Could've Been Better?
We found the packaging of this product to be slightly improper, as the package arrived torn with a small portion of the table cracked. However, we didn't face any issue while playing with the table because of the crack. But the packaging needs to be improved as there are chances of greater damage during shipping.
Pros
Table can be converted easily from game to another

Good quality construction material

Renders service for a long time

Easy to install
This is another air hockey table from Hey! Play! that we were really glad to find! For those who are in search of a mini tabletop that can be placed anywhere around the home, this one is just perfect. This table is designed beautifully to give you the feel of a small arcade and weighs 5.46 lbs.
Why Did We Like It?
What we like the most about this product was its sliding device for easy scorekeeping, which is positioned near the goal slot on each side. And you also don't need to stop the game to look for the puck just after scoring, thanks to the convenient technology in place for puck return.
Further, a powerful air motor maintains a uniform airflow, making each puck glide and hover throughout the playfield smoothly. As such, your game becomes all the more thrilling, each time it slides around.
What's more, this product is battery-operated, so you will just need two AA batteries to keep it going. Lastly, installing this product is very easy, since it just requires a screwdriver and takes a couple of minutes.
What Could've Been Better?
The wood and plastic material used to build this table is not efficient enough to render a long service. As a result, after a year of using it, you may find that the surface roughened, and a few dead spots have developed.
Also, the plastic fixtures on the corner may loosen within a year. So, if you are looking for a highly durable product, this one won't be an ideal choice.
Pros
Slider enables easy scorekeeping

Comes with convenient technology for puck return

Powerful motor maintains uniform airflow

Installing the product just requires a screwdriver
Cons
Plastic and wood material not very long-lasting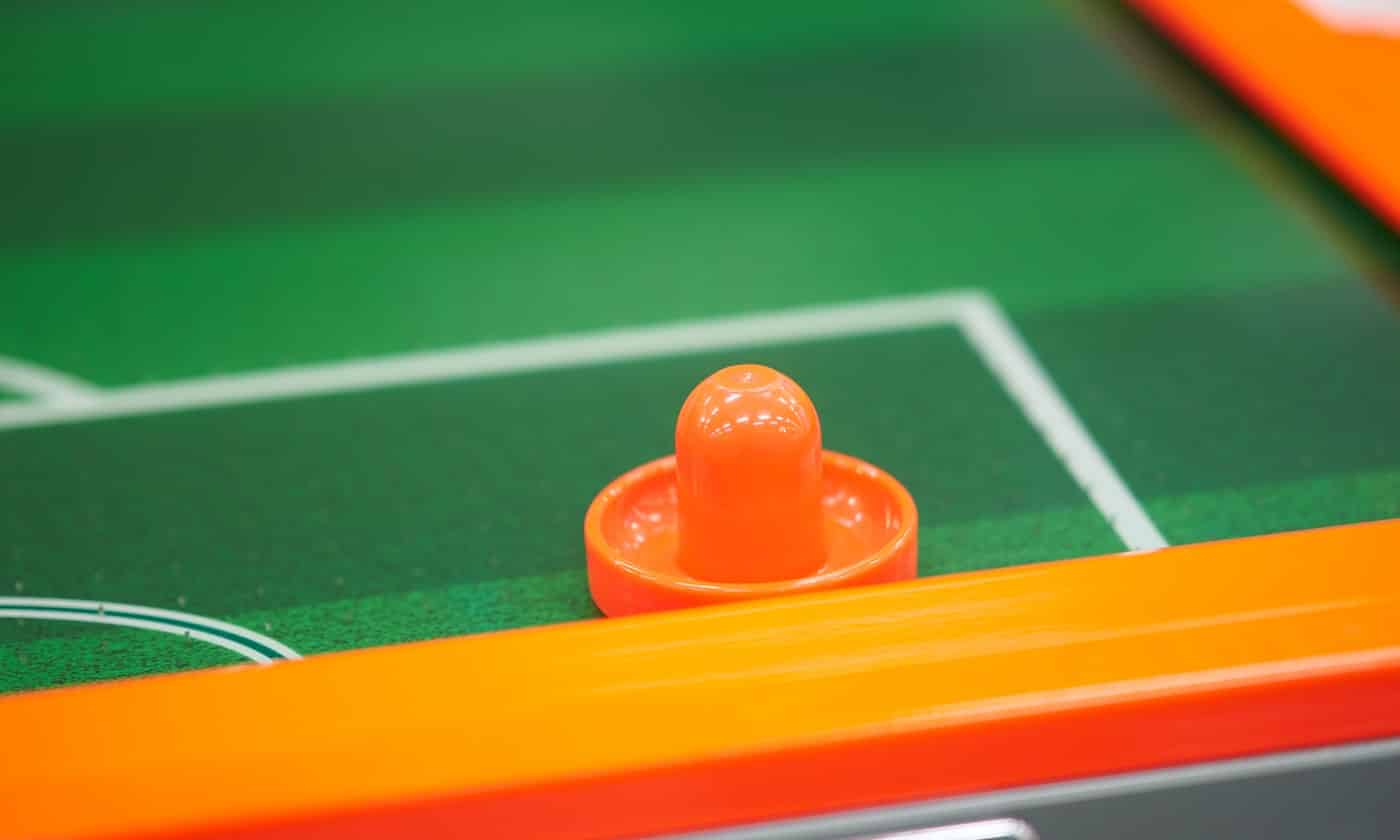 Air Hockey Table Buyer's Guide
Before you move ahead to buy an ideal air hockey table for the home, it's essential to consider your needs and preferences. You also require considering certain vital features which will make sure that the table offers you just the desired performance.
So, let's look at some important factors that you should take into account for purchasing the right air hockey table.
Material
Not all air hockey tables are equally sturdy and long-lasting, since the materials are different for different products. And strength and durability is crucial when it comes to purchasing any product.
So, you need to make sure that the material you are purchasing is strong and durable enough. Don't forget to check the information on the material when you are going through the details of any product.
Size
Taking into account the size of the product is important as the product has to fit comfortably in the space available. Generally, air hockey tables measure 2-feet to 8-feet long, so you must keep in mind the size of the space where you are going to put the product.
Note that products that are 2-feet long are most often available in the form of tabletop air hockey tables. These are lightweight and perfectly portable, which makes them best for small rooms. On the other hand, the longer models are more suitable for larger rooms with enough space.
Scoring Method
There are two primary scoring methods when it comes to air hockey tables. These are manual sliders and electronic scoreboards. While more cost-effective options come with manual sliders, the more expensive models feature electronic scoreboards.
The latter option is easier to keep track of since you can continue to play your shots and just need to glance at the score sometimes. But the manual slider needs you to slide the beads to update the score.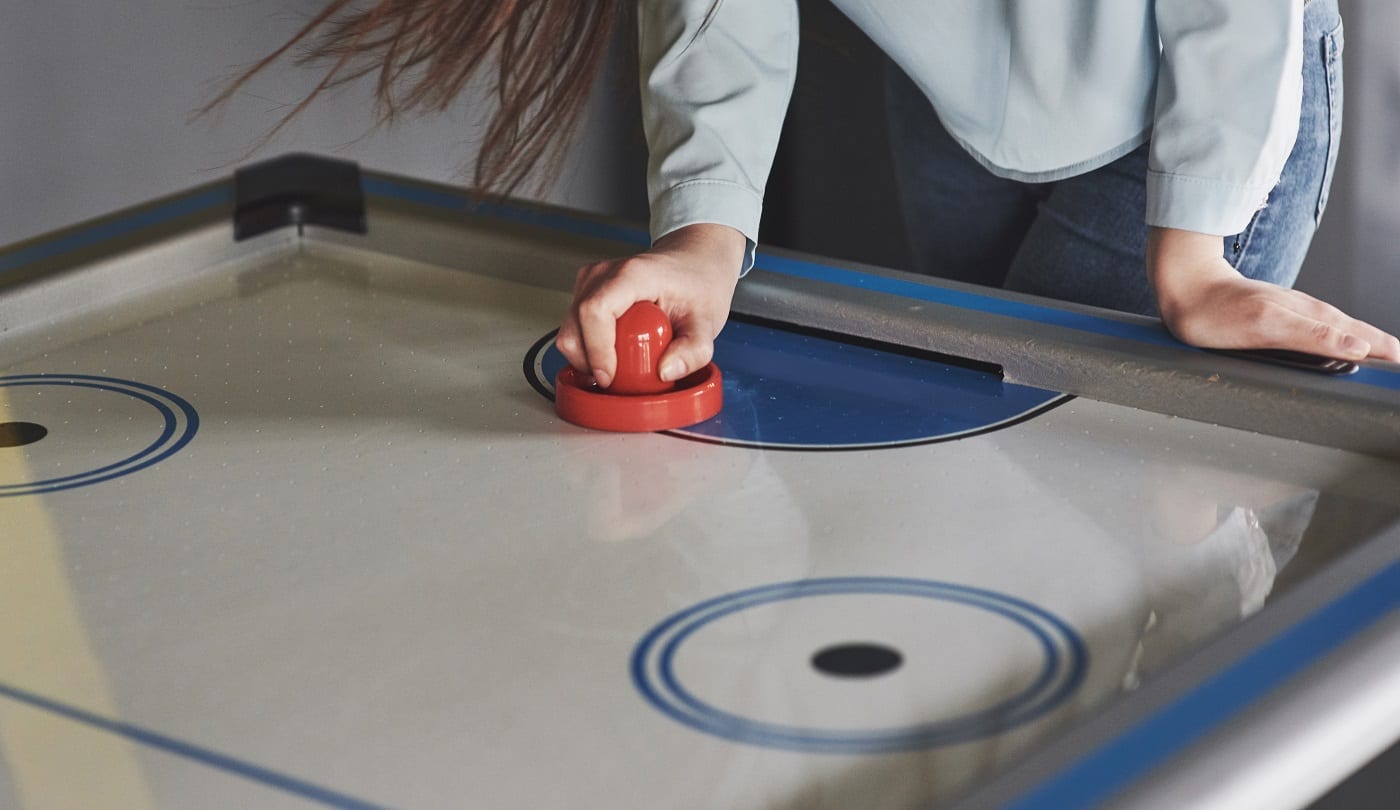 Verdict
With this, we come to the end of this guide, and we hope it will be easier for you to choose the best air hockey table now.
But before we sign off, we would like to recap our favorites from the list. If you have limited space at home and are searching for a smaller and affordable product, the Sport Squad HX40 table will be a great option to go for.
On the other hand, the MD Sports Air Powered Hockey Table will be an ideal choice if you have sufficient space to keep a full-fledged table. It is a tad more expensive than the Sport Squad product and will offer you great performance.
Let us know whether you agree with our verdict in the comments section below.
Bye for now! Take care!
Related Articles