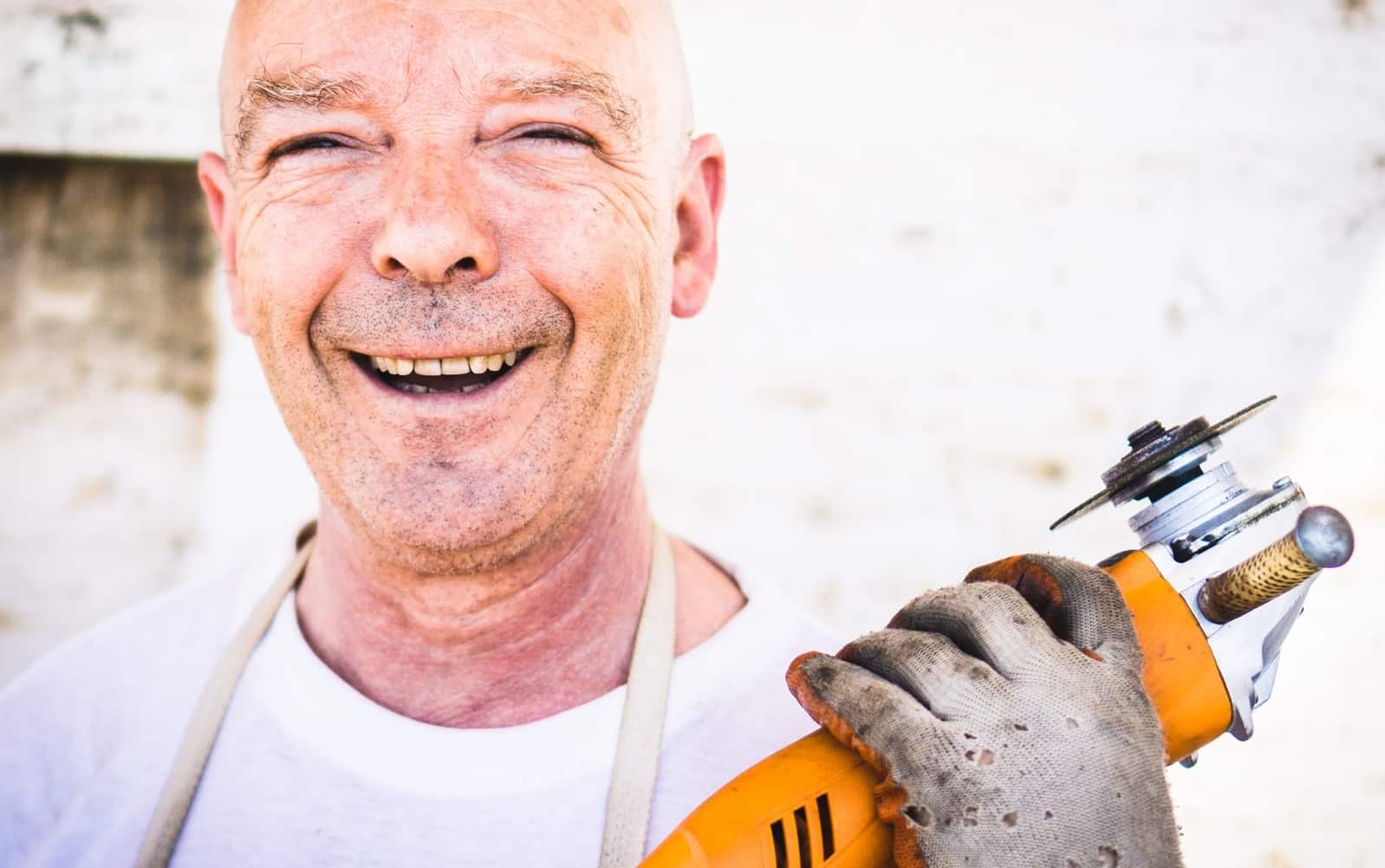 To make a comprehensive workspace, one needs to sift through a whole lot of tools and choose the most useful ones out of them. 
And not just useful, but versatile as well. This is why angle grinders have become indispensable devices for everyone who wants to dip their toes in the arena of construction. 
With angle grinders, you can complete a whole lot of unrelated tasks, such as removing rust, polishing gold, cutting through hardened concrete, split and break thick iron rods, and the list goes on and on. 
But is there any one grinder that could furnish all these tasks with brilliance? Ermm..we're afraid not! Still, here's a list of some of the best angle grinders on the market today, those that serve your needs the most efficiently. 
What's more, we have also provided a definitive buyer's guide, so that the next time you go to the market, you know what you're looking for. 
If you're looking for more information on particular angle grinder topics, start with are angle grinder blades universal or not to know more.
So, let's get started, shall we? 
11 Best Angle Grinders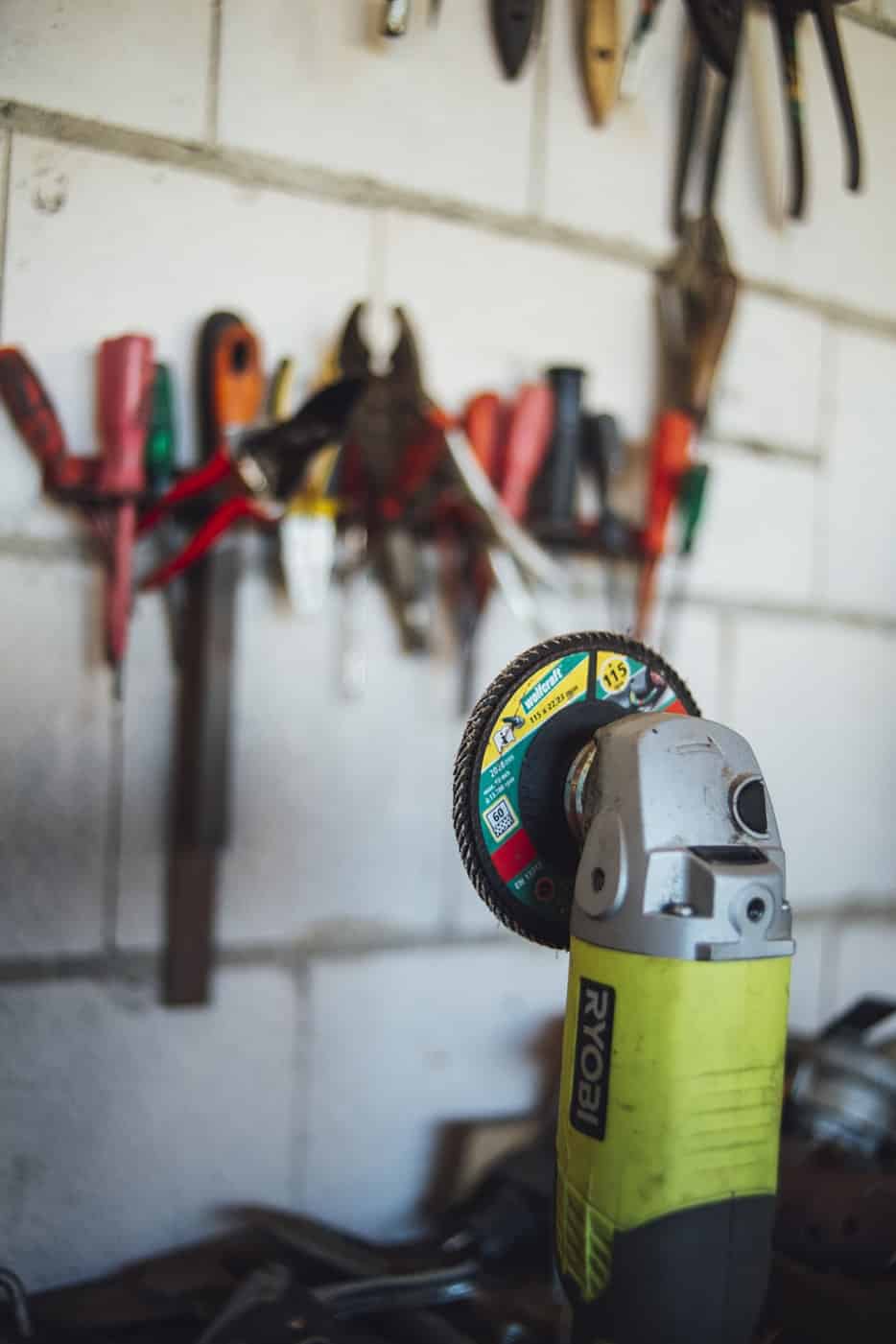 Sale
Bosch is a brand that enjoys an excellent reputation on the market, and its product, the GWX18V-8N for instance, will serve as a great addition to your toolshed. Be it polishing gold, removing rust, or working on stiff concrete, this device can do it all. The design and efficiency offered by this product make it our all-time favorite. 
Why Did We Like It?
The first thing that stood out for us was the exceptional design of this angle grinder. It is ergonomic and won't make your hands ache even if you work with it for an extended period of time. You will find a narrow grip zone on the tool that makes it highly comfortable to use while providing considerable power. 
Not to mention, this power tool also scores high on ease of use. You won't need to get your hands on any additional tools when using this angle grinder. Even if you have to do a disc swap, there is no need to get a spanner wrench or flag nuts. This will not only help you save both time and money. 
Moreover, we were happy to find a restart protection switch on the device. This is a very helpful feature that prevents all accidental startups, which is a common occurrence especially when switching batteries. 
What Could Have Been Better?
Almost everything about this device is on point. However, we noticed that the weight is a bit too high, making portability a bit of a problem. But once you learn how to handle the weight, working with this tool is super simple.
Pros
Exceptional design

Durable

Easy to use

Affordable pricing
Sale
There are very few companies that don't need an introduction because their reputation is built with years of trust and some very durable and highly-functional products. Dewalt is one such globally renowned brand, and like their sturdy workbenches, hammer drills, and a lot of other construction tools, their angle grinders also have a significant following. 
Why did we like it?
The DWE402 is a quite impressive angle grinder that can handle bulk as well as precision work with equal ease. Its 11-amp motor can rise to 11,000 RPM providing a perfect power to weight ratio, giving some of the best performances in grinding, polishing, and sanding. And as it's a corded power tool, you can stop worrying about how much juice is left in the battery. Just plug it in, and you're good to go!
Furthermore, its 4.5-inch wheel is made of grade 2 stainless steel, making it hard enough for rough surfaces, and grinding or polishing them would become a cakewalk. Although it's a bit on the heavier side, its dual-position side handles allow an ergonomic grip that also helps with the smooth functioning of the device in tight spaces.
Finally, DWE402 comes with a superb dust collection system that will collect all the debris and shoot them away with the cooling fan through the bottom. All of this combined makes this model a perfect one for amateur DIY'ers as well as professionals.
What could have been better?
Other than the weight of this angle grinder, there's little to talk about what can be termed a hassle. Its 6-pound body is considerably heavier than the other grinders, and the 2-hand operation won't come to much use during heavy usage. So, there's a chance of hand strain after a long day.
Pros
Perfect power to weight ratio

Ergonomic 2-handle grip

Durable wheel

Powerful motor
Milwaukee is also a brand that needs no preliminary introduction when it comes to power and construction tools. The best part about its products is that all of them have some unique features, although they all fare the same in terms of durability and power. The 2780-20 angle grinder is no exception to this long line of ingenious products.
Why did we like it?
Frankly, the fact that it's a cordless model got us excited because mobility and portability aren't an issue anymore. Moreover, the long battery life of this device isn't a blank claim because the underlying motor is brushless, leading to increased longevity and far less power consumption than the brushed motors. 
And like the Dewalt model, this angle grinder also comes with a convenient side handle and a paddle switch for which you don't need to hold down the switch to keep the device on. Coming to its power, the brushless Power-state motor can go as high as 8,500 RPM. This makes the machine perfect for heavy-duty cutting and grinding, as well as light-duty works such as cleaning and polishing of surfaces.
Like other Milwaukee products, this angle grinder also gave us no chance to complain about its durability. It's all-metal body is made to withstand all heavy-duty work pressure and is far better than all the cheap plastic bodies of other grinders in this range.
What could have been better?
Well, the powerful motor always consumes heavily from the battery giving you short battery life. We hope Milwaukee improves the battery quotient of this pretty soon. Also, despite a paddle switch, the on/off button is located in an awkward position, making it difficult to use.
Pros
Powerful motor

Durable build

Can handle heavy-duty work

Ergonomic design
Cons
Battery life

On/off switch in an awkward position
Sale
You must have heard about Black+Decker as a company whose name keeps popping up in lists of the best power tools. Not just angle grinders, but hammer drills, workbenches, miter saws, Decker has left its mark on all of them. The BDEG400 is a remarkable grinder, and we were lucky enough to have hands-on experience with this model. 
Why did we like it?
Frankly, when the grinder reached our doorstep, its neat packaging got us confused about whether the company had sent us the right product for review. We gotta mark them 5 out of 5 for such smart packing of their stuff. Now, moving on to the product features, it features a metal gear case that can endure a lot of work pressure, as well as protect the device from any accidental injury.
Added to the metal casing, the BDEG400 is also one of the most comfortable devices to work with, owing to its 3 position side handle. After polishing over 5 marble floors, and a bit of grinding and sanding, the device gave us no hand strain. And apart from the comfort, this ergonomic handle gives you increased control over your workspace.
Moreover, the spindle lock is a new addition of Black+Decker, which increases the convenience quotient of the product. It allows quick changing of the accessories without dismantling the entire grinder, and that saved us a major hassle. And add to this a one-touch release switch that prevents you from holding on to the switch to keep the device running. 
Also, the switch is strategically placed closer to the handle so that the instant shut-off of the grinder is possible.
What could have been better?
Everything is fine with this tool except the manual it comes with. We found it to be not so informative and doesn't at all talk about the usefulness of all the aspects of the device. So, two stars were deducted for the half-hearted manual.
Pros
Ergonomic handle

Metal casing

Neat packaging

Easy shut-off switch
Sale
Porter-Cable is another renowned brand that has always shined its way with some of the best power and construction tools. Its hammer drills, workbenches, and miter saws have gained a wide following among DIY'ers and professionals alike, which is why we thought of including this angle grinder in our list.
Why did we like it?
The first aspect that we liked about this angle grinder is its powerful 7-amp motor that rises to 11,000 RPM. Its massive speed enables you to work through the roughest surfaces, as well as the basic tasks of grinding and polishing. So, there's little doubt about the versatility of this tool. 
Next comes its ergonomic handle that deserves a special mention. The 3-position side handle is a master of getting into tight spaces, and its comfortable handling positions leave you with no hand strain even after extensive usage. The ergonomic sidebar comes to great use while polishing the corners of bathroom floors, where other grinders try so hard to reach but fail. 
Talking about its durability, unlike most other models of this price range, Porter-Cable packs its grinders with a sturdy metal case. Apart from job site durability, the tool ensures that it will last you for years with its perfect power-to-weight ratio. And this is also a factor that adds to its no-hand-strain and ease of use quotient. 
What could have been better?
While this grinder has shown a massive performance, many users have commented on a rattling noise, which made them think the tool might fall apart. This seems like a recurring issue, and we believe it's the powerful motor that makes that noise. So, Porter-Cable should think of installing a brushless motor in this model to make it one of the best on the market.
Pros
Perfect weight-to-power ratio

Lightweight

Ergonomic handle

Powerful motor

Versatile
We assure you that you'll be simply mesmerized by working with this grinder. But on the other hand, it's cost might give you a mini-heart attack as it's considerably higher than what angle grinders usually cost. Still, we couldn't just brush it aside because of all its compelling features, and that's why we want you to take a look at it. 
Why did we like it?
The JAT-452 is definitely one of the elite grinders out there and will suit professionals the most. Its huge 7-inch wheel is a considerable departure from the rest of the models, and the highest and most versatile among all the tools we have reviewed thus far. Owing to a larger diameter, the tool saves a whole lot of time and also gives you a significantly better polish than other grinders.
Moreover, one aspect that we really liked about this trailblazing model is its attention to safety and convenience. The grinding wheel comes with an adjustable swivel guard, taking your hands away from the ground surface. And the handles come with an ergonomically designed grip that will absorb all sorts of vibration, and you can spend long hours at work without any hand or elbow strain. 
And talking about its convenient handles, its 2-position handle works excellent with the rugged, ball-bearing design, which allows you to reach tight spaces with ease. Finally, one of the tool's most impressive features involves variable speed throttle with safety lock, making it one of the most versatile grinders on the market right now.
What could have been better?
Honestly, this grinder gave us no chances to complain. Its performance is excellent on any given surface, and the best part is, you will simply drift along with the device. But, and there's always a but, as we mentioned, the price is way more than the ordinary grinders. Yet, its performance will make you think the cost is justified.
Pros
Large 7-inch wheel

2-position side handle with a gentle grip

Variable speed

Rugged ball bearing design
Sale
Being the boss is a difficult job that very few can do with ease, and Bosch is one of them. We have seen some of their most compelling tools in the fields of drilling, welding, and building professional workspaces. Not only are their products durable, but they also come within a reasonable price range. 
As Jet costs a fortune, we thought the Bosch 1375A would be an excellent option to cater to those with shoestring budgets.
Why did we like it?
To begin with, the best part of this angle grinder is its compactness. It comes with a mere weight of 3.75 pounds, making it ideal for metal workers, plumbers, and vehicle fabricators, who use grinders daily. Despite being corded, you won't feel its performance is limited anywhere because of its less weight.
Moreover, just like the Jet model, the 2-position auxiliary handle makes way for maximum user comfort as it's specially designed to adapt to the natural angular positions on any given surface. In other words, Bosch's handling mechanism scores more in terms of convenience than the other models mentioned here because its lightweight structure combines with the natural angular positions to give you a solid grip and greater work control.
And talking about its durability, the device is layered with an epoxy coating which comprises a mixture of epoxy resin and polyamine hardener. This durable alloy protects the tool from the debris of all sizes, while its sealed switch keeps dust from entering the switch mechanism.
What could have been better?
Well, the 1375A could have fared a lot more against its competitors if it had a more powerful motor. As it comes with a 6-amp engine, the highest achievable no-load RPM is 11,000. But our point is its actual working speed is much lower, as verified user reviews have confirmed.
Pros
Lightweight

Ergonomic design

2-position handle works great

Extremely durable
Cons
Less powerful motor

Corded
Well, once we came across the absolutely stunning model from Jet, we can't seem to get over it. So, we have found this little bird from Hoteche, which is a miniature version of that versatile genius that we talked about earlier. The Hoteche model comes with some of the most exceptional features, while also taking care not to put a hole in your pocket. 
Why did we like it?
Well, the best part about this device is its variable speed technology that increases the versatility of this device manifold. Not all surfaces demand the same speed, and neither do all kinds of work such as grinding and polishing have a straitjacketed work speed. And with Hoteche's 6 stops within the range of 0 – 11,000 RPM, your work gets more comfortable, smoother, and faster. 
Coming to its other features, its 7-amp motor also features a ball bearing facility that minimizes friction between the wheel and the surface. Therefore, Hoteche also vouches for longevity, apart from versatility. And added to that, there's a convenient switch with a lock-on button as well as a spindle lock system, making switching wheels a complete cakewalk. 
And the lock-on button prevents you from holding the button down, which comes to great use during heavy-duty operations. It enhances the no-fatigue experience of the grinder, which is already provided by the ergonomic handles. 
What could have been better?
It seems Hoteche has packed too many features into a small grinder, which is why after continuous use, the motor gets really hot. And this is a disturbing feature as you won't be able to work for long without getting your hands affected. 
Pros
Variable speed technology

Motor with ball bearing facility

Spindle lock

Includes a spindle lock wrench

Consists of 2 pieces of carbon brush
How is it that there's a power tools list, and even a single product of Wen isn't there? A one of a kind brand, Wen is one of the most renowned makers of construction tools, which score a lot in durability as well as functionality. So, we thought of reviewing the 94475 model in our list of the best angle grinders. 
Why did we like it?
Frankly, this is the most comprehensive angle grinder out of all, as the package consists of 3 grinding wheels of varying sizes, the grinder, and an adapter. All of this comes neatly packed in a carrying case, so you can stop worrying about your tools getting lost. So much so for proper organization of the tools in the toolset!
Now coming to its features, it weighs only 4 pounds and has a perfect power-to-weight ratio that significantly minimizes hand strain during long hours of usage. Also, its ergonomic grip adds to the convenience quotient of the device with its vibration reduction ability.
Moreover, you can attach the reversible auxiliary handle to both sides of the grinder, and that's a remarkable feature to have. It not only increases its user base but also makes the device more versatile because it can help reach tighter spaces. Just change the handle's position, and you're good to go!
And finally, the arbor adapter that comes with the package makes the grinder compatible with ⅝ and ⅞-inch grinding wheels. So, no more running around in the market looking for parts, as everything's there inside the box.
What could have been better?
While everything is perfect with the model, we won't deny it's a bit thick. That makes it difficult to grip the body of the device, and also, some users have found that operating the adapter to change the discs is a tough job.
Pros
Comes in a compact carrying case

Comes with 3 grinding wheels

Reversible auxiliary handle

Durable

Ergonomic grip reduces vibration
Cons
Changing discs is difficult
We aren't going into an introduction about Makita, as you might have already stumbled upon this name more than once while scouting for power tools. Well, coming from one of the most renowned brands across the world, the 9335HNG is a powerful yet compact angle grinder definitely worth considering.
Let's see how it fares with all its features.
Why did we like it?
The adjectives we used to describe the product in the intro are its USPs. Makita has made a sturdy and compact angle grinder while its 4-inch wheel can polish some of the roughest surfaces with ease. Moreover, owing to its small size, it's extremely portable and, thus, suits a wide array of jobs, from floor polishing to heavy masonry work.
Moreover, we observed how extra care had been taken to create this intricate yet compact device, evident from its labyrinth construction. This style of build duly protects the internal components of the grinder, more so the ball bearings from all kinds of dust and debris.
And the decent no-load speed of 11,000 RPM combines with a protective zigzag varnish to give a smooth workflow. It comes with minimum hand strain even after long hours of usage, making it one of the best angle grinders for masonry cutting.
What could have been better?
Not much to talk about here except the fact that there are no extra wheels in the package. Also, we don't know why, but this model seems to be not so flexible with wheels of different sizes, as user reviews confirmed. It's not really common for Makita, and we hope they'll fix this issue soon enough.
The name 'Hitachi' used to be associated with power, durability, and convenience. And after changing its brand name to Metabo, they have only set the benchmarks higher. The G18ST angle grinder is one of their proud products designed for professionals, while its top-notch safety mechanism caters to the first-timers equally well.
Why did we like it?
Starting with the power capacity of this grinder, its 15-amp brushed motor can produce a massive 3,950 W of power that can grind and polish some of the roughest surfaces with ease. We agree its number of rotations per minute (RPM) is a bit low compared to others in this list, but 6,000 rotations combined with the massive power leads to faster material removal and high torque, suiting some of the toughest jobs at hand.
Moreover, the G18ST also comes with a lightweight design, and its ergonomic grip gives you greater work-control, reduced fatigue, and higher stability. The reason this model beats every other grinder of its price range is its durability, and that reflects in every aspect of the design.
First, the halved stator design is a remarkable feature to have because it efficiently cools the motor even during long hours of extensive usage. And its labyrinth construction prevents dust and debris from entering the internal components. What's more, the armored coils are further protected by long wedges and a durable protection tape to avoid the finer grinding particles from entering the device.
What could have been better?
There's no functional fault with it, or at least, we weren't left wanting for more after coming across this grinder. However, it'd have been great if Metabo included some extra grinding wheels of different sizes, but keeping in mind the price of the product, that's not a dealbreaker.
Pros
Excellent cooling facility

Lightweight

Extremely stable device

Massive power

Durable
Cons
Brushed motors

No extra wheels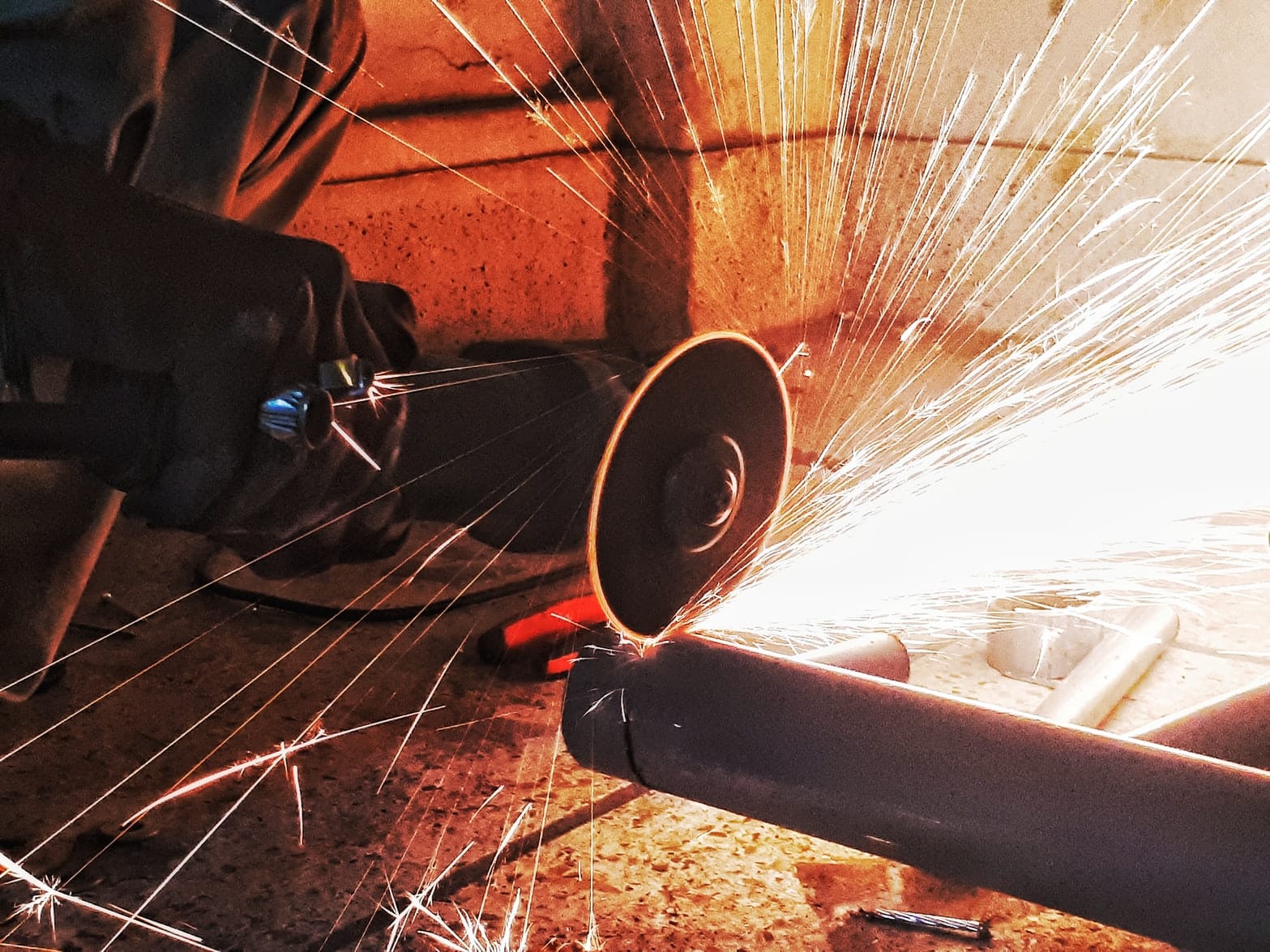 Best Angle Grinder Buying Guide
Well, we believe we have covered most of the needs and demands of different kinds of people. While DIY'ers would usually prefer a cordless model, but as they come with lesser power, professionals look for mighty beasts, which generally come corded. Grinders that run on batteries don't fare well with heavy usage, as their batteries get exhausted soon enough. But then again, you can't beat the mobility of a cordless model!
So, for the rare chance that this list of 11 grinder tools couldn't meet your needs, we have provided an extensive guide that will help you sort them out clearly. Here are some of the tips that can help find the angle grinder that perfectly suits one's needs:
Size of the grinder disc
Well, this isn't rocket science, and we believe you must have thought about it previously as well. The size of the grinding disc is crucial to the success of the device because each size suits a different kind of job. For standard applications, a 4.5-inch disc can serve perfectly, whereas for more professional arenas, let's say for masonry, the disc size may increase up to 7 or even 9 inches. 
Motor power and type of angle
Although most people tend to overlook this aspect, it falls among the most critical dimensions of a good angle grinder. The more powerful the motor, the quicker the material removal process, but with that comes the issue of overheating. Well, if a motor with higher-amp rating continues to grind for 8 hours straight, it's bound to get overheated. 
So, to avoid that, either go for a brushed motor, which makes significantly less noise and consumes a lot less power. Or, you could also go for the high-end models which have coolers alongside the high-amp brushed motors.
Comfort
Never go light on the comfort quotient of an angle grinder. End of story! Rather, that goes for all kinds of construction and power tools, be it hammer drills, workbenches, or anything else. We advise not to go for a model that doesn't have an ergonomic grip or some sort of anti-vibration technology. Otherwise, the hand strain you'll face would be enormous, more so, if you're using it in professional job sites.
Speed of the grinder
Well, speed is directly proportional to noise for angle grinders. Disks of higher speeds that are required for jobs of masonry make a considerable amount of noise. So, if you're looking for household or not-so-complex jobs, it's advisable to look for grinders with lower-speed disks. Because It's no point enduring that disturbing noise if you don't demand that kind of technical expertise from your grinder.
Adjustable disc guards
And talking about speed, we also wanted to point out your safety is as vital as an uninterrupted, smooth workflow. Which brings us to the point of adjustable disk guards. Choosing a model with disk guards is a must if you are using a grinder for the first time.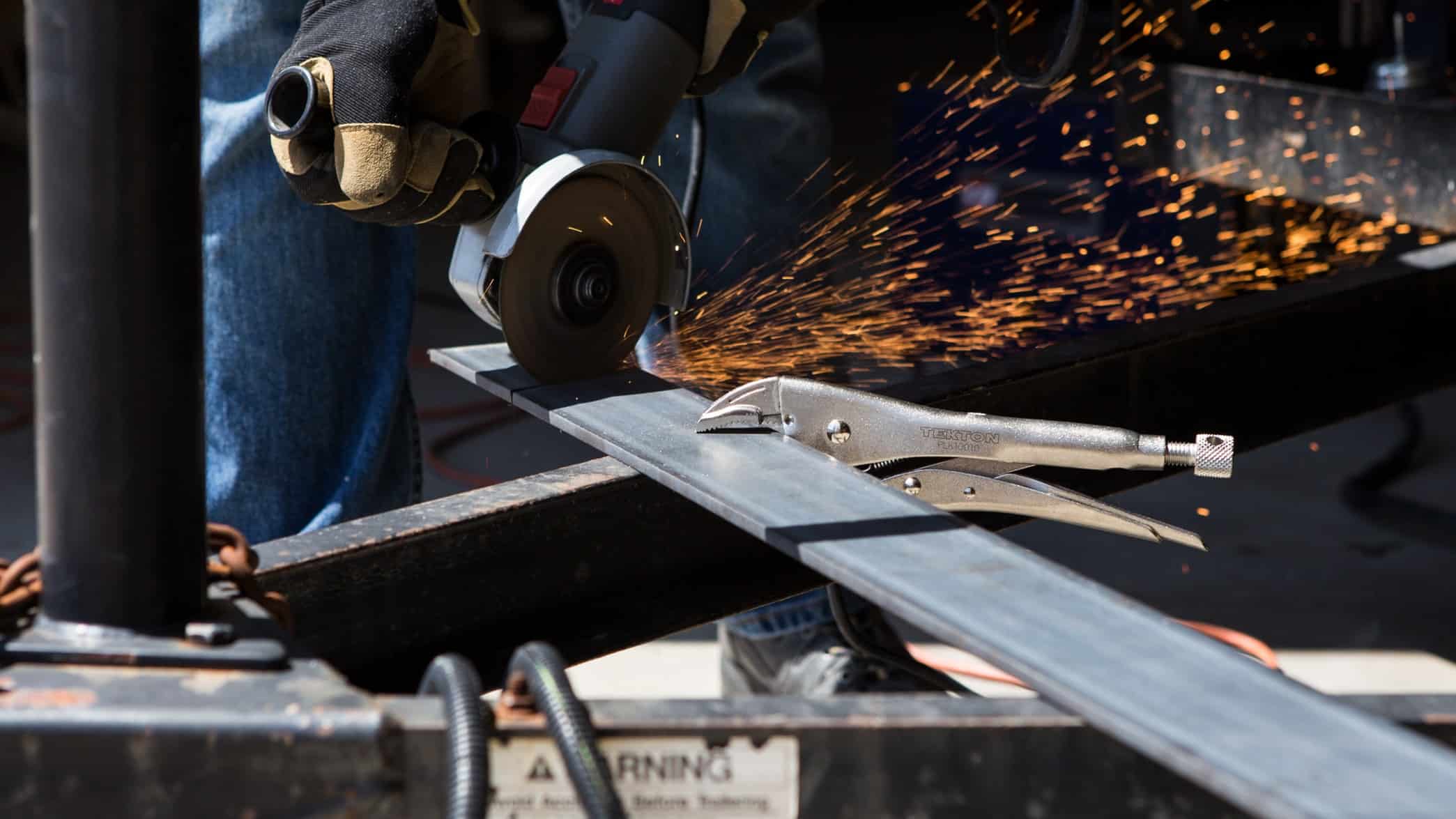 Top Angle Grinders Verdict
Well, we hope we could give you a general idea of what to look for in an angle grinder. And we are also quite sure that out of the 11 best angle grinders of our choice, one of them will tick all your checkboxes of convenience, durability, and stability.
But to further extend a helping hand, we'd like to end this piece with a brief idea of what we think would suit specific construction demands. For the professionals, the Makita model and Metabo G18ST are best cut out because of their high durability and versatility. 
If you're looking for budget models, there's a tough competition between the WEN 94475 model and Bosch 1375A. Both these models are low-priced, with minor pitfalls, but they are ideal for engaging in household tasks. 
And last but not least, the costliest of them all, the JAT-452 from Jet, is a trailblazing model that will serve all kinds of grinding needs perfectly. It's safe, extremely comfortable, and one of the lightest grinders on the market.
So, that's all for today. Stay tuned for all the latest updates of the construction industry. Tell us what you feel about this list in the comments. 
Related Articles
13 Best Cordless Oscillating Tools
Simply the Best Stained Glass Ring Saws
49 FREE DIY Router Table Plans
10 Best Shop Vacs For Dust Collection
Simply The Best Cordless Power Tool Brand
11 Best Sliding Compound Miter Saws
13 Best Bench Grinders of Saws
7 Best Concrete Grinder, Planers, Scarifiers
Bosch 4100-10 Jobsite Table Saw
How To Sharpen A Bow Saw And Bow Saw Maintenance