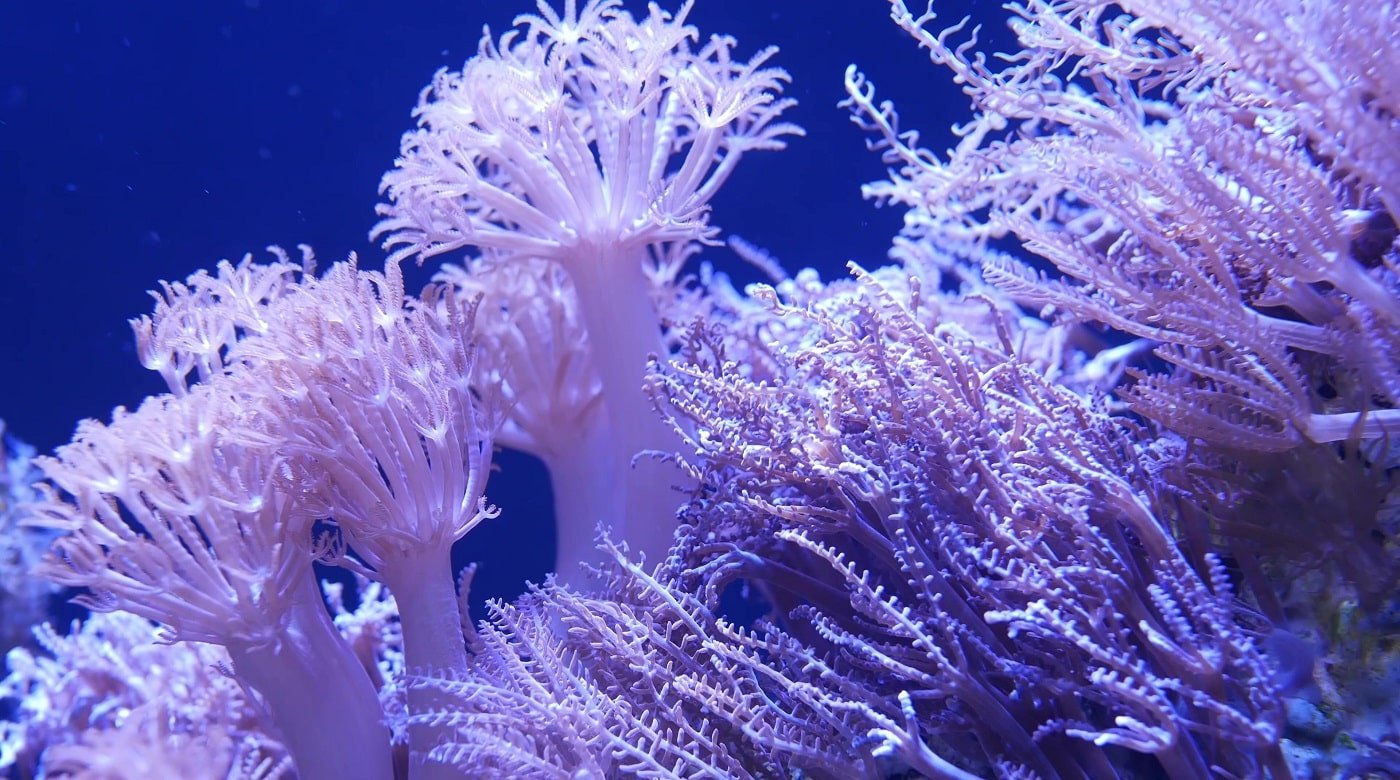 "Buying an aquarium background can't be that tough," or so we thought!
While searching for a durable and aesthetically-pleasing aquarium background, we ran into hundreds of options. From different materials to distinct prints, everything left us scratching our heads! So, we decided to make the job easy by shortlisting the names making the right noise on the market.
If you, too, have faced the same problem, then welcome home as we have curated a guide containing the best aquarium backgrounds. 
Now, let's begin!
Best Aquarium Backgrounds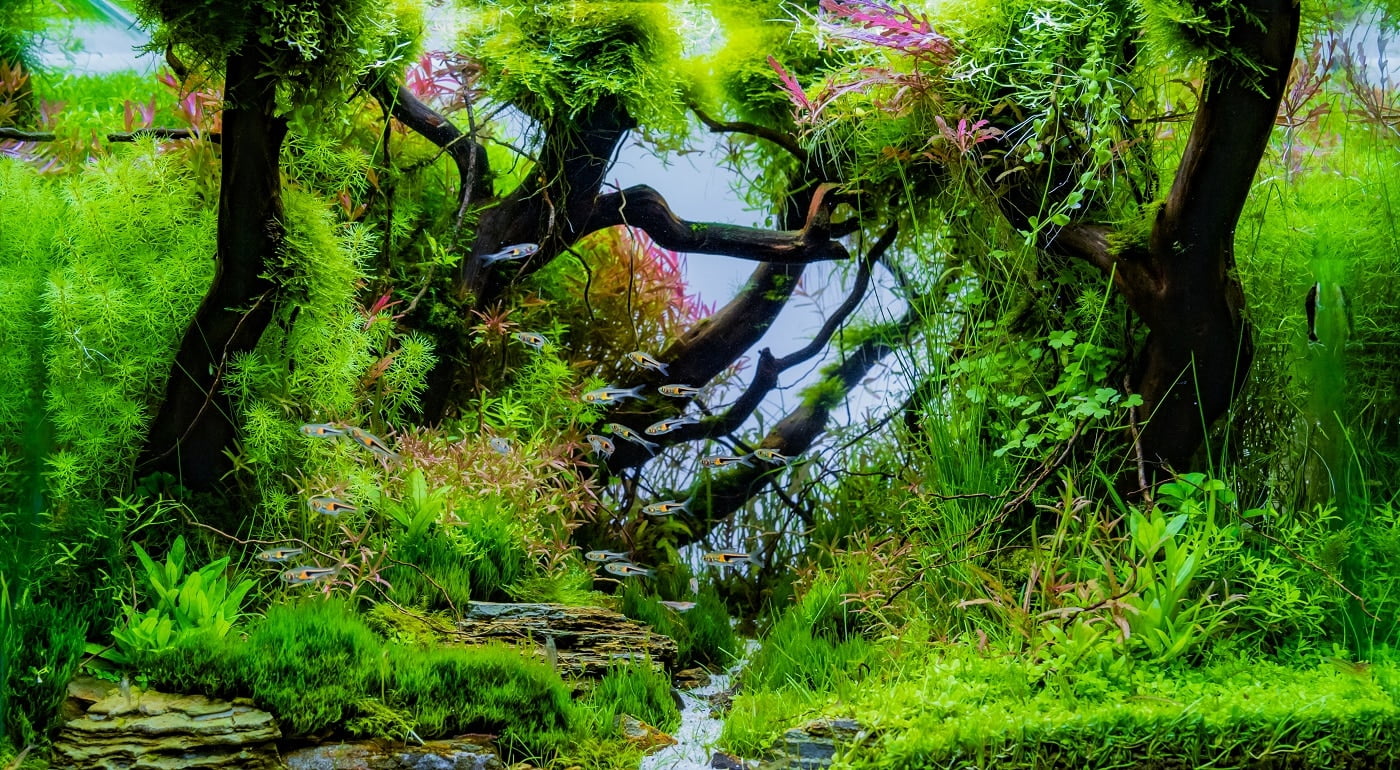 We begin the list with this super-affordable Tropical Aquarium Background from Sporn. Sporting realistic colors in an HD image setting, it can become the perfect background for different styles of aquariums.
Why Did We Like It?
Affordability aside, there are multiple reasons why this product makes for one of our top recommendations. For one, the tropical flora images are printed on a premium quality material and are a match for most aquariums. It adds a visual depth to effectively hide any cords, hoses, filters, etc. 
While it comes in a 24 by 12-inch sized sheet, you can easily cut it according to the desired shape and size.
We are thoroughly impressed with the static cling design that facilitates hassle-free and no-mess  application. Once you remove it from the package and shape it using the grid paper backing, moisten the glass surface with some water spray and stick the wallpaper outside. Squeeze out any air bubbles, and you're good to go!
The cling sticks to the glass without any adhesive or tape and comes off without leaving any scratches and marks. On a side note, the brand suggests applying it on at least two surfaces to complete the look.
What Could've Been Better?
We'd have liked the colors to be a tad bit deeper, especially when the aquarium is set against a light-colored wall. But considering its price and user-friendly design, we aren't mad about this little flaw.
Pros
Easy to trim

Stays firm without using extra adhesive

Can be removed without leaving any marks

Durable and long-lasting
Cons
Colors are a tad bit light
Up next, let's talk about the Elebox New Fish Tank Background. Its heavy-duty, durable construction does away with the need for frequent replacement. With vibrant colors and intricate details, this one is worth considering.
Why Did We Like It?
For starters, the positive customer feedback drew our attention towards it. Made from thickened PVC plastic, it's integrated with waterproofing abilities, meaning you can use it both  inside and outside the aquarium. And despite being fairly sturdy, you won't have to strain your nerves for trimming it.
The natural aquatic-based images keep your fishes comfortable as they won't get distracted by their reflection. In this regard, the double-sided image has a bit of a 3D effect for adding more visual depth. It's available in a variety of colors and patterns, and in two different sizes. We tried the one measuring 19.5 by 48-inch, and it sufficiently covered our 75 gallons aquarium.
Unlike its predecessor, this one doesn't use a static cling design for a practically adhesive-less application. Hence, we opted to stick it with clear waterproof tapes on the inside and were pretty happy with the result.
Finally, the brand is ably represented by responsive customer service should users face any problem.
What Could've Been Better?
It may be good to know that this Elebox New Fish Tank Background isn't the cheapest option out there. Also, some users may find the repeating pattern of the images to be monotonous, especially when used for larger tanks.
Pros
Non-glare and fade resistant

3D effect for lifelike background

Facilitates smooth trimming

Responsive customer service
Cons
Slightly expensive

Repeating pattern
The Vepotek Aquarium Background is a high-quality product that's meant for long-term use. It employs a distinct waterproof material and printing technology for bringing your aquarium to life. What's more, the package comes with all the necessary accessories.
Why Did We Like It?
Before walking you through the aesthetic aspect, allow us to shower some praise on the durable construction. Unlike most other aquarium backgrounds that are printed on a double-layer material, it uses the latest triple layer poly film printing technique for high definition images.
Being printed on both sides, it certainly takes the versatility factor a notch higher. We went with the one that has sea plants on one side and the deep sea on the other. However, you may choose the other variant with the deep seabed and coral rock combination. The rolled packaging prevents crease formation and additional straightening needs.
Not only does the background come in different sizes, but it also comes with different quantities of mounting glue. In the absence of a static cling design, the mounting glue set does a good at saving users from the hassle of buying suitable adhesive. Simply spread a few drops of the glue evenly on the surface and stick the background on it.
What Could've Been Better?
Although we are very happy with the rolled packaging, the mounting glue packet was a total disaster as most of it spilled in the bag. Moreover, there are no instructions regarding the application process, so you might want to take your time with the process.
Pros
Double-sided print for more versatility

Anti-wrinkle material

Waterproof build for fade-resistant colors

Comes in different sizes and with mounting glue
Cons
Poor packaging of glue

No application instructions
Moving on with the list, we have the New 9091 Fish Tank Background. Showered with rave reviews by new and existing customers, it seamlessly blends with most aquariums for a pleasant and natural setting.
Why Did We Like It?
Okay, now it may not have a lot of "new" features, but we are decently satisfied with how the background poster works for its price. As you may have already guessed, the dual-sided printed design means you can use it both ways for a quick switch between the images. One side has a floral image, while the other is printed with a driftwood image.
On that note, we should also mention that the poster measures 19.5 by 48 inches to fit a 55-gallon tank. But you can always trim it according to the dimensions of your aquarium.
Similar to the SPORN Static Cling Tropical Aquarium Background, it has a residual-free removal design to keep the surface clean during installation and peeling off. 
Perhaps its biggest advantage is that you can use almost any adhesive sticking it on the surface. Apart from waterproof tapes and glue, you can also use a semi-thick coat of clear adhesive jelly to make the colors pop even more!
What Could've Been Better?
We observed that the material is susceptible to tears when not handled with care. Hence, we'd strongly recommend setting aside ample time and patience while trimming and applying it to the aquarium. And at its price, we're a bit disappointed that the package doesn't include any adhesive or sealing tool.
Pros
Reduces stress in older fishes

Easy application and removal

Can be applied with petroleum jelly

Doesn't leave any mark upon removal
Cons
May tear while trimming

Doesn't come with glue
This Rocks Ledge Flexible Aquarium Background from the house of Universal is a premium product that's unlike anything we have tried so far. It creates the ultimate realistic environment for your fishes to feel at home.
Why Did We Like It?
To answer in short, we'd say it takes creating a natural setting to a whole new level! Construction-wise, it's made from lightweight, thin, and extremely flexible material with significantly large overhangs that double as natural resting or hiding spots for your fishes. The highest spots protrude for about 5 to 6 inches, with plenty of space to conceal filters or heaters behind them.
Moreover, the non-toxic base material doesn't change the chemical balance of the water, which is a bonus!
The brand suggests prepping the background by washing it with a high-pressure hose, pressure washer, or even by soaking it in water for a couple of days. This will help the residual material to settle down. 
However, it's not unusual for the water to develop some foam and smell, which should subside in around 2 weeks. Besides, users can install it with center braces by bending as much as needed to fit the surface. And you can easily trim it according to the dimensions of the tank.
What Could've Been Better?
As we've already mentioned, it's a premium product with a very steep price tag, which may be a constraint for potential users. And it's quite a bummer that the brand didn't include a single installation clip, thereby adding to the extra expenses.
Pros
Brown color compliments the rocky look

Compact structure doesn't clutter the tank

Can be trimmed and resized

Durable
Cons
Very expensive

No installation clips
Halfway through the list, we'd like to introduce the Fdit PVC Fish Tank Underwater Forest Tank Background. Sporting a premium material and high definition images, it's made for long-term use.
Why Did We Like It?
Starting with the base material, it's essentially a high-quality, waterproof PVC sheet, which is waterproof and easy to clean. Not only that, but it has a non-toxic and non-odor build that has zero effect on the water.
The high definition images boast of bright colors and precise detailing to create a luxurious setting in the aquarium. It has a realistic look-and-feel that somewhat replicates an underwater tropical scene.
Coming to the construction, the thickened decorative sheet adopts a self-adhesive design, which is shielded by a thin protective film. Users need to clean the surface and add a few drops of water and detergent mix or wipe the glass with a wet cloth before sticking the poster. The residual free removal is meant to come in handy during alignment issues.
Likewise, use a scraper to flatten it out or poke tiny holes with a needle to release any trapped air bubbles from the middle to the sides.
What Could've Been Better?
There's a fair bit of effort involved in the application process. Firstly, the adhesive is extremely sticky, which makes it difficult to work with larger surfaces. It practically gives you one shot at the alignment. Secondly, if the air bubbles aren't released properly, the glue tends to turn white. Users would then have to dry it out with a hairdryer to remove unwanted marks.
Pros
Non-toxic and no-odor design

Vibrant greenery

Strong adhesive back

Durable and long service life
Cons
Aligning may be an issue with larger surfaces

Adhesive may leave marks if not dried properly
Nothing creates that dreamy, underwater landscape like the HEEPDD Marine Coral Fish Tank Background Poster! Its durable construction fits most aquariums for providing a stress-free environment for fishes.
Sale
Why Did We Like It?
At first glance, we loved the vibrant coral reef landscape that creates a very realistic effect. The non-glare PVC material effectively prevents the fishes from getting distracted while maintaining a homely atmosphere to ensure optimum comfort. And with its durable and waterproof properties, users can rest assured about a long service life.
Its self-adhesive design eliminates the need for additional glue or tapes. In other words, it employs a "peel and stick" system, where all you have to do is peel the protective film and stick it on the surface.
We like how the poster is available in 9 size variants to fit varied tank sizes. This is particularly helpful for users who are apprehensive about trimming the background to distort the image. That said, it still facilitates smooth trimming for finesse purposes. But make sure you cut it before removing the protective film. It's finished off with residual-free removal for hassle-free installation.
What Could've Been Better?
We feel the brand should take care of consistency in terms of manufacturing. While some users have reported that the adhesive is too sticky, making alignment difficult in established tanks, others have complained about having to use extra glue for foolproof installation.
Pros
Durable PVC material

Bright colors

Waterproof and non-glare

Available in multiple sizes
Cons
May not be suitable for established tanks

Inconsistent manufacturing
Another one of our affordable favorites is the Donau High Aquarium Background Poster. This double-sided background may just be the ideal way to create a unique-looking aquarium without breaking the bank.
Why Did We Like It?
To begin with, we loved the vibrant blue color of the ocean-theme poster. In fact, it blends so well with the surface that it can be hard to tell the difference between real and artificial "water"! On top of that, the sharp quality ocean wood images on the PVC material create a natural home-like environment for the fishes to reduce stress and anxiety.
Having tried a number of self-adhesive posters, we were glad to break the monotony with its non-adhesive design. In hindsight, it gives users the flexibility to "customize" the installation according to the surface of the tank. You can use either sticker adhesives or waterproof tapes to secure it into place.
Much like the Donau High Aquarium Background Poster, it comes in 10 different sizes to suit different sized aquariums.
What Could've Been Better?
There are but a couple of things that can cause inconvenience. For one, the poster is not very suitable for aquaponic tanks as it isn't efficient in blocking out sunlight. Hence, you might want to paint the back black before installing it. Owing to the tight roll packaging, the edges kept coming off, and we had to use more clear tape to hold it in place. 
Pros
Durable PVC material

Can be used both ways

Rich colors and detailing

Comes in multiple sizes
Cons
Not ideal for aquaponic tanks

Edges require extra taping
The BannersNStands Aquarium/Fish Tank Background uses high-definition images for a realistic look. It comes in various sizes to cater to different users' needs. What's more, it easily tapes on the surfaces for trouble-free installation.

Why Did We Like It?
Honestly, we were quite intrigued by the mangrove print, which compelled us to try it in the first place. Similar to quite a lot of our other recommendations on the list, it employs high definition printing to render an accurately realistic effect. Also, it wouldn't be wrong to say that the projection is almost 3D-like.
Although the material looks like paper, it's basically a thick vinyl that accounts for the durability factor. Additionally, the scratch and tear-resistant properties make it last longer than usual.
Here again, the non-adhesive back gives users the freedom to adjust the installation as required. While the brand recommends using tapes, we got satisfactory results with gel adhesive as well.
Since it's available in about 10 sizes, you don't have to rely on intensive trimming to customize it according to the tank dimensions. Moreover, it has a complete scene printed and doesn't just repeat one single image to fill the space.
What Could've Been Better?
Some users have complained that the poster begins developing bulges and water bubbles only a couple of months later. In that case, you may have to take out the whole thing and replace it with a new one. And with its rather expensive price tag, this is not something we had expected.
Pros
Thick vinyl material

3D like projection

Can be applied using tapes

10 size variants
As we near the end of the list, here's the AOFOTO Under Sea Aquarium Background. This digitally created poster has a host of colors and images to amp up almost any aquarium setting. Plus, it can be used as a photography background or for decoration purposes.
Sale
Why Did We Like It?
One of the first things that grabbed our eyeballs was the rich color base. Being digitally printed, the quality is at par with some high-end aquarium backgrounds. And with dynamic fish images, we are sure your little friends won't feel alone in there. The images are glare-free and mostly resistant to fading when kept away from direct sunlight.
For its affordable pricing and high-tech digital design, we are surprised by the thick vinyl construction. Not only does it reinforce the durability of the poster, but it also makes for hassle-free portability and storage. Simply put, you can fold it for shifting or storage purposes.
Even if you see some wrinkles, place a cotton cloth over the poster and carefully run a hot iron.
However, its biggest advantage is the multi-purpose utility factor. Be it for indoor photography, parties, or events; you can roll out the backdrop flat and hang it either vertically or horizontally. For aquariums, feel free to use any gel-based adhesive or clear waterproof tape.
What Could've Been Better?
Since it doesn't have a waterproof construction per se, it limits utility in the sense that users can only install it on the outside of the aquarium. Besides, it needs to be shielded from direct sunlight and may not be a good choice to accessorize aquaponic tanks.
Pros
Thin, foldable vinyl material

Digitally printed for bright colors

Suitable for multi-purpose use

Glare and fade resistant
Cons
Not waterproof

Not for use under direct sunlight
Before wrapping up the list, the Karen Low Aquarium Background finds an honorable mention. Comprising two-sided print and a durable build, it comes in a variety of sizes to fit different aquariums with ease.
Why Did We Like It?
First things first, it has a plastic construction that makes it durable for regular use in aquariums. The double-sided printing consists of a colorful reef on one side and fresh seawater plants on the other. We like how the design replicates natural hiding/resting spots for fishes to the tee.
Although it doesn't have an adhesive back or static ling design, the package includes clear double-sided tape for attaching it. Hence, you don't have to worry about the adhesive showing on the surface.
We also appreciate the brand's attention to detail in preventing shipping-related damages. That's why the product comes rolled in a postal tube. We'd suggest unrolling it laying it flat for sometime before installation. This will eliminate any bumps or unevenness.
What Could've Been Better?
We felt that the side with seawater plants printed on it is a bit too crowded with the images, making it appear slightly darker than what we'd have preferred. You might want to face it away from the water or install a light-colored LED in the tank.
Pros
Suits tropical or lagoon-style aquarium

Sticks with clear tape

Can be used both ways

Long-lasting
Cons
Maybe a bit too dark for some users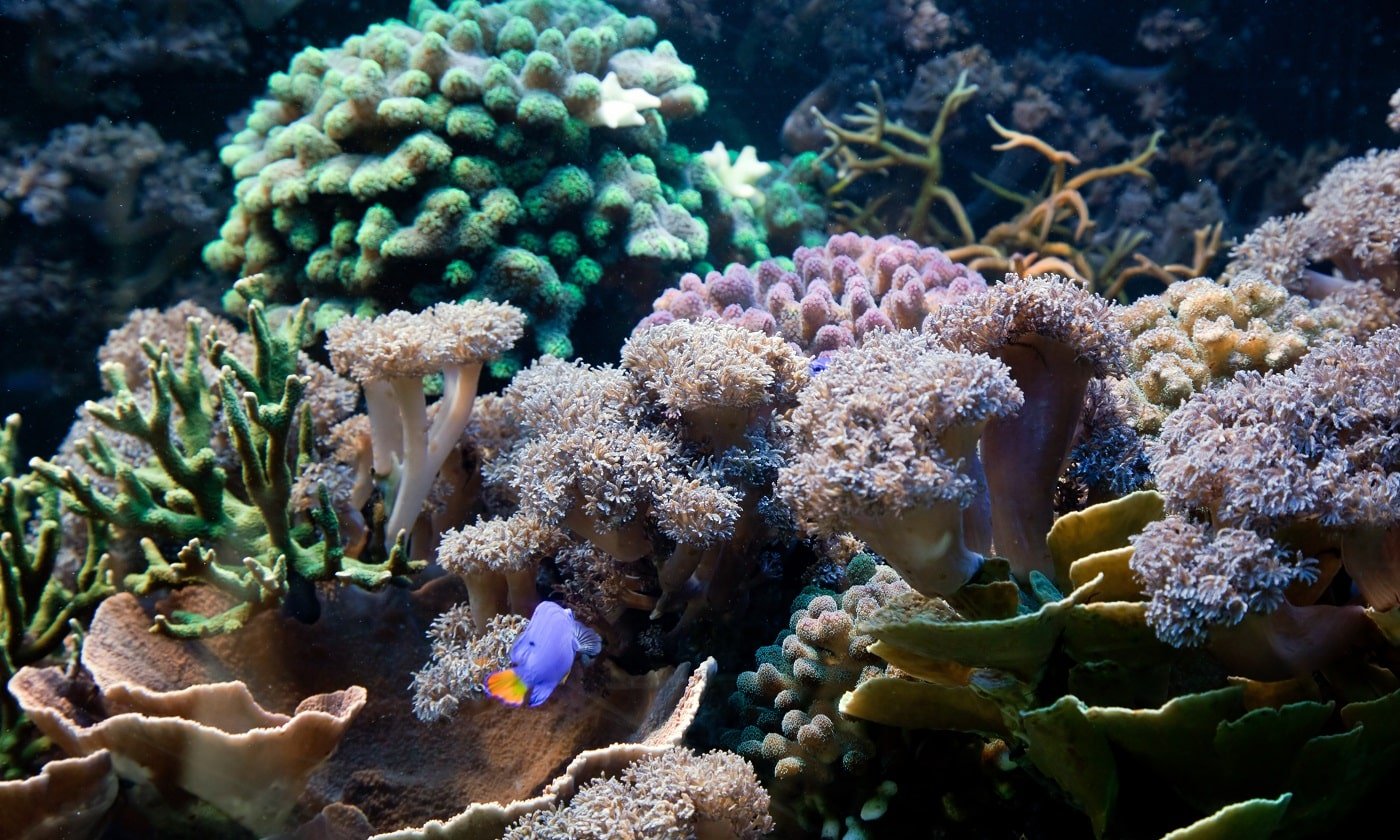 Aquarium Background Buyer's Guide
Sure, most aquarium backgrounds won't cost you a fortune, but that doesn't mean you should pick up the first product that you come across. Aside from the size and design, there are a few other things that you should consider to make the investment truly worth it. And in the following sections, we have listed just those! So, bear with us for some time..
Construction/Material
Without a doubt, the material or construction is one of the first things to look out for. From what we have observed, most aquarium backgrounds are made of PVC or vinyl with durability in mind. And the images should have high-definition printing for a realistic or even 3D effect.
Besides, trimming a PVC or vinyl sheet with a sharp pair of scissors is a fairly easy job. But it's still advisable to buy one that has tear or wrinkle-resistant properties. And double-sided backgrounds are a great option if you plan to change the display frequently without actually installing a new poster.
Another thing in this regard is that while some are slightly thin, others may have a slightly thick build, which may affect the contrast. No matter what thickness you opt for, we'd advise going for a waterproof background. Likewise, fade-resistant backgrounds are a good way to ensure longevity.
Lastly, residual-free removal will prevent the surface from developing scratches or stains.
Color
The color of the background will have a significant impact on the overall look of the aquarium. If the color is too similar to that of the fishes or other decorations, the appearance will invariably become monotonous. You'd want a background that makes the other elements pop. But remember that too many contrasting colors can become an eyesore.
Alternatively, a very light-colored background can reflect the light to opposite walls, which can cause stress in fishes used to living in dark environments. As such, color and the subsequent lighting are sensitive issues and should be selected based on the habitat of the said species.
Painted Vs. 3D Backgrounds
Painted backgrounds are a popular choice for odd or uniquely-shaped backgrounds where prefabricated backgrounds won't fit. Usually, these backgrounds have a single solid color like black or blue without any designs. 
In case you opt for these, make sure the paint is compatible with the material (glass or acrylic) that your aquarium is made of. And be informed that changing it later will involve a fair bit of work.
3D backgrounds are available in both prefabricated and textured variants. Generally, these are installed to mimic natural hiding spots like coral reefs and sea rocks for fishes like cichlids that live in rocky or wooded underwater environments. 
Installation
The installation primarily depends on the overall design of the background. For instance, a static cling or adhesive back doesn't require extra adhesive for installation. Similarly, others may require you to apply glue or tape. Especially for the latter, we'd strongly recommend buying one that comes with the compatible adhesive.
Size
Most users prefer going for a larger size than required just to keep some room for installation mistakes. If you plan on doing that, ensure that trimming the design doesn't take out a chunk of the design to render the look incomplete. 
A protip: for the ones with an adhesive back, always make sure you do the trimming before removing the protective film.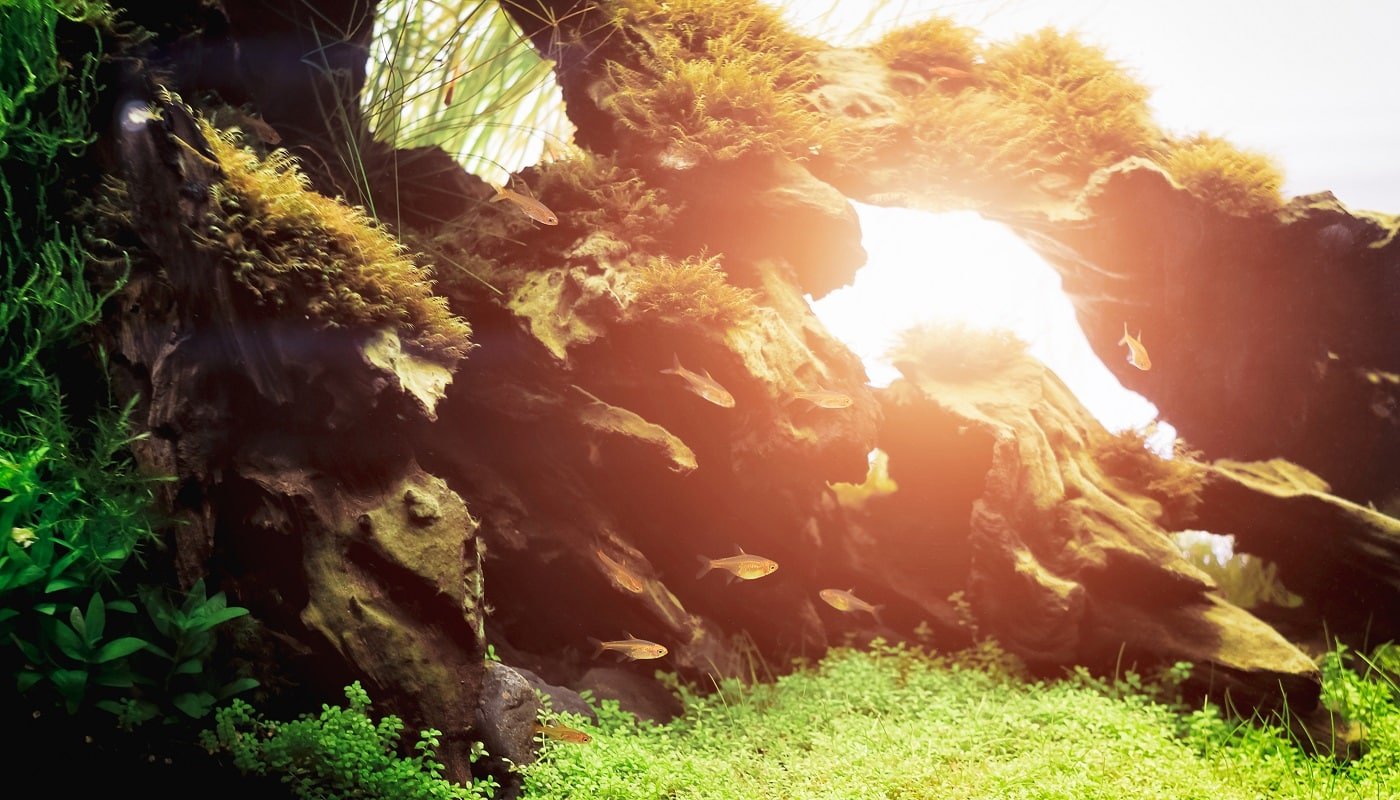 Verdict
That has brought us to the end of today's guide.
Hopefully, our detailed reviews and buyer's guide will help you pick the right product according to your needs, and of course, your budget! But before we bring down the curtains, we'd like to give a quick shoutout to our top three favorites from the list.
The SPORN Static Cling Tropical Aquarium Background is our best pick in the budget category, and the Vepotek Aquarium Background has a three-layer waterproof film. Lastly, the Universal Rocks Ledge Flexible Aquarium Backgroundhas 3D projections for a completely realistic setting.
Till the next time, ciao!
Related Articles
11 Best Aquarium Safe Silicone
11 Popular Small Saltwater Fishes You Need to See
7 Best Substrates for Betta Fish Tank [Gravel, Sand & More]