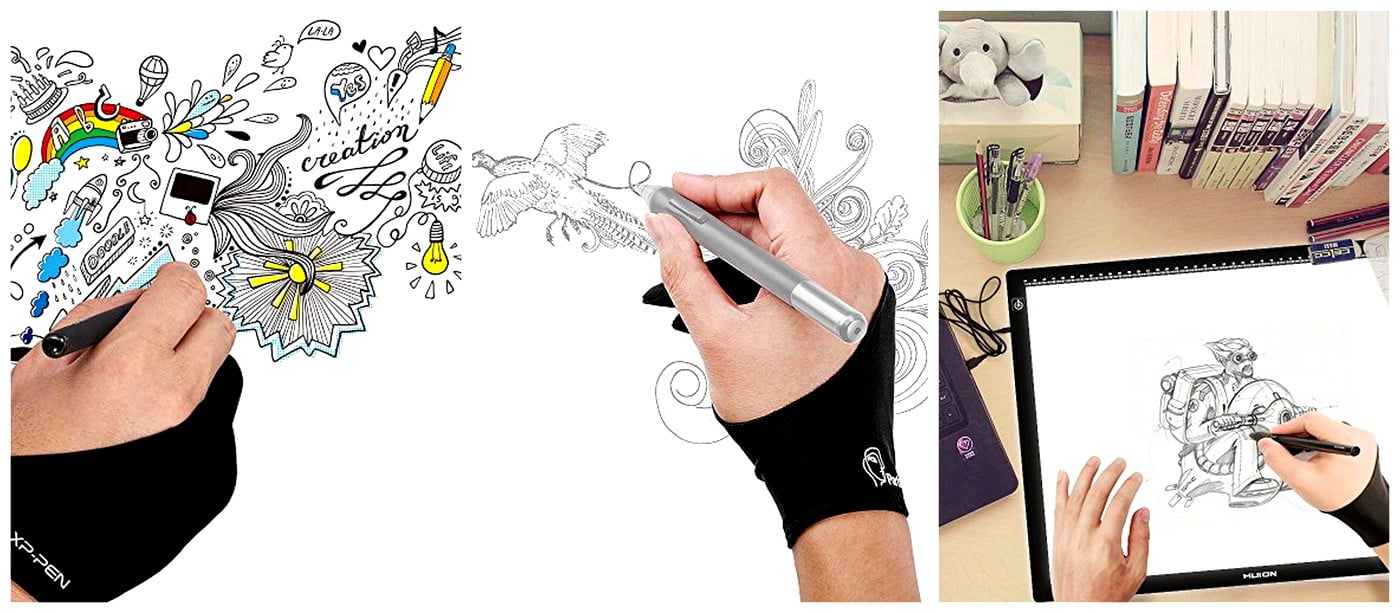 You might find many of the artists wearing a weird looking glove, that is covering their palm along with the ring finger and tiny finger. These gloves have the anti-fouling property which prevents you from making any smudges and instead it will help you to make your drawing precise. 
You may choose to not buy one of the artist gloves along with your tablet, but having one will help to ensure that you do not make tiny mistakes with your hands as it touches the screen. An artist glove is not the fundamental tool that can make your work better, but it will bring comfort and ease as you keep drawing on your tablet for long hours. 
Our hands tend to sweat often, so if you choose a glove that has anti-sweat properties, then it will make your work a little less tedious. You can rest your hand on the tablet without the fear of leaving any oily stains or smears. When the artist gloves are thick, it will avoid any touch input and make the process of creating art easier. 
An artistic glove will help to keep the screen of your tablets and graphics monitor free of residues, and they will be sparkling clean. 
Without further ado, let's check out the list of artist gloves! 
Best Artist Gloves For Drawing Tablets
Whether you are looking out for pen display or the pen tablet, XP-Pen is a good option. The product is known for having a satisfactory level of quality as its made with the lycra material. This glove is placed within an affordable price range of $7. It is a two-finger Anti-fouling glove for professional artists. 
Even though the company claims that the glove will help your palm to avoid touching the touch-sensitive screens, this might not be true. Based on our experience, if you put too much pressure then the touch-sensitive tablet will be sure to respond. It is not entirely resistant to touch, but it again depends on the way the product is being used. This product is suitable to be used for non-touch sensitive tablets like the Huion tablets or XP PEN Star-06. 
The product comes in a size that will fit on anyone's hand, and the product is suitable to be used on the right and left side. 
The CURA CR- 01 by Huion is one of the best artist's gloves available for drawing tablets. It offers both the option of with and without drawing tablets. The product has been specifically designed for tablet monitors and graphics tablets. 
This two-finger artist glove CR- 01 is made of the same comfortable material (lycra) like the AC Series 01 by XP-Pen. The fabric helps to reduce friction between the surface of the tablet and your hands. 
The glove has an anti-fouling feature, and it works for the traditional medium of drawing along your tablets. The product comes in a universal size, so there is no requirement for you to take any measurements. The shape and design are applicable for the left and right-handers as the elasticity of the fabric tend to fit well in both hands. 
Sale
This two-finger glove is used for graphics drawing tablets. The brand Parblo does provide these gloves with their tablets, and you also have the option to purchase them separately. The glove does its job pretty well, as it helps to avoid friction that takes place due to a sticky palm. If you are looking to have a seamless drawing, then we recommend this product. 
The  Parblo PR-01 is made of the high-quality lycra fiber which has useful features like high tensile strength and air permeability which allows you to work efficiently. But the material of the glove is not quite thick so it might not prevent accidental touches on your touch-sensitive devices. However, it does adequately help to avoid smudging and ensure steady hand movement. You can buy just one piece as it's applicable for the left and right hand. 
We recommend you to get Parblo is you're using a device which is touch-sensitive as it has been designed especially for artists who are using lightbox, graphics tablet or a tracing light pad for their work. 
If you have been working for hours on your tablet than the Mudder Glove- 01 will be the best option for you as it prevents friction between the screen and your hands. The material is quite thick, and it's made of the sophisticated quality of nylon, which helps you to work smoothly and with comfort.
The glove is resistant to soiling; therefore, your hands will remain clean and do not need to wash them regularly. This also helps to glide your hand over the surface quickly and prevents any dirt or oil from getting build up even after long drawing sessions.
It will be useful when you're using devices with a touch feature, but it will not be smudging completely. Even if you're working on a drawing pad with a touch-sensitive screen or an iPad pro, this glove will be a good purchase for both. You can rest your hand on the screen without the fear of messing up your design.
There is high flexibility in the material, which makes it user-friendly as you can wear it on your left and right hands. Most of the electronics tend to get a little warm over time, which can make you uncomfortable while drawing, but the glove helps you to avoid the heat on your hands. We recommend the Mudder Glove- 01 if you're using a monitor tablet, like Gaomon, Wacom or Huion for digital painting.
Sale
The Articka Artist Glove for digital artists allows the hand of the user to glide smoothly and to avoid friction of any type between the surface of your hand and the screen. This glove has been made with high-quality lycra material, which is known for providing comfort and ensures good elasticity. 
The content is durable, soft, has the right amount of air permeability, and it is not very thick.
The anti-fouling feature of the glove helps you to avoid smudges and prevents the formation of any oil stains on the screen, which can be caused by the hand. It also helps you to avoid any fingerprints or palm-touches on the screen. 
The glove is suitable for men and women, as it comes in a size that will fit all. The glove is around 7.9 inches in length and 3.4 inches broad, which will make it a comfortable fit for you, however, do measure your hands before you purchase it. We recommend this product to you as it will help you while making your digital paintings without any stray marks being left on the screen.
Sale
The SENHAI Glove can be used for both sketching and drawing, and it comes in a pack of three, which make it a good value for its price. By getting this glove, you can avoid the problem of having sweaty hands while drawing due to the anti-fouling feature, which will assist you in making your work precise. 
This two-fingered glove is made of lycra material, which is lightweight and has some excellent properties, which makes you comfortable and guides you to make a precise drawing. It will help your hands to glide smoothly over your work, by avoiding any friction between your tablet screen and your fingers while you're writing or drawing. When you have this glove-on, you will be able to draw smooth lines and prevent any smudges. 
The glove is available in a universal size, and you can wear it on your left and right hands. It is available in multiple colors like pink, sapphire blue, and black. 
Buyer's Guide on How to Select the Right Product
1. Fabric
Select a glove that is made by using high-quality material. The ones which are commonly found is made of lycra, which has a high level of tenacity, and air permeability. This material helps to improve your work efficiency and ensure that the material is flexible and non-deforming.
You can also choose the gloves made of nylon material as they are specially designed to give a smooth finish and allows you to move your hand with comfort. They are thick inside, which helps to keep your hand warm while drawing.
2. Anti-fouling design
This helps to prevent any types of smudges on the screen and eliminates having any oily-residue on the screen of your tablet. 
Our palm can leave stain marks on the surface due to grease, dirt, sweat, chunks of food, or any other things that we tend to touch. The anti-fouling design will also help to reduce the friction between your tablet surface and your hands. Choose the one that goes along with the surface of the touchscreen that you are using for your designs.
3. Suitable for both hands
Most of the artist gloves are suitable for use on both the hands, but you need to be careful about the size, a few of them have a certain accurate measurement while some might have a universal size that will fit all. They are also quite flexible to use as it usually doesn't differentiate between the front and the back.
Few brands even have different sizes available for women and men, so we advise you to check the product specifications which have been mentioned.
Package:

There are few companies which sell individual pieces while some come in sets of two-six piece. You can choose what suits your needs and buy accordingly. Usually, the ones that come in sets have a good discount, so most of the people tend to buy them often.

Price range:

The artist gloves are generally priced between $7 to $15, it again depends on the features and the design of the glove. We advise you to select one that will be durable and serves the purpose, by helping your hands to glide over the screen smoothly and prevents you from making errors in your drawing.
Final Words On Best Artist Gloves For Drawing Tablets
Wearing on an artist glove can help you enhance your digital paintings while some of them can also be used in your traditional mediums. Having one of these gloves is always going to be beneficial to avoid friction or smudging. Select the one that is suitable for you and a ton of comfort and flexibility to even your most meticulous projects. 
Till next time keep creating art! 
Related Articles
111 Best, Fun and Cool Things to Draw
9 of the Best Smart Pens for Artists
10 Best Stylus Pens For Drawing
11 Best Artist Gloves For Drawing Tablets
14 Best Drawing Tablets For Animations & Illustrations
5 Best Hand Drawing Reference Photo Sources
31 Best Free Maya Rigs | Legendary Creativity Collection
7 Best Graphic Tablets for Beginners
6 Best iPad Pro Drawing Case Options for Artists
XP Pen Artist 24 Pro Review | Huge Affordable Drawing Tablet for Pros