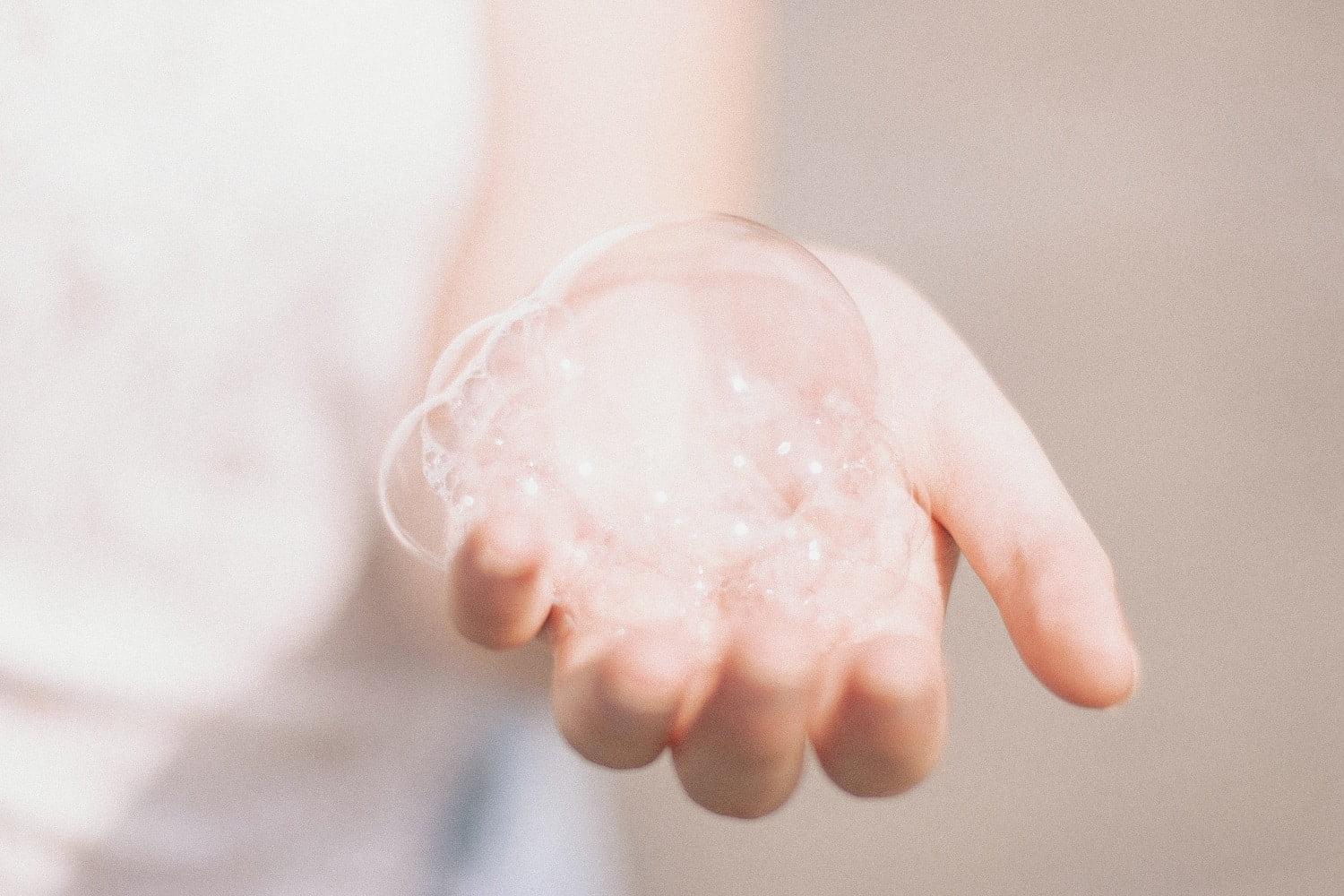 A soap dispenser promotes an image of a healthy and hygienic home. 
It's a way of telling your guests that they are welcome, but germs aren't. However, manual soap dispensers still carry an element of risk because people touch the nozzle with dirty hands. 
So, brands have designed automatic models that detect hand movements and proximity, releasing the required amount of liquid onto your palm. Today, we'll look at 11 top-notch products available out there to help you make a purchase. 
Moreover, we've added a buyer's guide, discussing how to choose a suitable unit to keep your home bacteria-free. Let's dive right in! 
Top Automatic Soap Dispenser 
IMAGE
PRODUCT
DETAILS

Our Top Pick

Our Top Pick

Secura V-470

Infrared sensor
Capacity of 17 ounces
On/off switch

VIEW LATEST PRICE →

Simplehuman ST1044

Recharge plug
Stainless-steel design
Clog-free tube

VIEW LATEST PRICE →

Countertop Automatic Soap Dispenser

Rust-resistant
ABS + PC body
Motion detection technology

VIEW LATEST PRICE →

Hanamichi Soap Dispenser

ABS + PC body
Dual sensor technology
Capacity of 13.5 ounces

VIEW LATEST PRICE →

RileyKyi Soap Dispenser

Stainless-steel body
ABS plastic construction
Rubber seals

VIEW LATEST PRICE →

Nozama Automatic Soap Dispenser

Rubber seals
Adjustable switch
Infrared sensor

VIEW LATEST PRICE →

TOPPIN V-476

Three soap modes
LED indicator
IR motion detector

VIEW LATEST PRICE →

Umbra 1016464-410

Eight-ounce capacity
LED indicator
Matte finish

VIEW LATEST PRICE →

Fangsky Automatic Soap Dispenser

Infrared sensor
Operates in 0.26 seconds
Foaming motor

VIEW LATEST PRICE →

Muenca Automatic Soap Dispenser

On/off button
12-ounce capacity
0.25 seconds response time

VIEW LATEST PRICE →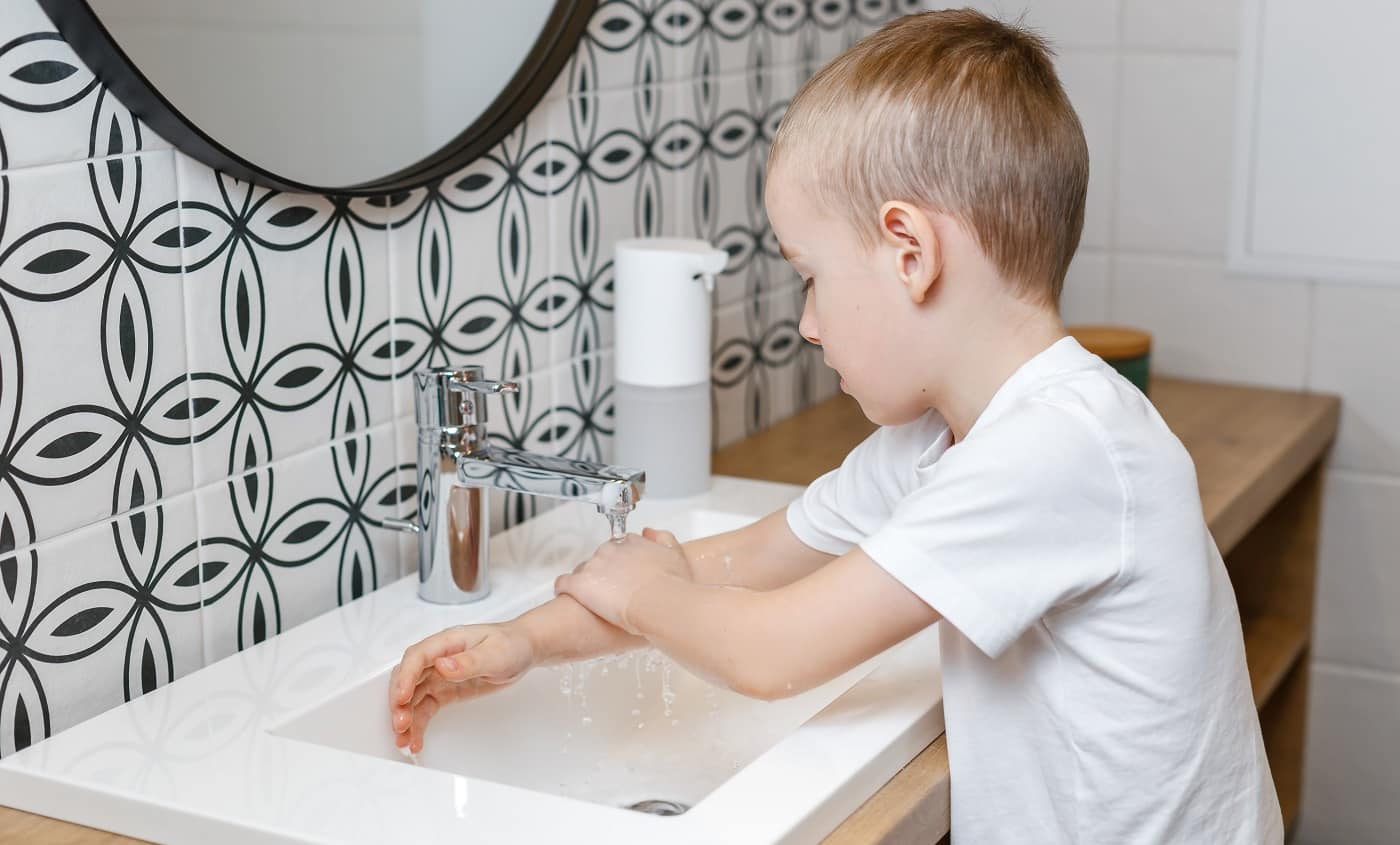 Secura's soap dispenser is known for its large capacity, allowing hassle-free hand-washing for several weeks. It has an infrared sensor, but the designers have also included a manual on/off switch for convenience. Overall, it promises to be money well spent, keeping your family safe.
Sale
Why Did We Like It? 
When choosing a soap dispenser, the two most important factors are location and safety. Given that automatic units run on batteries, it's very easy to damage the internal components if you touch them with wet hands. However, this Secura model comes with a sealed battery compartment keeping you safe. 
It has a transparent body, complete with brushed nickel and black finish, ideal for holding soaps of different colors. Using a colorful solution, you can match the wall color, making it a stylish addition to your home. 
Furthermore, it's possible to mount it in your office or place it near the sink in the bathroom. Thanks to its infrared sensor, the unit detects movement from some distance and dispenses soap when you place your hand under the nozzle. You can also control the volume of soap that it dispenses. 
What Could've Been Better?
When our alkaline batteries ran out of charge, we tried using rechargeable batteries but to no avail. The system failed to power up, and we had to switch back to alkaline batteries, which was disappointing. Besides, the nozzle tends to clog, so it would be best not to use grainy solutions. 
Pros
Sealed battery cabinet

Stylish

Transparent body

Easy installation

Volume control mechanism
Cons
Doesn't work with rechargeable batteries

Clogging
Our next recommendation doesn't run on batteries; instead, it has a rechargeable cable that delivers long runtime for a smooth experience. Moreover, the designers have solved clogging issues, making it a top choice for customers. It has received a positive response, thanks to its fast and reliable performance.
Why Did We Like It? 
This unit's sleek and elegant stainless-steel design is perfect for your home, but you may worry about it getting dirty. Thankfully, the designers realized these concerns and developed a durable yet smudge-free soap dispenser that won't need much maintenance. When you do need to clean it, simply rinse with tap water as its IP67 rating makes it waterproof.
Moving on, its touch-free operation comprises a clog-free tube, pumping soap for several weeks. Now, it has a fantastic sensor that dispenses based on distance. In other words, keep your hands near the nozzle for a little soap and further away for a greater amount. 
We love that it doesn't run on batteries, reducing the hassle of finding appropriate components. All you need to do is use the recharge plug to complete charging in three hours. 
What Could've Been Better?
We were bothered by the absence of a viewing window, meaning it's difficult to keep track of the amount of solution left. Other than that, you might encounter a blockage in the air vent; thankfully, it's not difficult to remove. Simply pour some water through the tube or wait for the air bubbles to pass. 
Pros
Touch-free operation

Sensor for easy use

Smudge-free body

Low maintenance

Waterproof
Cons
Not transparent

Air-vent blockage
If you choose to buy a countertop dispenser, it must be incredibly durable. Luckily, the manufacturers have considered users' demands, developing a sturdy unit for long-lasting performance. Additionally, it has a substantial capacity, suitable for using different soap solutions to keep your home germ-free.
Why Did We Like It? 
Compared to the Simplehuman ST1044, this unit has an ultra-modern design, featuring a viewing compartment and a rust-resistant body. Although it isn't stainless steel, its durable construction guarantees long-lasting performance. Moreover, its tightly sealed battery compartment is waterproof and has rubber pads to prevent damage or leakage. 
The designers have included both an infrared sensor and a motion detection technology for easy use. It reduces dripping, wastage, and soap trails, holding 13.5 ounces of liquid for several weeks. Just place your hand near the nozzle, and it will dispense an appropriate amount of soap. 
Apart from that, its volume control mechanism allows you to manage the liquid flow. You'll find three buttons to alter the output along with a +/- switch to increase or decrease the amount of soap supply. 
What's more, you can fill it with different soap solutions without any hassle.  
What Could've Been Better?
Although it has a stainless-steel body, this unit gets dirty, and you'll need to clean it regularly. To remove fingerprints and smudges, you can rinse with tap water and wipe the surface with a wet cloth. However, be careful not to pour water over its sensor or battery compartment. 
Pros
Infrared sensor

+/- switch

No wastage

Volume control mechanism

Waterproof base
Cons
Gets dirty

Needs maintenance
Although the Hanamachi Soap Dispenser is quite similar to our previous recommendation, there's no denying its efficient output. You'll find a dual-sensor that accurately dispenses soap for smooth performance, allowing you to make full use of its 13.5-ounce capacity. Unsurprisingly, it has received largely positive reviews from prospective buyers.
Sale
Why Did We Like It? 
Be it durability, user-friendliness, or reliability; the Hanamachi Soap dispenser promises to be a valuable investment. It has an ABS + PC body suitable for holding different types of colored soap solutions. Using the viewing mirror, you can match the color to the room while also keeping track of the amount of soap left. 
Now, it has an infrared sensor and a PIR motion detection feature, complete with an adjustable button. The button allows you to change the liquid output, ensuring no wastage or soap trails. Speaking of reduced wastage, the manufacturers have made it both leak and waterproof for the best results. 
You'll find that the battery compartment is easy to remove, but that doesn't mean it compromises on safety. There are rubber pads on the bottom, preventing damage or corrosion. Lastly, it has a large capacity of 13.5 ounces, ideal for several weeks of daily use. 
What Could've Been Better?
We found that it isn't smudge-proof, and you might find dirty handprints over its metallic body. So, it's important to clean the surface, ensuring that its shiny appearance remains intact. Also, it would be best to conduct regular maintenance, checking the battery box and sensor. 
Pros
Transparent body

Waterproof

Adjustable volume button

Reduce wastage

Rubber seals for safety
Cons
Regular maintenance

Not smudge-proof
Another durable model that has led to increased interest from buyers is this unit from RileyKyi. Especially pleasing is its stainless-steel body, complete with rubber seals, ensuring that it delivers many years of quality service. Also, it's easy to clean and makes a valuable inclusion to your home or office space.
Why Did We Like It? 
This is another stainless steel model, having incredible durability for long-lasting performance. Adding to its robustness is its ABS plastic body, complete with a glossy metallic appearance that's resistant to rust and damage. You can place it near the countertop without worrying about soap or water stains smudging the surface. 
Now, it's battery-operated, and so the compartment has rubber seals for reinforcements. This ensures that water from the sink doesn't enter the battery chamber, damaging the internal circuit. Furthermore, the unit is leakproof, and you can make full use of its large capacity.  
We love that it has two sensors, an infrared sensor, and a motion detector, making it hygienic and easy to use. Placing your hand near the nozzle activates the dispenser and pours the required amount of liquid in your hand. Plus, thanks to its adjustable button, you can alter the volume of liquid. 
What Could've Been Better?
In tune with stainless steel models, it doesn't have a viewing window, and there's no way to determine the amount of solution in the bottle. Apart from that, it's not uncommon for the nozzle to clog, meaning you'll have to remove residual soap stuck in the opening. 
Pros
Waterproof battery chamber

Dual sensors

Leakproof

Glossy metallic appearance

Adjustable button
Cons
No viewing window

Clogging
Choosing an automatic soap dispenser depends on two factors – cleanliness and ease of use. Nozama has designed a model that fulfills both these criteria, delivering safety and reliable output. All its features together help keep your home safe, reducing the chances of infections and bacterial growth. 
Why Did We Like It? 
Nozama has developed a modern design, perfect for use in the office, bathroom, and kitchen. We love its stainless-steel construction, featuring a glossy surface due to its metallic appearance. However, it's still easy to clean, and you can rinse it with water before wiping the source with a wet cloth. 
Instead of overloading it with functions, the designers have included only one infrared sensor. That said, it efficiently detects hand movements, activating the dispenser to pour the required amount of soap onto your palms. You can also change the volume of liquid, thanks to its adjustable switch and +/- indicators. 
Overall it has a capacity of 9.46 ounces that will last several weeks. But particularly pleasing is that you can fill it with a hand sanitizer or dish soap, and it will perform just as well. In fact, the base has rubber seals, preventing any kind of liquid from damaging the circuit. 
What Could've Been Better?
If we have to nitpick, we would say that placing it near large objects could block the sensor. So, if you keep it near the sink, make sure that the tap doesn't obstruct the motion detector. The more serious issue is the absence of a battery indicator. 
Pros
+/- switch

Capacity of 9.46 ounces

Compatible with different liquids

Stainless-steel body

Easy to clean
Cons
Large objects block the sensor

No battery indicator
The Toppin V-476 has kept things simple without compromising on performance. You'll find that it has one motion detector, but the significant upgrade is its three soap modes. It's extremely convenient to switch to the desired mode, depending on the number of guests and the amount of soap needed. 
No products found.
Why Did We Like It? 
White, bright, and efficient is the best way to describe this model from Toppin. Unlike other units, the battery compartment is on the top, so there's no chance of damaging the circuit when you place it on the countertop. However, the designers have included rubber padding around the battery chamber, ensuring that your wet hands don't drip water into it. 
Especially pleasing is its LED indicator, comprising red and green lights. They start blinking or appear as one solid line when you alter the volume of liquid soap or turn the device on/off. Long story short, it's very easy to change the functions. 
Moreover, it has an IR motion detector, pouring the required amount of liquid into your hand. And a powerful pump allows you to use three different modes for consistent soap distribution. What's more, the nozzle is clog-free and sucks excess soap back in. 
What Could've Been Better?
Since it's white, the dispenser might be difficult to clean. It would help to rinse it regularly because once the dirt settles, it's challenging to remove the dust particles stuck in the body. Other than that, the response varies due to the loss of battery power. 
Pros
Open top battery compartment

Durable

Clog-free nozzle

Waterproof

Safe for kids
Cons
Difficult to clean

Speed may vary
If you're looking for a sophisticated, stylish, and user-friendly model, this soap dispenser from Umbra will prove ideal. It has LED indicators, providing an accurate idea of how the unit performs, ensuring that you can swiftly switch between its many functions. No wonder it has received positive reviews.
Sale
Why Did We Like It? 
We love the eye-catching design of this super sleek model, keeping you clean and sprucing up your interior decor. It looks great in the office, bathroom, or kitchen, with its powerful motor delivering consistent output. You'll enjoy its fast dispensing speed, having a waiting time of fewer than 0.2 seconds. 
More than its speed, it's the unique shape of the unit that has led to its growing popularity. It has a viewing window right down the middle, complete with LED indicators to support its different functions. What's more, the body has a matte and nickel finish, protecting it from scratches and stains. 
You can use most liquid soaps; its eight-ounce capacity ensures that the solution lasts a long time. Plus, thanks to its large top cover and non-drip spout, you can fill it without any hassle. This reduces wastage, keeping your counter nice and tidy. 
What Could've Been Better?
We suggest using liquid solutions that are free-flowing and don't have granules. This is because using a viscous liquid will block the tube and nozzle, preventing an adequate supply of soap. Hence, it's essential to conduct regular maintenance, ensuring that the opening is free for smooth output. 
Pros
Non-drip spout

Sleek design

Suitable viewing mirror

Large top cover

Fast operation
Cons
Doesn't work with thick soaps

Regular maintenance
Very few soap dispensers deliver a foam solution, making Fangsky one of the standout models on our list. We must credit the engineers for developing a clog-free and fast soap dispensing system, making it worth the purchase. Understandably, there's growing interest surrounding its performance.
Why Did We Like It? 
Though most units avoid a foaming solution due to clogging, this unit from Fangsky efficiently pours foaming soap into your hands. That said, it's ideal that you dilute the soap with water in the ratio of 1:3, ensuring that it's possible to use different liquid solutions. Additionally, it reduces wastage by 50%, making it affordable and long-lasting. 
Now, it has an infrared sensor that detects movement from two inches away. When you place your hand under the nozzle, the dispenser pours soap onto the palm in less than 0.26 seconds. Hence, it's extremely easy to use, and even your kids won't have trouble washing their hands. 
Other than that, the engineers have designed a powerful yet efficient motor that runs on three batteries. Usually, you can use a set of batteries for six months or 800 dispensations due to its reduced power consumption. 
What Could've Been Better?
It takes multiple supplies of soap to clean your hands properly. There's no way to increase the liquid flow, and the default supply is less, so it takes longer to get the required amount. Besides, it's challenging to keep the bottle clean, meaning it might lose its shiny texture after a couple of months. 
Pros
Reduces wastage by 50%

Works on three batteries

Low power consumption

Compatible with different solutions

Long-lasting performance
Cons
Amount dispensed is less

Challenging to clean
Another well-known foam dispenser is Muenca, often considered as the standard of excellence. Thanks to its efficient charging cable, there's no need to worry about batteries, making it a valuable addition to your home. Plus, its power lasts for several weeks, delivering a fast response time.
Why Did We Like It? 
Like the Fangsky soap dispenser, this model also uses a foam motor, but it has an even faster response time. It dispenses soap in 0.25 seconds, thanks to its infrared sensor, complete with electronic sensing that detects hand movements from several inches away. So, you can use it in the bathroom or office for a hassle-free experience. 
Moving on, it doesn't have any batteries as it runs on a charger. You'll find a mini USB cable that charges the unit in three hours, after which you can use it for 1,000 dispensations. Consequently, the lack of a battery chamber makes it safe, and you won't have to worry about corrosion or circuit damage. 
It works with different liquid solutions, having a capacity of 12 ounces. All you need to do is use the power button to activate the sensor and switch it off when convenient. 
What Could've Been Better?
We love that it's a rechargeable unit, but the short charging cable doesn't make it easy to plug the power cord. So, you may need to use an extension cord or design a suitable charging place near the electric board. Also, keep the unit away from large objects as they might obstruct the sensor. 
Pros
Fast charging

No batteries

Durable

Easy to use

Standby-mode
Cons
Short charging cable

Obstructed by large objects
Another fantastic option for your home is the DGVDO Automatic Soap Dispenser that is durable, reliable, and has a substantial capacity. You can use it as a hand sanitizer or fill it with other liquid solutions, making full use of its long runtime. Naturally, it's one of the top models available right now.
Why Did We Like It? 
This model sprays liquid onto your hand for consistent delivery and maximum coverage, meaning that it's extremely hygienic. It has a capacity of 17 ounces, so you receive a generous amount of liquid soap to wash your hands. Overall, it runs for several months and 1,100 dispensations before you need to change the battery. 
Now, it has a durable ABS plastic body that can withstand bumps and scratches; most importantly, it's easy to clean. You can rinse it under tap water with its IPX3 rating, ensuring that its internal mechanism remains unharmed, including its four batteries that go into the bottom chamber. 
It's the perfect unit for kids, preventing infections due to germs and bacteria. In fact, you can even use it as a hand sanitizer without any difficulty. Lastly, it has a large viewing window, displaying the amount of soap left.
What Could've Been Better?
There's no way to manage the liquid flow, meaning the spray mechanism delivers more soap than needed. Additionally, the powerful spray ends up making a mess, especially when kids use it. So, you're likely to end up with a messy kitchen bench or bathroom shelf which needs regular cleaning. 
Pros
Runs on four batteries

Suitable for different solutions

Ideal for kids

Extremely hygienic

Large viewing window
Cons
No volume control mechanism

Messy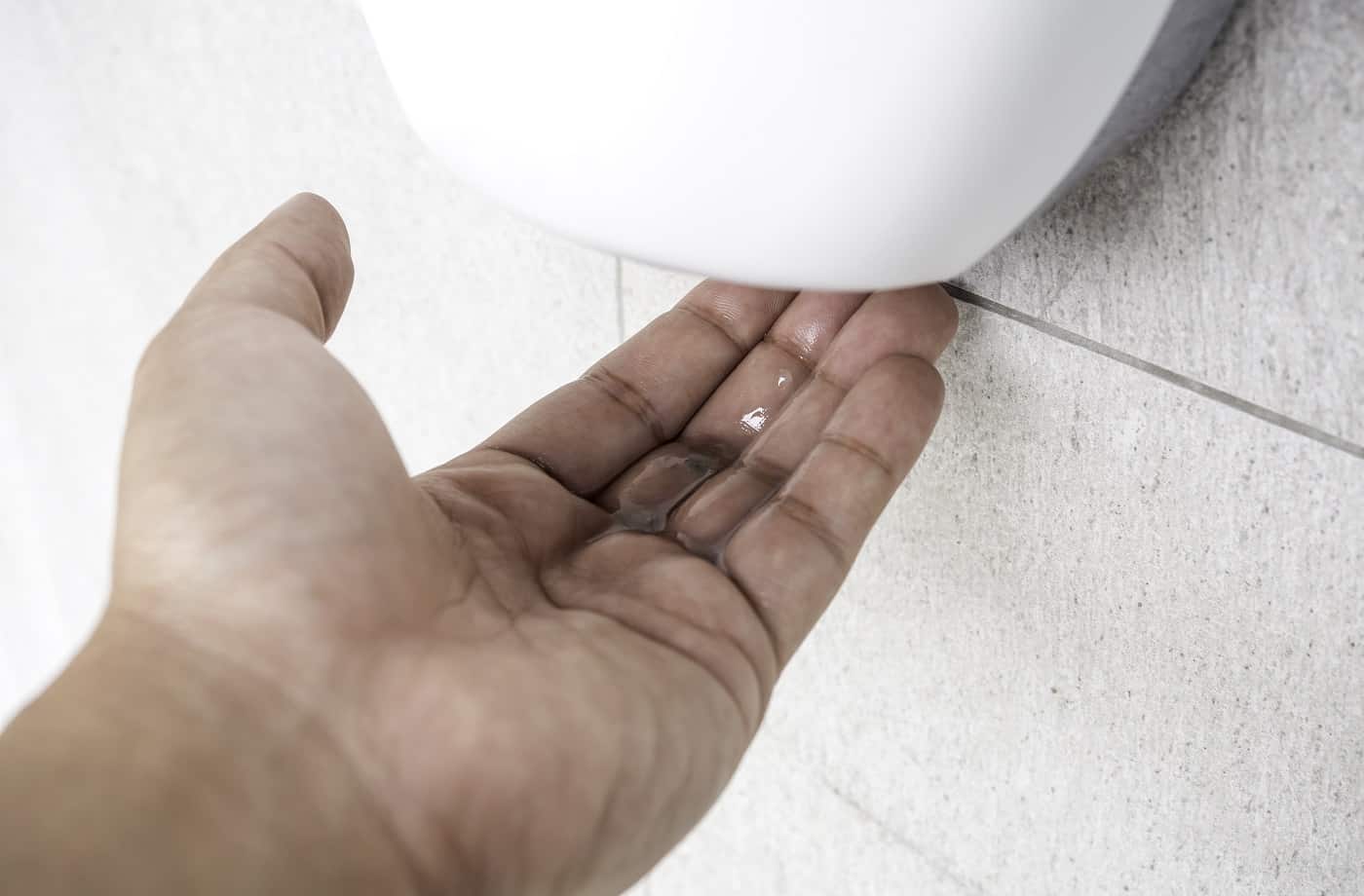 Automatic Soap Dispenser Buyer's Guide
Let's now proceed to the buyer's guide, where we'll point out the essential factors for choosing a soap dispenser. 
Capacity
The best soap dispensers have a large capacity because it's inconvenient to refill the bottle frequently. Also, well-stocked units deliver smooth performance, ideal for entertaining guests and keeping your family safe.  
Price
Price is an important consideration for customers; the difference between purchasing a premium-quality model or a mediocre unit. It would be best to have a flexible budget as the top models usually cost more. That said, manufacturers need to include all the relevant functions at an affordable price. 
Compatibility
Any dispenser must be compatible with different kinds of soap solutions. Be it foaming or hand sanitization, it must deliver a consistent flow, preventing infections and bacterial growth.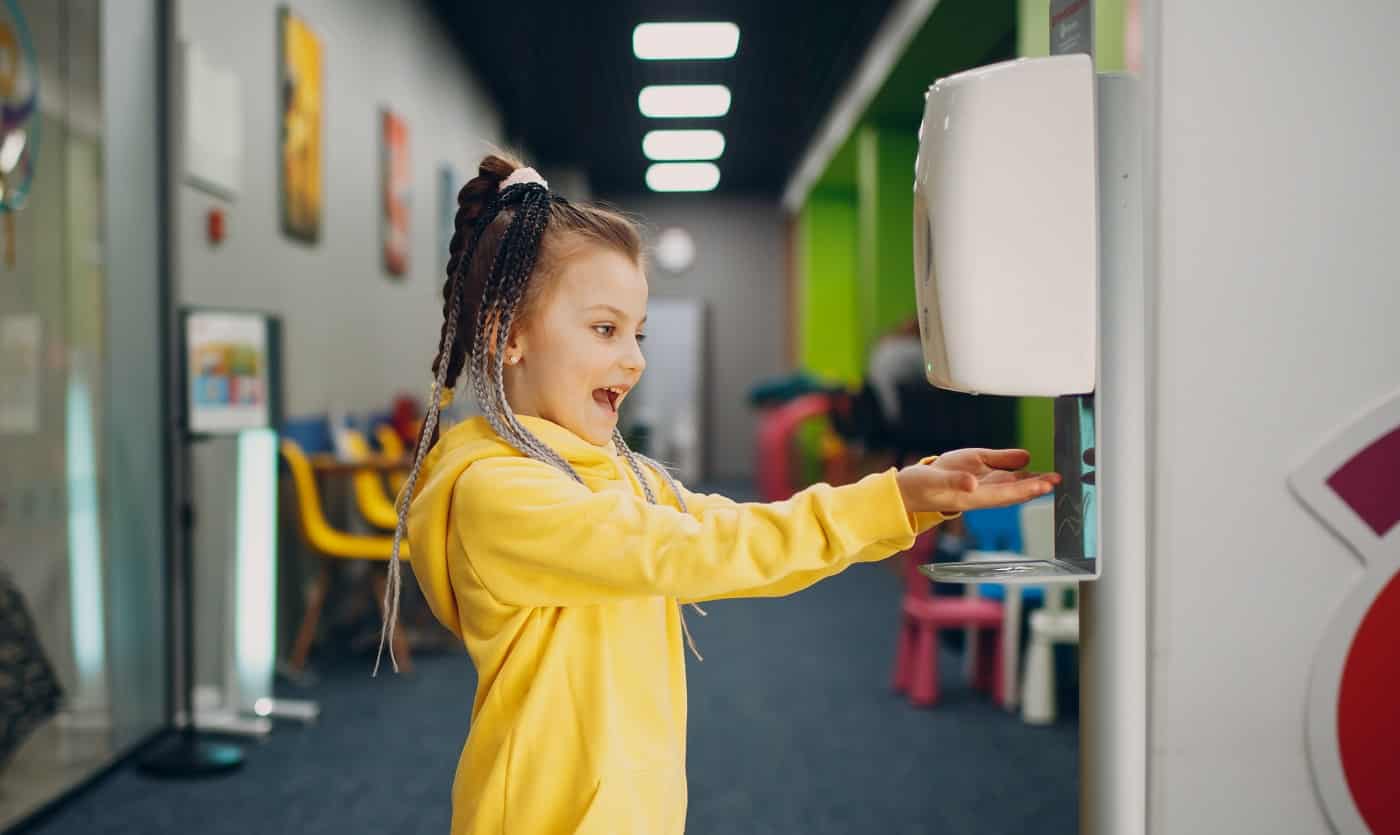 Verdict
Do you have all the relevant information about soap dispensers, or is there still some doubt? 
If it's the latter, there's no need to worry as we've decided to highlight our favorite options in different categories. We believe that the Secura V-470 is the ideal model for homes or offices, thanks to its large capacity and user-friendly features. 
Apart from that, the Simplehuman ST1044 is incredibly durable, delivering reliable and efficient output. That's all there is to know about soap dispensers; it's now time for us to bid you farewell. 
Until we meet again, stay safe and wash your hands frequently!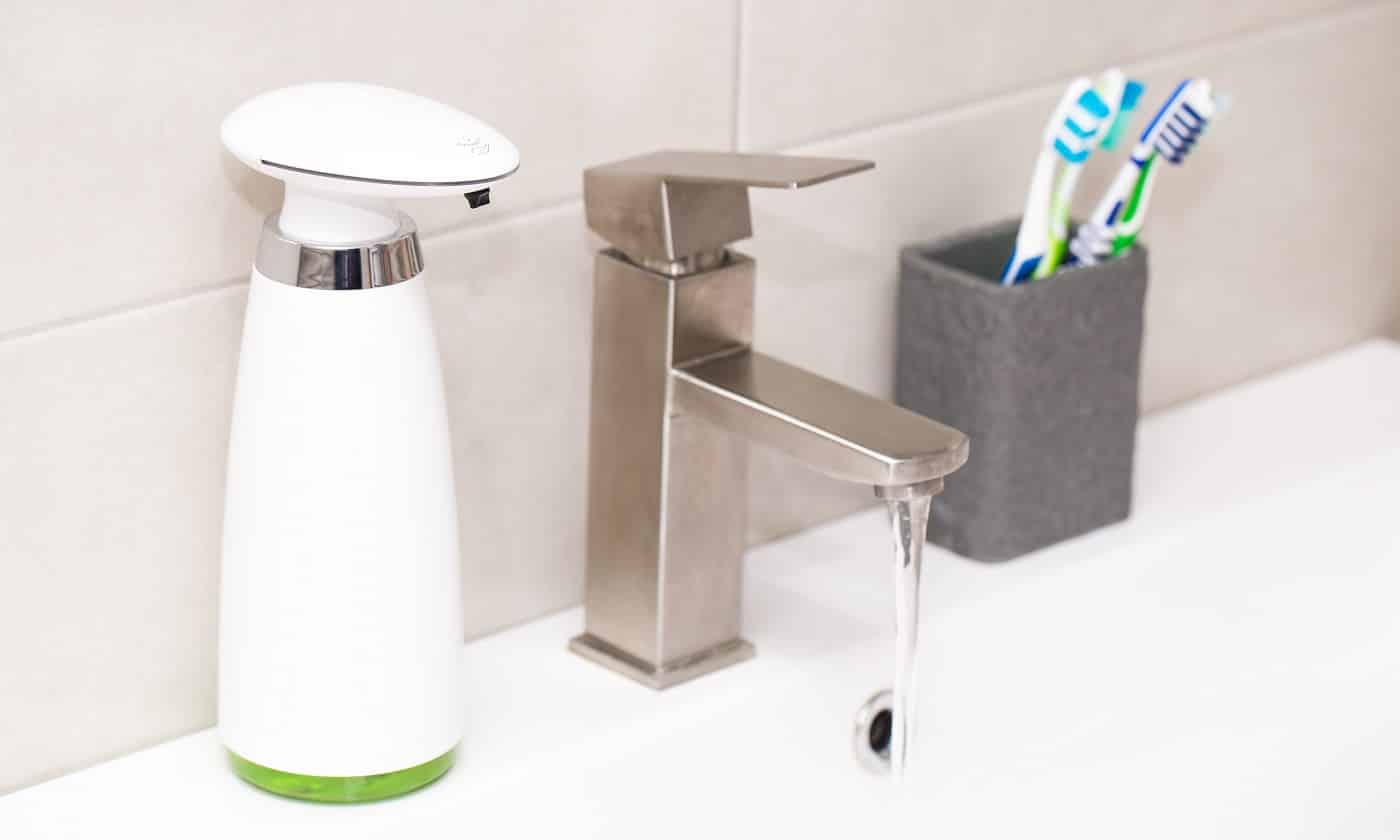 Related Articles
9 Best American Standard Toilet Right Now
8 Best Bidet Toilet Combos Right Now
13 Best Soft Close Toilet Seats
7 Best [Macerating] Upflush Toilets
13 Best Septic Tank Treatments
Toilet Won't Flush, Things to Do
7 Best Corner Toilet [Reviewed & Buyer's Guide]
7 Best Kohler Toilets Reviewed [All You Need to Know]
7 Best Dual Flush Toilet [Reviewed & Buyer's Guide]
Toto Neorest NX1, 550H & 700H [Reviewed & Buyer's Guide]
Kohler Santa Rosa Toilet Review [All You Need to Know]
11 Best Toilet Seats [Reviewed & Buyer's Guide]
Convenient Height Toilet Review [All You Need to Know]
11 Best Toilet Flapper [Buyer's Guide]
5 Best Gerber Toilets Reviewed [All You Need to Know]
11 Best Toilet Clog Remover [Reviewed & Buyer's Guide]
Kohler vs American Standard [All You Need to Know]