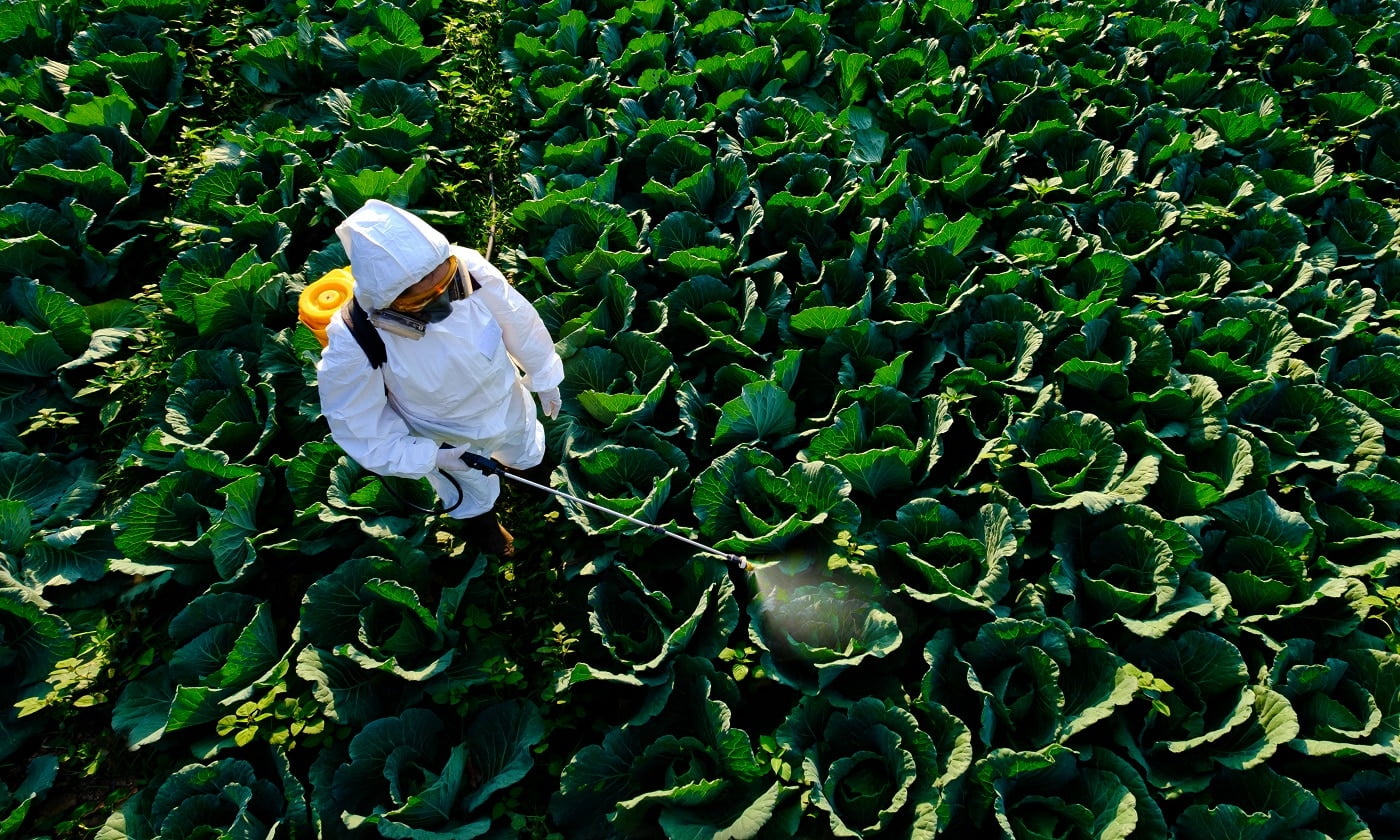 While there are several gardening enthusiasts, many can't give it too much time. However, we all enjoy a great yield when it comes to our vegetation. 
Therefore, the best solution in such cases is to use tools that make the job easier. This is where backpack sprayers become important. Be it water or weed killers; your plants require constant care and maintenance. But, you'll see it isn't that easy to tend to them individually. 
With these sprayers, you can just put them on your back and use hoses to disperse the needed product throughout your garden. Apart from water and weed killers, you can also administer fertilizers, nutrients, and other necessities. 
But, when you're choosing the right product, there are several factors to consider. We're here to help you through this confusing process with a detailed guide citing some of the best backpack sprayers in the market. 
So, let us get into the details without further delay. 
Top Backpack Sprayers 
IMAGE
PRODUCT
DETAILS

Our Top Pick

Our Top Pick

Chapin 61500 Sprayer

4-gallon tank with a 4-inch opening 
Foaming nozzle 
2-stage filtration system

VIEW LATEST PRICE →

Field King 190328 Sprayer

Patented pump design 
Pressure chambers and paddles located internally 
Poly wand is 21 inches and durable 

VIEW LATEST PRICE →

Roundup 190314 Sprayer

4-gallon capacity 
Heavy-duty poly wand 
It comes with multiple nozzles 

VIEW LATEST PRICE →

Solo 425 Professional Sprayer

Piston pump of high performance 
4-gallon backpack 
Tank is resistant to ultraviolet rays 

VIEW LATEST PRICE →

Chapin 61800 Sprayer

Nozzle is adjustable 
Shut-off grip is cushioned 
Filter situated in-tank 

VIEW LATEST PRICE →

Petra Tools Battery Powered Sprayer

Can mist up to 15 feet 
Operated by battery 
Light-weighted 

VIEW LATEST PRICE →

Husqvarna Backpack Sprayers

Maximum psi 150 
Horizontal and vertical pump handle storage 
Leak preventive design 

VIEW LATEST PRICE →

KIMO Garden Sprayer

Twistable nozzle 
Pressure switch is adjustable 
Battery has a long life 

VIEW LATEST PRICE →

Hudson Bak-Pak Sprayer

PVC spraying hose of 48 inches 
20-inch fiberglass wand for spraying 
Nozzle has four spray settings 

VIEW LATEST PRICE →

105Ex Effortless Sprayer

Lithium-ion battery of 20V 
Industry-grade Viton seals 
Enclosed battery compartment 

VIEW LATEST PRICE →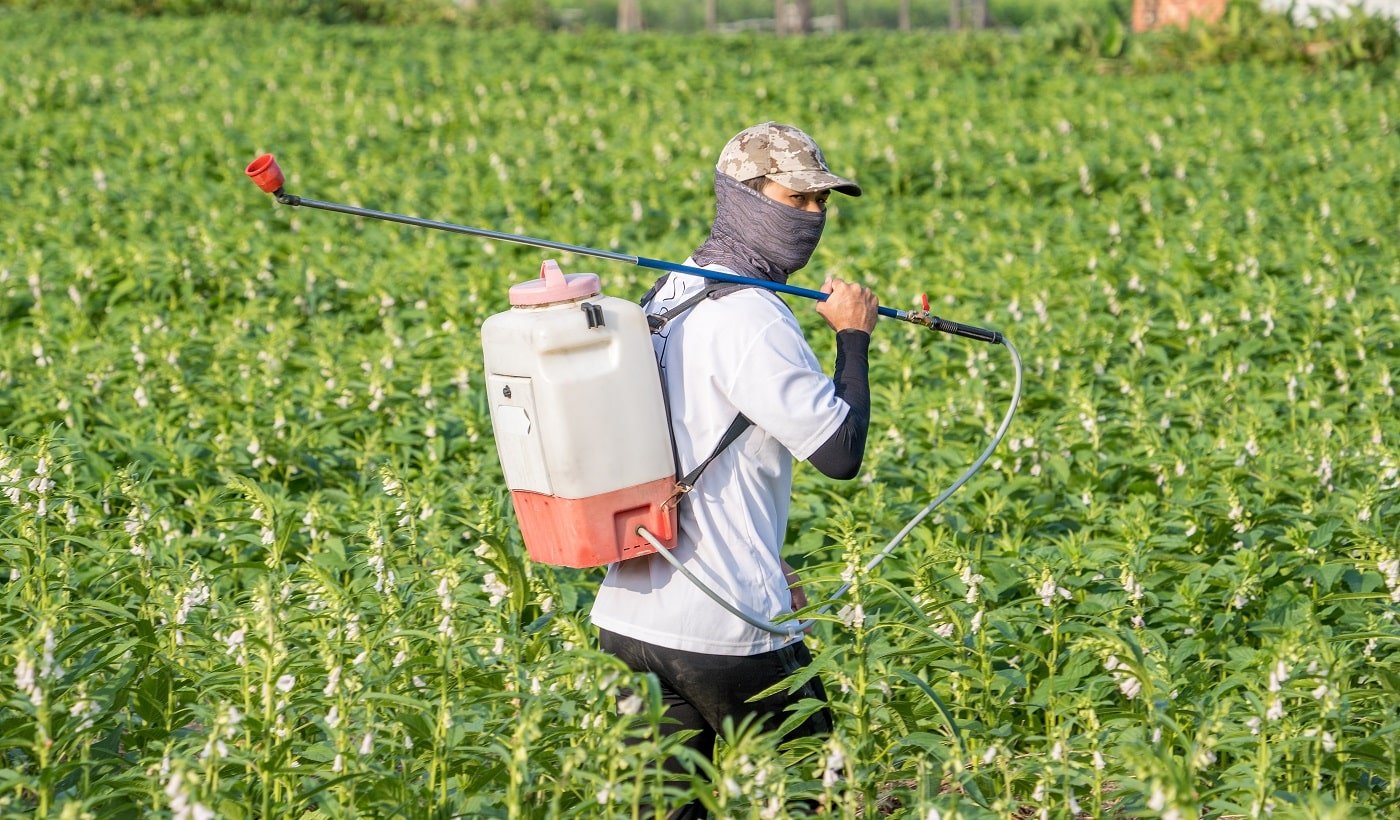 Chapin has been in business for nearly 130 years, and you'll see how the products combine industry knowledge and innovation. Aimed at providing maximum utility while focusing on user comfort, these backpack sprayers are designed with great care. It is made in the US, using the best global components for a memorable user experience.
Why Did We Like It? 
When you're aiming to do things quickly, the last problem you require is a tank that has to be filled up slowly to avoid spillage. Of course, here, there are no such problems because the opening is large enough to pour in the fluids. At the same time, you'll see how it is translucent to help understand the level of fluids inside the tank. 
As far as compatibility is concerned, this sprayer can work for dispersing fertilizers, weed killers, and pesticides. So, users enjoy multi-functionality after one single investment. On top of that, there is a two-step filtration system; there's one at the top and one where it is supposed to be shut off. 
Besides, it comes with two nozzles, an adjustable poly cone, and a fan tip. Since the seal material is made of nitrite, there aren't any chances of leakages. 
With so much working for the product, it isn't surprising to imagine that one might want to use it for hours. Accordingly, it comes with shoulder straps that are padded to ensure maximum comfort. 
What Could've Been Better? 
Although there can't be too many complaints about the effectiveness of this unit, or its hardiness, we have seen that it requires a lot of pumping. While gardening does mandate some physical exercise, this prospect might put off some prospective buyers because of the effort involved and the possibility of one's hands tiring after some time. 
Pros
Made of sturdy materials

Comfortable to carry

Filtration system is great

Compatibility is good
Cons
Pumping requires a lot of effort
This product from Field King ensures that you can spray like a professional. With the help of careful design and a smooth operating mechanism, it dispenses liquids effortlessly. At the same time, the parts are meant to be compatible, so functionality is never hampered. Thanks to its versatile range of applicability, this remains a highly preferred sprayer.
Sale
Why Did We Like It? 
While using these items for a long time, a common concern is that chemicals might drip down the back. Thankfully, this backpack sprayer comes with a unique and patented design that prevents any leakages. Additionally, the dispensation is easy and quick, thanks to the piston pump. 
Not only is it made with the best quality materials, but it has multiple functionalities as well. The device is very sturdy, and it is compatible with a wide range of fluids that can be applied with relative ease. 
You'll find the pump easily accessible, and there is a great filtration system in place too. With four different nozzles included, this sprayer sets itself apart for diverse usage. Understandably, a frequently used product will have wear and tear, and will need repairing. However, not only is it designed to work smoothly, but you'll also find that it is easily fixable too. 
What Could've Been Better? 
There aren't any issues with how the product works, but the design could be streamlined for greater ease. If you fill this completely and then try to lift it, the first thing you'll notice is how the item feels awkward and heavy to strap on. Having a handle for doing this would make the process a lot easier. 
Pros
Easy to spray

Great filtration

Sturdy build

Multiple areas of use
Cons
The design could be more user-friendly
This product claims to be the only sprayer you'll ever need. With a notable capacity and smooth working, you can rely on this sprayer no matter what kind of job you have to do on your lawns. Thanks to a solid build, Roundup sprayers can stand the test of time, all the while guaranteeing user satisfaction.
Sale
Why Did We Like It?
Right at the start, it becomes evident how smoothly the fluid can be filled into the tank. Moreover, its capacity ensures that a single pouring is enough to cover an entire lawn. Besides, the wand makes spraying extremely easy, and the internal mechanism only aids this process further. 
Thanks to a strong build, you can be sure of reaping the exact same benefits over a long period of time. Additionally, this sprayer comes with different nozzles, making it well-suited for multiple purposes. You'll also notice how its versatility justifies the investment made into the product. 
There are good quality seals in place to give a degree of resistance to corrosion. Moreover, you'll notice how the straps are padded and adjustable. They also come with lumbar support and waist belt. Together, these items ensure this sprayer can be carried easily and for long hours. No wonder users flock to Roundup for all kinds of sprayers to take care of their gardens. 
What Could've Been Better? 
You'll notice that when the pressure is too high, fluid leaks from the spray tip a little, even if you haven't pressed the trigger. While this is a minor problem, some users have complained that fluids dripping unnecessarily leads to wastage. Hence, the manufacturers would do well to rectify the situation and draw in more prospective users. 
Pros
Sturdy build

Great capacity

Multiple areas of applicability

Easy to carry
Cons
Sprayer design could be improved
Solo believes their products are built to last and intended for convenience and comfort. Therefore, this sprayer embodies all virtues, setting it apart. With smooth operation and a sturdy build, you can choose this item each time you need to spray some liquid onto your lawns and gardens quickly and efficiently. 
Why Did We Like It? 
Since the piston pump has high-performance abilities, you'll see how easy it is to spray shrubs, trees, and plants with various fluids, including herbicides. Thanks to the unbreakable wand of 28 inches, along with a high-pressure hose of 48 inches, this sprayer can reach difficult places and administer the product of your choice. 
Its functionality is further heightened, thanks to the different nozzles that allow application in various areas. User-friendliness is kept in mind at all times, which is evident in its design. Firstly, the pump handle is ready to be used by right and left-handed people. Moreover, the shut-off valve locks in place to prevent fatigue. 
Over time, maintenance also becomes an issue. Thankfully, the rugged build and quality of materials used to ensure that this sprayer is easy to clean. Even the seals are placed carefully to ensure maximum longevity. Together, these factors make it an easy choice for professional and amateur gardeners. 
What Could've Been Better? 
Despite being easy to use, the sprayer could do with a cross latch. It would make carrying all the easier. Some users have complained that due to their build, this product might be a little heavy and unsuitable for long uses. Putting the right straps in place would take care of this problem effectively. 
Pros
Sturdy build

Multiple applications

User friendly

Smooth functioning
While Chapin tries to cater to professionals with high-performance products, homeowners can make use of the item as well. Boasting a great build and even better functionality, you're bound to be left amazed at the efficiency of this backpack sprayer. Handy in a number of situations, you'll see how this Chapin sprayer easily gets the job done. 
Why Did We Like It? 
Right off the bat, we love how this product is compatible with different fluids. Be it pesticides or fertilizers; you can rely on the sprayer to come through. Since it sets itself up to be widely used, the design is intended to make the process easy. Hence, you can quickly pour fluids into the large tank, which has a wide opening. 
It is not only the effectiveness that deserves mention but its longevity as well. This sprayer comes with a great filtration system, where the entire process occurs in three stages. Thus, you can be sure that it will work properly for a longer time. 
Naturally, these aspects make the sprayer popular among all users. But, in order to be used for long hours at a stretch, the design has to be friendly and comfortable too. Manufacturers take care of this with padded straps and a cushioned grip for the nozzle. 
At all points, careful thought is given into making this sprayer applicable in different areas. Thus, it is equipped with various kinds of nozzles. 
What Could've Been Better?
If the sprayer is continuously filled and carried, over time, you might notice cracks appearing where the straps are connected. This might result in leaks. To avoid such situations, manufacturers should try and ensure that the item is made of sturdier materials. Of course, users should also try and shield the sprayer from temperature fluctuations to prevent cracks at the same time. 
Pros
Easy to use

Multiple areas of application

Comfortable to carry

Great filtration
Cons
The body could be sturdier
Built with rock-solid sturdiness, this sprayer has an immense capacity while being compatible with most liquids you need to spray. So, there's no reason to look any further since the product can come to your rescue for all maintenance needs in your lawns. It is designed for ease of use. All you have to do is strap it onto your backs and start spraying. 
Sale
Why Did We Like It? 
At first, the Petra sprayer leaves a mark with its design, where the wide opening is a characteristic feature. Thanks to this, you'll be able to pour liquids quickly, without fear of spillage. Now, when it comes to spraying, the wand can emit mists up to 15 feet. Naturally, this improves the reach, making your job infinitely easier. 
We should also note that it comes with multiple nozzle attachments, so the areas of applicability are greatly improved as well. On top of that, there's an adjustable switch, which allows users to determine whether the spray has to be up close or far away. 
Since it is designed for comfort, you'll also notice that the straps are padded in order not to hurt your back. It is compatible with various pesticides and chemicals, and the sturdy build prevents leakages. 
Most users flock to this product since it is made in America and inspires a degree of confidence. Moreover, it comes with a one-year warranty, which essentially protects the investment of users. 
What Could've Been Better? 
Despite many advantages, we've noticed that the wand design could be better. There have been complaints about the tip getting loose or even falling off. Manufacturers should put different parts of the sprayer through more rigorous testing and hold them up to higher standards for better functionality. 
Pros
Sturdy body

Easy to spray

Multiple areas of use

Comfortable to carry
Cons
Wand design could be better
Be it residential or commercial gardening, Husqvarna has got the right sprayer for the job. Not only is the object easy to use, but you'll also find the design to be carefully thought out. Ultimately, the aim is to have a sprayer that is efficient and user-friendly. Husqvarna Backpack Sprayers don't disappoint at all in this regard. 
Sale
Why Did We Like It? 
Every time we try out a sprayer, we tend to be very careful to check for leakages. If the chemicals drip down, then the problem is twofold. Firstly, there is immense wastage, and moreover, the user might suffer problems due to exposure to said chemicals. 
Thankfully, such a situation can be completely avoided as far as Husqvarna Backpack Sprayers are concerned. They have a unique design that prevents leaks. You'll also appreciate how it is compatible with different chemicals. As a result, the product sets itself apart with its diverse applicability. 
We've seen how the pump is meant for easy access, and seals can be changed quickly without the help of tools. Obviously, this allows the workflow to remain uninterrupted. On top of that, the pump handle can be stored vertically and horizontally, which makes the item even more user-friendly. 
At some level, the true test of a product is its consistency. This backpack sprayer ensures that chemicals are evenly delivered to all parts of the lawn, ensuring a healthy ecosystem. 
What Could've Been Better?
There can't be any complaints about the functioning, but some users have noted how the harness could be a little more adjustable. In certain cases, it doesn't let out too much, which makes the fit uncomfortable for users. Naturally, this means the product can't be used at a stretch, which in turn puts off prospective buyers. 
Pros
The pump is easily accessible

User-friendly build

Consistent spraying

Innovative leak-proof design
No matter whether you're out to kill weeds or water your lawns, this sprayer can get the job done in a jiffy. It is battery-powered and built to be highly efficient. You'll notice how careful thought has gone into the design, ensuring user-friendliness and maximum utility. This item can cater to newcomers and professionals with equal ease.
Why Did We Like It? 
KIMO brings versatility and convenience to a different level with this battery-operated sprayer. The compartment is hidden so as not to ruin the overall appearance of the product. As far as battery life goes, it is quite commendable, and you can spray for hours with a full charge. 
Working without breaks is the objective here, and therefore the sprayer is designed to have a good capacity. Even the opening is wide enough to allow liquids to be poured easily without spillages. 
Everything about it speaks about user-friendliness. Thus, the design incorporates a handle that gets locked and prevents hands from being fatigued. You'll also see how pressure can be adjusted, so the sprayer is suited for different functions. 
You're also bound to notice how the wand can be extended to reach different places. KIMO ensures equal care is given to all parts of the lawn. Besides, it can also stand a heavy load. This means that even if you fill the tank, the body can sustain its weight and won't show signs of wear and tear over time. 
What Could've Been Better? 
Some users have found that connections are not tightened properly. Obviously, this prevents the free-flowing spraying function this item is capable of. While users are advised to check the parts post-delivery, it would be better for manufacturers to pay a degree of attention and test these aspects thoroughly. Putting the parts through rigorous checks ensures an overall quality for these sprayers. 
Pros
Multiple areas of application

Uninterrupted usage

Comfortable to carry

Compatible with different chemicals
Cons
Parts aren't tightened properly
Hudson tries to make sure that its sprayer can service you, no matter what you need. Apart from diversity, great attention is paid to efficiency as well. User preferences are given utmost importance as their comfort levels are accounted for. Now, there's no need to look elsewhere if you want to maintain your gardens. 
Why Did We Like It?
We like how the manufacturers have taken spillage into account and made the opening extra large. They've also gone to the trouble of adding a long and powerful hose. This basically increases the reach of the sprayer and ensures all parts of your garden get equal attention. 
Furthermore, it comes with a comfortable locking mechanism, which prevents thumbs from getting fatigued. Even the pumping action can be carried out by your right or left hand, so you don't pressurize one arm after prolonged use. 
You'll see how this sprayer is even more useful due to the different nozzle attachments. Its utility is matched by its efficiency, thanks to the strong piston pump. 
With a sturdy build and consistent performance, this sprayer is quick to establish itself as an indispensable tool for lawn maintenance. Due to the quality of service provided, it remains a popular choice among professionals, but its ease of use ensures newcomers can also make the most of the product. 
What Could've Been Better? 
Although the sprayer is designed for long hours of work, the same can't be said for their straps, unfortunately. Users have noted how they aren't spread wide apart and also don't have adequate padding. Thus, if you carry this on your back for too long, you'll end up with a lot of discomforts and might even suffer injuries. 
Pros
Wide opening prevents spillage

It can be used for different jobs

Has great reach

Performs consistently
Cons
Straps could be designed better
Powered by a strong battery, this sprayer stands out in terms of consistent delivery. Its weight and design are suited for long uses, and you will never find yourself let down by this product. Now, when it comes to gardening solutions, you know where to turn for a truly effortless experience. 
Sale
Why Did We Like It? 
When an already wonderful product makes improvements, there's no choice but to appreciate it. The 105Ex sprayer keeps user comfort in mind. Therefore, it weighs around 3lbs less than traditional back sprayers. 
But, this doesn't, in any way, compromise the effectiveness. In fact, you'll see how the wand has a fantastic reach, and there's a smooth delivery system ensuring consistent spraying for great lawn maintenance. 
Coming to the internal functioning of this device, the battery life deserves praise. However, what's even better is the battery indicator that shows how much charge is left. You can accordingly schedule your spraying patterns for a truly uninterrupted working experience. 
While spraying, sometimes liquids might fall on the batteries, thus damaging the product in the long run. This situation is avoided by carefully keeping it in an enclosed space. As far as materials are concerned, this sprayer is made with the best items available in the market. Trusted by industry standards, you'll also make the most use of its multi-functionality, thanks to the nozzles. 
Finally, this brings us to the backpack itself. It is contoured and made in a manner for maximum comfort. Even the placement of the straps and the inclusion of a chest latch helps users keep the sprayer on for longer hours without any signs of fatigue.
What Could've Been Better? 
There's just one issue with the design, and it concerns the area where its lid engages. There's a lip at the place, which tends to collect the liquid. Even if you turn your sprayer upside down, it becomes rather hard to clear this accumulation. Manufacturers should address this issue in order to make maintenance easier. 
Pros
Easy to carry

Consistent spraying

Great battery life and features

Better reach
Cons
Design of lid could be better
The story of Jacto started when its founder repaired a duster to make it more comfortable. Since then, the company has grown in size but continues to put as much care into each of its products. The HD400 sprayer is no exception and gets the job done while ensuring users don't get tired from carrying it around.
Why Did We Like It? 
Efficiency is the name of the game for quick gardening, and this sprayer doesn't disappoint. It only takes six pumps to get to 65 psi, and you'll see how the configuration is suited for left and right-handed use. 
Thanks to a paddled agitation, this sprayer can handle a wide variety of pesticides and fluids without any problems. Hence, compatibility is a definite bonus for those investing in said product. Apart from that, the design especially protects the operator. 
Working with chemicals always has the risk of exposure. But here, you'll find the user shielded from such problems. There's an inline piston pump to avoid the dangers of chemicals. At the same time, an uninterrupted work experience is provided to users thanks to a long hose, which itself is resistant to chemicals. 
But that is not all; you'll also appreciate the tank capacity, which allows chemicals to be poured in easily without spillage. Further, you can also get a lot of spraying done if you're working with a full tank. 
What Could've Been Better?
While there aren't any complaints about the overall design and usage of this sprayer, you'll notice how the pump handle sticks out a bit. This causes a problem when there are branches or trees since it might get stuck. Manufacturers can easily tackle this issue by making provision for the handle to be placed horizontally and vertically. 
Pros
Solid build

Effective reach

Consistent spraying

User-friendly design
Cons
Pump handle could be fitted better
Enertwist promises to take care of real problems. Of course, this is easy for a company that provides efficient and user-friendly products. When it comes to the backpack sprayer, you can count on consistency and an uninterrupted workday. No matter what kind of attention your garden needs, Enertwist is here to provide it. 
Why Did We Like It? 
You'll appreciate how auto pumping makes the job easier. It saves time, thanks to the gas tank, which can work at dual speeds. Moreover, you can choose among numerous brass and steel nozzles for different purposes. 
Users have praised the battery life, which allows long functioning once it is fully charged. At the same time, you'll see how performance remains consistent. It is often hard to reach tougher areas in lawns while spraying. Thanks to the wand length, you can do so now, with minimal trouble. It makes the entire administration process easy. 
Comfort is kept in mind at all times too. As a result, this sprayer comes with a backpack strap, which is convenient. It ensures users have superior control while they're working. You'll also see the seal between the nozzle and plastic is sturdy, to make it more resistant to chemicals. 
Lastly, the manufacturers are bent on a great user experience, which is why there's an established support center, along with user manuals and a warranty card. 
What Could've Been Better? 
The weight of this product is a definite downside. Plenty of users have remarked how it is quite heavy even without the liquid. Therefore, when filled to the brim, it results in quicker fatigue. Designing the sprayer better or using lightweight materials would go a long way in improving the user experience. 
Pros
Easy spraying mechanism

Great battery life

Sturdy build

Multiple areas of application
New and innovative are the perfect words to describe this sprayer that can get the job done in a jiffy. Designed to cover large areas, this item aims to amaze and does so without much effort. It is sleek and stylish while retaining perfect functioning capacities. Undoubtedly, it has become a favorite among gardening enthusiasts within a short span of time.
Why Did We Like It? 
The first thing that springs to mind is the tank capacity. It can fit 10 liters, which makes this unit perfect for larger projects. At the same time, you'll notice how its spray distance allows you to reach the furthest corners and cover large areas in one go. 
Since it is motor powered, you should also take note of how the internal mechanisms function without pause to ensure you have the smoothest experience. It is compatible with a wide range of fluids, and this mister sprayer does not let down when it comes to different uses in the garden. 
Even the body is made of sturdy materials, so you can be sure of long-lasting benefits and a degree of resistance to chemical corrosion. Thus, all things come together to make this a stellar choice, which can be carried for long hours without much fatigue. 
Of course, the motor speed is noteworthy in its own way because it allows for a consistent spraying experience, so your lawn or garden doesn't need additional care. 
What Could've Been Better? 
This is not a cordless unit, which means there are some management hassles during usage. The design could be made better for manufacturers for a more seamless experience. Cords tend to get tangled up and slow down garden maintenance, essentially hampering the very speed these sprayers are supposed to provide. 
Pros
Consistent spraying

Great motor functionality

Large size

Various areas of applicability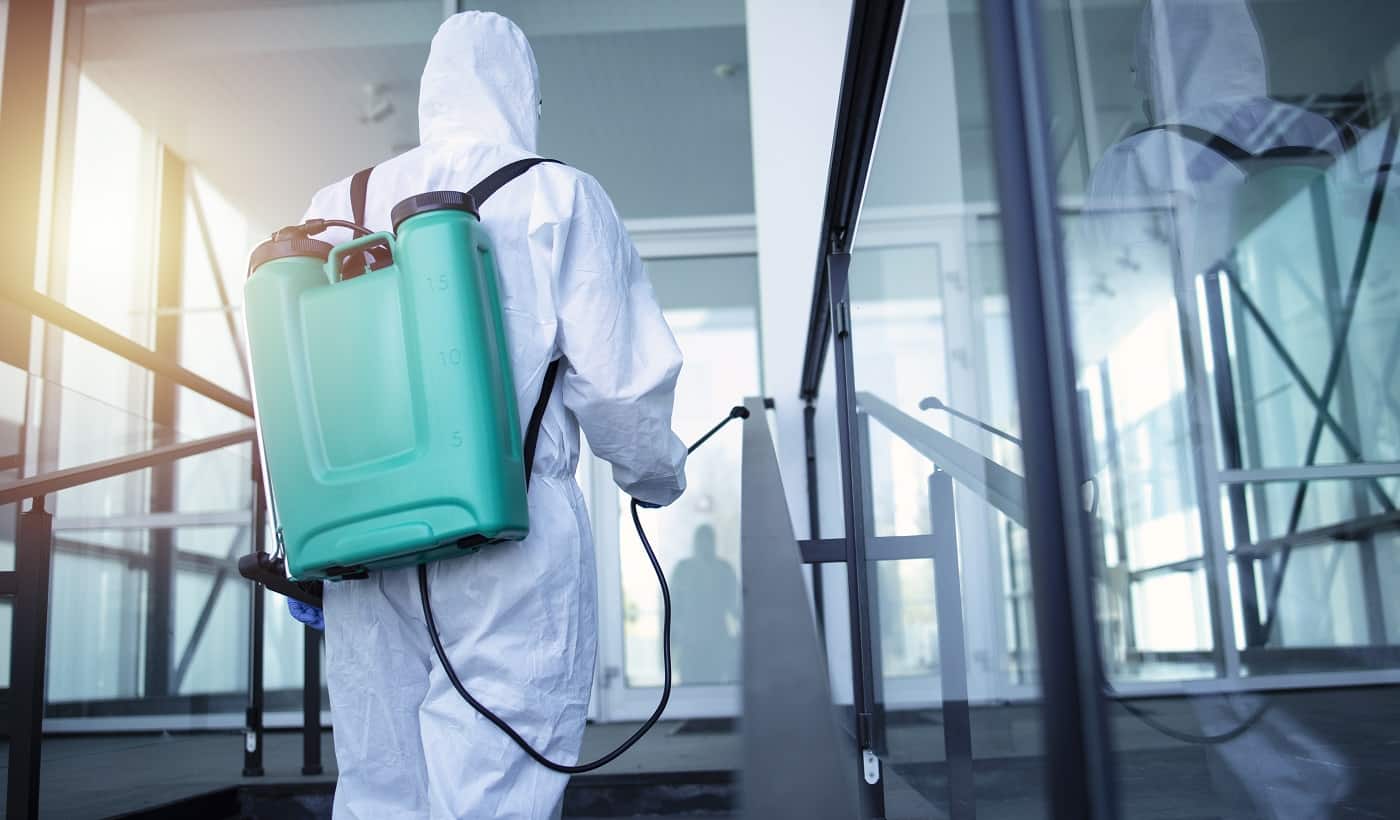 Backpack Sprayer Buyers' Guide 
Now that you're familiar with some of the best backpack sprayers, there are still some factors to keep in mind before making the purchase. 
Tank Capacity 
When you're choosing the right backpack sprayer, you have to ensure the tank capacity is large enough. If you choose to go with an option where it is small, then multiple refills will be needed, slowing down the progress. 
However, those with larger capacities can cover a greater area in one go. On the downside, the larger the tank capacity, the heavier the sprayer. 
Design and Weight 
This is where the design is handy. If sprayers are smartly built, then you'll see how weight gets distributed evenly. Many variants exist, where there are horizontal straps, across the chest or waist to help hold the sprayer in place. 
On top of that, you should opt for sprayers with padded straps for greater comfort even after hours of usage. 
Wand Length 
Before buying the sprayer, be sure to check the length of the wand. Obviously, for longer options, you can reach inaccessible places and enjoy a holistic spraying experience. However, size comes with a downside here. 
If the length is too much, then low hanging branches from trees might cause obstructions. Moreover, it is harder to place the wand and work for a long time without dislodging it. 
Battery Life 
Notably, this is only relevant for battery operated sprayers. Firstly, we recommend going for these over manual sprayers, since your fingers will get tired over time, no matter how much thought is put into the design. 
But, while picking battery run sprayers, check for their strength, so you know how long it will operate on a full charge. Try and pick items with battery indicators, so you can schedule the spraying exercises too. 
Materials Used 
You need these sprayers to be made of sturdy but light materials. Ideally, choose something that is resistant to corrosion due to chemicals. But, at the same time, the material shouldn't weigh down too much, causing fatigue after prolonged use. 
In this list of articles, you'll see that most of the items fulfill this criteria, so you can be sure of easy operations and a hassle-free experience.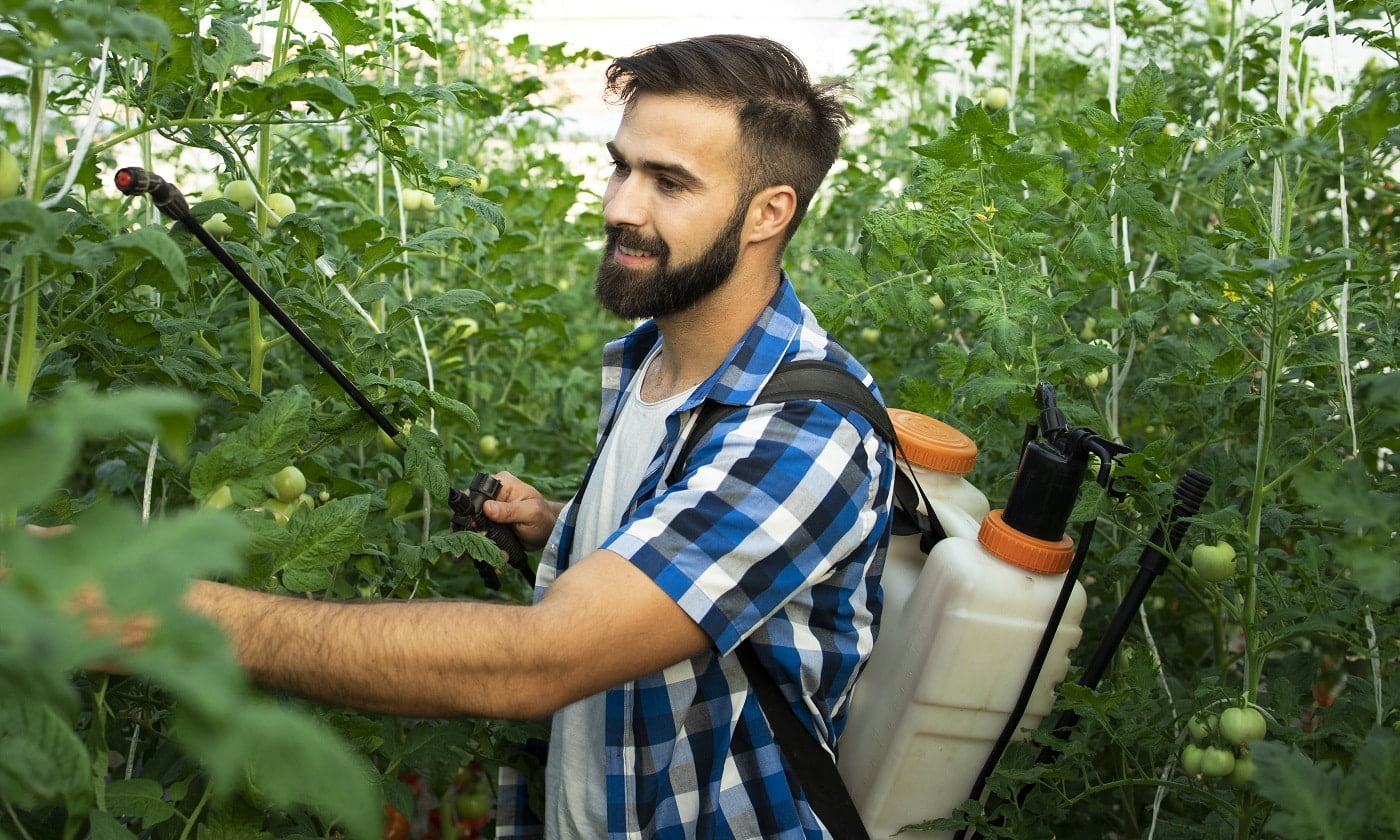 Final Words
Before you make the final purchase, let us just sum up the matter for you. There are certain core factors that make a good backpack sprayer. You should be focused solely on functionality and ease of use when you decide for yourself. 
Take the Chapin 61500 Sprayer; you'll see how the padded straps add a great deal of comfort. Similarly, the Roundup 190314 Sprayer stands out because of its internal mechanism that makes spraying extremely easy. 
On the other hand, if you want a sprayer with a great reach, then look no further than the Solo 425 model, which is quite professional in its utility. There are several motor-run options too, and while they reduce effort, the batteries might show wear and tear over time. Hand-operated choices will help you avoid this problem. 
Hopefully, this clears up any doubts you might have. But, if there are additional queries at the time of purchase, feel free to reach out to us. Until then, we take your leave. 
Goodbye, and happy spraying! 
Related Articles
5 Best Self-propelled Lawn Mowers Right Now
The 5 Best Lawn Mowers for St Augustine Grass Right Now
Best Lawn Edging for a Legendary Garden 
4 Best Walk Behind Brush Cutter
13 Best Trimmer Lines | Multi-Sided, Round, Square, Twisted & Serrated
13 Best Inexpensive Lawn Mowers For Small Yards
6 Best Electric Start Self Propelled Lawn Mowers 
11 Best Battery Powered Lawn Mowers
11 Best Mosquito Fogger Insecticide
9 Best Fertilizers for Petunias Right Now
9 Best Fertilizers for Hydrangeas
How to Install Landscape Fabric for Weed Control
Does Grass Seed Expire? All You Need to Know
11 Best WiFi Smart Sprinkler Controller 
13 Best Potting Soil For Herbs To Consider Today
13 Best Fertilizer for Palm Trees 
13 Best Fertilizer for Zoysia Grass
13 Best Fertilizer Spreader For Lawn & Garden
13 Best Potting Mix For Orchids
How Long After Grass Starts Growing Can You Mow It?
Does Grass Seed Go Bad | Expiration Dates Explained
How to Get Rid of Pampas Grass
How Much Does It Cost To Bottom Paint A Boat?
How To Thin Latex Paint For A Wagner Spray Gun
How Much Does Benjamin Moore Paint Cost? [Guide]