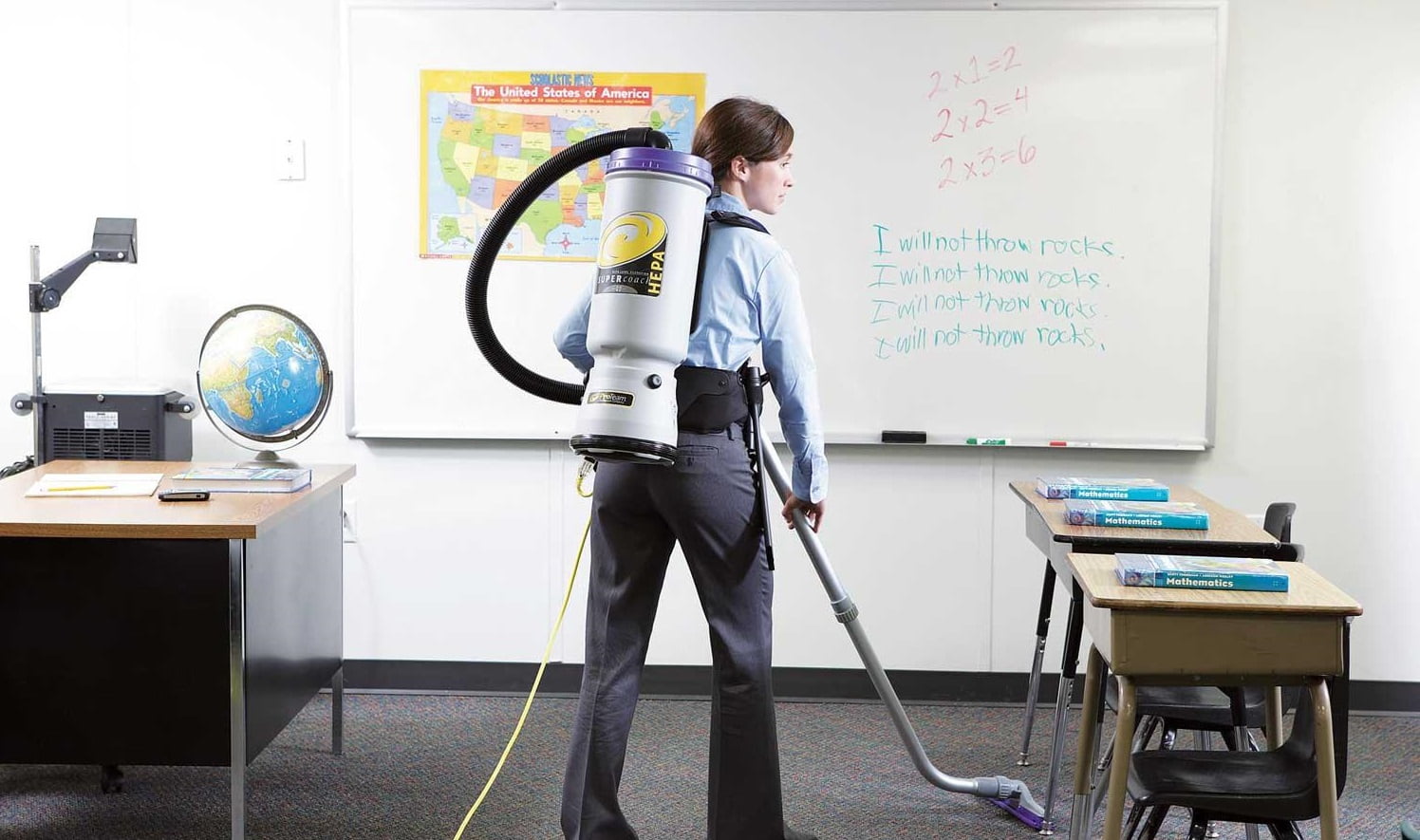 Backpack vacuum cleaners are commonly used by homeowners and commercial users for efficient cleaning of their spaces. This type of vacuum cleaner has all the characteristics that you look for in any high-quality vacuum machine.  However, they come with the added benefit of being more user-friendly.
With backpack cleaners, you don't have to constantly struggle to maneuver the vacuum without tripping over the power cord. Wearing a lightweight machine on your back, you get more freedom of motion while the cord hangs behind and doesn't obstruct the space you are intended to vacuum clean.
The prolonged and extensive use of a regular vacuum cleaner can strain your back and arm. Meanwhile, backpack vacuum cleaners allow you to work without bending your posture. In other words, vacuum cleaning can get less physically demanding with backpack vacuum cleaners.
With these benefits, homeowner and business owners naturally gravitate towards this better option of vacuuming cleaning. While it's comparatively easy to clean with backpack vacuum cleaners, it is certainly not easy to pick a model that can provide you with the required utility and also comes within your desired price range.
For that matter, we are going to review 10 of the best backpack vacuum cleaners of 2022 so that you don't have to exhaust yourself in finding one for your home or commercial space. We will also share a short buying guide so you can settle on the right model even outside of this list.
It is important to mention here that the reviewed products are not ranked with any preference. The sequential order is maintained just for reading convenience.
Best Backpack Vacuum Cleaners
Lightweight (weighs 9.2 pounds)

Fitted with hypercone filter

Features chiropractor-designed harness
This backpack vacuum is exactly what you are looking for to replace your traditional cleaner. It is one of the lightest vacuum machines on the block, weighs less than 10 pounds. Moreover, the harness that comes with it is designed with all the required care. Hoover Commercial has taken professional chiropractors on board to ensure that the vacuum harness doesn't cause back strains.
Sale
While making C2401 optimally convenient to use, Hoover Commercial has also made sure that you don't have to compromise on its functionality a bit. It comes with a 48-foot power cord so you can easily maneuver any residential or commercial space without switching between the power outlets. Its accessory pack includes a turbo floor tool, crevice tool, upholstery tool, and dusting brush. This assorted attachment set guarantees that you can use the vacuum for diversified cleaning jobs.  
Moreover, it is fitted with hypercone filter that is actually made of HEPA media so rest assured it is going to trap all the allergens and fine dust particles. Lastly, the sound of the vacuum complements its lightweight. It doesn't growl like a traditional vacuum cleaner. You can use it around people without torturing them with deafening suction motor sound.
All things considered, Hoover Commercial C2401 is a perfect backpack vacuum option for both homeowners and proprietors. Customer reviews on Amazon also indicate that users approve of the impressive functional features of this lightweight backpack machine.
Pros
Long power cord rules out repeated plugging/unplugging
Ergonomic design and lightweight body
Accessory tools for easy cleaning of hard-to-reach spaces
Features large dust container
Cons
Overheats with continuous use
Straps are not designed to fit all body types
Features Xover floor tool
Four-stage filtration system
An Amazon's Choice product
ProTeam Super CoachVac has a slender body that can easily adjust on the back with the help of a harness. The manufacturer has designed this backpack vacuum for using in college and school campuses. Its low-noise operations ensure that one can clean the corridors without disturbing the nearby classes. Moreover, it comes with a 50-feet power cord so that you can clean large, open spaces without unplugging and plugging the vacuum every minute.
What we most like in ProTeam's Backpack Vacuum is its long telescopic wand. It lets you reach the furthest spots without bending your back and extending your arm. Users have reported that vacuuming staircases become quite a breeze with this extra-long wand. It is important to mention here that this backpack vacuum is not just to clean open spaces. You get the assortment of nozzles (including crevice and upholstery attachment) that let you use it on all sorts of surfaces.
The other impressive feature of CoachVac is its detailed 4-stage filtration mechanism. No matter if its carpet, hardwood floor or a concrete surface, its filtration system gives equally good results in getting rid of the airborne dust particles and irritants. We are also impressed by the inclusion of two micro filter bags by the manufacturer. It allows you to complete an extensive cleaning job in a single go without taking a break to empty and refit the bag on the vacuum.
ProTeam Super CoachVac is quite popular among commercial users. This is the reason why it was awarded the "Amazon's Choice" label in the category "backpack vacuum commercial."

Pros
50-feet cord ensures nonstop cleaning
Equally good for all sorts of surfaces
An indicator for monitoring dust level
Automatic cord rewind for hassle-free operations
Cons
Not suitable for residential spaces
A bit heavy on the pocket
A compact and lightweight vacuum machine (10.3 pounds)
Features 8-quart HEPA filter
An Amazon's Choice product
If you are looking for a sleek yet cost-effective backpack vacuum option for your commercial or residential space, then you should definitely consider Atrix Vacbp1. It is a lightweight but powerful vacuum machine that is enclosed in an ergonomic casing that a user can easily hold on its back with the help of belt and shoulder straps. When you are lifting only 10-pound machine with the help of two shoulders and a waist strap, vacuuming doesn't feel like work.
Sale
On the functional front, this Atrixs Backpack Vacuum has outshined many of its competitors. Its powerful 1400-watt vacuum motor is good enough to take on all rough and tough cleaning jobs. Moreover, the assortment of hose attachments makes sure that you can use the same machine on different surfaces and materials. Apart from the floor tool, you get crevice tool, furniture nozzle, and different kinds of brushes.
To make this backpack vacuum a viable option for commercial users, Atrix has fitted it with a large capacity HEPA filter. This 8-quart filter ensures that all allergen, pet dander, and pollen remain trapped inside the vacuum and doesn't get freed in the space again. A long extension wand is another winning feature of this backpack vacuum.
Due to all these noteworthy features, Atrix Vacbp1 Backpack Vacuum has succeeded in earning the tag of "Amazon's Choice" in the broad category of "backpack vacuum." 
Pros
Ergonomic design ensures comfortable fitting on the back
Extension wand cuts down physical strain
Wide turbo hose for effective vacuuming under furniture
Easy to switch between hands
Cons
No disposable sand bag
Commercial users might find its suction power a bit underwhelming
Weighs lesser than school backpacks (8.3 pounds)
Offers extra-wide cleaning path
An Amazon's Choice product
Hoover CH30000 PortaPower is a powerful vacuum machine that is enclosed in a compact assembly. The machine is fitted in brief-case like box that bears a shoulder strap and you can wear it like a crossbody bag. Hoover Commercial has made this backpack vacuum for extensive vacuuming needs while keeping its weight impressively low. It just weighs around eight pounds.
Sale
In other words, it is even lighter than a regular school backpack. But it is worth mentioning that this ultra-light body doesn't affect the vacuuming prowess of the machine by any means. The machine comes with a 33-foot power cord and a stretchable hose so you can easily clean open spaces in one go. Moreover, the floor attachment of this Hoover machine is extra wide and let you cover more area in fewer passes.
In short, cleaning with Hoover CH30000 PortaPower is entirely hassle-free. We also like that you can use both reusable cloth and paper bags with this machine. For simple dust clean-ups, use disposable paper bags. To effectively get rid of dust mixed with sharp debris, use cloth bags.
It is quite evident that Hoover has assembled this backpack vacuum offer with due diligence. For instance, the machine also features a blower that disseminates the relatively large debris then and there. Similarly, an assortment of attachments come with the machine so you can use the vacuum on anything— from a car interior to open floors.
This Hoover backpack vacuum has succeeded in earning the tag of "Amazon's Choice" due to its valuable features for both commercial and residential users.
Pros
Extra compact and lightweight
Features a built-in blower for optimal cleaning results
Stretchable hose allows extended reach without arm extension
Can use both paper and cloth bags
Cons
No storage for attachments on the backpack
Automatic cord retraction is missing
Lightweight (below 10 pounds)
3-stage HEPA filtration
Comes with a 2-year motor warranty
GV has improved on the already many compact backpack vacuum options. The GV 10-Quart Commercial Backpack is made of sturdy-yet-lightweight aluminum. Its flask-shaped body can easily be donned on the back without feeling a bit of strain. This lightweight machine dangles on a strap that is adjustable and adaptable to every type of body.
The most impressive feature of this backpack is its supreme power. When the majority of models in the market offer the pull of lesser than 100 inches of water lift, GV Backpack Vacuum gives a whopping reading of 120 inches of the static lift.
With this unmatchable suction power, you can deal with all type of surfaces without putting in any extra effort. GV has also made sure that you can use the machine's suction prowess in a versatile manner. You get crevice and upholstery tools along with duster brush and roll.
WithGV 10-Quart Commercial Backpack Vacuum, you don't need to buy any vacuum-related accessories for a long time. It includes a quality piece of 10-quart reusable cloth bag along with six HEPA filtration bags. With so many valuable accessories, you won't find its upfront cost heavy on your pocket.
We also like that GV is projecting its product as one of the most reliable machines on the block. It comes with 2-year motor warranty and 30-day money-back guarantee. With that security, this powerful backpack vacuum is definitely worth its price.

Pros
One of the most powerful backpack vacuum on the block
Compact and lightweight design with easy-to-adjust strap
Air-powered brush extension for low-pile carpet cleaning
Comes with money-back guarantee
Cons
Short power cord
No accessory pocket on the belt
Lightweight
Compatible with 6-quart disposable bags
Four-stage HEPA filtration
Comes with 2-year manufacturer warranty
Sanitaire Quiet Clean Backpack Vacuum stands apart among all other cleaners of the same clan because it has received CRI's Seal of Approval. Carpet and Rug Institution (CRI) has introduced a Seal of Approval for all those stakeholders that succeed in maintaining a certain quality of carpet cleaning with their methods and apparatus. Getting this Seal is considered an achievement among vacuum cleaner manufacturers.
Sale
Several features have made it possible for Sanitaire EURSC412B to get this Seal of Approval. For instance, it features a 50-foot long power cord and the suction motor that only produces 69 decibels of noise. In short, you can clear entire floors without the accompanying typical niggling vacuuming noise.  
Moreover, it features an extra-wide floor attachment that allows you to cover more space in lesser time with fewer sweeps. It is important to mention here that this Sanitaire backpack vac is not bound to clean carpets and rugs only. It is equally good on hard surfaces (concrete, wood and tile floors).
 While offering a highly convenient and functional way to vacuum your residential and commercial spaces, Sanitaire has also made sure that the backpack vacuum cleaner can give you hygienic and healthy cleaning results. For that matter, it features a HEPA filter that takes care of almost 99% of airborne allergens and fine particles.
Sanitaire EURSC412B Quiet Clean Backpack Vacuum is compatible with 6-quart disposable dust bags and comes with 2-year manufacturer warranty.
Pros
Extra long power cord for uninterrupted cleaning
Noise-free operation
Wide cleaning path for quick vacuuming
CRI approval guarantees the quality of the machine
Cons
May not be a feasible option for homeowners due to high price
Fewer number of hose attachments
Lightweight and low-noise (~ 11 pounds, 65 decibels)
50-foot power cord
Comes with four-stage HEPA filtration
For establishments such as restaurants that experience greater foot traffic and a lot of floor mess, one needs a vacuum that is equally powerful and convenient to use. ProTeam has struck the right balance of these two valuable characteristics in its ProVac FS6 Backpack Vacuum.
Sale
In order to make it convenient, ProTeam has kept its weight under 12 pounds. This weight feels even lesser due to the special harness that only comes with this ProTeam model. The harness features thicker shoulder pads along with easy-to-adjust sternum strap and integrated tool belt. The best thing about this harness is that it is made of open-weave fabric that doesn't heat your body up even after an extended spell of vacuuming.
This heavy-duty backpack vacuum is also easy-to-use because it is fitted with a long power cord of 50 feet. This means you might be able to vacuum an entire establishment of greater square footage without changing the power outlet.
On the functional front, you get a powerful suction of 159 CFM. With such power, ProVac FS6 can draw in all sorts of dust and debris. Besides robust floor attachments, you also get particular nozzles for upholstery and low-pile carpet cleaning. In short, you can vacuum clean every inch of a restaurant with it while using different nozzles.
Offering customers an ambiance that is healthy and free of invisible allergens and dust particles is vital for restaurant owners. ProTeam has taken care of this important requirement in its ProVac FS6. It features a 4-stage filtration system so that all such irritants get into the 6-quart bag instead of exhausting back into the vacuumed area.

Pros
Powerful suction with lowest of the noises
Extended power cord for hassle-free maneuverability
Equally good on tile, carpet and upholstery
Features one of the most comfortable harness
Cons
A bit heavy on the pocket
Not for regular home vacuuming
Lightweight
Features cartridge filter and dual-surface nozzle
Comes with 1-year manufacturer warranty
Shop-Vac HP 2860010 Backpack Vacuum is another ultra-light portable vacuum machine. Shop-Vac has been successful in making a powerful vacuum under the assembly of eight pounds by using sturdy lightweight polymer in the construction of its tank. One can handle such weight even with hands. And when it goes on the back via a harness, you won't feel if you are holding an entire vacuum cleaner in the air.
Like any good vacuum machine, HP 2860010 is also fitted with a HEPA filtration system so that its use doesn't just clean the dust and dirt but also help you in getting rid of micro-particles and allergens. One thing we like in this Shop-Vac vacuum cleaner is its well-thought-out hose and extension wands. You get a 4-foot hose with the default dual-surface nozzle. You also get two metallic extension wands with it in order to easily reach the tricky spaces and spots without testing your arms and back.
You will also like this tool because it comes with a disposable fine dust bag. Moreover, the attachment tools come with it can easily be tucked into the pockets given on the harness. However, there is one downside of this backpack i.e. its regular-length power cord. When many manufacturers are offering their industrial-grade backpack vacuums with 50-foot long cords, Shop-Vac HP 2860010 features only 25-foot cord.
However, this limitation makes it a viable option for residential use as well.

Pros
Polymer construction, ultralight body
Powerful suction, equally good for commercial and residential users
Handy tool carrying belt
Easy-to-access on/off switch
Cons
Expanded volume
Power cord could be lengthier
Features 50-foot power cord and an ergonomic harness
4-stage HEPA filtration
Comes with  crevice attachment and a wand
If you are looking to get LEED-compliant backpack vacuum cleaner for your office or business that is also pretty easy to carry and use, then you should not look beyond Powr-Flite BP6S Comfort Pro Backpack Vacuum. The inclusion of the word "comfort" in the title suggests that the manufacturer has taken extra measures in making its backpack machine easy-to-carry.
For instance, Powr-Flite has kept the machine's construction in a slenderer cylindrical shape that doesn't occupy your entire back. Moreover, its harness is the manifestation of comfort. The open-weave and extra-thick shoulder straps along with wide and cushiony waist belt ensure you don't feel wearing anything on your clothes. The harness is also designed to transfer the weight of the vacuum machine to the sturdy hip joints and muscles.
While making it convenient to use, Powr-Flite has made sure that BP6S doesn't lack in functional features as well. You get a powerful motor with 120 CFM flow power along with 4-stage HEPA filtration. These specs are the same as any high-quality commercial-grade backpack vacuum. Moreover, the powerful suction motor only produces 70 decibels of sound, which is quite impressive and fits the LEED (Leadership in Energy and Environmental Design) standards.
With a stretchable hose, a wand and a crevice tool, the Powr-Flite has made a complete package of a backpack vacuum cleaner.

Pros
Extremely comfortable high-quality harness
Ideal for all sorts of commercial spaces
Complies with LEED requirements
Design is easy on the eyes
Cons
Price may not be reasonable for home users
A bit heavy in comparison to other backpack cleaners
Compatible with 8-quart bags
Features 25-foot power cord
Comes with 2-year manufacturer warranty
This is the second GV backpack vacuum on our list. It is a yet another powerful but lightweight vacuum machine weighing around 10 pounds. Carrying it on the back gets more hassle-free with its harness that includes shoulder and a waist straps. The belt on the waist doesn't just help in effective weight distribution but also carries all the accessory tools of the vacuum.
GV is also offering a powerful electric nozzle with this backpack vacuum. Get it if you have to use the machine for some industrial-grade cleaning. Otherwise, the built-in power suction of GV 8 is enough to take care of all sorts of commercial and residential vacuum cleaning.
What we like most in this backpack cleaner is well-assorted 7-piece attachment set, which also includes a particular nozzle to get rid of pet dander from carpet and upholstery. The stretchable hose of this backpack vac is also quite outstanding. From its 3-foot original length, you can stretch it to up to 11 feet.
Like any other top of the line backpack vacuum, GV 8 also features 4-stage HEPA filtration to ensure allergen-free environment. The power cord of this GV model is not extra long. Nonetheless, it is long enough to take care of large rooms, RVs, cars, and boats without needing unplugging/plugging. Moreover, 8-quart bag is large enough to help you with multiple vacuuming jobs.
If you are looking for something that you can use it at the office and as well as home, then consider buying GV 8 Qt Light Powerful Backpack Vacuum.

Pros
A well-assorted attachment set
Ergonomic design and lightweight body
Perfect for both residential and commercial settings
Effective HEPA filtration to release clean exhaust air
Cons
The harness is not that comfortable
Plastic parts are susceptible to wear and tear
Works with 6-quart dust bags
Features 40-foot power cord along with swiveling hose
Hard-mounted cord
If you are looking for a backpack cleaner that complies with all the high industry standards, then Rubbermaid Commercial Executive Series Backpack Vacuum is an option for you to consider. It is one of the few backpack vacuum cleaners that have the CRI's Seal of Approval and also complies with LEED standards. Its 110-CFM suction works while producing only 66 decibels of sound. In other words, you can use it in commercial settings during business hours without causing any inconvenience to the people around.
Moreover, this backpack vacuum comes with all the necessary accessories that you need for any versatile cleaning work. From upholstery to crevice nozzle and extension wands, you get all the essential tools within the cost of the vacuum cleaner.
It is important to mention here that this backpack model is not in the league of light and ultralight vacuum cleaners. Nonetheless, its harness with shoulder straps and a waist belt is good enough to carry its weight without straining your back. Moreover, the 40-foot power cord is long enough to allow you to clean spacious floors in a single go. Similarly, the compatibility of 6-quart bags ensures that you can do multiple cleaning rounds without replacing or emptying the bag.

Pros
Quiet yet powerful suction
LEED-compliant along with CRI Seal of Approval
Effective HEPA filtration
A versatile attachment set
Cons
Not ideal for deep cleaning of carpets
The harness design could be better
A lightweight battery-powered backpack vacuum (10.3 pounds)
Noise-free operation
Rechargeable 36V- 6Ah Lithium-Ion battery
Comes with battery charger
Lindhaus LB4 Commercial Backpack is the first battery-powered option on our list. As mentioned earlier, batteries can considerably increase the weight of a vacuum cleaner. And instead of making it more portable and easy-to-maneuver, the mass of battery renders the feature of 'backpack' useless.
No products found.
However, that's not the case with Lindhaus LB4 Commercial Backpack. Even with a battery, its weight is just like any other backpack vacuum that we have reviewed here. It weighs just over 10 pounds even alongside its powerful battery.  Like any good backpack vacuum cleaner, Lindhaus LB4 is also fitted with an ergonomic harness comprising of shoulder and waist straps.
In short, you can easily carry this battery-powered vacuum without feeling any strain on your back. Lindhaus has given its backpack vacuum all the features of a high-quality functional unit. For that matter, it features a stretchable hose along with a lightweight metallic wand. Moreover, you get four types of hose attachments to take care of different cleaning jobs.
There is a simple and wide floor nozzle, an upholstery nozzle, a crevice tools, and a brush— all these attachments are good enough to take care of any residential or commercial cleaning work. The 36V- 6Ah Lithium-Ion battery is rechargeable and can give extended running time in a single charge.
Lindhaus LB4 can be very useful when you have to vacuum large spaces with no power outlet in sight (auditoriums, stadium stands, cinemas, etc).
Pros
Lightweight even with battery
A well-designed harness
Powerful battery ensures extended vacuuming in a single go
Exceptional 5-stage filtration system
Cons
Not suitable for deep cleaning
Wand could be longer
Compatible with 6-quart dust bags
Four-stage filtration
150 CFM and 100-inch water lift
Trains, buses, and RVs also have floors and many times they are carpeted as well.  In other words, you also need to vacuum clean them. So, if you are particularly looking for a backpack vacuum option for cleaning large vehicles, then we would strongly suggest that you consider Mosquito Commercial Backpack Vacuum.
This backpack vacuum is different from all other models that we have reviewed here because it doesn't need to be plugged in regular power outlets. You can power it through the electric supply of the vehicle. But that is not all that Mosquito has achieved in this unique backpack vacuum cleaner.
It has all the features that you find in any other commercial-grade vacuum cleaner. For instance, it features a powerful suction motor with the specs of 100 CFM and 100 inches of water lift. Moreover, it also complies with LEED requirements with its noise-free 66 decibel motor sound.
As we know, vehicles are congested spaces where allergens remain airborne for a longer time than a spacious room or lounge. Mosquito has taken care of this issue with its backpack vacuum and fitted it with 4-stage HEPA filtration so that all the vacuumed allergens, dander, and fine dust particles remain trapped and doesn't circulate back into the congested space of a vehicle.
Pros
Ideal for RVs and buses
Plug-and-vacuum, no adaptor needed
Noise-free operation
Slim ergonomic body
Cons
Doesn't come with a harness
Very few attachment nozzles
Short Buying Guide for Backpack Vacuum Cleaners
While searching a backpack vacuum online or at an electric appliance store, take the following factors into account to purchase the right fit for your needs and within your budget.
1. Weight
If you have noticed, being lightweight is a recurring feature of the backpack vacuum cleaners we have reviewed here. Keep in mind that a backpack vacuum will only be better than an upright version if it is not bulky. No matter how well-designed and well-padded a harness is, it can't just offset all the weight of the vacuum machine. So, always look for backpack vacuums that weigh around 9-12 pounds.
2. Ease-of-Use
At the end of the day, it is the ease-of-use that gives backpack vacuum an edge over traditional cleaners. There are many features that define the ease-of-use of a backpack vacuum machine. For instance, if you are going to buy a vacuum for large square footages, then always look for machines with extra-long power cords (around 50 feet).
Similarly, if your vacuuming sessions are going to be longer than usual, then consider backpack cleaners that come with ergonomically designed harnesses with extra padding.  They must have a waist belt apart from the shoulder straps. Moreover, look for harnesses that also allow you to tuck in vacuum accessories as well. Lastly, the inclusion of telescopic wands automatically increases the convenient index of a backpack vacuum cleaner.  
Try to find a model that features all the aforementioned characteristics (our list has a couple of them) to get optimal user-friendliness for your vacuuming job.
3. Suction Power
Choose the suction power as per the space you are going to vacuum. For spaces with high foot traffic and thick carpeting, you will surely need powerful suction. On the other hand, hard floors can be dealt with nominal vacuum motors.
There are two parameters on which you can determine the power of a vacuum's suction: its CFM and water lift (static lift) ratings. The bigger the values of these two parameters, the greater will be the suction power of a backpack vacuum cleaner.
4. Attachments
The vacuum cleaner is not an appliance that you buy every day. Therefore, make sure you are going to get a complete package. What we are trying to say here is that you should always pick a backpack vacuum cleaner that come with assorted attachment sets even if it is a bit pricey.
When you will be able to clean the upholstery and narrow spaces of the house or office with a single vacuum machine via different nozzle attachments, the one-time cost of the machine won't feel that much.
5. Filters
As you can see, HEPA filtration systems have become a standard in contemporary backpack vacuum cleaners. So, always choose the model that features HEPA media in its filtration mechanism. But not all vacuum cleaners are fitted with similar HEPA filters. You will find 3 to 5-level filtration mechanisms in different models.
If you are going to vacuum areas such as restaurants and other similar public spaces, then go for vacuum cleaners with most intricate filtration mechanisms.
6. Mode of Power
Corded vacuum cleaners are always better than battery-powered versions unless you are dealing with space where there is no power outlet.
Before we conclude this piece, let's address some misconceptions regarding the use of backpack vacuum cleaners.
Backpack Vacuum Cleaners Are Only For Commercial Settings
There is no doubt that backpack vacuum cleaners are more popular among commercial users. However, this doesn't mean they are only manufactured for commercial establishments. Our list features many backpack vacuum cleaners that are equally good for both residential and commercial settings.
Backpack Vacuum Cleaners Can't Match Upright Vacuum Machines
This is another misconception spread regarding backpack vacuum cleaners. All the above reviews have suggested one thing i.e. light body and ergonomic designs have no bearing on the suction power of a machine. One research suggests that a backpack vacuum with the same specs can clean a space 2-3 times faster than an upright assembly.
We hope that these reviews and buying guide will come in handy in picking a convenient alternative to an upright vacuum cleaner for both residential and commercial vacuuming needs.
Related Articles 
55 Best Robot Vacuum Names For Your Little One
Bissell Crosswave 1785A vs. 2306A [Two Wet/Dry Uprights Legends Compared]
Bissell 1806 vs. Bissell 1940 [Steam Mops Compared]
Bissell 3624 Vs. 2694 [SpotClean Portable Cleaners Compared]
Hoover Power Scrub Deluxe Vs. Hoover Turbo Scrub [Comparison]
Roborock H7 Vacuum Cleaner Review
13 Best Bagged Canister Vacuums 
10 Best Shop Vacs For Dust Collection
7 Best Xiaomi Vacuum Cleaners for Healthy Homes
13 Best Shop Vacs  | Buyer's Guide and Reviews
6 Smallest Wet Dry Vacs For Home and Workshop
13 Best Vacuum for Stairs | Reviews and Buyers Guide
13 Best Robot Vacuums You Can Buy Under $200 
8 Best Robot Vacuums Under $150 | Reviews & Buyer's Guide
13 Best Non-Electric Vacuum Sweepers 
Best Samsung Robot Vacuums| POWERBot Buyer's Guide
6 Best Vacuum Cleaners for Mattress That Promote Healthy Sleeping
19 Best Upright Vacuums with HEPA Filter| Reviews & Buyer's Guide
Dyson AM07 vs Dyson AM06 Fan Comparison
Shark NV682 vs. NV683 vs. NV752 | Upright Vacuum Comparison Review
Vornado 530 vs 630 vs 660 | Room Air Circulator Fans Compared
Bissell BigGreen 86T3 vs. BG10 | Carpet Cleaner Comparison & Buyer's Guide
Deik vs. Dyson V8 & V7 Stick Vacuum Comparison & Buyer's Guide
13 Best Canister Vacuums for Pet Hair
ILIFE A4s vs. iRobot Roomba 690 Compared | Robot Vacuum Face-Off
Shark ION ROBOT 700 vs 720 vs 750 | Robot Vacuums Compared
ECOVACS Deebot N79 vs. N79s | Robot Vacuums Compared & Buyer's Guide
Lasko 7050 vs. U15701 vs. 655704 | Floor Fan Comparison
PureClean PUCRC95 Automatic Robot Vacuum Cleaner Review
Oreck Commercial ORB550MC vs. Orbiter Ultra Multi-Purpose | Buyer's Guide
iRobot Roomba 675 vs. 680 vs. 690 | Robot Vacuums Compared & Buyer's Guide
Bissell 9595A vs. 1831 | CleanView Upright Vacuums Compared & Buyer's Guide
13 Best Central Vacuum Systems
The Best Vintage Vacuum Cleaners To Collect
11 Best Wet/Dry Handheld Vacuum
13 Best Steam Cleaners for Hardwood Floors
6 Best Miele Vacuums For Cat, Dog, And Pet Hair
5 Best Central Vacuum Hose Replacements
12 Best Vacuums for Tile Floors
6 Best Central Vacuum Inlet Valve Replacements
14 Best Wet/Dry Handheld Vacuums
12 Best Robot Vacuums For Under $300
McCulloch MC1385 or Vapamore MR100
13 Best Steam Cleaners for Hardwood Floors
15 Best Robot Vacuums Under $300
12 Best Lightweight Vacuum Cleaners For Elderly
11 Best Central Vacuum Attachment Kits, Powerheads & Brushes
15 Best Lightweight Vacuum Cleaners for Elderly [Buying Guide]
11 Best Vacuums For Tile Floors
7 Best Central Vacuum Hose Replacements To Consider
5 Best Miele Vacuums For Cat, Dog, And Pet Hair