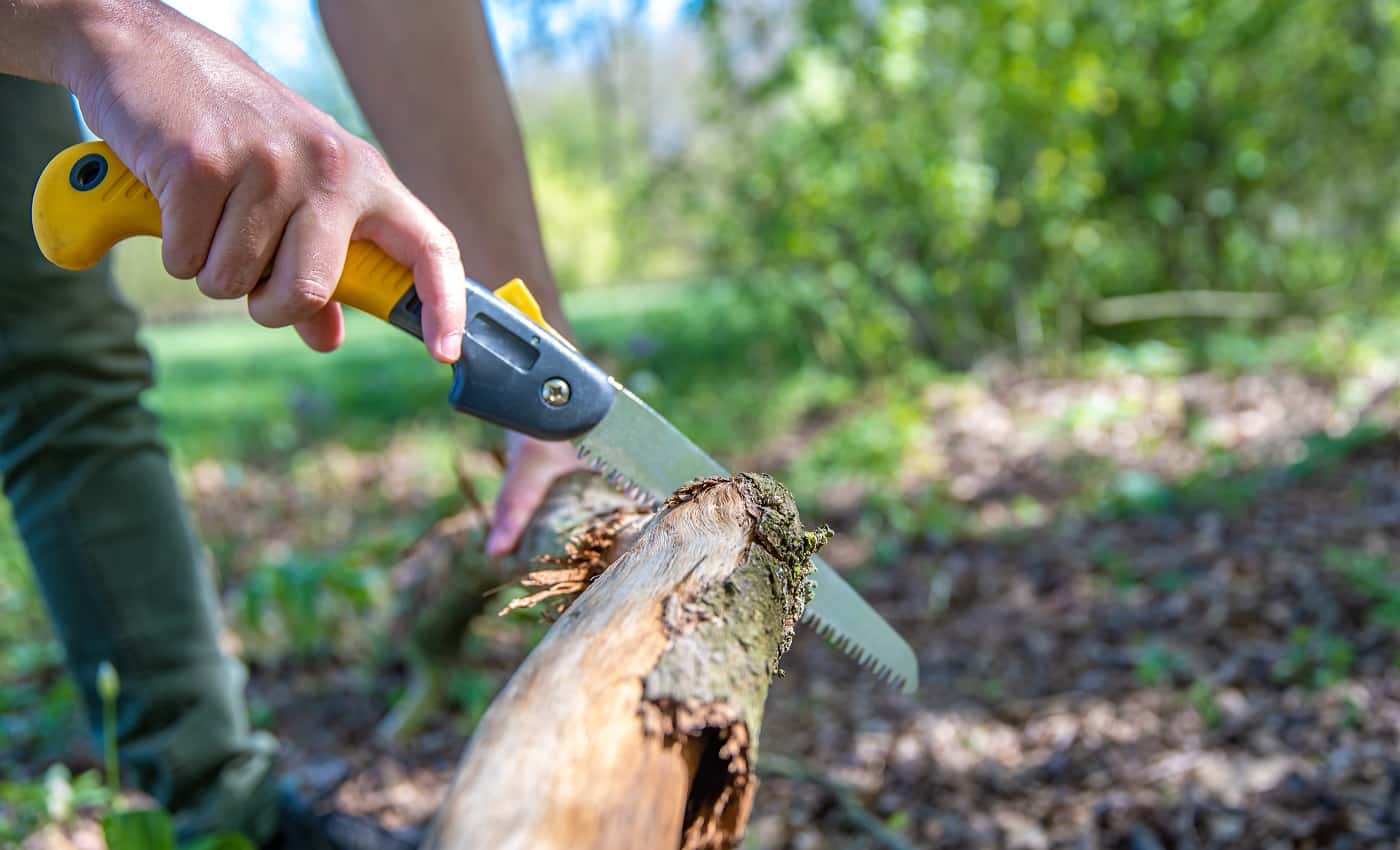 When you're off to camp with friends, a backpacking saw is one of the key tools to carry with you.
After all, campfires are integral to camps, and in order to light a fire that burns long and slow, you'll need to cut thick logs. So, including a saw is something which you must not forget by any chance. But choosing the right product becomes difficult since hundreds of options are available out there.
That's why we've compiled this comprehensive list of the 7 best options for you to consider. We've also included a guide to help you make a wise decision.
So, without further ado, let's dive into the reviews.
Best Backpacking Saw Of 2022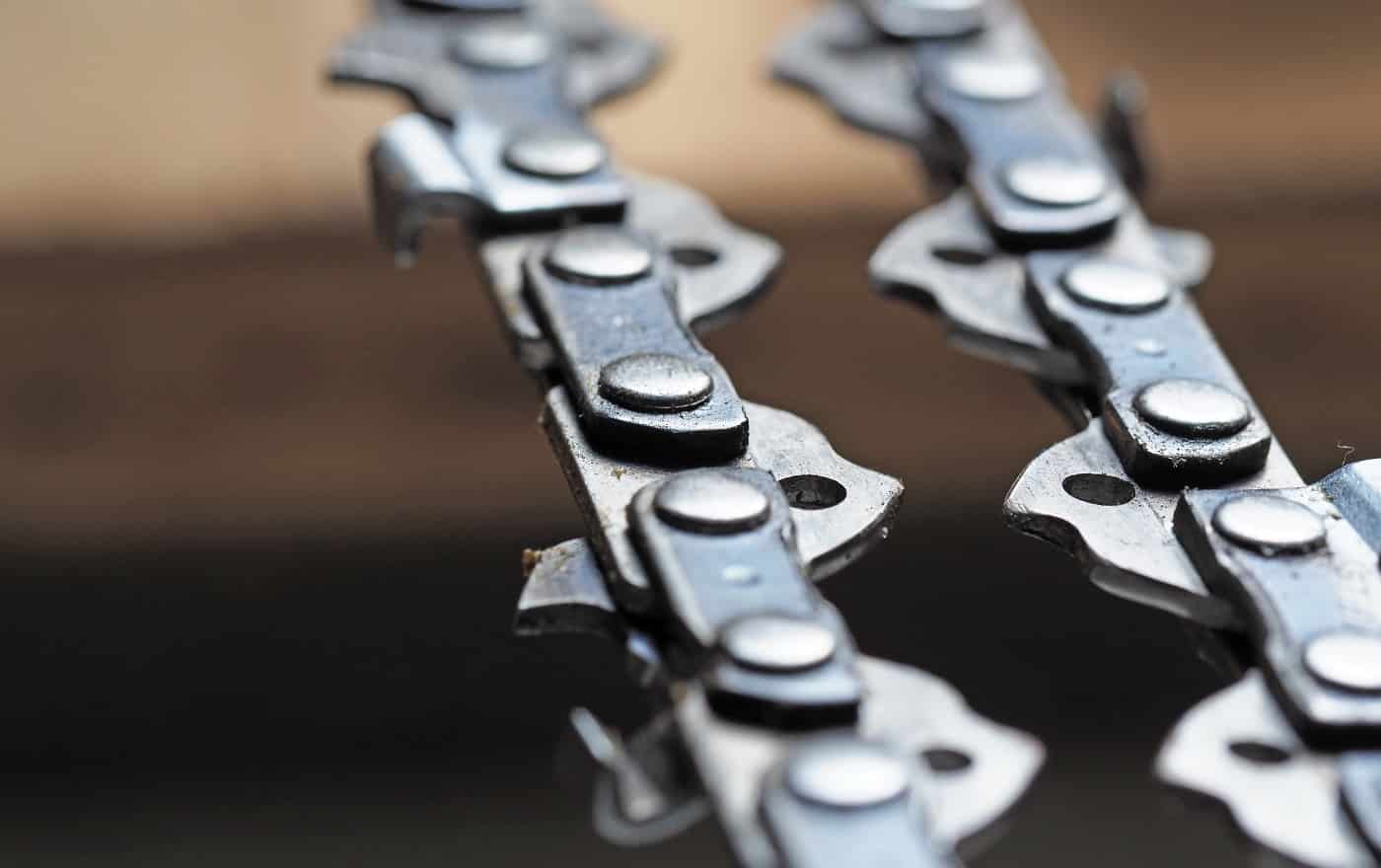 Cutting a variety of materials becomes effortless with this high-quality folding saw from Bahco. Notably, this product is designed keeping in mind the needs of campers, wildlife enthusiasts, and hunters. It is packed with lots of impressive features that work to deliver superb performance.
Sale
Why Did We Like It?
First of all, this product comes with a powerful 7-tooth per inch (TPI) blade with XT toothing, which can cut plastic, bone, or dry wood flawlessly and quickly. Plus, it is coated with a protective layer of rust-proof material, which makes sure that there is minimum friction.
Besides, it comes with a two-component handle made from high-quality plastic. This provides perfect grip and it also comes with a durable leather strap for ease of use. 
What's more, you get spare blades with this product. As such, you can use it for a longer time by just changing the blades whenever required. Lastly, it is equipped with an efficient safety-lock feature that works when it is both open and folded.
What Could've Been Better?
Weighing 14 oz, this saw is among the heavier options in our list. Hence it might seem a bit difficult to handle for people who are less experienced. Also, this is a straight edge saw, so campers need to learn how to use it correctly to get the best results. 
Pros
Quick and flawless cutting action

Blade coated with rust-proof material

Handle provides perfect grip

Safety-lock facilitates convenient locking
Cons
Heavier than other products
Our next pick for you is this handy pocket chainsaw from Sportsman which is an absolute necessity when you're travelling. It is also quite easy to use and is built to provide powerful and long-lasting service. Note that this chainsaw has a 36-inch long chain and comes with an 8 mm circular fire starter. 
Why Did We Like It?
To begin with, the 36-inch long chain of this product consists of strong chainsaw cutting teeth. The teeth tear through the wood effectively, cutting it both ways. It can also cut a variety of materials including tree trunks, thin branches, and overhead branches.
Additionally, the 65 mn high heat-treated steel body of the chain makes the cutting time incredibly fast. Behind this magic is the set of razor-sharp blades which can cut through 3 sides of a structure at once. 
Furthermore, the product consists of heavy-duty handles with convenient metal brackets that can be re-sharpened easily. Plus, a tough and durable storage pouch made from nylon and a belt loop is included with the product to facilitate simple storage. 
That's not all; the blade can be sharpened with a round-shaped chainsaw file of regular size. 
What Could've Been Better?
One drawback of using this product is that you might experience strain in the lower back. This is probably due to the upward sawing motion that is experienced while cutting a log in any forest. Also, the chain might get kinked easily while being used, and undoing the kinks is time-consuming. 
Pros
Tears through wood effectively

Handles can be re-sharpened easily

Nylon storage pouch is highly durable

Can be sharpened with a regular chainsaw file
Cons
Might cause strain in the lower back
REXBETI is known for producing a range of superior-grade products and this folding saw from the brand is no different. It is enhanced with efficient features and a high-quality finish that sets it apart from other ordinary products. This product is suitable for all purposes, be it yard work, camping, or cutting wood pieces for DIY projects.
Sale
Why Did We Like It?
The most noteworthy feature of this folding saw was its amazing 11-inch long blade equipped for handling a variety of cutting work. Note that the extended length of this blade comes at 22 inches which lets you cut through plastic, bone, and wood consistently.
In addition to this, the saw has a 7 TPI design which makes it a very good camping saw. Additionally, the staggered teeth are built to last longer and provide ultra-sharp and smooth sawing. 
Furthermore, the saw is very lightweight even though it is suitable for heavy-duty work. So, carrying it along anywhere is very easy. Lastly, it has a comfortable rubber-coated handle made from polymer that gives you a firm grip no matter irrespective of the weather condition.
What Could've Been Better?
If you order the product online, make sure you check the product as soon as it arrives. Often this saw is not packaged properly and there may be scratches on the blade. In our case, the package was torn at several places and a little portion of the metal was exposed past the rubber-coated handle.
Pros
Long blade can handle a variety of cutting work

Lightweight makes it easy to carry

Staggered teeth are durable and efficient

Comfortable handle provides a firm grip
Next, we've picked for you this convenient pocket chainsaw from Skyocean which is extremely versatile too. It serves as the perfect cutting tool during emergencies and is built to last for years. Note that this product weighing 5.6 ox comes with a 36-inch long chain.
Why Did We Like It?
Firstly, we loved the cutting power of this chainsaw, thanks to its 11 sharp and high-quality saw blades. It can cut through small branches as well as large trunks within seconds and is also effective on over-head branches. 
This is made possible by the bi-directional motion created by the saw links, which ultimately saves a lot of effort and time. 
Further, you can fold the 36-inch long chain of this lightweight product to make it just 6 inches in length. Thus, it is as convenient to carry as a cell phone and occupies very little storage space. 
Plus, it comes with a cool handle made from paracord, which can be extended to 275 inches when you need to reach high branches. Hence, it is quite suitable for yard work, hiking, cutting large wood pieces, and camping.
 Lastly, the product is made from heat-treated steel of industrial standards, which enhances its durability and makes it very easy to clean. 
What Could've Been Better?
The only disadvantage of going for this product is that the teeth are on one side of the chain. So, when you are using it for an over-head branch and the teeth are not positioned against the branch, it is not possible to flip it. In comparison, saws which have teeth on both sides are more convenient to use. 
Pros
Cuts through all branches and trunks in seconds

Can be folded to 6 inches

Handle can be extended to 275 inches

High-quality steel enhances durability
Cons
Teeth are on one side of the chain
This revolutionary BOREAL21 Bow Saw is designed to provide the ultimate performance for almost all purposes. It is safe to use and let's you enjoy your DIY interior or landscape design projects to the fullest. So, let's look at all the amazing features that this product offers.
Why Did We Like It?
The best thing about this product is its ease of use since it can be opened and closed in seconds. All you need to do is unfold it, snap it in position and start your sawing work. Also, the blade tensioning feature ensures that there are no loose parts. Hence, you don't need to touch the blade while closing or opening it. 
The other feature that we liked about this saw was its optimal length of 21 inches, which makes it suitable for powerful strokes. Plus, the teeth are aggressively angled on the blade to make each cut quicker and smoother. 
Moreover, the trapezium-shaped frame with 3 hinges allows you to make cuts of large diameter as well. Lastly, it can be folded to a very small size for convenient storage.
What Could've Been Better?
Although we have no complaints regarding the efficiency of this product, we noticed that it makes a slightly disturbing noise while being used. Also, when you are walking with the saw in hand, you might hear the noise. You can deal with this issue by using rubber washers to secure the blade. 
Pros
Can be opened and closed in seconds

Doesn't have any loose parts

Optimal length facilitates powerful strokes

Makes The cut quicker and smoother
Cons
Is a bit noisy while being used
The next saw that we have for you is this classic product from the 60-year old well-known brand Sven Saw. It is made with industrial-grade material and is sure to provide very durable performance. You can use it for various purposes, such as yard work, camping, backpacking, canoeing, and hiking.
Why Did We Like It?
First and foremost, we were highly impressed by the Swedish steel blade of this product. It gives you perfect results each time, thanks to its powerful and accurate cutting action. Thus, you can easily clear snowmobile trails, cut down invasive plants, and cut firewood with it at home. 
The triangular shape of this saw is another beneficial aspect as it is very rigid and makes sure that the cut is uniform and smooth. So, you don't have to worry about imperfectly cut wood pieces, as in the case of rectangular saws.
What's more, this product comes with a handle made of anodized aluminum and a back bar which is sure to render long-lasting service. Plus, the external frame of this product is resistant to rust and changing weather conditions.
What Could've Been Better?
The only disappointing aspect of this product is that its blade needs to be tensioned with the washer and wing nut after it is unfolded. This becomes a hassle each time you use it. It also takes at least 30 minutes to do this.
Pros
Accurate and powerful cutting action

Triangular shape ensures a uniform and smooth cut

Strong and durable handle

Rust and weather-resistant
Cons
Blade must be tensioned with washer and wing nut
We also found this chainsaw from SUMPRI to be very effective for almost all cutting purposes. It features a new and superior-grade design which makes each cut more efficient. Note that this saw comes with a 36-inch long chain and weighs 8.4 ounces.
Why Did We Like It?
This product is capable of cutting down large branches or wood pieces with the same precision. And its 36-inch long chain makes the cutting action more efficient and reduces the cutting time to just a few seconds. Aided with blades that are razor-sharp, it saws all 3 sides of a large branch at once. 
You can even clear ATV or mountain bike trails while traveling, and its lightweight design makes it very easy to carry along anywhere. 
Plus, this product is made from very strong, heat-treated steel, which makes it extremely sturdy. As such, it can render a long service without showing any major fault. Lastly, you get a convenient belt loop pouch that is very compact in size and can store the saw comfortably.
What Could've Been Better?
We felt that the wrist straps on the chainsaw could've been bigger, so that they could be convenient for larger hands too. To deal with this problem, you can fix a stick as a handle on either side of the saw. Otherwise, it would be best to go for any other product. 
Pros
Enables efficient cutting action

Easy to carry

Strong and durable

Easy to store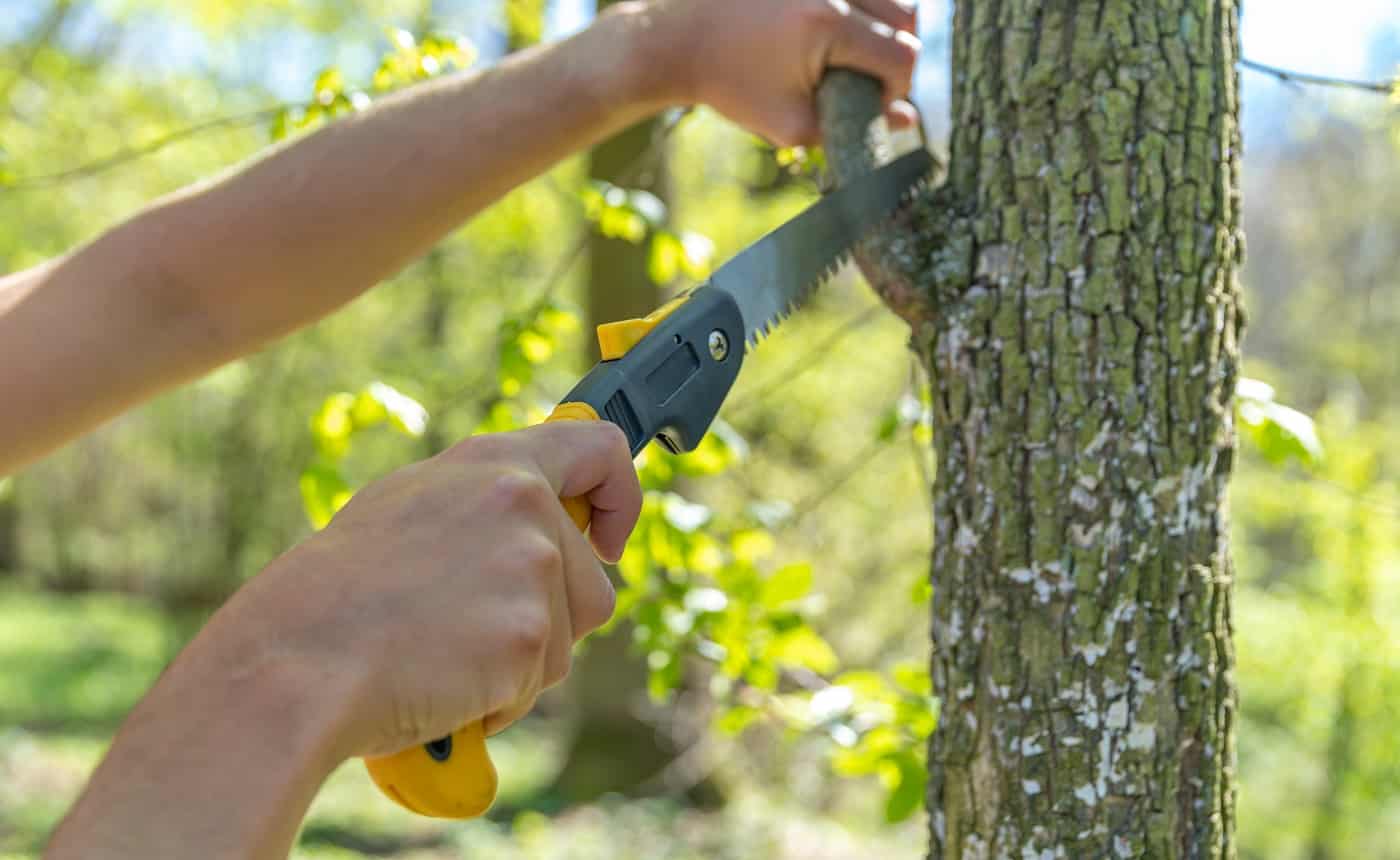 Backpacking Saw Buyer's Guide
Buying the right backpacking saw won't be a problem if you follow the right approach. Keeping in mind your needs and preferences is important, and so is considering some vital features characteristic to the product. So let's look at the points that you must keep in mind before proceeding to buy a backpacking saw. 
Material
This is a crucial factor when it comes to choosing an ideal backpacking saw. That's because the material of a product determines its strength and durability. Note that while steel blades are very durable, they are also prone to rust.
 So, you must make sure that the steel used to make the product is of good quality and is heat-treated. Also, you must check the material of the handle and the external frame. 
Length
The length of the chain or the blade of a saw determines its cutting power to a certain extent. An important tip for selecting an ideal backpacking saw is to ensure that the sawing blade is 50 percent longer than the diameter of the tree to be cut. Or else, the blade might not cut the plank efficiently. Also, note that a longer chainsaw will make the cutting action much faster. 
Comfort And Safety
It is also important to ensure that the saw is safe and comfortable to use. Remember that more is the control on the tool, the safer it will be for the use. So, do check whether the design is ergonomic or not before you decide to buy it. Plus, the handle must fit comfortably in the hand and hence needs to be long enough.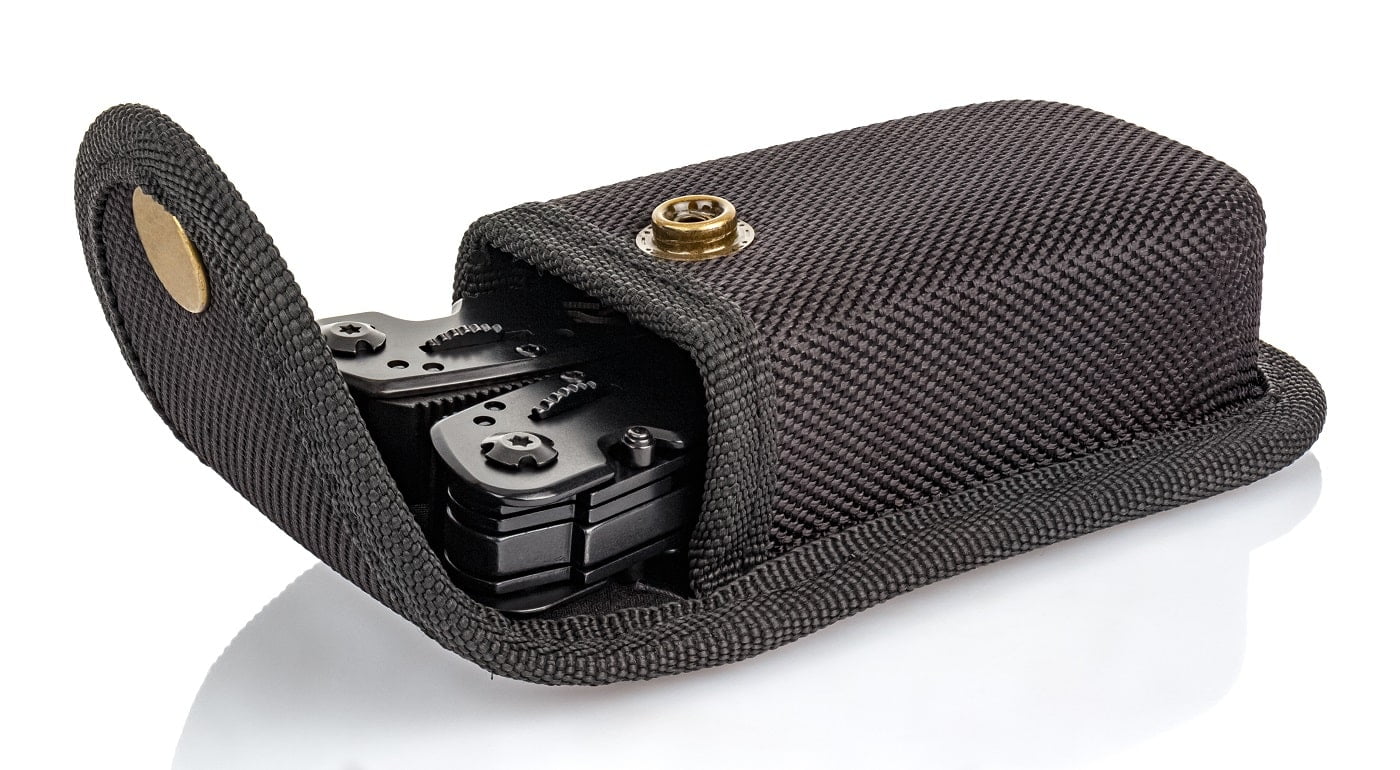 Verdict
That brings us to the end of this guide. We hope it will be easier for you to choose the best backpacking saw now. 
But before we call it a day, here's a quick recap of our favorites from the list. In our opinion, the Rexbeti Folding Saw is the best-budget buy. However, if you want to go for a superior-grade product and don't mind spending a bit more for that, the Bahco 396-LAP Folding Saw will be a great choice. 
On the other hand, if you are specifically looking for a chainsaw, then the Sumpri Pocket Chainsaw will be the perfect option to go for. 
With that, we'll sign off for today. Till we meet again, take care! 
Related Articles
Different Types of Saws & How to Use Them 
13 Best Screwdriver Sets on the Market Today
13 Best Wood Routers for Professionals & Amateurs Alike
Simply the Best Stained Glass Ring Saws  
49 FREE DIY Router Table Plans For an Epic Home Workshop
11 Best Angle Grinders on the Market Today
13 Best Chainsaws for the Money  Reviews & Guide
13 Best Tile Saws  | Buyer's Guide
Top 10 Longest Pole Saws For Tree Pruning 
11 Best Sliding Compound Miter Saws
9 Best Hybrid Table Saws Under $1000 
11 Best Budget Bandsaw Reviews 
11 Best Dry Cut Metal Chop Saw
11 Best Bow Saw | Reviews + Buyer's Guide
11 Best Table Saw [Reviewed & Buyer's Guide]
7 Best Cabinet Table Saws [Reviewed & Buyer's Guide]
9 Best Band Saw [Reviews & Buyer's Guide]
7 Best 12-inch Miter Saw Reviews [Buyer's Guide]
11 Best Chainsaw for Milling Lumber | Buyer's Guide
5 Best Stihl Chainsaws [Reviewed & Buyer's Guide]
9 Best Sanders for Deck Refinishing [Buyer's Guide]
11 Best Table Saw Fences [Reviewed & Buyer's Guide]
DeWalt DW735X Planer Review [Should You?]
Bosch 4100-10 Jobsite Table Saw [Reviewed]
Hack Saw Vs Bow Saw [All You Need to Know] [Explained]
9 Best Compact Circular Saws Of 2022 [Reviewed & Buyer's Guide]
How To Sharpen A Bow Saw And Bow Saw Maintenance
6 Sabre Saw Vs. Jigsaw [All You Need to Know]