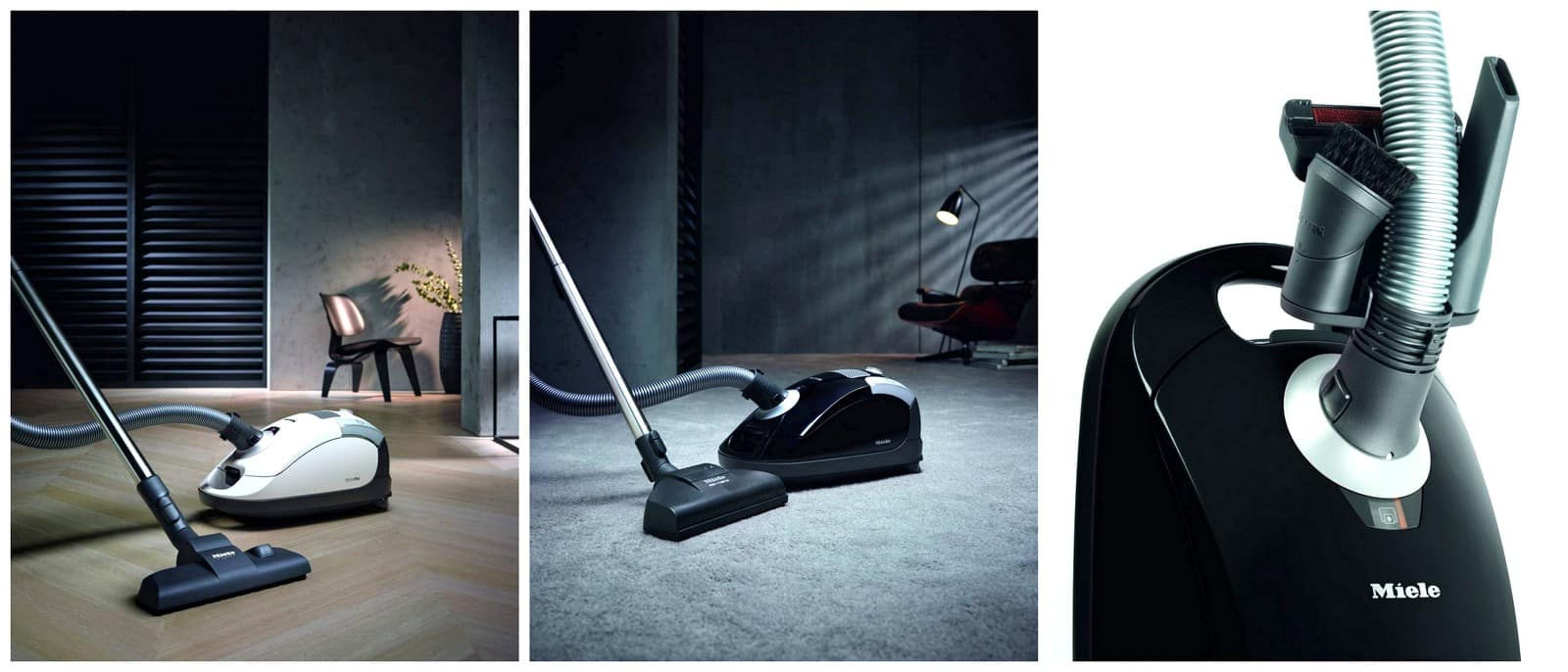 Gone are the days when there was only one kind of vacuum cleaner available in the market. Now, you have a multitude of options to choose from — upright, canister, bagged, bagless, and stick ones. Full-size vacuum cleaners are available with two constructions: upright and canister. The canister vacuums are further divided into bagged and bagless configurations.
While canister vacuums are better than uprights in certain areas, we will discuss them later, the bagged ones are more suitable than bagless units. we will discuss the reasons for this too.
In this section, we have been assisting you with the shopping of different types of vacuum cleaners. And this piece is dedicated to bagged canister units. Our team has done due research and compiled a list of 13 of the best bagged canister vacuums available in the market. Keep in mind that the vacuum units reviewed below are not numbered in any particular order. The numbering is used for reading convenience only.
Best Bagged Canister Vacuums
Two-level suction power

Auto-release power cord

Multi-surface nozzle  

#1 Best Seller on Amazon
This Bissell bagged canister vacuum truly works with a zing— thanks to its lightweight design and powerful suction. Weighing just around 12 pounds, this Bissell cleaning unit is equally good for vacuuming commercial and residential spaces. It is attached with a multi-floor nozzle that lets you clean rugs, bare floors, and above-floor surfaces with the same effectiveness.
There are multiple design details that make this vacuum an "easy-to-use" cleaning unit. Its light canister is fitted with an ergonomic handle so you can move around while holding it without feeling a strain on your hands and arms. In addition, its swiveling hose along with a telescopic wand makes sure you can maneuver the cleaning nozzle to every nook and cranny in the house.
You would also like this bagged canister for its auto-rewind power cord. After you get done with exhausting vacuuming work, you don't need to fret about rolling back that long power cord. With a push of a button, you can roll it back without a hassle.
The controls of Bissell Zing are also pretty straightforward. There is a knob on the handle that allows you to adjust the vacuuming power between high and low. Then, a bag indicator is also provided that lets you know when it is full. To keep the optimal performance of the vacuum, we would recommend you to change its bag when it's half-full.  
Get Bissell Zing Bagged Canister Vacuum if you are looking to clean and mop multiple sorts of floors in any commercial or residential setting with a single machine.
Pros
Adjustable telescopic wand, better access
Swiveling hose, better maneuverability
Ergonomic canister design with carry handle, hassle-free use
Equally good on all sorts of floors
Cons
The quality of bag could be better
Canister doesn't have wheels
10-amp suction motor
Extension wand
Accessory tools included
Comes with 1-year manufacturer's warranty
If you are one of those homeowners who need aesthetics in every appliance in the abode, then this Dirt Devil vacuum is for you. The canister of this vacuum is available in four patterns differentiated on the basis of their themes and colors. Moreover, the canister features grooves and cuts that give it a more aerodynamic and sleek finish.
While keeping the visuals of its bagged canister vac interesting, the manufacturer has made sure that it also gives satisfactory results on the functional front. For instance, the canister is fitted with a wheel assembly so you can easily move it around on floors. Moreover, the telescopic wand features a wide 11-inch floor nozzle that lets you clean all hard and easy floors in fewer sweeps.
Apart from giving a standard floor nozzle, Dirt Devil has also packed two attachments with this bagged canister offer. With a Bouquet Bagged Canister, you also get crevice nozzle and a dusting brush, which further diversify the use of this bagged vac.
We also like this stunning piece of vac because of its long power cord. Many homeowners don't buy corded bagged vacs just because they don't find them portable enough. Dirt Devil has taken care of this issue and fitted the machine with a 20-foot long power cord so you can use it on a wider area without changing power outlets. Then winding back this long cord is also a breeze— thanks to its auto-rewind mechanism.

Pros
Easy on the eyes, patterned and colorful canister options
Extra-wide floor nozzle, quick vacuuming
Extra long power cord, portable use
Versatile use with crevice tool and dusting brush
Cons
A bit heavy on the pocket
Canister doesn't feature a handle
This Kenmore vacuum unit is a mighty cleaning tool in every sense of the word. If you are looking for power, ease-of-use, and versatility in a single vacuum unit, then you won't find many options better than Kenmore 81414. It is primarily a bagged canister vacuum that offers holistic cleaning work in all sorts of settings. Whether it is a restaurant with high foot traffic or a house with carpeted floor all around, this unit will give you the results with the same efficiency.
Sale
Among many of its distinctive features, the most striking one is its dual-motor suction. Unlike regular canister vacs, Kenmore 81414 is fitted with two suction motors: a heavy one in the canister and a light one in the floor nozzle. These motors work in tandem to offer powerful suction that comes in really useful during carpet deep cleaning.
The floor nozzle of this hardwearing Kenmore vac is also worth mentioning. It is 14-inch wide. With such impressive width, even vacuuming large floor plans become a breeze. Kenmore is also providing three accessory tools (crevice, dusting brush, and a second bare floor tool) with this unit so you can use it on different surfaces with a relevant configuration.
In order to make it a truly whole-floor vacuum, Kenmore has used an aluminum wand that can be extended to up to 9 feet. With 26-foot power cord and wheeled canister, this long retractable wand becomes a portable cleaning unit for small to medium houses.
Lastly, the manufacturer has used a HEPA filtration system within the canister that ensures the use of vacuum and the removal of the bag doesn't expel dust particles back in the air. With all such impressive features, Kenmore 81414 deserves to be called a complete package in a bagged canister vacuum.

Pros
Long retractable wand ensures easier access to all nooks and crannies
Dual-motor for uncompromised suction power
HEPA filtration to ensure hygienic, dust-free indoors
Long power cord ensure better portability
Cons
A bit heavy and without canister handles
A bit heavy on the pocket as well
1200-watt turbo vortex suction motor
6-level suction control
Features AirClean sealed system
This Miele appliance is a vacuum powerhouse. If suction is the first and foremost feature you look in any vacuum unit, then Miele Compact C1 Turbo Team should be your pick. It features a powerful 1200-watt motor that delivers vortex suction. This helix-patterned powerful suction enables you to use it on high, low, and medium-pile carpets with the same efficiency.  
Such powerful suction can sometimes be detrimental to delicate area rugs. Therefore, you also get the option to adjust the suction magnitude on six different levels. Moreover, the floor head also features a brush that ruffles all the deep-seated dust particles, making your carpet cleaning routine all worthwhile. In order to make the use of this turbo vacuum on delicate surfaces more failsafe, the manufacturer has also used an air adjustment slide in the floor head so that the carpet doesn't get sucked into the machine.
Apart from making it a complete cleaning tool for carpeted floors, Miele has made sure that you can get the same cleaning utility on bare hard floors as well. For that matter, you also get a separate attachment for parquet floors. In addition, crevice and upholstery tools make sure you can use it on above-ground and all hard-to-reach surfaces as well.
The telescopic wand and hose provide you with the impressive cleaning radius of 29.5 feet. It is good enough to clean an entire apartment or medium-sized house from a single power outlet.
We also like how Miele has used a comprehensive filtration system with its dirtbag to keep the use of vac hygienic. It features AirClean exhaust filter and motor protection filter to make the quality of air in the area improves after vacuuming.

Pros
Powerful yet lightweight, trouble-free vacuuming
Offers impressive cleaning radius
Equally good for above-ground vacuuming
Effective filtration mechanism
Cons
The canister doesn't have wheels
A bit expensive
Turbo vortex suction motor
6-level rotary suction control
Comes with dusting brush, crevice, and upholstery tools
This Miele canister vacuum also offers impressive suction results just like the above-reviewed model. However, there are some other features due to which it has ended up on our list. For instance, Miele Compact C1 Pure Suction features an impressive combination floor head along with the powerful suction.
To begin with, the single floor head gives an equally good result on hard floors and low-pile carpets. There is a footswitch given on the floor head from which you can transform it from hard floor nozzle to carpet nozzle and vice versa without a hassle. In carpet nozzle configuration, its brushroll is activated to agitate the carpet piles for all the baked-in dust and dirt.
Moreover, the foot is also fitted with a metal sole plate so that you can easily glide it across different surfaces. Lastly, it features rubber wheels so you can use it without worrying about scuffing your delicate hardwood floors.
We also like this bagged canister because it features a spacious dirtbag with a patented sealed system. In Miele Compact C1 Pure Suction, you get a 3.5-liter dirtbag that gives you more time between removing the old bag and installing the new one. The long telescopic wand also adds up to this stress-free attribute of C1 Pure Suction. Although canister of this vac is a bit heavy, its ergonomic handle makes it carrying a breeze.

Pros
State-of-the-art combination floor head, custom-made for hard and carpeted floors
Spacious dirtbag for hassle-free use
Extended cleaning radius
Effectively sealed dirtbag construction
Cons
The canister doesn't feature wheels
May not give desirable results on above-floor surfaces
12-amp suction motor
Triple-filtration bag system
Power touch handle with fingertip controls
An Amazon's Choice product
Eureka Mighty Mite is one of the best bagged canister vacuums for small to medium households. It is lightweight, features decent suction power, and comes with all the necessary attachments that you look for in any full-scale vac unit. Moreover, its floor head features brushroll technology that makes sure you can deep clean low-pile carpets without a hassle.
Sale
What we most love about this Eureka vac is its canister design and construction. If you have noticed, all the models we have discussed above either has wheeled or handled canisters. In Eureka Mighty Mite, you get both features. Having a canister with wheels alongside a handle just improves the overall mobility of the vacuum unit that eventually translates into less exhausting vacuuming work.
For instance, canister wheels will come in handy when you are cleaning hard bare floors. Similarly, the top-handle will make it easy to transport the vac across different floors and rooms. In order to improve on the maneuverability of the canister, Eureka has used a 20-foot power cord with it.
The impressive extended wand of this machine is also worth mentioning. You can use it with four different attachments (crevice, upholstery, bare floor, and dusting tools) for all sorts of versatile cleaning. Whether it's about dusting the top of drapes and window sills or to get rid of cobwebs from the ceiling, the long wand with pertinent accessories will come in useful.

Pros
Lightweight canister vac
Impressive canister design for better mobility
Accessory assortment for versatile cleaning work
Equally good for non-floor surfaces
Cons
May not give desired results on medium-pile carpets
2-motor suction
Variable power control
Aluminum telescoping handle
An Amazon's Choice product
It becomes a nightmare for pet owners to keep their carpeted floors and upholstery clean and free of dander if they are not using an effective high-quality vacuum unit. Kenmore has designed a bagged canister vacuum to address the woes of all those homeowners who are struggling to clean messes made by pets.  
Kenmore 600 Series Friendly is a powerful canister vac that features a dual-motor configuration like the majority of models by the manufacturer. The motors present in the canister and floor head ensures optimal suction for deep cleaning. However, the feature that makes it an ideal cleaning unit for houses with pets is its patented Pet PowerMate.
PowerMate is actually a motorized brush fitted in the floor head that you can activate with a single touch to quickly lift dander, dirt, and all pet messes without a hassle. In many regular vacuum units, brushroll gets jammed due to tangled hair and dander. In order to rule out this problem, Kenmore has changed the design of the brush in PowerMate. This ensures you don't need to manually clean the brush every other day.
Apart from this unique brushroll component, the floor head of Kenmore 600 is good for some of its other features as well. For instance, it also features a storage box on the top for cleaning attachments. This makes switching from one cleaning configuration to the other a breeze. The floor head is also fitted with wheels for better mobility.

Pros
Features one of the best motorized brushroll
Pop-N-Go Brush, for hassle-free use of attachments
3-stage HEPA filtration for better air quality
4 different attachments for diversified cleaning
Cons
Quite bulky
Some people may find its floor head too big and bulky to maneuver
Two-stage bypass motor
4-foot wand
Comes with a 1-year commercial warranty
If above-floor surfaces in your house need more frequent vacuuming than floors, then consider Oreck Commercial Pro 5 Super Compact Canister Vacuum. This is also a bagged canister but with impressive ergonomics. Its compact shape resembles old camcorders and also features a handle for easy carry.
Sale
With a weight around five pounds, this is probably the lightest bagged canister vacuum on the block. Its lightweight body makes its handheld configuration more strain-free. You can easily move across floors and rooms while carrying this compact and lightweight bagged vac.
It is important to mention here that the Oreck Commercial has not just focused on keeping its bagged vac lightweight. Pro 5 Super has all the features that any high-quality bagged canister should have. To begin with, it features a 4-foot hose that allows you to use it on the ground and above-ground surfaces with ease. Then, you get the assortment of seven different attachments that make sure you can vacuum clean every nook and corner of the house.
In order to improve the portability of this handheld unit, the manufacturer has used a 30-foot power cord with it. This saves you from the frequent hassle of going from one power outlet to the other. For instance, you can vacuum the last step of the staircase without switching the power outlet. Moreover, the capacity of disposal bag (1 quart) is also good enough to use the machine for multiple vacuuming and dusting sprees.

Pros
Extremely lightweight
Ergonomic handheld design
Comes with impressive number of attachments
Ideal for dusting and cleaning above-ground surfaces
Cons
Not suitable for detailed and deep vacuuming of carpeted floors
A bit pricier given its configuration
Six speed settings
+/- footswitch control
Comes with three integrated accessories
An Amazon's Choice product
It won't be wrong to say that Miele has redefined carpet cleaning with its state-of-the-art vacuum units. All the Miele bagged canister vacs we are reviewing here feature some exceptional features that you won't find in any other unit available in the market. Let's take Miele Complete C3 Marin into consideration.
It is also one of the high-quality Miele machines that feature some of the trademark features of the manufacturer. For instance, with this offering, you also get impressive 6-speed suction control. Moreover, its dust bag is also protected through the AirClean Sealed System. Similarly, a long telescoping handle is also part of C3 Marin.
However, the most distinctive features of this Miele vacuum unit are its Electro Premium Powerbrush and parquet twister. The patented Powerbrush is actually an electrically-driven carpet tool. It is more than 13 inches wide and features a swiveling neck and 5-level height adjustment control. These features along with electrically driven brush make sure you can get optimal vacuuming results on all different carpets. The swiveling neck auto-adjusts the brush according to the low or high-pile carpet. In addition, the height adjustment let you customize it with more precision.
On the other hand, the parquet twister is given to get exceptionally good vacuuming results on hard bare floors. The twister can rotate at 180 degrees, making the movement of the vac all agile on hard and smooth floors. It is a high-end vacuum machine but its matchless cleaning functions are worth its price tag.

Pros
Impressive 36-foot operating radius, ideal for commercial floor plans
Supreme adaptability on low and high-pile carpets
Offer exceptional cleaning results on hard floors
HEPA filtration for mess-free operations
Cons
Some home users may find its feature more than what they require
Astoundingly expensive
1,200-watt suction motor
5-level filtration system
3-liter dirtbag
If you are looking for a no-nonsense vacuum cleaner that gets the job done in the simplest manner, then consider this Diamondgift unit. It is a simple bagged canister vacuum with a really sporty design. The canister is not just easy on the eyes but also provide the required maneuverability and agility you want in any canister vacuum unit.
No products found.
For instance, it features two large rear wheels that make sure you don't need to drag the unit while cleaning hard floors. Moreover, it also features an ergonomic handle that makes sure you can easily lift it while using on above-ground installations. The body of the canister is also designed as such that you can easily swivel and move it in all directions.
Apart from getting all the canister features right, the manufacturer has also made sure that you can get the required suction from its unit to vacuum clean all sorts of floors. Therefore, the canister vac unit features a 1,200-watt motor that produces powerful suction to vacuum low-pile carpets and wooden floors with the same effectiveness.  
In order to keep the vacuuming mess-free and protect your indoor air from dust infestation, Diamondogift Bagged Canister Vacuum uses a 5-stage filtration system that guarantees no dust particles circulate back into the surrounding air. We also like this bagged can vac for its impressive dirtbag capacity of 3 liters.

Pros
A basic and effective bagged canister unit
Sporty canister design for better mobility
Powerful suction for deep cleaning
Lightweight, hassle-free extended use
Cons
Not enough attachment accessories
Power cord is too short
Wand should have been longer
12-amp powerful suction motor
H10 5 Layer Micro Filtration
Comes with 1-year manufacturer's warranty
ZVac has designed a bagged canister vacuum with impressive attention to details. Every feature and accessory is well-though-out and offers ideal cleaning results for both residential and commercial users. ZVAC Bagged Canister can be used in both handheld and floor configurations— thanks to its large canister that contains wheels and as well as a handle.
The canister of ZVac unit is attached with a 7.5-foot crushproof hose, which is then connected to a stainless steel wand that can be adjusted between 24 to 38 inches. The unit features an 11-inch combination floor head that can be used on both carpets and floors with equally good results. An upholstery tool and a crevice tool is also part of the deal along with two different types of horsehair brushes.
This detailed construction is fitted with a powerful suction motor operating at 12 amps and generating the water-lift of more than 115. This combination gives you equally impressive cleaning results on all sorts of bare and carpeted floors. And the most striking thing about all this arrangement is ZVac Bagged Canister remains a lightweight unit. ZVac weighs around 10 pounds, which is nothing given its detailed and versatile cleaning action.
ZVac doubles up the utility and function of its powerful bagged canister vacuum by using the 27-foot power cord and a spacious 6-quart dirtbag: You can use the vac from a single power outlet for several vacuuming sprees without replacing the bag.

Pros
Excellent attention to details
Shoulder strap to make handheld configuration more stress-free
Lightweight, ensures better mobility
A detailed collection of attachment accessories
Cons
A bit expensive
A bit noisy
12-amp suction motor
Variable speed adjustment
5-level height adjustment for floor head
True HEPA filtration
AirWay Altera is another basic yet affective bagged canister vacuum on this list. If you are looking for light vacuuming of carpeted and bare floors, then this AirWay unit won't be a wrong choice. It is a typical canister vacuum that features an expanded base and an ergonomic handle on the top so you can easily transform it into a handheld unit.
The vacuum unit features a powerful 12-amp suction motor that delivers impressive vacuuming results even from a single floor head with no attachments. You can adjust suction power at different levels to customize the vacuuming for different surfaces. In order to improve the feature of customization, AirWay has also given the floor head adjustable height. This aspect comes in really handy when you have to vacuum carpets of different thicknesses.
The cord of canister vacuums often limits their mobility. However, that's not the case with this AirWay unit. It comes with a 25-foot cord that makes sure you don't need to swing between power outlets while using it. Moreover, a dirt sensor is also present that tells you that your carpet doesn't require vacuuming anymore.
We also like this AirWay bagged canister vac because of its impressive HEPA filtration system. This highly efficient filter mechanism makes sure even the tiniest specks of dust and other allergens (as small as 0.3 microns) can't infiltrate back into the surrounding air.

Pros
A no-nonsense vacuum unit
Retractable cord reel for hassle-free vacuuming windup
Impressive HEPA filtration for hygienic cleaning experience
Adjustable floor head for customized carpet cleaning
Cons
No attachment is given
The canister doesn't feature wheels
Quite heavy
1,400-watt suction motor
Features anti-allergen complete seal technology
Made of ABS and PVC plastic molds
Comes with a crevice tool
TQZY has designed one of the most powerful canister vacuums on the block. Its Cylinder Bagged Vacuum Cleaner features a powerful motor of 1,400 watts. This power is good enough to get rid of all sorts of deeply entrenched and baked on dust and dirt from all different types of floors.
No products found.
Its powerful suction combined with wide floor head makes for quick vacuuming activity. Whether its sudden pet messes or regular vacuuming, by using this powerful TQZY cleaning machine, you can save both time and energy. Apart from offering impressive results with floor cleaning, it is equally good with its above-ground performance as well. With the attachment of the crevice tool, you can use it to vacuum upholstered items, window sills, and drapes.
The crevice tool also comes in handy when you can't reach difficult furniture and appliances undersides with the regular floor head.  We also like the Anti-allergen clean complete seal technology used by the manufacturer. With three-stage mechanism including dust bag filtration, sponge filtration and air outlet scouring filter, the vacuum machine makes sure all the troubling dust and allergens remain trapped inside.
Vacuum cleaners with such powerful suction usually produce a lot of noise. However, that's not the case with TQZY Cylinder Bagged Vacuum Cleaner. Even with the 1,400-watt motor, it only produces 70 decibels of sound that is similar to the noise of a regular chatter. In other words, you can use it without worrying about disturbing asleep people in the house.

Pros
Powerful suction and wide floor head, quick cleaning
Anti-allergen complete seal with 3-stage filtration
Ergonomic wheeled canister design for better mobility
Low-noise operation
Cons
Some users may find it hard to maneuver
May not give required results on high-pile carpets
Best Bagged Canister Vacuum Short Buying Guide 
The above 13 options have enough variety for you to settle on the best begged canister vacuum for your abode. Nevertheless, here are some common features to factor in whenever you are going to buy a canister vacuum with bagged configuration.
Bag Capacity
Bagged canister vacuums need replacement of dust bags. The frequency of this replacement depends on the volume of the bag and your vacuuming needs. If you have to vacuum clean entire floor plans with carpeted flooring and don't want to replace the dirtbags every other week, then go for bagged canister vacuums that have more than one liter of capacity.
On the other hand, you can also get units with a capacity of 1 quart onwards. They will come in handy if you have to do light vacuuming or bare floor cleaning.
Suction Power and Floor Head
We are going to keep it simple for you: If you need a vacuum cleaner for deep cleaning of carpets, then pick powerful suction motors fitted with floor heads featuring brushroll. You can also find dual-motor suctions that makes sure every last particle from the deep threads of carpets can be drawn into the canister.
If you have to deal with hardwood and other plain bare floors, then moderate suction power along with traditional floor heads will suffice.
Maneuverability, Mobility, and Access
A good vacuum cleaner is one that can easily be maneuvered and give you easy access to every nook and cranny of the cleaning space. There are different components that determine these features of a bagged canister vacuum.
Power Cord: In corded vacuum units, the length of power cords greatly matters when it comes to maneuverability. If you want to keep your vacuuming sessions less frantic then try to pick vacuum units that come with long power cords. For small to medium house floor plans, 20-foot or anything above is considered good enough. With a long cord, you can do the cleaning in lesser time without shuffling between different power outlets.
Hose and Wand: The length of the hose and wand also matter for the maneuverability and accessibility of a canister vacuum. A telescopic retractable wand along with a long hose offers bigger cleaning radius. The length of the wand particularly makes sure you can easily use the vac on above-floor and hard-to-reach surfaces.
Attachment Tools: They also determine how good a canister vacuum unit is with accessibility. For instance, vacuums with crevice and dedicated upholstery tools offer more thorough cleaning results since they enable the vacuum nozzle to get to all the difficult-to-reach spots.
Filtration
Although filtration is not the primary function of a vacuum cleaner, any high-quality bagged canister unit will feature an effective filtration mechanism. These filters along with completely sealed dirtbags make sure that the trapped dust and allergens don't leak back into the surrounding air.
If anyone in the household is sensitive to dust and other airborne allergies, then always prefer bagged canister models with HEPA filtration. HEPA filters are made of fine media that traps all dust, dander, smoke, and pollen particles as small as 0.3 microns and prevent them from getting back into the vacuumed space.
Noise
A powerful vacuum irrespective of its configuration (upright, canister, etc) generates a lot of noise. However, you can now get units that feature sound-dampening features to keep the noise of the suction motor bearable. Powerful canister vacuums like TQZY operate with a robust 1,400-watt motor but only generate 70 decibels of sound that is far from deafening.
Where Canister Vacuums Are Better than Upright Units?
Even though upright vacuums have their own functional benefits but there are two aspects in which canister vacuums have a slight edge on them.
Better Accessibility
Canister vacuums offer better accessibility since you are primarily using them through a slender wand and hose. It allows you to easily vacuum hard-to-reach spaces such as undersides and backsides of furniture. You can't get such accessibility from a cart-like upright vacuum unit no matter how slim is its construction.
Better Weight Management
Since upright vacuums have a continuous construction, therefore you have to bear their entire weight with your hands. For quick and spot cleaning, this weight doesn't matter much. However, if you are vacuuming the entire floor and particularly the carpeted surfaces, upright vacuums will wear you out quickly.
On the other hand, canister vacuums have the heavy part (canister) lying on the floor. You are only holding the wand in your hand. This better weight management of canister vacuums makes their use a breeze, especially in extended vacuuming sessions.
Where Bagged Canisters Are Better than Bagless Canisters?
Again, both these configurations have their own distinctions. However, there are two areas where bagged canister vacuums are better than bagless units.
Mess-Free Dirt Removal
Removing dust and dirt from bagless vacuums involves a bit of mess no matter how well-designed their jars are. For instance, you come in contact with dust while removing it from the jar. Moreover, while emptying them out, some of the dust can infest back the area that has been just vacuumed.
In bagged canisters, you get rid of entire dust/dirt containers altogether without opening them. This definitely makes bagged canister vacuum units a better option in terms of post-vacuuming mess.
Minimal Maintenance
In bagless vacuum cleaners, you are required to wash dust containers after some period of use. Similarly, there filters also need a wash or replacement after a certain time. On the other hand, bagged containers just need one thing i.e. the replacement of the bag after it gets full.
Related Articles 
55 Best Robot Vacuum Names For Your Little One
Bissell Crosswave 1785A vs. 2306A [Two Wet/Dry Uprights Legends Compared]
Bissell 1806 vs. Bissell 1940 [Steam Mops Compared]
Bissell 3624 Vs. 2694 [SpotClean Portable Cleaners Compared]
Hoover Power Scrub Deluxe Vs. Hoover Turbo Scrub [Comparison]
Roborock H7 Vacuum Cleaner Review
10 Best Shop Vacs For Dust Collection
7 Best Xiaomi Vacuum Cleaners for Healthy Homes
13 Best Shop Vacs  | Buyer's Guide and Reviews
13 Best Vacuum for Stairs | Reviews and Buyers Guide
13 Best Robot Vacuums You Can Buy Under $200
8 Best Robot Vacuums Under $150 | Reviews & Buyer's Guide
13 Best Backpack Vacuum Cleaners | Reviews & Buyer's Guide
6 Smallest Wet Dry Vacs For Home and Workshop
13 Best Non-Electric Vacuum Sweepers 
Best Samsung Robot Vacuums| POWERBot Buyer's Guide
6 Best Vacuum Cleaners for Mattress That Promote Healthy Sleeping
19 Best Upright Vacuums with HEPA Filter| Reviews & Buyer's Guide
Dyson AM07 vs Dyson AM06 Fan Comparison
Shark NV682 vs. NV683 vs. NV752 | Upright Vacuum Comparison Review
Vornado 530 vs 630 vs 660 | Room Air Circulator Fans Compared
Bissell BigGreen 86T3 vs. BG10 | Carpet Cleaner Comparison & Buyer's Guide
13 Best Canister Vacuums for Pet Hair
ILIFE A4s vs. iRobot Roomba 690 Compared | Robot Vacuum Face-Off
Shark ION ROBOT 700 vs 720 vs 750 | Robot Vacuums Compared
ECOVACS Deebot N79 vs. N79s | Robot Vacuums Compared & Buyer's Guide
Lasko 7050 vs. U15701 vs. 655704 | Floor Fan Comparison
PureClean PUCRC95 Automatic Robot Vacuum Cleaner Review
Oreck Commercial ORB550MC vs. Orbiter Ultra Multi-Purpose | Buyer's Guide
iRobot Roomba 675 vs. 680 vs. 690 | Robot Vacuums Compared & Buyer's Guide
Bissell 9595A vs. 1831 | CleanView Upright Vacuums Compared & Buyer's Guide
13 Best Central Vacuum Systems
The Best Vintage Vacuum Cleaners To Collect
11 Best Wet/Dry Handheld Vacuum
13 Best Steam Cleaners for Hardwood Floors
6 Best Miele Vacuums For Cat, Dog, And Pet Hair
5 Best Central Vacuum Hose Replacements
12 Best Vacuums for Tile Floors
6 Best Central Vacuum Inlet Valve Replacements
14 Best Wet/Dry Handheld Vacuums
12 Best Robot Vacuums For Under $300
15 Best Robot Vacuums Under $300
12 Best Lightweight Vacuum Cleaners For Elderly
11 Best Central Vacuum Attachment Kits, Powerheads & Brushes
15 Best Lightweight Vacuum Cleaners for Elderly [Buying Guide]
11 Best Vacuums For Tile Floors
7 Best Central Vacuum Hose Replacements To Consider