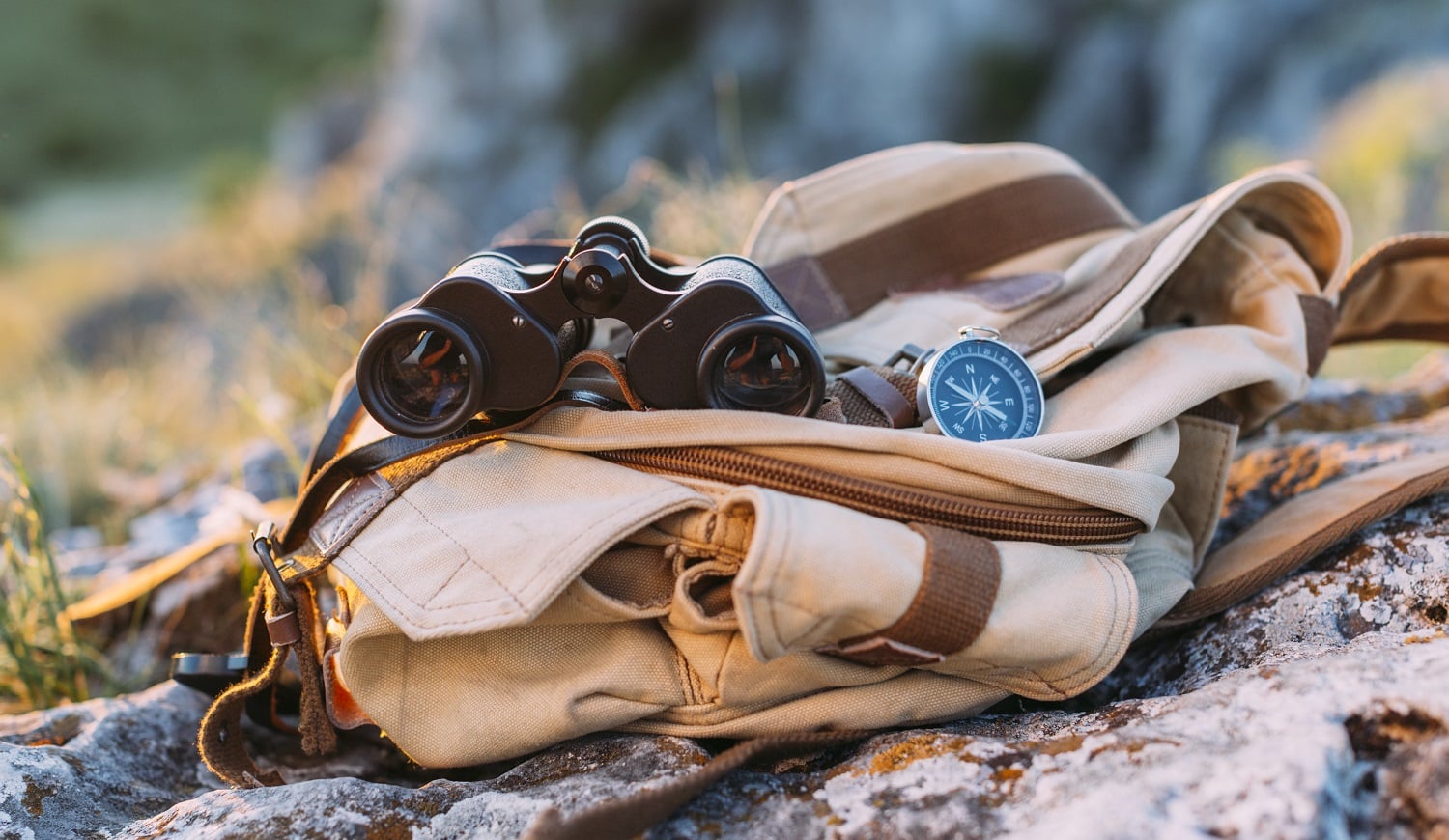 Are you planning to go bird-watching or hunting with your newly bought pair of binoculars? Well, that sounds like fun!
That being said, don't forget to carry your binoculars in a premium quality harness. The reason for this is simple. You wouldn't want to return with pains and aches now, would you?
But that's just half the problem solved. The main issue arises while choosing a binocular harness that best meets your requirements. It's not only because of the availability of a wide range of options. There are other factors that also play a role in determining your purchase.
However, you need not worry much about this! After extensive research, we've managed to handpick 11 best options for you to consider.
And through this guide, we provide detailed reviews for each of our recommendations to help your decision-making. Furthermore, we've included a comprehensive buyer's guide at the end of the article so that you can make an informed purchase.
So, without further ado, let's dive in.
Top Binocular Harnesses
IMAGE
PRODUCT
DETAILS

Our Top Pick

Our Top Pick

Badlands Bino XR Binocular Harness

Adjustable 4-point harness
Fits most binoculars up to 10x42 inches
Available styles: Realtree edge, approach fx, approach

VIEW LATEST PRICE →

Hornady 99121 Binocular Harness

Form-fitting X panel
Comes with imprinted Hornady logo
Includes four elastic straps

VIEW LATEST PRICE →

Feradyne S4 Gear Lockdown X Bino Harness

Compatible with most 5.75-inch to 7.5-inch binoculars
Ensures tension-free glassing
Anti-bounce technology

VIEW LATEST PRICE →

Cotton Carrier Skout Sling Harness

Includes a weather cover
Sling-style harness
One-size fits all barrel-style binoculars

VIEW LATEST PRICE →

Bushnell 19125C Deluxe Bino Harness

Wide, perforated back panel for supporting heavy binoculars
100% quality and tested materials
Comes with a black clam and elastic straps

VIEW LATEST PRICE →

Vortex Optics Glasspak Binocular Harness

Measures 6.75x6.25x3.75 inches
Can accommodate a range of full-size binoculars
Includes mesh side pockets

VIEW LATEST PRICE →

Nikon 6121 Prostaff Bino Harness

Self-centering back piece with Nikon logo
Weighs only 2.72 ounces
Comes with quick-release connection

VIEW LATEST PRICE →

Leupold Quick Release Binocular Harness 55895

X-shaped elastic strap
Equipped with a quick-release function
Made using strong nylon

VIEW LATEST PRICE →

Horn Hunter Op-X Bino Harness

Fits most prism 8 to 10 binoculars
Includes side gear loops
Magnetic drop-down lid

VIEW LATEST PRICE →

Tract Custom Binocular Harness

Adjustable nylon straps
Ideal for Toric and Tekoa binoculars
Quick-release and detach system

VIEW LATEST PRICE →

Vortex Optics Binocular Harness

One-size harness to fit most binoculars
Nylon and Lycra straps
Weighs 3.2 ounces

VIEW LATEST PRICE →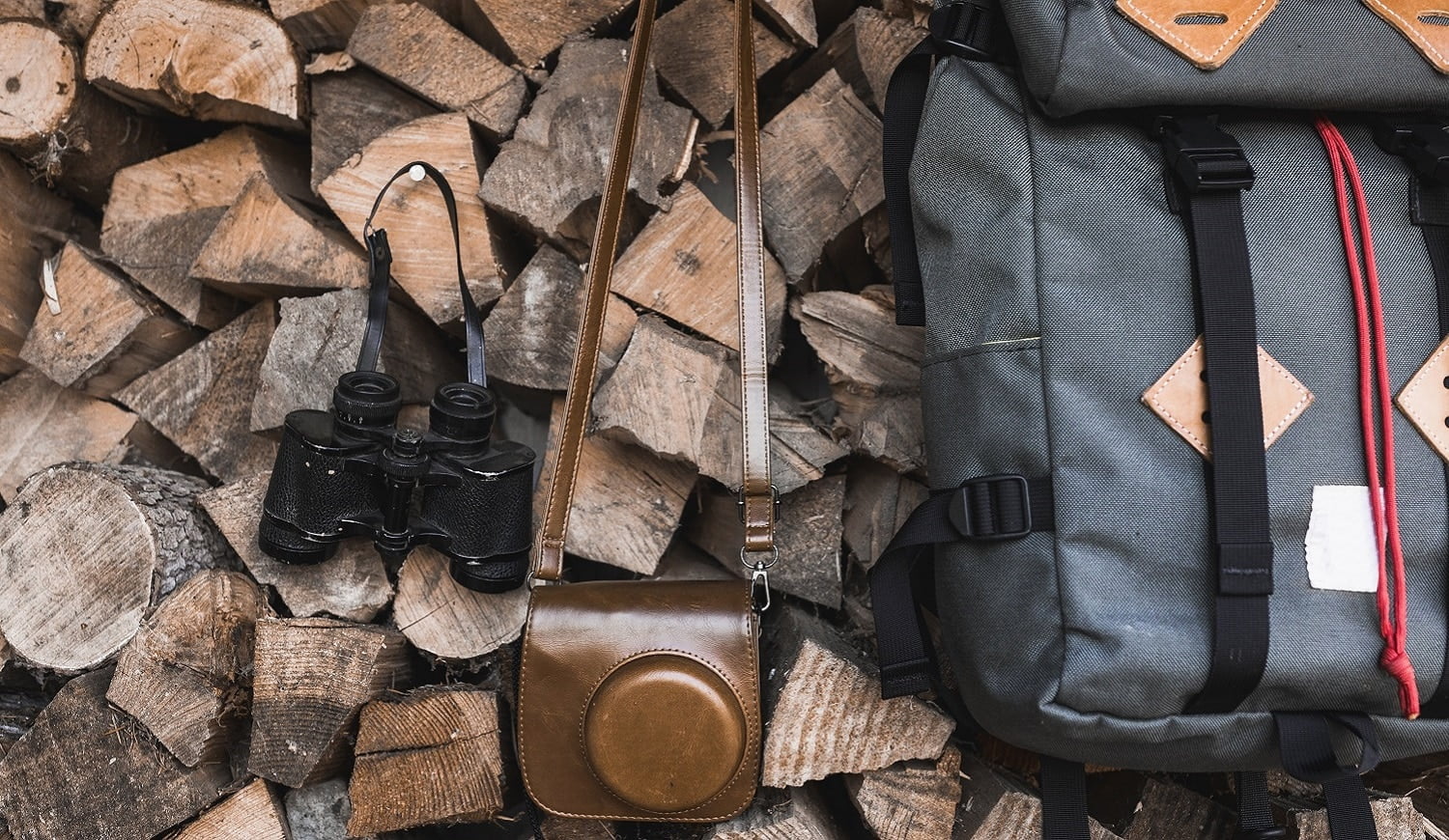 Designed with fully-enclosed, adjustable compartments, the Badlands Bino XR can easily accommodate binoculars and rangefinder of varying sizes in an organized manner. Moreover, it doubles as a backpack, offering additional comfort and convenience, thereby paving its way to the topmost position on our list.
Why Did We Like It?
Made using Badlands KXO-50 waterproof fabric, Hypalon, and Aramid fabrics, the Bino XR is one of the strongest and most durable options out there. With designated compartments, it offers you the convenience of carrying your binoculars and rangefinder comfortably in all weather conditions.
In fact, the storage pockets and adjustable interior shelf helps you keep your belongings organized for ease of access during travel. That's not all; the 4-point harness doubles into a backpack, further adding to your convenience. Teamed with cushioned, vented shoulder straps, it distributes the weight of your equipment, keeping you comfortable throughout the journey.
We were also quite impressed with its rare-earth magnetic closure. Utilizing Badlands' Zip-No Technology, the harness comes with a zipperless system that enables you to open or close it silently within no time, whatsoever. It is quicker than any other watertight and dust-proof seal.
What Could've Been Better?
We noticed that the size of this harness cum backpack was comparatively small, making it difficult to fit large binoculars in it. That being said, it is designed to fit smaller binoculars with ease. But you can still make it work by removing its padding to make more room.
Pros
Comes with removable built-in rain cover

Zipperless magnetic closure

Converts into a backpack

Cushioned and vented shoulder straps

Organized storage
Cons
Suitable for smaller binoculars
Second on the list, we bring you the 99121 Binocular harness from Hornady, a widely recognized name in the ammunition industry. Designed to offer comfort and flexibility during various outdoor activities, it ensures even distribution of weight with its four elastic straps. On that note, let's dig a little deeper, shall we?
Sale
Why Did We Like It?
Extremely lightweight, weighing only around 0.5 pounds, the Hornady 99121 is designed to offer maximum comfort while carrying your heavy binoculars with ease. Equipped with four elastic straps, it helps alleviate neck pain with the uniform distribution of weight across your shoulder.
You can easily adjust these straps to ensure a secure fit. In fact, they also make it easy to take your binoculars on or off the harness. Furthermore, the X-shaped panel with the imprinted brand logo adds to the comfort by offering optimal support to your back.
We also don't have any complaints regarding its quality. Made using good-quality fabrics, it ensures longevity, deserving its spot on our list.
What Could've Been Better?
The Hornady 99121 doesn't fail to meet expectations, despite acquiring a spot at the bottom of our list. However, it is a bit small in size to hold large or heavy binoculars. Also, we found it to be a little tight. So, it may not be a feasible choice for those on the bulkier side.
Pros
Lightweight design

Easy to take on or off binoculars

Ensures comfort and support

Easy adjustable

Built to last
Cons
Small in size

Fit can be a bit tight
Next up on the list, we have the extremely lightweight S4 Gear Lockdown X Bino Harness from Feradyne that promises to ensure maximum comfort and fit. Featuring a unique moldable design, it stands out as one of the safest and most secure options available in the market today.
Why Did We Like It?
First things first, the Feradyne S4 Gear Lockdown offers wide compatibility compared to the other options on the list. Thanks to its moldable design, it fits most binoculars and optics from brands, including Canon, Nikon, Leupold, and Bushnell.
Moreover, it is equipped with anti-bounce technology. This helps in safely securing the binoculars to your chest, preventing them from swinging or bouncing. Plus, it is designed to allow tension-free glassing. In other words, you can draw the binoculars to your face without any hassle.
Now, as you already know, the harness is lightweight, so it won't be a burden for you during travel. You'll be able to adjust the shoulder straps as per your comfort, distributing the weight evenly over your shoulders.
What's more? It comes with a pliable cover and quiet stretch shock cords, providing low-profile lens protection. Hence, along with quick access, it ensures maximum optics security.
What Could've Been Better?
Like our top-most recommendation, the S4 Gear Lockdown is also small in size. Now, this isn't a significant drawback. But it may not be a suitable option if you have other optics or smaller items to carry. In fact, the harness doesn't come with additional storage pockets for organizing tools and equipment.
Pros
Ensures maximum security and protection

Breathable, lightweight, and comfortable

Allows quick access

Prevents binoculars from swinging or bouncing

Tension-free glassing
Cons
Small size

No storage compartments
Cotton Carrier, a leading name when it comes to equipment and camera-carrying systems, including holsters, vests, and harnesses, comes forth with this "sling-style" bino harness. Equipped with a patented twist and lock mechanism, it manages to keep your binoculars safe and ready at all times.
Why Did We Like It?
Made using professional-grade and tough materials, the Cotton Carrier Skout Harness is sure to last you through the years to come. Backed by a 3-year warranty, it is a reliable option that's worth the investment.
Furthermore, the harness keeps your binoculars safe, irrespective of the weather condition. This is all thanks to its waterproof self-containing bag that offers protection against dust and water. Not only that, but it also comes with a backup quick release safety tether, which provides an extra level of security while carrying the pair of binoculars.
Along with preventing accidental drops, Skout ensures convenient use. In other words, it is easy to put on and take off since the sling-style unit goes over your shoulders and not your head. Designed for the active traveler and adventurer, it also attaches easily to any bag or backpack.
What Could've Been Better?
The Cotton Carrier Skout Harness is the perfect option for those on the go! However, we couldn't help but notice minor drawbacks related to its design. The shoulder strap wasn't adequately padded. This may make it uncomfortable to carry the binoculars with its weight on one shoulder for extended durations.
Pros
Ensures secure and stable hold

Easy to put on and take off

Quick-release tether

Keeps the binoculars in a fixed position
Cons
The shoulder strap wasn't padded enough
With a strong sense of dedication to performance and quality, Bushnell believes in providing the most reliable and affordable sporting optics and outdoor products. Keeping this in mind, we decided to check out the 19125C Deluxe Bino Harness from the brand, which is capable of supporting heavy binoculars for long periods.
Why Did We Like It?
For us, the Bushnell 19125C Deluxe is the ideal carry solution for comfort and quality. Equipped with elastic straps and a wide, perforated back panel, it allows you to position your heavy binoculars upon your chest. Thus, keeping them safe and secure, even while engaging in a bouncy activity like riding a horse.
Not just that, but it also allows you to distribute the weight of the device evenly over your shoulders and torso, ensuring optimal comfort for hours. What's more? Well, seeing its price, we were highly impressed by the overall quality of the product.
Made using tested and high-quality materials, it is built to last you through the years. Apart from this, you will most definitely appreciate the design of this harness. In fact, when positioned properly, it also enables you to set the optics just below your chin in order to sight any object instantly.
What Could've Been Better?
The only downside to the Bushnell Deluxe Harness is its adjustable elastic straps. It doesn't ensure a perfect fit for all users, especially any average size woman. Other than this, we noticed that the straps were quite loose. This may be a cause of inconvenience as the journey progresses.
Pros
It helps carry heavyweight binoculars comfortably

Built to last

Ensures easy and quick sighting

Keeps the optics safe and secure
Vortex Optics is a leading American manufacturer of optical equipment. It deals with the production of accessories for hunting, birdwatching, and wildlife watching, to name a few. On that note, we'd like to introduce you to this one-size-fits-all binocular harness from the brand that allows you to comfortably carry your binoculars for hours.
Why Did We Like It?
As you already know, the Vortex Optics Glasspak Harness can easily accommodate full-size binoculars while keeping them snug and secure. But that's not all. It also includes tethers that attach to them, thereby preventing accidental drops. So, you need not worry about damaging your prized possession, even while traveling on rough terrains.
In other words, it not only allows you to gain quick and easy access to your binoculars but also offers protection during outdoor adventures. Apart from this, the harness features side mesh pockets and rear zippered pockets.
Therefore, you may easily store essentials, including your cell phone, lens, pocket knife, and other small items that need quick-access convenience. Also, Vortex offers reliability in the form of an unlimited and unconditional lifetime warranty. It promises to take care of any issue you may face in relation to the products, irrespective of the cost.
What Could've Been Better?
To be honest, we weren't quite impressed with the overall quality of the Vortex Optics Glasspack Harness. There were quality control issues. For instance, the mesh side pockets may tear pretty easily. So, we'd suggest refraining from storing valuable items in them.
Pros
Organized storage option

Ensures a snug and secure fit

Lightweight and comfortable

Prevents accidental drops

Includes zippered rear pockets
Being an internationally recognized and well-known brand, we are pretty sure that you must be knowing about Nikon. If not, you're probably not from this planet. Well, jokes apart, we come forth with the Nikon 6121 Prostaff, a lightweight and top-grade harness that will surely enhance your hunting, hiking, and birdwatching experience.
Why Did We Like It?
The Nikon 6121 Prostaff has been designed keeping your convenience in mind. For this reason, the lightweight harness features elastic shoulder straps, keeping the weight of the binoculars off your neck. Instead, they distribute it evenly across your shoulder, ensuring long-lasting comfort throughout the journey.
Not only that, but it is also equipped with a secure, quick-release function. How does it work? Well, the connection is designed to move smoothly up and down the elastic straps. This, in turn, enables you to access your binoculars swiftly without any tension.
We also loved its self-centering back piece, which comes with the Nikon logo. This completes the look by adding a touch of sophistication and class. Also, who wouldn't want to show off a brand like Nikon?
What Could've Been Better?
Coming to its minor drawbacks, we found it difficult to connect the pair of binoculars to the harness. For this, you'll need to install rings on to your binoculars or camera in order to ensure a secure attachment. Apart from this, it doesn't come with an instruction manual, which may further lead to inconvenience during assembly.
Pros
Lightweight construction

Ensures quick access

Shoulder straps distribute weight evenly

Offers optimal comfort

Smooth and secure quick-release connection
Cons
No instruction manual

Binoculars need a ring for connecting to harness
With a legacy in making world-class optics for over 100 years, Leupold has never failed to keep up its family name. That being said, today, we are pleased to introduce you to yet another innovation of this reputed brand. The Leupold 55895 Binocular Harness is a reliable option available at a steal-worthy price.
Why Did We Like It?
A lightweight harness isn't enough to keep you comfortable throughout the duration of its use. Why? After a point, the weight of your binoculars will end up weighing you down. So, if you wish to avoid this, a quick-release harness like this one is all that's needed.
Having said that, the Leupold 55895 comes with an X-shaped strap to distribute the weight evenly across your shoulders. In other words, it manages to keep the weight off your neck, ensuring long-lasting comfort and convenience.
What's more, is that the specially designed nylon elastic strap helps in keeping the device close to your body. This prevents it from swinging or jostling as you walk. Not only that, but it also keeps the binoculars ready at a moment's notice. Furthermore, the straps are strong and durable, so you need not worry about wear and tear over the course of time.
What Could've Been Better?
In comparison with some of the other options on the list, Leupold fails to impress in terms of quality. Also, it doesn't include additional buckle connectors to help attach it to other binoculars or even cameras. But nonetheless, it fulfills its intended purpose without causing discomfort throughout the duration of use.
Pros
Durable nylon elastic straps

Easily adjustable for a secure fit

Keeps the binoculars close to your body

Ensures long-lasting comfort

Easy to put on and take off
Cons
No additional buckle connectors

Poor quality
We bring you another durable and lightweight harness from Horn Hunter, a brand known for its unique outdoor products. Constructed paying close attention to fine detail, the Horn Hunter Op-X, with its breathable air mesh straps, is designed to adjust as per your specific needs.
Sale
Why Did We Like It?
The Horn Hunter Op-X is a complete combo pack, which comprises a rangefinder rainfly and case along with the binocular harness. Not only that, but it also includes side gear loops, rangefinder attachments, and a latch strap. Therefore, it allows you to comfortably carry all your gear, including binoculars, radios, and rangefinders.
Moving on to its construction, you'll be pleased to know that this product is both lightweight and durable. The harness system also offers plenty of room for convenient storage of your equipment.
Perfect for heavy binoculars, the padded and mesh shoulder strap distributes weight evenly to ensure comfort and support. Furthermore, Horn Hunter aims to keep your gear safe, secure, and ready to use. For this reason, it is designed to ensure complete protection against rain and dust.
What Could've Been Better?
You can rest assured of the design and build quality of this harness system from Horn Hunter. However, we couldn't help but notice its poor stitching. Now, this is probably a quality control issue. But seeing its price, we expected the brand to pay a bit more attention to its finishing.
Pros
Complete harness system for binoculars and rangefinders

Durable and lightweight construction

Breathable mesh shoulder straps

Ideal for heavy binoculars
Coming to another top quality harness, designed to fit almost any binocular. The Tract Custom harness is one of the most convenient options on the list. With its quick-release cord, ensuring silent, one-handed use, it is perfect for bird watching and other activities that need you to be still and quiet.
Sale
Why Did We Like It?
What urged us to check out this custom binocular harness from Tract is its adjustable nylon strap system. Equipped with a quick release and detach function, it enables you to easily take on and off your binoculars without having to remove the harness.
In fact, the clip system is also designed in a way to prevent scratching your device, thereby keeping it in good shape. Moreover, it ensures hassle-free assembly. We were able to securely fit the harness to any and every binocular by simply threading the quick release cord up through the eyelet.
Other than this, we also find it imperative to mention its heavy-duty nylon straps. Be rest assured, they won't sag over time. And that's not all. The straps offer scope for plenty of adjustment. So, you can easily fit it over a t-shirt in the summer or even an oversized jacket during winter.
What Could've Been Better?
Despite ensuring exceptional performance, the quick release clips were a bit flimsy. It didn't cause any issue as such. But this may compromise its overall durability over the years. So, you'll eventually have to get these clips replaced with better quality ones.
Pros
No hassle assembly

Ensures quiet, one-handed use

Easily adjustable straps

Strong back piece for added security and comfort
Cons
Flimsy quick-release clips
By now, you must be already well aware of Vortex Optics, a leading manufacturer of optical accessories, including harnesses and other carrying cases. So, we now come to another option from the brand that will enable you to protect your binoculars while keeping them close at hand on the field.
Why Did We Like It?
In our opinion, the Vortex Harness serves as the most comfortable way of carrying your binoculars, rangefinder, or even camera during outdoor adventures. Not only is it easy to attach, but it is also completely adjustable. Hence, you can adjust it to fit your binoculars perfectly, preventing them from jostling around while walking.
That being said, it comes with indigenous straps made using nylon and lycra. You can easily adjust them to distribute the weight of your optics evenly for a more relaxed viewing experience. In other words, get ready to bid your neck sprains and backaches goodbye.
Furthermore, the harness helps keep your binoculars close to your chest, ensuring a completely hands-free experience. It doesn't just end there. The straps are highly durable, so you need not worry about wear and tear. In fact, they also allow you to easily slide the binoculars into the viewing position when required.
What Could've Been Better?
Without a doubt, the Vortex Optics Harness is the best bet for those with a modest budget. In fact, despite being reasonably priced, the brand doesn't compromise on quality, which is something we appreciate. However, the straps could've been a bit more wider, with more padding for additional comfort.
Pros
Durable and adjustable straps

Ensures a comfortable, hands-free experience

Easy to attach

Prevents binoculars from bouncing

Fits all binoculars, cameras, and rangefinders
Cons
Straps were not wide and sufficiently padded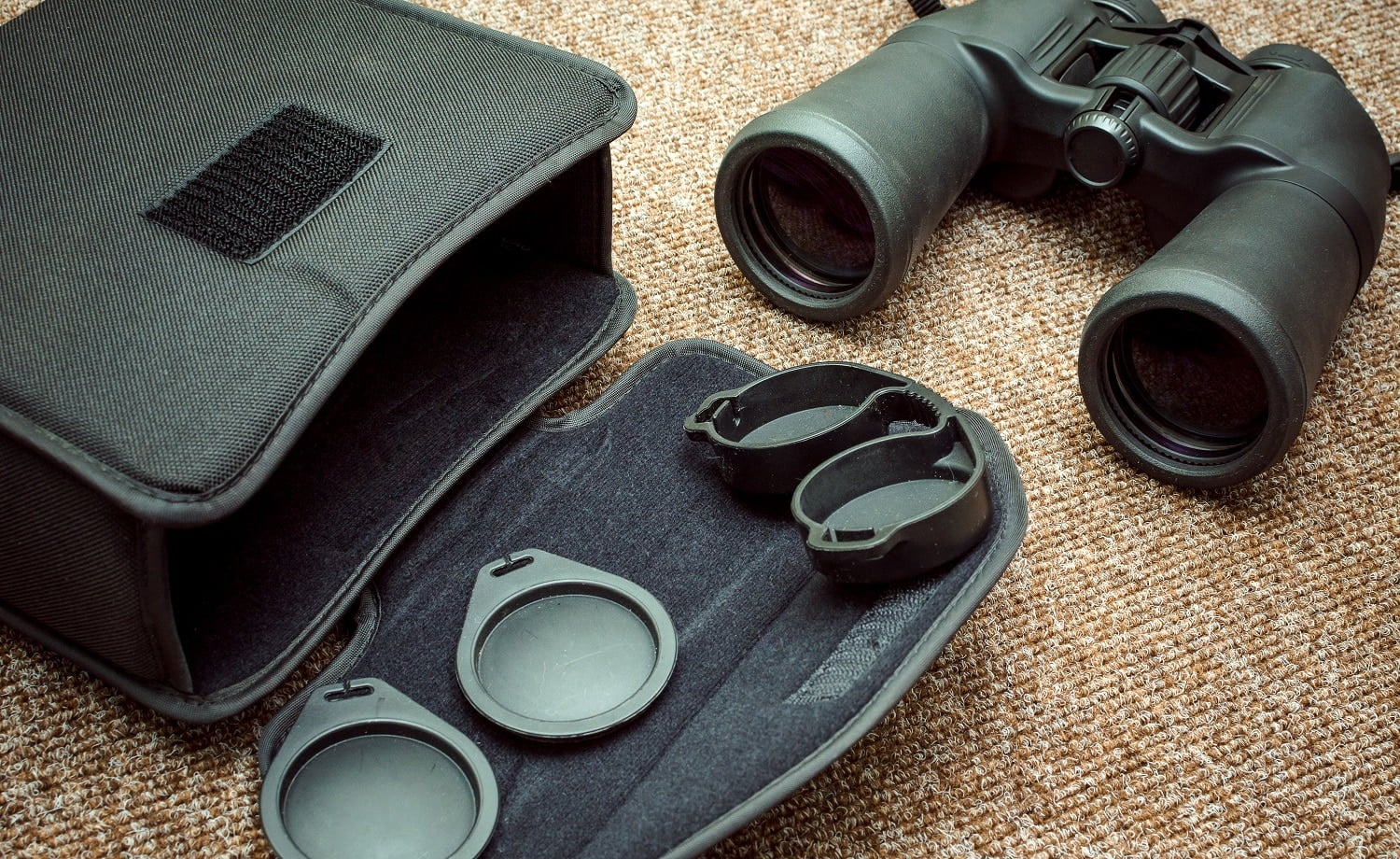 Binocular Harness Buyer's Guide
As we've already reached the end of our list, by now, we hope you were able to at least shortlist a few options, if not make a purchase. That being said, we understand that choosing the best binocular harness from a limited range of exceptional choices is easier said than done.
In fact, there are several factors, which come into play during the selection process. Truth be told, it's a tedious task that no one has the time for, owing to hectic schedules. As a result, we often end up buying a product only to have regrets in the future.
For this reason, we've come forth with this comprehensive buyer's guide, explaining a few critical points that need to be considered when buying a harness for your binoculars. 
Type
Before diving into the selection process, it is essential to know about the different types of harness available in the market. Now, a binocular strap would be perfect if you simply wished to carry your binoculars around with ease. However, you'll require a backpack harness if you also need to carry additional gear, including lens caps, rangefinders, and more.
Straps
The harness you buy should come with easily adjustable straps to ensure a firm and secure fit. This will enable you to keep the binoculars close to your chest for quick and easy access.
Apart from this, check the shoulder straps before making a purchase. Breathable, mesh and padded straps with an X-shaped design help distribute weight evenly across shoulders. This, in turn, reduces stress on the neck to keep you comfortable throughout the journey.
Compatibility
This is another crucial factor that plays a vital role in the determination of your purchase. Not all harnesses offer a perfect fit for your binocular. It's obvious that a small size unit will not be suitable for a bigger and heavyweight device.
This is why we'd suggest opting for a one-size-fits-all harness. It offers wider compatibility, making it ideal for almost any and every binocular model.
Durability
A harness constructed using premium quality materials is a worthy investment option as it will last you for the years to come. That being said, ensure that the elastic straps are made using strong and durable nylon so that it is resistant to wear and tear. Apart from this, the quick-release clips should be robust and sturdy, ensuring smooth performance at all times.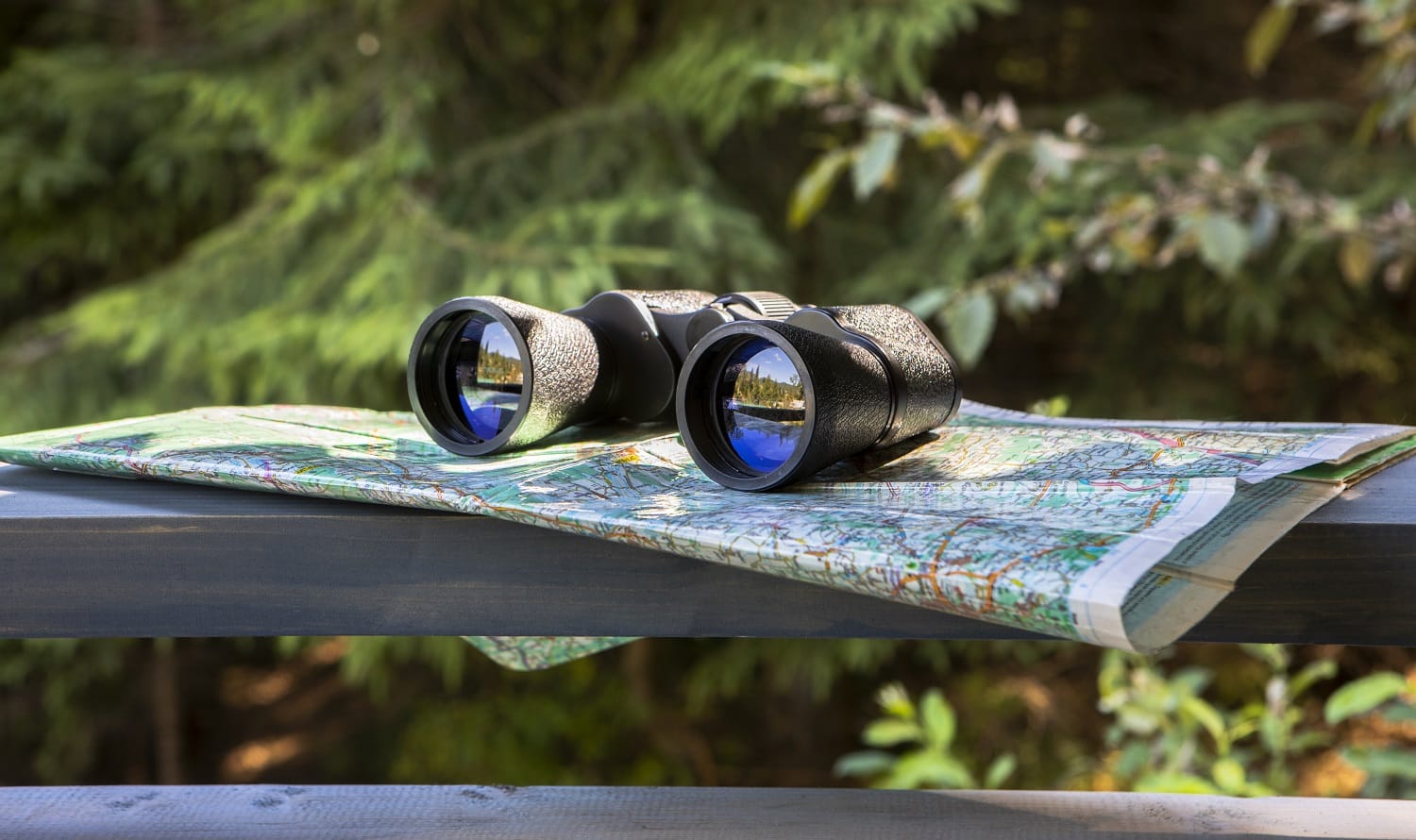 Verdict
Binocular harnesses are designed to offer both comfort and convenience to nature lovers during various outdoor activities. They help alleviate pain while also providing a hassle-free travel experience, especially when it comes to bird-watching, wildlife watching, and hunting.
On that note, we now conclude our informative and review-based guide. Here's hoping you were able to gain sufficient insight from it.
However, before signing off, let's take a quick recap of our favorites. Badlands Bino XR is our number one choice. Vortex Optics Binocular Harness offers maximum comfort, while Feradyne S4 Gear Lockdown X is the most secure option on the list.
With this, we'll now leave you to enjoy amidst the serenity of nature. Till next time!
Related Articles
23 Awesome Free Deer Stand Plans You Can Start Right Now