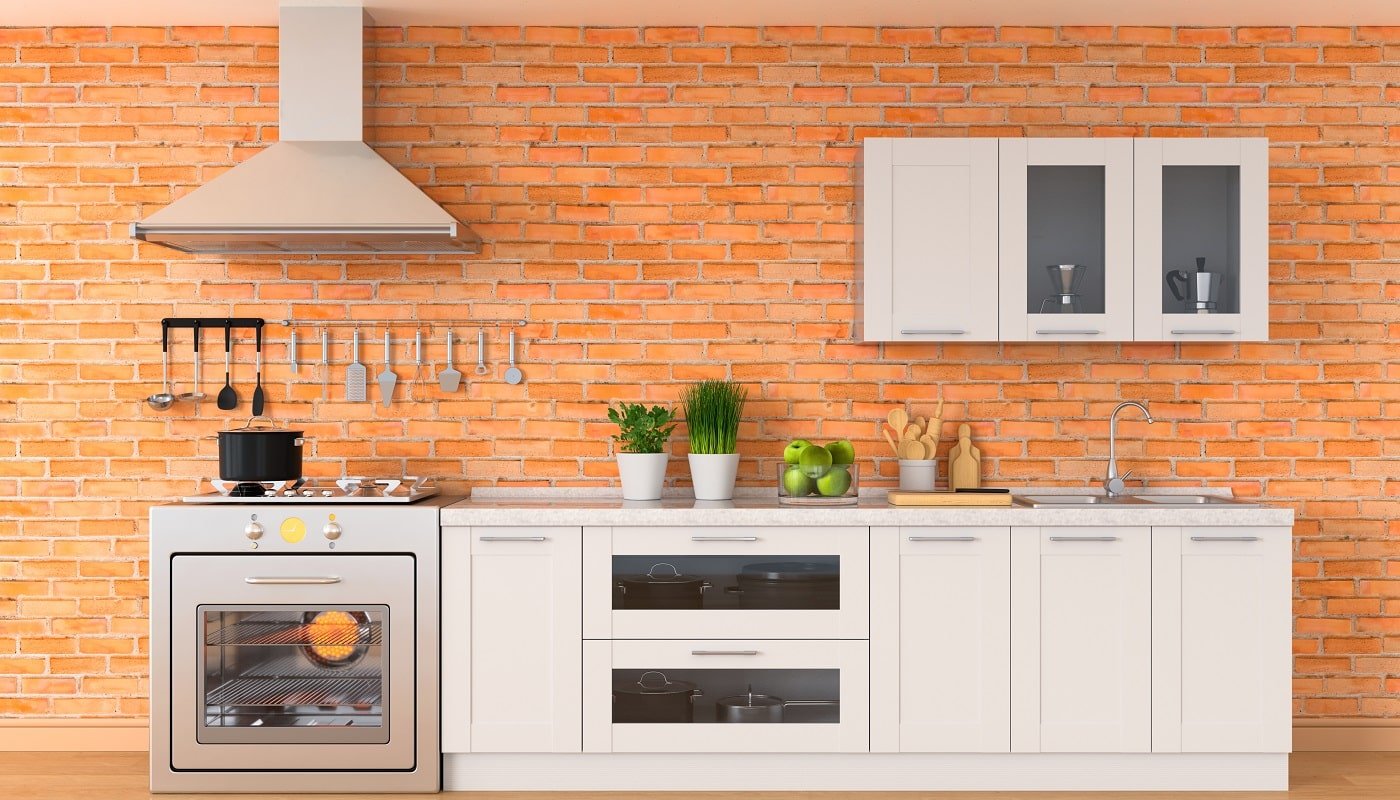 If you're tired of grease, smoke, and odor from cooking accumulating in your kitchen, then it is time to install a range hood!
Range hoods make your job easier in every way – they light up the cooktop, provide proper ventilation, and keep your kitchen clean. You no longer have to keep spraying room fresheners to make the house smell good or worry about the smoke detector going off while you're cooking.
Broan Nutone is one of the leading manufacturers of range hoods, all of which are exceptionally crafted and help maintain indoor air quality.
However, since there are so many options to choose from, we've decided to help you by curating a list of seven of their best range hoods. Each of these has certain quality features that make it stand out from its key competitors on the market.
So, without further delay, let's go right in!
Top Broan Range Hoods Reviewed
IMAGE
PRODUCT
DETAILS

Our Top Pick

Our Top Pick

413004

Ductless
Rust-resistant
2-speed fan control

VIEW LATEST PRICE →

F403023

160CFM airflow displacement capacity
Aluminum filter
In-built damper

VIEW LATEST PRICE →

423001

In-built 7-inch adapter
190 CFM air displacement capacity
Non-ducted charcoal filter

VIEW LATEST PRICE →

403001 Range Hood

160 CFM air displacement capacity
2-speed motor
Rocker type fan

VIEW LATEST PRICE →

413604

Polymeric blade
Powerful energy-saving lights
Top-vented

VIEW LATEST PRICE →

423023

190 CFM blower
3 color options
Runs at 6.0 Sones

VIEW LATEST PRICE →

403004 Range Hood

Sleek look
Top or rear exhaust options
160CMF air displacement capacity

VIEW LATEST PRICE →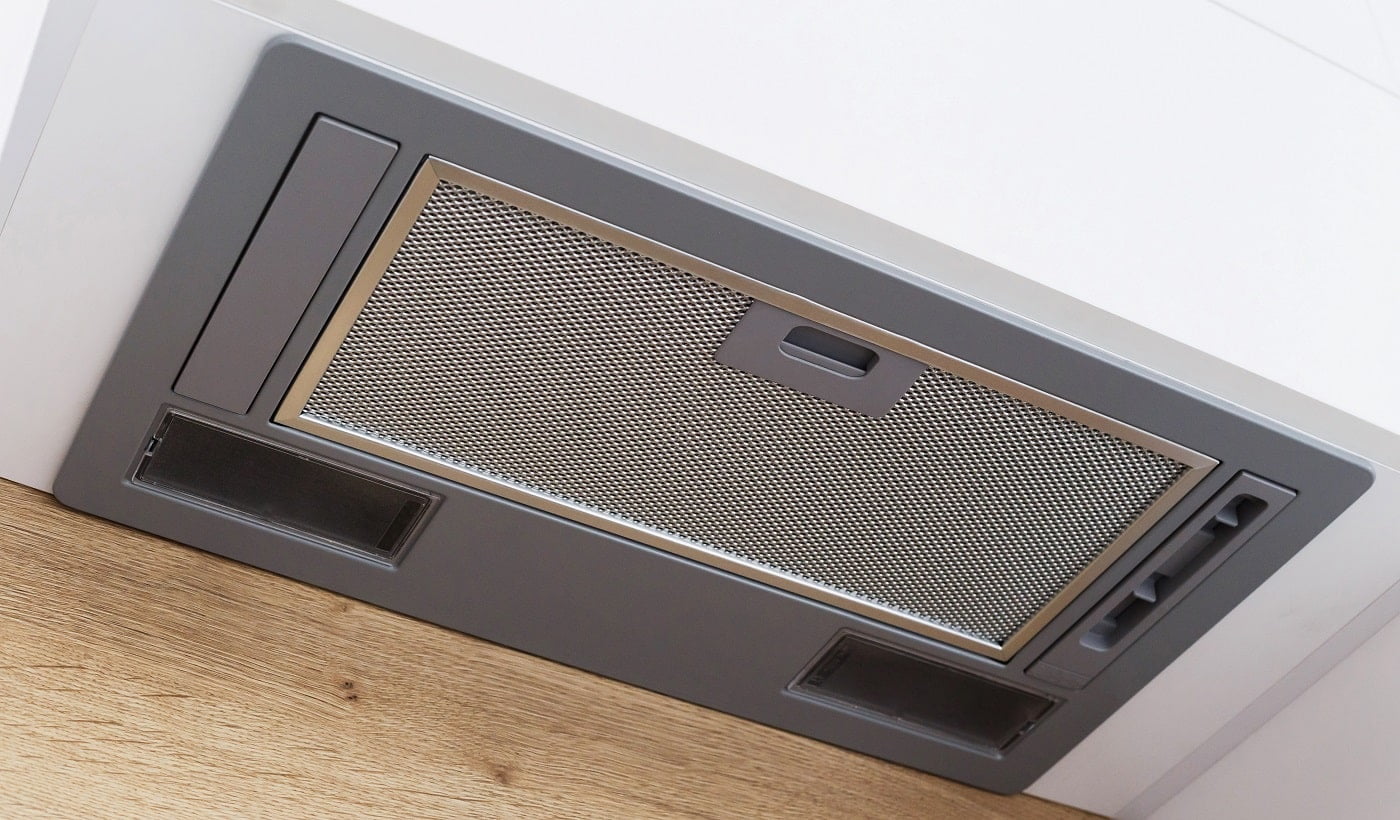 It should come as no surprise that the 413004 model is one of our top picks. It has a stainless steel body and comes at an attractive price, which makes it a great purchase.
Why Did We Like It?
Right off the bat, the Broan 413004 range is quite versatile. It serves as an overhead light for your cooktop as well as an exhaust fan. The lamp lens scatters light evenly over your stove and illuminates not just the cooking area but the entire countertop.
The unit's body is made of stainless steel and fits comfortably under your cabinets. It's not just stylish but also easy to clean and maintain, owing to its anti-rust properties.
Coming to its filters, this non-ducted range hood has a charcoal filter with a Microtek System that removes odors and smoke from your cooking space successfully and leaves you with a fresh atmosphere. The filters are removable and can be removed as and when you deem fit.
It comes with a two-speed fan, which can be controlled via a push button. Speaking of operation, this device can work in an ADA-compliant application.
What Could've Been Better?
Buyers have often complained about the difficulty they experienced in installing this unit, but that's a minor inconvenience in an otherwise incredible unit.
Also, it doesn't come with a power cord, so purchase one before you buy this product.
Pros
Protective lamp lens

Easily replaceable filter

ADA-compliant application

Economical unit

Available in 3 different colors
Cons
No power cord

Charcoal filter is not sufficient for greasy cooking
Our next item is a high-quality product from Broan's range hoods, with its sleek design and 4-way convertibility. It is a 30-inch range hood, which covers a large surface area. With 160CFM suction capacity, this unit can remove odor and smoke from the kitchen swiftly.
Why Did We Like It?
The F403023 model is a powerful unit with the right blend of quality and looks. Its 4-way convertible range hood left us impressed, and it installs as a ducted opening with horizontal, vertical, or round vertical ducting or as a non-ducted unit.
The unit can easily be installed under your cabinets and serves as an exhaust fan and overhead light. The light switch differs from the fan switch, which allows you to adjust the fan speed as well. Speaking of light, its protective lamp lens is pretty incredible and illuminates your entire cooktop.
Furthermore, it comes with a removable aluminum grease mesh, which is dishwasher-safe. Thus, this makes the maintenance of Broan's F403023 range hood a cakewalk.
Also, because of its permanently lubricated motor, this convertible range hood does not make any noise, and you can work in peace under bright light.
What Could've Been Better?
We couldn't help but notice that the fan was a bit loud. Moreover, the 160CFM airflow displacement capacity is efficient only for light cooking. However, we will ignore these minor flaws because the product is a very economical choice, and we honestly couldn't have asked for more.
Pros
Multiple installation options

Dishwasher-safe filter

Protective light lens

Lubricated motor
Next on our list is Broan 423001 white under cabinet range hood. It perfectly blends with your minimalistic kitchen theme, and its performance is impeccable. This one is yet another prestigious addition to the brand's already extensive list. Due to its 190CFM air displacement capacity the product delivers flawlessly when it comes to ventilation.
Sale
Why Did We Like It?
This product comes with premium features that make it a favorite among buyers. It goes under the cabinet and is the perfect choice for vertical discharge installations. The range hood can fit a 7-inch round vertical duct attachment and also includes a 7-inch duct adapter.
Even better is its dishwasher-safe, easy-to-clean aluminum grease filter and charcoal filter, as well as a protective lamp lens that distributes light evenly. The combination of aluminum and charcoal is terrific as it gets rid of kitchen odors and airborne particulates, especially smoke. The aluminum filter is washable and does not require frequent replacement. All you've to do is put it in your dishwasher, and it'll be as good as new.
Lastly, we've its stainless steel design, which makes the unit immune to rust and corrosion. Its edges are mitered, and the bottom edge hemmed, giving it a stylish appearance and making it safe to use.
What Could've Been Better?
Unlike the earlier model on our list, this one does not come with a ductless filter or kit, which is not an issue, but the addition would've been great.
Pros
Aluminum grease filter

Separate switches for light and fan

Ideal size

ADA compliant application
Cons
The fan is noisy at high speed
Occupying the fourth spot on our list is the Broan Nutone range hood 403001. It is one of the most affordable and efficient models available in the market and leaves the customer completely satisfied. It's easy to operate and comes in two different colors. So, you can purchase one that blends with your kitchen's look.
Why Did We Like It?
What's there not to like? The 403001 model is durable and installs under your cabinet as a ducted opening, ducting either horizontally or vertically. The duct ventilator comes with a built-in damper and has a 160CFM air displacement capacity, which helps in the suction of odor, smoke, and grease.
Furthermore, it comes with two rocker switch control settings-for fan and light. You can easily control the fan's speed, and it has rear or top exhaust options as well.
Moreover, we have got protective incandescent lighting, which brightens your entire cooktop.
Another admirable addition is its aluminum mesh grease filter. This range hood is ideal for you if you cook fried or oily food often because the mesh filters have excellent grease and smoke absorption capacity. Even better is the fact that these filters come out easily and can be washed in the dishwasher. Unlike charcoal or fabric filters, you can use the mesh filter several times before it needs a replacement.
Lastly, the range hood comes with keyhole mounting slots, which makes it easy to install.
What Could've Been Better?
The Broan 403001 range hood comes with only a rectangular vent connection, so that is something you need to keep in mind before making a purchase. Buyers often complain about its thin metal construction, but that's a trivial complaint, given its affordable price range, and the device is durable nonetheless.
It does not come with a power cord, so purchase one if that's a requirement.
Pros
Aluminum mesh filter

Built-in damper

Affordable

Powerful ventilation
Now that we are almost towards the end of our list, it is time to talk about the 413604 range hood from Broan. It is a terrific unit that works in an ADA-compliant application. It comes with hemmed bottom and mitered sides that make it a perfect blend of style and safety.
Sale
Why Did We Like It?
The quality construction and easy installation of this unit make it a favorite among buyers. It has a stainless steel hood with a 190 CFM air displacement capacity and can easily tackle heavy venting jobs.
It is a 36-inch range hood, which provides high-quality ventilation without needing additional air ducts.
Besides, it comes with a built-in rocker switch that controls its two-speed fan and supports the light as well, which can have an incandescent bulb up to 75-watt. This ensures proper ventilation and sufficient light for your cooktop illumination.
We've more to talk about. The unit has a charcoal filter and a non-ducted filtration system that eliminates odor, smoke, and grease while keeping your kitchen fresh and safe. This filter can be removed and replaced when necessary.
Another point worth noting is that the model has a stainless steel body, which preserves it from rusting and corrosion. It also enhances the overall appearance of the range hood. Along with this, since it's bigger than the other variants we mentioned, it covers a larger area of the stovetop.
In conclusion, we'd like to draw attention to its motor, which is permanently lubricated and works flawlessly for years, without giving any trouble.
What Could've Been Better?
This product has a steep price, but that was expected since it comes with a full stainless steel body. Moreover, though the charcoal filter is excellent, it is not sufficient to remove all the grease that accumulates during cooking.
Pros
Hemmed bottom

Stainless steel construction

Length of 36-inches

Durable
Occupying the penultimate spot on our list is the 423023 range hood from Broan. This 30-inch range hood is an exceptional addition to Broan's 42000 series. It comes with a sleek design and affordable price.
The unit is dependable and comes with an ADA-compliant application. We are genuinely impressed by its features and couldn't rave more about it.
Why Did We Like It?
To begin with, we really liked its externally vented, 7-inch round vertical duct attachment. It's easy to operate and quite efficient.
Speaking of efficiency, we have to talk about the product's rocker switch that adjusts both the fan and light setting. Its dual-fan speed tackles both heavy and mild smoke and simplifies the venting job.
Besides, we have the 190CFM blower that quickly displaces smoke and odor and keeps the air crisp at all times.
Perhaps its most striking feature is its removable metal mesh, which is dishwasher-safe. This aluminum filter works efficiently to eliminate grease. It is also long-lasting, and you wouldn't require frequent filter replacement.
The protective lamp lens spreads incandescent light over the cooktop, illuminating it and making your cooking a delightful experience.
Finally, we believe it is essential to point out that the unit is HVI-2100 certified and can fit smoothly underneath your cabinets.
What Could've Been Better?
We felt the product's design could've been much better, given how its price is slightly on the steeper side. Moreover, it does not come with an in-built damper, and you must purchase that. 
A slight design flaw comes in the form of screws, which buyers complain are placed at inconvenient locations.
Pros
Aluminum filter

Rocker switch

Length of 30-inches

In-built 7-inch adapter
Our final recommendation is the 403004 range hood. Like most Broan range hoods, this device comes with an ADA-compliant application and is hemmed at the bottom for safety purposes. It has a stainless steel body, which is mitered at the sides.
Why Did We Like It?
The 403004 model from Broan is one of the best convertible range hoods in the series and can be ducted either vertically or horizontally, thus providing quality airflow to your kitchen.
The stainless steel design gives the unit a perfect appearance, and with its 30-inch width, it can fit underneath the cabinets with ease.
Like other Broan models, it comes with two essential features-the overhead light and the adjustable fan speed. At the maximum level, the fan speed works efficiently to dissipate odor and smoke from the room, whereas the overhead light, with its 75-watt bulb, lights up the kitchen. We can imagine nothing better than working in an odorless kitchen that is properly illuminated.
We would also like to draw attention to its permanently lubricated motor, which increases the life-span of the unit and ensures it doesn't make any noise during operation.
At last, we'd briefly mention its dishwasher-safe, quick-release aluminum grease filter that removes odor and smoke from your cooking space.
What Could've Been Better?
We found nothing wrong with this product, which didn't come as a surprise as it has great reviews. However, we'd like you to know that it doesn't come with an electrical cord, so in case you need that, do purchase it beforehand. This might make the overall installation a little tricky and time-consuming.
Pros
Convertible from ducted to ductless

In-built damper

Permanently lubricated motor

Affordable price
Cons
Time-consuming installation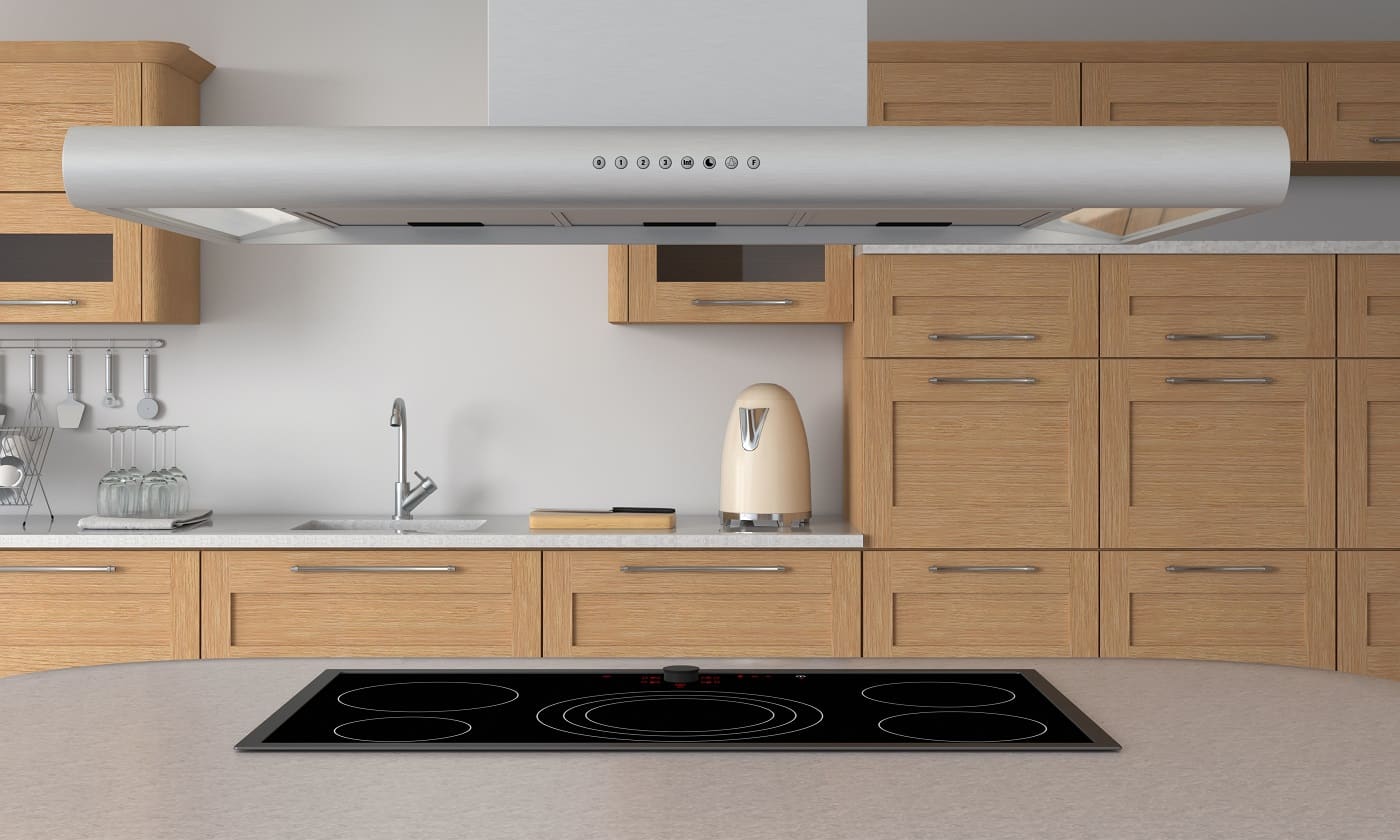 Broan Range Hoods Buyer's Guide
Now that you've finally gone through our detailed list and read all about the seven best Broan range hoods, you'd think making a choice would be pretty easy. However, here comes the tricky part: these products are very closely aligned and have several overlapping features.
Broan Nutone is an excellent brand and provides the most affordable, standard range hoods in the market. Deciding what is best for your kitchen can be a difficult choice, and several factors need to be considered, especially since so many options are available.
To make your job easy, we've gone one step further and compiled a few essential points in this buyer's guide. These are features to consider, and they'll help you decide which model you should go for.
Filter Type
Perhaps the foremost consideration for buying a range hood should be its filter-type. The type of filter present determines the amount of smoke, odor, and impurities that your kitchen needs to remove. Broan's range hoods have two filter types- the aluminum mesh filter and the charcoal filter.
The aluminum filter uses fibers and grids of aluminum to trap the polluted air. These filters are dishwasher safe, have a long life-span, and are very easy to maintain. The charcoal filter, on the other hand, traps and removes carbon-based impurities. They require replacement at least twice a year.
Depending on your requirement and budget, you can purchase a unit that comes with both these filters or either one of these.
CFM Power
CFM power measures the amount of air that range hoods can move in cubic feet per minute. It is a crucial measurement to determine how good the kitchen range hood is in filtering and circulating the room's air. The models we've recommended for you have a CFM 160 to CFM 190 air displacement capacity. The higher the CFM, the faster the air circulates.
Style
Of course, next up, we have the look and style of the product. You certainly do not want a product that sticks out like a sore thumb in your gorgeous kitchen. With Broan's line of range hoods, you will not be disappointed. You have stainless steel models, sleek black units, and hoods with elegant white bodies.
Whatever you need, you've got it. You must find a design that blends perfectly with the kitchen's look and enhances your cooking place's overall appearance.
Duct or Ductless
While most of the models we recommended were ducted, there are also some ductless units. The ducted model releases airborne particles and moisture outside the kitchen, while the ductless range hood filters that air and recirculates it back into the room.
Choosing which type you should go for is entirely your choice, and both have their advantages and disadvantages. Usually, people prefer ducted models because the air is released out of the house.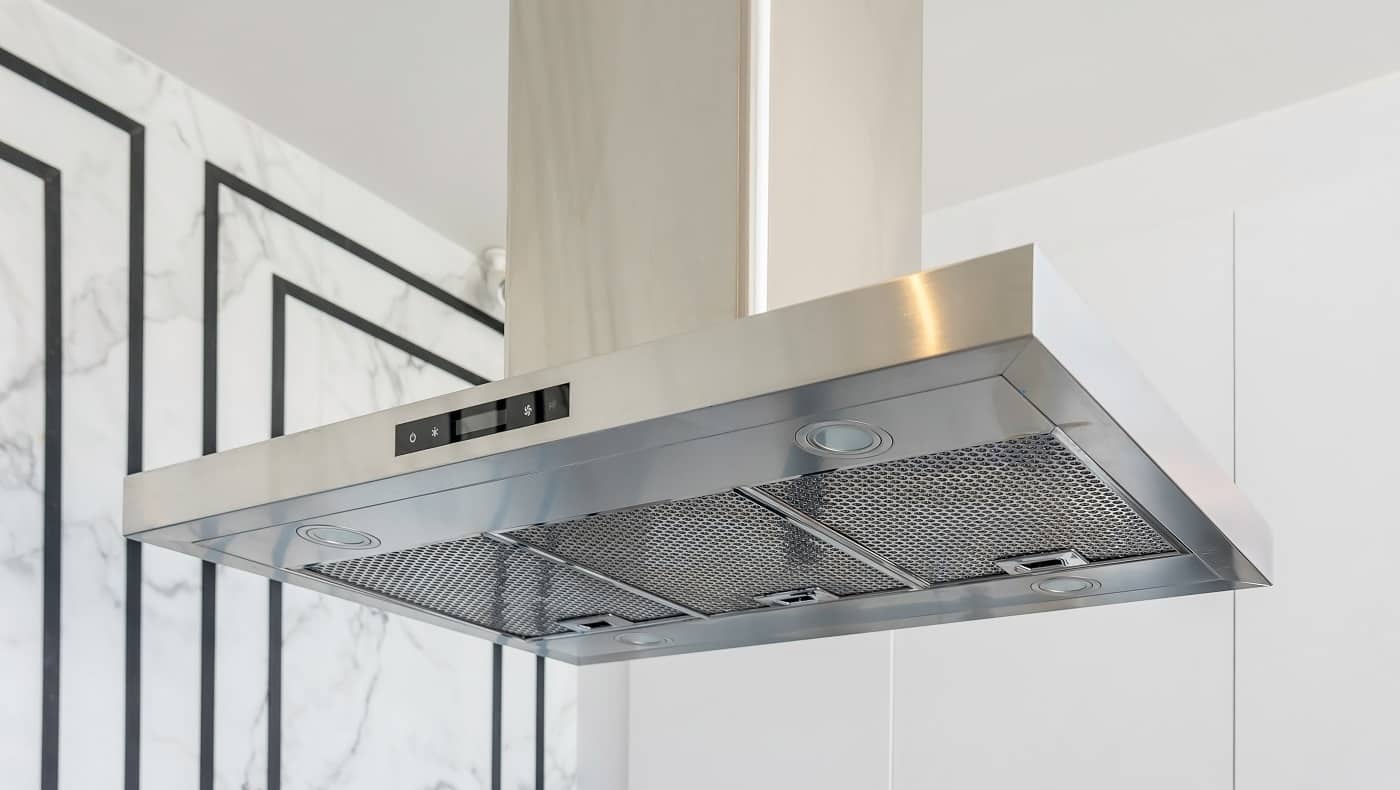 Verdict
With that, it's time to give our final verdict. Broan Range Hoods are among the most popular and economical purchases in the range hood market. We've tried to simplify the process of buying a range hood by giving detailed features of each of our recommended models.
We've also included a buyer's guide to ensure you do not second-guess your decision. However, before we take our leave, we'll let you in on some of our top choices.
We love the F403023 range hood that comes with 4-way convertibility, an aluminum filter, and an in-built damper-all of it at a very affordable price. We're also quite fond of the 413604 model, with its 190 CFM air displacement capacity and stainless steel body, making it a stylish pick.
Now, we'd like to take our leave. Till next time!
Related Articles
13 Best Small & Compact Microwave 
Waring Pro ICT400 Double Induction Cooktop [Reviewed]
Broil King CSR–3TB Electric Cooktop Reviewed
Legendary Camp Chef Explorer 2 Stove Under the Microscope
Induction Cooktop 101| Consumption, Usage, Voltage, Temperature
13 Best Portable Induction Cooktop  [Reviewed & Buyer's Guide]
11 Best Gas Cooktop With Griddle
Learn How to Clean Gas Stove Burners Today
11 Best Frigidaire Stove Reviews