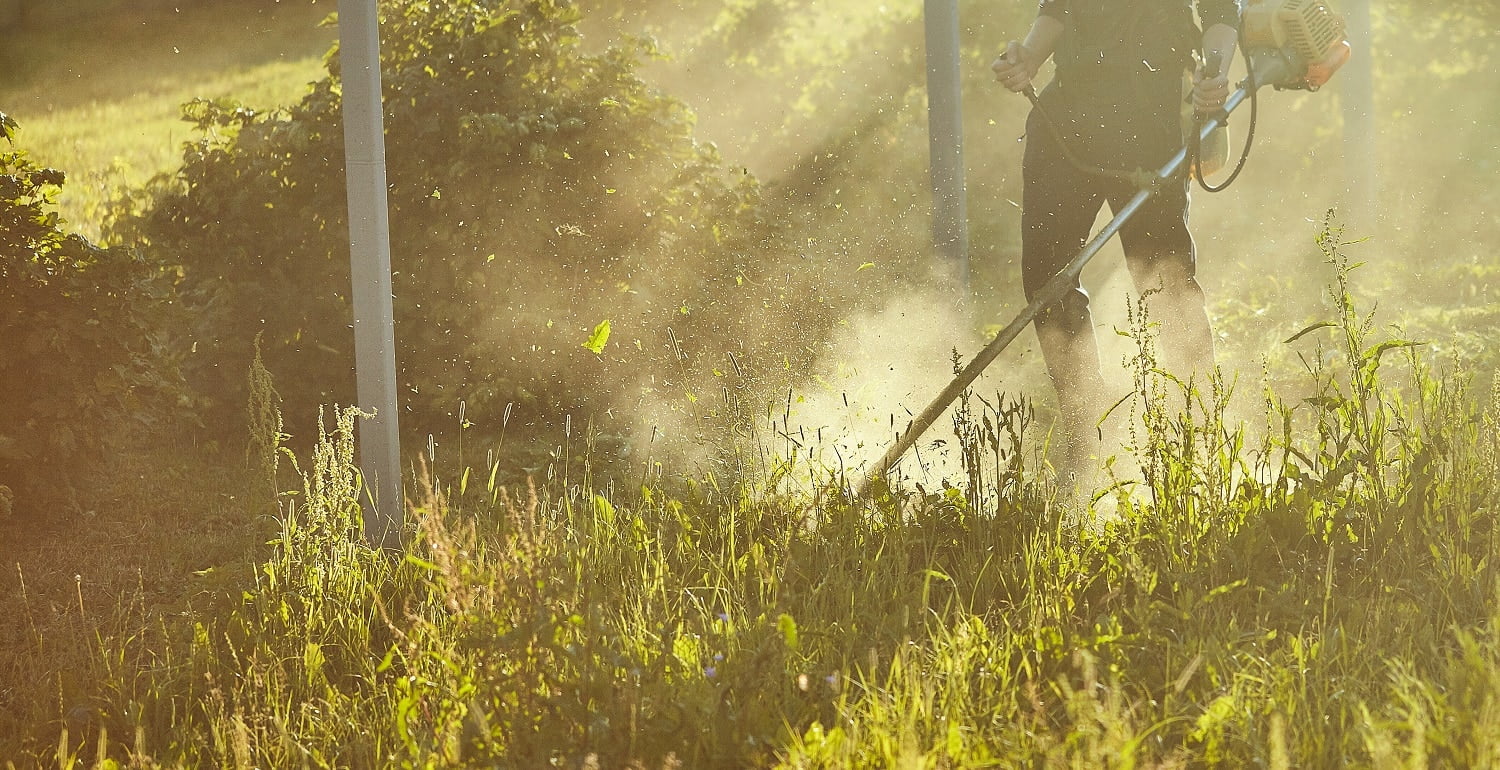 Among the many tools you require for the maintenance of your garden, a brush cutter is probably one of the most essential.
A brush cutter steps in when lawnmowers and string trimmers fall short and is ideal for carrying out tasks that demand a high degree of finesse. Incredibly versatile, these handheld tools make quick work of tough vegetation and serve you well for a considerable period of time.
As an investment, they are quite unparalleled and if durability is what you are going for, then this is a must on your list.
As for the price, brush cutters aren't expensive. But then again, nobody wants to spend money on something that's not a good fit. To this end, we have compiled a comprehensive list of the best brush cutters available in the market right now. The options are many and varied; it will surely help to have the research done for you!
To select the ideal model, you must keep your individual requirements in mind. The rest, we hope, will be a breeze.
Let's dive right in, shall we?
Best Brush Cutters
IMAGE
PRODUCT
DETAILS

Our Top Pick

Our Top Pick

Husqvarna 128LD Gas String Trimmer

28cc 2-cycle engine
Quick Start feature
Translucent fuel tank

VIEW LATEST PRICE →

Makita 4-Stroke Brush Cutter

Mechanical Automatic Engine Decompression technology
Resealable filter
Steel drive shaft for less vibration

VIEW LATEST PRICE →

Remington RM2700 Ranchero Brushcutter

18-inch metal cutting blade
Quickstart technology
J-handle and shoulder strap

VIEW LATEST PRICE →

Husqvarna 128CD Gas Shaft String Trimmer

Auto-return Stop Switch
Detachable shaft for convenient storage
Numerous compatible attachments available

VIEW LATEST PRICE →

Ryobi RY4CCS Curved Shaft Gas Trimmer

Unique curved shaft
4-cycle motor
Low emission and noiseless operation

VIEW LATEST PRICE →

Blue Max 52623 Extreme Duty Brush Cutter

Two-start coiling system
Straight shaft for greater reach
Tackles varied vegetation with ease

VIEW LATEST PRICE →

Troy-Bilt TB42 BC Gas Brushcutter

Full crank, 2-cycle engine
Jumpstart technology
Numerous compatible attachments available

VIEW LATEST PRICE →

SUNSEEKER Multi Tool with Grass Trimmer

Powerful 2-cycle engine
Full-shaft crank design
Aluminum support for low vibrations

VIEW LATEST PRICE →

Chikura Multi-Gas Brush Cutter

54cc engine
4-in-1 device with multiple blades
Gas-operated brush cutter

VIEW LATEST PRICE →

Timberpro 52cc Split Strimmer and Brush Cutter

Powerful 52cc engine
Split shaft design
Attractive 2-year warranty

VIEW LATEST PRICE →

Snapper XD 82V

10-inch cutting width
3 superior cutting blades
Compatible with any Snapper XD 82V string trimmer

VIEW LATEST PRICE →

Poulan Pro PP28LD SureFire String Trimmer

Spring-assisted start system
Attached trimmers for versatility
Long, straight shaft for optimal reach

VIEW LATEST PRICE →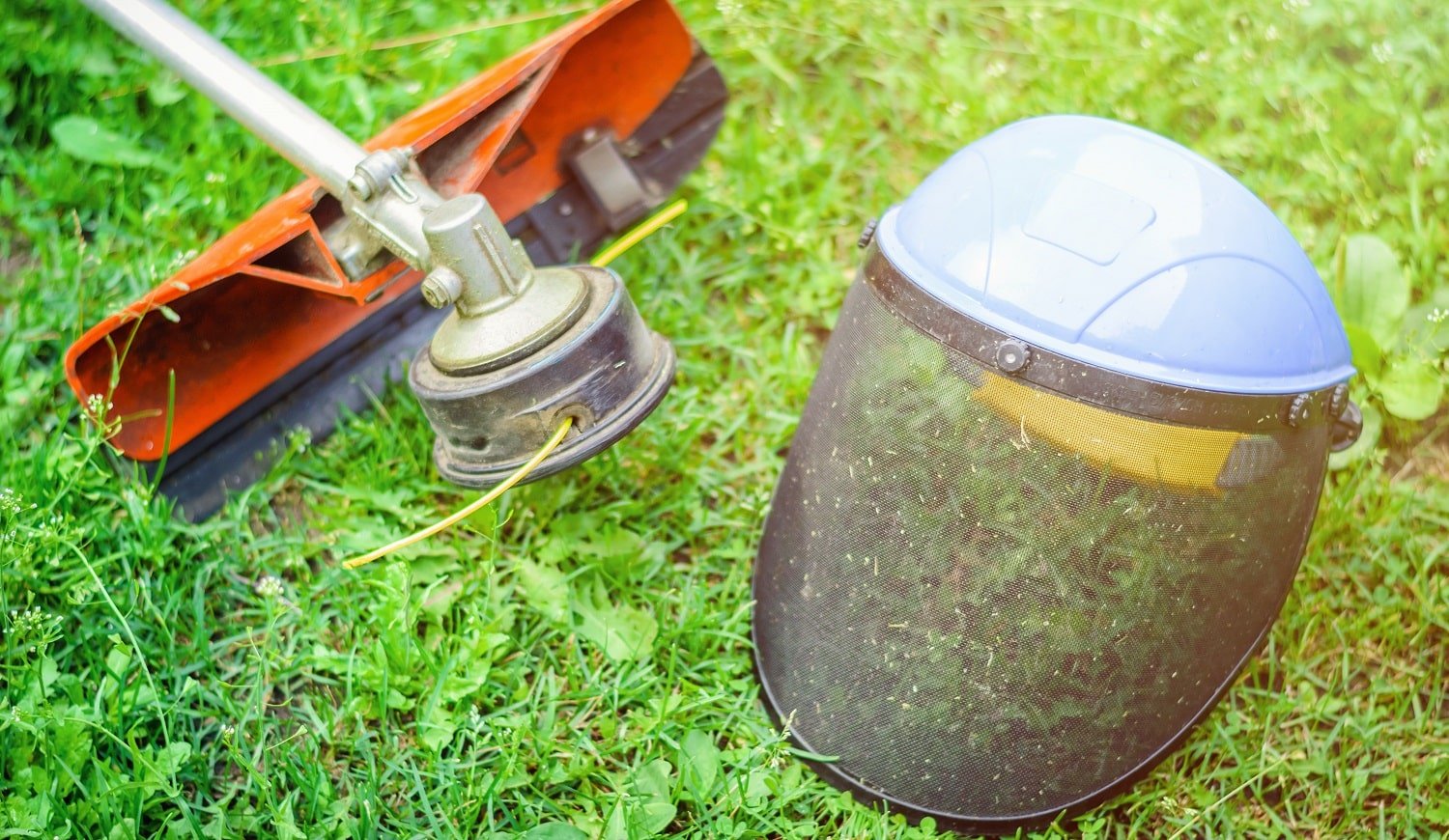 By now, are you even surprised to see Husqvarna right at the top of a list? Given its unmatched expertise in garden machinery, we surely aren't. The 128LD is a product that meets the expectations of any Husqvarna loyalist and makes for one of the best buys when it comes to brush cutters.
Why Did We Like It?
When it comes to products from Husqvarna, we are prepared to be impressed. The 128LD is no exception to that and being equipped with a 28cc 2-cycle engine, it functions as a powerful and reliable appliance that offers incredible operational efficiency as well.
Speaking of which, the model boasts of a Smart Start feature and is fitted with a number of intuitive controls that allow for hassle-free use. If you're on the lookout for a device that gets the work done without requiring much effort, then this one's for you.
In addition to that, the 128LD is a multi-tasking tool. Highly functional on large landscapes, this battery-operated appliance is quiet in operation and also ensures user comfort while at it. The grip is designed for prolonged use while the X-Torp engine improves fuel efficiency. All in all, this is a tool you don't want to miss.
What Could Have Been Better?
The only minor issue that this otherwise excellent tool suffers from is the speed. When compared to its capacity for work, the 128LD works quite slowly and its speed starts to dwindle with use. However, this is in no way a dealbreaker, especially given the kind of utility it offers!
Pros
Versatile and fuel-efficient

Suitable for residential as well as commercial landscapes

Ergonomic design

Additional features for operational efficiency
Cons
Scores low on time-efficiency
The last item on our list is no less than any of its predecessors. On the contrary, it employs sophisticated technology to deliver the best results on any turf. Featuring a smart design and a wide range of features that add to its functionality, it is without a doubt one of the most efficient brush cutters available out there!
Why Did We Like It?
Some reserve the best for the last and we are definitely one of them. This a brush cutter par excellence from a trusted brand, one that utilizes a mechanical automatic engine decompression system to ensure a smooth startup. From then on, it's only uphill!
What takes the cake in this appliance is the design. Ergonomic and built with operational efficiency in mind, the appliance is a compact powerhouse of cutting. Not only are the blades sharp enough for small trees and heavy debris, but they are also fitted with a dual air stage filter and polished to commercial standard.
Moreover, this is a unit that allows for great longevity and, in turn, cost-efficiency. Parts of the filter are resealable and allow the user to maintain its quality for longer. Last but not the least, the steel driveshaft ensures less vibration which reduces strain on the unit. All in all, with Makita's brush cutter, one's gardening experience is nearly hassle-free and thoroughly comfortable.
What Could Have Been Better?
The unit is close to perfect and it's difficult to be critical of it. Our only concern was that it is not ideal for prolonged work. However, there is seldom any malfunction and given its capacity for work, this model certainly makes for a worthwhile choice.
Pros
Quick and smooth startup

Compact, ergonomic design

Low vibration level

Enhanced durability
Cons
Not well-suited to long hours of work
Next up is another powerful brush cutter, the RM2700, from Remington. Equipped with a strong engine, it is flawless on most lawns and does an excellent job of fine-tuning the end result. What you get is a lush garden trimmed and cleaned to perfection. Read on to learn all about this power-tool!
No products found.
Why Did We Like It?
Powered by a 27cc 2-cycle engine, the RM2700 from the well-established brand works incredibly well to deliver a performance that leaves you with little to desire. Its engine is complemented by a robust, metallic cutting blade that is 18 inches in width. Needless to say, superior cutting is the tool's strongest suit.
In addition to that, the cutter offers a high degree of operational efficiency. The Quickstart technology is designed for a smooth pull-start performance and results in time-saving. Alongside this, the sleek body of the RM2700 is a breeze to maneuver and gardening seems far from being a chore.
No discussion of this appliance is complete without a mention of its design. Ergonomic and optimized for high functionality, the straight and long shaft makes quick work of areas difficult to access for most cutters. Lastly, Remington's product comes with an attachable bump head. This means, this is a brush cutter that functions as a string trimmer as well!
What Could Have Been Better?
As great as this appliance is, the RM2700 is not the most ideal brush cutter for properties of large dimensions. It works perfectly on small to medium-sized gardens, however, and is a great choice for the homeowner passionate about beautiful lawns manicured to perfection.
Pros
Lightweight, portable, easy to maneuver

Well-suited to residential properties

Advanced features for superior cutting

Ergonomic design
Cons
Not ideal for larger properties
Our next recommendation is another Husqvarna product par excellence, the 128CD brush cutter. Known for its tremendous capacity for cutting, this workhorse makes light of the toughest of turfs and comes with a ton of attractive features. Reliable and powerful, the 128CD is a model to reckon with.
Why Did We Like It?
First up, this is a device that prioritizes user safety, a primary concern when it comes to heavy-duty machinery. The feature that ensures safety is the auto-return stop switch which automatically resets itself if stopped. Not only does this act as a safeguard against accidents, but it also enhances the operational efficiency of the tool.
Speaking of which, the 128CD boasts of a smart start system that allows for work from the get-go; you need not spend much time and effort in starting up your cutter. This way, delays are eliminated, leading to superior cutting in less time.
Last but not the least, this piece of garden machinery is a breeze to store as the shaft is detachable. This also affords greater mobility to the user as the tool becomes more manageable and easier to transport. What also helps, is its ergonomic design; it keeps in mind user comfort and makes gardening a thoroughly enjoyable activity.
What Could Have Been Better?
This machine is hard to find fault with. However, the only aspect that could be looked into is its performance with regard to weeds. When in contact with weeds, the cutter loses power and slows down significantly. But such technical problems can be easily dealt with and we would recommend contacting the customer support team for assistance.
Pros
Enhanced features for greater safety

High operational efficiency

Impressive range of compatible attachments

Ergonomic design
Cons
Not suitable for lawns with weeds
The unique selling point of Ryobi's products has always been their design, which is relentlessly optimized for maximum performance. The RY34427 is no exception and features elements of outstanding utility and efficiency. Read our review of it to learn more!
Why Did We Like It?
The RY34427 is a thoroughly impressive brush cutter that leaves no stone unturned to deliver a nearly flawless and versatile performance. As a gas trimmer equipped with a 4-cycle motor, it allows for the separation of oil and gas; the two never mix. This enhances the safety of the device and reduces the cost of operation.
In addition to that, the motor itself is incredibly strong and enables the appliance to take on heavy-duty tasks with ease. What sets it apart is that in spite of its capacity, the motor does not weigh down the cutter or hinder the ease of control. 
The curved shaft is a unique addition to the tool. It allows for smooth handling and reduces operational hassles considerably. All in all, the RY34427 is one of the most lightweight, durable brush cutters out there, one that stays put throughout any task in the garden!
What Could Have Been Better?
The only aspect where the Ryobi falters is the startup. It often faces delays and issues in that respect which require considerable effort on the user's part to be resolved. Barring that, however, the appliance is quite flawless and promises to deliver once it's up and working.
Pros
Sophisticated technology for greater safety

Compartmentalizes oil and gas separately

Lightweight and sturdy
The 52623 from Blue Max is a worthy recommendation that deserves a mention among the likes of Husqvarna and Poulan Pro. A versatile device with multifarious utility, it can be used as both a trimmer and cutter. It'd be safe to say, then, the 52623 would make for a great addition to your toolkit.
No products found.
Why Did We Like It?
Right off the bat, this brush cutter impressed us with its two-in-one quality. Not only does it fulfill multiple functions with ease but it also saves you the price of a string trimmer. Highly efficient, this is a gardening tool that simplifies application and comes with a number of features for added operational efficiency.
Speaking of which, the cutter features a two-start recoil starting system along with anti-vibe handles for hassle-free functioning and easy management of the tool. Such features add to the utility of the device and make it a clear favorite among professional landscapists.
Amidst all the features, the unit makes no compromises on its primary task – that of cutting. To augment this, it makes use of a straight shaft that is easy to maneuver and reaches the most inaccessible corners with ease. Last but not the least, being robust, it tackles dense foliage with ease and is therefore ideal on various terrains.
What Could Have Been Better?
Nearly flawless, the appliance is hard to criticize. One aspect which we felt could improve was the rope hosing which is often prone to breakage. However, given the features on offer, this is certainly a minor issue and the device is in our best books!
Pros
Dual functionality

High operational efficiency

Ease of maneuverability
Cons
Rope hosing prone to breakage
No list of garden machinery is complete without a mention of Troy-Bilt. A brand of repute, Troy-Bilt excels in quality, high-functioning tools that exhibit a commendable degree of longevity as well. The TB42 BC brush cutter is the perfect example of such a product and adds another feather to the brand's cap!
No products found.
Why Did We Like It?
With Troy-Bilt's brush cutter in possession, you can easily do away with most of your other gardening appliances. Powered by a two-cycle, full crank engine, this makes quick work of thick weed-growth and vegetation. Along with its tremendous capacity for heavy-duty work, this cutter also scores high on operational efficiency.
In this respect, the Jumpstart feature of the device definitely stands out. By incorporating it, the need to pull a chord is done away with, which leads to a considerably smoother startup. Once revved up, the 8-inch 4-tooth cutting blade slices through the grass and tackles tough turf with ease.
Last but not the least, the TB42 BC is ergonomically designed and built to last. What adds to this is the low vibrating action that allows for greater longevity. In addition to durability, the tool's versatile functioning is enhanced by the provision of various attachments that are readily compatible with it!
What Could Have Been Better?
Excellent in its functions, the only issue with this device is that it isn't the most ideal brush cutter for larger properties. However, with the plethora of appliances designed specifically for large yards, such a drawback hardly blacklists the product in our books.
Pros
Powerful motor and blade for superior cutting

Ease of use

Allows for user comfort

Versatile and durable
Cons
Not suitable for large farms
Next up, is another excellent brush cutter from SUNSEEKER, a tool quite unmatched in versatility. Equipped with a ton of features, it promises to deliver well and can hold its own on a wide range of terrains. Read on to find out more!
Why Did We Like It?
There is a lot to like about this power-tool from SUNSEEKERS, starting with its power source. Strong and sturdy, the 26cc two-cycle engine provides ample support to the appliance for functioning with a high degree of expertise and efficiency. Alongside this, the brush cutter comprises a number of features that enhance operation.
For instance, the full-shaft crank design boosts fuel efficiency by reducing emissions; this, in turn, increases the longevity of the machine. Also adding to that is the aluminum support. Thanks to this, vibration is greatly diminished which allows for greater user comfort and control.
Last but not the least, SUNSEEKER's product offers excellent value for money by including four different attachments that ably tackle a variety of landscaping tasks. By utilizing a universal connection, the attachments pair with other brands and models with equal ease as this one. All things considered, the Multi-Tool is an option definitely worth keeping an eye on!
What Could Have Been Better?
SUNSEEKER's brush cutter itself is quite flawless; it is only the service that, we feel, could improve. Also, the instruction manual requires a few revisions so that users may have a better understanding of its controls. Apart from such slight problems, this is a win-win.
Pros
High on fuel and time-efficiency

Versatile functioning

Great value for money

Sturdy and durable
Cons
Instruction manual needs rework

Customer service could improve
Another highly versatile device, the multi-gas brush cutter from Chikura serves as a fine example of performance combined with durability and efficiency. Equipped with a powerful engine and a number of attractive features, this is a tool that promises to deliver on tough turf with ease.
Why Did We Like It?
Most brush cutters that score high on functionality are not the most portable models out there. But this versatile unit from Chikura is an exception to that rule. Powered by a 54cc engine of incredible capacity, it makes light work of heavy-duty landscaping tasks while allowing for the smooth functioning of a number of additional features.
Moreover, the model is extremely light in weight that allows for easier operation and greater portability. Further, the multiple blades lead to superior cutting which results in a clean and well-maintained lawn. This makes the product ideal for tackling thick foliage, grass, and weeds. 
Lastly, this multi-purpose appliance is well-suited to both large and small-sized properties, thus may be used for commercial as well as residential tasks. As a gas-operated gardening tool, Chikura's product offers good value for money and proves to be a reliable companion on a variety of yards.
What Could Have Been Better?
It is quite the task to find fault with this brush cutter as it is both high-functioning and durable. The only issue is the setup operation which is slightly complicated and leads to delays. Barring this minor glitch, the model is excellent and we'd highly recommend it.
Pros
Incredibly strong engine

Lightweight and portable

Suitable for residential and commercial use
Next on our list is a durable brush cutter that doubles up a split strimmer. A product by Timberpro, it is no exception to the brand's well-established excellence in the field of garden machinery. Read our review of it to learn all about it.
Why Did We Like It?
This is a brush cutter that leaves little to be desired in terms of functioning and versatility. Equipped with a 52cc engine, it easily tackles tough grass as well as on thick bushes and brambles. It is equally ideal for trimming around the edges and gives your lawn that perfect finish and manicured look.
Additionally, this power tool boasts of a number of features that not only result in unmatched cutting but also allow for a high degree of operational efficiency. The split shaft design is especially worth a mention. It considerably augments the cutting process and works well to leave you with no reason for complaint.
Last but not the least, Timberpro's model is ergonomically designed, complete with shoulder straps and a handlebar for strong grip and smooth control. The fixtures also ensure user comfort and render the appliance ideal for prolonged hours of professional landscaping activity.
What Could Have Been Better?
This otherwise excellent appliance suffers from a minor problem that is unrelated to its functioning. Located in the United Kingdom, the manufacturer could improve its multi-country distribution as there are often issues of customer support faced by users. Apart from this, the model makes for a smart choice and remains a top recommendation.
Pros
Strong engine and superior cutting

Ergonomic design

Suitable for prolonged professional use
Cons
Customer support could improve
Husqvarna stays on our list towards the very end; its range and expertise in power-tools is nearly unparalleled. The 223R straight shaft brush cutter is another feather in its cap with its incredible efficiency and capacity for work. Fitted with numerous features, this appliance does not disappoint on any ground whatsoever.
No products found.
Why Did We Like It?
Any Husqvarna product, in our experience, has been rich in advanced features and this model is no exception to the rule. Equipped with a capable engine designed with Smart Start technology, it requires minimum effort while the output exceeds user expectations. Combined with this, the Air purge also enhances the startup action.
Additionally, cutting is a breeze with this appliance and leaves no room for complaint. Gas-powered and strong, the cutter features a double harness, a grass blade, and a 17-inch cutting path. Moreover, the trimmer head is not only semi-automatic in function but also incredibly easy to load.
What further adds to the appeal of this device is its high operational efficiency and ergonomic design. Fitted with an angled handlebar and combo guard for the trimmer heads as well as the blades, such features ensure both comfort and longevity of the tool. Further, the LowVib technology eliminates vibration, thus extending its durability.
What Could Have Been Better?
Like most Husqvarna products, this brush cutter is priced on the higher end of the scale and may not suit the average gardener's budget. However, given its capabilities and efficiency, we feel, a hefty price tag is justified and the unit is ideal for the professional willing to expend a few extra dollars.
Pros
Incredible power and cutting capacity

Advanced features for ease of operation

Long-lasting and sturdy

Low vibration appliance
Although technically a brush cutter attachment, this excellent product from Snapper is a versatile addition to your gardening toolkit. With the promise of hassle-free and efficient cutting, it delivers an excellent performance on lawns of diverse kinds and dimensions. Read on to learn all about it.
Why Did We Like It?
Snapper's brush cutter attachment is a suitable companion to the professional landscapist as well as the amateur gardener due to its supreme cutting capacity and ease of use. Fitted with a razor-sharp 10-inch cutting blade, it makes quick work of grass, weeds, and stubborn overgrowth and leaves you with a lawn trimmed to perfection.
Further, the three cutting blades are complemented by three grease fittings that together allow for efficient functioning while affording greater control to the user. This also leads to better maintenance of the appliance, thus giving its longevity a considerable boost.
In addition to that, the XD 82V is a highly versatile attachment that is compatible with any Snapper XD 82V string trimmer. This way, it makes for a cost-efficient option as well. Last but not the least, operational efficiency is clearly prioritized as seen in its trimmer head that can be locked down at any angle between 0 and 90 degrees and also pivots to 90 degrees with ease.
What Could Have Been Better?
The model is thoroughly satisfying on yards but suffers from a minor issue. With a fully metallic body, it weighs more than its counterparts and is heavy to carry around. However, given its superior capacity for trimming, this is hardly a dealbreaker and the appliance is in our best books regardless!
Pros
Clean, efficient cutting

Additional features for greater longevity

Cost-efficient and high-functioning
Cons
Weighs more than other attachments
Poulan Pro is another brand that has been a consistent feature on our lists of gardening equipment. A favorite with landscapists and homeowners alike, Poulan Pro's products exceed expectations in terms of performance and are reliable on any lawn. The PP28LD is one such garden tool that leaves little room for complaint.
No products found.
Why Did We Like It?
Right off the bat, we were impressed by its powerful 2-cycle engine that enabled the tool to perform exceedingly well on yards of various dimensions. High on functionality, the PP28LD makes use of a spring-assisted start system that enhances operation and also streamlines it.
Furthermore, it is fitted with a number of features that make short work of unwieldy plants, weeds, and shrubs in lawns and farms. The long straight shaft allows for easy reach in nooks and crannies, thus increasing ease of navigation for the user. All this while, the machine makes no compromise on its primary function and its performance remains stellar.
Lastly, the PP28LD comes with a host of additional attachments that optimize the tool for various gardening tasks. The trimmers are a noteworthy example of this. A reliable companion for professionals and amateurs alike, Poulan Pro's device does not disappoint on any account.
What Could Have Been Better?
As far as utility is concerned, the PP28LD gives the user little to worry about. The only area where it may falter is durability. With some parts giving way after use, it is a matter of concern. We would suggest getting in touch with Poulan Pro's excellent customer support team who are always responsive and available to help.
Pros
Powerful engine for high functionality

Enhanced operational efficiency

Suitable for any level of expertise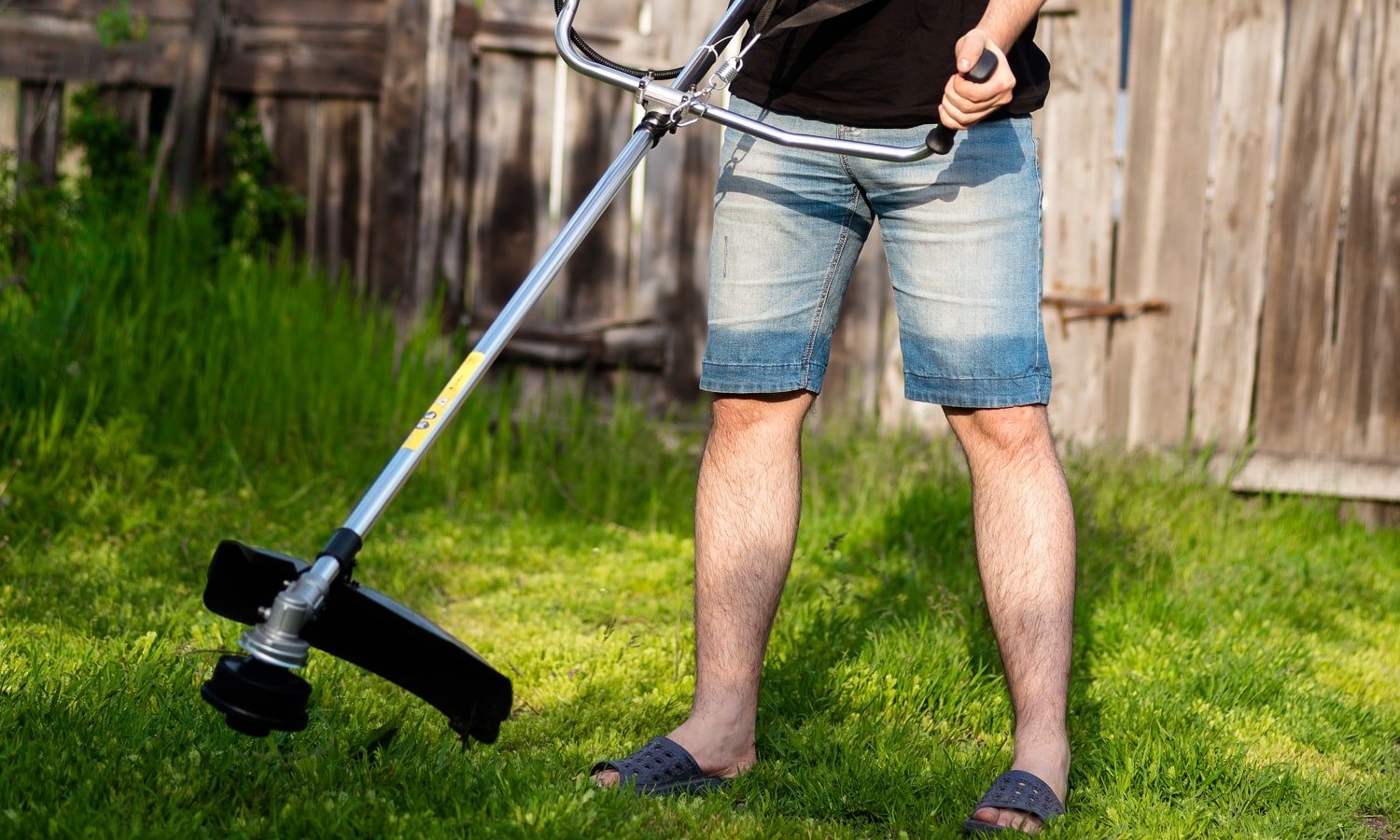 Brush Cutter Buyers' Guide 
It must be clear by now, that your garden could do very well with a brush cutter, especially with so many excellent models available out there. Tough, durable, and offering an incredible performance, these multifarious tools keep a garden looking spick-and-span throughout the year.
Whether you are a homeowner or a professional landscapist, there are a few things you must bear in mind while making a selection. Along with the individual needs and specifications of your lawn, it pays to look into a few attributes of the gardening tool itself.
Below we have outlined three key points in our comprehensive buyers' guide that is sure to take you closer to your ideal brush cutter.
Durability
Brush cutters are a good investment for a reason; they are highly durable, far more than their counterparts in garden machinery. However, each model differs from the other, and before shelling out your hard-earned dollars on an appliance, it would be worthwhile to ensure it is sturdy. 
To check for a brush cutter's longevity, one needs to be mindful of the material and formation of the shaft. Metal shafts offer longer shelf lives and since the tools are specifically geared towards heavy-duty tasks, finding one with such a shaft is necessary.
Multi-Purpose Features
It may sound like a stretched claim, but in essence, your brush cutter can replace all other gardening tools. Most of the models on our list also exhibit a high level of versatility and are fitted with attachments that last long. For example, Chikura's product is one such item while in case of the Troy-Belt TB42, the attachments may be purchased later.
The multipurpose utility of brush cutters also makes the tools economical as it eliminates the need for other equipment. Lastly, it helps to make sure the device can tackle a variety of terrains so that you don't need to spend money on a second item.
Universal Attachments
It'd be safe to say economical efficiency is a brush cutter's most unique selling point. What enhances this, is the universal attachment connection. Most models are compatible with attachments from other brands, something particularly attractive to homeowners for better value for money.
Verdict
With that, we have come to the end of our review and guide and we hope we've been able to resolve most, if not all, of your doubts.
In 2022, there is no dearth of products in the market, and brush cutters are no exception to the rule. What makes it harder to choose one is that most brands place great emphasis on quality. Each model comes with its own set of pros and cons and that leads to a stiff competition. In such cases, it helps to know what you, specifically, need for your garden.
To make the task slightly easier, we have rounded up some of our favorites among the top 13 in the list. Our first recommendation is the Husqvarna 128LD for exceptional overall functioning, while the PP28LD from Poulan Pro offers great value for money. If it's versatility you're looking for, it might be worth checking out Remington's RM2700.
Let us know below what you think of our suggestions; we look forward to hearing from you.
Till next time!
5 Best Self-propelled Lawn Mowers Right Now
The 5 Best Lawn Mowers for St Augustine Grass Right Now
Best Lawn Edging for a Legendary Garden 
5 Best Gas Hedge Trimmers Reviewed
4 Best Walk Behind Brush Cutter | Buyer's Guide
3 Best Yard Hydrant | Buyer's Guide and Reviews
5 Best Stick Edger | Buyer's Guide
13 Best Trimmer Lines | Multi-Sided, Round, Square, Twisted & Serrated
7 Best Shoes for Cutting Grass Comfortably | Buyer's Guide