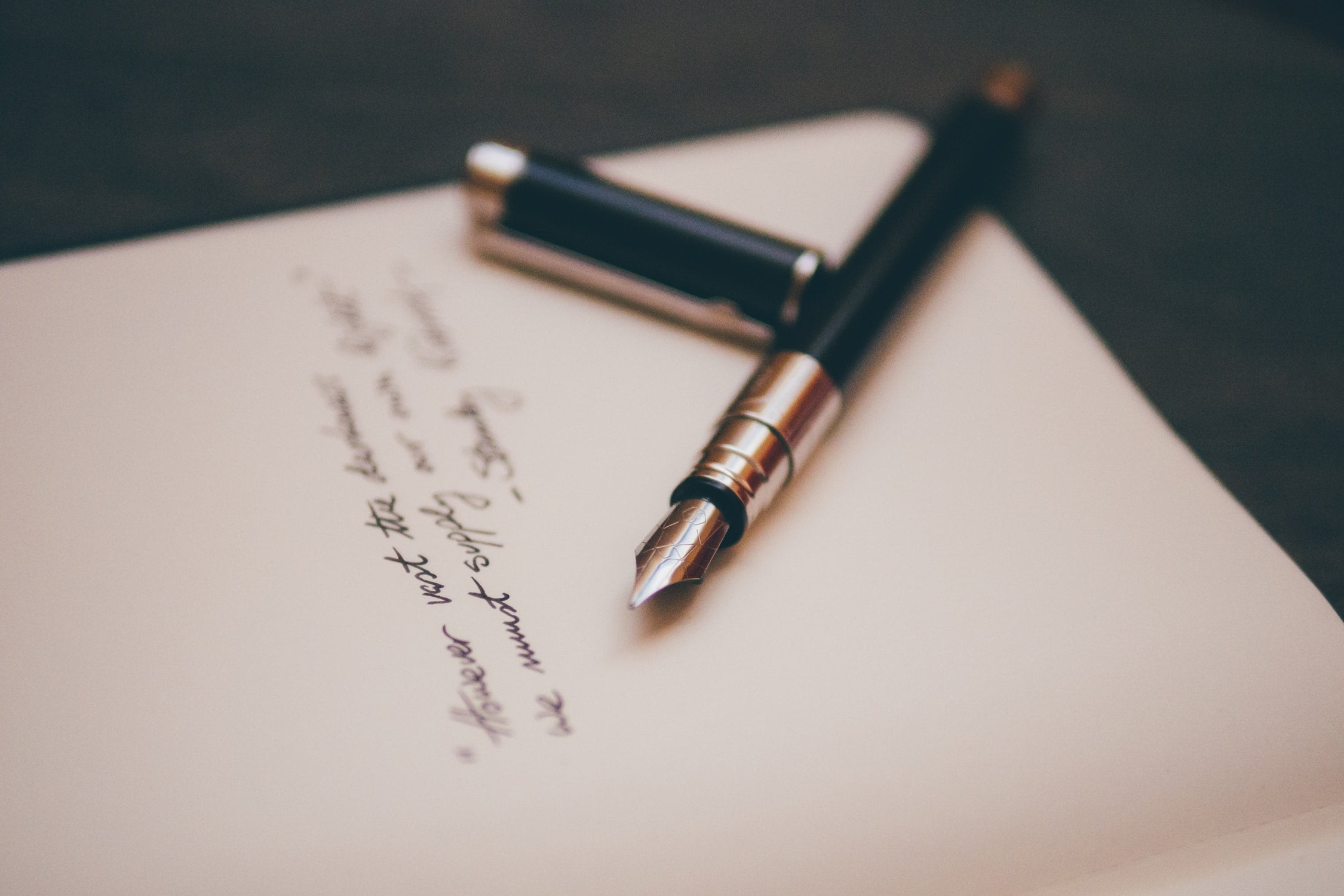 Calligraphy is an art form that requires very little when it comes to tools. A piece of paper and a good quality Calligraphy Pen is all you require to create some of the most visually pleasing letters and symbols that your hands can draw!
It's an ancient art form that requires years of dedicated practice to master, and using a good quality Calligraphy Pen can go a long way in enhancing your skills.
As a beginner, it can be quite a challenge to choose a pen that is suitable for your needs, especially with the massive variety of models available in the market.
Featured Image via Álvaro Serrano@alvaroserrano
So in order to help you out, we have reviewed a few of the best Calligraphy Pens available in the market that are geared towards beginners. We have also provided a short buying guide in which we have discussed a few factors that you should take into consideration while buying a Calligraphy Pen.
So let's get started without further dues!
Best Calligraphy Pens for Beginners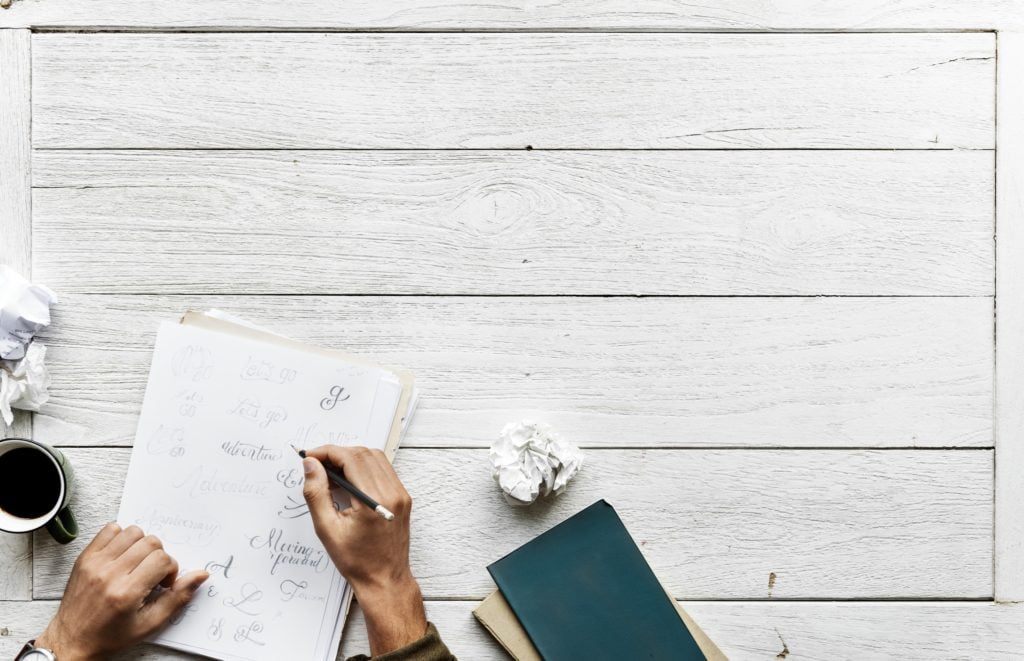 The Pilot Parallel Pen is nothing short of a breakthrough when it comes to Calligraphy Pen designs. These are some of the most versatile and efficient pens that you can get a hold of in the market, at extremely affordable prices.
For beginners, these are the perfect pens for practicing calligraphy simply because they offer a great deal of adjustability when it comes to line width and color.
Sale
Experience
The first thing that struck us when we started testing out the Pilot Parallel Calligraphy Pen was the fact that the pen was extremely light. This is a great thing to have in a Calligraphy Pen because it allows for a seamless movement which can enhance your art.
These pens come with two different ink cartridges, red and black, and feature a pipette and a nib cleaner that can come quite handy. The model we ordered had a 2.4mm Nib, but there are plenty of different nib sizes for you to choose from!
Now the feature that makes the Pilot Parallel Pen stand apart from the rest of the crowd is the unique "Parallel Plate" technology. These pens feature a nib that has two parallel plates which will allow you to adjust the sharpness and precision of your writing.
This makes this model extremely versatile, allowing you to use it for anything between preparing your grocery list to penning elegant letters and symbols!
Pros
Parallel plate technology will allow you to adjust the width and sharpness of your writing 

Extremely lightweight and has an excellent grip 

Smooth flow of ink 

Replacing cartridges is easy
Cons
A little bit of ink-bleeding can occur with the ink that comes with these pens  
With its simplistic design and a standard nib, the Scheaffer Viewpoint Calligraphy Pen may not look like much, but it definitely is one of the best models in the market for beginners. This pen is ideal for anyone who is just starting to learn Calligraphy. These are also great for being used as regular pens for everyday writing.
The Scheaffer Viewpoint is also one of the cheapest models that you'll find in the market, and for the price it costs – it definitely offers good value!
No products found.
Experience
There isn't too much fancy about this model that is worth mentioning, and that is precisely why this pen is excellent for people that are starting out. It has all the basic features that you'd expect out of a good-quality Calligraphy Pen and is perfect for trying out the basic techniques before getting into advanced ones.
The red body of this pen has a standard black grip and a stainless steel, silver-colored nib which gives an effortless yet elegant look to it.
Using this pen was fairly simple, and thanks to the pointed nib, creating those delicate lines felt very smooth and easy. These pens are also very lightweight – making it ideal for beginners.
This pen also features a viewable ink cartridge which will easily allow you to check the level of ink left inside the cartridge without having to take things apart.
Pros
Pocket-friendly price tag with good value for money 

Ideal for beginners who are looking for a basic calligraphy pen without too many complications 

Very smooth nib 
Cons
The build quality is very cheap
This is for all those of you who place as much importance on the aesthetics of your pens as you do on their performance!
The Luxury Jinhao 250 is one of the most popular models of Calligraphy Pens out there in the market. Not only does it look stylish, but its performance is also at par with some of the more expensive and advanced models in the market.
Experience
Writing with the Jinhao 250 felt very effortless and natural thanks to the extremely lightweight body. It's surprising how the company has managed to keep the weight of pen so low, despite the build quality of the body being top-notch!
Out of all the pens we tested out, the Jinhao 250 was undoubtedly the most aesthetically pleasing model we had. It features a Metal Steel Chrome body and weighs only around 35 grams.
When it comes to performance, the Jinhao 250 does a great job with a consistent and smooth ink-flow that feels great on paper. For beginners, this is a great model to start with because of the simplicity and ease of use!
For advanced and large-scale calligraphers, however, these are definitely not ideal!
Pros
The nib is very well-built and has a very effortless glide 

Very lightweight at only 35 grams, ideal for starters 

Looks fantastic  

Consistent and smooth ink-flow 
Cons
Tends to spit-out ink onto the paper 
While being a bit on the more expensive side, the Pilot Metropolitan Fountain Pen makes it to our list thanks to a whole bunch of versatile features that make it one of the best calligraphy pens in the market!
With a sleek black body and an outstanding build quality, this pen has a very premium feel to it along with a host of features to justify its price!
 Experience
The Pilot Metropolitan is one of the most reputed calligraphy pens in the market, and is used by both beginners and advanced calligraphers alike!
Unlike the other models we tested, this pen is slightly on the heavier side thanks to the durable brass barrels featured in these pens. But thanks to the ergonomic design, the heavier weight of the pen does not affect the glide at the least.
This model features a full stainless steel, medium sized nib that has an incredibly smooth glide. It comes with just black ink cartridge which is more than enough to get you started!
The medium sized nib of the pen is optimal if you're into bold and grandiose type of calligraphy projects. The grip of the pen, however, can be a little slippery!
Pros
Premium matte finish and polished accents give a sophisticated look 

Ink-flow is smooth even with minimal physical effort  

Outstanding build quality  
Cons
The grip of the pen tends to get very slippery and can cause problems while writing  

If you're the kind of person that lays a much greater emphasis on performance and don't care much when it comes to build quality and looks, this is the model for you!
Built to deliver superior performance with an ergonomic design and super-lightweight body, the Lamy Joy L15 is undoubtedly one of the best-performing Calligraphy Pens in this price range!
Sale
Experience
The first thing we noticed when we were testing out the Lamy Joy A15 was its unique 'elongated' design thanks to a rather long barrel. While one might brush it off as nothing but a visual gimmick, it's actually a blessing for people with long hands!
The glide is super-smooth, and thanks to the light weight of the body, doing calligraphy with this pen becomes effortless. It's perfect for beginners that are looking to put in hours of practice to perfect their art.
These pens also feature an interchangeable nib along with a modifiable ink cartridge system which is usually not seen in calligraphy pens in this price range!
However, when it comes to the build quality, this model fares poorly. The material feels very cheap and prone to damage.
Pros
Long barrel is excellent for people with large hands 

Super-smooth glide with no bleeding or leaks 

Very lightweight & sturdy grip
Cons
Barrel of the pen tends to get dirty very easily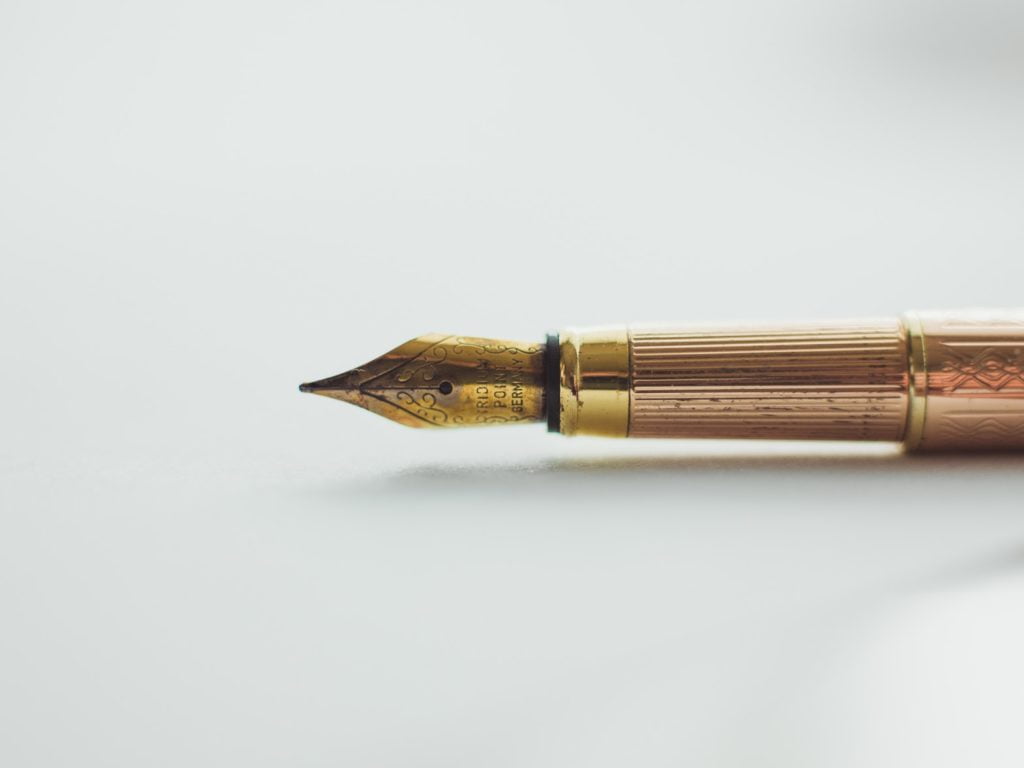 Image via Art Lasovsky@artlasovsky
Buyer's Guide for Calligraphy Pens for Beginners
If you're just getting started with calligraphy, then choosing the right type of pen is of vital importance. With thousands of models out there in the market, choosing the right one can be tricky!
Beginners have a different set of requirements when it comes to pens as compared to more adept Calligraphers. There are different types of nibs, pen designs and handles – all of which affect your art in different ways.
Comfort is also a huge factor that must be kept in consideration when buying calligraphy pens, especially for beginners.
So in order to help you choose the ideal Calligraphy pen, we've discussed in detail three factors that you must into consideration when choosing a Calligraphy Pen –
The Type of Nib –

The Nib of a calligraphy pen is the tip of the pen from where the ink is released on to the paper. The shape and size of the nib can affect your art in a lot of different ways, and thus it is essential to choose a pen with a nib that is ideal for your particular style!




There are a plethora of options when it comes to nibs. They come in dozens of different shapes and sizes – all aimed at creating different styles/fonts.  
In order to choose the right type of nib, you must first decide on your own style of calligraphy, and how you want your art to look like. If you're looking for something dramatic, Italic nibs are a great choice. If you, however, wish to keep your style more traditional – go for flex nibs!
Pen Style –

Traditionally, Calligraphy has been done using pens that did not have pre-inserted ink cartridges in them. It was done using pens that were dipped in a vial of ink before being used on paper.
However, modern-day calligraphy pens come with pre-inserted ink cartridges which makes things much easier. Although a lot of professionals still prefer using the traditional style, as a beginner, it is advisable to stick with pre-inserted cartridge pens as that will save you a lot of hassle!
There are also different types of designs when it comes to the body of the pens. Depending on the size of your hands, choose between elongated or regular shaped pens as that can go a long way in improving your art!
A Comfortable Handle –

Another extremely crucial feature that you should always look for in a calligraphy pen is a comfortable handle!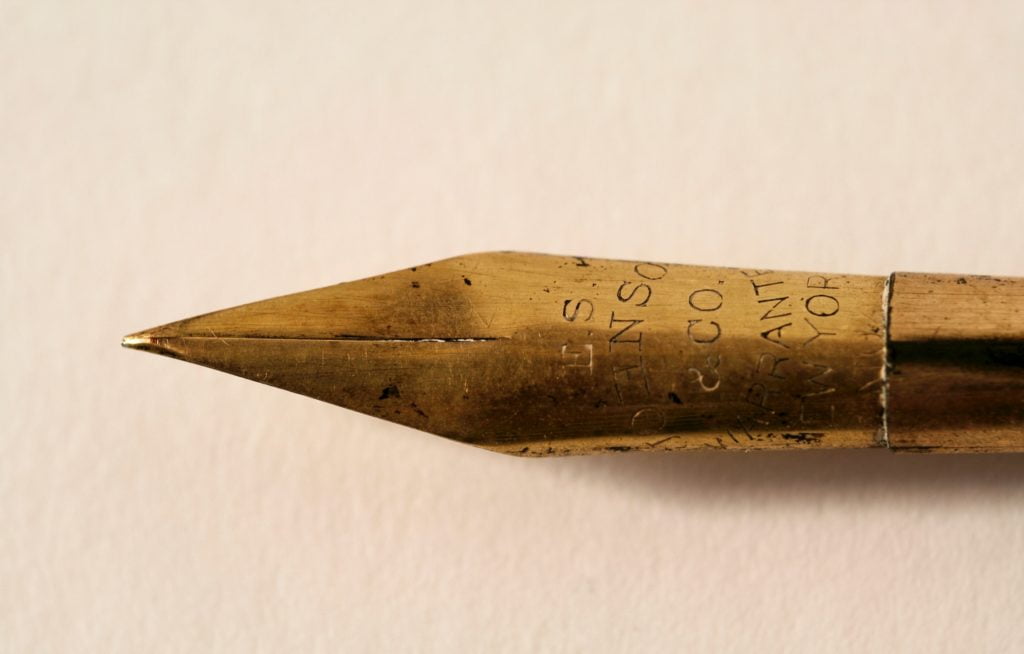 As a beginner, you'd probably be spending a lot of hours practicing your art. An uncomfortable grip is not only going to cause pain in your fingers but will also negatively impact your artwork.
Choosing a lightweight pen, as opposed to a heavy one, is also advisable for beginners.
Conclusion
Calligraphy is an art that requires a lot of patience and practice, and the right equipment can make a world of difference when it comes to perfecting this art!

We hope this guide has been helpful in choosing the right calligraphy pen for your needs!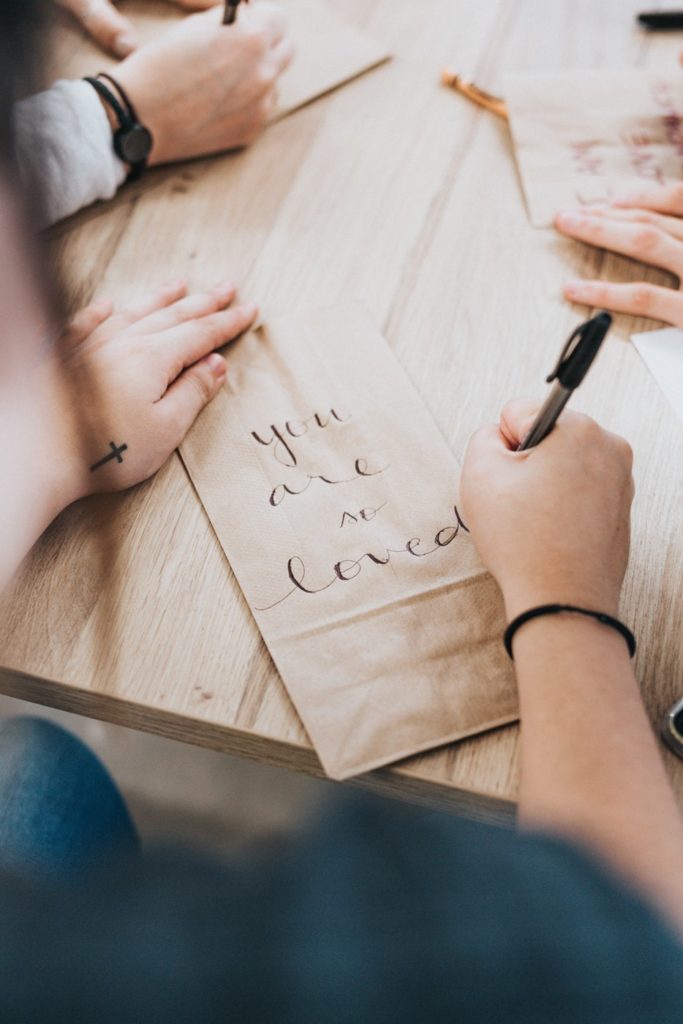 Image via Tyler Nix@jtylernix