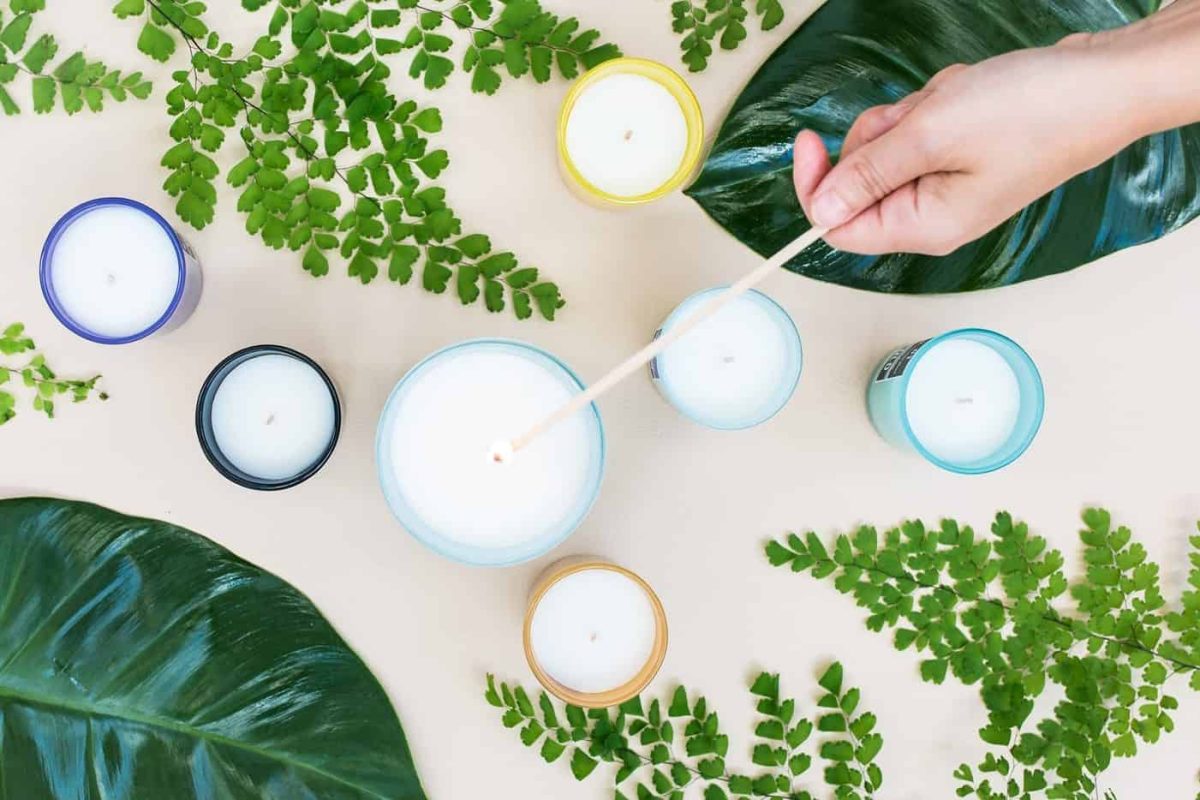 Whoever said candles make the perfect gifts were not wrong. 
Every time we see candle sets perched under the Christmas tree, it always manages to bring a smile to our faces. The aroma, the dancing lights, and the ambiance they bring to a room — who wouldn't love receiving these as gifts? 
But before you buy a candle gift set, you have to think about a few factors. For instance, choosing the right fragrance can surely be confusing. 
So, we decided to check out all the top sets that customers are loving today and list them out for you. You will find different sets with varied numbers and sizes of candles so that there is plenty to pick from. 
Without further ado, let's get started! 
Top 23 Candle Gift Sets And Baskets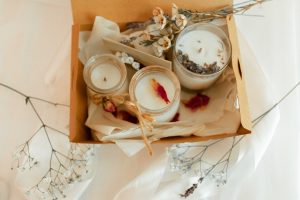 If you wish to gift the woman in your life something that will light up her room and heart, then the LGJDF Scented Candles Gifts Set is an excellent choice. These candles can fill the onlookers' hearts with warmth and help the soul heal. And they are eco-friendly too — indeed, the candles will not cause any pollution as they are made of cotton wicks and soy wax. 
With each set, you will be getting a set of four candles, and they are of different types. One can enjoy the scent of lemon, spring, lavender, and Mediterranean fig when the person lights them up. To top it all off, each jar is beautifully created with painted designs on all sides. 
Also, they are long-lasting, and each jar weighs 4.4 oz.; one candle can last for about 30 hours at a stretch. Not to mention, the candles contain seven percent of essential oil in each tin. This is more than the average amount, making them truly great choices. 
If you are looking for candle sets in travel tins that offer a calming aroma, the YINUO LIGHT Scented Candles Set is one that every woman will appreciate. The scents are the same as the ones offered above and include lemon, lavender, Mediterranean fig, and fresh spring. 
However, keep in mind that the scent is quite strong as it contains eight percent of fragrance. The remaining 92% is made of pure and unadulterated soy wax. Moreover, the wick is made from lead-free cotton, so light it up without any and enjoy the benefits of meditation and aromatherapy. 
Adding on, every tin weighs 4.4 oz. and can last for around 25 to 30 hours. That would mean an entire set can last for 120 hours, ensuring maximum relaxation. 
Up next, we have the XVDZS Scented Candles Gift Set, which includes fruity, fresh, and floral scents. This will make for a great gift for your mother's or wife's birthday. These are perfect for meditation sessions, and the aroma can put you in a state of calm. 
Anyhow, the pleasant smell will enhance the mood of any candle lover. 
The set of four candles comes in beautiful travel tins, which are packed in a gorgeous gift box. Every candle weighs 4.4 oz. and will last for 25 to 30 hours. And the cotton wick is absolutely safe to use; rest assured, it will provide a clean flame and will burn safely. 
Unsurprisingly, the tins are made of thick and solid materials. Hence, once the candle is over, you can reuse the tin to keep small items like earrings and pins. They can also be filled with candle wax and reused again. 
If you are looking for a set of mini candles to gift your loved one, the WuNa Constellations Scented Candles will fit the bill. This is a set of 12 mini candles with a strong fragrance. The fragrances include vanilla, bergamot, peppermint, lemon, lavender, rose, Mediterranean fig, and strawberry, to name a few. Not to mention how the mini candle design works out for all those who love to experiment with scents. 
These fragrances will not only help in relieving anxiety but are excellent for creating a warm and positive atmosphere. Here, the all-natural candles are made of soy wax and do not contain any artificial coloring or dyes. Gift them to your best friend and let them enjoy a smoke-free and relaxing experience. 
On a side note, each candle weighs 2.5 oz. and has a burning time of 15 to 20 hours. That would mean an entire box of candles can last for 240 hours at a stretch. 
The ASOEOSA Scented Aromatherapy Candles would make for a great gift for your wife's birthday. It is a gift set of six beautiful candles, which will provide a consistent perfume. Indeed, the aroma lingers on for a long time as the candle is designed to release a pleasant fragrance for about 120 hours. 
Moving on, the unique blend of fragrances can be used to celebrate a special day. You can enjoy the sweet smell of Mediterranean fig, Rose Garnet Berry, Amber sandalwood, cedar teakwood, sweet grapefruit, and fresh rose. Infused with 7% of fragrance ,a single candle may be enough to enhance the atmosphere. 
And don't worry about toxic fumes — the braided cotton wick has a paper core and is free of zinc and lead. Every jar has a paper label and a strong metal top, which can be put back in place if you are traveling with the candles. 
If the woman in your life likes a relaxing and soft aroma and is enthusiastic about aesthetics, the LA JOLIE MUSE Jasmine & Ylang Ylang Scented Candle set will be perfect. Most notably, the fragrance in each candle has been scientifically proven to help relieve stress; now, you can give your loved ones aromatherapy right in their own home. 
Moreover, each candle weighs ten oz. and can burn for 60 to 80 hours. So, get set for long and lazy weekends of relaxation. 
Made with natural soy wax, the candles offer a lead-free and safe experience. The wicks are made of eco-friendly, biodegradable products and perfume-grade fragrance oil. That is not all; if you are not fully satisfied with the product, then you can ask customer care for a full refund. 
Know someone who wants to walk into a house filled with the sweet smell of French vanilla or lavender? Then, the CREASHINE Scented Candles Gift Set is an incredible choice. It offers a set of four fragrance candles, which include vanilla, lavender, gardenia, and jasmine — all of which provide a sensory treat to those who are into floral essences. 
These candles are available in adorable and well-decorated tins that double as beautiful storage spaces once the candle finishes. Every tin is a different color shade, making them unique pieces to keep on the table. 
What's more, every item measures 2.95 inches x 2.95 inches and can be used for 20 to 25 hours at a stretch. 
Like all the other top options, this one is made of soy wax and is safe for use. You can enjoy the sweet fragrance while relaxing in a healthy atmosphere. 
Do you want to enjoy the goodness of hand-poured fragrance in beautiful gift boxes? The LE CADEAU Scented Candles Gifts is an incredible gift for yourself and your favorite person. This premium fragrance contains a mix of Blue Campanula and French vanilla, which can enhance the mood and restore a peaceful atmosphere. The scent is sweet and inviting, while the bottles look beautiful. 
In each set, you will get a candle along with a diffuser set. There are five reed sticks that can be used for two months continuously, ensuring that the entire home smells wonderful for a long time. 
Here's a large candle that you can gift your neighbor, teacher, friend, or anyone else. After all, the T&H French Lavender Vanilla Scented Candles can suit any tabletop and home décor. 
It has three large wicks, which will invigorate one's senses, giving them an ambiance filled with the smell of lavender and vanilla. And once the candle has been burning for a few hours, be prepared to take in the essence of musk and vetiver. 
Weighing 15.8 oz., this large candle burns slowly, allowing everyone to spend hours enjoying the effects of aromatherapy while they relax in a stress-free atmosphere. You can also use the beautifully handcrafted glass bottle as a decorative piece even when the candle dies out. Some may even take advantage of the sizable container and grow tiny plants in the bottle. 
Up next is a vintage gift box with six small candle tins in it. The YFYTRE Scented Aromatherapy Candle Gift Set is going to be a brilliant gifting option for people who are fond of rustic aesthetics and anything vintage. 
The candles are made of premium soy wax and contain eight percent of premium oils. Since the oil content is more, you will get a stronger smell, which is even better. This beautiful set contains scents of teakwood, fig, sweet grapefruit, fresh rose, garnet berry, and Mimurhyl. 
Adding to that, each bottle weighs 3.5 oz. and can last for 20 to 25 hours. So, in total, it can provide you with 120 to 150 hours of a spa-like retreat at home with its amazing smells. The tin candles are known to burn 20% slower than other candles, making them a great choice for a day of pampering. 
Up next, we have a large set of candles in beautiful and bright-colored tins. The HDKIC Aromatherapy Candle set can rejuvenate anybody's mood, especially after a lover's quarrel. The scents of lavender, lemon, vanilla almond, sage, rose, mint, and coffee are very tantalizing, suiting different occasions. 
Moreover, every candle is long-lasting and will burn slowly; each one can burn for 25 to 30 hours, allowing you to enjoy the essence throughout the day. 
On top of it, each candle is made with soy wax and cotton wicks. The tin is also made with safe materials and can be used for storage once the candles burn. They make for perfect gifts for mother's day, anniversaries, holidays, or any special events. 
If your loved one likes the color black, then this set of candles will be an incredible choice. The Fancan Home Scented Candles come in jet black shiny tins, which adds to the classy feel. And when one lights them, they can enjoy the smell of vanilla, rose, mint, jasmine, lemon, gardenia, rosemary, and lavender. 
Like most of the top candles, this set is made of pure and organic soy wax. The wick is made with lead-free cotton making it absolutely safe for babies, pregnant women, and family. 
Further, every jar has two oz. soy wax, which can burn for 15 hours. Hence, in total, all the candles can burn for 120 hours. You will love the portable size made suitable for travel. Take one on your next business trip and relax in your hotel room with it. 
The candles are not toxic and are environment friendly making them perfect gifting options. 
For lovers of pastels, the NVGCX Scented Candles Gifts for Women is going to be a beautiful addition to their rooms. You will find a box of candles with eight different designs and fragrances. Each of the tins is painted in a different pastel shade depending upon the essence. 
Moreover, the scents in the pack include essences of lychee, guava, citrus, caramel, lemon verbena, lavender, champagne, watermelon, rose, and vanilla cream. They will make for great gifts, and you can give them to your mother, sister, girlfriend, wife, grandmother, or even daughter on their special day. 
The set of eight candles is small and is available in 2.5 oz. jars. They will last for 135 to 180 hours, giving you days of lovely smell in your room. We were happy to know that these candles are made of 100% soy wax and lead-free cotton. It can be safely used for stress relief, yoga, and getting relief from anxiety and stress. 
Here is a handpicked collection of scents that have been specially curated to inspire and help you relax. The JANOS FERNANDO Scented Candle Gift Set contains three bottles with three different messages. One reads "Be Brave," and it smells like Madagascan vanilla. 
The other one reads "Be Happy" and smells like fields of lavender inside the house. And The last one reads "Be Strong," and has an essence of crisp peppermint and rustic eucalyptus; all of them are inspiring messages for your loved ones. 
You would love to know that all the bottles are in matte black shades with golden highlights. These black and gold shades give the bottles a very luxurious feel to them. One can even keep these jars as decorative pieces once the candle wax is over. 
Also, the gift set comes with an envelope and a greeting card for you to fill. You can add in your personal message before gifting it. 
BODY & EARTH # LOVE Candles Gifts set is going to enhance all your senses, letting you feel calm and relaxed. The brand uses natural essential oils of raspberry, ocean, vanilla, and lavender to help one rejuvenate after a long and tiring day. 
Moving on, the candles are non-toxic to the environment and can be used around babies, pregnant women, and family. The ingredients are plant-based and contain nothing artificial. 
On top of it, each candle weighs 3.5 oz. and can last for 20 to 25 hours. That would mean you can keep a candle burning for the entire day. 
If you are searching for chic and all-natural vegan candles, then the ESNA HOME Luxury Scented Aromatherapy Candles set would be an amazing bet. They are made of 100% natural soy wax, and they specialize in optimum scent distribution. You can enjoy the enchanting and relaxing atmosphere for days with this pack. 
We were happy to know that the product was cruelty-free and phthalate-free. Hence, they can be used in spas and relaxation centers. 
Plus, there are four mini jars in the pack, which are of different shades. They have a beautiful golden lid on top with a ring to open. And the scents include teakwood and cognac, champagne and whipped cream, fresh-cut roses and berries, along with white tea. 
The Mqinghos Scented Candles Gift Set is for those who would like a box of various scents put together. There are 12 popular options in the box, and each can give you around 15 to 20 hours of aroma. The scents are tropical fruits, Christmas tree, freesia, citronella figs, peppermint, rose, vanilla, strawberry, orange, lemon, and lavender. 
Each of them comes in beautifully painted tins that have lids, making them safe for travel. The candles can together burn for 240 hours in total, making them great fits for houses. You can also take one or two on your vacations to make the hotel room smell just the way you like. 
How would you like to walk into a room filled with a warm scent of orchid, lilac, rose, lavender, vanilla, and jasmine? The YIHANG Scented Candle Gift Set has four candles with six natural fragrances infused in each. They weigh 2.2 oz. and each could have lasted for 15 to 20 hours. 
Moreover, they are clean, and healthy with no toxic elements. The candles are made with soy wax and paraffin wax. Many consumers have found the smell sensual, making them perfect for your romantic getaways. 
The Grasses Scented Candles Gift is another cruelty-free product and comes in reusable tin containers. These are a set of four enchanting scented candles that contain the essences of jasmine, lavender rose, and vanilla. The aroma and the glow of the light can make a space look beautiful and cozy. 
Plus, the jars look beautiful. You can turn them into a mini jewelry box, or you can use them to keep plants. 
One of the top scented candle gift sets that we came across is the BVHDIA Scented Candles Set. This comes with four fragrances, namely, spring, lemon, lavender, and Mediterranean fig. 
The lavender fragrance is sensual, while the amber woody scented lemons aroma is warm and perfect for the living room. Mediterranean fig is described as the naughty girl who dances in the sun, and the spring aroma will remind you of the first sight of spring. These will last for about 100 hours, giving you an aromatic home for a long time. 
Moreover, they come in travel-friendly tins, which can be carried around. The tin looks beautiful and can be used to keep small items once the wax finishes. 
If you are looking for candles for versatile use, then the WuNa Scented Candles Gift baskets can make for a great choice. They are made of 100% soy wax along with cotton wicks on top. They are very clean and safe for use by people of all ages. 
Moreover, the lightweight tins are easy to carry, and you can easily keep them in your luggage. The lid is tight, and it can be taken to work or leisure trips. 
Adding to it, the scents can help the body and mind relax, relieving you of stress and anxiety. Each scented candle is unique in itself and can provide the right mood for your dinner parties or yoga sessions. 
The NuCandle Scented Candles Gift Set has six of the most popular aromas, which can help in getting deep sleep, keeping the air fresh, and relaxing the body. The aromas include lavender, jasmine, rose, vanilla, fig, and lemon. Each of the scents is strong, and you will be able to enjoy it from anywhere in the room. 
All the candles are made of soy wax and have 100% cotton wicks attached to them. The candles have no smoke making them suitable for every occasion. 
One of our final suggestions is the Hidden Label Scented Candles Gift Set. It comes with premium quality ingredients and is made of 100% cotton lead-free wicks. We found this to be an eco-friendly option, and it is safe to be used around kids and pets. 
That is not all; the scents are beautiful and consist of a blend of fragrances. These include peony rose, island spa, fresh dais, and pear ginger. If you want to make your room feel like one of those Hawaiian beaches, then this can make that happen. 
Further, the aroma can improve the quality of your sleep while allowing you to relax. You can feel the power of aromatherapy as you settle in with a book or a favorite movie. 
Best Candle Gift Sets And Baskets Frequently Asked Questions
While you know about the best candle gift baskets and gift sets by now, you might still be confused about which one to choose. Here are some of the frequently asked questions that can help you make a decision. Read on to know all about them. 
What are fragrances made of?
Fragrances are generally made from plant and flower extracts. They are then mixed with carrier oils to form essential oils, which are then mixed with wax. The purer the essence and the wax are, the less the amount of smoke emitted. 
But please know that some brands may use artificial ingredients to create the fragrance and be careful of them. Hence, please check if they are eco-friendly before purchasing, as you would not want artificial or toxic elements in your room. 
How long does the fragrance stay?
The time period will depend upon the set of candles that you are purchasing. Some sets can last for 120 hours, while others can burn up to 240 hours or more. Take into consideration the number of candles in the box and then look at the size of each. That should give you a good estimate of the time. 
What type of wax Is used for making scented candles?
Mostly, scented candles are made of soy wax and paraffin wax. Most brands that make hand poured candles will use soy wax. They can be vegan-friendly and safe for rooms with pets, kids, and the elderly. 
Can scented candles be used as decorative accessories?
Yes, we found that scented candles can be used as decorative pieces. The gift baskets and gift sets that we discussed in the above sections have beautiful cans, which can be reused. You can later pour more wax in them or use them to keep trinkets and jewelry.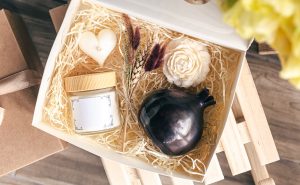 Top Candle Gift Sets And Baskets Conclusion
While you might have found a lot of similar fun fragrances, each has a distinct and unique fragrance created by the brand. The lavender scent of a certain brand will not exactly match the lavender of another brand. 
Hence, you can keep trying out different boxes if you are a connoisseur of scented candles. There are Christmas candle options, votive candles, and candle holders as well which can be bought along with the candles. Also, there are brilliant candle displays to check out and DIY candle holder ideas to indulge in. 
Personally, we loved the LGJDF Scented Candles Gifts Set for Women as it came with some of the most popular fragrances. And the XVDZS Scented Candles Gifts Set comes with fruity and floral fragrances making it our other favorite. 
We will now give you space to go through the options again and choose your favorite one. Hope you have a fragrant experience! 
Related Articles
14 Awe-Inspiring Ceramic Christmas Decorations
16 Best Christmas Glass Ornaments
19 Christmas Tree Paper Decorations for Delicate Look
12 Best Christmas Glass Tree Toppers
14 Best Star Christmas Decorations
Learn How to Store Icicle Lights After Christmas
Start The DIY Christmas Gifts Process Early
76 Best Lego Gifts & Best Lego Sets for Lego Lovers
14 of the Best Gifts for Sculptors
29 Best Gifts for Interior Designers and Creatives
45 of the Best Gifts for Architects
14 Cozy Christmas Burlap Decorations for Your Home
27 Best Metallic Christmas Tree Decorations
17 Burlap Ribbon & Wreath Options