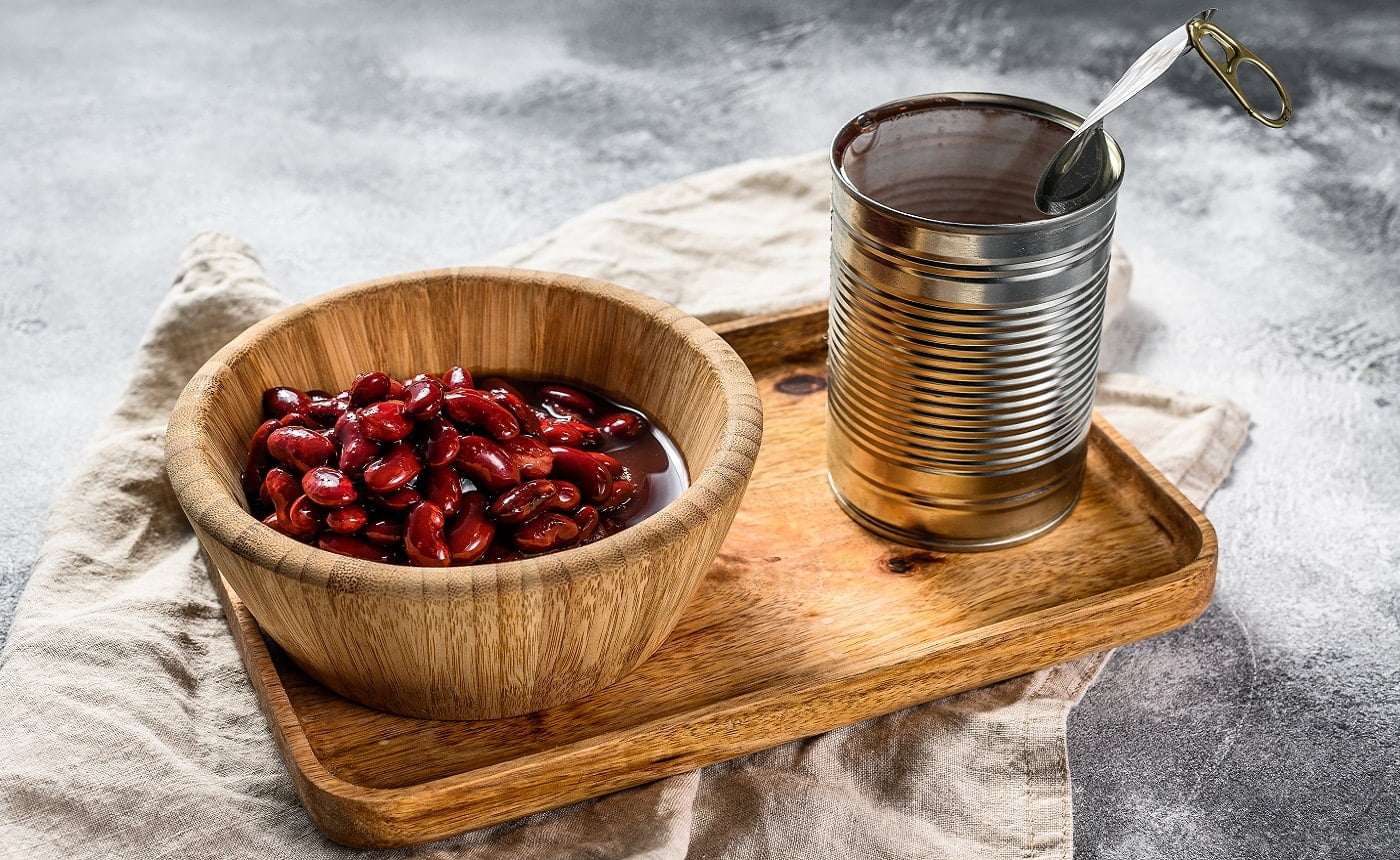 If you host a number of barbeque dinners outside, baked beans will definitely be a crowd pleaser. 
It is one of those dishes that have multiple benefits and can be consumed without cooking. Travelers and hikers love it as it provides instant energy and can be eaten directly out of the pack. People who have crazy work schedules also tend to depend on it as a quick snack or for breakfast along with bread. 
This delicious product even adds to barbeque and grilled chicken dinners outdoors. While you spend all your time cooking the meat, this serves as an easy addition to it. 
Now there are multiple varieties of baked beans, so you might find it challenging to choose one. That's why we have curated a list of the top 13 canned baked beans along with a buyer's guide to help you out. This should assist you in making a decision and choosing the can that you need. 
So, dive in! 
Top Canned Baked Beans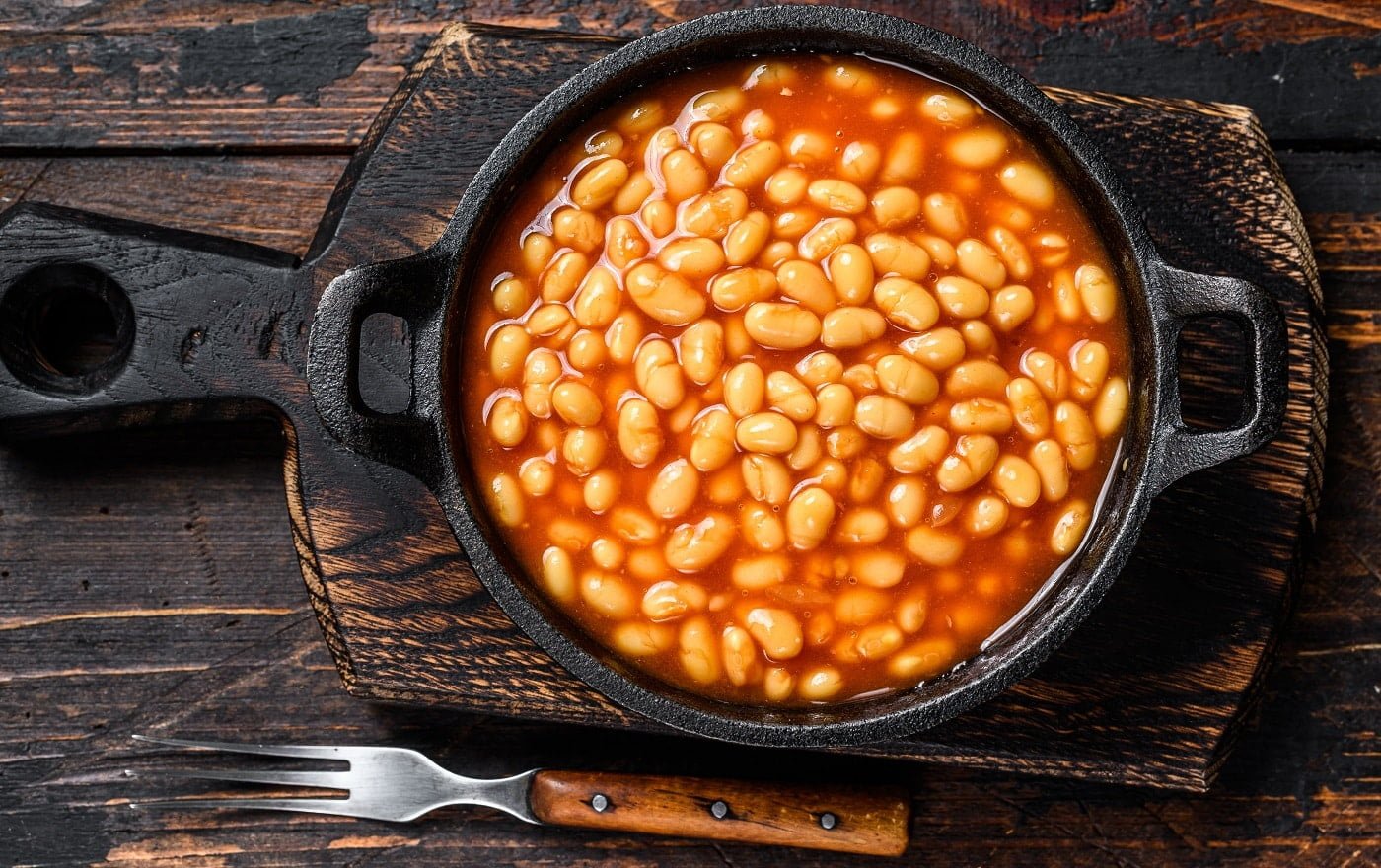 If you want some slow-cooked goodness with the flavors of meat infused in it, Bush's Best Original Baked Beans is going to be a great choice. It can become a part of your staple breakfast and serve you well throughout. Pair it with some bread, and you have a whole meal to look forward to.
Why Did We Like It?
First, let's talk about the ingredients in this mix, and that includes specially cured beans which are then cooked slowly along with cured bacon and a blend of the top spices. This can also comes with fine brown sugar that adds sweetness to the mix. You will feel the multiple flavors with every bite, making the beans tasty. 
Secondly, this is not bad for your health as it is gluten-free and does not have cholesterol. The can contains 6 grams of pure protein and 4 grams of fiber, both of which the body requires to function. This will help meet your protein needs every morning or evening, whenever you have it. 
Last but not least, the brand is conscious about the environment and hence packs these beans in recyclable steel cans. Once you have them, send it over for recycling, and you will be making an environment-friendly choice. 
What Could've Been Better?
The only problem we had with this product is that there were dents on the body. Although there was no leakage, the cans were crushed, so we expect better packaging. And we hope the brand looks into this as the product they are offering is already very good. 
Pros
Flavors of bacon included

Gluten and cholesterol-free

Contains 4 grams of fiber

Comes in recyclable steel cans
Cons
Can have dents on the body
One of our top recommendations is the B&M Baked Beans, Original Flavor, which is known to be an excellent source of fiber and protein. B&M strives to deliver the authentic taste of baked beans, and you are going to find every spoonful yummy. 
Why Did We Like It?
The company is very serious about their food, and they cook these beans for hours in a brick oven, ensuring a deep and rich texture. A sauce is then added to heighten the flavors of the thick and creamy mix. Pork, molasses, and spices are part of this, and you will get a subtle hint of pork throughout.
Moving on, no white sugar is used, and that brings down the fat content. This is known to be 99% fat-free, and hence you can add it to your diet. It also contains 7 grams of protein and will take care of your protein requirements. 
Coming to the preparation process, this one is made according to the traditional New England style. You can almost taste the flavors of the countryside with every bite. 
What Could've Been Better?
Now, we loved the taste, but if you are a person who does not like sweetness in their food, this one might not suit you well. It is pretty sweet and will leave a sweet aftertaste too. Our friends did not like the beans because of this, but again, we would buy the can for ourselves. Now that you know this, it should not be a problem. 
Pros
Adds fiber to your meal

Thick and rich texture

Fat content is low

Traditional flavor
If you want the perfect vegetarian dish packed in a can, then the Heinz Baked With Tomato Sauce will work incredibly well. This will remind you of your childhood days when baked beans would be made at home by the grandmother. 
No products found.
Why Did We Like It?
Also, this is very easy to cook and will only take 2.5 minutes to get done. That will ensure you get a quick snack at any time that you are hungry. Just put it in a microwave and heat it up. If you are pouring in a pan, just warm it a little, and that should make it ready to consume. 
Moving on, this one comes packed with nutrients, too, and you will get enough fiber and proteins from it. In case you do not eat meat, this will help you meet the protein requirements for the day. 
We also found that this goes well with a number of dishes like our cream cheese and baked potatoes. You can add bacon and pork too if you are into consuming meat. This will go well as a side dish. 
What Could've Been Better?
The only problem with this product is that the gravy is very runny. It will feel like beans in a runny tomato sauce. Now you can thicken the sauce in a pan, or you could just use it as a side dish. That way, there should not be any problems at all. 
Pros
Perfect for vegetarians

Works well as a side dish

Easy to heat up

Serves 2 from 1 pack
Up next is one of the perfect options for non-vegetarians. The Campbell's Canned Beans, Pork, and Beans contains a sweet and savory mix which comes in a set of 12 cans. You can add this to breakfast or dinner and have your diet in place. 
Sale
Why Did We Like It?
This is a natural product that comes with no synthetic colors. We have been feeding this to our kids, and hence this was an important consideration. Also, there are no artificial flavors, or preservatives added. Yes, you have to consume it faster within a few days, but we would recommend a preservative-free option over everything else. 
Now since there are no artificial flavors added, it takes its entire flavor from pork, and you will find a perfect mix of pork and bean flavor. This mix has been slow cooked over hours, and the rich and thick gravy will be a lovely addition to your meals. 
Also, we have been using this with our barbeque dinners, and it has been a hit. This perfectly compliments barbeque meat and will make up for the much needed juicy side dish. Try it out with pork, bacon, chicken, and beef, and it should go well. 
What Could've Been Better?
Again, this product is not packed very well, and most of the cans had dents with the juice leaking out. This became a problem as we had to get all of them replaced. We wish that the company would take this into consideration and make the packaging better. 
Pros
Synthetic colors are not included

No artificial flavors and preservatives added

Ready to eat

Can be a side dish for barbeque dishes
This is another great option for all food lovers out there. The Bush's Best Country Style Baked Beans contains the perfect mix of ingredients and will ensure you have a whole meal at any point of the day. If you are planning to camp, this is a snack to pack as it will satiate your hunger well. 
Why Did We Like It?
The ingredients have been clearly listed down for this product, and it contains a small amount of cured bacon for the flavors. This is a mix of navy beans baked with brown sugar, mustard, pork stock, pork flavor, spices, onion, garlic, and caramel powder, along with water and vinegar. A thick and creamy gravy is formed that will become a very tasty dish. 
Now coming to the nutrients, this has 12% protein content and 7 grams of fiber. We were happy to add this to our diet, especially on days we would not take other forms of protein. It is also known to be very low fat with 97% less fat and has no cholesterols. So, people with diet restrictions will be able to consume this. 
Adding on, the hickory-smoked country bacon adds a brilliant taste to the mix, and you will love every spoonful of it. 
What Could've Been Better?
We were expecting a bigger can, but this is a small one which is good for snack time. But you will need 2 packs to fill the stomach well in case you are replacing a meal with this. This could make it slightly more expensive, but otherwise, there should be no problems. 
Pros
Low fat and does not contain gluten

Contains hickory-smoked country bacon

Cholesterol-free

Brown sugar added for sweetness
Now that we are almost reaching the middle of this list, it is time to introduce the VAN CAMP'S Original Baked Beans. This is known to be a great side dish, and you can add it to your meals. We were very happy to have this for our outdoor parties, and it compliments smoked meat well.
Why Did We Like It?
This pack of 12 cans can make for a large pot of baked beans for your next smoked meat dinner outside. So, we often host backyard and poolside parties, and this has become a staple part of these get-togethers. Pair it up with grilled, smoked, or barbequed meat and mashed potatoes, and you are good to go. 
Secondly, this contains nutrients like fiber and protein, which will add to your diet. Pair it up with some green veggies if you are maintaining your diet, and that will make for a good lunch or dinner. 
Also, you will be happy to know that there was no trans fat in the pack. It is free from artificial flavors and preservatives, and you will only get absolutely natural baked beans. We will suggest one serving of half a cup if you want the exact amount of nutrients needed. 
What Could've Been Better?
The beans tasted mild when compared to most of its peers. We would recommend that you add some more flavoring to it. It could be a mix of spices, or you could serve it with a side of meat. That should take care of the issue. 
Pros
Contains no trans fat

No artificial flavors or preservatives are added

Perfect addition to barbecues and poolside dinners

12 cans included in 1 pack
Do you want an option to take with you on hikes and fishing trips? The Walnut Acres Organic Baked Beans is a ready-to-eat pack that will provide you with good food at any time. Imagine sitting with a can of delicious beans after a hot day of fishing under the sun. Yes this one will fit well! 
Why Did We Like It?
First of all, this is a vegetarian product and contains no meat extract. So, this will suit everybody, and meat lovers can just add some bacon or pork to the mix if you wish. It is made of molasses, tomato sauce, white beans, onion and mustard powder, brown rice flour, vinegar, and sea salt. All the ingredients are in proportion and make for a great-tasting option. 
And the best part is that Walnut Acres has taken care of the quality of beans too. They ensure that the beans that are used are grown without adding any pesticides to them. That makes it rich in protein and fiber with no artificial or harmful ingredients. There is also no fat, and it is cholesterol-free. 
Lastly, we have to mention that the dish is a great source of iron and will do good for your body. 
What Could've Been Better?
We feel that since this does not have meat stock, bacon, or pork in it, it might not be preferred by non-vegetarians. The flavor is mostly of the tomato sauce, and it might feel bland to some. Now, this is a personal opinion, and hence we will not hold this as a drawback. 
Pros
Vegetarian product

No fat and cholesterols in the pack

Beans grown without pesticides

Very good source of iron
Cons
Nonvegetarians find it to be bland
As the name suggests, this is another choice for vegetarians out there. The Heinz Vegetarian Beans in Rich Tomato Sauce is a great breakfast addition, or you could even pack it for your kid's snack in school. It is filled with the right nutrients and will provide children with enough energy throughout the day. 
Why Did We Like It?
Heinz has been known for the taste and quality that it provides, and this one meets up to the expectations. It is made of prepared beans, brown sugar, tomato paste, spices, garlic powder, onion powder, turmeric, and paprika, to name a few main ones. There is no added white sugar, and hence the item is pretty healthy. 
Moreover, like its peers, this one also contains a good amount of fiber and protein. There are 6 grams of protein and 20% dietary fiber. There is vitamin A, calcium, and iron in the beans too. It is a rich source of iron that is needed by the body to develop better. 
Lastly, it contains less fat and no cholesterols at all. That makes this a perfect meal for even those with dietary restrictions. 
What Could've Been Better?
So, we felt that this one has a strong taste of tomato along with the beans. Now, this might be loved by some who prefer tomato sauce and the flavor of it, but we would have preferred other flavors in it too. The spices could be stronger to give it an edge over others, but again, this is not really a drawback. 
Pros
Cholesterol-free

Rich in iron

No meat is added

Works perfectly as a snack option
Cons
Overpowering tomato flavor
Up next is a perfect addition to Southwestern cuisine! The Ranch Style Pinto Beans is a delicious mix of black beans that comes with a bold and refreshing flavor. You will love to add this to your outdoor parties and as a side dish to meat dishes. 
Why Did We Like It?
First of all, this is a great addition to dips, soups, and tacos, and you will just have to heat the beans up for this. Do it on a stove or microwave, and you should have the beans ready to add in with your favorite meal. This is known to be inspired by the Mexican way of cooking and will go very well with bread and other carbs. 
Next, it is very easy to cook, and you will just need a minute or 2 to warm this up. It does not require any additional products. To explain further, it is made of pinto beans, tomato puree, beef fat, onion powder, garlic powder, spices, oleoresin paprika, and hydrogenated soybean oil, to name a few ingredients. 
Also, there are no added artificial flavors in this meal. The only flavors are derived from the natural ingredients that are added. 
What Could've Been Better?
The content in this can was extremely flavorful, and we enjoyed the meal very much. But some of the cans were damaged due to inappropriate packaging and shipping. Now, since these cannot be returned, we lost some money. We really wish that the brand works on their packaging when sending bulk orders. 
Pros
Has a Southwestern flavor

Easy to heat up

No artificial flavors

Perfect addition to dips and soups
Imagine a breakfast of hot beans on your toast! The Van Camp's Pork and Beans (in tomato sauce) will give you exactly that. It is very satisfying to eat, and you will get strong flavors of pork. Read on to know about its other bells and whistles. 
Why Did We Like It?
This one is a mix of tomato puree, sugar, white beans, high fructose corn syrup, pork extracts, onion powder, spices, and some natural and artificial flavors. The pork extracts provide you with a lot of flavors, and you will get a delicious taste. 
Also, this is 98% fat-free, and that will help you make it part of the diet easily. The item is also cholesterol-free and will work out for those with specific dietary requirements. 
Moreover, this can be added to different meal preparations, and you will be able to work on different recipes. There are numerous beef and pork recipes with beans that work well for parties. You can make it part of poolside parties as a side dish too. 
What Could've Been Better?
So, we had ordered a pack of these beans, and initially, we only received 2 cans instead of 6. Then on reading customer reviews, we found that others have faced a similar problem too. Hence, we believe that the company should look into this issue and solve it. 
Pros
High on fiber

Cholesterol-free

Can be taken on camping and hiking trips

Works with a number of recipes
If you are very concerned about health, then Amy's Organic Vegetarian Baked Beans is going to be a great addition to your diet. It is made with a hearty tomato sauce and tastes lovely with multigrain toast. And what's more, since the recipe is vegetarian, anybody can consume it easily. 
Why Did We Like It?
This is an excellent option for those following a vegan diet. This is a perfect mix of white beans, tomato puree, cane sugar, sea salt, filtered water, safflower oil, sunflower oil, apple cider vinegar, and a mix of spices. And the best part is that all of the ingredients are organic. We were able to give it to our kids without any worries, thanks to this. 
Secondly, there is no hydrogenated fat in the mix, and it is also devoid of high fructose corn syrup. This will make sure that you do not feel bloated after a meal, and it will keep your energy level intact. 
Next, it does not contain complex carbs, and there is no bleached or bromated flour in the meal. You can just enjoy the rich taste of tomato sauce with slow-cooked beans in it. 
What Could've Been Better?
The beans, as compared to their peers, are slightly harder. This means you will have to chew them well, and it may not be suitable for very young kids. They might end up swallowing the beans, and there is a risk of these getting stuck in the throat. 
Pros
Bleached or bromated flour is not added

No hydrogenated fat in the mix

Healthy addition to meals

Free of synthetic nitrites and nitrates
Now that we are nearing the end of this list, let's tell you about the Eden Organic Baked Beans with Sorghum. It is another organic option made with beans that are soaked overnight for the perfect texture. This is a great meal replacement for those who are looking to control their diet. 
Why Did We Like It?
First of all, we should tell you that this is a meal with low salt and sugar. Since both of these ingredients are less, and you will not find the sauce to be as sweet as some of the other options. Organic sorghum molasses are used to sweeten the product slightly, and there is no added white sugar. But if you want to add more sweetness, putting some tomato sauce will help. 
Also, this is a great source of protein and fiber without excess salt. You can make a meal out of the canned beans by adding diced onions and tomatoes. This will go very well with any type of carbs that you eat on a normal day. 
Lastly, the can is known to be completely fat-free and will not lead to weight gain. So, if you are controlling your calories, this is an excellent choice.
What Could've Been Better?
Since the mix is a bland version of the meat infused baked beans available in our market, it might not be a good option for parties. In case you plan to do so, make sure that you cook it with more ingredients to spice it up. You could add some meat stock and pork chunks for a party. 
Pros
Completely organic

Fat-free product

Organic sorghum molasses for sweetening

Great source of fiber
Made in Ireland, this delicious mix stands out for its luxurious sauce. The Batchelors Baked Beans in tomato sauce is a brilliant addition to meals and has been made in Ireland. It is shipped right from there and contains very high quality beans.
Why Did We Like It?
This comes in a pack of 12 cans, and that works out for individual use as well as for parties. Pour them all in to create a big pot of baked beans to go with your smoked and barbeque chicken.
Also, each pack is 14.8 oz in weight and will easily suffice for a single person if they are having just the beans. Otherwise, for parties, this pack of 12 would work out for 24-26 people at once. 
Now coming to the nutrients, this one is packed with fiber and protein. You will easily meet your dietary requirements with this, and it is a healthier alternative to junk food. There are no artificial colors added, and you will also not find any preservatives. 
What's more, it is easy to serve, and you will just have to heat it up or put it over toasted bread. 
What Could've Been Better?
We had a problem with the cans in which the beans were packed. The cans had rust on them in the corners, and we were worried. But the insides seemed perfect, and there were no signs of rust there. We would recommend checking the entire body well before eating. 
Pros
Great source of protein and fiber

No artificial colors are added

Only natural flavors are used

No preservatives in the mix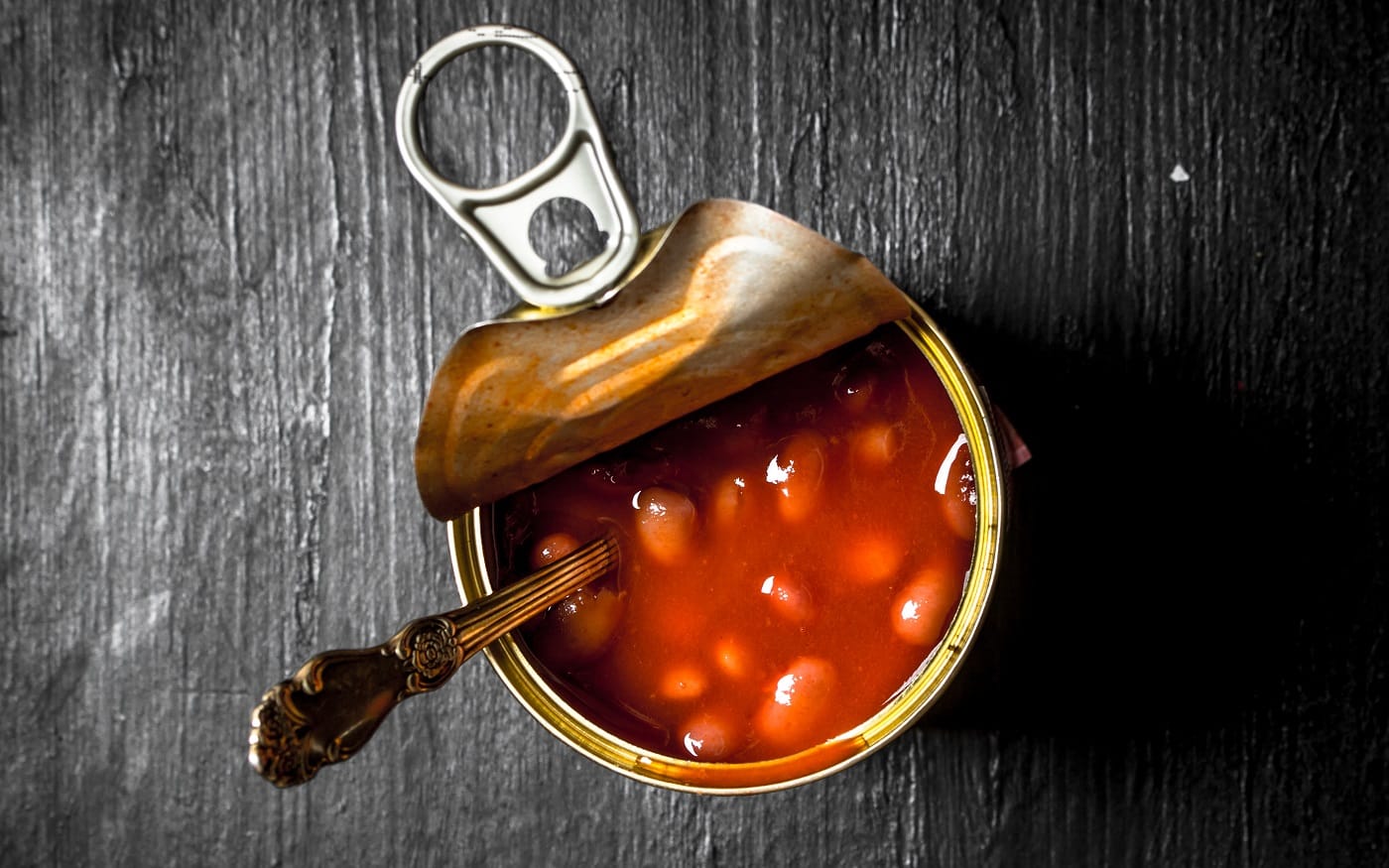 Canned Baked Beans Buyer's Guide
A pack of baked beans can be a very nutritious addition to your meal. It is filled with protein and fiber and will help you get all the nutrients at once. But now that you know about the top 13 choices in the market, it is essential to remember a few determining factors before purchasing. We will tell you all about them in this section. Read on to find out! 
Size Of The Pack
Now it is important to remember that the image shown on your shopping website will not help you in understanding the size of a can. It is best to look for the weight and the number of cans in each pack. That will give you a clear estimate of the amount you are going to receive. 
Now a smaller pack works perfectly if you are looking for a single sized snack with 1 serving. Take this along on your journeys or sports classes for a quick meal whenever. 
On the other hand, if there are more people or you are organizing a dinner outdoors, you will need more baked beans. Here, opt for larger packs of 12 and with bigger can sizes. These will work better and will ensure that everybody has their fill. 
Cooking
So, baked beans are slow-cooked for hours before they are packed in a can and sold. But only some of them are ready to eat. If you have such a pack, then you can take it on camping and hiking trips easily. There is no need to heat it, and you can eat it straight from the can. 
There are other options that are not made to be eaten directly from the can. You will generally have to heat it up in a microwave or a pan before consumption. Remember to check the description carefully to figure out before purchasing. 
Vegetarian v/s Non-vegetarians
Now the traditional preparation is made with tomato sauce and beans with added spices. But most of the options today have meat stock, pork, or bacon in them. If you are a vegetarian, check the label carefully to see if there are any meat ingredients in the mix. 
If you are not a vegetarian and would prefer pork chunks or bacon bits in the mix, keep that in mind while going through the ingredients. 
Preservatives
A good can of baked beans will have no added preservatives. Now preservatives would have helped the product to last longer, but then you would not want to consume it every day. As baked beans are often a part of the daily diet, it is packed without any preservatives. 
Also, it is known to be gluten-free and is generally very low on fat. Both of these make it an ideal option to add to your diet. 
Recipes
There are multiple recipes in which baked beans can be used. If you are a chef or a cooking enthusiast looking to try out different recipes, then you need to consider the type of recipe before purchasing. 
Some will need the beans to be less flavored, while others might work better with pork or bacon flavored beans. Look at the different types and then make a choice accordingly.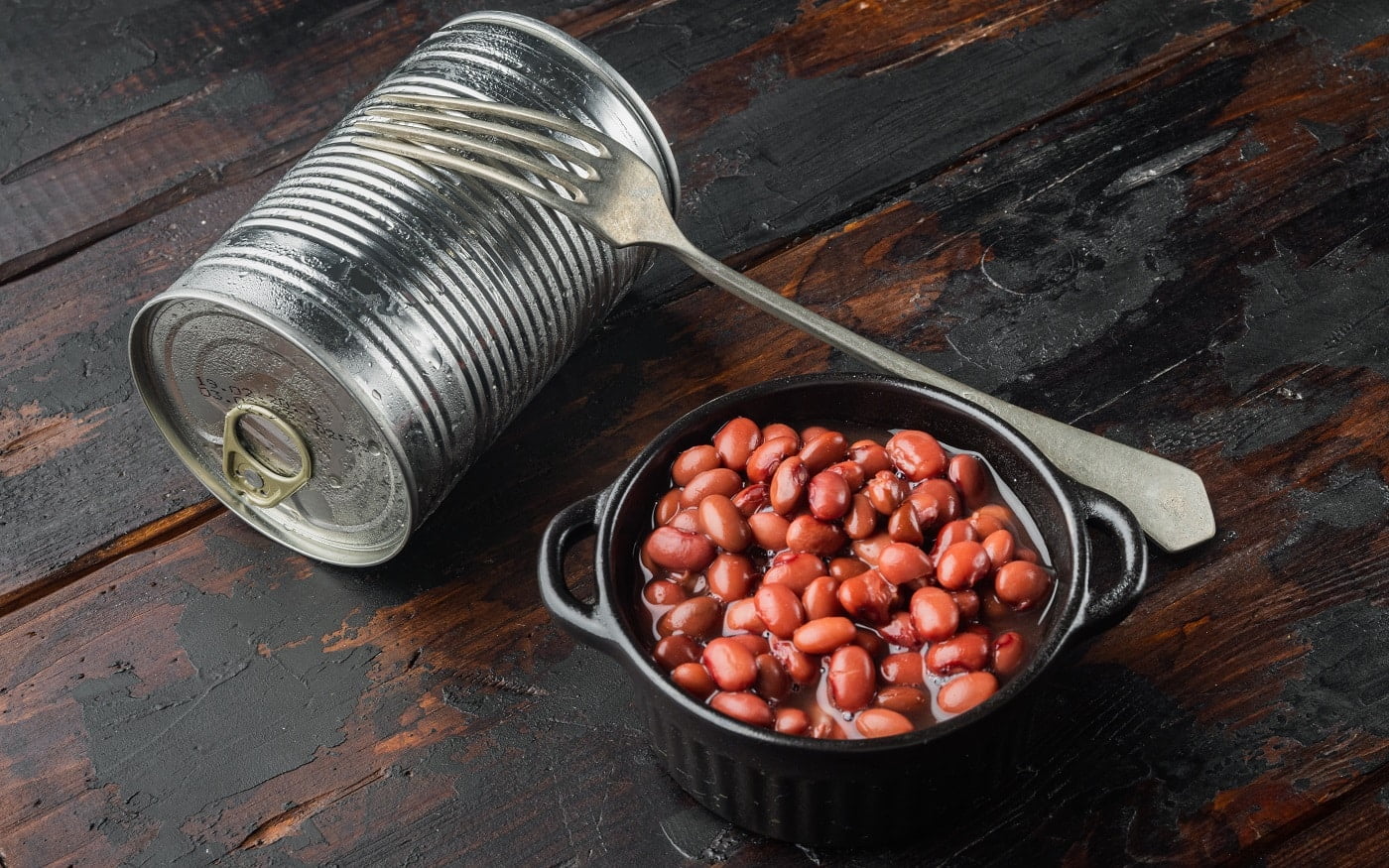 Verdict
A good can of baked beans should be able to remind you of your childhood when this used to be a regular treat. Previously it would also be made at home, but now it is generally bought in cans. 
Now, you might have to taste more than one can to make a decision as taste preferences are very relative and can differ easily. However, we are sure you will find the perfect one from the list above. 
Now, before we take your leave, let's do a quick recap of our favorites. The Bush's Best Original Baked Beans is our personal favorite for its meaty flavor. But if you want a vegetarian alternative, the Heinz Baked with Tomato Sauce is a great option. 
On the other hand, Campbell's Canned Beans is infused with pork flavor, and that makes it stand out. 
With this, we will bid you adieu. Happy shopping! 
Related Articles