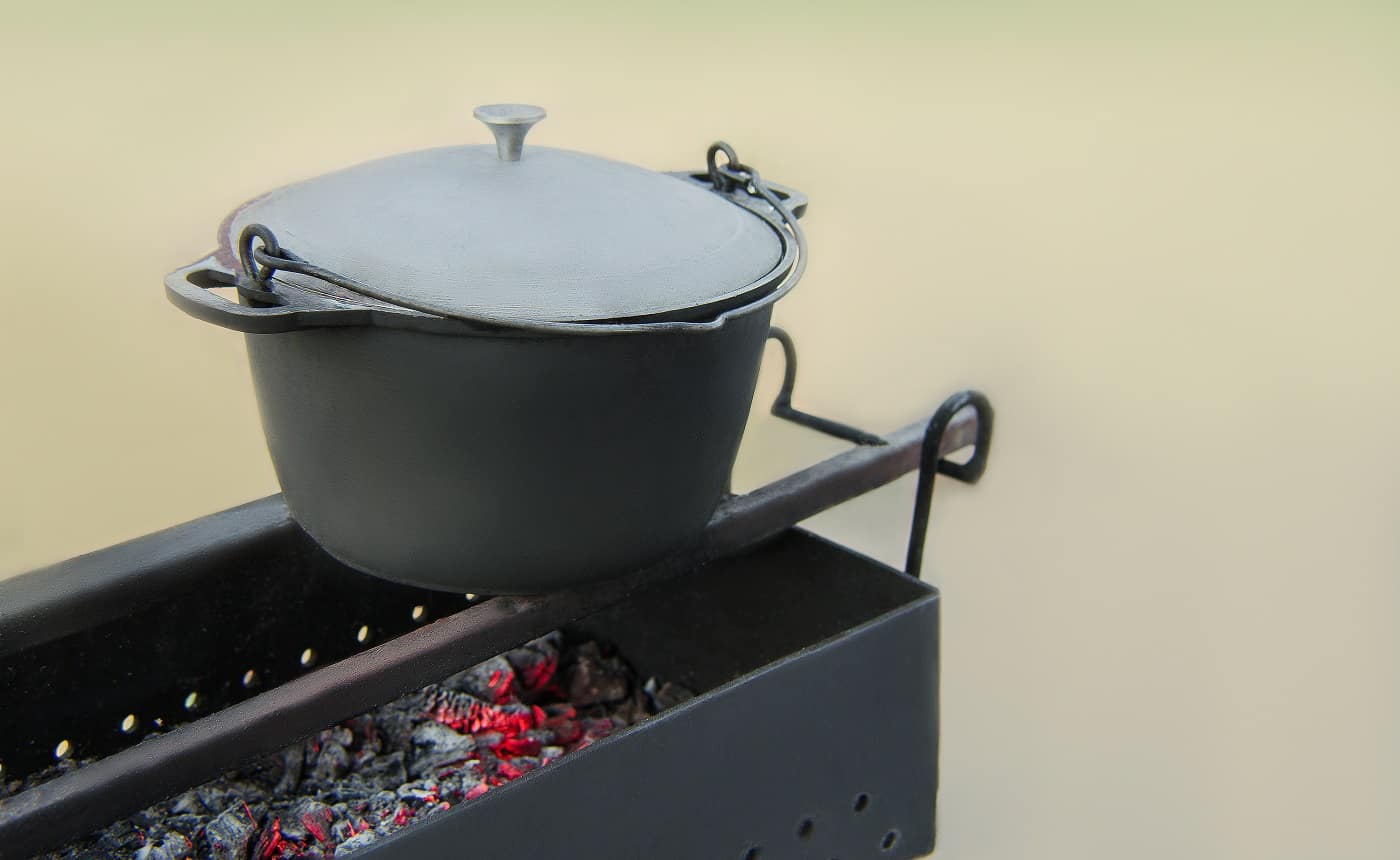 If you are a cooking enthusiast, you must have heard about the Hibachi grills. They bring in the old world charm with their shape and design! 
Hibachi grills are generally known to be very sturdy and are a popular choice among people who wish to cook on their tables or outdoors. There are small and medium-sized versions, each having different purposes. Now, they do not come with a hoard of fancy features, but will surely add a rustic charm to your place.
Moving on, you might have a difficult time choosing one because of the multiple options available. To prevent any dilemma around this, we have reviewed the 5 best cast iron Hibachi grills. A buyer's guide is also provided for you to make the right choice. 
So, dive in to know all about them. 
Top Cast Iron Hibachi Grills
IMAGE
PRODUCT
DETAILS

Our Top Pick

Our Top Pick

Update International Hibachi Set

3 ⅜ x 4.5 inches in size
Made of iron and wood

VIEW LATEST PRICE →

ChefMaster 90206

Size: 3.74 x 3.4 x 5.32 inches 
Made of wood and cast iron grids

VIEW LATEST PRICE →

Giantex Charcoal Grill GT70617-PO

15.5 x 10.5 x 7 inches in size
Made of heat-resistant cast iron

VIEW LATEST PRICE →

Mr. Flame Hibachi Vintage Cast Iron Grill

Cooking space of 170 square inches
Made of carbon steel

VIEW LATEST PRICE →

Cajun GL10447

Size of 15 x 8 inches
Featured an inner grate

VIEW LATEST PRICE →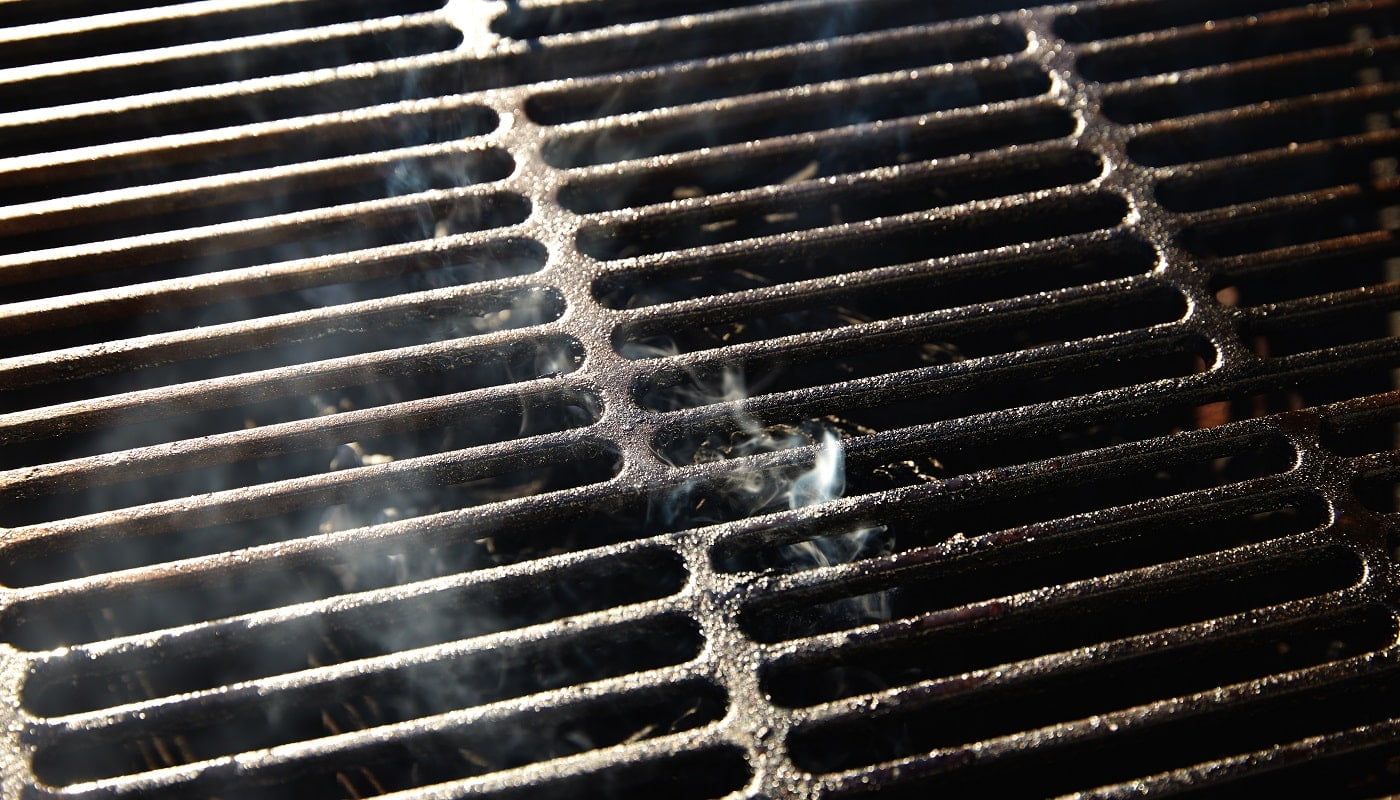 If you are looking for a small product for personal use, the Update International Cast Iron Hibachi Set will suit you well. This is not an electric gadget and works traditionally using fuel. It comes with space to hold fuel, which makes it a very useful cooking appliance.
Why Did We Like It?
Now since this is a small stove that is 3 ⅜ x 4.5 inches in size, it is best to use it for toasting marshmallows and smores. It can also be used as a centerpiece for a large Chinese platter to keep the food warm. 
Coming to the fuel, you can keep charcoal in the holder, but since it is very small, only a calculated amount can be kept. We will recommend using a cooking gel as it is a great alternative and tends to last longer. 
Moving on to the design, this set is made exactly like the traditional devices used long back in Japan. The grill has a flat surface, and you will have to place your plate on it. Moreover, the wood base looks elegant and adds to the design. 
Also, since the product is small, it is not priced high, and you can easily afford it.
What Could've Been Better?
Although this can be used for toasting marshmallows, you will not be able to cook full meals with it. This is because the area is very small, and the heating capacity is also medium. We have been able to heat water on it but nothing more than that. 
Pros
Removable design for easy cleaning

Contains a fuel holder

Traditional Japanese design

Works as a centerpiece while serving platters
Cons
Not for cooking large meals
The next option is very similar to the one above because of its size and design. The ChefMaster Cast Iron Mini Hibachi Grill 90206 is inspired by the Japanese tradition and is shaped like a pot. Use it for small snacks, and it will serve you well.
Why Did We Like It?
This is perfect for camping trips with 1 or 2 people in the group. Yes, you can toast s'mores and marshmallows in it. But other than that, it is even used in restaurants on tabletops for guests to cook their own meat. Remember that the slices should be very thin for them to cook well. 
Moving on, its top will not heat up like a standard grill, and the medium heat makes it safer to use on the tabletop. Since there might be kids sitting at the same table trying to toast their marshmallows, it is best to opt for such safe options. 
The best part is that the grill comes fully assembled and is pre-seasoned. You can literally take it out of its box and start using it. There are no complicated settings or functions, and you can easily learn to use this one. 
What Could've Been Better?
Since the product is very small, its fuel capacity is also very low. Hence, you will have to keep adding fuel every 7-10 minutes. This could be problematic when using it on a tabletop. So, we'd suggest using a cooking gel which lasts a little bit longer. 
Pros
Medium heat level for safe use

Comes fully assembled

Can be used on a tabletop

Inspired by the traditional Japanese design
Our next option is a large product that will help you cook all types of meat and vegetables. The Giantex Charcoal Grill GT70617-PO is a medium-sized portable choice that will help you cook food outdoors. You can take it in RVs or on hiking trips, and it will serve you well.
Sale
Why Did We Like It?
This grill has a double-sided grilling net that can be used in any way. As the grill is turned, you get 2 different heights at which you can work. This is accompanied by an air regulating door, which is placed at the bottom. You can adjust the firepower easily by moving the door from left to right. 
Also, this has a 12.5 x 8.5 inches grilling net top, which is bigger than the previous options. This will provide you with enough space to grill kebabs, drumsticks, steaks, and even vegetables. You can buy this for a family of 3-4, and it will suit you well. 
Moreover, it is constructed with high quality cast iron which is resistant to high heat levels. Cast iron is also known for its heat retention and thermal conductivity. It will ensure that the heat spreads all over well.
What Could've Been Better?
When the product is hot, you will not be able to move it at all. There are no handles to carry it, and hence you will have to wait till it cools down. Now, if you are on a camping trip, ensure that the grill is shut an hour before you need to pack up. 
Pros
Adjustable height with air regulation

Spacious grilling area

Perfect for BBQ and camping trips

Detachable charcoal and grilling net
If you were looking for a large product for your barbeques and backyard parties, this one is a great choice. The Mr. Flame Son of Hibachi Portable Vintage Cast Iron Grill sports an ingenious blast furnace concept that will allow you to cook fast and easily.
Why Did We Like It?
This is a vintage model from the 1980s, and it has been well-preserved. This is placed in a new box, and you will be feeling the old world charm with this one. 
Moving on to the cooking space, this one offers 170 square inches of space and can be converted into a roasting oven when needed. The oven can cook anything from burgers, hotdogs, Chateaubriand, or barbeque meat. You can use it for lunch or dinner for a large family as it will provide you with ample space. 
Moreover, it comes with handles, and you can take it around if necessary without burning your fingers. And the handles can be folded to create legs for the grill. This makes the product compact and easy to use. 
Next, it is made of carbon steel which is very sturdy, along with cast iron grills. The materials are strong and will not break from light to medium impact. 
What Could've Been Better?
Now before purchasing this one, let us tell you that you will need to take care of this better than other products. The grills have to be cleaned regularly and oiled to prevent rust from forming. It is susceptible to catching rust, and we learned it the hard way.
Pros
Comes with cast iron grills

Vintage model from the 1980s

Handles to carry the product

Self-cleaning body
One of our top recommendations is the Cajun Classic Round Seasoned Cast Iron GL10447, which is known for its fusion design. It is the perfect combination of the traditional Japanese form and a standard grill. We loved its unique design, and there was ample space for cooking on top.
Why Did We Like It?
This comes with a cooking surface of 15 inches and is round in shape. It will provide you enough space for 7-8 small burgers of 4 inches each. So, you can cook for a family of 5-6 people with this in 2 batches. 
Moving on to the fire chamber, you get 11 ¼ inches of space in it, and that can be filled with charcoal or firewood. In case you are using charcoal, then you will not have to fill it too much as there is limited space. But it does last long. 
Now coming to convenience, it is very easy to add coal as there is a drop-down door. You can simply open it and remove the ash while filling it with coal. There is also an air chamber below which allows proper ventilation and will let you adjust the temperature when needed. 
What Could've Been Better?
The only downside to this product is the weight as it is 40 pounds and that makes it difficult to carry. So, if you are going to move it around a lot, buy a small cart for it, and that will help you in the process. It also has a stainless steel handle to lift it up, provided your muscle strength permits. 
Pros
Easily accessible coal chamber

Cooking surface of 15 inches

Ventilation door for proper air circulation

Unique design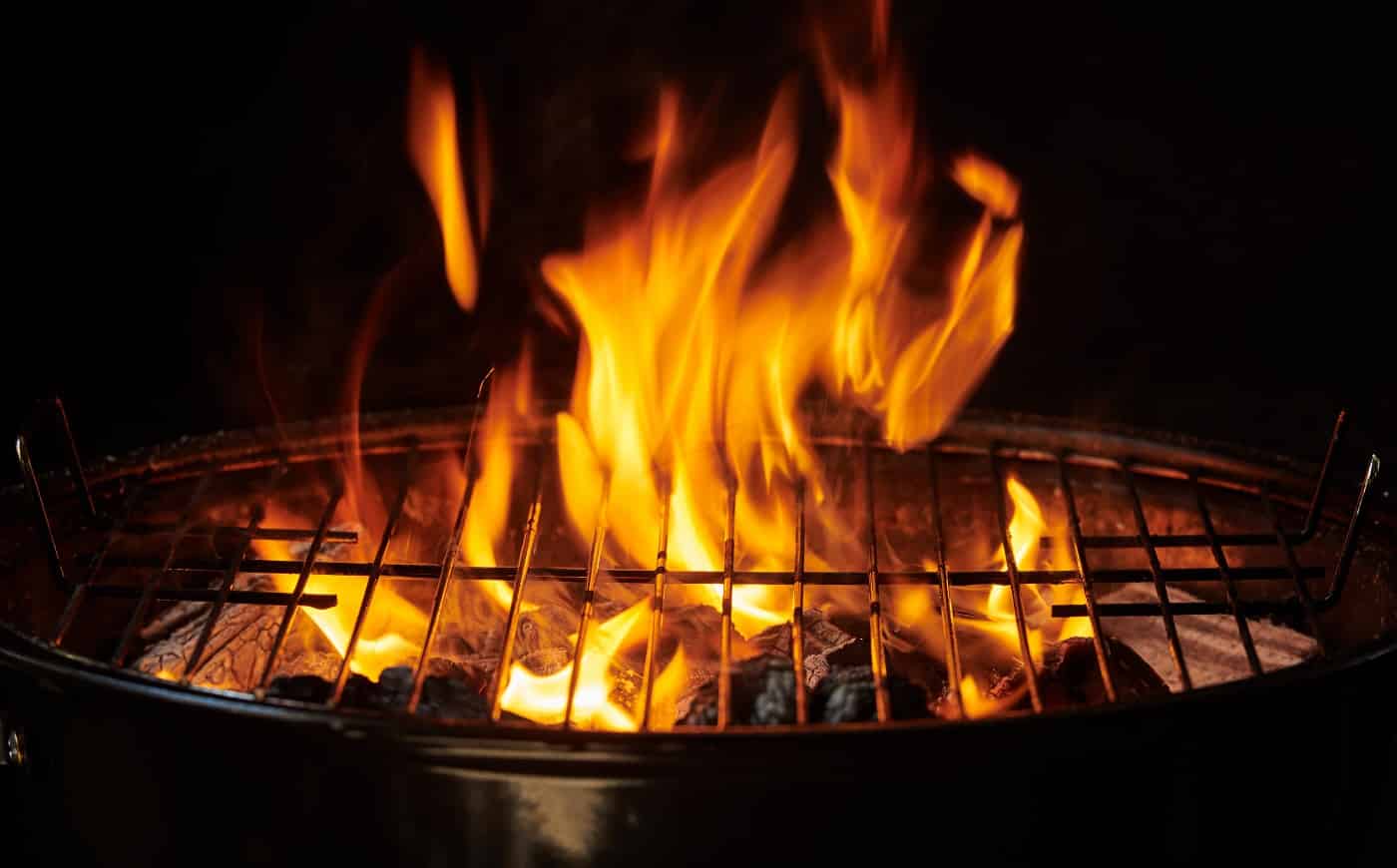 Cast Iron Hibachi Grill Buyer's Guide 
Now that you have gone through the top 5 options, you must have a clear idea about the different types of grills available. This section will tell you about the factors to keep in mind before purchasing. These are considerations varying from size, capacity, and convenience, to name a few. Read on to know about them in detail. 
Size
What kind of surface area are you looking for? This is the most important question that comes up when we are talking about purchasing grills. There are small options that will fit table tops well, and you can use them to toast marshmallows and S'mores. 
If you opt for bigger grills, they can be used for BBQs and outdoor parties, and dinners. There are medium sized options available that work well for hiking and camping trips. So, different sizes serve varied purposes, and you will have to be careful with this. 
Material
Now, most of these are made of cast iron with wood or aluminum in it. Cast iron is sturdy but is prone to rust. To prevent this, you will have to keep it clean and oil it regularly. Greasing is essential for the grills as they are the most prone to catch rust. 
Handles
This might not seem like a big deal, but it has a lot of weightage in the long run. Some grills come with handles that can be folded down to create the product's feet. At the same time, others do not come with a handle. We will suggest opting for one with a handle if you plan to move it around a lot. 
If it is absent, then you will have to hold the grill with bare hands, and that means you have to wait until the grill cools down before touching it. This could become time consuming and prove to be a problem in the long run.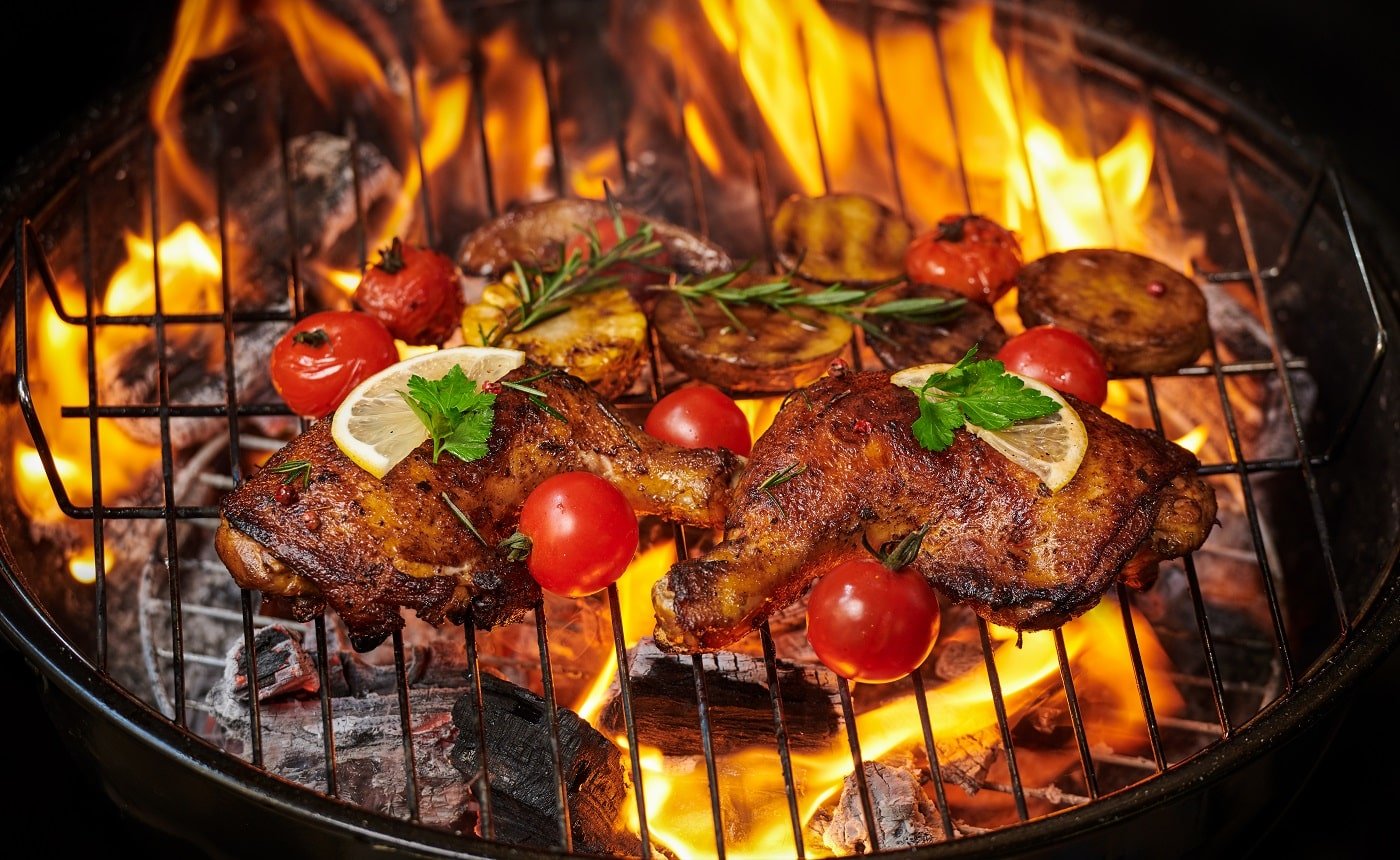 Verdict
Lighting up a Hibachi grill is slightly different from lighting up the traditional oven, especially if you are using coal. You will have to light the coal up, and you can use a greased napkin for this. 
It is best to watch a few videos on YouTube before you begin, to have an error-free experience. Moving on, let's do a quick recap of our favorites. 
The Update International Cast Iron Hibachi Set is the perfect small option that can be used on tabletops for toasting and keeping food warm. 
But if you are looking for a medium-sized option, then the Giantex Charcoal Grill GT70617-PO will work well. On the other hand, if you want to organize barbeque dinners, then the Mr. Flame Son of Hibachi Portable Vintage Cast Iron Grill is perfect. 
With this, we have finally reached the end of the guide, and it is time to take your leave. 
Happy shopping! 
Related Articles
Traeger Renegade Pro Review – Traeger Pellet Grills
Blackstone 28" Griddle Review – One of the Best Flat Top Grill Today
5 Best Small Traeger Grill For Backyard & RV BBQs
Saber R50SC1417 Gas Grill Review Under the Microscope
Weber Spirit E-330 Review – Handpicked Gas Grills Reviewed
Napoleon Prestige Pro 500 Under Review
Weber Summit S-470 Gas Grill Under the Microscope
7 Best Electric Smokers Reviewed – Buyer's Guide
Nexgrill vs. Weber | Budget Grills Product Comparison
Broil King vs. Weber Grills | Two of the Best Compared
13 Best Grills For Apartment Balcony at Tasty Prices
7 Best Portable Electric Smokers 
7 Best George Foreman Grill Models