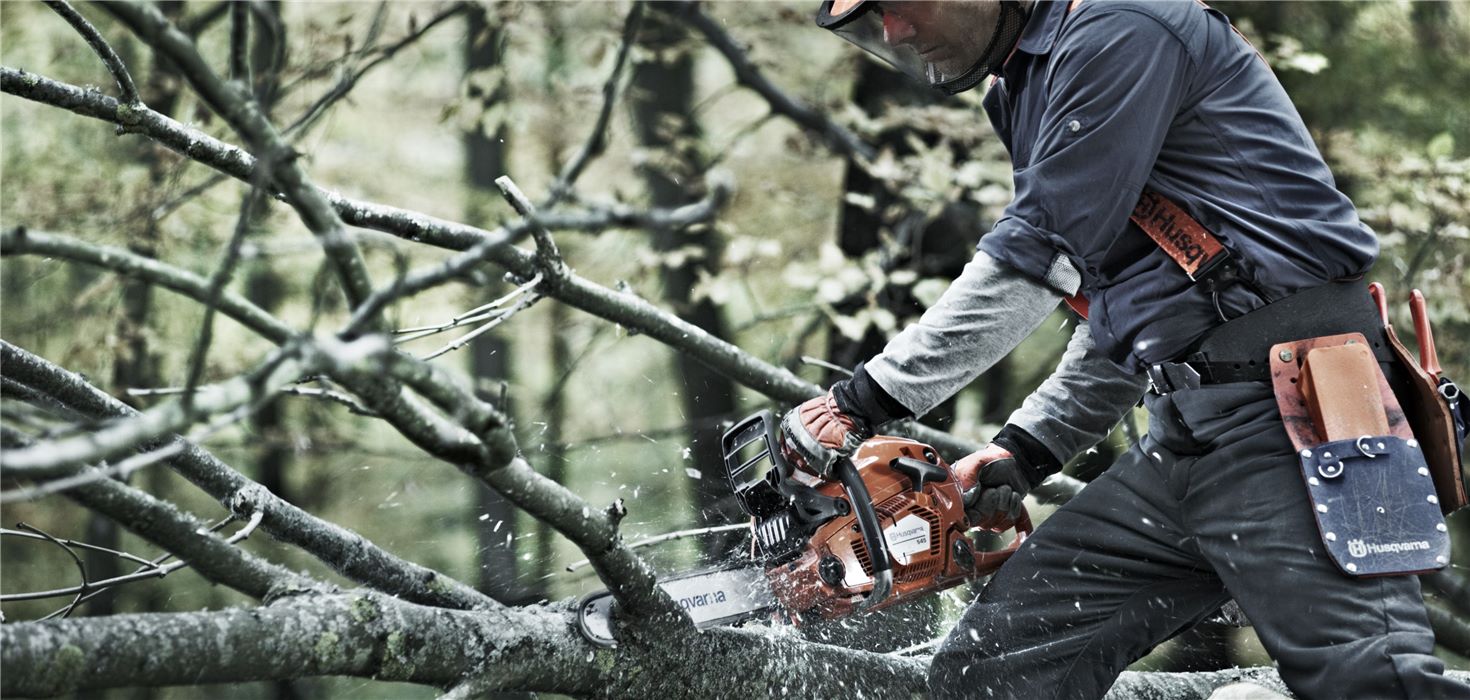 When it comes to chainsaws, nobody buys the first product that pops up as an ad. 
That is especially true if the person shopping for a chainsaw has used one before and knows what they want. But what about those who are looking for their first chainsaw and are confused which brand or model to go for?
Well, they're often left with no choice but to take the 'trial and error' route, which is extremely risky, to say the least. So, to save you the trouble, we thought it would be great to introduce some of the best chainsaw brands out there.
That's not all; we'll also give you names of some specific models from each brand so that you can buy one right now. Curious?
Let's check out the best brands!
Top 6 Chainsaw Brands to Consider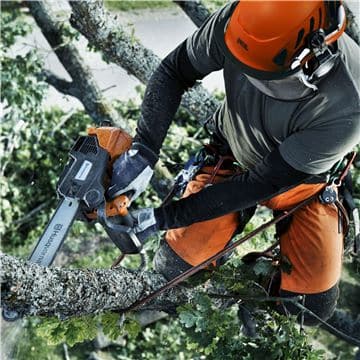 When it comes to powerful chainsaws and other outdoor tools, Husqvarna is the first name that comes to our mind. Believe it or not, the history of this company goes back more than 300 years (you read that right!) when it was founded to manufacture muskets. The brand has only grown since then and now has multiple partitions, each dealing in a different industry.
Today, the company is a house-hold name and enjoys a reputation for being one of the top manufacturers of outdoor power and gardening tools. Husqvarna started producing chainsaws in 1959 and, over the years, has become a pioneer in the niche. 
They are responsible for a few remarkable innovations, including but not limited to Air Injection Centrifugal cleaning system, Low-vibration dampeners, and TrioBrake. These features, combined with many others, lend the chainsaws a perfect mix of functionality, safety, and reliability that everyone desires.
The products mentioned here are two of our top picks, and you can't go wrong with either of them.
Top products and standout features
Husqvarna 24 Inch 460 Rancher Gas Chainsaw

60.3cc gas chainsaw, complete with guide bar and chain

2 cycle engine with chain brake (inertia activated for max safety)

Quick chain adjustment thanks to the side-mounted tensioning system

Husqvarna 20 Inch 455 Rancher Gas Chainsaw

55.5cc chainsaw with guide bar and chain

2 cycle engine just like the 460 rancher

Automatic chain oiler for safe use
With a history that goes back to the 1920s, Craftsman sure has had a great journey so far in the world of workwear, power tools, lawn, and garden equipment. The early adopters of the brand's products (wrenches), were technicians and farmers. Still, as the years progressed, the company expanded into new territories and gained a broader customer base, including engineers.
Now, Craftsman is a global manufacturer of both electrical and non-electrical tools and is controlled by Stanley Black & Decker. While every division of this company is impressive, the chainsaws deserve special applause for the benefits they offer. Some unique features you'll find are chain catcher, low-kickback chain, tool-free tensioner, spark arrestor screen, etc.
The brand has driven innovation and development in the field of chainsaws, and two ideal examples of their accomplishments are the products mentioned below. It's our opinion that you can buy both with your eyes closed.
Top products and standout features
CRAFTSMAN 42cc 2-Cycle 16-Inch Gas Powered Carrying Case Chainsaw

42cc 2-cycle high output gas engine what delivers steady power

16-inch bar and chain with low kickback

Automatic oiler helps maintain bar and chain condition

CRAFTSMAN V20 Cordless Chainsaw 12-Inch

Compact design for cutting in limited spaces

4.0Ah Batteries for extended runtime

Auto Oiling for minimal maintenance

A very affordable option 
DeWalt is a renowned name worldwide as an American brand that makes some of the best power tools for manufacturing, construction, and woodworking industries. The founder, Raymond E. Dewalt (who's also the inventor of the radial saw arm), started this company in 1923 and has grown in leaps and bounds since then. 
The ownership of the company has changed hands a couple of times: first after being purchased by American Machine & Foundry Co. in 1949 and then Black & Decker in 1960. After putting a significant effort into rebranding in 1992, Black & Decker managed to renew people's interest in the company's broad range of power and contractor tools.
DeWalt's chainsaw collection ranges from "quite cheap" to "affordable" at the moment, and they consist of enough features to catch the fancy of both first time and seasoned  users. And the best part is that despite a small inventory, all the products are loved by users. We bring you two such examples, as mentioned below.
Top products and standout features
DEWALT T 60V MAX Lithium-Ion Brushless 16″ Cordless Chainsaw Kit

16-inch Oregon Bar and Chain 

Auto-oiling for easy maintenance 

Ergonomic design and lightweight (weighs only 12.2 lbs)

DEWALT 20V MAX XR Compact 12 in. Cordless Chainsaw

Low kickback bar and chain

Brushless motor for high efficiency and run time

Weighs only 8.8 lbs
Black+Decker is a brand that rarely needs an introduction in the outdoor equipment community and for a good reason. The company's history goes back over a century to 1910, when it was founded by S. Duncan Black and Alonzo G. Decker, who were only 25 years of age then. Staying true to the founders' ideals, the company continued creating a legacy.
With over 100 years' worth of experience in the hardware, power tools, and home improvement arena, the company is genuinely dedicated to giving you the best. Although the brand boasts of having over 1000 variations of products, their chainsaws are what have been getting a lot of attention recently.
As a driver of innovation, the company uses many sought after features in their chainsaw lineup such as easy oiling mechanism, lithium battery for long life, tool-less chain tensioning, etc. And these elements make the chainsaws extremely easy and efficient to use. Two such excellent examples are mentioned below.
Top products and standout features
BLACK+DECKER 40V MAX Cordless Chainsaw, 12-Inch

12-Inch bar and chain with an auto-oiling mechanism

Easy chain adjustments thanks to Tool-free chain tensioning

40V Li-Ion battery for longer run time

Full wrap around handle for comfortable cutting

BLACK+DECKER 20V MAX Cordless Chainsaw, 10-Inch

20V Max Lithium battery for extended run time

Tool-free blade tensioning for easy and quick adjustments

Wrap around handle
Like other brands on this guide, Stihl also has a rich history that goes back to the early 1900s. The company was started by Andreas Stihl, who made his first chainsaw in 1926, and since then, the brand has only grown to be what it is today. A constant favorite among amateurs and pro users alike, this company aims to make people's work with nature…easy.
With so many years of experience, Stihl has earned many accolades for innovation and reliability. And as far as chainsaws are concerned, technology such as anti-vibration, centrifugal clutch, chain breaking mechanism, extended life air filter, and comfort saw chain have become a hallmark. The company has done everything in its power to make chainsaws more accessible.
Unfortunately, Stihl products are not available on Amazon at the moment, and to buy one, you have to take a trip to your local dealer. We decided to review this brand anyway because it's definitely worth all the hype.
Poulan is now a subsidiary of the Husqvarna group, but before it was an American Company with its roots dug deep in Shreveport, Louisiana. The company was founded in 1912 and since then, has changed hands quite a few times. Now, people know this brand because of their outdoor power tools, more specifically chainsaws and leaf blowers.
The company has always been at the forefront of innovation and has introduced many great features in their models. Features such as ion-battery, Oxypower, advanced anti-vibration, and electronic chain motor are all now a part of the newer gen models. 
Over the years, the brand has looked for ways to make chainsaws more accessible, and the two products we're about to recommend are perfect examples. In addition to being user-friendly, they are light on the pocket too.
Top products and standout features
Poulan Pro 20 in. 50cc 2-Cycle Gas Chainsaw

OxyPower technology for 70% fewer emissions and 20% less fuel usage

Innovative pull start system for easy starting

Easy combined choke/stop control

Poulan Pro PR4218, 18 in. 42cc 2-Cycle Gas Chainsaw

42cc engine with 18 inch bar

Auto oiler to keep bar and chain smooth

SuperClean Air Filter System for reduced fuel consumption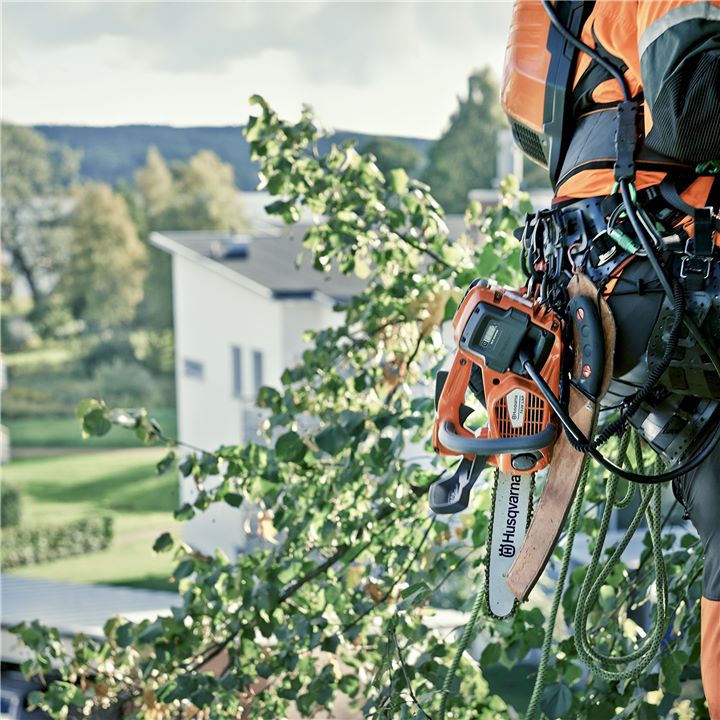 How to Buy the Best Chainsaw 
We don't need to reiterate that there's no such thing as "one size that fits all" when it comes to chainsaws. That's why having a decent knowledge of the subject is bound to be of great help if you're buying a model for the first time. Although chainsaws look like complicated pieces of machinery (and they are), there are only a couple of factors you'll need to keep in mind.
Engine type
The most popular types of chainsaws right now are Electric and Gas, each with their own sets of merits and demerits. While electric-powered chainsaws are measured in Amps (A), gas variants are measured either in cubic inches or cubic centimeters. Speaking of merits and demerits, here's a complete list of them:
Electric chainsaws:

Merits– portable, easy to use, more environment-friendly, usually quieter, produces no harmful exhaust or fumes, safe to use. Demerits– less powerful, limited bar range, no chain brake, won't work in wet conditions.

Gas chainsaws:

Merits– versatile and powerful, better mobility as there is no cord involved, excellent bar oiling system. Demerits– Noisy and often heavy, releases exhausts, can be hard to clean and maintain.
Which one should you choose? Well, choose the electric version if you're going to use the chainsaw to cut or prune small trees and cannot afford to use a noisy model. Choose the gas variant if you plan on using it on big trees or commercial projects; be warned though, these babies can make some serious noise.
Chainsaw safety
Unless you want to end up in a Texas Chainsaw Massacre like situation, then listen up! Safety is no joke when you're operating these machines, and even one mistake or slight negligence can put you in serious risk of injury. Protective gear is a must in this case, and you at least need these items before revving up the machine:
Gloves

Safety pants

Safety glasses

Helmet or similar head protection

Safety boots

Headphone to mask the noise
We can write an entire guide on the topic of chainsaw safety, but it's always better if you read the manual carefully. That will contain all the instructions and precautions you need to obtain to operate a chainsaw safely. You may also call up the customer care helpline for queries that might not be present in the instructions manual.
Length of the guide bar
The guide bar length is more important than most people give it credit for. It essentially represents two things: the largest length of the log your chainsaw can cut and the total active cutting area. For safety reasons, the guide bar should be at least 2 inches longer than the object you're about to cut. 
However, we would also recommend you not to go for a very long bar as that will be challenging to balance, and may even lead to kickbacks and other accidents. Some standard bar lengths for specific tasks are as follows:
<12 inches: best for trimming and pruning
12-14 inches: trimming or cutting down small trees
14-16 inches: cutting light firewood, trimming
16-18 inches: cutting medium trees, firewood cutting
> 18 inches: ideal for (heavy-duty) bucking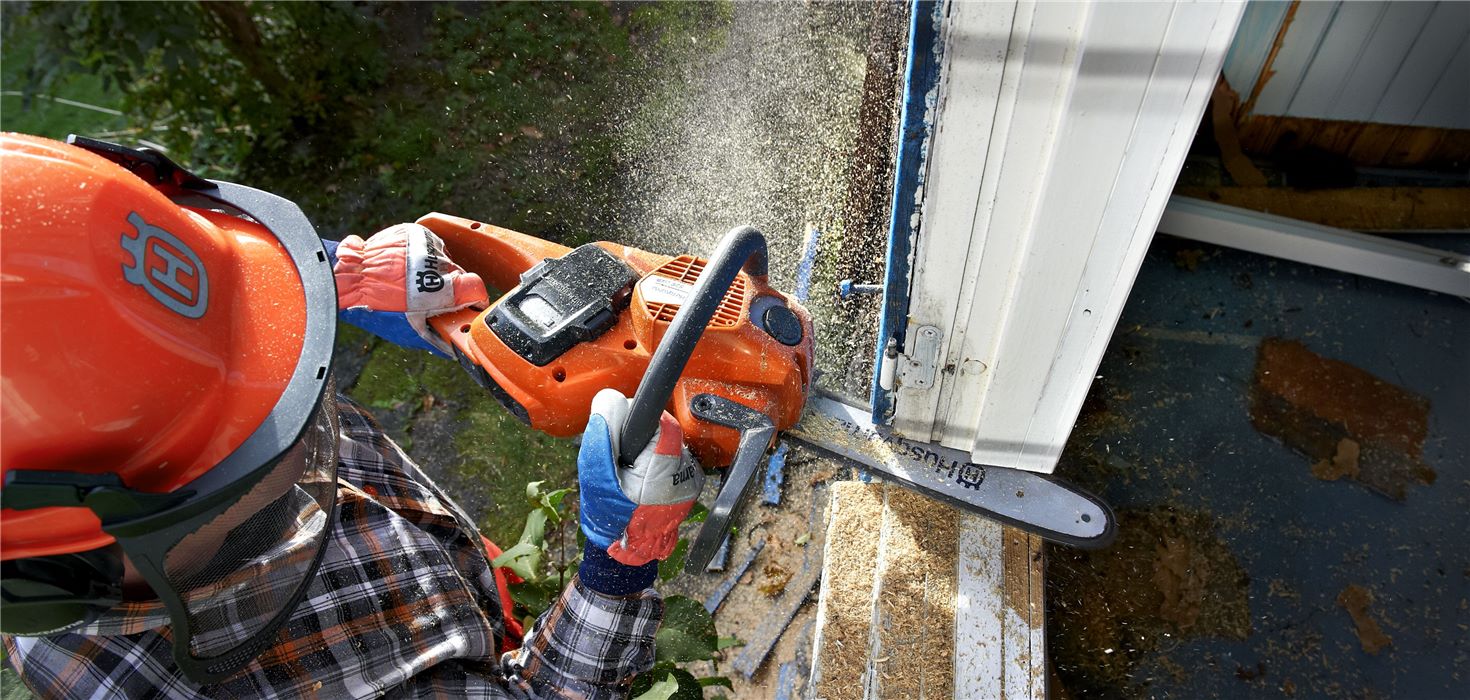 How to Use a Chainsaw 
Before revving it up
A chainsaw is a useful but risky machine, and there's no way you should start it up without making sure everything is fine. Here is a list of things to inspect before you get to work:
If all the relevant parts are lubricated

If the chain has the correct level of tension

If there are any loose parts of bolts that may come off 

If the depth gauge settings are configured correctly

If the chainsaw cutting edges are as sharp as they should be

If all your safety gear are working as they should

If there are things in high places (in your surroundings) that might fall during woodworking

If there are any children present in the area- get rid of them fast!
Care about the kickback
Unfortunately, kickback is a dangerous and frequent hazard that many people do not acknowledge. It happens when you cut something, and the end of the guide bar goes off and bounces towards you in an uncontrollable arc-like movement. To prevent this from happening, use a protective mitt made of leather.
Also, if your chainsaw comes with a safety function, read the manual and learn how to use it properly. It may just save you from a grotesque injury. Some other ways you can reduce the chances of kickback are:
Always hold the chainsaw as firm as you can, with both hands

Only re-enter a cut with extreme caution

Make sure the chain brake is working as it should

Don't try to cut something at a height above your shoulder

Don't let the chainsaw come in contact with anything that it shouldn't
Keep your chainsaw well-maintained at all times
A chainsaw is not a machine that you use and forget. After you're done using it for the day, be sure to do the following:
Check if all the machine parts are in place and oil the necessary holes

Check the tensioning of the chain, and oil if necessary

Ensure there's no leftover sawdust in the sprocket cover, air filters, and chain brake

Make sure the cutter angles are in proper shape

Guide bar groove should be cleaned
Keep your balance at all times
You know that a chainsaw should only be firmly held using both hands, but did you also know that your feet must be slightly apart to maintain balance? Yes, having your feet apart will give you the position needed to operate the machine most optimally. And it is best done before you fire up the engine. 
Final words
So, that's about all we had to write on the top chainsaw brands and how to buy the best. As intimidating as these machines may seem, they're not very hard to use as long as you take the proper precautions. And we promise that your job will be a whole lot easier if you pick a product that's among our list of recommendations. 
Related Article
11 Best Oscillating Tools Right Now | Buyer's Guide and Reviews
13 Best Screwdriver Sets on the Market Today
Top 13 Useful DIY Tools for Your Projects
11 Best Hammer Drills on the Market Today
11 Best Torque Wrenches on the Market Today | Buyer's Guide
11 Best Angle Grinders on the Market Today
13 Best Chainsaws for the Money
Top 10 Longest Pole Saws For Tree Pruning 
Simply The Best Cordless Power Tool Brands
13 Best Saw Horses on the Market Today
7 Best Concrete Grinder, Planers, Scarifiers Reviewed