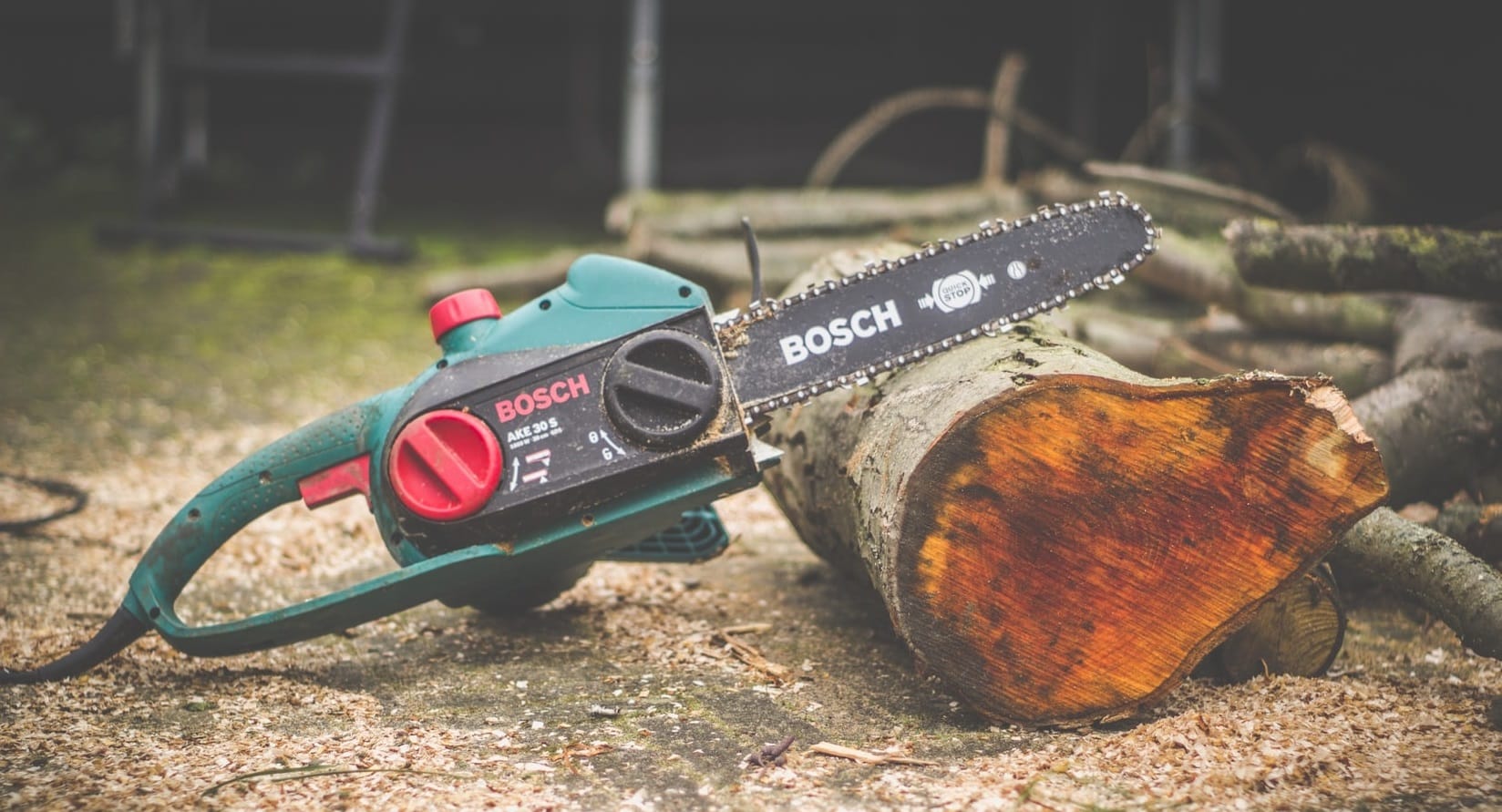 There's no tool like the trusty chainsaw that you can trust when it comes to some serious cutting, trimming, and pruning.
Although these machines carry a look that scares the bejesus out of many people (thank you serial killer movies!), we want to assure you that there's nothing to be afraid of. Not at least when you pick the right chainsaw for your needs and follow the operation instructions carefully.
But how do you pick the right brand and model when there are so many options in the market? Well, it turns out that today is your lucky day! 
We've done all the hard work on your behalf and are here to present you with the 13 best chainsaws for your money along with a complete buyers' and safety guide. This will help you know everything there is no know about chainsaws and how to use them.
So, let's begin!
Best Chainsaws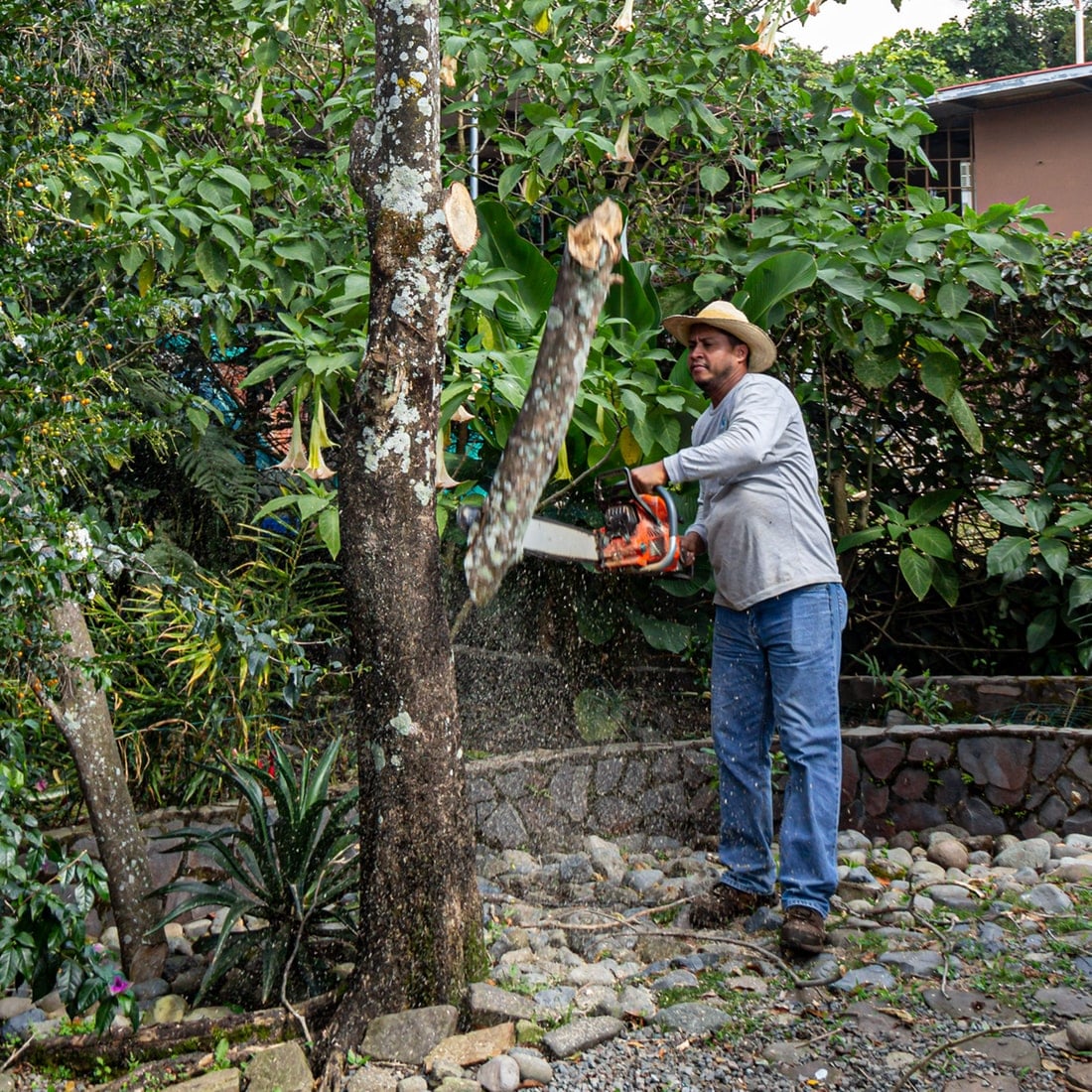 What's a 'best chainsaw' guide without a product from Husqvarna, a brand that revolutionized home improvement and power tools? Well, the 455 Rancher is a stellar product from the brand and should be ideal for those looking to do some heavy-duty cutting. But should a novice pick it up? What's the safety situation like?
Read about our experience to learn more.
No products found.
Why did we like it?
What's not to like about it? Sure, the size is on the bigger side, and the machine creates quite a noise, but the tradeoffs are entirely worth it. For instance, its 20-inch guide bar and maneuver through thick logs of wood without putting you at risk of kickback. And driving it is a 55. 5cc engine, which is the most powerful that we've reviewed so far.
When compared to the Remington RM4618, this engine proves to be superior in many ways. But what makes this product beginner-friendly as well as the collection of comfort and safety features. We liked the anti-kickback technology, the quick-release air filter, and side-mounted chain tensioning that let us make adjustments on the fly.
We especially like that the 2 cycle engine comes with a chain brake for additional safety. Still, the company advises you to use Husqvarna chainsaw safety gear like chaps, gloves, and helmets. The environmentally-conscious folk out there will be happy to learn that this product consumes less fuel and emits less exhaust thanks to the x-torque feature as well.
What could've been better?
Honestly speaking, we didn't encounter any issues during our use, and all the negatives we can bring you here were experienced by others. The most common problem that seems to be going unaddressed is the company not honoring their warranty policy. Although instances are few and far between (on a global scale), it shouldn't be ignored.
Pros
20-inch bar and chain for heavy-duty cutting

Low fuel consumption and emission

Many beginner-friendly features

Very powerful
Cons
Reports of flaky customer support
Second on our list comes another worthy addition, this time with a bigger 18" bar and loads of other essential features. The Remington RM4618 comes from a reputed brand and has earned lots of positive reviews online due to its functionality. We reviewed the 18-inch variant, 46cc variant because that is top of the line and can give you some serious firepower.
No products found.
Why did we like it?
This product has many features that make it stand apart from its competitors, but if we had to pinpoint one that makes the most impact, then it would have to be the engine. The 46cc 2 cycle engine is hands down one of the best chainsaws can have in this price range. And it allowed us to make quick work of even the sturdiest of wood.
The engine is robust, and thanks to the pro-grade components it is fitted with, it will last almost every onslaught you put it through. However, with more power comes a more significant concern for safety, and you'll be glad to know that the low-kickback chain has got you covered. Also, let's not forget the Quickstart Technology, which allowed us to rev the machine up in no more than one pull.
Despite the additional power, this model is beginner-friendly because of the combination of 5-point anti-vibration and cushioned handle. Those features make the chainsaw not only more comfortable but also more accessible for beginners. We especially liked that it also has an automatic oiler that always keeps the chain smooth.
What could've been better?
Writing about the negatives always becomes hard when you're reviewing top-rated products. If we had to nitpick, then we'd say that this model would've been better if it made a little less noise. But the RM4618 is a gas model and that too a powerful one, so there's not much reason to complain.
Pros
A very powerful engine that cuts through tough wood

Features that maximize comfort and efficiency

Auto oiling for the chains
Cons
Can create quite the ruckus
Makita is a household name in the world of home improvement and power tools, so our expectations were naturally high when we chose to test this beauty out. This battery-powered chainsaw grabbed our attention not only with the brand name but also with a collection of features that maximizes both performance and runtime for a total win-win.
Why did we like it?
Well, to start, let's just say that the Makita XCUP02PTX1 is one of the quietest models we've ever used, peaking at 89 dB(A). That totally came off as a surprise because a lot of products make more noise than advertised. And the fact that it manages to cut through branches and entire logs swiftly at 1650 FPM is nothing but impressive.
With a 12-inch guide bar, we managed to do some serious cutting and pruning without the tasks ever feeling like a massive chore. Also, we're sure you'd appreciate the "tool-less" chain adjustment system, which is pretty much self-explanatory. However, we only managed to get a 'decent runtime' with the 18V Li-ion batteries and think that could've been better.
Still, as a product that's geared to be used by the average homeowner, the features this 11.5 lbs chainsaw has should be enough to get most jobs done. And if something goes wrong, there's always Makita's 3 years warranty that you can fall back upon. As the endnote, we're going to remind you once again that you should never operate any chainsaw without taking precautions.
What could've been better?
Honestly, it's tough to find flaws in a chainsaw as good as this, and we are glad to report that there aren't many. We just wished that the batteries lasted a bit longer, given how the brand advertises that this product has the 'technology' to last 50% longer. Also, this package doesn't come with chain oil, so don't forget to get it separately.
Pros
Excellent power and cutting ability

Easy to hold and maneuver

Portable enough to be carried in one hand

3-year warranty
Cons
Battery life could've been better
You've probably heard of Greenworks, right? Well, you should if you've used a chainsaw before because this brand is renowned for its environmentally conscious products. This 18-Inch 80V chainsaw is one of their most popular models for many good reasons, apart from being environment-friendly.
What are they?
You'll have to read about our experience to learn.
Sale
Why did we like it?
We always prefer battery-operated machines over fuel consuming ones because they tend to be more environment-friendly. So, when we got the opportunity to review the Greenworks PRO 18-Inch 80V model, we just couldn't resist having high expectations. The first feature that impressed us is the runtime, which can give you as many as 150 cuts when fully charged.
While we didn't cut as much as to test that claim, we don't have any reason to doubt otherwise. The DigiPro motors are reliable and didn't fail in any of our tests, and if you were to compare it to a gas engine, we could say it would be equivalent to a 45cc gas model. Safety-wise, you get features such as a durable metal wrap, steel bucking spikes, and electronic chain brake.
Another great trait of this model is its ability to charge fast; we're talking 30 minutes fast! The 80V 2Ah Battery makes sure that happens, and we can testify that it is true. And as far as durability is concerned, we think that the metal and hard plastic combination is good enough. 
What could've been better?
The only gripe with this chainsaw is that it is heavier than what a 44cc gas model would weigh. And that's a bit odd if you ask us, especially since it is a battery-powered model. If you can overlook that aspect (we think you should), then this is a good purchase. 
Pros
Speedy charging time

Lasts long enough to make 150 cuts (allegedly)

Designed to be user-friendly
Cons
Weighs on the heavier side
On the fifth position of our list, we have for you the Black+Decker 10-inch chainsaw, which also happens to be the most affordable yet. This model does not claim to do anything beyond the ordinary, and that's precisely why we like it. For those looking for a starter chainsaw for light trimming, pruning, and cutting, this should be a decent choice for the price.
Sale
Why did we like it?
The Black+Decker LCS1020 is often referred to as the beginner's chainsaw owing to how small and portable it is. But don't let the size deceive you into thinking that the product packs any less power. It is, in fact, quite powerful thanks to the powerful electric-powered engine that also helps reduce emissions.
Being a battery-powered model, one can't help but wonder how long is the runtime, but we were happy to find that can cut for approximately 20 minutes at full battery. While some may think that it's not enough, let us assure you it is. Given how lightweight this model is, you'll have no problem handling and maneuvering around the logs either.
Convenience features (similar to other products on our list) present here is the Tool-free blade tensioning system that lets you make quick adjustments and the wrap-around bale handle that makes gripping easier. The 10-inch bar and chain might seem rather short, but after using it, you're bound to notice how effective it is.
What could've been better?
As much as we recommend this chainsaw to beginners, we can say for a fact that it is not that powerful. So, people looking for a machine for heavy-duty cutting should look elsewhere. Also, the battery life could've been better.
Pros
Small and lightweight

10-inch bar and chain reduces kickback chances

Easy to charge and store away
Cons
Battery life is not that good
Taking affordability even further, we bring you the WORX WG303.1 16-inch Chainsaw that comes at a price tag that seems unbelievable at first sight. How affordable are we talking about? Well, let's just say the price is a little more than half of what the previous product (Black+Decker LCS1020) costs. Should you buy it? Let's find out.
Why did we like it?
Well, apart from the price, this model has quite a few exciting features that will appeal to any homeowner. First, the model is lightweight, and that makes it a better choice for casual lumberjacks and women who want to do light trimming or cutting. It is a safer choice as well because of the chain brake that's designed to protect users from kickback.
Also, we never had to worry about oiling the chain because the built-in oiling system took care of that and offered constant lubrication during our jobs. And like other chainsaws in our list, this too provides an auto-tension system that keeps the chains from becoming loose. 
Oh, not to forget the fact that this is a battery-powered model, so no question of fixing fuel or dealing with other such similar hassles. Another advantage we appreciate from an electric chainsaw is that they rarely cause emissions as high as their gas counterparts. Ergonomic, high performing, and environment-friendly, what more could you want?
What could've been better?
No chainsaw model is perfect, and considering that this one is rather cheap, it wouldn't be wrong to expect some flaws here and there. The biggest quirk we noticed is that the auto-oiling system uses too much oil to keep things smooth. This is not the case with other products we've reviewed so far.
Pros
Incredible value for money

Environment-friendly and easy to use

Safety features have been taken care of
Anyone familiar with chainsaws or other heavy-duty home improvement tools should be familiar with the brand, Poulan Pro. And the PR5050 is another worthy product that's deserving of the recognition it's been getting lately. This 20-inch chainsaw has enough tricks up its sleeve to impress both casual and pro users, which is why you should give it a thought.
Why did we like it?
Well, just like other products in our review, we were tempted to try this one out after reading rave reviews online. Boasting 20% lower fuel usage and up to 70% less toxic emissions, this model became an immediate purchase. And after using it for mostly firewood cutting, we're glad to report that we were impressed for the most part.
We liked how easy it was to start, and we could do it in one good pull 99 percent of the time. Once fired up, the OxyPower engine takes over and gives this tool enough capability to cut through almost all wood types and sizes. What if you need to stop? Well, the double post chain brake makes sure that happens and that too without putting you at any risk.
There's also the side adjust chain, which comes with easy access clips mounted on the cylinder cover for quick access to spark plug and filter. Portability wise, we thought this product was decent as it weighs 13 pounds. However, other user-friendly features such as combined choke/stop control, purge bulb, and combi tool make this chainsaw more accessible.
What could've been better?
The model we received didn't come with any manufacturing defects (not that we expected it to), but some people have complained about receiving faulty products. They also suggested that customer care wasn't always of help and can be improved a lot.
Pros
The 20-inch bar for heavy cutting

OxyPower engine for maximum performance

Plenty of beginner-friendly features
Cons
Customer support can disappoint
If you're looking to buy a Makita Chainsaw, but the first product on our list was a little too expensive, then the UC4051A might be a good option. This product is cheaper, and although it comes with lower power and more 'basic' features, it is good enough for the regular homeowner. Read about our experience and decide for yourself.
Sale
Why did we like it?
There's the brand value of Makita involved, sure, but the features this electric chainsaw comes with are commendable. There are not many "special features" to talk about here, so we'll get right to the basics. Like all models, this one also comes with tool-less blade adjustment, which makes the unit easy to use and maintain.
And if you're looking for additional comfort, you'd be glad to know that the rubberized grip handles would have you covered. We liked how the handle is designed ergonomically, and when you count in the lower weight of the model, using it to cut trees becomes easy as a breeze. Also, we didn't encounter any issues related to starting up the machine, thanks to the switch.
We tried it out through dogwoods, hickory, and oak, and it went through the logs with relative ease. This chainsaw is not as powerful as the previous models, but given its portability and ease of use, that's a tradeoff we'd gladly accept. And if you get worried about bar oil running out, there's always the view window to take a peek into the reservoir.
What could've been better?
This is a corded chainsaw, and that might be a deal-breaker for some; we didn't think it of a problem though given the other benefits. The charging time could've been lower, though. Complaints from other users are mostly about manufacturing defects, but since we didn't face any, we're not going to mark that as a con. 
Pros
Ergonomic handle for more natural grip

Portable, light

Powerful enough to cut through many types of wood
Since we're nearing the end of our list of the best chainsaws, we thought it would be good to bring you some cheaper models. But don't take this as a sign we're slacking off and reviewing under-performing products. It is instead the opposite. The XtremepowerUS 22-inch Chainsaw is a unit that combines useful features and great price.
Why did we like it?
Costing a bit more than a hundred dollars, this unit is good enough to challenge quite a few higher priced models with its 2.4HP engine. In addition to providing ample power, this engine helps with lowering CO2 emissions and consumes less fuel. That has been made possible thanks to the EcoBoost technology and the clean air-intake system.
For heavy-duty chainsaw users, the 22-inch chainsaw combined with the engine will make sure they get through their job as fast as possible. And they don't have to worry about running out of oil either as the Auto chain oiler takes care of that. The oiling mechanism also ensures the chainsaw remains in decent condition throughout the year.
Since this model is on the cheaper end, one would naturally expect some flaws, and there are a few! But the presence of features like easy Starting System and Quick Stopping for better safety sweeten the deal even further. Oh, it has anti-kickback technology too in case you were wondering.
What could've been better?
Okay, honest confession: the first product we received was defective, and it had to go through a lot of hoops to get it exchanged by the manufacturer. The product was working fine, but then it suddenly stopped starting. The second product didn't give us any problem; just that in some instances, it got hotter than usual. And that's about it.
Pros
Offers excellent amount of power for heavy users

Comes with plenty of safety features

Produces less emission
Cons
Reports of manufacturing defects
GreenWorks returns, and this time with a 14-inch model that makes doing jobs around the house very easy. Like the previous GreenWorks chainsaw, this one also prioritizes environment-friendly operation while not sacrificing much in terms of power or overall efficiency. Where does it excel, where does it lack? Find out everything here.
Sale
Why did we like it?
You can say this model is the junior edition of the Greenworks PRO 18-Inch 80V Chainsaw and costs up to 5 times less (yes, you read that right!). So, despite it being a much cheaper option, we dare it could be a suitable choice for both beginners and heavy chainsaw users. Why? Because it contains almost every feature a more expensive model might have.
For example, the GreenWorks 20222 provides features like tool-less chain tensioning, auto-oiler, and wrap-around handle that are present in more expensive units. And with the 14-inch bar, we could go through logs of 12-inch diameters with relative ease. Given this unit is also lightweight (only 8 lbs) and has good portability features, everyone can use it easily.
If the lower price sets off red flags, then let us assure you that this model is worth the cost and more. Sure some issues crop up here and there (more on that later), but overall it's a great model to have as a backup if you're a regular user.
What could've been better?
Well, one downside some people are talking about is that the bar chain oil measurement is complicated to read, and they could only do it after unscrewing the cap. Also, this chainsaw consumes an unreasonable amount of bar oil, and we ended up refilling once after every 7-10 cuts depending on the wood type and diameter.
Pros
Offers excellent VFM

Can cut through thicker and tougher wood types
Cons
Consumes too much bar oil
Now that you know about our top 10 picks, we're going to give you three additional choices just in case you're hungry for more. And for these reviews, we'll keep things short and sweet, starting with the Oregon CS1500. This is another budget option that often flies under the radar.
Sale
Why did we like it?
This chainsaw is a corded one, sure, but don't let that one quirk persuade you from not trying it out. For starters, this model comes with an 18-inch guide bar and chain combo powered by PowerSharp, which makes sharpening the chains super easy. Also, the instant start capacity lets us get down and dirty right away.
But what about convenience and safety? Well, Oregon has taken care of those as well with features like chain brake, ergonomic design, low-noise, and auto-oiler with a 'view through window.' We used this product to clear many tree stumps off our yards, and it did so pretty well most of the time. 
What could've been better?
Oregon is a reliable brand, but in the case of this product, we felt a little deceived after seeing the amount of plastic parts used for this model. And you might already know that plastic parts are more prone to damage.
Pros
Great price

Has the necessary safety features

Instant start works great
Cons
Corded

Many plastic parts
In the 12th sport, we have an exciting product by Kobalt, this cordless electric chainsaw is one more product newbies can buy for light household tasks like pruning, cutting up small fallen trees and such. With commendable features and a great price to boot, we think this is a worthy addition to our list.
No products found.
Why did we like it?
This 12-inch bar chainsaw is light and portable, so most users will find it incredibly easy to carry around and do jobs around the house. And given how it comes with no cords attached, you can easily take it where ever you want. This element makes the model easy to maintain and store away after use as well.
The 40V Li-ion battery gave us decent runtime (up to one hour), and since we have a spare battery, we could cut up to 2 hours with both. This chainsaw by Kobalt also comes with standard safety and convenience features such as auto-oiler, tool-less tensioning, low-kickback bar, so you know you're all set in those respects too.
What could've been better?
People who are used to using heavier and more powerful chainsaws might feel something is lacking in this product even though it cuts well. Sure, you can't expect the raw power of one of the more expensive models on this list, but this unit gets the job done as promised.
Pros
No cords attached

Each battery can last up to 1 hour

Has enough safety features
And finally, we have another chainsaw from Remington that also happens to be the cheapest on our list, who even knew that a chainsaw could cost less than fifty dollars and still do the work it's supposed to do? Well, once we started using the Limb N Trim RM1425, we couldn't help but feel pleasantly surprised.
No products found.
Why did we like it?
Well, to begin, this chainsaw weighs only a bit over 6 lbs, which probably makes it one of the lightest models in the world. And if that isn't good enough for you, think about the 8-amp electric motor that makes it very easy to cut through saplings, slender branches, and wood. 
We admire the fact that despite being a very basic product, it comes with a push button oiler. Press the trigger once and it'll quickly release enough oil to lubricate the 12-inch bar, which has a low-kickback potential. When the chain gets loose or if you want to avoid it getting loose in the first place, make use of the Quick Tensioner to adjust the tension.
Also, this piece requires no assembly as it comes ready-to-use right out of the box. Do all these features sound convincing enough for you yet?
What could've been better?
This isn't really a con, but sometimes while we were operating the machine, it felt cheap sometimes, quality and build wise. But given how cheap the unit is, we're not really surprised. Still, it's not a bad product by any means.
Pros
Extremely lightweight and portable

Comes with all the standard safety features
Cons
Build quality feels a little cheap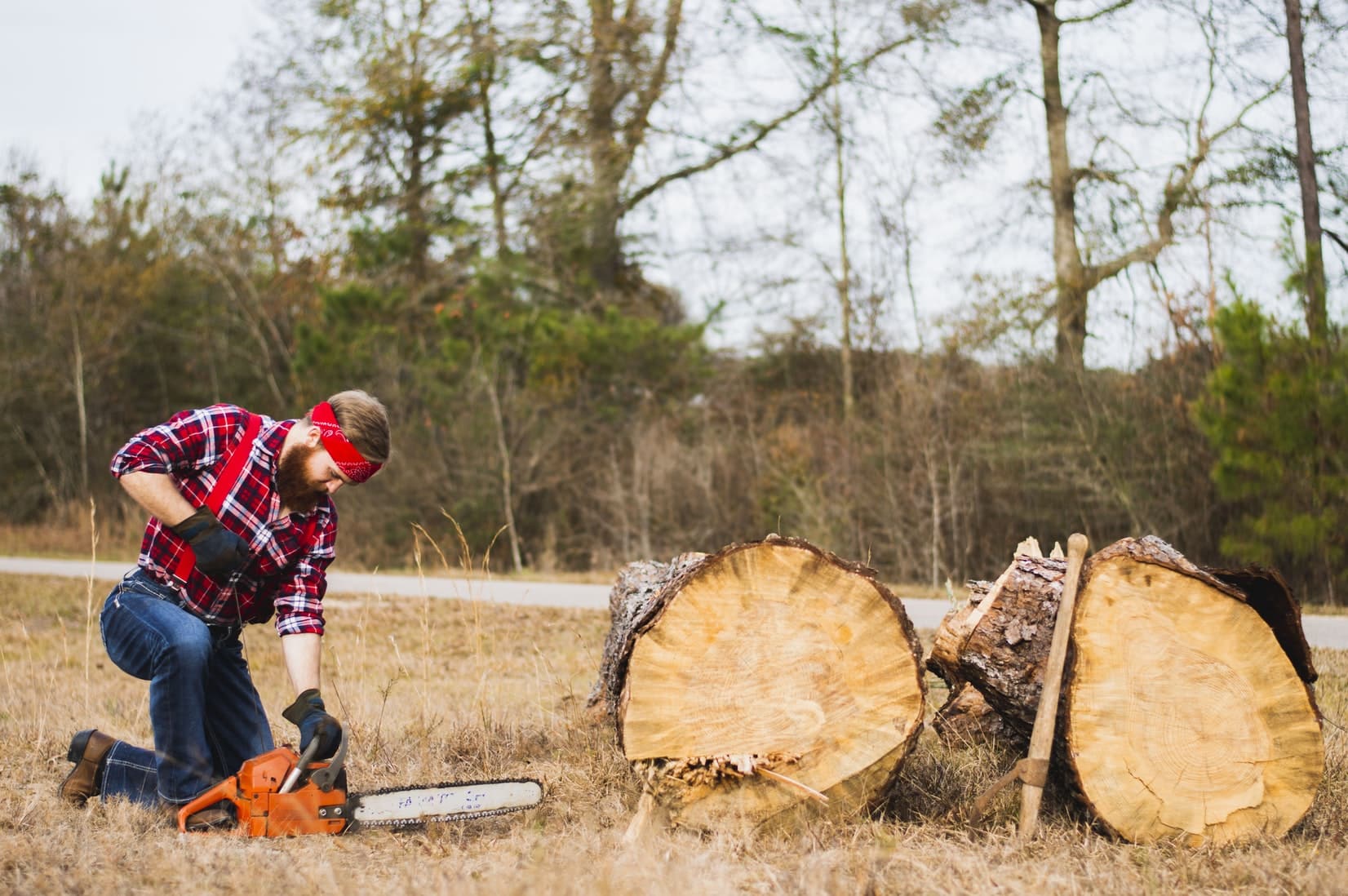 Chainsaw Buyers' Guide  
How do I use a chainsaw if I've never used one?
Firstly, don't worry, as intimidating as these machines may look, they don't pose a risk as long as you take the necessary safety precautions. Every chainsaw is different and differences in features such as startup, stopping, etc. can vary between products. So, make sure you read the safety and operating instructions carefully for each product before use. 
Also, don't forget to count the size and weight of the chainsaw model you're planning to buy because you'll need to feel comfortable using it. 
There are also specific gear available for chainsaw users that ensure additional safety, which you MUST buy. These include a helmet/hard hat, safety gloves, long pants, steel-toed shoes, as well as eye and ear wear. Buying all these might seem daunting (and expensive) at first, but trust us, they're necessary and will save you a lot of hassle later on.
Does a chainsaw need oil?
Oh absolutely! Even if you have an electric chainsaw, having spare chain oil is always a good idea because it needs to remain properly lubricated at all times. Ample lubrication ensures that your chainsaw will keep running efficiently and experience less wear over time. 
The good news is that most chainsaws today come with auto-lubrication mechanism, so all you need to ensure is that the tank has enough oil. Also, regular cleaning helps keep things smooth while preventing overheating during use.
What's the effect of chainsaw chains wearing out?
Chainsaw chains do wear out over time and when they do, the most common sign is them stretching out and becoming practically unusable. Chains stretch out faster when there isn't enough oil for lubrication, which leads to greater friction between the chain rubbing the guide. 
It's also crucial to remember that chainsaws with bigger guides and chains will consume more oil and you'll have to match the input if you're especially cutting a dry type of wood. A worn out sprocket is another problem that often causes chains to stretch, making it fit only loosely along the guide. Check the instruction manual carefully to avoid that.
What happens if a chainsaw overheats?
Chainsaws overheating happens more often than many people realize and like most power tools (and other machines), the problem can get worse during summer. These machines come with very powerful engines that are prone to overheating and to minimize the chances, you should always do regular maintenance.
Take special care to ensure that the intake areas are clean and are not clogged with dust, debris, and other extraneous material. The engine as well as the guide and chain combo should be lubricated regularly as well to minimize friction. 
"But what happens when a chainsaw overheats?" Well, to answer your question in short, lets just say that the chainsaw's life might get cut short dangerously.
Should I choose a gas or an electric chainsaw?
That would depend on your individual needs, preferences, and priorities as both types have their own share of flaws. Go for a gas-powered chainsaw if you're looking for raw power and don't mind the emissions and noise it might generate. Gas chainsaws also tend to be more on the expensive side due to their heavy-duty work capacity, so bear that in mind too.
Buy an electric chainsaw if environment-friendliness is your priority #1 and you don't intend to do regular, commercial tasks. Apart from producing lower levels of emissions, these units make less noise and are also not as costly as their gas-powered counterparts.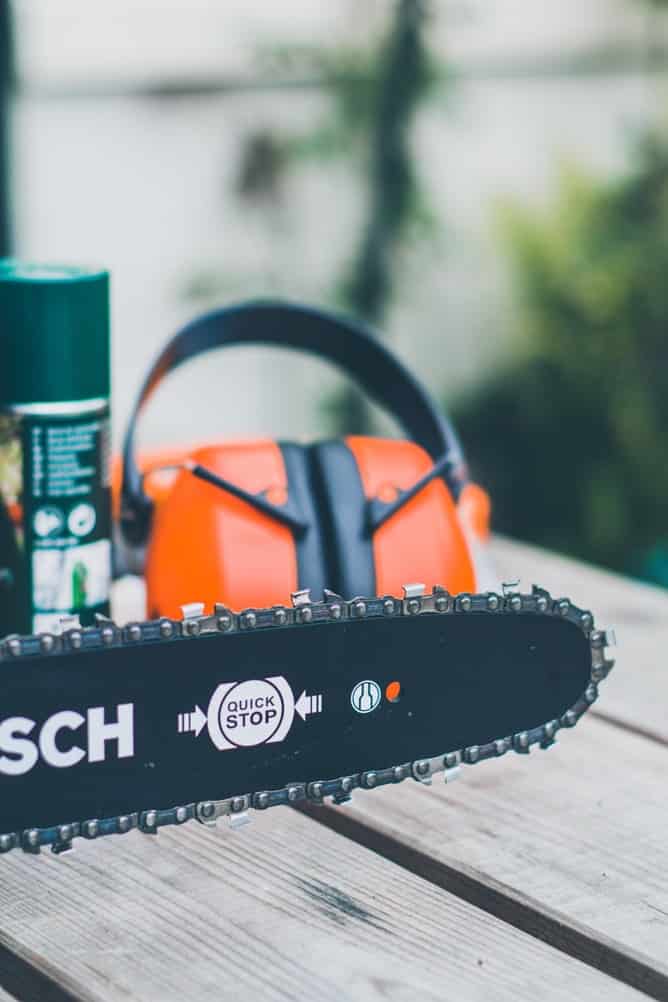 What should I pick?
Okay, we get that choosing one among 13 different options can prove to be a tough task, especially since all the products have their vices and virtues. However, a good way to begin narrowing down would be to determine what's the maximum you can afford to spend on a chainsaw. If your budget is on a higher end, any product from #1 to #5 would be a good choice.
The Makita XCU02PTX1 and Remington RM4618 are two models we'd especially like to recommend for both professional and casual users with a good budget. The middle range is great too for people who won't be using their chainsaw for heavy-duty tasks too often. 
The lower end models like the Remington Limb N Trim and WORX WG303.1 would be a great fit if you just want to cut light branches and won't want to spend much. 
So, that concludes our guide on the best chainsaws.
What will you buy?
Let us know in the comments.
Related Articles
13 Best Cordless Oscillating Tools
13 Best Screwdriver Sets on the Market Today
13 Best Wood Routers for Professionals & Amateurs Alike
Simply the Best Stained Glass Ring Saws 
49 FREE DIY Router Table Plans For an Epic Home Workshop
10 Best Shop Vacs For Dust Collection 
Top 10 Longest Pole Saws For Tree Pruning 
11 Best Hammer Drills on the Market Today
11 Best Tap And Die Set on the Market Today | Buyer's Guide
11 Best Torque Wrenches on the Market Today | Buyer's Guide
11 Best Multi Tools Reviewed | Buyer's Guide
11 Best Angle Grinders on the Market Today
11 Best Oscillating Tools Right Now | Buyer's Guide and Reviews
6 Best Chainsaw Brands to Consider 
Simply The Best Cordless Power Tool Brands
11 Best Sliding Compound Miter Saws
13 Best Stud Finders – Review & Buyer's Guide
11 Best Budget Bandsaw Reviews 
11 Best Table Saw Fences [Reviewed & Buyer's Guide]
DeWalt DW735X Planer Review [Should You?]
Bosch 4100-10 Jobsite Table Saw [Reviewed]
Hack Saw Vs Bow Saw [All You Need to Know] [Explained]
9 Best Compact Circular Saws Of 2022 [Reviewed & Buyer's Guide]
How To Sharpen A Bow Saw And Bow Saw Maintenance