Half the festivity of Christmas is associated with its decorations. A barrage of colors and compositions flowing in and around the house indicate that a household is ready to welcome the holidays. Indeed 'tis the season to be jolly. While garlanded fir trees are the centerpieces of Christmas celebrations, many other trinkets, emblems, and ornaments complete the festive decorations of the season.
For instance, icicles make a Christmas tree look more close to our imaginations. The ones made of glass are good enough to be used as standalone ornamental items as well. Then there are glass baubles and balls. If a fir tree is the trademark of Christmastide decorations, then animated baubles are the soul of it. Interiors and outdoors lined with threaded baubles create a look for which we love the Christmas decorations.
The Big Day is not that far away and many are already geared for celebrating it with zest. If you have also started warming up to the winter festivity and thinking of going for a decoration shopping spree, then keep on reading this article. We are going to review different icicles as well as glass bobbins and balls that are available in the market right now and considered quite hot for '19 Xmas Decorations.
We are going to divide this piece into two sections. First, we will discuss all the best Christmas glass icicles available in the market right now. Then, we move on to discuss the top of the line glass baubles and Christmas balls. Respective buying guides for both these Christmas glass ornaments will also be there at the end of the reviews.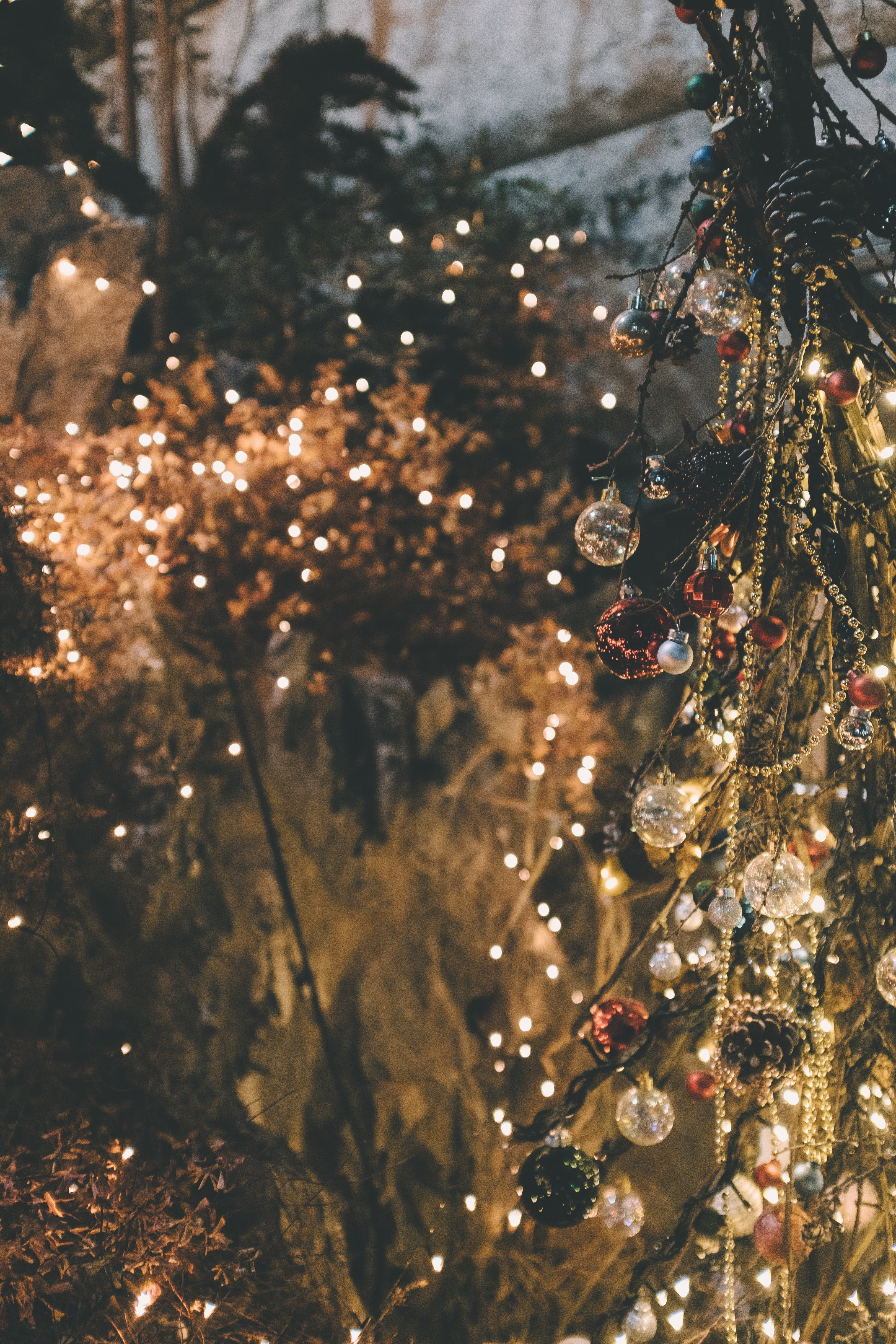 Six Best Christmas Glass Icicles
Here are the six of the best Christmas Glass icicle products available in the market right now.
Carved out of clear glass

Features dripping design

An Amazon's Choice product
Kurt Adler has introduced a cost-effective clear glass icicles option so that you can ace your Christmas tree decoration. It is a set of 24 clear glass 3.5 and 5.5-inch long icicles pieces (12 each). In short, a single box of Kurt Adler Christmas Glass Icicles is enough to fully drape a tall fir tree with dripping ice. And if you are spacing your decoration placements, then a single box can easily be used on two trees.
Besides decorating the tree, you can also use them as individual ornaments. The icicles are latched with strong thread. With their help, you can hang them anywhere in the house. Whether it is windows or doors, a line of these clear glass icicles with a realistic dripping design will put a dash of wintertide to your Xmas decorations.
We would strongly recommend these fine glass icicles to have a wintery and icy makeover of your Christmas tree. Due to its low price and excellent utility, Kurt Adler Glass Icicles is given the "Amazon's Choice" seal of approval in the category "Christmas Glass Icicles."  
Pros
A low-priced glass icicles option
Crafted with great care for details
Can be used as a separate ornamental piece
Cons
Only available in the US
Fragility shortens their shelf life
24 pieces of icicles in two different lengths
Each icicle is handmade
Made of high-quality clear glass
Whether you are looking for a better quality glass finishing or a fan of handcrafted artisan work, NorthPoleXpress Twisted Clear Glass Icicles is an easy pick for you. The seasoned craftsmen at NorthPoleXpress have molded every icicles piece to perfection with their hands.
As a result, you will get icicle ornaments that stunningly look like a real icicle dripping with water. NorthPoleXpress is also offering its icicles in a pack of 24 with 3.5-inch and 5.5-inch long pieces. The high-quality clear glass finish makes them equally good for decorations other than Christmas. When the winter holidays finish, put them back in their box and use them as a decorative accent for parties or weddings.
These high-quality glass icicles are available on Amazon with an impressive 4.7-star customer rating, which shows that users have liked them a lot. 
Pros
Extremely delicate and lightweight
Comes with a satisfaction guarantee
Can be used for general home accenting as well
Cons
A bit heavy on the pocket
Requires extra care to keep it usable for any next decoration work
A set of six clear-glass icicles
Features festive twist design
7.5-inch long
The two icicles products we have discussed above come in the sets of 24 pieces. All those homeowners who just want to add a couple of glass icicles to make their Christmas trees look wintery, buying a set of 24 pieces may seem overspent.
For all such users, Kurt Adler has introduced a small box of six icicles that comes in a padded box. It is important to mention here that these icicles are longer than what you will find in the earlier reviewed Kurt Adler set. The 7.5-inch long, twisted, and dripping structures of clear glass with pointed ends are sufficient for a tree even in fewer numbers.
The 4.4-star rating on Amazon indicates that Kurt Adler's decision to introduce a small set of glass icicles was the right decision!
Pros
Best for the decoration of a single Christmas tree
An inexpensive option for long-size icicles
Dripping design for a more realistic depiction of real icicles
Cons
Long length makes them more susceptible to cracks
Limited use (just for Christmas tree decoration)
A set of 12 colorful bead-festooned icicles
Each icicle is 4.5-inch tall
Entails versatile use
Oriental Trading Company Glass Icicles are quite different from what we have reviewed above. These icicles are not the twisted clear-glass structures. Instead, they are draped in the hues of blue and amber and along with colorful beads on top and bottom. These glass icicles look stunning on Christmas trees when illuminated by the light coming from surrounding fixtures.
The shape, size, and color of these glass icicles clearly indicate that Oriental trading hasn't designed these ornaments exclusively for Christmas decorations. After the festivity of winter ends, you can hang them with the chandelier or use them to accent any part in the house.
Another good thing about these colorful glass icicles is that you can also use them as stocking stuffers along with candies and chocolates.  
Pros
Colorful icicles can be used for general accenting as well
Can be a good addition to Christmas stockings
Looks stunning under lights
Cons
Doesn't create the feel of a real icicle
Fragility can cut down their service life
A set of 24 clear glass icicles in three different lengths
Do not deform under high temperatures
Handcrafted artisan design
If you are a purist who wants to draw out the same frosty feeling of a real sharp icicle on your Christmas trees, then Department Glass Icicle Ornament is a tailor-made option for that perfect winter decoration. It is a set of 24 icicles in three different lengths.
Sale
In a single Department 56 pack, you get eight pieces of 7-inch, 9-inch, and 11-inch long icicles each. In other words, you get the opportunity to decorate your Christmas tree with your own sensibilities about freezing frosty weather. The other good thing about this pack of pure glass icicles is that you just have to buy them once. Even if some pieces crack or break, the count of 24 is enough to cater you for more than one Christmas.
Moreover, the 24 long icicles also make the Department 56 Ornament bulky and worthy of being wrapped and gifted to your loved ones. 
Pros
Makes for a good pre-Christmas gift
Handmade making ensures close resemblance with real icicles
Equally good for using in sunlight and heat
Cons
A bit heavy
The extreme trim makes them more brittle
A set of 12 pieces of colorful icicles, in matching pairs 
4.5-inch tall
Comes bubble wrapped
Homeneeds Inc. has introduced a multicolor set of 12 medium-sized icicles in six matching pairs of assorted designs. These are the most color enriched icicles available in the market right now. Homeneeds Inc. has also made sure that these animated delicate glass ornaments can be used all year round.
Hang them up with your chandelier or with the window sill and see how these colors revel in the presence of light. While placing the order for yourself, add one extra to the cart because they turn out to be a great Xmas present. With every individual icicle enveloped in a bubble wrap and placed into a polystyrene case and outer box, a set of Homemade Inc Icicles makes a great gift box. 
Pros
Can be used as standalone glass ornaments
Features proper gift box packaging
Great for outdoor decoration too
A budget Christmas ornament
Cons
Doesn't create the feel of real wintery icicles
Finishing is not that great
Short Buying Guide for Christmas Glass Icicles
Although we have covered all the best options available in the market, here are some points that will help you in picking an icicle set that will fulfill your exact needs.
Number of Icicles
As you have noticed, the number of icicles can vary with every product. If you are looking to decorate more than one Christmas tree or want to use them as a general item of accenting then go for sets with 24 or more pieces. However, if you are looking just to give your tree a little bit of winter makeover, then even a set of six will be sufficient.
Colorful or Transparent
It primarily depends on your aesthetic preferences. The patterned and colored icicles are not just Christmas ornaments but they make for great party accent as well. You can use them in all seasons and for all celebrations.
However, they can't replicate the same real ice-like icicles impression that transparent ones do. If you just want to recreate the atmosphere of winters, then it will be well pulled off through clear glass transparent icicles with twisted and dripping designs.
Length of Icicles
This is another factor you need to consider if attention to details is the first and foremost thing for you in any decoration. The long, pointed, and delicate icicles create the closest feeling of a real one but they are quite fragile and prone to cracks. On the other hand, shorter icicles are not that close to reality but they are more durable and more versatile decoration options.
10 Best Christmas Glass Baubles & Balls
As your Christmas glass icicle shopping has been sorted, let's look at 10 of the best Christmas glass baubles and balls.
A set of 17 crystal ornaments
Made of mouth-blown glass
Round and totem-shape baubles
Packaged in a cardboard box
If you are looking for a wholesome Christmas ornamental offer, then you would definitely love this Glasburg Mercury Christmas Mercury Glass Ornament. It is an assorted box of 17 crystal baubles of different shapes and sizes. This ornament box is enough to decorate a long, large-crown tree. The solid cardboard packaging also makes the set look like a valuable Christmas gift without much effort.
Everenty glasburg M
Material:Mouth Blown Glass
Beautiful ornaments in onion, round, ball, and drop shapes...
The thing we like most about Glasburg Mercury Glass Ornament is its oriental look and feel. If you are opting for a classic décor this Christmas, then Glasburg ornaments will come in really handy. Their glass finish and traditional designs have the perfect mix to bring out an elegant classic ambiance. In light, these crystal pieces look majestic.
We would strongly recommend this ornament package not just for Christmas but also for other festive decorations all year round. 
Pros
Crystal ornaments for classic décor
Can be used as a gift
Can be used for non-Christmas decorations as well
Cons
Too fragile
Can't be used in every Christmas decoration theme
Made of mercury glass
A perfect Christmas gift
Comes in three different shapes
Over the years, many of us have learned that there is no way to separate tradition and vintage-ness from Christmas celebrations and decorations. Let's take the example of Christmas baubles that still look great in classic vintage shapes and finishes. Mango Moon Products has perfectly captured the essence of traditional winter decorations in its Silver Glass Tree Ornaments.
It is a pack of six spherical mercury glass ornaments featuring three different patterns. These ornamental balls are in diameter of 2 and 2.5 inches. In order to make its offer more attractive to Christmas buyers, the manufacturer is offering these glass baubles with rustic swirl hangers i.e. you don't need threads and ribbons to hang them.
Apart from festooning your Christmas tree, this set of six vintage glass baubles can be used to accent beams in and around the house.  With a 5-out-of-5 star customer rating on Amazon, it is pretty clear that users completely approve of the vintage celebration and decoration of these Christmas baubles. 
Pros
From shape, finish, ring to hanger—everything exhibits the perfect vintage feel
Comes with a money-back guarantee
Can be used to accent beams and mantles
Cons
Not enough baubles in the set
A bit heavier
4 Santa face baubles
Made of hand-blown glass
Packaged in a window box
Many times Christmas decorations are about the whims and wishes of kids. If you are also looking for glass baubles that your kids will approve of, then look into this Kurt Adler product. It is actually a set of four 3.15-inch baubles featuring a funny and cute Santa face.
Santa's white hair and beard are made by silvery glitter and a red gemstone represents the nose. Holy leaf and berries are also there. Meanwhile, the rest of the bauble features glittery swirls. All these features show that Kurt Adler has wonderfully detailed these funny baubles.
The packaging of these Santa baubles has also won us over. The six glass baubles are carefully placed in their chambers in a window box. At first glance, it looks as if it's a box of gourmet pastries.
Add a fun element to your Christmas decoration with these oversized Santa glass baubles.  

Pros
Ideal for fun Christmas decorations
The premium packaging makes a good gift box
High-quality and detailed finish
Cons
Hangers are not included
Do need extreme care to prevent cracks and chips
A set of 15 red-and-white balls
1.57-inch tall
An Amazon's Choice product
Everything is so perfect and good about this Kurt Adler ornamental package that we don't know from where to start. It is a pack of 15 small-size ornamental Christmas balls draped in the colors of candy canes. Kurt Adler has also tried to mix things up by including different designs and patterns into this single bauble set.
Sale
From polka dots to swirls and jagged lines to stems, these glass balls feature all designs that are associated with Christmas decorations. Every glass ball also has a chromed ring that can be used with all sorts of swirl clips. We also love the packaging of these red and white ornaments.  They come in a triangular window box arranged in a pyramidal pattern. You can also use this set as a gift box.
The tag of "Amazon's Choice" in the category "small Christmas ornaments" puts the seal on the value of this wonderful Christmastide decoration item. 
Pros
A perfect match for Christmas festivity
Carefully finished in different designs
Wonderful packing, ideal as a gift box
A bang for the buck
4-inch glass balls
Made of mouth-blown glass
Handcrafted
Environment-friendly manufacturing
If small Christmas balls are perfect for accent decoration, then a large one can be used to create a focal point. Badash's Christmas tree ornaments are actually those large glass balls that you can use to paint your interior in full Christmas colors. It is a pack of four mouth-blown glass balls of 4-inch diameter.
The balls are handcrafted for a stunning combination of color. The base features bluish-gray hue that is adorned with golden and copper glittery frills, arranged in a horizontal and vertical display. This creates a basic yet elegant design pattern that looks extremely good in ambient light.
Go for these large Christmas glass balls if you are looking for classic and rustic decorations. 
Pros
All designs are created manually by Polish artisans
Made of environmentally sustainable natural components
Color treatment is pretty good
Cons
A bit heavy
Can only be used in certain settings
A bit heavy on the pocket too
A set of 16 miniature silver glass balls
Can be used as tree toppers
An Amazon's Choice product
This Kurt Adler Christmas ornament is a mix and match of miniature sliver glass globes that you can use, as both hanging baubles or with tree toppers. This set of 16 miniature balls feature bright red, green, yellow, and blue rings. Then some balls have pins and others have hanger rings so you can use them accordingly. The pin ones can be used as tree toppers as well.
Sale
We love the old-age nostalgic charm that these 30 mm silver balls bring out. The rightful color combination also makes it possible for you to use them with all sorts of Christmastide decorations. A pack of Kurt Adler miniature glass globes will be a value purchase for the upcoming season and so forth.
A customer rating of 4.1 stars and the tag of "Amazon's Choice" in the "miniature Christmas Ornaments" category indicate that users love this Christmas decoration item.
You can buy it here.

Pros
Ideal for both general accenting and tree topping
Creates a perfect whimsical Christmas feel
A reasonably-priced glass ornament option
Cons
The quality of the paint could be better
A 4-inch glass globe
Made of mouth-blown glass
Features a handmade painting
This is the second Badash product on our list. It has the same remarkable feature that got the first product on our list of best glass baubles. It is also a 4-inch mercury glass globe. However, instead of giving it a playful color pattern, artists at Badash have reproduced an entire painting on it.
You see a snowy landscape with a snowman and two children playing in the snow. Artisans from Poland have painted each and every individual glass globe by hand and taken care of all minute details. The snowman is not just donning the hat and scarf but the fringes of its scarf are also waving in the air. Similarly, children are sitting in the pose and attire that you will find in most real pictures of children playing in the snow.
The handcrafted nature of this Christmas glass globe makes it one of a high-end product on our list. 
Pros
A one-of-its-kind handcrafted ornamental globe
Ideal for all sorts of Christmas decorations
Made through environmental-friendly procedures
Comes in an attractive wrapped package
A hand-painted glittered glass globe
Fitted with a LED and Micro-cell battery
Comes in a sturdy gift box packing
Cardinal birds have a deep-rooted connection with Christmas. With their color, they symbolize the faith and warmth the Christmastide brings during dreary winters. For that matter, people well-aware of Christmas traditions love the depictions and illustrations of cardinals in winter decorations.
Burton & Burton has particularly designed a 4-inch glass globe with a cardinal bird painting. You see a dark red cardinal sitting on a tree branch with the sequin berries and bushes in the background (for accent). The silver finish provides a snowy backdrop to the painting by design.
The most stunning feature of this Christmas décor globe is its built-in LED illumination. A LED and a micro-cell battery are already fitted in its silver cap. This arrangement makes Burton & Burton Cardinal Ornament a focal piece of Christmas décor in nights. Moreover, the light sieving through the translucent surface of the ball makes interesting patterns on the nearby floor and walls.
Even if it's not Christmas, this painted glass globe is a great option for nighttime accenting of an interior.  
Pros
A stunning addition to your nighttime Christmas decoration
Hand-painted cardinal elicits the premium feel
Can be used as a general item for accenting
Cons
An expensive Christmas globe
Made of mouth-blown glass
Hand-painted by Polish artists
Comes in an innovative packing
Joy to the World has been offering handcrafted European ornaments for two decades now. It has an entire range of similar handcrafted decoration items for Christmas that gets renewed every season. This 100 mm glass globe we are reviewing here is actually designed by Metzler Brothers.  Like any other product of this manufacturer, the ball features only the marvels of artisan's hands.
The globe is painted with Russian aesthetics all around. You see a typical troika associated with the region cruising on snowy planes with a Russian castle in the backdrop. The artists have painted the entire ball so that you can easily use in a location with multiple viewpoints.
The overall blue-and-white appearance of the glass globe matches well with the frostiness of the season. 
Pros
Best for snow-themed decorations
Painting creates a more enriched decoration experience
A great Christmas gift
Cons
An expensive glass ball
Doesn't go well with all Christmas decoration themes
A set of nine colorful glass balls
Each piece is 1-inch tall
Complete set weighs 9.9 ounces
Kurt Adler has dominated this list, and rightly so. Its Christmas glass ornament options are one of the best in the market right now. We are also wrapping up our list with yet another Kurt Adler glass ornaments. It is a set of nine silver glass balls of 1-inch diameter. The balls are finished in four different bright colors. Moreover, the topping of golden glitter gives them a perfect makeover to represent Xmas festivity.
These glass balls are carefully packaged in a plastic case and a window box so you can also them as a valuable Christmas gift box. 
Pros
A colorful and glittered combination for joyful Xmas decoration
Good packaging, can be used as a gift box
Reasonable price
Cons
Hangers and hanging ribbons are not included
The finishing could be better
A Short Buying Guide for Christmas Glass Ornaments
While the above 10 products have enough variety for you to choose from, we are going to share some important points that one must consider when picking glass baubles and balls for trees and other Xmas decorations.
The Set Size
From 4 to 24, you will find different sets with a different number of pieces. Although it is your discretion to pick the set that you like, generally we would recommend you to go with larger sets. Not only this bulk buying makes its price reasonable, but you also get enough trinkets and trifles to decorate the tree and other parts of the house.
Bauble Size
If you are only looking for glass balls for the Christmas tree, then go with miniature balls. No matter what the height of a tree is, small-size glass balls always look perfect as its decoration. Moreover, small baubles also prove to be a good hanging accenting option when arranged in a string.
On the other hand, large size baubles (usually 4-inch tall) are great to be used as standalone focal pieces and table centerpieces. Medium baubles (1-2 inch) look great on tall and thick Christmas trees.
Colors
With Christmas glass baubles, you have the option to go with or without colors. The simple transparent baubles well complement elegant decoration themes and look stunning under lights. Meanwhile, the colorful glass balls truly capture the joy, warmth, and festivity of the occasion. Red, green, yellowish golden, and sliver are some common colors associated with Christmastide and therefore, you will find them recurring in every other bauble and ball set.
Lastly, painted options are also available in the market and we have also reviewed a few. If you are going with more thoughtful and nuanced Christmas decorations then these thematically painted glass baubles will be of great use.
Design
Truth to be told, there are not many designs available in Christmas glass baubles and balls. You get the same globe, patterned globe, and some totem-shaped baubles in every set. We think that consistent designs in Christmas baubles are good since they keep the traditional festivity of the season pure and rooted.
The Cap
Many people ignore this important factor but we strongly recommend that you pay attention to it. Nearly all Christmas baubles and balls are attached with caps that contain pins, hooks, or loops. So, pick the ones that you deem easier to set up. Also, make sure that the cap is strongly affixed on the bauble. A loose joint between the two is a direct threat to the service life of a delicate glass ball.
By taking care of these elements while shopping Christmas glass bobbins and balls, you can get home some of the best glass options available in the market.
Related Articles
14 Awe-Inspiring Ceramic Christmas Decorations
19 Christmas Tree Paper Decorations for Delicate Look
12 Best Christmas Glass Tree Toppers for a Jolly Xmas
14 Best Star Christmas Decorations for a Shiny Christmas
14 Best Christmas Tree Lights to Consider This Year
Learn How to Store Icicle Lights After Christmas
19 of the Best Candle Gifts Sets & Baskets for Epic Presents | Candles Gift Guide 101