Who does not like a neatly organized house, right? However, keeping it organized is the real challenge – unless you're Mary Kondo!
Closets are, without a doubt, one of those "hard to keep organized" things in the house. All it takes is a few consistent days of running late to work or one night of getting dressed for a party. That's when the streak of a perfectly maintained closet comes to an end, and it looks like a hurricane passed through your wardrobe. 
So, what really is the solution here? You can either live in the mess you have created or get a closet kit to organize everything efficiently. If we have managed to grab your attention and convinced you to tidy up, go on and read our review of the seven best closet kits of 2023. 
Now, time is of the essence, so let's get right to it!
Best Closet Kits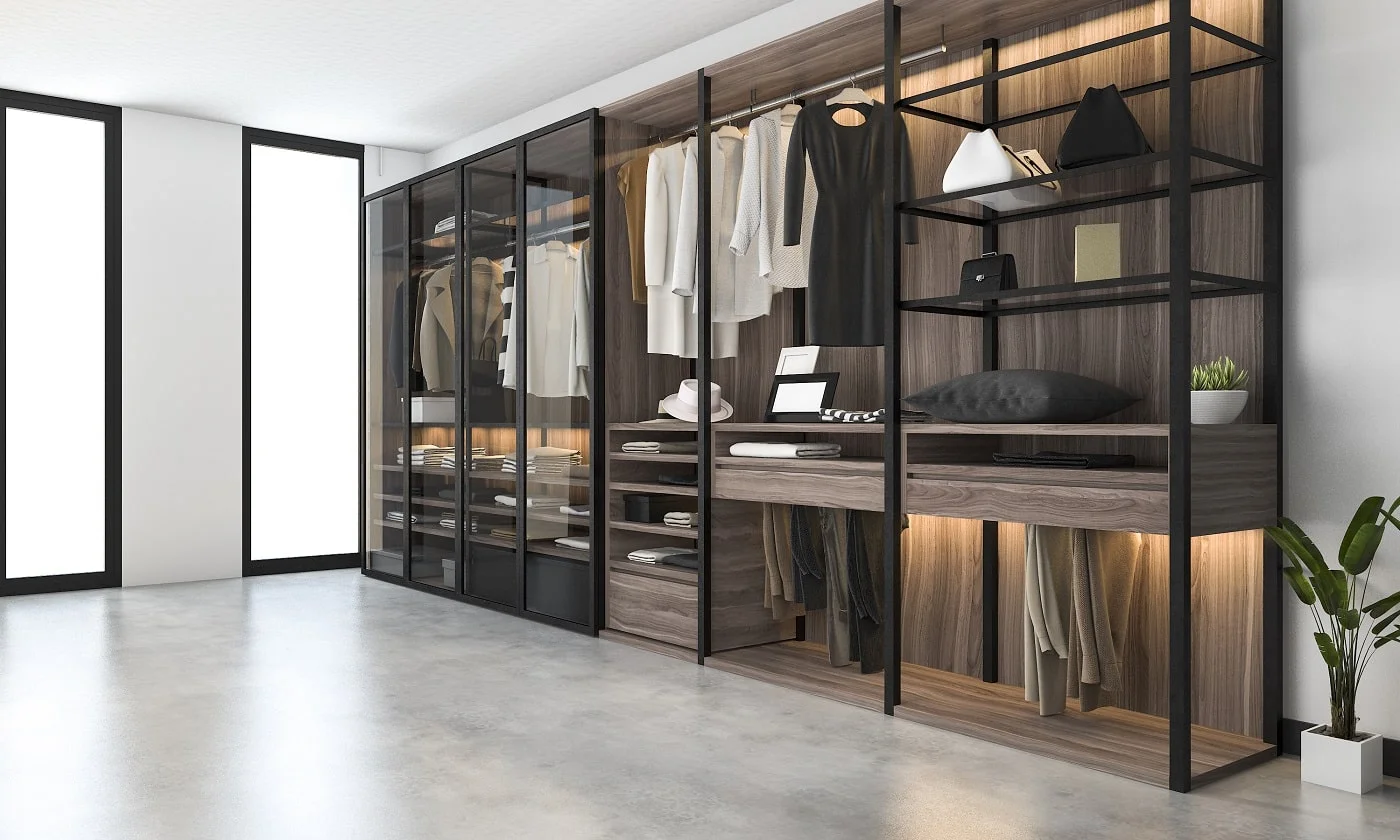 Whether you're looking for a budget-friendly option or a high-end system, we've got you covered. So, without further ado, here's the list of the 7 best closet kits.
Instead of keeping everything chaotically stacked on a low-quality wire shelf, take a look at this deluxe closet kit. With a bit of screwing and measuring, you can have an elegant closet space that allows easy hanging and storing. Additionally, this is ideal for closets between four and eight feet wide.
Why Did We Like It?
If you are looking for an all-in-one kit where the only things you will need are tape and a drill, then this kit by Rubbermaid is ideal for you. This kit by Rubbermaid has four clothes rods, nine expandable shelves, and all the hardware needed for installation. Plus, it includes placement markers to ensure everything is installed appropriately.
This kit is also great for people that require a lot of space. The adjustable shelves can expand and increase space in any four to eight feet closet. Additionally, you can customize the closet by adding more railings to it and genuinely utilize every inch. The days of folding expensive gowns and stuffing fancy suits in smaller gaps are over. With this kit, you can create double-hanging sections.
We also like how durable all the components of this kit are. The rails and shelves have a sleek finish that will not only last long but will ensure nothing rusts or even yellows with time. 
What Could've Been Better?
This whole kit is simple, but it has a ton to provide. However, the only thing that is a bit of a drawback is that installation takes time. There are quite a few elements to install, plus there is a ton of adjusting to do, based on height and preference. Other than that, it is ideal if someone wants a simple kit for essential organizing.
Pros
All necessary hardware included

Strong rods and holders

Ideal for maximizing space

Additional accessories available
Cons
Lengthy installation process
Material: Epoxy-coated steel | Size: 4-8 ft. | Weight Capacity: Up to 200 lbs. per shelf | Mount Type: Wall-mount
One of the best ways to store things and keep them looking neat is by doing it vertically. This is why the tower kit by ClosetMaid is worth looking at. This one offers ample hanging space and allows you to keep everything stored in a non-chaotic fashion. Read on below to find out more about this gorgeous closet organizer.
Sale
Why Did We Like It?
This versatile tower kit can utilize every inch of space, whether your closet is four feet wide or nine feet wide. This kit has the tower, three adjustable rods, and two adjustable shelves that are more than enough to store all your belongings. But that's not all; the adjustable rods can be fixed on either side of the tower or just one side to fit the closet better. 
We were pretty impressed with the amount of space this kit creates and how well it can help organize your things. When installing it in wider closets between six to nine feet, this tower kit can provide you with a long hanging space alongside double hanging. Plus, these rods can be cut to fit the closet as well.
Additionally, this kit ensures you can utilize the space in the tower and the adjustable shelves. You can fix them at your convenience and even buy additional accessories like modern or traditional drawers to segregate the area. 
What Could've Been Better?
While the instructions are easy to follow, there is a lot to get done while assembling, and it is 100% a two-person job. This puts people who live alone at a little bit of a disadvantage, but what are friends for? Other than that is an excellent organizer that is heavy-duty and sturdy. 
Pros
Drawers and additional shelves available

Easy to cut rods for proper adjustment

Budget organizer

Easy-to-follow instructions
Cons
Need two people for assembly
Material: Laminated wood | Size: 25 in. | Weight Capacity: Up to 100 lbs. | Mount Type: Freestanding
For people that do not have ample closet space, like couples in studios or even students in dorm rooms, this one is worth considering. The Simple Houseware closet organizer is ideal for anyone that cannot screw shelves to the wall. The wide storage spaces and easy-to-use setup is what makes this eye-catching.
Why Did We Like It?
If installation with power tools is not something you look forward to, take a look at this closet organizer by Simple Houseware. It has a sturdy metal construction, available in bronze, brown, and silver. Since this is a freestanding clothes organizer, you don't even need separate closet space for installation.
Now, let's talk about installing this kit. As we mentioned, this is a freestanding organizer, which means there is no need to attach it to a wall or anything. All you need is a rubber mallet to make sure the rods are in place, and that's it. Moreover, there are no screws or bolts in this whole setup, as everything can lock itself into place.
We also appreciated that it is super lightweight and can hold quite a bit of weight as well. Users have mentioned that it can hold a bunch of shoes, jackets, and bags without any issues.  
What Could've Been Better?
While the installation instructions are easy to follow and the process is not complicated, there is a lot of force required to get the job done. Most of the users mentioned that brute force is required to put the whole thing together. We recommend installing this with another person to get it done without straining yourself.
Pros
No screws or bolts

Ample shelf space to store everything

Can be placed anywhere in the house

Lightweight
Cons
A lot of strength is needed
Material: Metal | Size: 24.5 in. x 11.5 in. x 32 in. | Weight Capacity: Not specified | Mount Type: Freestanding
Next on this list is yet another ClosetMaid closet organizer. This one is slightly different from the one we previously reviewed as it is made for expansive closets. Moreover, it is ideal for people that like adjustable features for space maximization. Let's take a look at why this one happens to be a popular choice.
Sale
Why Did We Like It?
The ClosetMaid ShelfTrack organizer kit is an all-in-one kit; what's not to like? It includes all the hardware you need to install this closet. The only things you will need are a tape measure, screwdriver, drill, and a hacksaw (for cutting if required). Moreover, you might need a step ladder when placing the higher shelves.
Made for any closet space up to eight feet wide, this closet organizer kit includes ventilated wire shelves. These shelves make it easier to adjust the space and are also effortless to mount while installing. Moreover, the kid has a super slide rod that attaches easily to the shelves and allows hangers to slide off without any problem.
Another great thing is that these rods are tremendously easy to cut using a hacksaw. So if you wish to adjust the rods, you do not need to buy a smaller rod to make them reach a specific height. 
What Could've Been Better?
Much like with the other ClosetMaid closet kit, this one, too, is easy to assemble but can take more than one person to do. Moreover, the directions are a little hard to follow, which amounts to the installation time. But once done, it can transform your closet space.
Pros
Easy to slide hangers off the rod

Adjustable and ventilated shelves

Sturdy construction

Hardware included
Cons
Installation will take three to four hours
Material: Epoxy-coated steel | Size: 5-8 ft. | Weight Capacity: Up to 600 lbs. per 6 ft. | Mount Type: Wall-mount
Your little black dress or uber-dashing coats can finally be hung on a rod like they deserve to be. This closet by Tangkula is ideal for people who want the best of both worlds – ample rack space and hanging sections. Not only does it have a useful two-in-one design, but it is also pretty to look at.
Why Did We Like This?
Looking for durable closet organizers is a thing of the past now, thanks to the Tankgula Custom Closet System. This one is made out of steel and is made to withstand high pressure and weight. Hence, you can rest assured this will not deform under a solid long. Moreover, it is powder-coated, so the metal is rust and corrosion-proof.
You will appreciate that this kit has four hanging rods so that you can utilize the space to the best of its ability. Additionally, it also had six wire shelves that can store bags, shoes, and more clothes. With the amount of space this kit can provide at a reasonable cost, it will take a lot more to get a closet made professionally (for lesser space).
Another interesting thing is that the shelves are also fully adjustable and are placed on top of the other. So, extending them based on storage or closet needs is not a hassle either. 
What Could've Been Better?
We found the whole setup quite sturdy, and it wasn't very difficult to install either. However, we did find the shelves to be a little flimsy compared to some of the shelves found in competitor kits. We recommend not storing heavy-duty things, especially on the middle shelf. Other than that, it provides ample space and is super easy to use.
Pros
Adjustable

Ample hanging space

Affordable

Easy to install and durable
Material: Metal | Size: 65 in. x 14 in. x 67 in. | Weight Capacity: Not specified | Mount Type: Freestanding
If you like wooden aesthetics, then this closet kit by tribe signs is right up your alley. This freestanding closet is every organizer's dream with the hooks and storage space it has to offer. Additionally, it has a high capacity as well, which makes it perfect for people with heavy coats and bags.
Why Did We Like It?
Freestanding closet organizers are the best if you lack proper closet space, so why not make the closet worth looking at? The Tribesigns closet organizer has a rustic feel as it has a vintage finish and is made with an E1 MDF board. Additionally, it has adjustable footpads, making it even easier to keep in any part of the house.
Now, coming to what this closet organizer has to offer. This one has four super-strong diagonal hooks that can hold scarves, bags, and even heavy winter coats. Furthermore, it has two large shelves and four small ones that provide plenty of space to store clothes, accessories, and such. What's even better is that the rods provided in the kit can hold up to 50 lbs weight.
All in all, this is an excellent closet kit as it has a sturdy construction, thanks to the metal frame. You will appreciate that the total weight this closet can take is about 300 lbs.
What Could've Been Better?
This closet is definitely one of the sturdier ones in the market. The only thing that you need to keep in mind is that it has a ton of screws required for assembly, and they all come in a small bag that rips easily. So make sure all parts are taken out carefully, so it is easy to assemble.
Pros
Very sturdy construction

High-quality MDF board

Footpads can be adjusted

Easy and fast assembly
Cons
Screws come in a small bag that tends to rip open
Material: Metal tube and fabric | Size: 59 in. x 17.7 in. x 68.9 in. | Weight Capacity: Not specified | Mount Type: Freestanding
Finally, we have the Whitmor Deluxe closet, which is yet another freestanding one. Ideal for people with no dedicated storage space, this easy-to-install closet kit has plenty to offer. Plus, it is aesthetically pleasing and blends in well with any type of interior. Now, moving on to some of the eye-catching features.
Sale
Why Did We Like It?
The only thing that is better than storage shelves is storage bags, and that is what this closet kit has to offer. The Whitmor Deluxe closet includes three shelves that are perfect for storing towels, clothes, or pretty much anything you want to. Additionally, it has a 12-pair hanging shoe organizer, so the shelves are free for clothes. 
We also like that this kit has two extendable bars, creating a double hang area for long dresses, coats, and clothes that technically should not be folded. Furthermore, the shelves have enough space for additional storage containers as well. If you are the type that likes to keep things tucked away in boxes, this closet is for you.
Assembly is pretty straightforward as well since there are no tools required to do it. All of the pieces are made to fit each other perfectly, and users have mentioned it can be done in about 30 minutes.  
What Could've Been Better?
The overall construction is not as sturdy as some of its competitor closet kits. Moreover, there have been instances where the drawers are not sliding smoothly, which can cause the whole kit to shake a little. We recommend not positioning this as a freestanding closet but as it wobbles less when it is against the wall.
Pros
Ample space provided

Storage bags and shoe rack included

Easy to assemble

Attractive design
Material: Metal | Size: 60 in. x 19.5 in. x 64 in. | Weight Capacity: Not specified | Mount Type: Freestand
Best  Closet Kits Comparison Table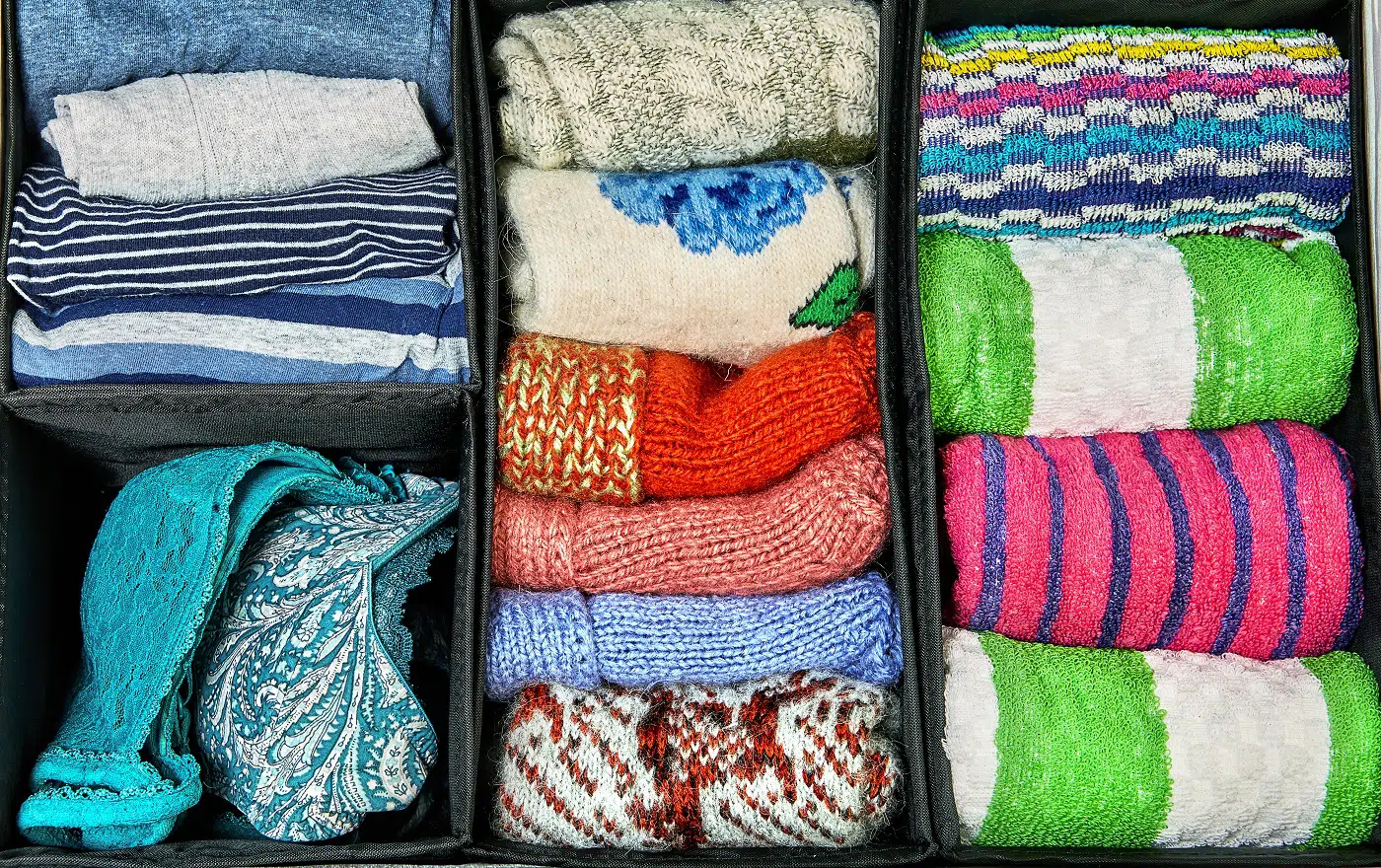 Buying Guide For The Best Closet Kit
Closet kits are the perfect alternative to an actual closet. This is especially true for people that either have a poorly made closet or none at all. Kits like these end up being much more affordable than most professional closet makers, and some don't even require a dedicated closet space.
With the sudden rise in kits like these, there is no doubt different companies are coming up with bigger and better ones to meet the demand. And if you are one of those people who think they might need one, it is crucial to know what you should be demanding. This is why we have come up with a short buyer's guide to help you.
Now, let's get right into it, shall we?
Ease in Installation
The first thing to look into is how easy it is to install. The idea is to make sure the kit does not take days to put together. Another thing to keep in mind is the tools required for the installation. If you are into DIY, then maybe using power tools wouldn't be a problem. However, there are plenty of closet kits that do not need more than a screwdriver and a wrench (sometimes not even that!).
Functions
Now, the next thing to keep in mind is the functionality of the closet organizer. Are you someone that likes to store things or hang them or both? That is the first thing that you need to be mindful of when picking out a kit. Additionally, look out for the ones with storage boxes, so it lowers the cost of accessories.
Look
Considering this organizer is something you will see every day and your guests will too (if it is a freestanding rack in the bedroom), it has to look good. Keep in mind the interior of the house when figuring out what the organizer should look like. The main thing is that it shouldn't be an eyesore to you or anyone else seeing it.
Material
Since we are talking about the look, there are multiple materials to choose from that can suit the room's aesthetic. Some of the most popular ones are wooden and metallic systems. While the former gives a rustic feel, the latter is more neutral and easily blendable into any interior.
Mounting
This is the last but equally important thing to keep in mind. You will have to keep in mind the space in the closet area or room to decide what type to get. There are mainly two types – wall-mounted and freestanding. 
If there is enough space in the room to buy a freestanding organizer, that will be ideal for you. And, should you wish to go with a wall-mounted one, make sure you measure the closet area properly before selecting the kit.
Closet Kits FAQ's
What types of closet kits are available?
There are various types of closet kits available, including wire shelving kits, wood shelving kits, and modular systems. Wire shelving kits are affordable and easy to install, while wood shelving kits offer a more traditional look and feel. Modular systems allow for customization and can be adjusted as your needs change.
Are closet kits easy to install?
Most closet kits are designed for easy installation, and many can be installed by a homeowner with basic tools. However, it's important to carefully follow the manufacturer's instructions to ensure proper installation and avoid any potential safety hazards.
Can I customize a closet kit?
Many closet kits offer some degree of customization, such as adjustable shelving or the ability to add additional accessories. Some modular systems can be completely customized to fit your specific needs and preferences.
How much does a closet kit cost?
The cost of a closet kit can vary depending on the size, material, and brand. Wire shelving kits can start as low as $50, while high-end modular systems can cost several thousand dollars. It's important to consider your budget and storage needs when choosing a closet kit.
Do closet kits come with all the necessary hardware and accessories?
Most closet kits come with all the necessary hardware, such as screws and brackets, as well as accessories like hanging rods and shelving. However, it's important to carefully read the product description and reviews to ensure that the kit includes everything you need.
Can I install a closet kit myself or do I need to hire a professional?
Most closet kits can be installed by a homeowner with basic tools and DIY skills. However, if you're not comfortable with DIY projects or if you have a large and complex closet, it may be a good idea to hire a professional installer to ensure proper installation.
How long does it take to install a closet kit?
The installation time for a closet kit can vary depending on the size and complexity of the kit, as well as your DIY skills. A small wire shelving kit can be installed in a few hours, while a larger and more complex modular system may take several days.
Can I add additional components to a closet kit later on?
Many closet kits are designed to be modular and allow for additional components to be added later on. However, it's important to check the manufacturer's specifications to ensure compatibility with your existing kit.
Can I use a closet kit in a walk-in closet?
Yes, many closet kits are designed for use in walk-in closets. However, it's important to carefully measure the size and layout of your closet and choose a kit that fits your needs and space constraints.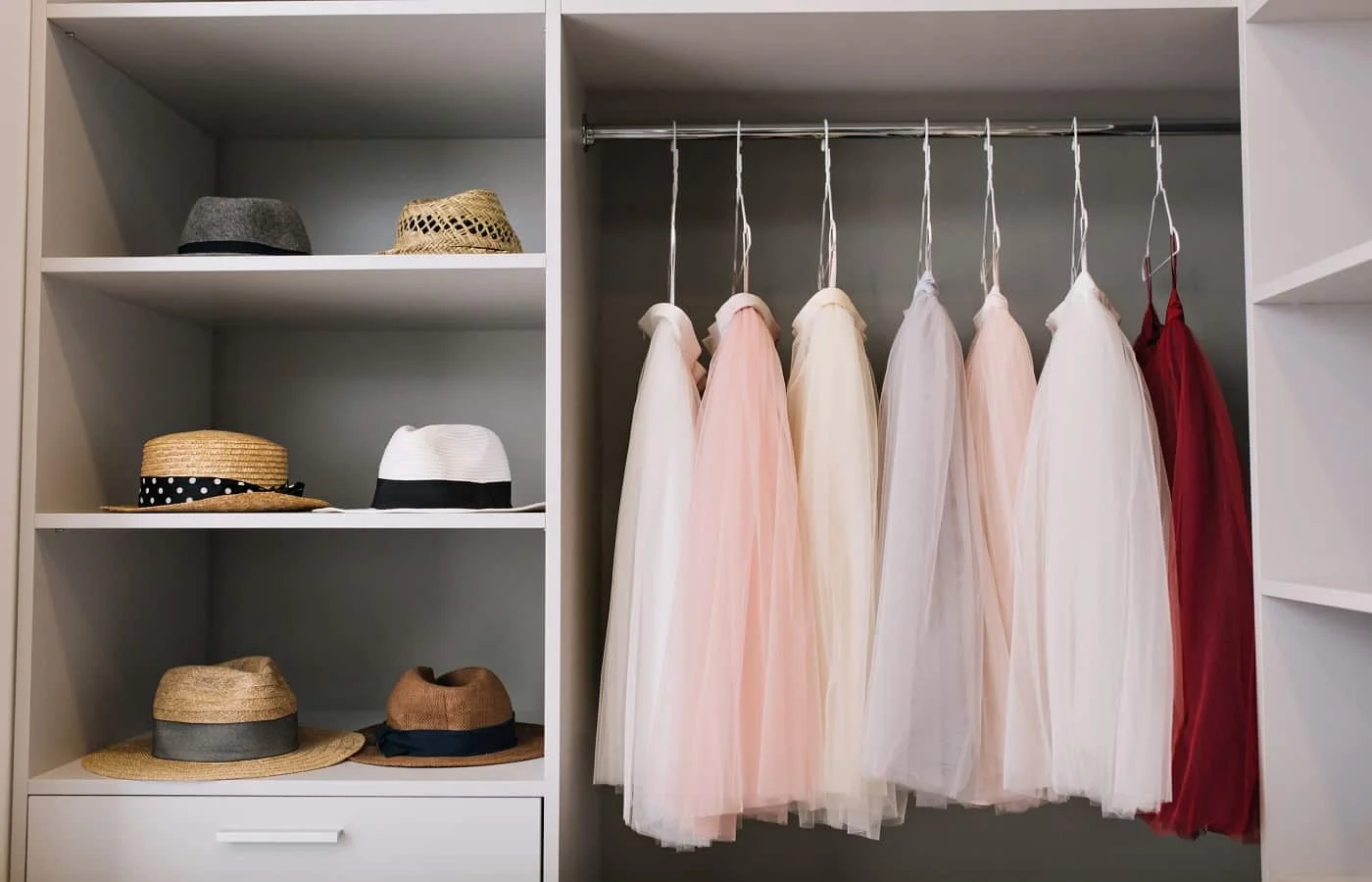 Conclusion
With that, we finally come to the end of our review of the seven best closet kits of 2023 to consider today. We hope this comprehensive review has been enough to help you make an informed decision.
However, if there is still a cloud of confusion looming over your head, allow us to tell you our top recommendations. In all honesty, we highly recommend the ClosetMaid Suite Symphony Tower Kit, followed by the RubberMaid Deluxe Closet Kit.
The reason we like the former is that it has a lot to offer at an excellent price. And, the Rubbermaid Deluxe is ideal if you wish to maximize a small space. Both of these are excellent ones to consider; don't let anyone tell you otherwise.
Let us know which one(s) stood out the most for you, and we shall see you again with many more such reviews.
Until next time! 
Related Articles