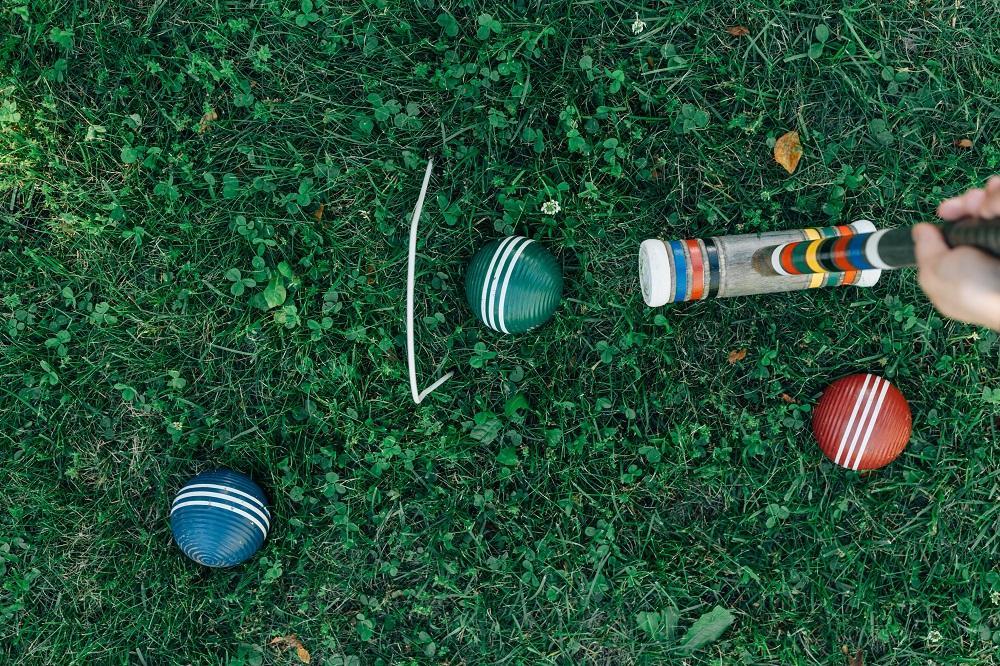 It often happens that you eagerly wait for the holidays but can't figure out how to spend the time when they are finally here!
Well, croquet would be a great way to spend your time as it is a highly enjoyable game that anybody would love. But you've got to find a good croquet set for the perfect game, and that's where the difficulty lies. After all, there are so many options out there and it becomes very confusing to choose one.
Hence, here we are to help you out with a carefully curated list of the 9 best options to consider. We've also included a buyer's guide to help you make a wise decision.
So, without any further ado, let's dive in!
Best Croquet Sets 
IMAGE
PRODUCT
DETAILS

Our Top Pick

Our Top Pick

Juegoal Six Player Croquet Set

Hardwood mallet and handle
Steel wickets coated by vinyl

VIEW LATEST PRICE →

GoSports Six Player Croquet Set

35-inch long handle
Made from premium quality hardwood

VIEW LATEST PRICE →

ROPODA Six-Player Croquet Set

Mallets have detachable handle
Detailed guide

VIEW LATEST PRICE →

Franklin Sports Outdoor Croquet Set

Mallets have knurled heads
Wickets come with all-weather coating

VIEW LATEST PRICE →

Crown Sporting Goods Six-Player Deluxe Croquet Set

32" mallets of hardwood
Wickets are vinyl-coated

VIEW LATEST PRICE →

Hey! Play! Wooden Outdoor Deluxe Sports Croquet Set

Mallet heads shaped like cushions
Nylon carry bag

VIEW LATEST PRICE →

Baden Deluxe Series Croquet Set

Metal connectors on mallets
Poly-resin balls

VIEW LATEST PRICE →

ApudArmis Six Player Croquet Set

Premium quality timber material
Balls made from resin-polymer

VIEW LATEST PRICE →

ROPODA Six-Player Deluxe Croquet Set

Smooth hardwood material
New upgraded style

VIEW LATEST PRICE →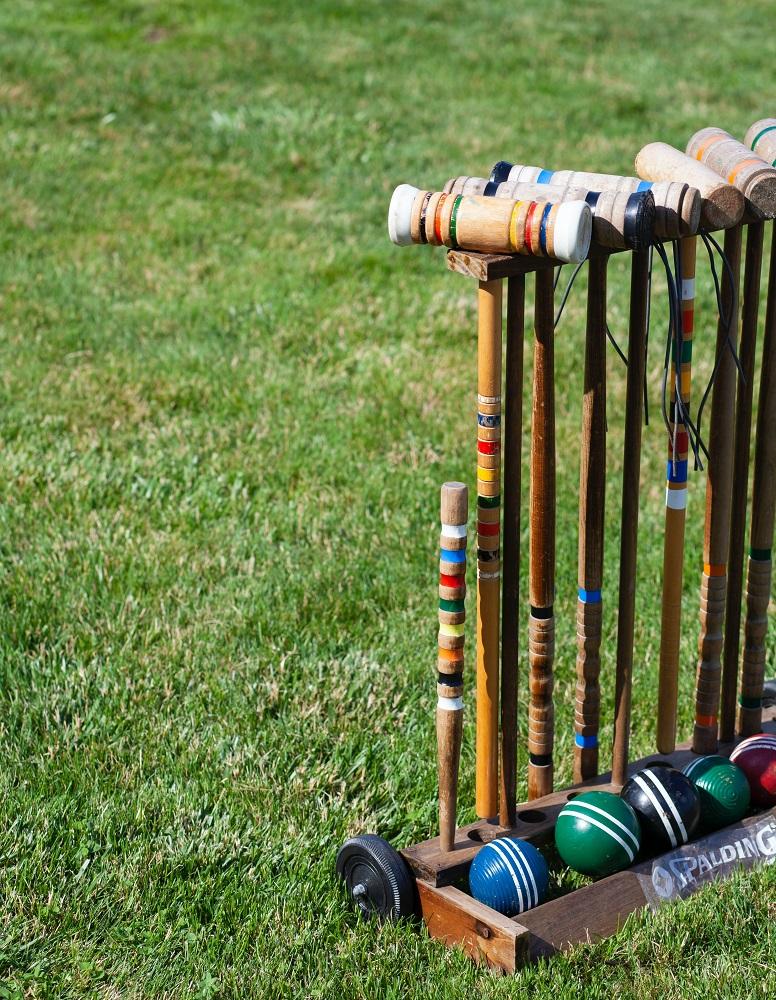 Your child's motor skills can be improved with fun-filled games of croquet in the backyard. And for that, this product from Juegoal is one of the best croquet sets you'll find. A team of 2-6 players can play using this set and it is suitable for people of all ages. This product comes with a number of amazing features, so let's find out what all it offers.
Why Did We Like It?
The best thing about this croquet set was the sturdy material used to make each of the components. These include the mallets, handles, and stakes made from hardwood, which is quoted with long-lasting varnish. As such, they are also completely mold-proof, water-repellent, and smudge-proof.
What's more, the steel wickets that are also included in the set come with a vinyl coating that makes them withstand the wear and tear of frequent play sessions.
You will also like this set for its ease of installation and use. The hardwood mallet and handle are quite easy to set up since you just have to attach them together and arrange the stakes to begin the game within minutes.
Plus, this set comes with an additional drawing bag which is fairly large to carry all the balls and mallets. You can even keep them without disassembling them and carry and store the bag conveniently.
What Could've Been Better?
If you choose to go for this product, make sure you check the contents of the package when it arrives. That's because some of the components may be missing.
In our case, the yellow ball was missing from the set, so we had to report this to the manufacturer immediately. That said, the response from them was very prompt as we got the ball within days of reporting the issue.
Pros
Each component made of sturdy hardwood

Varnish on hardwood is water-repellent and smudge-proof

Mallet and handle are easy to set up

Comes with a fairly large drawing bag
Cons
Some components of the set may be missing
Next, we've picked this croquet set from GoSports, which has an attractive contemporary design. This puts it one step ahead of the traditional models and is bound to impress anyone who spots it. You can have an exciting game with friends and family alike with this high-quality set. It can be used by 6 players and includes 9 wickets, 6 mallets, 2 end posts, and 6 balls.
Why Did We Like It?
Seldom will you get 35-inch long mallets in croquet sets, which is mainly why this product becomes really efficient. It can be used by both tall and short people and comes with wrapped handles that provide a very comfortable grip. Such a handle also offers great convenience and control over your shots.
Another beneficial aspect of this product is that the material used for construction is premium quality hardwood. Such a material is also rarely found in ordinary products, and can last for years to come. That's because it can tolerate all the wear and tear of regular play sessions.
Plus, each of the components is designed in the latest fashion and looks really good on any backyard or lawn. Finally, the storage bag provided with this set is handy enough to neatly store the set and carry it along anywhere you want.
What Could've Been Better?
We found the balls that came with the set to be relatively less sturdy than other sets. That's because they are not able to withstand heavy use and crack or deform easily. And you might not get a replacement for the balls even if you report the issue within the warranty period.
Pros
Long mallets are suitable for both tall and short people

Wrapped handle provides great convenience and comfort

Premium hardwood material can last for years to come

Handy bag helps you to store the set neatly
Cons
Balls are not sturdy enough
We were also highly impressed with this croquet set from ROPODA which is suitable for anyone, be it an adult or a little kid. It provides you with hours of unlimited fun in the backyard or lawn anytime you feel like. This one can also be played with 6 players and comes with the same number of components as our previous picks.
Why Did We Like It?
We loved the detachable handle of each of the mallets provided in the set which made them easy to use and store. Also, the handle could be screwed onto the mallet quite firmly and never loosened. So, you could always hit perfect shots with them.
Further, the wood material was very sturdy as it rendered a long service despite the abuse during our regular play sessions. And the mallets also had protective covers which provided extra durability and safety during every play session.
Plus, the balls had standard heft, so that it produced a nice sound when hit with the mallets and also didn't roll very fast. Lastly, the durable carrying case that came along with the product was perfectly portable and all the components could be stored neatly inside it.
What Could've Been Better?
The steel wickets that were provided in the set were not so durable as that in other products. That's because they didn't have any vinyl coating, making them less tolerant to the ravages of regular play sessions. If you find that the wickets have deteriorated within a short while after purchasing the product, you can report the issue to the manufacturer.
Pros
Mallets easy to use and store

Handle fits tightly onto the mallet

Protective cover on mallets provides extra durability

Balls have standard heft
Cons
Steel wickets not strong enough
This croquet set from Franklin Sports is another top-notch product that you can go for. Each component of this set is extremely sturdy and will last for years without showing any major signs of wear and tear. You and your little ones can play on for hours regularly with this set which comes with all the equipment required for six persons to play together.
Sale
Why Did We Like It?
Firstly, we will talk about the mallets in this set which come with shafts made of natural wood, and heads of hardwood which have custom knurls. This makes each of the mallets capable of withstanding vigorous matches each time. Plus, the brass fittings on them provide extra strength and durability.
Additionally, the wickets in this set are made from bent wire and have a protective coating which can withstand all weather conditions. And there are molded balls which are also as long-lasting as the other components.
What also appealed to us was the stand that came along with the set which had a vintage style. This stand holds all the croquet balls, wickets, stakes, and mallets to allow for convenient storage.
What Could've Been Better?
The bag which comes with this set is not large enough for all the components to fit in. As such, placing them on the stand for storage would always be better. Improper storage may result in the product losing its efficiency. However, if you still think a bag will be better, then you need to purchase one from elsewhere and they would mean shelling off more money.
Pros
Mallets can withstand rigorous matches

Brass fittings provide extra strength and durability

Wickets come with a protective coating

Stand with vintage style allows for convenient storage
Cons
Components don't fit in the bag provided with the set
The next croquet set that we have for you is this classic product from Crown Sporting Goods which is perfect for family gatherings and vacations. This brand is well-known for manufacturing a range of yard games and sports goods. It is suitable for both pros and beginners in croquet and comes with everything that you would need for the game.
Why Did We Like It?
To be suitable for players of all ages and heights, the mallets should be sufficiently long, and this is just what you get in this set. The 32-inch long mallets are perfect for any player and come with strong rubber caps to provide the ideal shot each time.
As for the stakes and wickets, they are also built to last for years, with the wickets coated with vinyl for added protection. Note that the length of each stake is 21 inches, which is also appropriate for the game.
Additionally, the 6 balls in the set are made from high-quality polymer and are hence more durable than any ordinary product out there. Plus, you also get a fairly large and very convenient zip-up bag for storing all the components.
What Could've Been Better?
The only drawback of using this product is that you will have to disassemble all the mallets to store them into the bag. This is a slight disadvantage as you'll again have to reassemble the mallets before the next play session. And there are quite a few other products which don't require disassembling, so you can go for those as well.
Pros
Mallets are long enough for all players

Stakes made from high-quality material

Wickets are coated with vinyl

Polymer balls are very durable
Cons
Mallets have to disassembled to store them in the bag
Another great product which really lived up to our expectations was this one from Hey! Play! With this set, you get to play your favorite outdoor game with best quality equipment. And each game is worth remembering as it offers unlimited fun and frolic. So, let's have a look at what all this amazing product offers.
Why Did We Like It?
The solid wood material of the posts, mallets, and stakes is sufficiently strong for frequent play sessions. Coming with convenient cushion-shaped caps, the mallets are finished with high precision for giving a vintage feel to the product. Such a design also makes each shot accurate and is lightweight enough to provide comfortable balance and grip.
The case is also easy to assemble, since it comes with a comprehensive guide for putting it together quickly. Plus, the U-shaped metal wickets are extremely strong and are coated with vinyl, which adds to the durability further.
Finally, the nylon carry bag with this product can accommodate the components well and can also be carried anywhere quite easily. It also consists of two-handles and a hoop-a-pile closure for additional comfort while carrying.
What Could've Been Better?
Although this product let us play perfect matches with our little ones each time, we felt the mallets could've been longer. So, it may not be suitable for those who are taller. In comparison, our previous pick is much longer and can suit tall and short people alike.
Hence, if you have taller people at home who will join the game too, it will be best to go for longer models such as the previous one.
Pros
Built of very strong and solid wood

Mallets have a lightweight design

They help in making accurate shots

Nylon carry bag stores all equipment comfortably
Cons
Mallets not suitable for taller people
Our next pick for you is this deluxe set from Baden which is an ideal companion for any gatherings, picnics or barbecue parties. Fit for all age levels, this set can bring all your loved ones together in the game. The efficient design of each of the equipment makes the game highly enjoyable, competitive, and fun-filled.
Why Did We Like It?
First and foremost, both setting up the mallets and taking them down is as simple as it can be. That's because there are metal connectors on the mallets which can be attached and detached quite easily. And the firm and durable hardwood material helps the game to become more competitive as all the players can hit good shots.
We also liked the instructions booklet that came along with the product. It contained detailed and illustrated instructions for installation which made the process even easier. Thus, even a group of beginners can assemble and play with the set quite comfortably.
Furthermore, the multicolored balls make it easy to spot them amid the grass. They are also strong enough to withstand the ravages of regular play sessions, thanks to the poly-resin material.
What Could've Been Better?
We found the bag to be slightly small for fitting all the equipment comfortably for storage. Hence, we chose to buy a bag later on for the purpose. Also, the stakes in this set were not as strong as the other components, as evident from some cracks on their surface. If you observe this issue within a few months of purchasing the product. You can report it to the manufacturer.
Pros
Mallets very easy to set up and take down

Firm hardwood makes the game more competitive

Very easy to play for beginners also

Bright colored balls are easy to spot
Cons
Bag not big enough for all equipment to fit properly
This superior-grade product from ApudArmis is among our top recommendations. You get a complete croquet set that has everything required for the game. Also, players of different ages and with different skill levels can play with this set. Note that this set comes with mallets which are 28 inches long.
Sale
Why Did We Like It?
You will be glad to know that the mallets in this set are one of the best that you'll ever find out there. That's because it is made from premium quality timber which is generally used to make high-quality furniture and hence make the game highly enjoyable. The handle of each of these mallets also provides a very comfortable grip.
As for the balls in this set, they are also unique in their design, as they are crafted from resin-polymer that is highly elastic. This material makes them ultra-strong and least probable to be cracked or damaged. As such, you can be assured that these balls will last for a long time without showing any problems.
What's more, you get a large nylon bag with this croquet set that is highly durable and also can accommodate all the components perfectly. So, you can always take the game set for any camping session, picnic, or vacation.
What Could've Been Better?
This set is a bit more difficult to install than other products since it comes with a very brief instruction booklet. In fact, you may not understand a few steps properly, and may have to consult the internet ultimately. So, if ease of installation is a major lookout for you, this product may not be the ideal one to go for.
Pros
High-quality mallets make the game very enjoyable

Handle of mallet provides comfortable grip

Balls are strong and damage-proof

All the equipment fits in the bag perfectly
Cons
A bit difficult to install
ROPODA is a brand we found to be really trustworthy, when it came to yard games and especially croquet sets. Besides the product that we've already talked about earlier, this one was also truly efficient. Recently upgraded on the basis of customer feedback, it can be played by people all ages and is also very simple to use.
Sale
Why Did We Like It?
Straight off the bat, we loved the upgraded style of this croquet set, which gives it a different look altogether. As such, it offers you a fresh style that won't be found in most of the products available out there. Compared to the usual light wooden finish on all the equipment, this set comes with a dark and shiny wooden finish to make it look much more elegant.
Plus, the mallets are 32 inches long, which makes them suitable for both taller and shorter people. This is also a great advantage over those products which come in the average length of 26 to 27 inches.
What's more, the croquet balls which come with this set are just as strong and durable as the other equipment. This is made possible by the sturdy damage-proof material which is used for making them.
What Could've Been Better?
Sometimes the packaging of this product may be done improperly, with either the box not being taped or a portion of it being crust. In fact, you may even find some equipment damaged due to faulty packaging. So, make sure you check the product thoroughly just after it arrives, and report any issue to the manufacturer as soon as possible.
Pros
Offers a fresh, upgraded style

Mallets are sufficiently long

Croquet balls are strong and durable

Easy to set up and install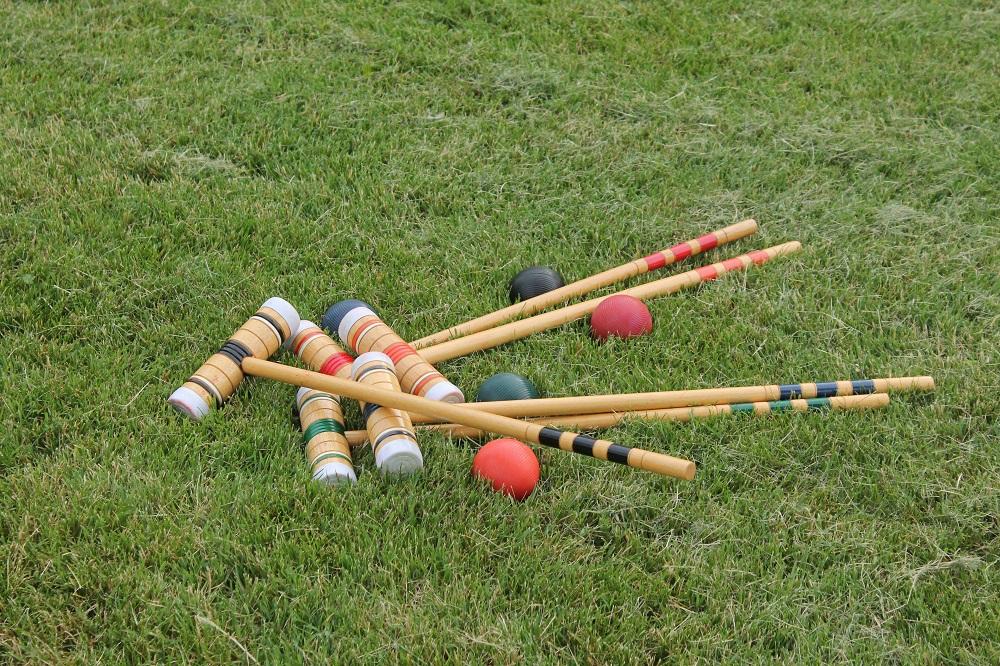 Croquet Sets Buyer's Guide
Buying the right croquet set for yourself and the little ones won't be difficult if you follow the right approach. You need to consider your needs and preferences and also certain important factors pertaining to croquet sets. Note that the best croquet set would have features which are suitable for any player. So, here are some essential points you need to keep in mind.
Handle Of The Mallets
You must match the length of the handle of each mallet with the average height of the persons for whom you are buying the set. While very long handles may be a bit difficult to handle for small children, teenagers and adults will need longer handles.
However, there are also some superior-grade models which come with a design that makes them suitable for people of all ages.
Croquet Balls
Wooden balls were utilized in the early day for playing croquet, but later on it came to be known that wood wasn't that suitable for making those balls. Note that most balls nowadays are made from plastic or other polymers.
While the inferior quality plastic may warp due to extensive use, the high-quality ones don't get affected easily. So, make sure you check the material of the balls while going through the details of any product.
Material
While the best sets consist of high-quality wooden equipment, others use natural wood with a colored finish. Some of the sets made from the latter variety are also quite efficient and are much more expensive than the ordinary products.
There are still some other products that use vinyl or plastic and are more affordable. So. checking the material used to make the set is also important when going through the details of a product.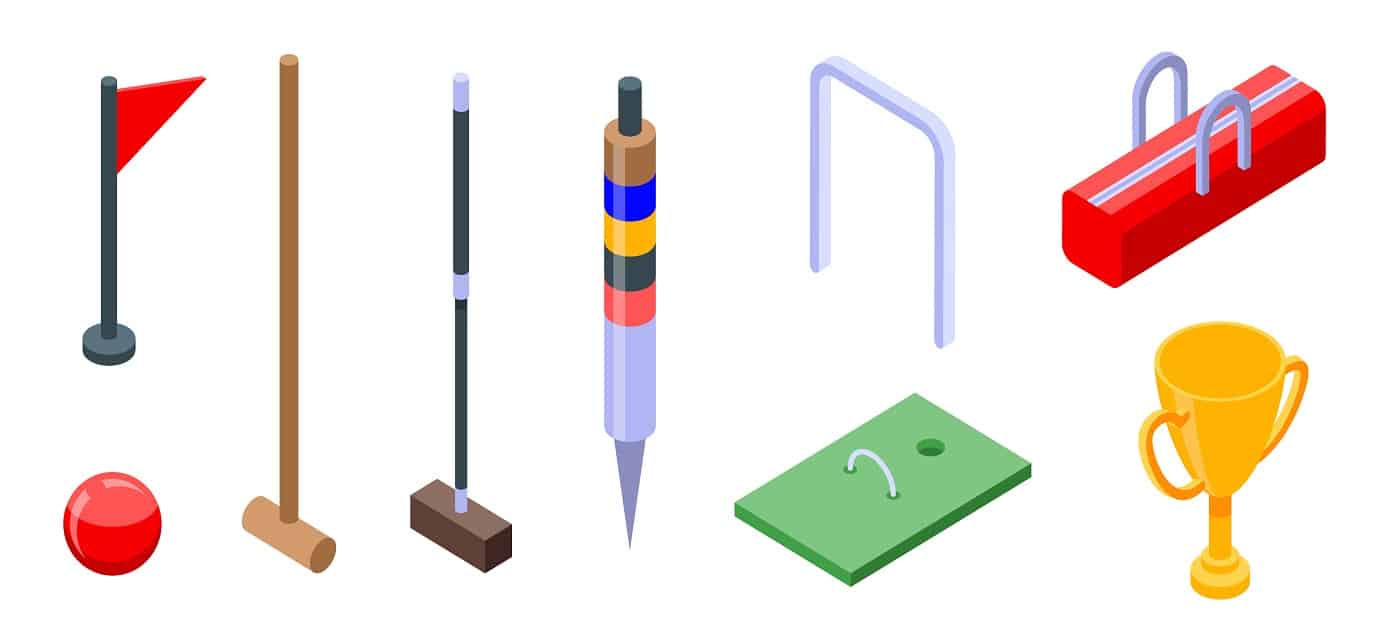 Verdict
With this, we come to the end of this guide, and we hope it will be easier for you to choose the best croquet set now. But before we sign off, we would like to recap our favorites from the list.
The Franklin Sports Outdoor Croquet Set will be an ideal choice if high-performance and cost-effectiveness are equally important to you. On the other hand, if you don't mind spending a bit more on a reliable product, the ROPODA Six-Player Croquet Set will be a great option to go for.
Let us know whether you agree with our verdict in the comments section below.
Till next time! Adios!
Related Articles