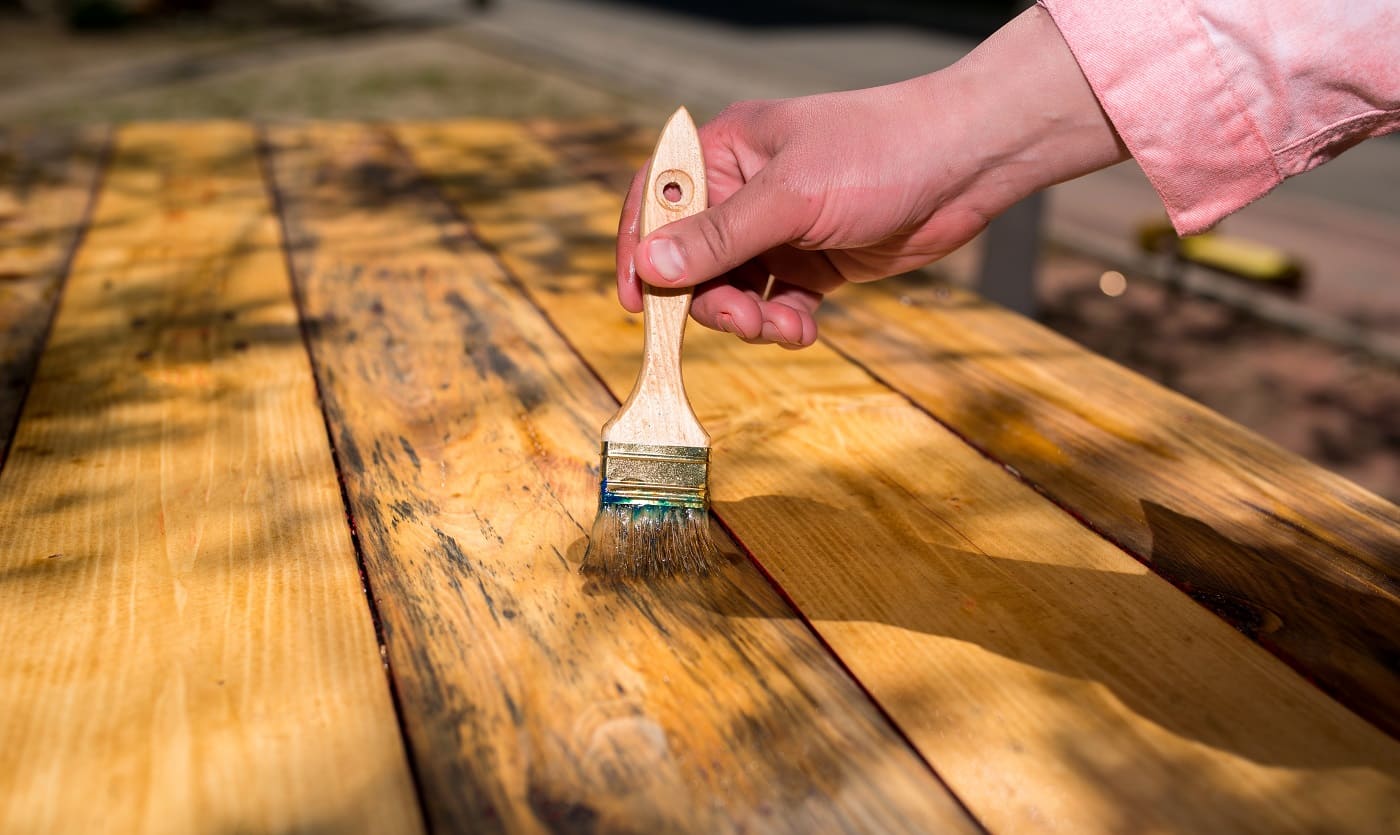 Maintenance is vital to keep your home in pristine condition, but is it as easy as it sounds? 
Contrary to popular opinion, there is no need to spend a lot of money to look after your property. In fact, a fresh coat of paint is enough to give your house an attractive and vibrant appearance. Not to mention, it takes care of the imperfections and protects the furniture. 
Today we are looking at deck stains that will help you enjoy the comforts of the outdoors throughout the year. Applying an efficient deck stain helps you enjoy the natural appearance and texture of the wood while keeping it safe. 
Moreover, there are numerous color options to choose from that make your home eye-catching. To know more about this fantastic product, you can read our reviews of the nine best options available out there. 
Top Deck Stains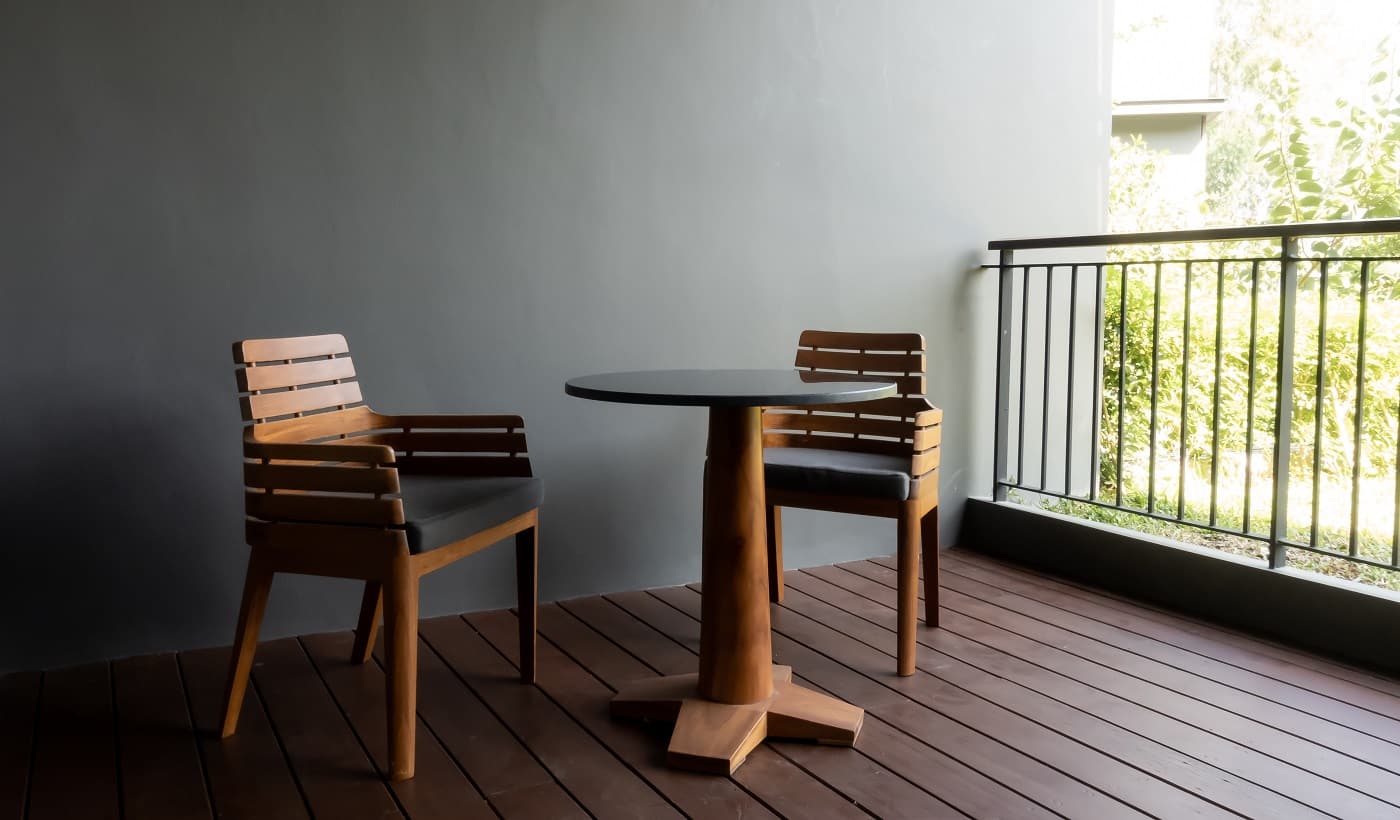 Consumers looking for an exterior wood sealer will love the performance of the Ready Seal 512. It delivers a natural coat on wood, ensuring that the texture and feel of the surface remain intact. Therefore, you can use it for maintenance or decorative purposes without any hassle.
Why Did We Like It? 
It is one of the top choices for customers, thanks to its easy application and vivid colors. Speaking of colors, you won't need to apply a primer to paint the deck, which ensures that the first coat is dark and vibrant. But within 14 days, the color will change to the desired shade. 
Consumers can use this paint with a roller, brush, or sprayer without compromising on the solution's consistency. Moreover, we have found no need for back-brushing as it does not leave drip marks. Meaning, the floor gets an even coating, and the solution mixes with the surface at any temperature. 
Furthermore, thanks to its easy-to-maintain nature, you won't have to reapply it before sanding or stripping the paint. Neither does it require much preparation, making it highly sought-after on the market. 
What Could've Been Better? 
Upon opening the container, users found a watery solution, which was surprising because the paint does not leave drip marks. However, its low viscosity creates a mess, and you need to cover all furniture to avoid staining them. Also, it would be best to wear gloves to keep your hands clean. 
Pros
Easy to spray

No drip marks

Vivid colors

Consistent coat

Biodegradable
Kilz is a well-known brand in the painting community, thanks to its reliable and user-friendly products. Unsurprisingly, the latest deck stain delivers fantastic coverage and uses an acrylic-based formula for a high-quality finish. You can rest assured that it will meet most of your DIY needs, making it a worthy investment.
Sale
Why Did We Like It? 
This semi-transparent exterior wood stain delivers durability, protecting the surface from water and mildew. As a result, the texture, appearance, and quality of the wood remain unaffected despite the changing weather conditions. 
The secret behind its long-lasting performance is its 100% acrylic formula that can resist extreme temperature conditions be it sun, snow, or rain. Moreover, it comes with a guarantee of three to five years, ensuring that consumers get nothing but the best output. 
Moving on, you can use it on most exterior surfaces like decks, shingles, railing, and fences. And, thanks to its 250 square feet coverage, you won't need to buy multiple containers. In addition, the second coat covers 500 square feet, evenly spreading over any material to deliver a vibrant appearance. 
What Could've Been Better? 
Compared to the Ready Seal model, this unit has more viscosity, which gives it a rubbery consistency. But, thanks to its wide coverage, you won't have to invest much effort in painting. That said, consumers will have to dilute the paint and work fast so that it does not set prematurely. 
Pros
Durable

Versatile

Covers 500 square feet in the second coat

Waterproof

Prevents mildew growth
Cons
Rubbery texture

Needs diluting
Our next recommendation is this model from General Finishes, as it features a potent formula ideal for painting various wooden surfaces. But especially pleasing is its eco-friendly design, ensuring that there are no harmful ingredients. No wonder it is one of the top choices for customers.
Sale
Why Did We Like It? 
We found that this product is available in three different sizes, depending on your requirements. But irrespective of your choice, its premium-quality color pigments deliver rich, dark shades. Moreover, you will find several colors to choose from, and all of them are suitable for indoor use. 
You can apply the coat using a spray gun or by hand without compromising on quality. What's more, the engineers have developed a formula similar to oil-based stains, which has several benefits. For instance, the low VOC content makes it safe, eliminating harmful odors for your family's well-being. 
Another advantage of its unique formula is the fact that it's non-combustible, allowing you to clean the surface with water. Speaking of water, you can create custom shades by mixing different stains, topcoats, and paints with water to make your home stand out. 
What Could've Been Better? 
The instructions are difficult to understand, and first-time users may have trouble getting the desired results. We suggest that you take time to understand the procedure to make sure that the paint does not peel after one coat. Other than that, it is important to sand the surface before repainting. 
Pros
Dark shades

Customizable colors

Available in different sizes

Easy to clean

User-friendly application
Cons
Poor instructions

May require sanding
Most models ensure that the grainy texture of the wood remains intact, but SaverSystems takes it a step further by delivering a matte finish. It is easy to use, and this water-based formula works well on damp surfaces, meaning you can keep your property in top shape.
Why Did We Like It? 
The SaverSystems 300519 offers reliability, thanks to its durable formula and eye-catching shades. Unsurprisingly, you can use it on various materials, including redwood, cedar, pin, and other softwoods; however, you will have to apply multiple coats for hardwood maintenance. 
But that is not a hassle due to its 2-in-1 deck and sealant formula, helping seal and stain the surface with aplomb. Long story short, it gives the wood a vibrant appearance and seals all openings to prevent water from seeping inside. Hence, it delivers consistent output throughout the year, despite the changing conditions. 
Now, you can choose from its five different semi-transparent shades that dry quickly to provide a consistent texture. It delivers a natural finish and has VOC content lesser than 50g/L, thereby making it eco-friendly. 
What Could've Been Better? 
You will need to apply multiple coats of paint depending on the type of wood and coverage area. So, it would be best to keep extra containers in hand. What's more, do not expect to see immediate results as the stain changes color over a few weeks before acquiring the desired shade. 
Pros
Low maintenance

Eco-friendly

2-in-1 deck and sealant

Waterproof

Consistent coat
Cons
Requires multiple coats

Takes time to stain
When it comes to durability, few products can match the performance of the Cabot 140.0003459.007. You will find that it features an oil-based formula that strongly adheres to the surface, protecting it from extreme weather conditions. Hence, it has received largely positive reviews from potential buyers. 
Why Did We Like It? 
If you are looking for a product that can withstand extreme temperature conditions, it would be best to try this model from Cabot. It features an oil-based formula that delivers a clear coat, ideal for vividly coloring various surfaces. Moreover, it is extremely durable, thanks to its waterproof and UV-resistant properties. 
Although you can use it indoors, you will enjoy the best results on hardwood surfaces like hardwood. That is why it has the edge over other models in a similar price range and offers long-lasting protection despite the changing weather conditions. 
In addition, its instructions are easy to understand, ensuring that the finished coat has a translucent appearance. Also, it dries flat so that you get a consistent coat throughout the furniture and deck. 
Meanwhile, cleaning it is easy for which you will need mineral spirits. Simply use the spirits to shine the desired area, and the deck will be as good as new.
What Could've Been Better? 
We recommend applying multiple coats to ensure that the vibrant and consistent color of the wood is visible. Furthermore, customers have reported that yearly maintenance is crucial to maintain the premium-quality texture of the deck. Hence, it would help to reapply one coat for sealing imperfections. 
Pros
Easy to clean

Suitable for outdoor use

Long-lasting protection

Weatherproof

Translucent finish
Cons
May need multiple coats

Yearly maintenance
Innovation and performance go hand-in-hand when it comes to the Defy 300158, thanks to its zinc nano-particle technology which makes it stand out. You will enjoy the natural wooden appearance coupled with a matte finish, thereby delivering much-needed durability. To know more, you can read the following section.
Why Did We Like It? 
This water-based formula is most suitable for staining decks, as its transparent finish allows the wood to shine through. Plus, its natural matte finish delivers a fantastic feel, ideal for painting decks, fences, and furniture. Unsurprisingly, consumers can enjoy the natural wooden texture, coupled with extra protection and premium-quality colors for a vibrant appearance. 
We found that the designers have used zinc nano-particle technology to shield the wood from external elements like sun, snow, and rain. These particles act as an umbrella and bind with the stain to reflect the harmful UV rays. Hence, you won't have to worry about color loss or graying. 
Other than that, the engineers have used resins, ensuring that it lasts longer than other products. This also makes it low maintenance, reducing the need for sanding or stripping the paint. You can use a wood brightener before applying another coat of this deck stain.
What Could've Been Better? 
You need to work on damp woods, ensuring that the stain seeps into the surface to seal all openings. Hence, do not work directly under the sun as the mixture will dry faster without spreading evenly across the surface. Apart from that, it tends to get messy, so make sure to cover all surrounding areas. 
Pros
Easy maintenance

Reflects UV rays

Waterproof

Transparent finish

Retains natural wooden appearance
Cons
Dries too fast

Cleaning takes time
Consumers who are constantly troubled by fading decks and mold growth will find that the Thompsons Waterseal 042851-16 ticks all the right boxes. It is highly waterproof but also protects the wood even under direct sunlight from UV rays. So, you can read our review below before rushing to the store.
Why Did We Like It? 
If you live in an area that receives high rainfall, it would be best to opt for this model from Thompsons Waterseal. As its name suggests, the engineers have specially designed it to keep water from seeping into the deck. Hence, the integrity and texture of the wood remain safe even when exposed to heavy downpours. 
What's more, it contains advanced polymers that keep the color from fading, delivering long-lasting performance. In addition, wet wood is susceptible to mold and mildew growth which this formula helps prevent. On top of that, the consistent coat protects the wood from harmful UV rays in extreme heat. 
We found that it is easy to use, and consumers can apply the first coat on both damp and dry woods without any hassle. However, remember to clean the surface of impurities to get a vivid coloration. 
What Could've Been Better? 
We were a bit disappointed to find that the color may vary from the description on the company website. Now, in case it fails to deliver an authentic wooden texture, you will have to contact customer service to handle the issue. Furthermore, the porous siding is a letdown.
Pros
Long-lasting performance

Suitable for both damp and dry wood

Consistent coat

Fade-resistant

Prevents mold and mildew growth
Cons
Color may vary

Porous siding
The Storm System 291114 is an attractive 2-in-1 formula that delivers a semi-transparent coat to highlight the texture of the surface. Moreover, it is oil-based and has the necessary durability to withstand changing weather conditions, making it low maintenance. Naturally, it is a common occurrence on buyers' wish lists.
Why Did We Like It? 
Up next is this 2-in-1 oil-based stain and sealer, which is highly popular among prospective buyers. Thanks to its semi-transparent formula, each coat of paint will highlight the natural beauty of the wood while offering protection. So, it promises to be a valuable investment and delivers an eye-catching appearance. 
But how does it work? Despite developing a robust formula, the designers have ensured that it seeps into the surface for a consistent coating. This keeps the wood safe against external elements like extreme heat and rain, ensuring that the color does not fade.
Now, for applying the coat, consumers can use a brush, spray, or roller without any hassle because it does not leave drip marks. Instead, you get an even texture throughout the surface. As a result, you can use it with different materials like redwood, pinewood, and spruce without compromising on quality. 
What Could've Been Better? 
It might seem silly, but most users have complained that it is challenging to open the can. The lid forms a tight fit, and you need to carefully pry it open to avoid spillage. Moreover, make sure to apply multiple coats of paint and let the color set for 24 hours. 
Pros
Consistent texture

Versatile

Long-lasting performance

Wood fence protector

Trans-oxide pigmentation
Cons
Requires multiple coats

Challenging to open the can
Thanks to its unique color, this product has ticked the right boxes, which gives it the edge over other deck stains. In addition, it prevents the wood from deteriorating and protects the furniture from fungus attacks, mold, and mildew. Understandably, it has received a positive response from prospective buyers.
Sale
Why Did We Like It?
The Amteco Division Of Gemini Industrie TWP-1501-1 has a unique cedar tone coloration that helps maintain the wood's natural appearance. Just one coat of this product is enough to deliver a smooth and even coat on various surfaces, be it pine, fir, cedar, or spruce. Moreover, it offers exceptional protection to maintain the wood's quality. 
Speaking of protection, thanks to its total wood preservative properties, it prevents damage and deterioration when exposed to external elements. For instance, even in rain, sun, or snow, you won't have to worry about the wood wearing out. In addition, it prevents mold and mildew growth and seeps deep into the wood to seal all openings. 
Apart from that, it has low VOC content, meeting the health and safety standards to keep your family, plants, and pets safe. Naturally, there is no harmful odor either, making it suitable for long working hours. 
What Could've Been Better? 
It takes time to prepare the surface, ensuring that the stain adheres strongly to the wood. Hence, you may have to smoothen the material by sanding while also removing impurities. Other than that, you will get the best results when using a brush rather than a spray. 
Pros
Durable

Prevents mold and mildew growth

Low VOC

No harmful odor

Maintains quality
Cons
Preparation is a hassle

Unsuitable for sprayers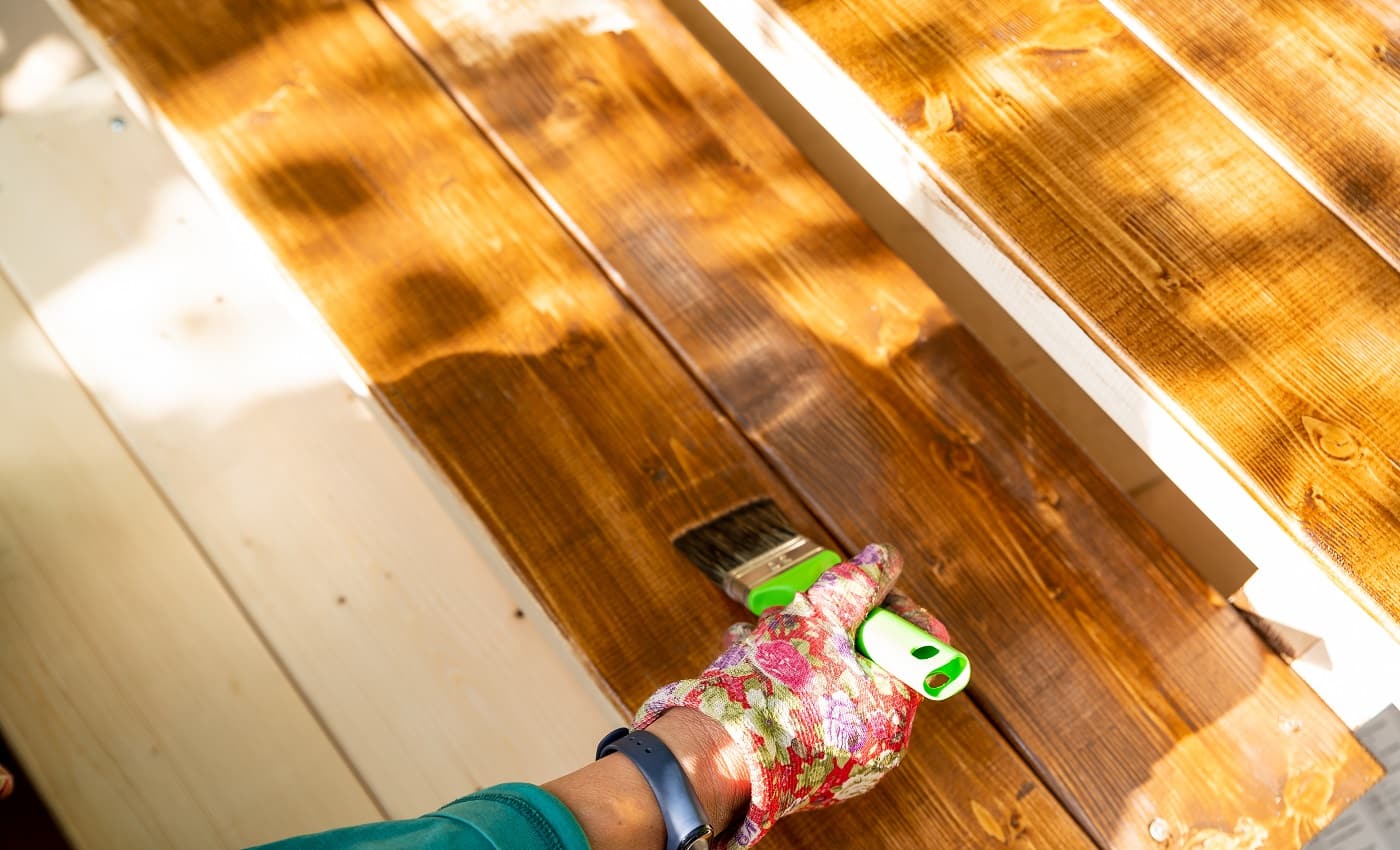 Deck Stain Buyer's Guide
Let's now proceed to the buyer's guide, where we will discuss the nitty-gritty of choosing deck stains. You can note these points to pick the best model between two similar products. 
Durability
Deck stains must be durable to withstand all weather conditions. It would be best to look for brands that offer water, acrylic, or oil-based formulas to ensure that it strongly adheres to the surface. This will prevent rain, sun, or snow from damaging the wood or fading the color. 
Price
Price is often the deciding factor for prospective buyers because no one wants to spend their savings on an expensive product, especially if it is unreliable. That said, deck stains from the top brands usually cost more because they use quality ingredients that deliver long-lasting performance. Meaning you need to have a flexible budget. 
Versatility
You must be able to use the deck stain on different woods like cedar, pine, fir, and other hard or softwoods. In addition, the color on the website must match the color of the deck after applying the final coat; needless to say, it must be versatile.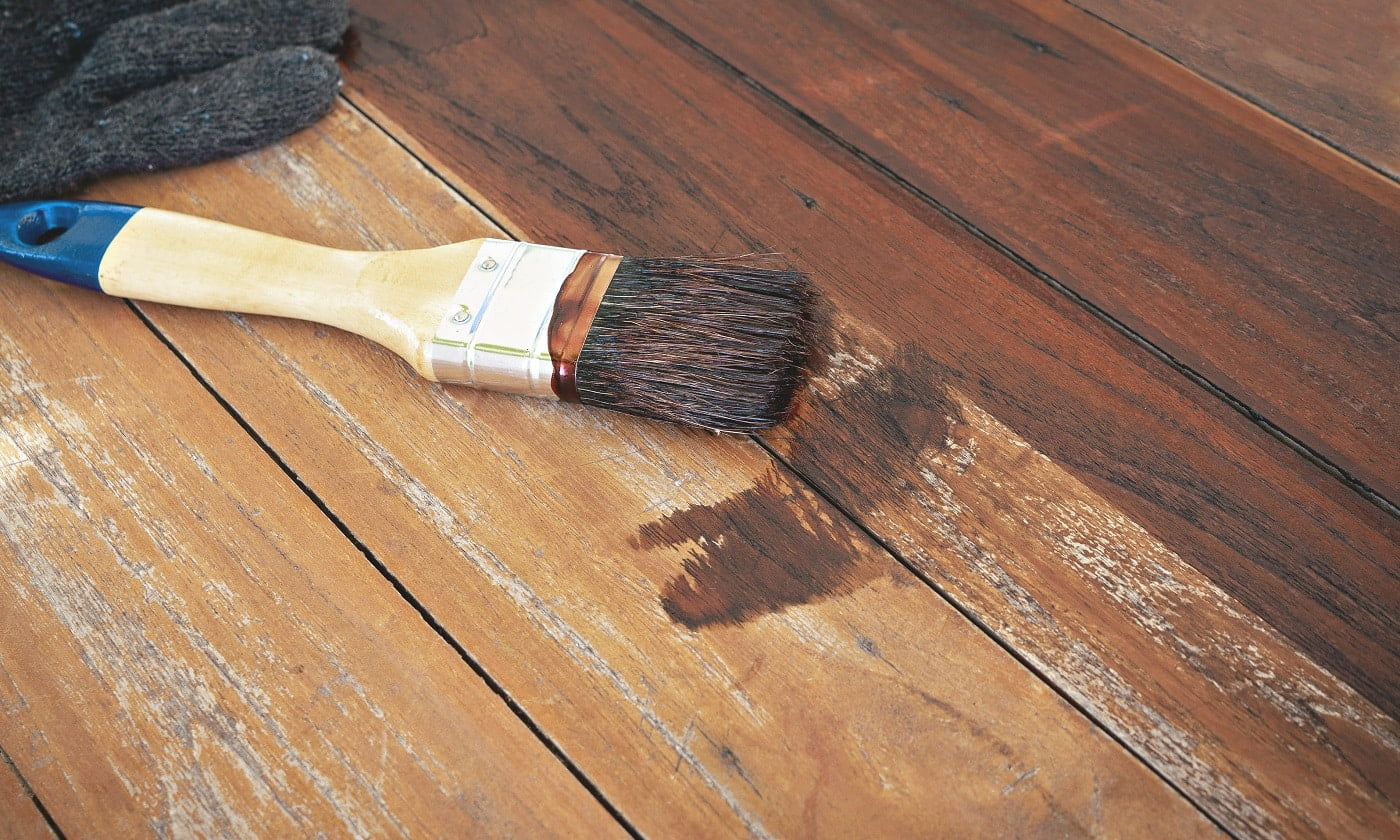 Verdict
Are you confident about choosing a deck stain suitable for your needs? 
If you are still unsure, there is no need to worry as we have decided to highlight our favorite models in different categories. After looking at all the nine options, we felt that the Ready Seal 512 stands out, thanks to its biodegradable compounds, vivid colors, and user-friendly application. 
Apart from that, the Kilz L832111 delivers fantastic coverage with its acrylic-based formula protecting the deck even in extreme weather conditions. That said, there are other great products available out there, and you can refer to the buyer's guide to be well-informed before making the purchase. 
We will leave you with this tip: work on a cloudy day and make sure that the wood is damp. This will allow the stain to deliver an even coating. 
Take care until we meet again. Bye!
Related Articles
Alcohol Ink Art Tutorial [Alcohol Inks 101]
7 Best Latex Paint Remover [Reviewed]
9 Best HVLP Spray Gun [Review & Buyer's Guide]
6 Best One Coat Paint and Primer
7 Best Primers to Cover Dark Paint
7 Best Exterior Primer For Peeling Paint
6 Best Paint Primer For Rusted Metal
15 Stunning Low-budget Floating Deck Ideas For Your Home
9 Best Pump Sprayers For Staining Fence
9 Best Concrete Stains to Consider
Learn How To Soften A Hard Paint Brush
5 Best Paints For Stucco Reviewed
11 Best Paint For Concrete Walls In Basement
9 Best Paint Brushes For Chalk Paint
13 Best Paint for Furniture | Reviews & Buyer's Guide
10 Highest CFM Air Compressors
9 Best 6 Gallon Air Compressors for Your Home & Garage
13 Best Paints for Bathroom Ceilings  
13 Best Paint for Kitchen Cabinets This Year
2 Luminess Silk Reviews [All You Need to Know]
HVLP vs. LVLP [All You Need to Know & Winner]
5 Best Sprayers For Plasti Dip
How Much Does It Cost To Bottom Paint A Boat?
How To Thin Latex Paint For A Wagner Spray Gun
How Much Does Benjamin Moore Paint Cost? [Guide]
9 Best Paint Stripper For Metal 
7 Best Cold Galvanizing Paints
11 Best Paint Scrapers to Rock
How to Remove Spray Paint from Concrete
11 Best Paint Roller To Hide Imperfections Tested