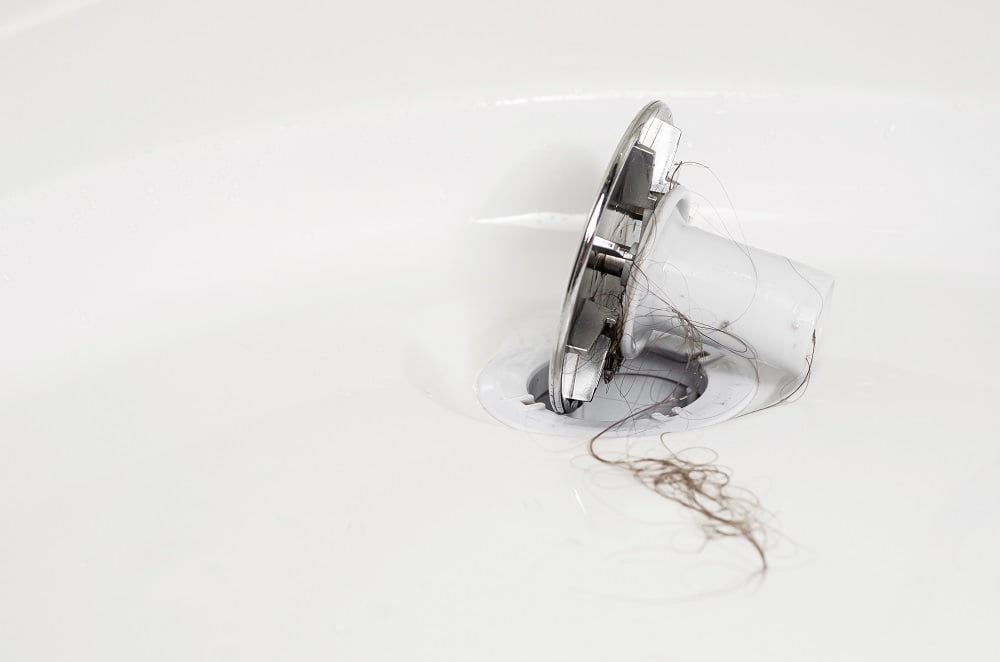 A clogged drain is not a pretty sight. Moreover, it can cause a great deal of damage to your plumbing system. That's why, it's vital to find a way to remedy the issue.
There are a multitude of reasons as to why your drains might be getting clogged. Depending on the location of the drain, it could be a build-up of oils, food residue, and grease over time, or just hair and soap scum. 
A clogged drain is unsightly, but more importantly, it damages your plumbing. The good news here is that you don't need an expert to help you unclog your drains. In fact, a good drain cleaner is all you need. 
To save you the trouble of going through numerous drain cleaners, we have curated this list for you. Here, you will find a review of our top 13 recommendations of the best drain cleaners for clogged drains. 
So without further ado, let's dive right in. 
Best Drain Cleaners For Clogged Drain
IMAGE
PRODUCT
DETAILS

Our Top Pick

Our Top Pick

Green Gobbler Main Line Opener And Toilet Clog Remover

Industrial strength clog remover
Gentle on pipes and septic system 
High-density formula

VIEW LATEST PRICE →

Green Gobbler Drain Clog Dissolver

Dual chambered bottles
Patented, non-caustic blend solution
Safe to use

VIEW LATEST PRICE →

Drano Max Gel Clog Remover

Fast working formula
Thick, gel-based solution
Cuts through standing water 

VIEW LATEST PRICE →

Liquid-Plumr Pro-Strength Full Clog Destroyer

Can use regularly or just once a month
3-in-1 formula for best action against clogging
Safe to use

VIEW LATEST PRICE →

Pure Lye Drain Opener

No fumes or odor
Acid-free formula
Pure white bead-sized lye

VIEW LATEST PRICE →

Green Gobbler Foaming Root Killer

Prevents regrowth of tree roots
Innovative foaming formula 
30-day money-back guarantee

VIEW LATEST PRICE →

Thrift Drain Cleaner

Fast-working solution
Activated by hot water only 
Safe to use 

VIEW LATEST PRICE →

Sanco Industries Root Destroyer

Copper sulfate crystals 
Does not harm the tree or pipes
Safe and easy to use

VIEW LATEST PRICE →

Green Gobbler Drain Opening PAC'S

Environmentally friendly 
Ready to use packs 
Includes five free hair grabber tools

VIEW LATEST PRICE →

FDC 99% Pure Sodium Hydroxide

Produces an exothermic reaction
Heavy-duty cleaner
Works within 20 minutes

VIEW LATEST PRICE →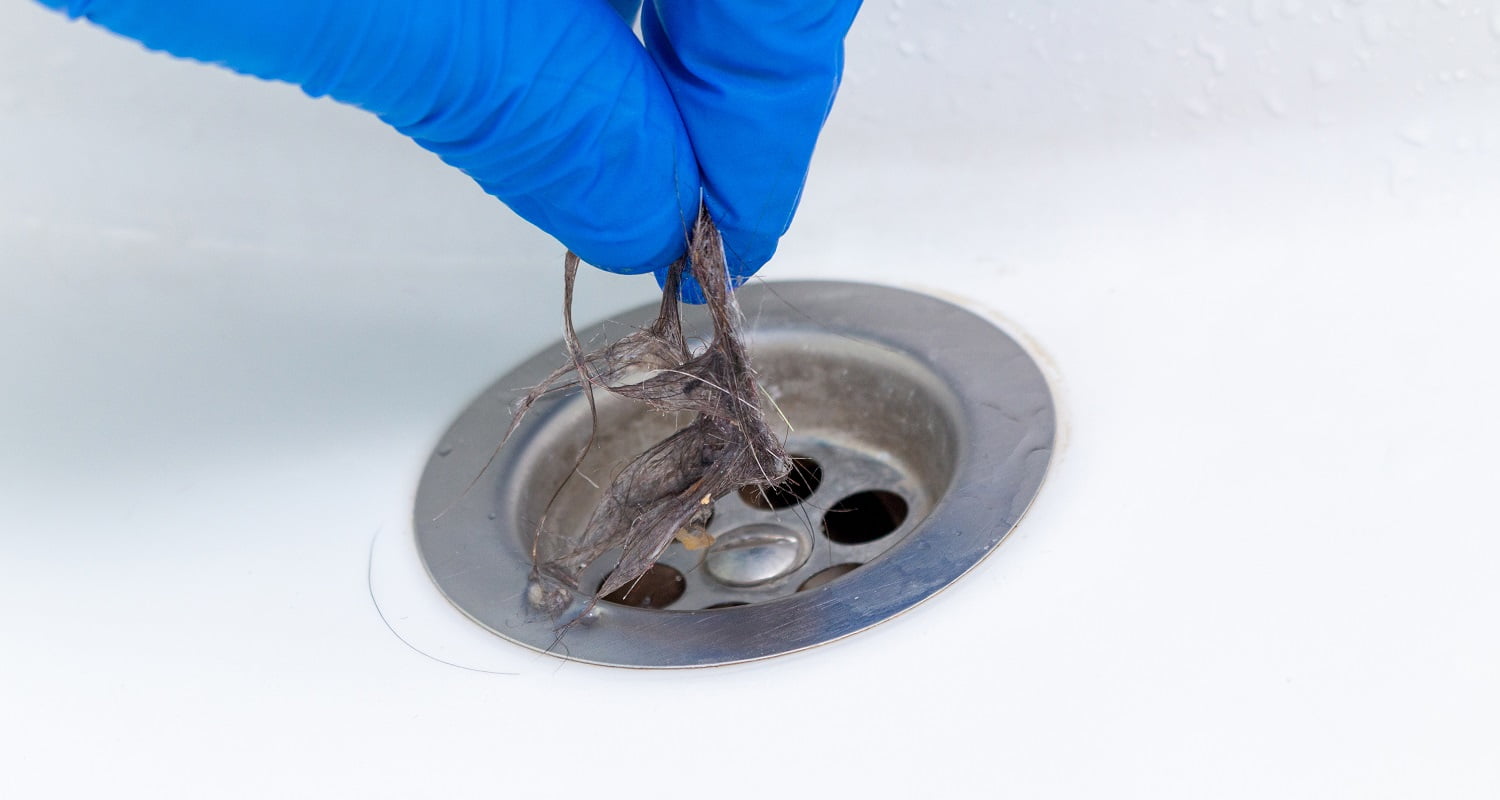 To begin with, we want to introduce you to one of our top recommendations – Green Gobbler Main line Opener And Toilet Clog Remover. This liquid cleaner is environmentally friendly, safe to use, and efficiently removes all types of clogs from a drain pipe. Moreover, its advanced formula helps prevent future clogs.
Sale
Why Did We Like It?
First and foremost, we love the odorless formula created by Green Gobbler. This drain cleaner is tough where it needs to be and gentle on other parts. What we mean by that is this – the industrial-strength drain cleaner tackles all kinds of clogged drain issues with ease. However, it is super gentle on the pipes and septic system. 
After using it for a couple of months, there was no damage or corrosion to the drain pipes. Moreover, the formula prevented future clogging, making it much easier for us to maintain clean drain pipes. 
Green Gobbler works very fast and is super useful. The liquid formula is non-flammable, which is another thing we love about it. Lastly, this drain cleaning solution can be used in bathrooms and bathtubs, kitchens, toilets, and all the main lines. 
Since the formula was entirely environmentally friendly and safe, we are not worried about using it regularly for unclogging our drains.
What Could've Been Better?
In the case of organic drain clogs, the formula works quickly and efficiently. However, if the drain has been clogged for a long time, it may take a couple of hours or even overnight, to take effect. This isn't a huge issue, but something we thought you should know. 
Pros
Odorless formula

Non-flammable liquid

Easy to use

Rapidly dissolves hair and other clogs
Cons
May require time overnight for more substantial clogging issues
Our next recommendation is the Green Gobbler Drain Clog Dissolver. This product features a dual-chambered bottle. The strategic design of the bottle allows you to pour pre-measured applications, ensuring no wastage of product. It also removes the hassle of having to measure the quantity of cleaner used each time carefully.
Sale
Why Did We Like It?
The main selling point of this drain cleaner is its unique two-chambered bottle. The pre-measured application process is straightforward and effortless. It completely eliminates the need to measure out the liquid for every single application carefully. 
The formula is extremely effective at liquifying any kind of drain obstruction – from soap scum, oils, hair, lint, and fat. It can be used for cleaning the kitchen drain pipes, bathrooms, and any other clogged drain, which requires deep cleaning. 
One of the best things about the formula is its rapid hair dissolve technology. Within seconds of applying the formula, any clogged up hair will immediately start to dissolve until it is eliminated altogether. 
It is safe to use in any room of your home and will not damage the septic system or drain pipes. Furthermore, it does not contain any bleach or sodium hydroxide, so you don't need to worry about long-term damage.
What Could've Been Better?
Although the pre-measured quantity works fantastically on most clogged drains, some cloggings are worse than others. We noticed that the recommended quality didn't work very well on super clogged drains, but it worked like a charm upon adding more product. This is something to keep in mind if you're dealing with heavy clogging. 
Pros
Odorless formula

Pre-measured application

No bleach or sodium hydroxide

Liquefies drain clogs
Cons
Might need more formula for heavy clogging
Looking for a quick, tough, gel-based formula to tackle your clogged drains? Drano Max Gel Clog Remover might be the solution for you. The thick formula is designed to cut through standing water and any kind of clogging issues without damaging your drain pipes or septic system. An easy to use, effective formula.
Sale
Why Did We Like It?
In our search for the best drain cleaner, we were looking for a tough and fast-working solution to unclog our drains. That is when we came across Drano and were very impressed. This formula worked in just 15 minutes for most typical drain clogging issues. 
Moreover, the gel-based formula works slightly differently compared to other liquid formulas. The thick gel clings on to the body of the pipes and fights to dissolve and eliminate the root cause behind clogging. This can be hair, oil, lint, food residue, soap scum, and so much more.  
Another feature we liked about this product is the child-proof cap. This is especially helpful for homes with children or pets around, as it ensures that the little ones don't accidentally get their hands on the formula.
What Could've Been Better?
Since the formula is potent, it can be dangerous to get it on skin, in the eyes, or swallow some by accident. Therefore, it is vital to ensure your safety when using this drain cleaner – wearing protective gloves and an eye mask at all times is a must. 
Pros
A reliable drain cleaning solution

Child-proof cap for added safety

Protects pipes from corrosion

Easy to use gel formula
Cons
Harmful if it comes in contact with skin, mouth, or eyes
Are you looking for a solution to de-clog a slow-running drain pipe in your home? Or maybe the pipe is fully clogged, and you need a powerful formula to dissolve it. In any case, our next drain cleaner recommendation will help you with both – quickly and effectively.
Why Did We Like It?
To begin with, the Liquid-Plumr Pro-Strength Full Clog Destroyer is a powerful solution for various clogging issues. Not only does this formula effectively tackle the root cause of clogged drains, but it also prevents them from recurring. 
One of the best things about this drain cleaner formula is how quickly it works. We tested the product on slow-draining garbage disposal first. Within minutes, the clogging started resolving itself – the potent formula dissolved anything that came in its way. Moreover, it did not damage the pipes or draining system at all. 
We also tested the cleaning formula on a wholly clogged up septic system. Once again, within just a few minutes, we noticed the process already taking place. We had to use some extra product, just because of how heavily clogged this one was. 
This superb drain cleaner can safely be used in any room of the house without fear of damage.
What Could've Been Better?
This drain cleaner actually works – no matter how heavily clogged your drains are. The only issue; it's extremely strong and potent. It can be dangerous if it gets on skin, eyes, and mouth. You should take extreme care when using this cleaner.
Pros
Gel consistency

Prevents future clogging issues

Fast working formula

Money-back guarantee
Cons
Harmful if it comes in contact with skin, eyes, and mouth
In need of a powerful tool to unclog drains and pipes at home? You should consider Pure Lye Drain Opener – a tool that is different from other drain cleaners. This industrial-strength product contains Pure Lye beads, which work as natural drain openers. It is safe to use and biodegradable.
Why Did We Like It?
First things first, this drain opener is unique compared to other drain cleaners in the market. The product consists of 99% pure bead-sized lye, which works as a natural, effective drain opener. Moreover, the product is completely biodegradable and safe to use in any room of the house. 
Lye beads contain no water, no dyes, and no unnecessary fillers. They are pure, white beads that are safe on septic tanks, grease traps, drains, garbage disposals, and cesspools. Since it is an acid-free formula, it does not damage anything that it comes in contact with – except the reason behind your drain clogging. 
The lye beads are entirely odorless and do not give out fumes. This makes it safe to use in your bathrooms, even if there are children or pets around. The beads are food grade and environmentally safe. It works organically to open up drains and clear them.
What Could've Been Better?
Since this product comes in bead form and not liquid or gel, there is one thing we need to mention. You need to flush out the lye beads using hot water (only hot will do, not boiling). Otherwise, there is a risk of the beads not dissolving, which may cause damage. 
Pros
Small, bead-shaped formula

Affordable method

Easy to use

Biodegradable
Cons
Requires hot water to dissolve completely
This advanced formula allows you to get to the 'root' of the problem! Green Gobbler Foaming Root Killer is a foam-based formula that attacks the tree roots creeping up your pipes, causing unnecessary clogging. Although the formula is tough on tree roots, it is super gentle on your pipes.
No products found.
Why Did We Like It?
Other than the usual food and bathroom wastes, drain pipes can get clogged due to other reasons. One of the main ones is tree roots growing in them. The atmosphere is ideal for them to thrive. 
We wanted to find a tree root killer that would eliminate the cause of drain pipes clogging up. Moreover, we need one which was safe to use and did not cause damage. This is precisely what this product gave us. 
In fact, the innovative foaming formula made it so easy to use. The solution contains ingredients that prevent the tree roots from regrowing and causing a nuisance in the pipes. 
Furthermore, if used as directed, Green Gobbler will not damage the tree itself – eliminating only the unwanted roots. This makes it safe for the environment as well as your pipes and septic systems. Effortless removal of tree roots from pipes!
What Could've Been Better?
This advanced foaming formula takes about 2 to 3 days to take action. It seems reasonable, especially since it does work. However, if you have an immediate issue you need to address, this might not be the best, most fast-working product for you.
Pros
Easy to use

Affordable product

Hassle-free refund

Does not harm the tree
If you have a small draining system that is continually getting clogged, you might need a fast-working but strong drain cleaner. Thrift Drain Cleaner is an excellent, durable cleaning product. It is activated by hot water and works in 4 ways to remove all kinds of clogging from smaller drain pipes and septic systems. 
Sale
Why Did We Like It?
We needed to find a drain cleaner that would not harm ceramics, pipes, septic systems, and drains. However, we also wanted a product that would help us with root control and effectively removing clogging issues. 
Thrift Drain Cleaner works just within 60 seconds, which is impressive compared to its competitor products. Moreover, it does not harm anything other than eliminating grease, clogging, and unwanted roots. 
The non-acid formula is easy and safe to use in any room of the home. It contains a high percentage of sodium hydroxide; however, it is super effective and safe if used safely. Once you open the pack, you can store the product indefinitely without any worries. 
The 2 lb bottle can be used multiple times. Use it regularly in your septic tanks and drainage system to keep them unclogged for good. Use hot water to activate the product and flush it down effortlessly.
What Could've Been Better?
If your drain pipes are heavily clogged where water will not flow at all, this product might not be the best option. It only works when it can flow down the drain, and you might need to unclog your drain before applying this product lightly. Moreover, wear protective gear and eye protection when using it.
Pros
Extremely effective in dissolving clogging issues

Works in 60 seconds

Odorless formula

Highly durable
Cons
Does not work on heavily clogged drains which won't flow
Creeping roots can be a primary cause of clogged drains. More often than not, homeowners assume that their drains get clogged due to other issues but overlook the creeping tree roots. This Root Destroyer formula will eliminate unwanted roots without harming the tree or causing corrosion in the pipelines.
Sale
Why Did We Like It?
It is important to regularly treat tree roots, which can cause drain pipe clogging. However, many formulas are too potent and can harm the tree or corrode your pipes. We came across Sanco Industries Root Destroyer and decided to give it a try.
The small-sized copper sulfate crystals were easy to use. Furthermore, it was convenient to apply this formula just once in 15 days, which effectively killed any bacterial action without harming the tree. 
We were concerned about the solution harming the drain pipes. However, we found that there was no short-term or even long-term damage to them. Slowly but surely, the water flow increased and was back to normal in no time.
Over time, we also noticed that the tree roots stopped growing up the pipelines altogether. Using this formula just twice a year is enough to prevent their regrowth. It is easy and safe to use; choose to use it as per your requirements.
What Could've Been Better?
Honestly, this product did exactly what it promised. The only issue is that it takes a while for the process to show its results. Unless it is an absolute emergency, this root killer formula is an ideal option for any home. However, if you need immediate results, this may not be the best one for you. 
Pros
Can be used in small increments

Prevents roots from regrowing

Reliable and safe

Does not cause damage
Cons
Takes a while to show results
A biodegradable formula that is easy to use and safe – Green Gobbler Drain Opening PAC's is our next recommendation. This formula comes in ready to use packs, eliminating the need for you to measure or guess the right quantity to use. Simply open, apply, and see fast-working results.
Sale
Why Did We Like It?
Most drain cleaning formulas can be quite messy – they require accurate measurements and periodic doses. We were looking for a relatively easy to use drain cleaner when we came across Green Gobbler Drain Opening PAC's. 
This ready to use drain cleaner comes in neatly a packed design. Each pack is mess-free, requires no mixing, no measuring, and no guessing. They contain fast-working ingredients that are powerful, potent on grease, oils, soap scum, flush-able baby wipes, calcium and lime build-up, and so much more. 
Although the ingredients work at warp speed to destroy all the reasons behind your clogged drains, they are incredibly gentle on the drains and septic system. You can use it without worry as regularly as you need – it won't damage your pipes. 
The extra-long hair grabbing tools help you effortlessly grab any form of clogging in your drains. It is easy to remove and dispose of without creating an unnecessary mess. 
What Could've Been Better?
Overall, the formula does what is advertised and works like a charm. However, we must warn you that the formula is not odorless – in fact, it's the opposite! The stench of the formula can be quite strong and nasty, so it is best to ventilate the area before you begin.
Pros
No mixing or measuring required

Biodegradable formula

Mess-free

Works fast
Cons
The smell can be overwhelming
If you liked one of our previous products containing lye beads, you would love our next recommendation. This product features 99% pure sodium hydroxide, or lye, which work as natural drain openers. It is easy to use and is extremely effective. Of course, it's essential to be safe when using it.
Why Did We Like It?
Pure lye is super effective at opening up drains and eliminating any form of clogging. However, when using lye beads, there is a chance of them not dissolving entirely and sticking to the pipes. 
This product contains 99% pure lye in a crystal form. Mix the chemical solution with water to create a fizzing formula and add it to your drains, pipes, and septic systems. Within the next half hour, you will see the chemical working and showing its results in no time. 
Since it is incredibly potent and reactive, it's essential to keep your safety in mind when using the formula. Be sure to wear proactive gloves, an eye mask, and keep the area well ventilated. Using hot water to flush the drain will clear up any form of clogging effectively. 
Ensure that you use a wooden spoon only to stir the mixture, as anything else can be dangerous.
What Could've Been Better?
Being 99% pure sodium hydroxide, the formula, when mixed with water, can cause a violent exothermic reaction. It is best to start with a smaller quantity rather than 3 cups (as recommended by the manufacturer). Moreover, always wear protective gear and stay in a well-ventilated area when using this formula.
Pros
Fast-working formula

Mix with water to activate

Clears all kinds of clogging issues

Comes in crystal form
Cons
Must use in smaller quantity than recommended
Purchasing drain cleaners is not enough to take care of clogging at home. You also need a reliable snake drain clog remover. Vastar has designed a flexible and long-lasting 19.6-inch drain snake. Using it is effortless; moreover, it works even when the drain cleaner refuses to.
Why Did We Like It?
Every once in a while, the cause behind our drain clogs is a relatively simple one. It might just be some stuck-up hair, food residue, or maybe bits of paper or plastic. In these cases, using a heavy-duty drain cleaning formula doesn't make much sense. 
Vastar has developed a flexible, plastic snake that effectively removes these simple drain clogs in a mess-free affair. The tool itself is relatively flexible and soft, enabling it to bend and fit into pipes of all shapes and sizes.
The barbed wire-like wand is excellent for grabbing all kinds of materials that cause the drains to clog up. Moreover, the easy-grasp mechanism allows you to retract or pull the drain snake with ease – without getting your hands dirty. 
If you consider yourself exceptionally environmentally conscious, then opting for this drain snake is an ideal option. It contains no chemicals, no toxins, is affordable, and easy to use in any drain.
What Could've Been Better?
Keep in mind that once you grab whatever is obstructing your drain pipes, you need to pull it back up to dispose of. More often than not, this can be an unsightly experience. The smells accompanying the sights can also get overwhelming. This is not a task for the faint of heart!
Pros
Affordable alternative

No toxic chemical formula

Flexible and easy to use

Dispose of after use
Cons
Brings up unsightly and stinky obstructions
If you liked our previous product but want something slightly fancier, we've got just the thing. Drainx Pro Steel Drum Auger Plumbing Snake works in a similar fashion to a manual drain snake, with some differences. It is these features that make it so compelling and long-lasting to use.
Why Did We Like It?
Honestly, we were impressed by the non-toxic, no-chemical formula drain cleaner concept. We explored some more and found this durable and useful drain cleaning tool. It works like a drain snake but has a long, twisting drain cable. 
The product features an easy twisting knob which can be used as a fishing pole. Twist the knob in one direction to retract the drain cable and in the other direction to elongate it. It fits easily into most 3-inch drain pipes and can unclog drains with ease. 
The work gloves included is a nice touch since it ensures a rather mess-free job. We didn't have to touch the drain obstructions with our bare hands at all, which was great. This feature makes it an ideal option for homeowners who want a hassle-free, mess-free drain unclogging experience.
An instruction manual explains the details of this drain cleaner and how to use it effectively. It is advisable to go through it thoroughly.
What Could've Been Better?
Although this drain cleaner can be used for most drain pipes, it is not recommended to use it for toilets. The drain cable is prone to get twisted and stuck in the pipes. Moreover, it may scratch and cause damage to porcelain and ceramics. 
Pros
Chemical-free drain cleaner

Protective gear included

Fits through 3-inch drain pipes

Mess-free experience
Cons
Cannot be used for bathroom drains
One of our last recommendations is the Natural Rapport Drain Cleaner solution. This versatile formula can be used for cleaning any drain pipe, garbage disposal, and septic system of your home. It contains natural enzymes and bacteria which effectively break down blockages and clogging. It is safe and easy to use. 
Sale
Why Did We Like It?
Most drain cleaning solutions are highly potent and contain harmful, toxic chemicals. While these are super effective in clearing up drain clogs, they are detrimental to us and our beloved pets. 
We needed to find a drain cleaning solution that was designed by pet lovers. That is when we came across this product. The company's motto was to create uncomplicated, safe, and effective products to unclog drains. 
Keeping this in mind, Natural Rapport designed a formula that is extremely safe to use and relatively effective. The primary ingredients contain natural bacteria and enzymes which work efficiently to break down the cause behind drain blockages. 
Over time, the natural bacteria also ensure that the clogging and blockages do not recur. If you are looking for a reliable drain cleaner for an RV, boat, or just your home, this is an excellent product to consider.
Its versatile formula can be used for unclogging any drain and septic system of your home.
What Could've Been Better?
As it happens with most natural products, the solution may take some time to show results. Of course, we did notice the drain pipes clearing up significantly, but it took some patience for it to happen. If you are looking for a fast-working solution for a plumbing emergency, this may not be the ideal product for you.
Pros
Natural and safe to use

Useful for RVs and boats

Will not harm your pipes or pets

Can be used regularly
Cons
Somewhat slow-working solution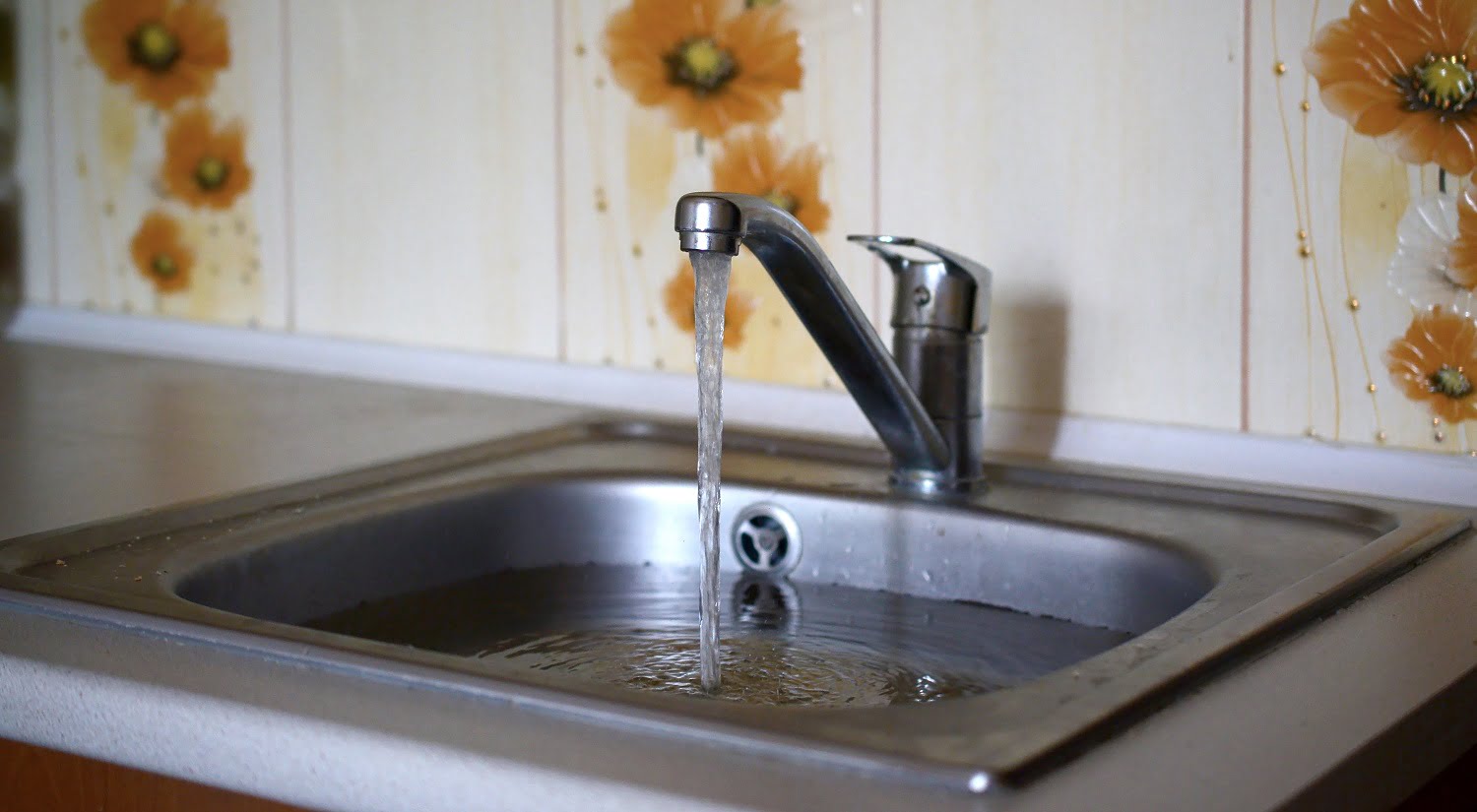 Clogged Drain Cleaners Buyers' Guide
We are almost at the end of our guide. Before we take our leave, we wanted to discuss a few essential points with you that could help you with recurring drain clogging problems. 
Once you have gone through our comprehensive list of drain cleaners, take a look at our guide below for a few helpful tips. 
Kind Of Drain Cleaner
As you might have figured out through our guide, there are three main types of drain cleaners. You have the fast-working drain cleaning formulas, the slow-working enzyme-based cleaners, and drain cleaning tools. 
Depending on the severity of your drain clogging problem, choose between the three wisely. If your drain pipes are experiencing a slower flow, you might want to opt for a slow-working enzyme-based drain cleaner. 
However, if you are in immediate need to clear up clogged drains, opt for the fast-working chemicals instead. For smaller issues that you can handle without the use of chemicals, consider the drain cleaner snakes. 
Regularity 
Another tip to keep in mind when buying a drain cleaner is how often or regularly you need to unclog your drains. If you generally experience period clogging, you might need to opt for a cleaner that you can periodically use without harming your pipes. 
In the case of occasional clogging, you can opt for drain cleaners, which can be used just a few times in a year. These cleaners also contain preventive ingredients which ensure that your drains remain relatively unclogged throughout the year. 
Price
As with any product, drain cleaners come at different pricing options. You might think that the more expensive options are better, while the budget options are not as good. Typically, you would be right. However, when it comes to drain cleaners, this is not always the case.
In some cases, you might find the budget options to be a more useful alternative. Of course, some plumbing jobs require professional help. You can speak to a professional regarding the best kind of regular drain cleaner you can use to maintain an unclogged drain. 
DIY Options
With a simple Google search, you will come across dozens of DIY drain cleaning options. Now, we don't recommend you opt for DIY possibilities as a standard cleaning procedure.
However, between your periodic drain cleaning sessions where you use commercial products, you can maintain the cleanliness of your drain with DIY methods. These mostly include organic products that do not harm your pipes, ceramics, and porcelain.
Verdict
Phew! We are finally at the end of our guide, and we hope you have some clarity after going through it.
When it comes to finding the 'right' drain cleaner, it varies from home to home. Depending on your needs, you can go through our recommendations to pick the one which suits your needs. Of course, it is always best to opt for drain cleaners that are not extraordinarily potent or toxic. 
To reiterate our findings, we thought that Green Gobbler Main Line Opener And Toilet Clog Remover was the best overall drain cleaner. If you are looking for a chemical-free solution, then consider Vastar Drain Snake Clog Remover. Lastly, we also liked Drano Max Gel Clog Remover for its effective gel-based formula. It was fast-working, safe, and super effective. 
Take care, and until next time! 
Related Article
7 Best Oven Cleaners For Baked-On Grease
10 Best Hand Cleaner for Mechanics and Grease
13 Best Steam Cleaners for Hardwood Floors
15 Different Types of Stainless Steel Cleaning Solutions
How Cleaning a White Fiberglass Shower or Tub Works
7 Super Smart Homemade DIY Cleaning Recipes Using Vinegar That You Have to Try