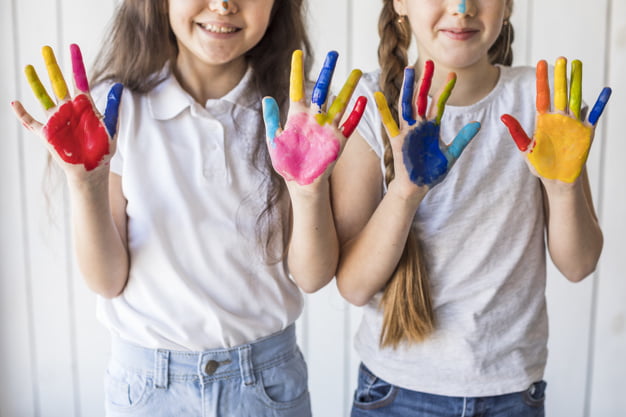 If you're on the market for face paints, there's never been a better time. 
There are a number of great brands which make quality products – and as a result of the competition, the prices tend to be largely economical. 
Hence, there are lots of products on the market today which are safe, easy to use, and give a wonderful experience during and after being painted on. 
Today, we'll be reviewing the top eight face painting kits for kids that are on the market today. 
Further, we'll have a small discussion on which factors you need to consider while buying your own face paint. Without further wait, let's get started on the first review! 
Best Face Paint For Kids
Sale
The best part about face colors is that they come in several variants, including crayons. This set of 24 face painting crayons by JOYIN is a beautiful way of face painting! There is a considerable variety of colors that are on offer. Further, these colors are easy to paint with and require minimal effort to remove after being painted on. 
Experience
The primary application of these paints are during children's events and parties, and you can be sure they'll be a hit there. These are soft but do not break off the face surface and wash away very quickly. These colors contain zero parabens and are non-toxic. They'll be very safe for children with sensitive skin.
For simple face paintings, you can be assured of their safety and quality.
For doing simple designs such as whiskers from bats and cats, animal designs, face tattoos, etc. – these crayons will gladly suffice. All that's needed to do away with these face paintings is just some soap and a bit of warm water! An extra benefit is that these crayons come with six metallic shades, which can add that extra oomph to your face paintings.
If you're looking for an excellent, value-for-money, yet a safe product, this is your best bet.
Pros
Extremely safe to use, especially for children and those with sensitive skin

Comes off with just a sponge and warm water in a matter of a few minutes

Metallic colors add a different dimension to your face paintings
Cons
Harder to make more complex designs using crayons, best for casual use
Sale
If you're not new to this space, chances are you've encountered this product earlier. That's all because Snazaroo makes incredibly high-quality, value-for-money and safe products, suitable for all age ranges and skin types. Even though this is water-based paint, it doesn't chip or break off and comes away cleanly with not that much effort. It also comes bundled with a lot of stuff! 
Experience
When we come to the safety aspect of the paint, we find that it's very safe – it protects the painted person or child from a variety of toxins and is safe for sensitive skin as well. It's compliant with all the FDA regulations, free of any toxic fragrances and harmful components, and also adheres to the most common standards on cosmetics worldwide.
There's a decent variety of shades on offer – you get 12 different, yet vibrant and punchy colors. Youl also get two paint brushes and four sponges to help you get the color on! They do give you the entire set of things you might need – outside of a palette, that is.
All in all, you get a fantastic all-in-one kit for not a lot of money. In fact, it delivers a better painting experience than many expensive painting kits as well. One of the best products on the market today!
Pros
Comes with all the components you need to get started with face painting

Decent variety of paints on offer, colors are very high quality

No compromises on safety, smooth application of paint
Cons
The volume of paint is slightly lesser than most other sets on the market 
Sale
Are you looking for a funky paint kit which looks cool and performs just as well? Zenovika has a wonderful offering in this department – one which gives you 81 components! There are more than 50 stencils, 15 paints, two glitters, 2 chalk hair colors for that extra zing, and two sponges to ensure the paint spreads evenly. Except for a brush, you get everything you need! 
Experience
You get more than what you can reasonably use at once with this set. Further, your components can last you much longer than just the paint, so this kit makes much sense for someone who is looking for a no-nonsense addition to their face painting toolkit. It costs a dollar and a half per bottle of paint barely, and as such makes for an excellent value proposition.
You're also getting several other components which are bound to make your painting experience more interesting and accessible for everyone – including yourself and your subjects! The variety of stencils in itself makes this kit worth the outlay. The package includes glycerol as a primary binder, as well as candelilla wax as a preservative for the paint on the skin.
Pros
Unbelievable amount of stencils on offer – makes your job much easier

Comes with chalk hair colors and glitter, which help you deliver a more comprehensive face painting experience

Colors are trusted when it comes to health and safety 
Cons
For more specialized colors, you may need a palette or procure paints individually
If kits with less items in it are not your cup of tea, a new kid on the block claims to provide a solution. Blue Squid set up shop just two years ago, but their Face Paint Kit gets you to work faster and better. You get 30 stencils, two brushes, four sponges, two pans – white and black, two glitters and 12 punchy colors to boot! 
Experience
This particular kit is well-known both because of the quality of their paint as well as the variety of stencils they have on offer. Since Blue Squid is a new company, it doesn't stop at merely giving you the products; you also get several tutorials on their website. These tutorials range from basic stencil use to full-blown character designs like Mickey Mouse!
Paraben-free, non-toxic, FDA-compliant, hypoallergenic, and most importantly, vegan – these are the paints will never cause damage to children's skin. These paints are incredibly safe, and the vibrancy of colors is better than most others can offer. The glitters add to the pizzazz of face painting, and the pans are useful for mixing paints.
Pros
Much safer and more eco-friendly than other comparable paint sets

Online tutorials are wonderfully detailed, can make intricate designs simply following them

Comes with many stencils, which are useful when it comes to large-scale events 
Cons
Just 12 paints might feel insufficient for some painters
If there's one thing that's always appreciable in a face painting kit, it's the extra things you get on top of the face paint. This paint kit gets it right – it offers so much on top of just the paints, it's sure to be a hit during your event! You get a number of stencils, sponges, brushes, glitters and even an applicator. The paints themselves are also wonderful! 
Experience
This paint set covers each and every item which a child may need to get started with face painting. All the paints are incredibly soft on the skin and come approved the by the FDA. They are all water based, and hence easy to apply and use. The stencils are the real cherry on top, however, since they are a wonderful way of getting designs done in a faster and easier manner.
The stencils on offer include Batman, Spider-Man and a number of other popular characters. Further, all common design elements like unicorns, animal faces, cat whiskers etc are also offered. If that wasn't enough, they throw in an 18-page e-book for free once you buy the paints.
Combining all of these benefits, this paint set is a sure shot way to get all the kids into face painting at a budget. Really hard to go wrong with this one!
Pros
Comes with a number of extra items at very little extra cost

All the paints are rated safe

Stencils cover all major popular designs we can think of
Cons
Will need to mix colors to go beyond the most basic shades
If having a paint set with split cakes and pans is not your cup of tea, you must consider these Face Paint sticks (or crayons) by Dress Up America. This set gives you all the colors your child needs to get started with face painting, and it's completely safe and easy to do with these paints. These are easy to wash off, too. It's as similar to Crayola for face paints as it gets! 
Experience
Generally speaking, face paint sticks are best suited for children under the age of 5 for whom a paint brush isn't the best option, safety wise – there's always a risk of them ingesting paints or handling paintbrushes in an unsafe way. And for that reason, Dress Up America has the perfect product for preschoolers. These colors come off just as easily as they go on. 
These paints are available in 12 vibrant and punchy shades. Most are basic shades, but a few are unique and are found nowhere else. These face paint sticks are washable, non-toxic and safe to use. There are no ghastly odors or any harmful materials in this set. All in all, it makes for a perfect companion to the tiny tots who want to explore the world of face painting! 
Pros
12 colorful and different shades on offer

Sticks are long enough to last a number of painting sessions, and are cheap enough to be replenished easily

They are all paraben-free and FDA-compliant
Cons
Comes with nothing outside of face painting crayons 
This set of face paints is absolutely wonderful if you're looking for a comprehensive face painting kit, loaded to the brim with extras and essentials. There are fourteen colors, fifty stencils, two glitters, four sponges and pairs of applicators and brushes each. With so much on offer, it's one of the best value-for-money kits you can buy today! 
Experience
Whether it's lines or gradients, you will be pleasantly surprised with the quality of results you get. This is one kit which gets you and the kids to the end result faster and with less effort, too! You would be hard at work to find faults in the quality of paints as well as the extra material you get with this paint. With multiple stencils, your budding Batman can get the Dark Knight look!
The standard winning combination of FDA-compliant, non-toxic, paraben-free and hypoallergenic paints is present here too, so you can rest assured that these paints will be easy on your child's skin, unless it's extremely sensitive to paint. This kit comes with everything you and a child may need to start and stay interested in painting faces!
Pros
Comes full with extras up to the brim

Paint quality is wonderful, 14 paints have regular and rare shades alike

Brushes, applicators and sponges are all top-notch in quality 
Cons
Might seem a little expensive, nothing too serious 
Finally, we come to one of the best kits there are on offer today. This kit is what happens when the best face paint kit making companies on the market decide to create a kit especially for kids. It is superb in many ways – first, the colors which are on offer are direct off their shelves. The stencils are all reusable, which is a major benefit not available on any of the other kits. 
Experience
This kit is best suited for children over the age of 12, or ten if your child has some face painting experience. The colors on offer in this set handily beat out any other on the market today, with both striped and solid paints included. This means when used with a sponge, this kit is very likely to give you stunning designs with a lot of ease.
We also see bundled in the kit – a biodegradable glitter (props to Kryvaline here) as well as jewels in a spill-proof bottle. Since Kryvaline is a professional creator of paints, you can expect high quality of safety in the paints as well as ease of painting. All considered, if you have the money to lay down on this, it is probably our best recommendation.
Pros
Comes with everything one might need to start or continue face painting

Colors are all solid and punchy, rated safe by all major standards

Spill proof bottle for the glitter 
Cons
Might be a little too expensive for most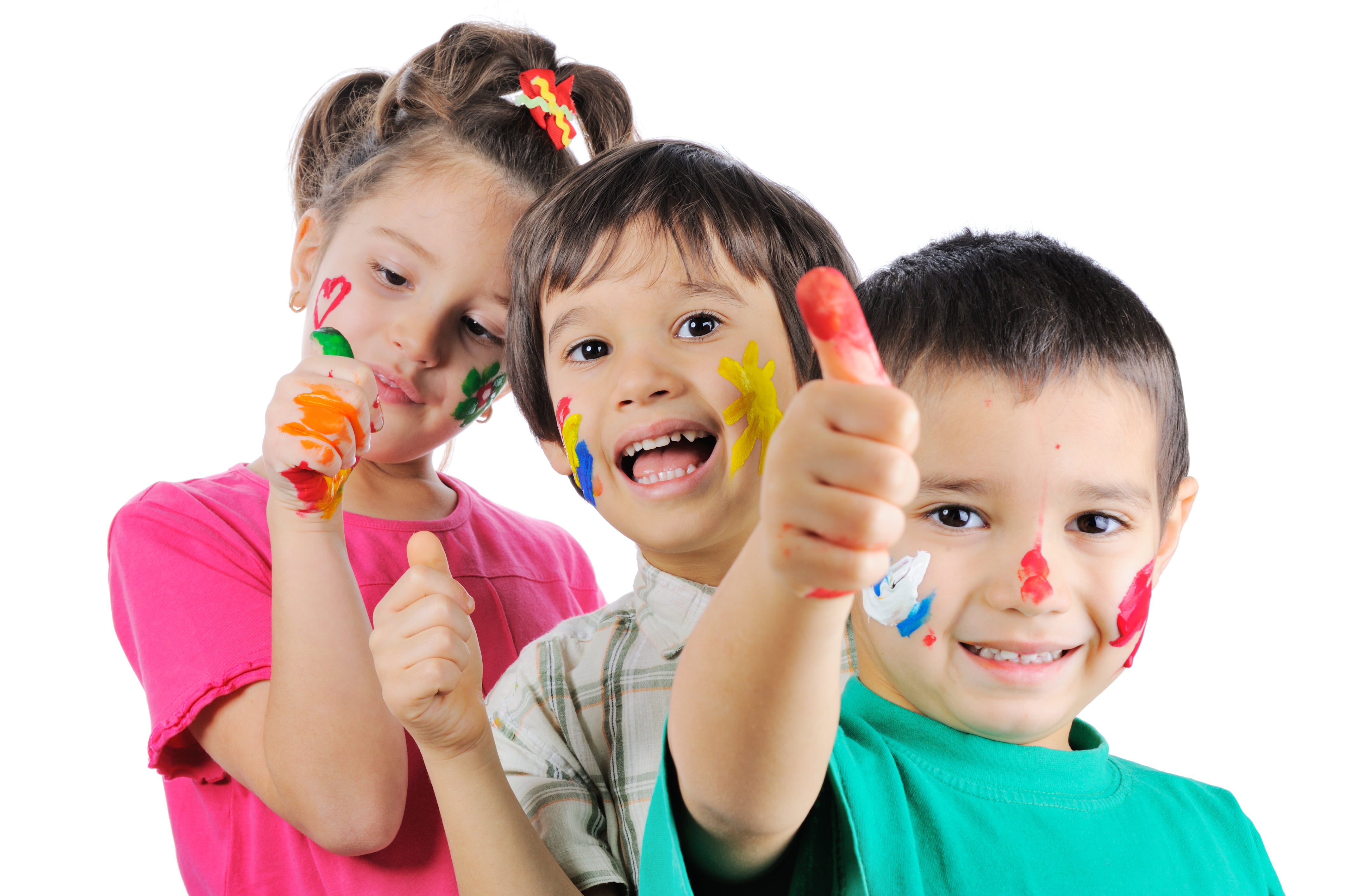 Guide to Buying the Best Face Paints for Kids
Now that we're done with the product reviews, we turn our attention towards one of the most important things – deciding how to buy your own paint set. It's quite possible that due to one reason or the other, the above paint sets don't match up with what you expect and you want to choose a face painting set all by yourself. 
Below, we outline a few crucial factors which you must keep in mind while going in for buying a set of face paints which is suitable for the junior brigade as well. 
Safety
Whether it's crayons, a set of water-based paints or something else entirely, anything going on a child's face should be vetted with extreme care. Children's skin tends to be super sensitive and reacts to any small irritation in a major way. There are a number of brands which sell potentially unsafe paints (seen in reviews online) – our listed products have no such complaints. 
Hence, it is crucial to ensure child-safe paint quality every time.
This invariably has something or the other to do with the manner in which these paints are manufactured. In order to ensure safety, you must observe that the paints are FDA-compliant and paraben-free or not. Any red flags here indicate the paint must be kept as far from children as can be. Further, face paints are almost never food-safe, and hence must not be ingested. 
Creativity
The major reason behind getting the kids a face painting kit is to foster a sense of creative expression and allow the child to freely paint what they wish. There must be a decent variety of paints as well as tools for the above to happen in a proper manner. Hence, kits with extra items like stencils, glitter, sponges, applicators and the all-important brush are much better. 
Children learn fine motor skills as well as have positive effects on concentration when they do face painting regularly. Hence, splurge a little bit and let the child's creativity flow through! 
Type/Form
There are two major types or forms associated with paint when it comes to face paints. Certain manufacturers prefer their paint in small cakes/pans, and others prefer sticks. There are a number of major advantages when it comes to pans – first, they're incredibly similar to watercolors while using them. It's much easier to apply them as well compared to sticks! 
When it comes to sticks, the major advantage comes with the ease of use and application. For a single color, using sticks makes more sense since you get more of a single color in one go, and as such using a face paint stick for a base and then painting on with wet face paint is a good strategy which has been proven to work many-a-time. 
Next, pans are logistically much simpler to handle. They last much longer and are easier to put away once done with painting. All in all, they represent a much better painting experience! 
All things considered, it is absolutely your call to choose the kind of paint you want based on your usage. Preschoolers and children below the age of seven are much safer around sticks than wetted pans and bottles of face paint. 
Bringing it all together
With this, we wrap up our discussion on the best face paints you can buy for kids in 2023. We have reviewed a number of paint kits and types which are suited for your child's particular use, age and painting style. 
We urge you to get your child a kit which has a number of extra items so they can use them and play around – and explore the world of face painting! 
Happy painting to all the tiny tots, and happy shopping to you! 
Related Articles
9 Best White Face Paint For Cosplay, Clowns & Halloween
6 Best Body Paint | Top Brands Compared
5 Epic Face Painting Supplies That Will Improve Your Designs
Learn How to Body Paint With Brilliant Results
5 Best Airbrush for Body Painting
16 Brilliant Face Painting Techniques to Feed Your Imagination
11 Best Face Painting Kits of 2023