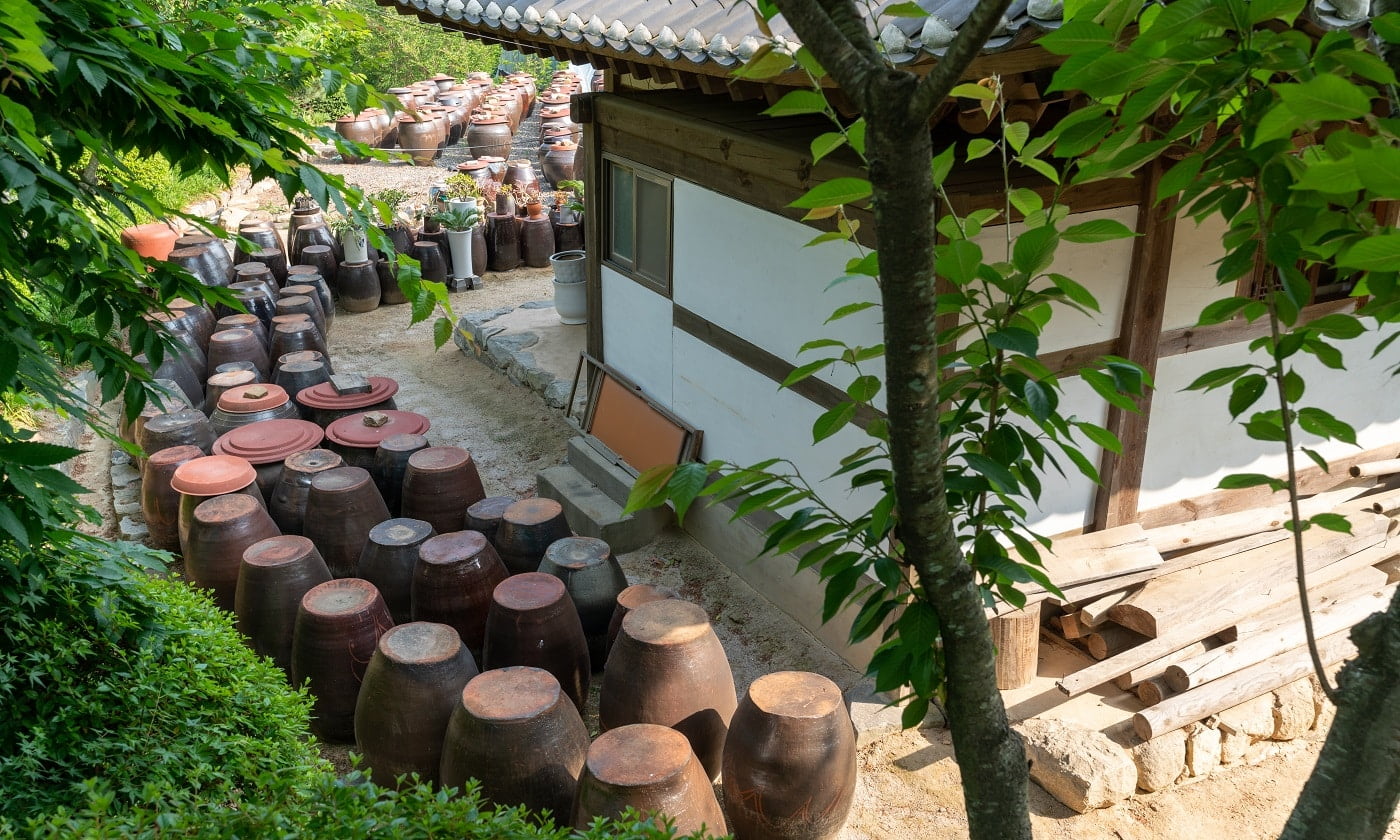 Are you new to fermenting sauerkraut at home? Or are you a pro fermenter looking for a gear change? Either way, we've got your back!
Trying to find the best fermentation crock out there can be pretty confusing. After all, there are so many options available on the market.
But don't worry; you've come to the right place!
We've done all the research on your behalf and come up with the 11 best Fermentation Crocks on the market. The best part about this guide is that all 11 crocks are available online and, therefore, just a click of a button away from being delivered to your doorstep!
You will also be pleased to know that each of these crocks has been chosen based on extensive research and highly rated customer reviews.
So, without much ado, let's get started, shall we?
Top Fermentation Crocks
IMAGE
PRODUCT
DETAILS

Our Top Pick

Our Top Pick

Humble House HHSK102

It comes with glazed weights and a cabbage tamper
Made of thick, high-quality ceramic with cadmium and lead-free glaze
Available in a variety of colors and sizes

VIEW LATEST PRICE →

E-Jen S1.7

Made of high-quality propylene plastic
Microwave, freezer, and dishwasher-safe
Sizes ranging from 1.7 liters to 17 liters

VIEW LATEST PRICE →

Seeutek BZ-564

Available in a variety of colors and sizes
Made of high-quality ceramic
Comes equipped with two stone weights and a pick tamper

VIEW LATEST PRICE →

Kenley fej-l5-fba.01

It has a burp lid and comes with weighting stones
Built of high-quality ceramic and 100% natural materials
Available in only a 5-liter volume

VIEW LATEST PRICE →

K&K Keramik  BHBUKPPAZINH1314

Inner lining is Lead and Cadmium free
Made of high-quality handmade ceramic
Weighs 10.3 pounds

VIEW LATEST PRICE →

Nik Schmitt 370611

Made of Stoneware and available only in 10 liter size
Dimensions are 10.6 x10.6 x10.6 inches
Coated with a naturally manufactured lead and cadmium-free slip glaze

VIEW LATEST PRICE →

Ohio Stoneware Fermentation Crock

Large crock with a 3-gallon volume
Handcrafted with stoneware
Comes with a lid, two weight stones, and a recipe book

VIEW LATEST PRICE →

Mortier Pilon 100679

The crock itself constitutes of a two-part jar and a red elastic band
Dimensions are 7.92 x 10.69 x 7.92 inches
Weighs only 3.08 pounds

VIEW LATEST PRICE →

Crazy Korean Cooking COMINHKPR71061

High-quality propylene plastic that is mixed with 7 to 10% natural clay
Double lid
Available in a wide variety of sizes

VIEW LATEST PRICE →

Schmitt Gartoph SCH-3203-W

Measures 17.72 x 3.94 x 31.5 inches
Weighs only 0.81 ounces
Comes with a notched lid, bulbed handles, and dual weights

VIEW LATEST PRICE →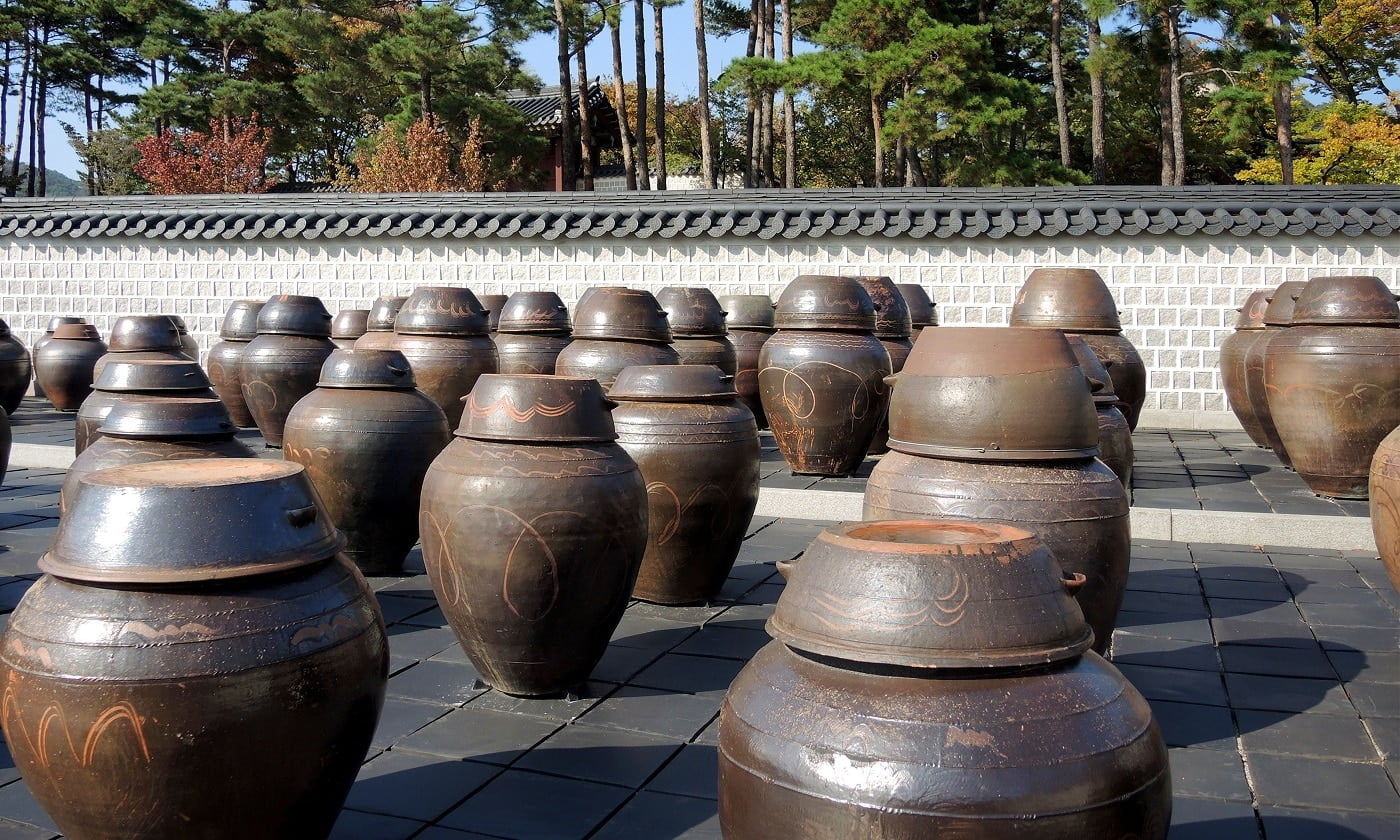 This German-Style Crock is ideal for someone who wants to invest in a traditional water-sealed unit on a budget. It's available in four color and three volume variants. Furthermore, this crock is made of thick ceramic and is finished with a lead and cadmium-free glaze. It comes with a couple of glazed weights and an 11.75-inch wood tamper that allows users to ferment the traditional way.
Why Did We Like It?
This product is manufactured by a small American family business, which we loved! The versatility of this crock enables it to be used for a wide variety of purposes. This includes not only making sauerkraut, kimchi, and pickles but also being able to brew kombucha or growing a sourdough starter. The thick ceramic walls of this fermentation crock are strong enough for daily use while simultaneously being light enough to carry everywhere with ease.
Moving on, even the smallest variant of this crock (2 liters) can ferment up to 4 standard mason jars of vegetables, which is impressive. The larger size options of the crock can thereby be used to ferment bigger or more significant amounts of vegetables.
Since this crock is available in a variety of colors and volumes, it allows consumers to choose one according to their specific needs and tastes.
Moreover, this crock has a food-safe glaze that is free of lead and cadmium. This makes it look not only pretty but also effortless to clean, making it one of our top contenders!
What Could've Been Better?
While most reviews for this product are overwhelmingly positive, some consumers have complained that the build of the container is uneven, making it unsteady to place on flat surfaces. However, the company has always agreed to issue a refund or replace the order in all such circumstances.
Pros
Strong and durable build

Lightweight

Compact and easy to store

Multiple uses

Budget-friendly
Cons
Build issues in some instances
Next up is an open-lid fermentation crock that is not only the most affordable on this list but is also available in a wide variety of volumes. The container is made of high-quality propylene plastic, and it comes with an adjustable pressing plate. This plate alternatively forms an airtight lid that facilitates vacuum and promotes a state that benefits the growth of healthy bacteria.
Why Did We Like It?
We were impressed by the highly-rated customer reviews this product received even after being the cheapest one on the list! So, if you're looking for a fermentation crock on a tight budget, this is definitely the one for you.
Moreover, we loved the multifunctionality of the product as a storage container for dry goods such as grains, beans, flour, and pasta. We've all bought things that we planned on using regularly but ended up only using once in maybe six months.
In that scenario, this container comes in handy because not only can it ferment with ease, it can also double as a container that is both freezer and microwave friendly.
Also, this container's design and box-like shape make it very easy to store goods in cramped spaces such as the refrigerator and the pantry.
What Could've Been Better?
The only downside we noticed of this product would be the material this is made of, i.e. propylene plastic. If you're environment-conscious or someone who is simply looking for a more traditional heavy weight-fermentation crocker, then this product is not for you.
Pros
Lightweight

Easy to store and operate

Multifunctional

Available in a variety of volumes
This is a traditionally structured water-sealed fermentation crock that comes with two stone weights and a pick tamper. It is available in two colors and two sizes, which are 2 and 5 liters respectively. The surface of this container is made of high-grade ceramic, while the interior is finished with a lead and cadmium-free glaze.
Sale
Why Did We Like It?
This fermentation crock has some very glowing reviews online, and most of them insist that this is one of the best crocks on the market today. The range of sizes available makes it easier for you to purchase one according to your needs. 
That being said, its long-lasting build and remarkable feature of being able to retain the freshness of food for years have made it a popular choice. The comparatively low cost of this crock makes it a budget-friendly option that is perfect for a small family or individual use.
Unlike most water-sealed containers, this one has a reasonably big opening that allows you to insert your hands and wash it or stack vegetables with ease. Also, this product is quite versatile and can be used to ferment, pickle as well as make kombucha.
What Could've Been Better?
We did not come across anything that could be tagged as negative about this product. We only wish that this fermentation crock was available in larger sizes for professional users or people who simply prefer to ferment in large batches.
Pros
Long-lasting and sturdy

Easy to wash

Can store fermented food for very long periods

Budget-friendly
Cons
Only small sizes available
While being one of the less expensive recommendations, this water-sealed traditional fermentation crock is also one of our best ones. Its USP is the long-term storage ability that preserves your fermented foods for years while keeping the flavors intact. Also, it's carefully designed with a food-safe coating to prevent oxidation and any bad tastes that are sometimes associated with inferior quality crocks.
Sale
Why Did We Like It?
Our next recommendation is very highly rated in the reviews, and for a good reason! We love its high-quality build and its ability to ferment food in it for years at a stretch without any additional or artificial preservatives other than the usual saltwater.
Moving on, it's a traditional and eco-friendly way of storing food that is beginner-friendly and extremely easy to take care of. The food-safe inner coating of the jar prevents oxidation and ensures that no liquid or vegetable matter is absorbed by the jar. Therefore, this successfully enables it to maintain the full flavor and benefits of the vegetables being fermented.
Furthermore, this crockpot is said to be made using only 100% natural materials. And who doesn't love an environment-friendly product? Because we sure do. Kenley is also renowned for having a quick and trustworthy customer service team, which is always a pro in our books!
What Could've Been Better?
This fermentation crock is only available in one color and one size – brown and 5 liters – which is a bit of a letdown. This might make this product less than ideal for some people to invest in it. But that's not exactly a deal-breaker, in our opinion.
Pros
Durable

Can retain vegetables for years at a stretch

Eco-friendly

Easy to operate and take care of

Great customer service
Cons
No color or size options available
This is a hand-made German water-sealed fermentation crock pot designed in a modern, functional, and bulbous shape. It has two handles on each side and is made of high-quality one-piece ceramic that was fired at 1260 degrees centigrade. This crock is available in a 7-liter size and comes in a beautiful speckled brown color with a shiny copper finish.
Why Did We Like It?
This fermentation crock is not only beautiful to look at with its speckled earthen brown and copper color but also structured unconventionally with a bulbous shape. It has a deep gully and a narrower mouth that enables gas to be expelled from within while simultaneously preventing dust and air from entering.
Moreover, this is one of the few crocks that have handles on each side to enable them to be easily carried around. It has thick walls and a thick base, making it a sturdy option for consumers. Each of these containers also comes with a complete set that includes the pot, lid, weighing stones, and a recipe manual.
All of this makes it an attractive choice for consumers. But is the inclusion of these additional items enough to justify its steep price? That's the only question left to answer…
What Could've Been Better?
This crock is very steeply-priced because of its high-quality build and manufacturing process, thereby making it unaffordable for many consumers. Also, its traditional structure might make this product a little difficult for beginners to operate.
Pros
Made of sturdy and high-quality material

Nuanced and beautiful design

Surprisingly lightweight

Hand-made in Germany
Nik Schmitt has been considered one of the go-to brands for sauerkraut crocks for a while now. Hence, adding one of their water-sealed crocks in our recommendation guide was a no-brainer. This product is manufactured and imported only from Germany and is handcrafted from stoneware that is fired at 2300°F. 
Why Did We Like It?
We love the long-lasting stoneware this crockpot is made of. The hand manufacturing process in very high temperatures gives this jar some very exceptional qualities that enable it to ferment vegetables with ease.
Since Germany is said to have been the birthplace of the water-sealed crock pot, you can rest assured that this one is of top-notch quality. It also exceptionally stands out from the rest of the pots because of its heat and scratch resistance. Since stoneware is considerably more hardy than the other types of ceramic, it makes this product very durable and long-lasting.
For its large size, the jar is also considerably lightweight as compared to its competitors of the same volume. Hence, this crock is one of our top picks for consumers who intend to ferment vegetables in larger quantities.
What Could've Been Better?
As we know, good long-lasting products very often come at steep prices and the same can be said about this crock. However, we also believe that this product is very much worth its high price.
Pros
Heat-resistant

Scratch-proof

Dishwasher-safe

Large crock to ferment large quantities of vegetables

Durable
Cons
Expensive

No size or color variations available
The unique European pottery style look of this water-sealed crock makes it stand out against all its competitors. This is not only one of the largest pots on the list, but also one of the prettiest. Ohio Stoneware is a notable pottery brand known for its long-lasting and hardy products, and this one is no exception.
Why Did We Like It?
One of the best qualities of this crock is its beautiful and polished white look with classic blue stripes. If you're someone who is particularly fond of dainty European aesthetics then this product is definitely for you!
Moving on, the crock comes in a complete set with a lid, two weight stones, and a small fermentation recipe book. It is available in only one size with a volume of 3 gallons which would be perfect for consumers who ferment on a larger scale. Also, it has rounded handles on either side so that it's easier to move around.
Finally, this crockpot also has a larger opening as compared to other water-sealed crocks. This makes it easier to wash and maintain this product on a daily basis. Plus, it can be used to ferment larger whole vegetables which other crockpots may not fit.
What Could've Been Better?
Since this crock is handmade, the company has mentioned on their website that the exact dimensions of the product may vary. Although this shouldn't be an issue for most consumers, it's still worth knowing before deciding to purchase it.
The product doesn't have any warranty details on the website, which could prove problematic if you were to receive a defective product.
Pros
Beautiful European style design

Large enough to ferment a bigger batch of vegetables

Made of durable and long-lasting stoneware

Easy to wash and maintain
Mortier Pilon has come up with a very beginner-friendly kit for people new to the world of fermentation. It's structured very modernly and consists of a sleek glass jar with a silicon cover. The kit also contains a ceramic weight, recipe guide, and wax pencil along with its fermentation crock.
Why Did We Like It?
We absolutely love this crock for its clever, modern, and compact design! This is the ideal fermentation crock for beginners on a budget, and it comes with a guide that provides simple step-by-step instructions and a recipe booklet with an incredibly wide variety of DIY recipes.
Not only that, but this company was also thoughtful enough to provide its users with a rewritable label and wax pencil as a part to label and identify each batch of ferments and thereby keep track of the fermentation timeline.
To top it all off, this crock is also extremely easy to wash and one of the most low maintenance products on this list. All you need to do is remove the silicone sleeve and hand-rinse it with dish soap and water and voila you're done!
Mortier Pilon is hence, understandably, a customer favorite for fermentation purposes. It not only comes at one-third the price of other crocks in the market but also one-third the weight!
What Could've Been Better?
There's nothing as such that could have been better about his particular product. However, the availability of a larger variant with this same modern design could come in handy to people who ferment in large batches.
Pros
Budget-friendly

Beginner-friendly

Ergonomic design

Easy to clean

Lightweight
Cons
No larger sizes available
We've covered a lot of larger-sized fermentation crocks in this guide, however, this particular brand of crocks has the largest sizes at the lowest prices. They all come in a sandy brown color and combine the Korean Onggi principle with more modern and simpler technology. This is also one of the 3 open-lid fermentation crocks in this guide.
Why Did We Like It?
First and foremost we love the range of larger sizes available in this particular brand of fermentation crocks ranging from 3.4 liters right up to 45 liters. This makes this product perfect for people who tend to ferment in larger batches but want to invest in lightweight and inexpensive equipment.
As a bonus, this crockpot not only maximizes the freshness of the fermenting vegetables but also doubles up as an airtight container to store dry foods in. So, items like bread, coffee beans, cereals, seaweed, grains, cookies, nuts, fresh vegetables, etc. can be alternatively stored in this container and kept fresh for longer.
If that wasn't enough, this container is also freezer and microwave friendly and can be used in the dishwasher. The 7-10% natural clay mixed with the propylene plastic used to make this container gives it the ideal level of porosity for optimal fermentation.
What Could've Been Better?
The only drawback to this fermentation crock is the fact that it is made of plastic, which as we know causes a very real and serious threat to the environment and the earth. Hence, this might make it a less than ideal option for consumers that tend to be environment conscious.
Pros
Versatile design

Available in a variety of large sizes

Easy to handle and clean

Budget-friendly

Lightweight
Cons
Made majorly out of plastic; not environment-friendly
This fermentation crock is manufactured in Germany by MS Steinzeug & Keramik but while using the traditional Nik Schmitt style of production using a proprietary clay material. It is available in only one size of 3 liters and soothing cream color. It is, like most other crocks on this list, structured like a traditional water-sealed crockpot.
Why Did We Like It?
Traditionally structured, this crock is created using the production value of the 3 leading fermentation crock manufacturers – MS Steinzeug, Keramik, and Schmitt. So, the construction of this pot is identical to its larger counterparts but is uniquely made for smaller families and personal uses. It, however, also manages to retain the solid structure and good performance of its larger-sized peers.
Moving on, this crock comes as a part of a kit with two half-moon pressing stones, a notched lid, along with a recipe and user manual containing useful information. This crock is handmade, hand-glazed, and specifically fired in the traditional kilns to make it strong and durable.
That's not all; its conventional structure also enables this crock to use the old methods of fermentation and preservation to provide its user with healthy and crispy fermented foods.
What Could've Been Better?
While we did not find any such drawbacks to the product itself, it has come to our attention that this fermentation crock tends to be out of stock rather often. Long story short, there's a good chance that you may not be able to buy it when you want to.
Pros
Strong and durable

Easy to clean

Identical to larger counterparts

Lightweight
Finally, this crock by Ohio Stoneware is the only traditionally structured open-lid fermentation crock in this guide. It is constructed of solid hand-glazed stoneware and is medium-sized thereby having a capacity of 2 gallons. This item comes as a part of a larger fermentation kit containing a cover and two weights for ease of use.
Why Did We Like It?
Firstly, as we mentioned above, this is the only conventionally structured open-lid crock we have on our list. So, this is ideal for customers who like to keep a close look at their fermenting vegetables.
Now, the opening of this crock is extremely wide making it possible to submerge and ferment whole vegetables according to the wants of the customers. It also makes it very easy to clean and maintain, especially since this crock is also dishwasher-safe.
The jar in itself is quite versatile too, and can be used in a microwave as well as a conventional oven, which we love! The multiple uses of this utensil make it quite an addition to any kitchen.
What Could've Been Better?
Since this is an open-lid crock, users are recommended to ferment in cooler temperatures and regularly monitor the fermentation process to ensure no yeast or mold is forming. Lastly, this crock is also much more expensive and heavier than its other open-lid and water-sealed counterparts. So, that could also prove to be a drawback for some users.
Pros
Easy to use and clean

Conventional oven and microwave-safe

Dishwasher-safe

Can be used to ferment whole vegetables
Cons
Heavy

Expensive compared to its counterparts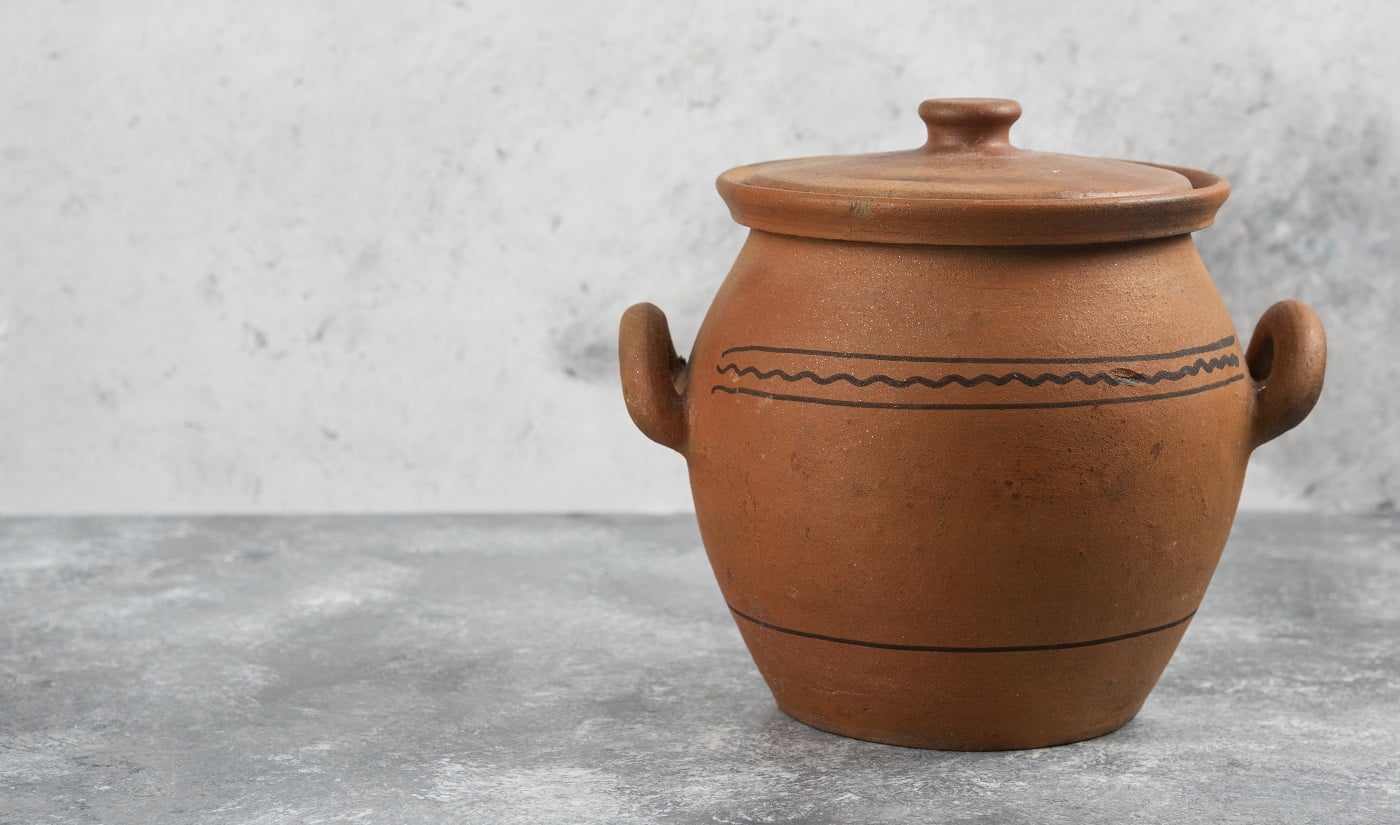 Fermentation Crock Buying Guide
Looking for the best fermentation crock can be a very complicated and stressful process with all the options available out there. Even more so for beginners or first-time users of fermentation crocks.
But don't you worry! We have listed out some factors that will simplify the decision-making process and help you choose the ideal crockpot.
Type of Fermentation Crock
One of the very first things one must decide before considering investing in a fermentation crock is the kind of fermentation crock they should buy. There are broadly only two categories of crocks widely available in the market right now, which are – the water-sealed crock and the open lid crock.
Your decision for which crock to invest in largely depends on how sincerely you wish to monitor the process daily. The water-seal crock, for starters, has an ingenious seal that keeps out not only contaminants but also yeast and mold. You will just need to monitor it once in a while to make sure that the water in the gully hasn't evaporated.
Alternatively, an open lid crock has no such seal and is quite prone to mold and yeast formation. For this same reason, one must closely monitor this kind of crock regularly to ensure no outside bacteria is contaminating it.
However, it is also important to note that open-lid crocks have much wider mouths enabling them to ferment larger pieces of vegetables and in bulk. It is also easier to clean and maintain for the same reason. As opposed to this, water-sealed crocks have a narrower opening making it difficult to clean and pack vegetables in.
That being said, water-sealed crocks are more popular and hence more widely available in the market today. For this reason, most of the recommendations on this guide are of water-sealed crocks, while only 3 of them follow the open-lid policy of fermentation.
Size
Other than deciding which type of crock you're comfortable with, you must also determine the size of it. This will depend on how often you want to ferment and how much you're going to ferment at once.
If you're fermenting for personal uses and will only be fermenting in smaller batches, a smaller-sized crock would work best for you. While, alternatively, if you're someone who wants to make a large batch of ferments and store it for longer periods you're going to need a larger crock.
Price
The size of your budget is a very important factor when it comes to purchasing a crockpot. This guide in itself has crockpots of various sizes starting from 15 dollars right up to 159 dollars.
Crockpots of the same size and shape also tend to be marked at different prices according to the quality of the material they are made of. For this reason, the price has become quite a deciding factor when it comes to purchasing fermentation crocks.
Miscellaneous
Finally, there may also be some other miscellaneous factors for consideration while deciding to buy a fermentation crock. For example, are you only looking for traditionally structured crocks or can you also make do with the modern variations of the same? How often are you going to use it? If not often, would you rather own a crock that can be alternatively used as a storage container?
Keeping all the above factors in mind, you can easily use our guide to determine which fermentation crock is optimal for your requirements.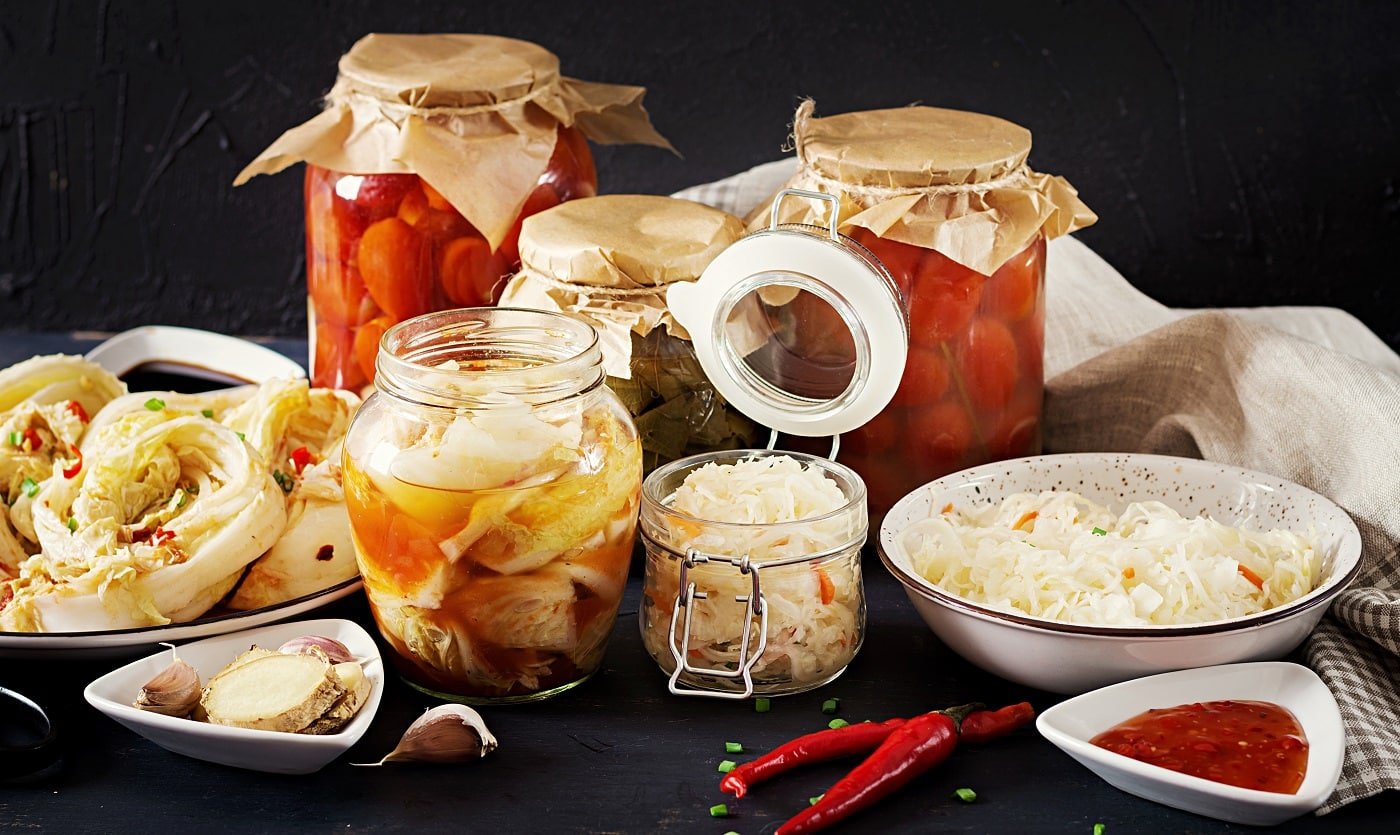 Verdict
So, here we come to an end to our highly researched and comprehensive guide to fermentation crocks (you're welcome, by the way!)
As you may have realized in the process of your research, there are several other options available on the market. But what we have tried to do here is compile a guide with the best crocks, with the highest user ratings that also come from top-notch brands.
Long story short, the Humble House HHSK102 and Seeutek BZ-564 are ideal for small/personal fermenters who want a traditional crock on a budget. The Mortier Pilon 100679 is perfect for beginners while being extremely budget-friendly.
On the other hand, the crocks from Crazy Korean Cooking are spot-on for people who want to ferment in bulk/large quantities but don't have a big budget. Lastly, the Ohio Stoneware crock is ideal for customers looking for a traditionally structured pot that is also bigger in size.
So, what are you waiting for? Take your pick and get ready to ferment some delicious vegetables!
Related Articles