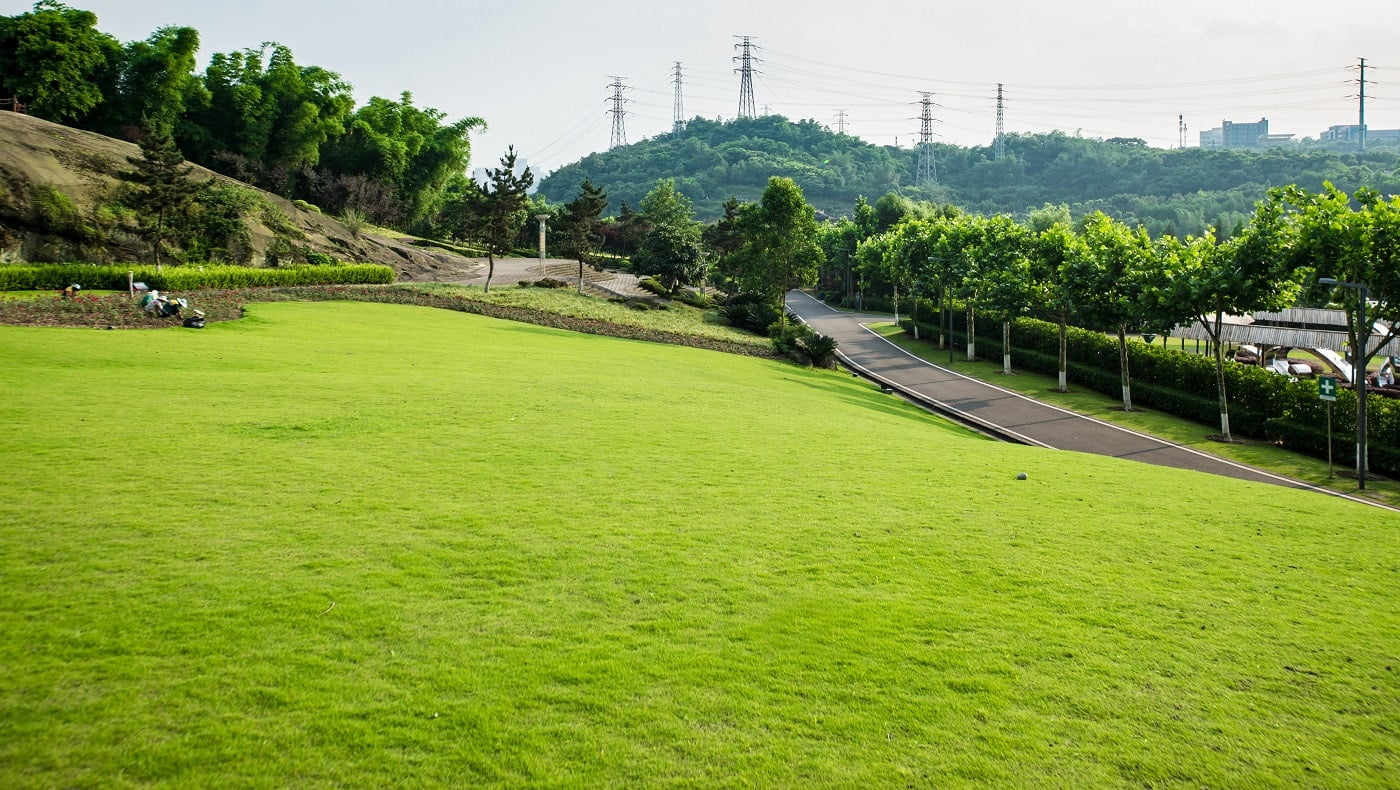 We often hear that the grass is always greener on the other side! Well, that doesn't need to be true anymore.
We are here to tell you how to keep your lawn filled with a healthy carpet of grass that would go on to become the talk of the town. It is understandable that taking care of your garden is a tiring task. And it is important to get your hands on some efficient fertilizer to boost the growth of grass.
We agree that not only beginners but also experienced pros may find it difficult to choose the right fertilizer for their garden.
So, to make the task easy, we did some extensive research and shortlisted the 13 best options for you to choose from. You will find details on each recommendation, including their pros and cons, to help you make an informed choice. Also, we wrap it up with a buyer's guide to provide insights into the products.
Without further ado, let's dive right in!
Best Fertilizer For Grass
IMAGE
PRODUCT
DETAILS

Our Top Pick

Our Top Pick

Scotts EZ Seed Patch

Contains tackifier
Has useful protectants
Can boost growth both in the sun and shade

VIEW LATEST PRICE →

Scotts Turf Builder 30158

Covers an area of 4,000 sq ft
3-in-1 solution
Soil improvement technology

VIEW LATEST PRICE →

Simple Lawn Solutions Advanced 16-4-8 NPK

Non-toxic formula
Kid and pet friendly
Contains seaweed and fish

VIEW LATEST PRICE →

Scotts Green Max B0168K8VQK

Dual-action formula
Deeper greening in 3 days
No stain formula

VIEW LATEST PRICE →

Miracle-Gro Water Soluble Lawn Food 1001834

Water soluble
Covers up to 7,200 sq ft
High in nitrogen and chelated iron

VIEW LATEST PRICE →

Lawn Energizer 32 oz. w/ Sprayer

Comes with ready to spray bottle
Blend of liquid iron and nitrogen
Soil quality enhancement formula

VIEW LATEST PRICE →

Milorganite 0636

Organic composition
Infused with nitrogen and iron
Pigment preservation formula

VIEW LATEST PRICE →

Ironite 100519460

Waterless
Has NPK 1-0-1
Contains advanced soil technology (AST)

VIEW LATEST PRICE →

Safer Brand 9334

Soil revitalizing formula
NPK 9-0-2
Disease protection technology

VIEW LATEST PRICE →

Purely Organic Lawn Food

NPK rating of 10-0-2
Covers up to 5,000 sq ft
Plant-Based formula

VIEW LATEST PRICE →
Scotts is a well-known brand in the market, and the EZ Seed Patch is one of their best products. If you are looking for a fertilizer that can be used in the sun and shade, both, this is the one to opt for. Packed with a whole lot of benefits, you will be impressed with the efficiency that it shows.
Sale
Why Did We Like It?
To begin with, this seed is an exceptional choice when it comes to choosing seeding mixes that reap guaranteed good results. With minimal care and a little love, this seed patch will surely help you grow grass in any terrain that you want.
We can attest that this high-performance seed can absorb as much as 6 times its weight in water. This helps the mix to expand and form a protective layer around the seeds, making it conducive for best grass growth.
Moreover, with this product, you do not have to worry about additional fertilizer requirements. It is a pack of premium fertilizer with release technology that helps to jumpstart the growth of the seedlings.
Lastly, it comes with a tackifier too! No need to worry about your seeds getting washed away anymore.
What Could've Been Better?
Although we have no complaints about how efficient this is, remember that it will take around 3 weeks and proper sun and shade for these seeds to germinate. As they say, patience is the key here! Also, when you use it, the grass grows bigger in size but doesn't really spread too much.
Pros
Protects seeds from surface runoffs

Can grow in high traffic areas and also on slopes

Comes with fertilizers

3 easy steps to grow grass
Cons
Does not help the grass to spread very well
Next up is yet another product from the house of Scotts. The Turf Builder 30158 is an excellent choice when it comes to turning weak, brittle grass into a healthy, green garden. With just one application of this 3-in-1 solution, you can completely transform your garden. To know how to get a greener turf, read more.
Sale
Why Did We Like It?
Rest assured, this seed mix will leave your lawn looking healthier than ever before. We know that gaps in lawns are a recurrent worry, but this fertilizer will take care of that. With this, you can see a lush green coverage very quickly. Also, it provides intense nourishment to the soil to ensure healthy growth of the existing turf.
Moving on, this mix is good for both amateurs and seasoned pros. Extremely easy to use, all you have to do is first dethatch the soil to loosen the top layer and also remove all dead grass and debris. After that, put the mix into the spreader and distribute it across your yard and you are all set. Yes, that simple!
Spread all by yourself, or use My Lawn app to calculate the size of your lawn to distribute the mix evenly. With love and effort, your yard is only going to shine.
What Could've Been Better?
The only downside to this product is that it takes a little time to boost growth. So, if you are looking for quick results, you should consider something else. That being said, a good amount of rain can speed up the process.
Pros
Thicker and healthier lawn in just one application

Better root development

Cost-effective

Phosphorous-free
Cons
Does not enable quick growth
One of our top recommendations, Simple Lawn Solutions Advanced 16-4-8 NPK is highly popular amongst customers who love their lawns to grow faster and fuller. You don't need to worry at all about the grass type, since this product works wonders on all kinds of grass. Now,  let's see what other stellar features this product has to offer!
Sale
Why Did We Like It?
Produced by a family-owned business in the United States with 25 years of experience in the commercial turf industry, you can understand they know their product well. They understand the common concerns of their customers and design their formula accordingly.
Further, if you are scared that your kids or pets might come in contact with the product and get sick, there is no reason to worry. This one is completely safe to be used around them. The liquid nutrient will only boost your plant growth and is completely non-toxic.
Additionally, this nitrogen, phosphate, and potash formula provides deep nutrition to your grass and soil. So, whichever kind of grass you're planning to grow, this potent mix will work its magic on all of them.
What Could've Been Better?
While it works as promised, some customers have difficulty understanding the proportion. So, a detailed guide on how to use this can be really helpful. Also, the smell is pretty strong and pungent, considering there's seaweed in the mix.
Pros
Works very good on hybrid Bermuda lawns

Easy to apply

Suitable for all grass types

Perfect blend of micronutrients
Are you looking for super fast and super effective ways to turn your lawn green and lush? Scotts Green Max B0168K8VQK can be an excellent choice to achieve this result. Read on to know more about this option that will help you get your lawn fixed and healthy in no time.
Sale
Why Did We Like It?
For the ones who want efficiency, this product is your best bet. If you plan on organizing a house party over the weekend, and your lawn is patchy, use this. In no more than 3 days, your garden will be happy and full.
Moreover, it is really easy to use as well. Spread it on the lawn evenly, and that's it. You can go for a brisk walk in the yard right after. Hence, your children and pets can easily wander and play without fearing any harsh chemicals.
Also, what makes this formula super-efficient is the dual-action technology that has iron and essential supplements in it. This makes it suitable for all grass types and also makes application easier at all times of the year.
What Could've Been Better?
We cannot take any points away for its effectiveness and performance as it is one of the best that you can get your hands on. However, we felt that the packaging of this could be made better so that it ships properly. Some of it had fallen off because of inefficient packaging.
Pros
Ensures fast greening

Leaves no stain behind

Can be used any time during the year

Suitable for all kinds of grass
Cons
Packaging not up to the mark
Moving on, next on our list, we have Miracle-Gro Water Soluble Lawn Food 1001834 among our top recommendations. It provided the grass in our yard with enough nutrition for them to grow well. For a green carpet of grass that would make your neighbors jealous, read on.
Sale
Why Did We Like It?
First off, we would begin by saying that this soluble lawn food is nothing short of a miracle. It is water-soluble, and it reaches the deepest corners of the roots to ensure maximum growth of grass.
Also, we couldn't help but notice that this works so quickly that in a span of a week, you'll have the most vibrant lawn in the neighborhood. All your neighbors would want to know is how you did it!
Moreover, the best part is that you don't have to segregate your grass to be fertilized and buy different fertilizers for separate sections. With this item, you can blindly apply it on all grass types without any worry. In a nutshell, it saves both time and money, what's better?
What Could've Been Better?
We cannot say it is a drawback, but some customers have pointed out that overapplying has not really worked for this product. Overapplication can actually lead to stunted growth or can even leave your grass dead. So, we can say that it is more of a suggestion that you read the instructions on the label carefully and not overapply.
Pros
Suitable for all grass types

Spreads easily

Quick results

Stainless
Cons
The print on the label can be clearer
Lawn Energizer 32 oz. with sprayer is a highly functional liquid growth booster with added nitrogen that will make your grass healthy in no time. This formula heightens the nutrient level in the soil, and in no time, you will be able to see visible results with a little effort and timely application.
Why Did We Like It?
The first thing that makes this product one of our absolute favorites is the unique blend of essential nutrients that it offers. Thinking of turning your lawn healthy and green? This mix is one of our favorite picks you can consider to ensure maximum grass growth in your garden.
Also, with this variety, you do not have to worry about which type of grass it can be applied on. As a jack of all trades, it can be used on types such as Zoysia, Buffalo, Bahia, Bluegrass, and even Bermuda. Now, this is what we call an all-rounder!
Moreover, this option is not just restricted to be used for residential areas but well-suited to be used on commercial plots too. This premium grade grass booster can efficiently cover around 3,200 sq ft of land.
What Could've Been Better?
This product does what it is meant to do; adequately boost grass growth, so we don't have much to complain about. However, we felt that the bottle could have been designed better to make application easier. There's a stopper on the switch that makes turning on the spray a little hard at times.
Pros
Adds high nutrition to the soil

Suitable for all grass types

Can be used for both residential and commercial purposes

Easy to apply
Cons
The sprayer can be designed better
Have you always wondered how golf courses have such lush green carpet of grass and wanted the same for your backyard? Well, it's not a distant dream anymore. With Milorganite 0636, you can achieve this result quite easily. Let's take a look at what it has to offer.
Why Did We Like It?
Were you aware that nitrogen is crucial for maintaining the color of your grass and preventing the edges from turning yellow? Milogranite is loaded with nitrogen and iron to preserve the pigments of  grass by boosting the process of photosynthesis.
Moreover, this will be a good pick for you if you plan to use it for commercial areas. For a picture-perfect lawn that looks professionally groomed like a golf course, this product is the one to go to.
Also, it is highly efficient and would not take a lot of time and effort on your end. As it is highly infused with nitrogen,your garden will need to be watered less frequently than before.
Furthermore, this doesn't make the grass grow excessively, so you don't have to bring your lawnmower out too often.
What Could've Been Better?
We can hardly find any fault with this super effective organic fertilizer. However, we found that this option works best when supplemented with some other fertilizer that has potassium. Just an added element to give your grass a fuller growth.
Pros
No synthetic chemicals

Doesn't need to be watered frequently

Gives you grass the appearance of a golf course

Rich in microorganisms
If you are looking for an option that will enhance organic activity in soil, we can assure that you are in the right place. Ironite 100519460 is a mineral-based supplement that turns your lawn green and disease-free promptly.
Read on to know more.
Why Did We Like It?
Well, we know that pale green or yellow grass is a sign of bad grass health. And to cure that, to fight the nutritional deficiency, this product is a top-notch choice. By providing sufficient nitrogen, iron, and other essential minerals, it turns the foliage green. Exactly the way you like your lawn to be!
Moving on, it makes your yard green and lush and does it efficiently within a short period. Within a span of 7 days, you can see a visibly greener grass carpet in your garden.
Also, you don't have to restrict yourself to apply it on the grass. Go ahead, use it on your vegetable patch and your flower garden too. Advanced soil technology works to improve the physical quality of the soil to guarantee maximum performance on all plant varieties.
What Could've Been Better?
This is one of the best products in this price range, and there was no significant trouble that we could find. However, we found that some of the bags were not filled to the brim as compared to other packages.
Pros
Helps in advanced soil betterment

Can be applied to all types of grass and plants

Works in a span of a week

Filled with essential minerals
Cons
Inconsistency in the amount delivered over time
If your garden needs an all-season boost to combat the stressful weather conditions and thrive well, Safer Brand 9334 is a safe bet. With just three applications over a year, your lawn will get a stable release of nutrients to stay healthy no matter what!
Why Did We Like It?
Get ready to give your soil the slow release of nutrients instead of shocking them with a sudden rush of harsh chemicals. The true secret of growing a turf that is the town's envy is to provide it with stable doses of micronutrients to ensure healthy growth. Safer Brand's unique NPK formula is the perfect blend of the essential nutrients that your lawn needs.
Moreover, it doesn't contain any harsh minerals or chemicals that can potentially damage the soil. Completely composed of natural minerals, this formula has no salts that can burn your grass or cause dehydration to your soil.
Hence, we can happily say that this product is environment-friendly. Because this product is completely made of all the natural ingredients you don't need to worry about the surface runoffs causing any pollution.
What Could've Been Better?
Despite the performance efficiency, some customers complain about it being a little slow in showing results. So, if you are in a hurry to get the yard fixed, you should mull over other options. Consider this if you believe in slow and stable growth.
Pros
No harmful chemicals

Only needs 3 application in a year

Good NPK balance

Environment-friendly
Cons
Takes a while to show results
If you have an affinity for consistency, Purely Organic Lawn Food is a good choice for you. As the name suggests, this is completely organic and spreads steadily and consistently in all nooks and corners in your yard to provide sufficient coverage at all times.
Purely Organic Lawn Food
Promotes Lush Green Turf Grass. Will Not Burn Your Lawn.
Plant Based Formula with Distillers Grains & Soy. No Harsh...
Why Did We Like It?
First and foremost, this product is an ideal option for you if you do not want to expose the yard to harmful chemicals. This organic fertilizer is composed of natural ingredients such as distiller grains and soy. Only essential nutrients that your garden needs and no harsh minerals to destroy the natural growth of your grass. What more can we ask for?
Also, this fertilizer won't drive your neighbors away because of the smell. Made of all-natural ingredients and no artificial products, it does not generate any biosolids that can produce a strong odor.
Therefore, it goes without saying that a product like this is safe to be used around kids and pets. You can apply it in the garden and let your children and pets play without any fear.
What Could've Been Better?
There are hardly any complaints that we can have with this super effective fertilizer. However, we couldn't help but notice that it is a little expensive to come to the price point. To give your lawn that perfect makeover, you might need to expand the budget a little.
Pros
Safe for pets and children

Environment-friendly

No phosphorus or any other harmful chemicals

Abides by municipality restrictions on phosphate use
Cons
Price can be a little lower
We are close to reaching the end of our list, and next up, we have Pennington 100536576. It is a premium blended fertilizer that meets all the nutritional needs of your garden. So, if you desire a thick, green lawn, you know what to choose!
Sale
Why Did We Like It?
To start with, what we found very interesting about this product is that it is packed with both fast and slow-release nitrogen. This helps ensure that your yard gets the quick greening and gets an extended feeding for at least 3 months.
Also, the nitrogen and the iron helps in ensuring that grass tips do not become yellow but stay deep green.
Moreover, you can use it freely at any time of the year, and it will provide steady doses of nutrients for 3 months post the application. Be it heat or draught; this fertilizer will provide complete nutritional backup to ensure that your lawn stays lush green under all seasonal circumstances.
What Could've Been Better?
We are, for the most part, quite happy with the product. However, we found that it doesn't perform too well when it comes to controlling the weed outgrowth. To manage your lawn from being infested with unnecessary weed growth, you might need to use some other product.
Pros
Resealable packaging

Easy packaging

Suitable for all lawn types

Ensures quick greening
Cons
Does not control weed growth
VPG Centipede Lawn Fertilizer has all the essential elements that your garden needs. With just the right quantities of the crucial micronutrients packed in their unique formula, it has been a favorite of many. Also, if you find sudden discoloration of grass bothering, this item can come to your rescue.
Sale
Why Did We Like It?
When we think about fertilizing our yard, we mostly imagine putting a lot of time and effort into applying it. What if we tell you that there's a way around it? This product is efficient in the true sense of the term. Apply it twice a year, once during Spring and the other time during Fall, and your lawn will be healthy and green throughout the year.
Coming to what is really special about it: the nitrogen and iron formula. The extra iron helps prevent any possible discoloration of your grass, keeping the blades green all year round. On the other hand, the nitrogen releases slowly into soil, thereby enhancing its quality.
Additionally, it has other essential elements such as potash, boron, copper, and manganese in the right proportions to preserve grass's color to a soulful green.
What Could've Been Better?
To be honest, there are not many faults that we could find with a product as competent as this. However, we have to say that it comes with a pretty high price tag. But given the performance score, we suggest that you go for it.
Pros
Easy to apply

Suitable for all grass types

Fights iron deficiency

Keeps your lawn green with just 2 applications a year
If a little extra is what you want from all that you purchase, Marathon 100060300 is an excellent variety to opt for! It doesn't have 1, but 3 fertilizers all packed together. This gives your garden the top-notch makeover that it had been waiting for all this while!
Why Did We Like It?
We really loved the fact that this fertilizer comes with 3 formulas packed in one to promote a wholesome growth to the grass in our garden. The quick boost formula helped to revive all the faded areas of our lawn. At the same time, winter-high nitrate kept the blades from yellowing during December. Additionally, the maintenance formula helped in keeping our garden green throughout the year.
Furthermore, this is a perfect fit for owners of marathon lawns since it is specially designed for this variety.
Moreover, you don't need a high level of expertise to apply this in your garden. You wouldn't need any assembly for this. Get your hands on a packet and apply it any time of the year without any worry. Completely fuss-free!
What Could've Been Better?
Only thing that can be said against this product is that the manufacturer can make the packaging and print better. To make it easier for the customer, bigger, bolder writing with all essential details on the packaging could be a plus.
Pros
Can be used during any time of the year

Prevents the grass from fading

Suitable for marathon lawns

Easy to apply
Gras Fertilizer Buyer's Guide
So, now you know the top 13 types of grass fertilizers that are trending in the market. A good fertilizer can completely transform the garden and leave you with a lush green yard. But before you make your final decision, it is important to keep certain factors in mind.
There are differences in composition, weight, and type, to name a few. Read on to know all about these factors, and you would be able to make the perfect choice.
Application
How do you apply the fertilizer? You can either apply it straight to the soil from the pack, or you will have to mix it well with enough water before applying. Remember to read the back of the pack before you begin. If you apply the concentrated form in your garden, there will be a risk of killing all existing grass.
Also, make sure that you spread it evenly on the ground. Do not leave patches as you would want full green coverage at the end of the day.
Granules v/s Liquid
Fertilizers are usually available in 2 forms, which include liquid and granules. There are pros and cons for both types, and you should know about them before settling for one. Liquid fertilizers usually do not stay in the soil for long, and hence you will have to reapply after a week or 2, depending on the type.
But these mix with soil well, and you do not need to rake the soil from before. On the other hand, granules will need to be mixed well to ensure that they reach the roots. It is best to rake the topsoil a little to better mix them.
Weather
Weather is a very essential consideration as heavy rainfall can lead to all the fertilizer flowing out of the yard. So, ensure that there is no rainfall mentioned in the forecast before you begin fertilizing. This will save you from having to apply it again very soon.
Also, if your fertilizer contains phosphorus, then make sure that it does not run into a water body nearby as that could be fatal for the fishes.
Know Your Fertilizer
Put strongly suggest that you put some time to learn how to read the product covers. For NPK fertilizers, the numbers denote the proportion of Nitrogen, Phosphorus, and Potassium that is present. This ratio helps you determine which fertilizer to choose.
You should know that nitrogen helps keep the grass green, phosphorus promotes growth, and potassium helps the grass fight drought and diseases. So, depending on the climate where you stay and the soil type in your garden, decide on the perfect combination suited for your needs. Make sure you read the package carefully before buying to ensure that it has the optimum nutrition that your soil needs.
Choose Your Formula
There are two formulas to choose from: liquid and granular. Both of these options come with their set of pros and cons. So, decide carefully before you set your eyes on one. The liquid varieties need to be diluted in water and show quite quick results. On the other hand, the granules can be applied directly to your soil.
With the liquid or powder variety, the chances of environment pollution go quite high. This is because harmful chemicals can get easily carried by storm or surface runoffs to the nearest water bodies, thereby causing danger to the fishes. That being said, if you are looking for a prompt lawn makeover, this is the best option.
However, if you can wait for a couple of weeks to get your garden to green up, go for the granules. The overall health risks are comparatively a lot lower with this variety.
Know When To Fertilize
The thumb rule to follow when figuring out when to fertilize your garden is earlier, the better. Keep in mind to supply the grass in your yard with all essential micronutrients while it is still in the growing phase.
As mentioned earlier, check the weather forecast before you fertilize the soil. Light rain or drizzle can be mother nature's blessing right after you apply the fertilizers.
However, if your grass is already mature, consider doing it during fall. Fall is generally cooler and is more humid than other times of the year. This is the exact condition that your garden needs, to take in all the nutrients you put into it.
If you miss fall, the second-best time to do it is during spring. This is when everything in nature rejuvenates and needs food to come back to life. Provide your yard with the perfect nutrients at this time and it is going to bloom and shine for the entire year.
Lastly, we cannot help but mention that you should always consider a good weeding solution to keep the pests and weeds from taking any nutrients away from the soil in your garden.
Verdict
All gardens are unique, and they need customized fertilizer solutions. That being said, you must put some effort into knowing your grass better and that will help in choosing the right fertilizer. Once you do that, everything else will be sorted.
But before we say our goodbyes, let's go for a quick recap of our favorites. We loved Scotts EZ Seed Patch for its efficiency and quick results. Also, we would recommend Scotts Turf Builder 30158 because we were quite impressed by its effective soil improvement technology.
On the other hand, we would suggest that Simple Lawn Solutions Advanced 16-4-8 NPK is the best choice for ones looking for kids and a pet-friendly option.
We hope these recommendations come in handy when you're looking for the best fertilizer to buy for your garden. Let us know in the comments section below if you agree with our verdict.
Until next time, happy gardening!
Related Articles
5 Best Self-propelled Lawn Mowers Right Now
The 5 Best Lawn Mowers for St Augustine Grass Right Now
Best Lawn Edging for a Legendary Garden 
4 Best Walk Behind Brush Cutter 
13 Best Trimmer Lines | Multi-Sided, Round, Square, Twisted & Serrated
7 Best Shoes for Cutting Grass Comfortably | Buyer's Guide
11 Best Mosquito Fogger Insecticide
9 Best Fertilizers for Petunias Right Now
9 Best Fertilizers for Hydrangeas
13 Best Weed Killer for Flower Bed Reviewed
13 Best Weed And Feed For Lawns
How to Install Landscape Fabric for Weed Control
Does Grass Seed Expire? All You Need to Know
11 Best WiFi Smart Sprinkler Controller 
How to Grow Cilantro Indoors Easily 
13 Best Soil for Raised Garden Bed | Buyer's Guide
13 Best Fertilizer for St Augustine Grass Reviewed
Where to Find Good St. Augustine Grass Seed & How to Grow It