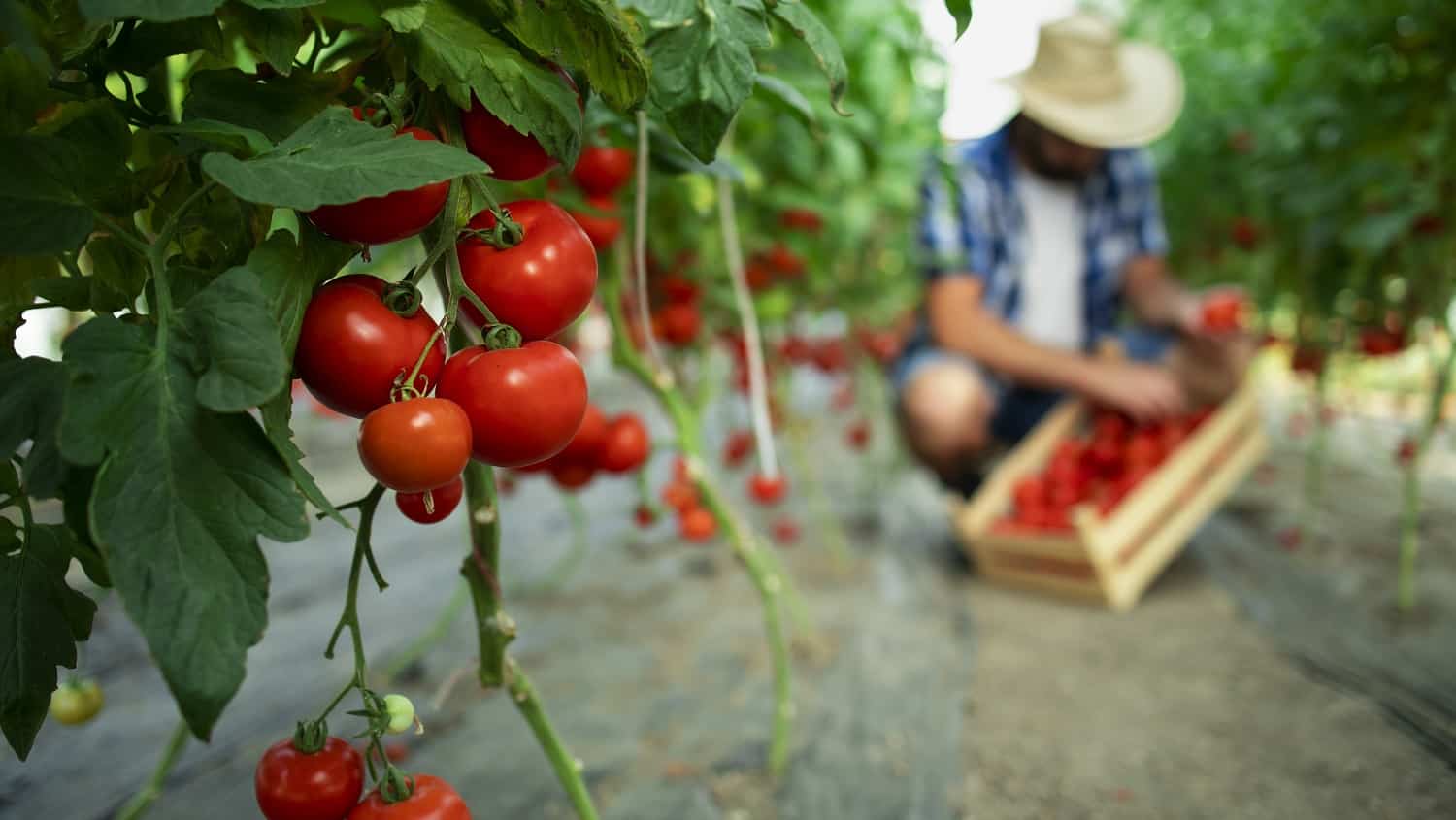 Have you been trying to grow tomatoes but wondering why they're not growing plump and juicy? They might do better with fertilizers.
Sure, store-bought tomatoes are often unbelievably juicy, but that doesn't mean you can't grow them yourself. When it comes to producing succulent tomatoes, you need to take care of a few essential things.
Adding fertilizer to your tomato plant can ensure that it receives all the macronutrients it requires. Moreover, it is an easy and convenient process that doesn't take much effort on your part.
But the sheer number of fertilizers in the market can be overwhelming. To make your search simpler, we have curated this list of our top 13 recommendations. We also added a short guide to help you select the best fertilizer for your fruit.
So, without further ado, let's get straight to the deets!
Top Fertilizer For Tomatoes
IMAGE
PRODUCT
DETAILS

Our Top Pick

Our Top Pick

Miracle-Gro Shake' n Feed

Contains natural ingredients to feed the soil
Continuous feeding for up to 3 months
Ready to use container

VIEW LATEST PRICE →

Jobe's Tomato Fertilizer Spikes

18 spikes per pack
Continuous feeding for eight weeks
Waterproof, resealable package

VIEW LATEST PRICE →

Jobe's Organics Fertilizer

Contains Jobe Biozome
Resealable bag
Certified Organic product & OMRI listed by the USDA

VIEW LATEST PRICE →

Fox Farm Grow Big Liquid Concentrate Fertilizer

Low pH formula
Liquid, concentrated solution
NPK ratio - 6-4-4

VIEW LATEST PRICE →

Organic Plant Magic Fertilizer

Dissolves instantly upon mixing
Easy to use
Completely organic formula

VIEW LATEST PRICE →

Greenway Biotech Tomato Fertilizer

5-pound bag
Water-soluble fertilizer
4-18-38 blend

VIEW LATEST PRICE →

Neptune's Harvest Organic Hydrolized Fish & Seaweed Fertilizer

2-3-1 blend
Produces vibrant and fragrant results
Derived from seaweed and fish

VIEW LATEST PRICE →

MasterBlend Complete Combo Kit Fertilizer Bulk

4-18-38 Master kit
Completely water soluble
Variety of sizes

VIEW LATEST PRICE →

Miracle-Gro Tomato Plant Food

Reapply every 1 to 2 weeks
Water-soluble formula
NPK blend 18-18-21

VIEW LATEST PRICE →

Down to Earth Organic Vegetable Garden Fertilizer

Full of macronutrients and natural ingredients
1 lb bag
Environment-friendly and biodegradable packaging

VIEW LATEST PRICE →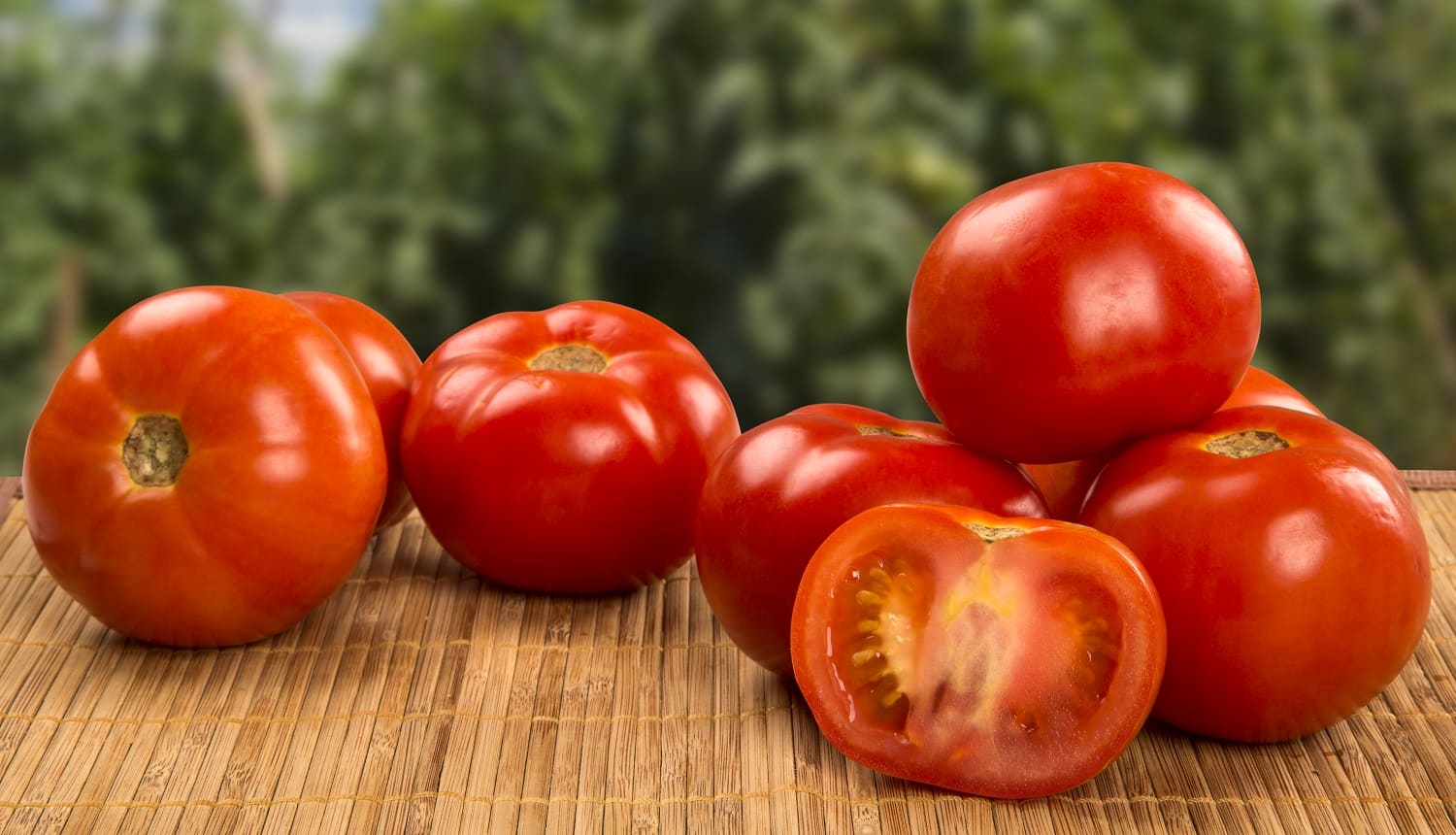 One of our top recommendations is the Miracle-Gro Shake' n Feed plant food. This fertilizer is a favorite amongst most gardeners primarily because of its ease of use. Packed with macronutrients and natural ingredients, this plant food has been designed to help your tomatoes grow healthier. Also, it allows continuous feeding for up to 3 months.
Sale
Why Did We Like It?
Many gardeners shy away from using fertilizers for several reasons. They might be too harsh for their soil, or they may be inconvenient to use. But you need not worry about that with Miracle-Gro Shake' n Feed.
This fertilizer comes in a ready to use 4.5 lb container. You need to apply it just once in three months, along with regularly watering your plants to ensure proper growth. Moreover, the recommended rate of application is ½ cup per 10 square feet, which eliminates wastage.
Coming to its convenience of use, the fertilizer can be applied straight out of the bottle. There is no need to pre-mix or apply anything else to it. Simply pour the recommended amount on the soil, gently mixing it in, and continue watering your tomatoes.
The mix contains kelp, earthworm castings, feather meal, bone meal, and calcium. All these ingredients help tomatoes grow healthy and plump.
What Could've Been Better?
Honestly, this fertilizer is excellent and does the job well. Since it is a slow-release formula, it doesn't burn the roots. That being said, it's important to water the plant continuously to avoid frying the roots. You might need to apply more (or less) than the recommended dose for optimal results.
Pros
Slow-release fertilizer doesn't burn the roots

Easy to apply

No harsh chemicals

Fast-working formula
Cons
Might need to increase or reduce the recommended dose
Our next recommendation is a fertilizer in the form of spikes that are super convenient and prove to be a mess-free solution. Jobe's Tomato Fertilizer Spikes comes in a pack of 18 pre-measured spikes, enabling you to enjoy a hassle-free and easy experience. Plus, the spikes eliminate runoffs, hazards, and funny odors.
Why Did We Like It?
Feeding fertilizers to your beloved tomato plants doesn't have to be an ordeal anymore. Jobe's Tomato Fertilizer Spikes have been designed specially for convenience. The pre-measured spikes can be inserted into the soil and left there to feed macronutrients to tomato plants slowly.
The best part about these fertilizer spikes is that they provide a mess-free experience. There is no runoff, no toxicity, and no hazards. Moreover, the spikes don't have any offensive odors that will make the soil or your fruits smell funky.
Each spike feeds tomatoes for about eight weeks, after which you can reapply a new spike. There are a total of 18 spikes in each package.
Lastly, if you're worried about storing the spikes safely – don't be. The manufacturer has thought of that too! Each package is waterproof and resealable, enabling you to store the spikes without worrying about them wasting away.
What Could've Been Better?
Although these spikes claim to have all the necessary macronutrients for growing healthy tomatoes, we did notice an ingredient was missing – calcium. This ingredient is essential for blooming tomatoes, and without it, it seems like a significant ingredient has been left out.
Pros
Easy to use

Slow-release formula

Fast working results

Each spike is long-lasting
If you prefer using organic fertilizers for your beloved tomato plants, then Jobe's Organics Fertilizer might be an ideal product. This fertilizer comes in a granular form, making it convenient to spread evenly in the soil. With no synthetic chemicals, the fertilizer is one of the best ways of feeding macronutrients to tomato plants.
Sale
Why Did We Like It?
In our opinion, having an OMRI listing by the USDA for use in organic gardening practices is an essential factor and advantageous. This made us inherently trust the brand, but we decided to test it on our tomatoes to see the results.
Well, we were impressed by its initial response. The easy pour bag is filled with granular, organic fertilizer. Since the bag is resealable, we weren't worried about the contents getting spoilt over time.
The 2-5-3 ratio of NPK assured us that our tomato plants would thrive – since lesser nitrogen and more phosphorus is ideal. If you have nitrogen-rich soil, then your tomatoes will love the addition of this organic fertilizer.
Coming to the special Jobe Biozome – this is a proprietary microorganism that is innately aggressive. It breaks down the materials, giving faster results in a short period of time. Furthermore, the fertilizer's granular form makes it easier to spread around the roots of the plants.
What Could've Been Better?
Since the product is organic, it has a certain smell that isn't largely pleasant to humans, but curiosity evoking to pets. In simple words, – you will hate the smell, but your pets might love it. We recommend that you store the product in a safe place where your pets can get in.
Pros
Fast-working solution

Easy to pour bag

Can be used for a long time

Completely organic and natural
As the name suggests, Fox Farm has developed a fertilizer that helps your tomato plants grow big, lush, and juicy in no time. The formula is concentrated, which means that you'll have to dilute it before using it. However, the overwhelming results make this extra step worth your time and effort.
Why Did We Like It?
At first, we were a little skeptical about using this liquid fertilizer. Since it only comes in a concentrated formula, we were scared that it might burn the tomato plants' roots. It is important to properly dilute the formula with adequate water before applying it to the plants.
Well, the results speak for themselves. This fertilizer formula comes in an NPK ratio of 6-4-4. Simply, this means that the proportion of nitrogen is more than phosphorus – which is excellent. This fertilizer is ideal for use in soils that have low nitrogen content.
The amount of liquid fertilizer you need to use is minimal – about two teaspoons per gallon of water. This ensures that the plants' roots don't burn and make the product last for a long time.
If you apply this to new plantings, make sure to let them settle in first before using this fertilizer.
What Could've Been Better?
Although the product mentions the word 'organic' in it, the manufacturer refers to organic growing and not the product itself. So if you were looking for organic fertilizer, this might not be the best option, as it is a synthetic fertilizer.
Pros
Need to use very little product

Ideal for low nitrogen soils

Product is long-lasting

Very easy to use
Cons
Contains synthetic ingredients
For our next recommendation, we bring you a completely organic fertilizer for your beautiful tomato garden. This formula works on all types of soil without requiring any additives or additional products. Moreover, since it is organic, it is entirely safe to have around pets and children.
Why Did We Like It?
An organic fertilizer that guarantees to help you produce lush, full blooming, tasty, and vibrant tomatoes sounds promising. We decided to test the product for you and tell you the results.
First things first, this fertilizer is super easy and convenient to use. All you need to do is add water, mix it up well, and use it on the soil. No matter what kind of soil you have, be it loamy, sandy, or clay, this fertilizer has been designed to produce excellent results on all of them.
The fertilizer contains various beneficial macronutrients that can help tomato plants grow taller, healthier, and even enhance its color and flavor. One of the best things about this organic fertilizer is the fact that you can start using it even when your plant is just a seedling.
Many other fertilizers recommend that you wait a few weeks or months before adding them. However, this completely natural and safe fertilizer can be used right from the start.
What Could've Been Better?
Like many other organic fertilizers, this product also has a natural odor, which is not entirely pleasant. Many users might find this smell very offensive. We recommend using a light face mask during the time you mix and apply this fertilizer, in case the smell is too unpleasant.
Pros
Zipper lock pack to protect contents

No synthetic or chemical ingredients

Can be used directly or by mixing

Doesn't break down salts in the soil
Wrapped in a heavy 5-pound bag, this fertilizer from Greenway Biotech is an excellent choice for those who are looking to grow ripe, luscious tomatoes in their gardens. One pack will last you through 1,000 gallons of fertilizer. It contains no heavy metals or harmful chemical ingredients.
Why Did We Like It?
First and foremost, this fertilizer is 100% water-soluble, making it very convenient to make. The large five-pound bag is long-lasting. Moreover, you can reseal the bag and use the fertilizer as per your requirements. The ingredients in the fertilizer bag won't spoil so that you can remain worry-free.
Coming to its blend, the fertilizer contains 4% Nitrogen, 18% Phosphorous & 38% Potassium. It also has other ingredients such as Boron, Copper EDTA, Iron EDTA, Manganese EDTA, Zinc EDTA, and Molybdenum. Furthermore, it is excellent for using in nitrogen-rich soil.
This exact mixture makes it ideal for use in hydroponics and soil. Since it doesn't contain any harmful chemicals and heavy metals, it is entirely safe to use. You don't need to worry about using this fertilizer around children or pets.
The fertilizer mix contains all the essential macronutrients required by your tomato plants. The rich blend of ingredients ensures that the tomatoes grow healthy and rich.
What Could've Been Better?
As we mentioned earlier, this fertilizer doesn't contain any heavy materials or harmful chemicals. That being said, we must note that the fertilizer is not certified organic either. Now, if you are looking for an entirely organic-based fertilizer, then this might not be the ideal option for your tomato garden.
Pros
Comprehensive instruction manual included

Good for nitrogen-rich soil

No harmful chemicals

Can make 1,000 gallons of fertilizer
Cons
Not a certified organic product
A special fertilizer formula made of seaweed and hydrolyzed fish – this product is excellent for fertilization. Although it comes with a higher amount of phosphorus, it is ideal for most soil types and produces bountiful results. Mixing and applying the product is effortless. You can use a drip line, a sprayer, or simply mix it by hand.
Sale
Why Did We Like It?
When we read that this fertilizer has higher amounts of phosphorus, we were slightly skeptical about using it. The 2-3-1 ratio also meant that we had to use more fertilizer compared to other products we have used.
However, on using this fertilizer for our tomato garden, we noticed a significant change in its produce. The tomatoes were more vibrant, fragrant, plump, and juicy. The ingredients used (hydrolized fish and seaweed) produce fantastic results on varieties of plants and flowers.
Coming to the ease of use, this product can be easily mixed by hand. Moreover, you can apply it to your tomato plants with the help of a sprayer, a drip line, or even do it manually if you wish to.
Applying this fertilizer just once in 2 to 3 weeks is enough to produce brilliant results. You may have to use it more often, depending on the results you notice.
What Could've Been Better?
Since the fertilizer is made of fish and seaweed, you can imagine the kind of smells it naturally brings with it. Well, for many people, this might be a deal-breaker. The smell is indeed quite strong and can take some getting used to.
Pros
Certified organic

Can be used around pets and children

You can apply it using various easy methods

The ingredients are long-lasting
For those who are looking for a complete solution to keep their tomato plants healthy and thriving, you won't regret choosing MasterBlend. This fertilizer combo kit is a complete package for all the nutrient needs of your tomatoes. The combo kit features a variety of products, all catered towards nourishing your garden.
Why Did We Like It?
The first thing we want to mention about this product is that professionals widely use it. This just tells us that they trust this combo kit, and maybe we should too. Of course, we couldn't just blindly believe the reviews, so we decided to check it out independently.
All the products in this combo kit are entirely water-soluble. This made it super convenient for us to mix and apply to our tomato plants. Moreover, there is a variety of products and ingredients to choose from – according to your plants' requirements.
Although the ingredients are not nitrogen-rich, there is a high amount of calcium nitrate – which makes up for it. There is also Epsom Salt included in the pack. You can apply this back into the soil to restore the sodium which the soil has lost.
Finally, the product can last for a long time, but the bags are not resealable – so keep this in mind.
What Could've Been Better?
As we mentioned, the products are long-lasting, but the bags are not. When you open a bag, you will need to find an appropriate airtight container to store the fertilizer in. Also, the nitrogen content is a little low, so this product is best used in soils that already have a high nitrogen level.
Pros
A variety pack for all your plant's requirements

Easy to use

Epsom salt included

All products in one pack
As you may have already noticed, we have added several products from Miracle-Gro to our list. That is because this brand creates fertilizers for your tomatoes that actually work. Well, our next recommendation is Miracle-Gro Tomato Plant Food. Let us tell you more about this excellent fertilizer for tomatoes.
Why Did We Like It?
Few products in the market are as easy, convenient, and fuss-free as Miracle-Gro fertilizers. This tomato plant food is designed to feed your tomato plants, helping them grow bountiful, luscious, and flavorful.
The formula is water-soluble, meaning you need to add water to the product, mix it well, and apply it to the soil. The feeding process begins instantly and continues for about 1 to 2 weeks. After this, you will have to reapply the fertilizer formula.
A fast-working formula that shows quick results, this fertilizer is a favorite amongst gardeners.
One of the best experiences of using this fertilizer was using the Miracle-Gro Garden Feeder with it. It made the entire process of applying the fertilizer effortless and fun. You can also choose to apply the fertilizer with any watering can if you wish to.
With this method, you can water the tomato plants and feed them at the same time!
What Could've Been Better?
Our only gripe with this fertilizer was its package. We would've liked it if the product quantity was a little more than what was provided for the price that we were paying. That being said, this is one of the best fertilizer products for your tomato plants. It is easy to use and produces good results.
Pros
Can be applied with a watering can

Easy to use

Fast working formula

Good NPK blend
Cons
Slightly pricey for the quantity provided
Going by its name, we were curious to test this organic fertilizer called Down To Earth for our tomato plants. The fertilizer came in an excellent 4-4-4 formula. The 1 lb box featured an all-natural fertilizer that would feed tomato plants and help them grow large and bountiful.
Why Did We Like It?
As you can guess by its name, Down to Earth is a company that started up on popular demand from customers. As people grew more environmentally conscious and ethical, they looked for alternatives to using chemical and synthetic fertilizers.
That is when this company began developing its organic fertilizer products. Down to Earth Organic Vegetable Garden Fertilizer is an entirely natural fertilizer solution for your tomato plants. With regular, timely feeding, you can have large, flavorful, and robust tomatoes in your garden in no time.
The 4-4-4 blend is ideal for most soil types and allows the tomatoes to grow without harming them. Moreover, this fertilizer will not burn the roots of your tomato plants, so that you can rest assured.
Offering a rich and fulfilling nutrient profile, this fertilizer is apt for use during the growing season of tomatoes.
What Could've Been Better?
With most organic fertilizers, you will find a common issue, that is odors. Well, this fertilizer isn't any different.
Secondly, it is essential to read the manufacturer's instructions correctly, mix the fertilizer with water, and then add it to the soil. Otherwise, you may not notice the fertilizer's optimal effects.
Pros
Completely organic-based

Ideal for the growing season

All-purpose formula

Long-lasting
Cons
Smells slightly unpleasant
Are you looking for an ideal, all-purpose fertilizer without all the chemical and synthetic additives? HollandBasics Organic All-Purpose Fertilizer may be the product for you. This 2 kg fertilizer container comes in a 4-4-4 blend – optimal for most soil types and plants. The formula is easy to use and is long-lasting.
Sale
Why Did We Like It?
Caring for tomato plants isn't always easy. These plants require an adequate amount of sunlight, water, and fertilizer. However, have you noticed how many fertilizers in the market end up doing more harm than good?
In that case, you might be looking for an ideal organic fertilizer. This fertilizer uses all-natural products to enhance the growth of your tomato plants. Moreover, the variable nutrient release rate is a unique feature that is excellent for all growth stages.
The nutrient blend comes in a 4:4:4 ratio – equal proportions of Nitrogen, Phosphorus, and Potassium. This makes the fertilizer apt for most soil types, be it nitrogen-rich soils or those that are low in nitrogen content.
Lastly, applying the product was extremely straightforward and convenient. Since it is an all-purpose fertilizer, you don't require any other additional products to ensure your tomatoes' healthy growth.
What Could've Been Better?
The fertilizer is not water-soluble, which might have made it easier to use. Moreover, the quantity of fertilizer you need to use is not described well. You might need to use your own judgment and allow some trial and error before deciding how much (or little) product you want to use.
Pros
Long-lasting formula

All-natural ingredients

Good balance of nutrients

Fosters soil health
If you have pets in your home, opting for pet-friendly products is a prerequisite when buying anything new. Well, Pet Safe Lawn Fertilizer, as the name suggests, is a pet-friendly product for your tomato garden. The formula is easy to use and safe for both your plants as well as your pets.
Why Did We Like It?
There are many plant and animal lovers out there, like us, who want to find a fertilizer mix that's safe to use for everyone. While many companies offering potent fertilizers work well and produce good results, they might be dangerous to use around your little animal friends.
Well, Pet Safe Lawn Fertilizer is a completely environmentally safe formula that you can use for your tomato plants. The best part about this formula is that it won't harm your plants or burn the roots. Moreover, it is easy to use and produces significant results.
The unique blend of this fertilizer does not contain any phosphorus, making the product so safe to use. It feeds all the essential macronutrients to your tomatoes, helping them grow healthy, red, and flavorful.
What Could've Been Better?
It is important to water the soil and allow the fertilizer to dry completely before allowing your pets on the lawn. Sure, the fertilizer is entirely safe and pet friendly, but in case your pets consume it, they might feel slight discomfort or experience minor symptoms.
Pros
Easy to spread

Absorbs easily

No bad odors

Dust-free and mess-free formula
Cons
Need to wait for the formula to dry before allowing pets in the law
Are you tired of using harsh chemicals and synthetic ingredients found in most fertilizers? The Old Farmer's Almanac Lawn Food Fertilizer is the ideal product for your requirements. This fertilizer is completely plant-based. It nourishes the soil and helps you produce bountiful tomatoes year after year.
Why Did We Like It?
If you liked our previous fertilizer recommendation but wanted to find one which would allow you to let your pets loose right after applying the product, then good news. This fertilizer is a plant-based, nutrient-rich formula that enhances the proper growth and development of your tomatoes. But that's not all.
The best part about this fertilizer is the fact that you can let your pets roam free around the lawn immediately. With other fertilizers, you need to wait for the soil to dry before letting your pets out. It can be risky, as pets love to sniff, lick, and bite on anything that smells new or suspicious.
With this product, you can let the pets take a sniff without worrying about the side effects!
Coming to the performance, the fertilizer uses a unique NPK blend of 10-0-2. This means 0 phosphates and harmful substances for your tomato plants.
What Could've Been better?
Since the fertilizer comes in granular form, the soil must be watered well for the formula to disintegrate thoroughly. Moreover, you need to water the soil well for the next three days or so. This can be slightly cumbersome for some people.
Pros
Entirely plant-based

High-quality formula

Environmentally safe

10% nitrogen enhances the color and growth of plants
Cons
Need to water the soil to avoid the roots getting burnt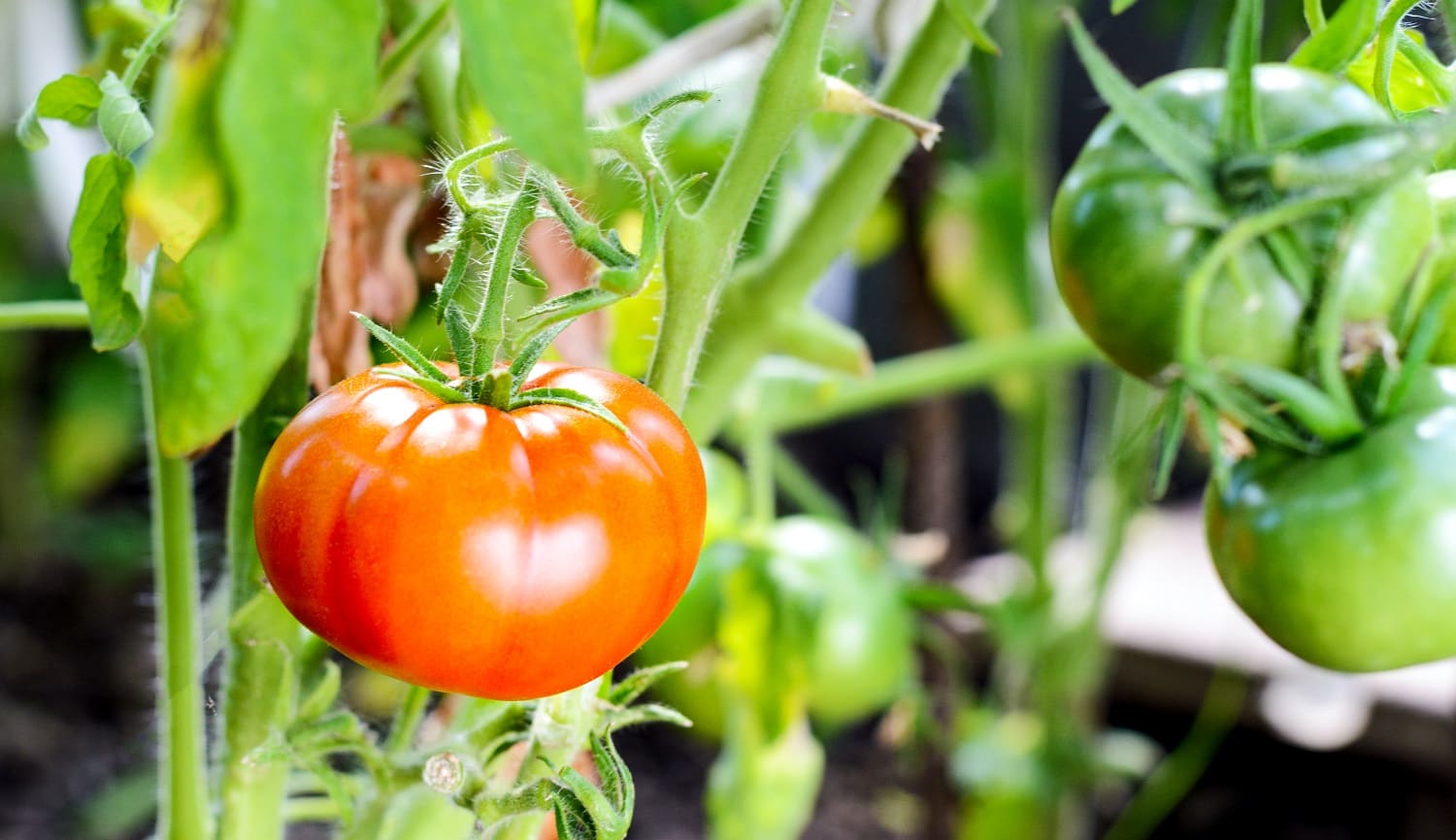 Tomatoes Fertilizer Buyer's Guide
Now that we have told you all about our top recommendations, you might have a better idea about your tomatoes' best fertilizers. But before you go off purchasing a bag, we have a few more things to tell you.
When purchasing the best fertilizer for your tomatoes, there are a few more things you need to keep in mind. Being mindful of these factors will help you make the correct choice. Keep reading to find out a few things you need to consider.
NPK Blend
The Nitrogen, Phosphorus, and Potassium blend is crucial for any plant, especially your tomatoes. All these vital substances can help tomato plants grow larger, healthier, and produce better fruits.
That being said, excess of any substance can do more harm than good. While nitrogen can help plants grow thick, too much of it can cause the plants to bear no fruit.
In the same way, phosphorus is also good for the tomato, but too much can cause issues with the soil, drying it out and making it an unhealthy environment for the plants.
It is important to consider the NPK blend and opt for one which meets the requirements of your tomato garden. This will enhance its growth rather than hinder it.
Ingredients
The kind of ingredients used to create a fertilizer mix matter. Depending on your specific requirements, you might be looking for organic fertilizer or a synthetic one. Both have their distinct benefits.
As you would do with any other product, read the ingredients carefully before purchasing fertilizer. It will help you judge the contents and decide whether they are harmful to your growing tomato plants or not.
Budget
When buying any product, the budget is a crucial factor to consider. We have provided you with a list of fertilizers that come in a variety of prices. Of course, we do not recommend opting for 'budget buys' when it comes to fertilizers.
However, there are several combination kits, bulk packs, and affordable options to choose from. You don't need to invest heavily in any product to have the best, most bountiful produce. In fact, all you need is the right kind of fertilizer to tend to the growing tomato plants' needs.
Frequency Of Application
You might not consider yourself a full-time gardener and still want to grow some beautiful tomatoes in your garden. This is perfectly acceptable. Of course, when you decide to purchase fertilizer, you need to ensure that it syncs with your schedule.
Certain fertilizers require more watering and maintenance than others. While some fertilizers can be reapplied only once in three months, others require more frequent applications.
It is essential to consider this before you purchase the right fertilizer. If you cannot adhere to a feeding schedule, the fertilizer will be largely wasted on the tomato plants. For any fertilizer application, the feeding schedule is imperative.
If you don't have the time or cannot put too much effort into this process, consider opting for a fertilizer that needs less frequent reapplications. However, if you can manage a strict feeding schedule, opt for other products that you can reapply every two weeks or so.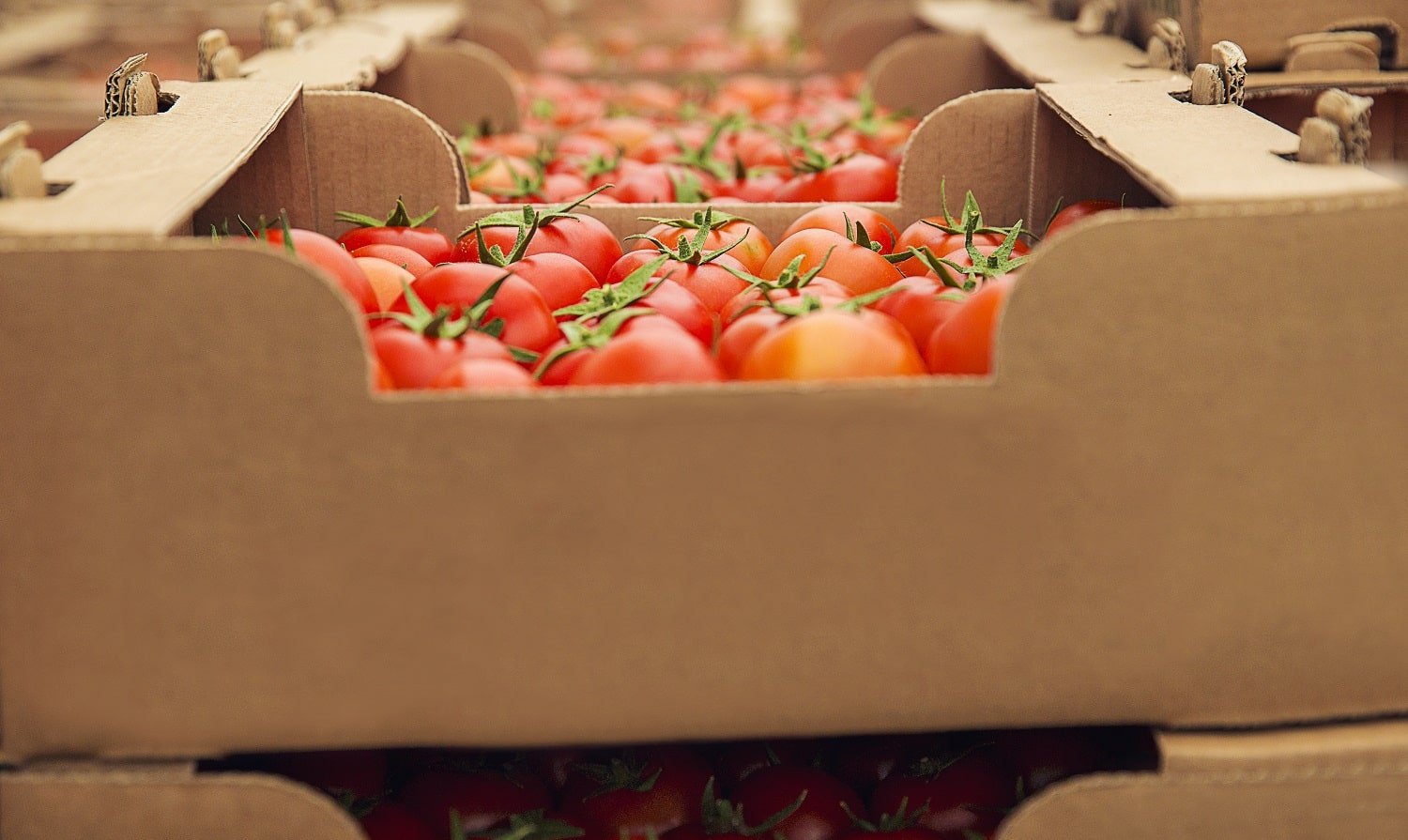 Verdict
With that, we have finally come to the end of our comprehensive guide.
Using our smart tips and top recommendations, you will indeed find the best fertilizer to grow beautiful tomatoes in your garden. But before we sign off, let us reiterate some of our findings.
Overall, we decided that Miracle-Gro Shake' n Feed is the most convenient, affordable, and long-lasting fertilizer for tomatoes. We also liked Jobe's Tomato Fertilizer Spikes because of its easy use.
Finally, for those who don't shy away from non-plant based products, Neptune's Harvest Organic Hydrolized Fish & Seaweed Fertilizer is the ideal option. Of course, it depends on whether you can get over the smell or not!
We wish you all the best with your tomato plants and hope they grow large and healthy. Until next time!
Related Articles
13 Best Fertilizer for Fruit Trees  
13 Best Fertilizer For Blueberries 
13 Best Organic Lawn Fertilizer 
13 Best Fertilizer For Succulents Reviewed 
13 Best Fertilizer for Hibiscus 
13 Best Liquid Lawn Fertilizer Right Now 
9 Best Fertilizers for Hydrangeas
9 Best Fertilizers for Petunias Right Now
11 Best Fertilizer for Citrus Trees Right Now 
13 Best Fertilizer for Hydrangeas
13 Best Fertilizer for Green Grass
11 Best Lawn Fertilizer Options
13 Best Fertilizer for Vegetable Garden
13 Best Fertilizer for St Augustine Grass Reviewed
13 Best Potting Soil For Herbs To Consider Today
13 Best Backpack Sprayer [Buyer's Guide]
13 Best Fertilizer for Palm Trees 
13 Best Fertilizer for Zoysia Grass