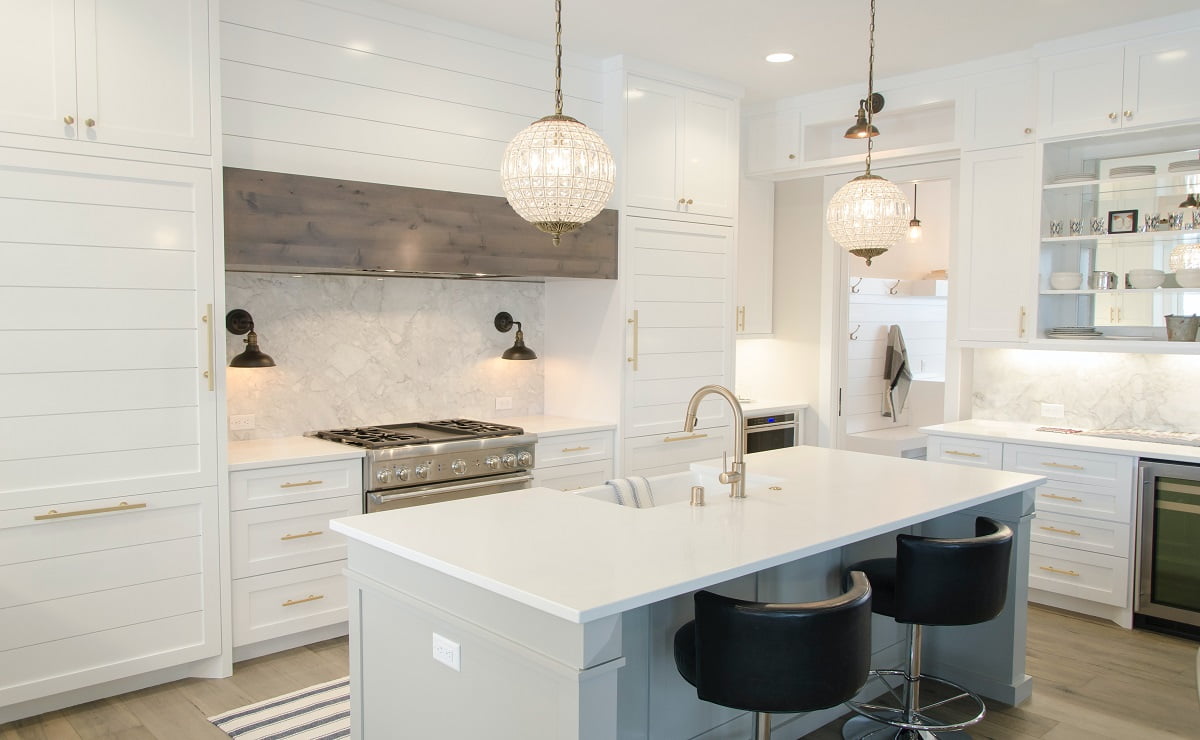 Applying a finish on your kitchen table can make it shine as a centerpiece while extending its lifespan. 
But with the range of finishes available, what is a good finish to use, especially for a surface in regular contact with food? Well, each finish differs from the next in its features, strengths, as well as weaknesses. However, unique formulas across manufacturers provide a plethora of options that can tailor to your needs precisely. 
To get you started, we have found the best finishes available that are suitable for any kitchen table, no matter what condition it is in. Additionally, there is a guide to help you understand what to look out for when choosing the best option for your table. 
With that being said, let's get right into it! 
Best Finish For Kitchen Table
IMAGE
PRODUCT
DETAILS

Our Top Pick

Our Top Pick

General Finishes Arm-R-Seal

Composed of urethane resin 
It can be applied with a foam brush or wiped on
Glossy, clear finish 

VIEW LATEST PRICE →

Varathane Ultimate Polyurethane 200061H

Water-based formula for fast drying
Ideal for indoor wooden surfaces
The clear, glossy solution preserves details in wood

VIEW LATEST PRICE →

Hope's Pure Tung Oil

Simple wipe-on application
The natural, solvent-free formula for permeability and flexibility
Hand-rubbed finish with no glossing over

VIEW LATEST PRICE →

Howard Products Restor-A-Finish RF4016

Fast wipe-on, wipe-off application
Removes blemishes like white heat rings and water marks
Restores finish without removing any prior finish

VIEW LATEST PRICE →

Howard Products Wax-It-All WAX009

Delays oxidation, protects the surface, and enhances its beauty 
Indoor and outdoor surface compatible
Food-grade mineral oil, beeswax, and Carnauba wax composition

VIEW LATEST PRICE →

Minwax Wipe-On Polyurethane

It has a clear finish
Simple application process
Water-based formula 

VIEW LATEST PRICE →

Waterlox TB 6044

Elasticity protects against moisture and foot traffic
Designed as an interior, permeating, tung-oil finish
Satin sheen finish 

VIEW LATEST PRICE →

Minwax Oil-Modified Polyurethane

Water-based components for ease of use
Polyurethane components increase durability
The clear finish dries within seconds

VIEW LATEST PRICE →

General Finishes Enduro-VAR

Highly water-resistant
It can be applied with a spray or brush
Works well with water stains, dye stains, and raw wood

VIEW LATEST PRICE →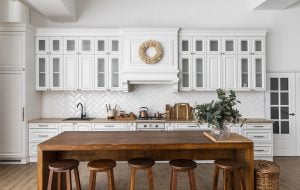 Sale
Arm-R-Seal is a heavy-duty oil and urethane formula to protect raw wood or sealed surfaces. The urethane-based solution allows for an incredibly durable topcoat to keep the treated surface looking brand new. When applied in layers, the coating brings out the underlying details of the surface to preserve the beautiful wood grain on raw wood. 
Why Did We Like It?
What's so great about this topcoat is the durability that it adds to the treated surface while keeping it clean. With an easy layering application method, there are multiple levels of protection added on top of the material. 
Being able to apply it with a foam brush as well as a cotton rag makes it versatile for flat and rounded surfaces. No matter what's to be coated, this kitchen table finish is able to adhere well to the surface. 
Additionally, the odor is kept to minimal levels as it is an exclusively interior topcoat. Raw wood or treated surfaces indoors have a polished sheen due to the penetrating nature of the formula. Not only is the topcoat protecting the surface of the material but permeates deeply into the material as well. 
What Could've Been Better? 
It is recommended to use a pure cotton rag if you're wiping it on. Using any other material can cause bubbles to form on the surface. Furthermore, a complete setting and drying time should be allowed to prevent any cloudy film from developing between layers. 
Pros
Durable

Long lifespan

"Natural" look

Low odor

Cons
Bubbles easily formed on the surface
Coming in a small half-pint container, this water-based polyurethane topcoat packs a punch in a tiny package. Applying this formula to any wooden surface adds an almost "glass-like" finish that increases the durability of the treated area. A fast drying time and easy application method only add to its ease of use. 
Why Did We Like It?
Water-based formulas are incredibly helpful in terms of how easy it is to use. The cleanup of any excess application or dripping is easy with a soap and water mixture. Additionally, it allowed the coated layers to dry in 30 minutes. 
The small volume may be a concern for some as the price point is not light. However, it is incredibly efficient in coverage. With just half a pint, the Varathane finish was able to cover up to 31.25 sq. feet which were more than enough for most use cases around the house. 
Once applied and allowed to dry sufficiently, the topcoat was durable and held up well. Light scratches and any discoloration to the material's surface were minimal. Throughout the treated area, the glossy finish remained clear with no ghost or milky residue. 
What Could've Been Better?
One precaution to keep in mind involves the design of the container. There are two clasps that secure the lid tightly. And getting it off can be challenging and result in a bit of a spill if not carefully handled. Similarly, replacing the top is no easy task. 
Pros
Dries to the touch within 30 minutes

Stain and scratch-resistant

Minimal application required

Easy clean-up
Cons
Difficult to access container
Sale
Hope provides a clean, pure tung oil formula for treating surfaces for those looking for an all-natural option. It is versatile in working with multiple material types and surfaces. It is easy to use, rubbing in like oil, yet providing the same protection as a varnish. This durable oil can easily withstand any daily wear and tear. 
Why Did We Like It?
Tung oil is incredibly beneficial for protecting wooden surfaces. Its non-toxic, all-natural composition makes it ideal to be used anywhere with no concern for safety or fumes. Additionally, the formula is safe for surfaces that come in contact with food, so using it on kitchen or dining surfaces is plausible. 
Although it is simply rubbed on, the protection holds up well against exposure to many potentially harmful materials. Stains and moisture have no grip on the surface and can be wiped off easily. 
It permeates the surface of the wood and creates a bond that is flexible with the wood itself. The resulting bond is non-oily and lasts longer than most wax and mineral oil-based formulas. Furthermore, it can be applied to concrete, brick, stone, and cast iron surfaces as well; truly a versatile application range. 
What Could've Been Better?
As this formula is 100% natural, there are no added hardeners that expedite the drying process. As a result, the drying time is incredibly long. Depending on the area covered to allow for a complete cure to set, it can take anywhere from a few hours to a full day. 
Pros
No VOC

Versatile application on different surface types

Non-toxic formula safe for food contact

Resistant to moisture, oil, alcohol, and wear
Sale
With 40 years in the business, Howard's Restor-A-Finish is a perfect product when working with antiques or preserving an already existing wood finish. By simply wiping it on the surface, it will work its way into the wood and restore the patina. Additionally, it can blend blemishes out for further restoration. 
Why Did We Like It?
Probably the most impressive out of the many features of the Restor-A-Finish is the restoration effect it has on wood. This is besides the ease of use and fast application.
White heat rings, oxidation, fading, and other blemishes are blended with the formula to make the wood looking brand new. The nine color options make the restoration more seamless no matter what wood finish you're working with. 
Applying the finish is a relatively simple process. Light prep work such as sanding may be necessary in some cases, but with a simple wipe-on, the formula is applied. 
Additionally, there is no need to strip the old finish completely to apply this formula, making the application process even easier. Furthermore, drying times are minimal, which is always a helpful feature to have. 
What Could've Been Better? 
While using this restoration finisher, it should be noted that it may darken some surfaces. Of course, it is more on a case-by-case occurrence but is still a possibility. Testing how it reacts on a smaller, inconspicuous surface is a good idea before applying it.
Pros
Nine colors to match the wood finish

Blends out damage in wood

Maintains natural "patina" of wood

Easy application
Cons
It slightly darkens the wood
Sale
Another product from the Howard brand is their food-safe Wax-It-All. Used to enhance the look of the material, this wax can add a layer of protection with a smooth finish. Incredibly straightforward to use, this wax works well on both indoor and outdoor surfaces. What's more, it is compatible with metal surfaces as well. 
Why Did We Like It?
Howard's Wax-It-All works well in bringing an added layer of protection to a wide variety of surfaces. Plastics, cement, paint, stone, metal, and wood are just some compatible material types. Wax-It-All can turn these surfaces into a food-safe surface. 
Using this wax is simple and requires no prior preparation or expertise whatsoever. Simply rub it along the area to be treated and let it seep into the material. Once it has been allowed to sit, buff off any excess wax. 
After the wax has dried, it leaves a shiny, smooth finish that beautifully brings out the underlying surface's colors. The resulting sheen created by the wax has a soft, comfortable texture to the touch. 
Using it as a sealant for countertops is perfect thanks to the food-safe composition, added durability, and pleasant feel. 
What Could've Been Better?
As this is a wax finish, there is a possibility for an oily residue to be left behind. However, this can be remedied using other sealants to remove any residue. Additionally, you can buff out the wax and remove it if it is not soaking fully into the material. 
Pros
Easy to use

Food-contact safe

Restore and protect surfaces

Prevents water damage
Cons
The potential oily residue left behind
Sale
Minwax's water-based polyurethane wax makes for an easy to apply, clear finisher for furniture, railings and trimming. The unique formula is water-based and contains polyurethane, which allows the wax to have an easy cleanup and application while maintaining its durable nature—an excellent choice for protecting finished and unfinished surfaces alike. 
Why Did We Like It? 
Wipe-on applications are the simplest and easiest products to use application-wise. The Minwax wipe-on poly formula has a thinner viscosity than regular poly finishes, so it spreads easily. Not to mention the incredibly fast drying time, this poly is overall an easy-to-use poly for beginners and professionals alike. 
What sets this wipe-on poly apart from other traditional polyurethane wipes is the clean and even application with a cloth. As the Winmax formula is water-based, there are no streaks, brush marks, or drips left behind. Using it on finished or unfinished wood alike gave a smooth finish across the surface. 
Furthermore, it works well for indoor surfaces as well, thanks to its low odor and easy clean-up. The durability offered by the WInmax poly holds up well in providing a topcoat layer of protection to whatever surface it is applied on. 
What Could've Been Better?
When applying this topcoat wipe-on poly, careful attention should be given to the included instructions. There have been cases wherein the wax yellowed the material due to an error in the application process. Make sure the surfaces are cleaned, and the wax is applied correctly to avoid any possible yellowing. 
Pros
Strong durability

Low odor


Easy soap and water clean-up

Fast drying time
Cons
It can yellow if not applied correctly
Sale
A penetrating formula, this finish from Waterlox has been hand-made from tung oil to provide a beautiful satin finish to the wood. The resin portion of this finish is composed of 90% natural resources that allow it to be applied to surfaces that come in contact with food. 
Why Did We Like It? 
Working with tung oil finishes allows the treated surface to become food-safe once dried and cured. Additionally, the layer formed by the finish holds up well even without applying a sealer/finisher for waterproofing. 
Having an elastic finish, the Waterlox TB6044 is able to withstand heavy wear from foot traffic and resist light moisture. However, it is a good idea to apply a sealer/finisher as a final protective layer for complete waterproofing. 
Being a natural tung oil finish, the treated area is fully food-safe once dried. Whether the surface will come into contact with food or not, it is still a non-toxic finish which is always a helpful feature to have for indoor application. 
Applying the initial layer of finish does require some prep work on the material to be treated. However, after the first coating is applied, there is no further work needed to apply multiple coats. Overall, the application process is pretty simple. 
What Could've Been Better? 
It should be noted that the fumes given off by this finish can be intense. As such, proper ventilation should be maintained throughout the application process. Using it in a closed-off space is not recommended. Even after 24 hours had passed to allow the finish to dry, there were still remnants of the odor. 
Pros
Waterproofs with a sealer/finish

Food-safe formula

Easy application; no sanding between coats

Penetrates material to bring out the color
Sale
A unique finish made of a water-based formula and modified polyurethane, Winmax provides another quality finish with an exceptional drying time. It has a lighter odor than traditional solvent-based polyurethanes, making it ideal for interior wood surfaces. By combining useful features in both water and poly finishes, this finish can give the best of both worlds. 
Why Did We Like It? 
One of the features which stood out the most while using this finish was the incredibly fast drying time it had. Within seconds of applying it to the surface, it was already beginning to set, which increased efficiency tremendously. 
Additionally, the clear finish held up well thanks to the polyurethane components mixed into the formula. The durability is similar or on par with that of a standard poly finish. Similarly, the water-based parts of the formula allow for an easy and smooth application. 
Furthermore, cleaning up any excess finish around the treated area was easy thanks to the water-base. Using warm water and a bit of elbow grease will get the finish off quickly for a clean application. 
If covering an oil-based stain is what you need, this Minwax finish is just the right formula for the job. With the durability and rapid drying, it is a great match to add an extra layer of protection. 
What Could've Been Better?
While a fast drying time can help increase efficiency, it can also handicap how much area can be covered at a time. Additionally, the thin viscosity requires multiple coatings for a quality result. Both these factors limit the application to small areas at a time. 
Pros
Fast drying time

Low odor

Easy cleanup with warm water

Ideal for interior wood surfaces
Cons
Thin viscosity may require multiple coats
Enduro-VAR is a semi-gloss finish from General Finishes with a with a water-based urethane formula. It is ideal for surfaces that have water or dye stains as well as raw wood. Overall, it is an excellent finish to use on indoor furniture, adding a beautiful amber hue to the treated surface. 
Why Did We Like It?
As is the case with water-based formulas, the Enduro-VAR is incredibly easy to apply, be it with a brush or spray gun. It leveled itself out for a smooth surface between each coating, resulting in a polished, clean look. 
Once thoroughly dried, the finish added a slight amber color to the wood surface. This staining was especially clear in lighter woods. In fact, it essentially acts as a stainer and finisher in one formula.
Additionally, the water-resistant layer formed after drying held up well. Water beaded off the surface of the treated area, making any spills easy to clean. Furthermore, there is little to no odor, making it ideal for indoor applications.
Thanks to the water-based formula, cleaning up accidental applications was easy. Simply using soap and water removes it from brushes and surfaces with ease.
What Could've Been Better?
There are a limited number of surfaces that this finish is compatible with. Using it on any surface that is not water-stained, dye-stained, or raw wood can cause a less than satisfactory result. Before applying it, make sure the material is compatible to get the best quality finish. 
Pros
Slight amber finish

Water-based for minimal drying time

No unpleasant odor

Easy clean-up

Cons
Limited compatible surfaces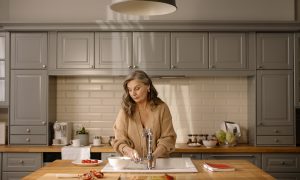 Kitchen Table Finish Buying Guide
Before deciding on a finish to use, there are a few points that should be kept in mind to have the best possible result. Applying a finish can be a long process, so making sure all the potential kinks are ironed out beforehand can save time and money during the actual application. 
When looking through options to make the most informed decision on a suitable finish for you, keep these points in mind. 
Application And Experience
Every finish comes with its own set of instructions for how it should be applied and any extra steps that need to be taken for the best result. Noting these instructions before applying can prevent mistakes and give you an idea of what is required. 
Additionally, the difficulty or ease of the application process is another factor to consider. For those with little to no experience working with finishes, a more straightforward process is more suitable. For example, a wipe-on finish can get the job done just as well without any prior expertise or tools needed. 
On the other hand, professionals can make use of more complicated finishes that have specific benefits. Matching the ease of use and application to your experience level can make all the difference in applying the finish. 
Durability
Kitchen tables are exposed to heavy wear and tear as they are one of the most commonly used surfaces. Exposure to spills, cutting with knives, and just general bumps and scratches are a regular occurrence. 
As such, making sure the finish is able to withstand all this exposure is imperative. A kitchen table is only as durable as the finishing layer that protects it. The best option in terms of durability is a polyurethane finish or varnish. Besides these, tung and linseed oils are other options that hold up well. 
Types Of Finishes
Wood finishes are available in a few variants with their unique strengths and weaknesses. These are oil-based, water-based, varnish, and shellac. 
Oil-based finishes are thicker than water-based but provide more durability and can add a touch of color to the wood. On the other hand, water-based finishes are thinner and, as a result, dry faster than an oil-based option. Additionally, they have less of an odor as well. 
Varnish is more suitable for outdoor usage as it performs well in providing protection from UV rays. One caveat to using this finish is the long drying times involved. 
Shellac is another option that is not widely used due to its weaker durability. Made up of solvents and wax, this finish does have an easy application process. 
Odor
Applying a finish on an indoor piece can be unpleasant, especially if the finish has a more pungent odor. Some finishes can even be harmful if inhaled in excess. While odor does not change the result of the finish, it can impact the application process.
What's more, a strong-smelling finish can make it unpleasant to work with for longer times. Not to mention having to wait for the smell to dissipate while it sets and dries. 
Of course, the strong odor can be dealt with through proper ventilation, but finding a low odor finish right off the bat can make working with the finish much more manageable.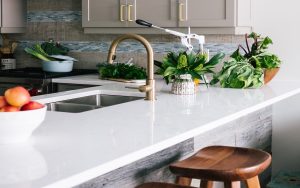 Verdict On Kitchen Table Finish
After looking at the top finishes available and understanding what a finish needs to be a suitable choice, it is time to decide on the best option. 
Out of all the formulas listed above, the Arm-R-Seal is the all-rounder with food safety and durability. However, for more versatility, Hope's pure tung oil is a better option. 
If a water-based formula is what you are looking for, we choose the Varathane Ultimate Polyurethane finish. Additionally, Howard's Restor-A-Finish works great in restoring old wood while preserving the underlying finish for those who do not want to apply a new coat.
When it comes down to it, applying a finish helps breathe new life into any kitchen table. With all the meals and memories shared around the kitchen table, it is only fair to give it the best possible treatment there is.
Related Articles
53 100% FREE DIY Farmhouse Table Plans for Your Rustic Dinning Room
49 Epic DIY Dinning Table Projects For Your Home
47 Splendid Rustic Countertop Ideas For Your Kitchen
29 Ways to Materialize an Awe-Inspiring French Country Kitchen
29 Cutting Boards Design For Every Taste And Every Kitchen
19 Beautiful Showcases of U-Shaped Kitchen Designs for Small Homes
18 Neat Ergonomic Kitchen Islands Designs Featuring Open Shelving
13 Best Small Corner Tables to Consider
12 Ways To Design The Kitchen For Healthy Eating
10 Best Clear Coat for Kitchen Cabinets
Outstanding Black and Wood Kitchens That Will Add Style To Your Home
How Many Coats Of Polyurethane