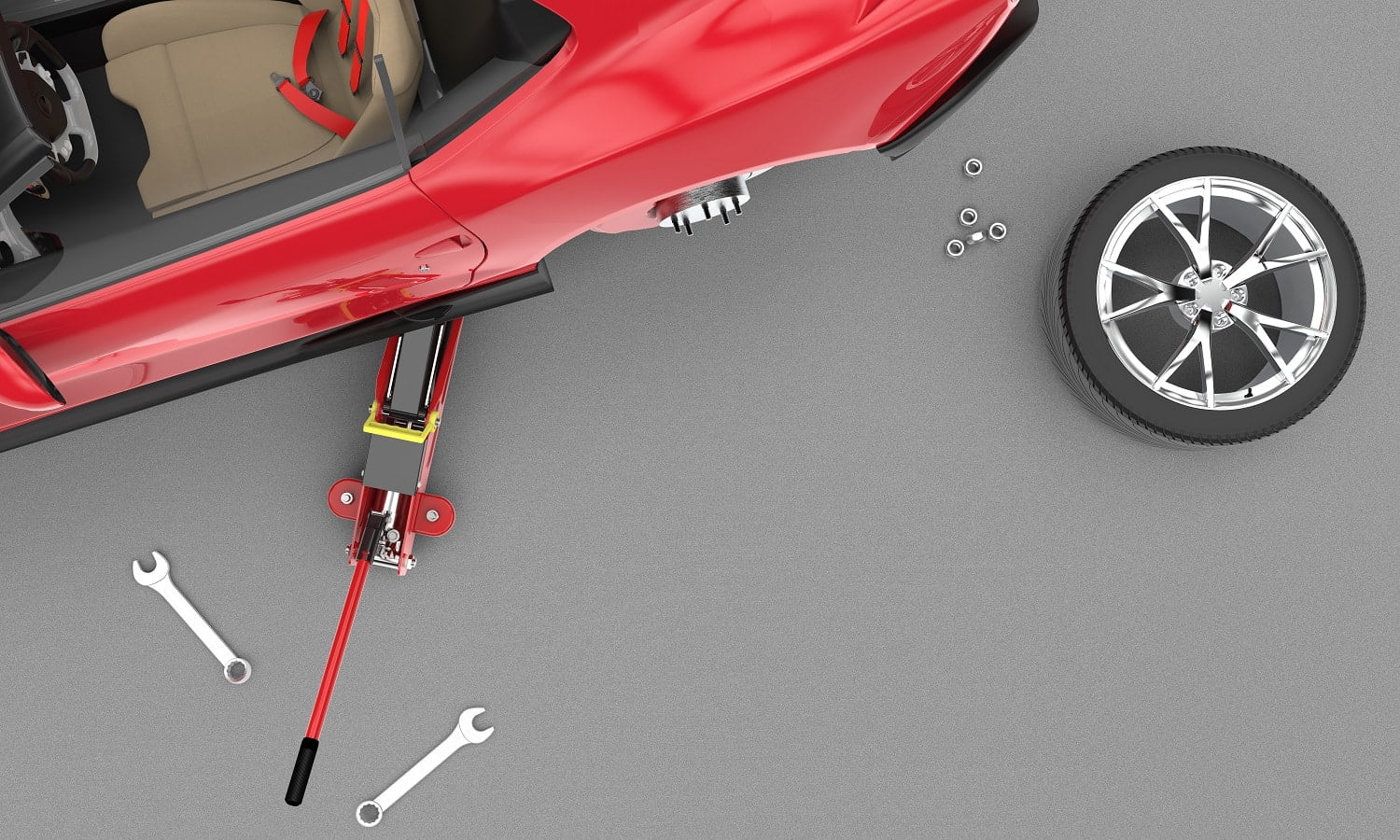 Are you planning to lift heavy vehicles for maintenance in your workshop? Well, check out our list of the best floor jacks.
Floor jacks have become an essential equipment today with every family owning a vehicle. Be it big or small; lifting vehicles is not possible with your hands. We started our garage, and we needed to buy a floor jack for it.
The confusion arises as soon as you check out hundreds of options on the internet. You can end up wasting a lot of money if you choose a floor jack that does not function well or does not have the required features.
To make it easier, we have created this list of the 13 remarkable products which cover every need you may have. This is followed by a buyer's guide to help understand your requirements better.
Read on to find out about them and their significant features.
Top Floor Jacks
IMAGE
PRODUCT
DETAILS

Our Top Pick

Our Top Pick

Arcan XL20 Black Service Jack

Universal joint release mechanism
Weighs 67.2 lb
Lift height of 18.5 inches

VIEW LATEST PRICE →

Arcan ALJ3T 3 Ton Capacity Floor Jack

Dual pump
Protective rubber saddle
Lift height of 18 inches
Weighs 56 lb

VIEW LATEST PRICE →

Pro-Lift F-767 Grey Low Profile Floor Jack

2-ton lifting capacity
Lift height of 14 inches
Weighs 30 lb

VIEW LATEST PRICE →

Craftsman 2 Ton Aluminum Jack

Integrated safety bypass
Lift height of 18 inches

VIEW LATEST PRICE →

Torin Big Red Hydraulic Trolley Floor Jack

360-degree swivel casters
Lift height of 17 ¼ inches
Weighs 43.9 lb

VIEW LATEST PRICE →

Blackhawk B6350 Fast Lift Service Jack

Maximum lifting capacity of 3.5 tons
Lift height of 22 inches
Weighs 85 lb

VIEW LATEST PRICE →

AmazonBasics Steel Jack Stands

Self-locking ratchet mechanism
Lift height of 18 inches
Weighs 10.1 lb

VIEW LATEST PRICE →

Alltrade 640912 3 Ton, All-in-One Bottle Jack

3-ton lifting capacity
Lift height of 17 ¼ inches
Weighs 22.4 lb

VIEW LATEST PRICE →

Pro-LifT F-2315PE Trolley Jack Car Lift

Rust-resistant steel frame
Lift height of 12 inches
Weighs 18 lb

VIEW LATEST PRICE →

Powerbuilt 620422E Heavy Duty Triple Lift Jack

Removable lift saddle
Lift height of 18 ⅜ inches
Weighs 85 lb

VIEW LATEST PRICE →

Pittsburgh Automotive Steel Car Jack

3-ton lifting capacity
Maximum lift height is 19-3/4 in
For professional use

VIEW LATEST PRICE →

Liftmaster Low Profile Steel Floor Jack

Lifting weight capacity of 3 tons
Equipped with a dual pump system
Maximum lifting height of 20 inches

VIEW LATEST PRICE →

Hein-Werner Hydraulic Floor Jack

U-joint for precise load control
Maximum lifting height of 15 ¾ inches
Sealed hydraulic pump

VIEW LATEST PRICE →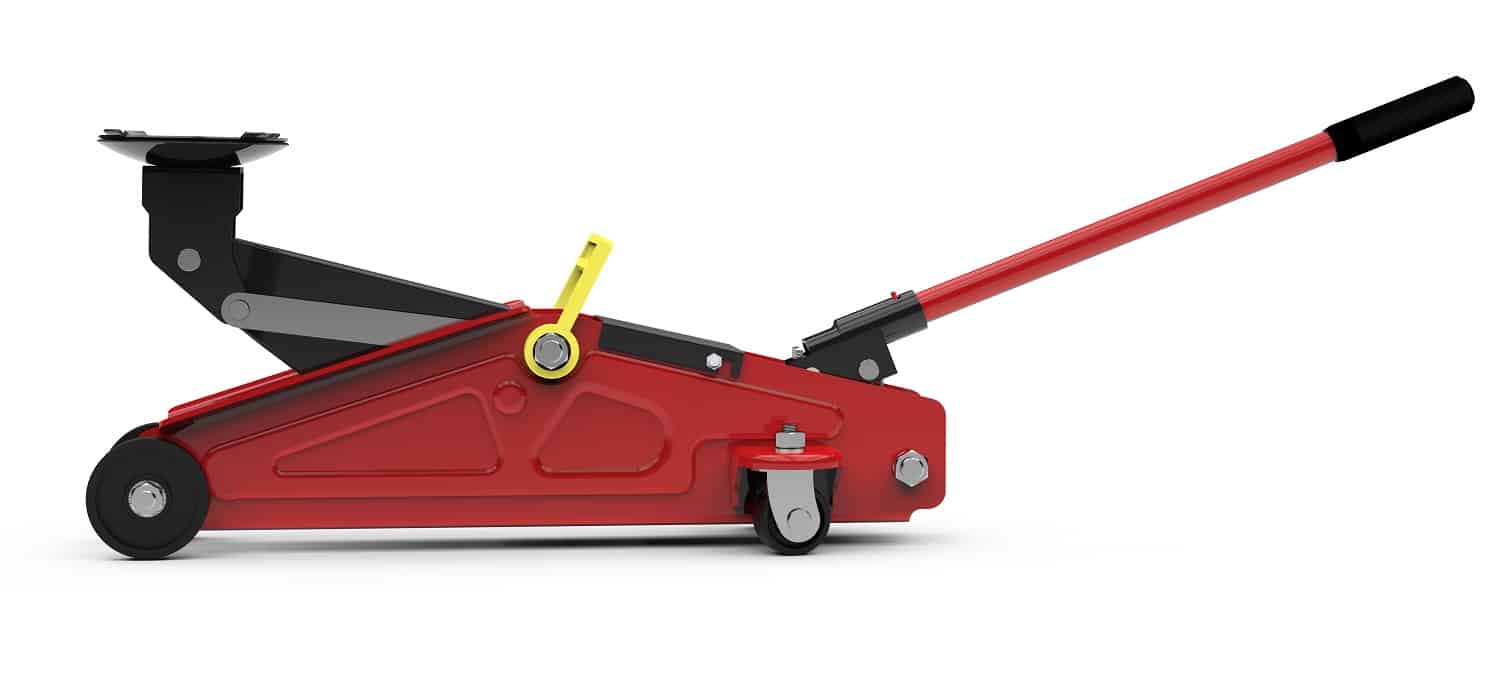 Packed with several handy features, this floor jack has reasonable lifting power and comes as a premium package. We were delighted with its features and it made our lifting experience smoother and easier. This is a powerful floor jack that will impress you with its productivity.
Sale
Why Did We Like It?
The one feature which stood out was the dual pump mechanism built into this device. If you need to be lifting vehicles, this feature made sure that the job was done smoothly and quickly. The device is able to lift items weighing up to 20 tons very efficiently. We loved how fluid the motion was.
Also, the Arcan XL20 Black Service Jack features precision control. Because of a universal joint release mechanism and other safety features, including an integrated safety valve built into the body, the floor jack will never overload. This is an essential specification to prevent any kind of overloading.
To add on, it features a stylish and premium look while being extremely user friendly. We were delighted with the product, and it has been a part of our garage for a long time now.
What Could've Been Better?
We faced one problem with the product, but it slowly faded away with regular usage. It is slightly difficult to turn off the valve and drop the load. This took us some practice before which we had faced difficulties. The bar tends to get a little stuck up, and then it becomes difficult to go about the task.
Pros
Rapid lift design

Dual pump for stability

2-ton lifting capacity

Integrated safety valve
Cons
Difficulty in turning the valve off and dropping a load
If you are looking for a device that is powerful and can withstand heavyweight, this one will please you. The Arcan ALJ3T 3 Ton Capacity Floor Jack is designed to lift heavyweight and comes with a high level of strength and tenacity.
Why Did We Like It?
The best part about this product is that it can lift 3 tonnes of weight. We used it a lot to lift our truck, and it did so without any issues. The reinforced extra-strong lifting arm that this product comes with offers strength, along with torsion control for the chassis. It boosts the lifting strength while making the process smooth.
In addition to this, the device comes with rubber saddles. This makes sure that the lifted vehicle stays safe and secure during the process of maintenance. The foam handle bumper built into the handle helps in cutting down potential for any kind of heavy impact on its body.
To top it all, the device itself is very lightweight and well designed with an improvised dual pump system. This enables a fluid-like smooth movement.
What Could've Been Better?
The product comes with a solid design, but the quality could be improved. We found that after a few months of usage, some of the bolts on this device loosened, and one of the wheels started wobbling. We got it fixed immediately but it was slightly disappointing.
Pros
Dual pump

Protective rubber saddle

Bypass and overload valves

Lightweight construction
Sporting a low rise design, the Pro-Lift F-767 Grey Low Profile Floor Jack is a great choice to make for those with less storage space. It fits into any garage easily thanks to its design. We have major space issues, and this feature attracted us enough to choose the device.
Sale
Why Did We Like It?
The machine is made with durable, heavy-duty steel for the highest survivability and strength that one can achieve with such a machine. It also offers the longest possible operating lifespan. We have almost been using it for a year now professionally, and there is no change in the working of the gadget.
The device kept functioning dependably and consistently reliably for a long time with an excellent capacity for lifting objects weighing up to 2 tonnes.
Also, the low design of the gadget made sure that it easily fit beneath lower vehicles or into smaller gaps where widening is required. It is a perfect fit for domestic floor jack usage, and we were pleased with the functionality.
To add on, with a weight of 30 lb, the device can be easily taken around and carried if necessary. It can be placed inside any car without any hindrance. Lastly, it is pretty affordable, and we did not need to go over our budget to bring this one home.
What Could've Been Better?
It works wonderfully well with small cars, but we found out that the product is not an excellent fit for bigger vehicles like our SUV. If you have bigger cars, this device will not be suitable. So keep your requirements in mind before actually deciding to purchase this product.
Pros
Has a long lifespan

Focuses on durability

Built-in safety valve

Extra low profile
If you are in search of a jack for professional use, this product by Craftsman can take care of all your needs. The gadget is made for serious mechanics and can be used for home car maintenance as well. It comes with a host of remarkable features making it one of the most sought after gadgets.
Why Did We Like It?
We were very glad to find that the device was pretty compact and could easily be stored below the workshop tables. Also, the low height and compact design helped to reach under very low rise vehicles to push it up.
The powerful lifting arm of your Craftsman 2 Ton Aluminum Jack will ensure that the process of lifting is super smooth and quick.
To top it, the lifting arm also had a premium saddle element. This helped to maximize support and provide easy and safe contact with the lifting vehicle. It ensured that our car stayed safe, stable, and free of any kind of damage during the process.
Moreover, the device also has an added safety system, which ensures that there is no overloading happening. This will make sure that you can keep your peace of mind regarding the gadget as well as the car.
What Could've Been Better?
The device worked fine, but it was not as lightweight as the other products. It is pretty heavy, and we could not move it around easily. If you have to carry your jack up the stairs, this may cause issues, and as it is difficult for a single person to do it.
Pros
Compact design

2-ton lifting capacity

Durable construction

Made for professional uses
If you work with heavy vehicles like SUVs and trucks, This device is just the one you need. The Torin Big Red Hydraulic Trolley Floor Jack offers high lifting power making it one of the most sturdy devices available in our market presently.
Sale
Why Did We Like It?
With a lifting capacity of 3 tonnes, this device is made for heavy-duty work. Also, the extra-long neck of this sturdy floor jack brings up the lifting height to more than 17 inches. This provides higher power in leverage, and you can efficiently work on the parts of the car after lifting.
The extra height gives you the advantage of better operationality power. We used it to lift our mini truck as there were some wires which needed to be fixed below. The work was done in a jiffy without us having to bend too low.
One added feature that we cannot miss is the 360-degree swivel casters which provide remarkable mobility and versatility for this floor jack. It makes it super easy to transport or move this device around the garage despite the heavyweight and huge size.
What Could've Been Better?
This gadget is pretty heavy, with a weight of 85 lbs. It cannot be moved up the stairs without two or more people struggling to do so and thus is not a good fit for a multi-storied garage space. We recommend you to keep this in mind before choosing the device. Anybody who is physically not strong will find it very difficult to work with.
Pros
Designed for heavy lifting

Easy to move

Extra-long neck

3-ton lifting capacity
If you want a device for maximum lifting, this one with the highest lifting capacity is sure to make life easier for you. It is one of the most remarkable options available in our market today for lifting the heaviest vehicles for safe and straightforward maintenance. Let's get into the other major features.
Why Did We Like It?
The maximum lifting capacity of this floor jack is an impressive 7000 lbs, which is enormous and by far the highest when compared to previous models we discussed. This makes it an ideal machine to use for lifting trucks or other particularly heavy vehicles with ease.
Additionally, it comes with a lifting height of 22 inches, which makes the underside of the vehicles extremely accessible. We had some intricate work to perform below our truck, and with this device, we were able to do so with ease.
Moreover, this floor jack also comes with additional safety features for you to work smoothly. This includes a safety bypass valve to prevent damage to the jack from over pumping. It is accompanied by a vent plug and internal safety system to make sure that you and your equipment are safe at all times while using the gadget.
What Could've Been Better?
We found out that the handle that came attached to the device was not sturdy at all. Ours broke on the second day of it arriving, and we immediately spoke to the customer care. They had our device replaced. With a heavy-duty machine like this, we had not expected the handles to be so weak.
Pros
Built-in safety bypass device and valve

Easy and secure lifting design

Durable steel body

Extra high lift height
If you are on a budget and want a simple device that will take care of your needs, the AmazonBasics Steel Jack Stands will work wonders. It is a simple, straightforward pack of 2 portable floor jacks that are good to use while not being heavy on the pocket.
Why Did We Like It?
This is a standard affordable device for anyone in need of simple vehicle lifting power. If you do not want extra design features and are happy with the basics, this is the best device to go with.
We were very happy with the high performance offered by the product. With a maximum lifting capacity of 2 tonnes, this device is an excellent choice when it comes to lifting standard medium weight vehicles.
Also, the device comes with a self-locking ratchet system which will lock the jacks into place once raised. This ensures that the car stays in place and protects you from any form of injury.
To top it, the body is made with rust proof steel, and you can rest assured that the device will not catch any rust even if left outside.
What Could've Been Better?
We found that the part which came in contact with the car was extremely rough. This leads to some scratches that may occur when you try to lower the vehicle. This proved to be of a hindrance as we were not happy with the marks left behind. Though the marks were not very deep or prominent, it still is not expected.
Pros
Easily portable

Steel construction

Resistant to rust

2 pack

2-ton maximum lifting capacity
Cons
May lead to scratches on the vehicle
This is one of the most powerful jack with a small footprint but a high lifting power. It could very efficiently lift our truck without having us worried. The machine works smoothly, enabling us to do our repairing job in peace. Further, we will discuss its specific features.
Why Did We Like It?
This device lifts vertically, whereas the other devices lift horizontally. It has a vertical lever mechanism making it stand out from the rest. This design is beneficial for all of those who have less storage space.
This is because the floor jack takes up very little floor space and is pretty compact. Also, with 3-ton lifting capacity, it lifts up off-road vehicles, trucks, or other heavier vehicles easily.
Moreover, though its maximum lifting height is a standard 17 ¼ inches, the height can be boosted to a full 21 inches with manual adjustment. This is a brilliant feature as you may often need a higher raise to work on some intricate parts on the bottom side of the car.
To add to it, the bottle floor jack is equipped with a safety bar, allowing it to be firmly locked at any height for safety and stability during vehicle maintenance.
What Could've Been Better?
We have no issues with the power that this machine comes with. But we were a little disappointed with the quality of materials that are used to make the body. It is cheap, and we found out that some parts are showing marks of injury within two months of usage.
Pros
Wide base for stability

High maximum lift height

Safety bar feature

Bottle style jack
Cons
Cheaper materials used to build
This is one of the most lightweight devices that you would find in the market. But do not be fooled by its size. It is extremely powerful and is an excellent choice for those who need a jack but is always on the move.
Sale
Why Did We Like It?
We were impressed by the high level of versatility that this product offers and the value it adds to our maintenance toolkit. This is an excellent product to be taken on a road trip for emergencies in case the car malfunctions.
You can easily keep it in the back of your car owing to the weight of this device. It only weighs 18 lbs and will not be of a hindrance to carry around.
The product also features large steel swivel casters for easy movement and flexibility. We received a molded plastic carry case along with the product, which provided easy transportability. To add on, the sturdy integrated carrying handle is a treat to have.
Further, if we talk about the frame, the machine body is made of strong welded steel coated with a rust-resistant layer. This boosts the strength and durability of the machine as it keeps functioning at maximum capacity and utility.
What Could've Been Better?
We have been hearing creaking noises from the machine every time we use it. This has not happened with the other devices on this list. It sounds like two parts of the machine are clashing against each other every time it is put to use. This would not cause a problem but may keep you worried about the machine malfunctioning.
Pros
Easy to move around

Compact design

Included storage case

360 swivel casters
Cons
Creaking noises while in use
If you need a floor jack to take care of your wide range of needs, this product will do the trick. Ranking high on versatility and flexibility, this product was very satisfying for us, and we are sure it would be so for you too.
Why Did We Like It?
With a removable lift saddle and well-padded rails for lifting, this device provides a very safe and secure way of lifting up your car. The saddles ensure that there are no marks on your car due to the process of heaving up.
We were also delighted with the fact that this machine could be locked into place once it had lifted the car at a desired height. This will make sure that the car stays up safely without you worrying about a sudden mishap.
Further, the device sports a flexible design that allows the Triple Lift to adapt to multiple types of vehicle frames. Be it a jeep, mini truck, or a sedan, the product is made for all types of vehicles.
What Could've Been Better?
This device worked really well, but we have one safety concern. There is no way to lower the device slowly. It comes down all at once, and this is quite scary to see. We tried different ways to adjust the lever, but we could not change this fact.
Pros
Durable construction

Safety locking bar

Adapts to fit multiple vehicle types

Padded rails
This device is an allrounder and can be used for SUVs and trucks on one side and sedans on the other. It is a very strong machine and takes care of heavy-duty work with ease. You will be happy to see the sturdiness that this device comes with.
No products found.
Why Did We Like It?
This device is perfect for professional use and at garages or workshops. We have a repair shop which needs a car jack. Since we deal with different types of cars and automobiles, this device helped us take care of them all.
It also comes with steel casters, which makes the device more stable and enables us to work with the machinery in peace. To add on, the gadget does not take up too much floor space and will not be a hindrance to store. Also, the device is compact and can easily fit in under workbenches.
Further, it works right out of the box. We found that there was no process of assembling parts needed. We could directly begin using it once it arrived.
What Could've Been Better?
We found the device to be very heavy. At 79 pounds, it became a task for us to move it around. The weight also prohibits us from taking it up and down the stairs. So if you need a jack that needs to be very portable, this could be of a hindrance. Otherwise, we had no issues to worry about.
Pros
Works well for all kinds of vehicles

Compact and low in height

Dual parallel pump system lifts with less number of pumps

Increased stability with extra-wide steel casters
Cons
Very heavy and not easily portable
This is one of the most durable devices in the list. With a strong build, this device is made to perform for hours without any hindrance. You can rely on this device for your daily work, be it professional or at home for personal repairs.

Why Did We Like It?
We were delighted with the 3-inch low profile of the device. This helped us place it easily under lowered cars. Also, the steel frame of the body is very sturdy and durable. Our floor jack has bumped into the wall many times, and it is handling heavy vehicles every day. But there are no signs of damage at all.
To add on, there are foam bumpers provided, which prevents scratches from forming on the body. They make the portion that comes in contact with the car soft, thus not allowing marks to form.
To top it all, the device is pretty affordable and provides value for money. We were satisfied with this fact as the device came with enough specifications considering the price.
What Could've Been Better?
We did not face any difficulties with the operationality of the device. It worked fine, but initially, we did encounter one issue with the front wheel. One of the wheels was wobbly and almost came off. We complained and got the device replaced. The second one has no such issues, and we were satisfied.
Pros
Durable

Low-profile design

Foam bumpers

Dual pumps for easy lift up
Cons
Problem with one of the front wheels
If you are looking for a device that is extremely stable even on rough terrains, this is the one to go with. We live in hilly terrain and often have to use the device outdoors on cars. This helps us achieve the perfect stability you would want to work smoothly.
Why Did We Like It?
The device comes equipped with an in-line pump assembly. This ensures that the hydraulic jack runs for a long time without you needing to take it to the repair shop.
 Also, there are no off-center forces. This is a great benefit as it prevents easy wearing and enables smooth aligning of the machine.
Additionally, the U joint mechanism ensures precise load control. There is no problem with bending, and the car can be lifted with ease. Further, the device also came with a sealed hydraulic pump that is placed inside the device. This is another reason why this device lasts long.
We found the handle was very sturdy, and the device came with wheels. Since this is one of the heaviest devices, the presence of wheels  ensure that there is easy movement. And the handle made sure that it could be lifted if required.
What Could've Been Better?
This is one of the most expensive products on the list. It comes with a significant number of features, but you will need to spend a considerable amount if you want to buy it. We would recommend you to check the features before buying. If you think you need them, then go forward and invest in the machine.
Pros
Cast iron build

Flagged side plates for better stability

Sturdy handle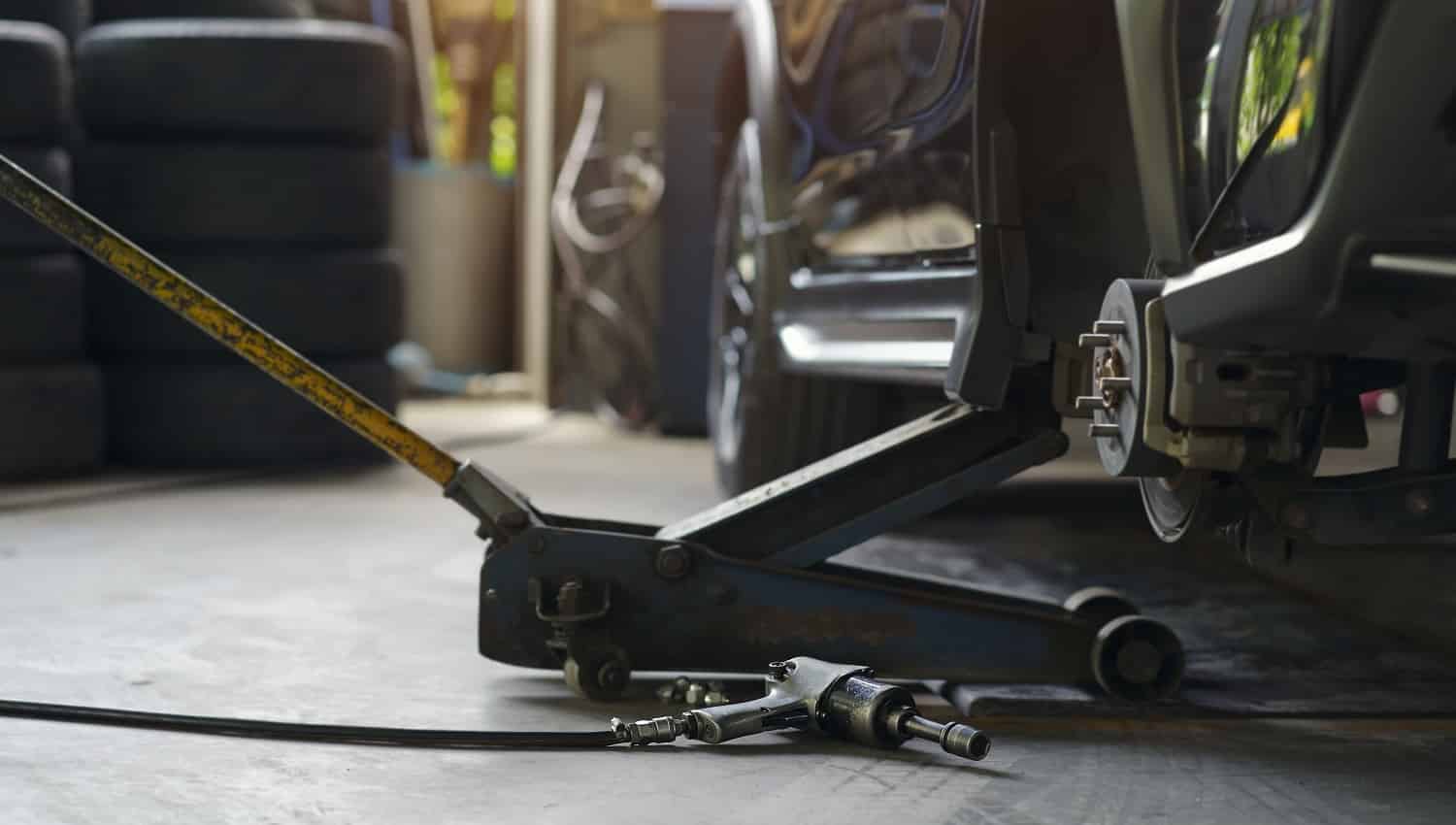 Floor Jack Buyers' Guide
A floor jack may be a simple device, but choosing the perfect one for your needs can be difficult. Now that you have read about the best products in the market, it is time to take one step forward. Note down the requirements that you need to remember before purchasing a device.
This is essential as you may buy the best of the lot and end up spending money on specifications you do not need. It may also happen that the product may not have a particular requirement that you cannot do without. So read the following points carefully.
Lift Height
This is one of the primary considerations while choosing a floor jack. If you are buying one for professional usage, make sure to select the floor jack with the maximum amount of life height.
You may have different types of vehicles coming into the store, and you should be prepared with a device that can deal with any problem. A higher height would make it easier for you to check the underside of the vehicle and find out areas that are malfunctioning.
Lifting Capacity
Every gadget has a separate lifting capacity. What are your needs"? Do you need it to lift medium weighing cars, or do you need it for trucks? The owner of a sedan will have different needs than the owner of an RV or a truck.
Based on the weight you are looking at, buy a product. A product with a capacity of 3 tons will be able to lift trucks but will be heavier and difficult to move about. So if you do not need such a strong machine, try not to go for it. It will save you money too.
Purpose
What are your thoughts behind buying a floor jack? Are you doing basic maintenance tasks, such as oil changes or switching a tire? If you need it for such purposes, a simple basic floor jack will suit you well and will be a cost-effective option too.
But if you want a device for heavy usages such as removing brake pads or other labor-intensive endeavors, it is best to go for heavy-duty machines.
Storability
Floor jacks could be challenging to store or move about depending on their weight and size. There are some who take up less space and can be easy to store in small garages. Storage-friendly features can help a lot in improving user experience.
For example, a few of the options we looked at had wheels or ergonomic grips. This made it easy to store inside the garage without having to pick up the gadget.
Some devices can also fold in upon themselves. This makes it easier to store and works very well with limited space.
Pads
Some devices come with a padding section at the lift point. This rubber component is situated where contact with the car is made. This prevents scratches on the vehicle and is a beneficial thing to have.
We ended up with a lot of scratches on one of the trucks because we did not pay heed to this feature before. A simple feature like this can have a bigger impact on the vehicle.
Price
The price for the best version of a floor jack may be high but this model may not be needed by you. A premium jack in the market may not treat a user to a better experience than the most affordable one.
If your needs are simple, stick to a basic device that ranks high on safety. And since floor jacks are often put through the wringer, it may also ensure that your tool lasts longer. So buy a product based on your specific needs.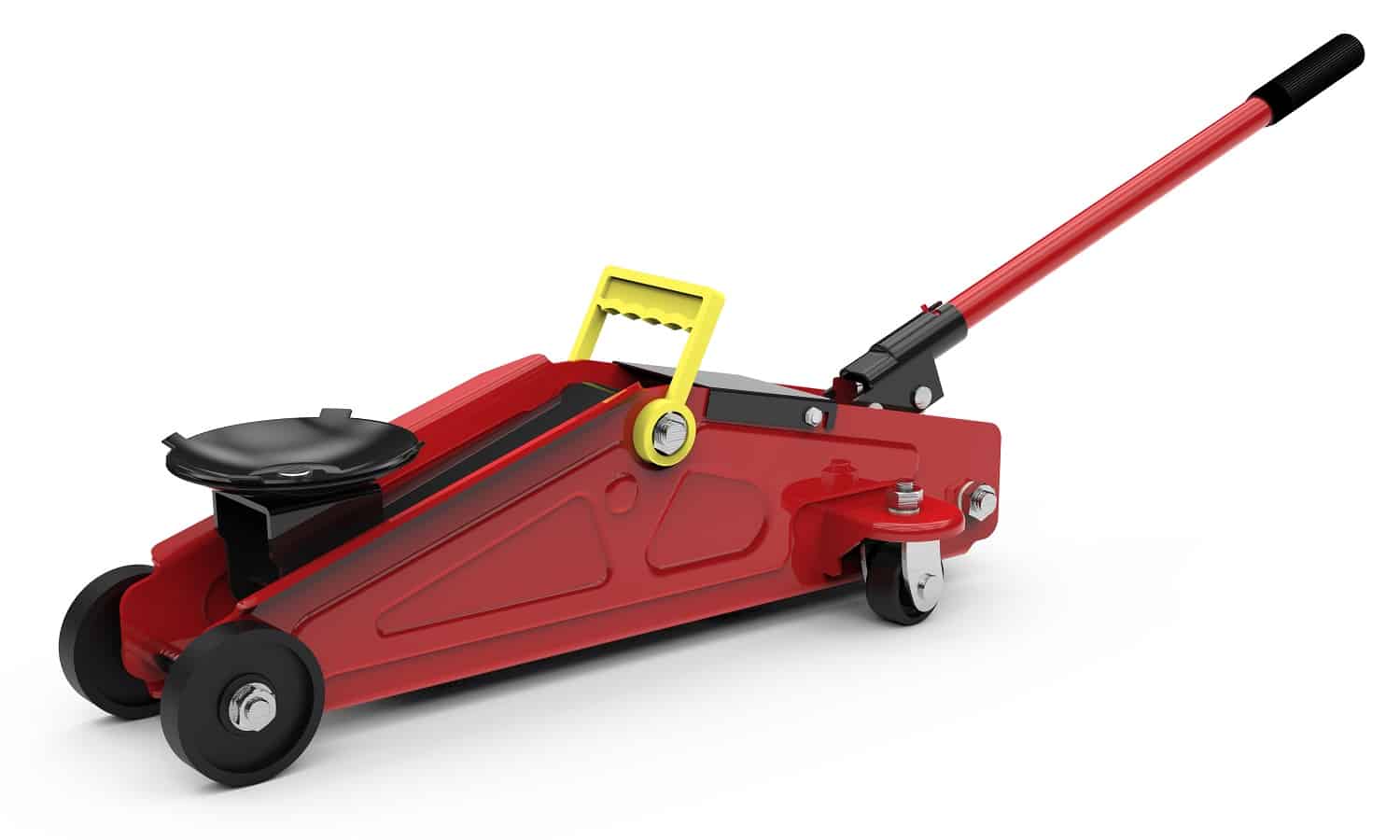 Verdict
If you ask us, though every device here has some advantages and disadvantages, the Arcan XL20 Black Service Jack is a clear winner when it comes to small to medium-sized vehicles. This device is compact, easy to store and easily portable. Also, it ranks high on safety.
When it comes to a machine that can pick up heavier vehicles, the Arcan ALJ3T 3 Ton Capacity Floor Jack is the best of this lot. With a weight capacity of 3 tonnes, it can easily lift up SUVs and trucks. Also, it comes with protective measures and scratch-preventing mechanisms, thus adding to the benefits.
We are finally at the end, and we hope you know everything that is required before purchasing your floor jack. Make life in your garage easier with one of these devices.
Happy shopping!
Related Articles
7 Best Paint for Interior Garage Walls Right Now
23 FREE Detailed DIY Garage Plans With Instructions To Actually Build
19 Garage Makeover Ideas To Transform Unused Spaces
8 Best Blowers For Drying Cars This Year
13 Brightest Light Bulbs For Garage 
10 Best Tire Pressure Gauges on the Market Today
10 Best Hand Cleaner for Mechanics and Grease 
13 Best Battery Chargers for Cars