Folding lawn chairs are incredibly popular accessories and can be found in almost every home, as they are space-efficient and easy to store. Besides this, they provide you with the luxury of kicking back and relaxing in your backyard with your friends and family. Their design is one of the main factors why a lot of people are fans of folding chairs, and there is plenty of variety in the market.
Unfortunately, this also means you don't always make the right decision and end up purchasing a low-quality lawn chair that doesn't last long. We understand that no one has the time to search for detailed reviews of lawn chairs before buying one which is why we have done all the hard work for you. We have not only shared the top folding lawn chairs you can buy in 2022 but have also detailed a buyer's guide to help you make the right choice.
Best Folding Lawn Chairs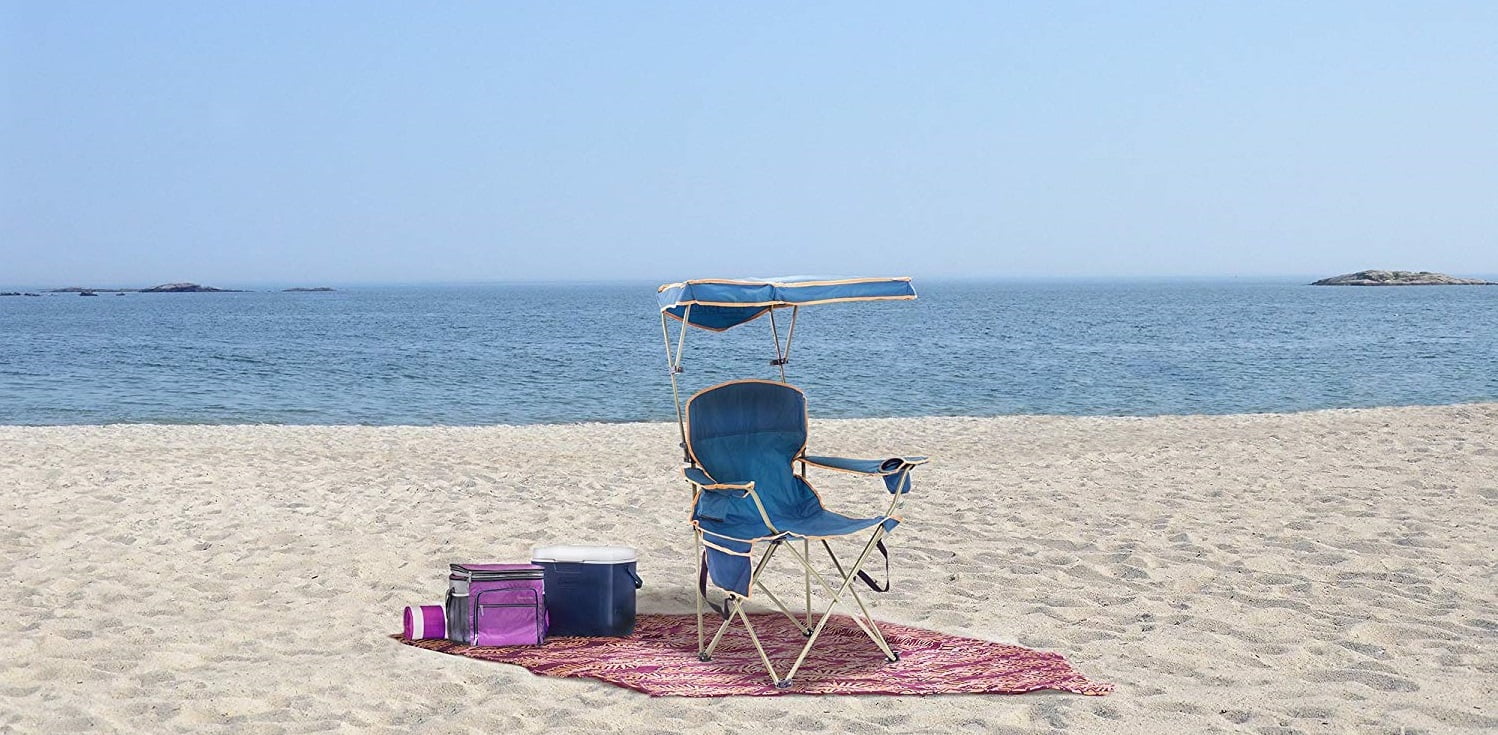 Now that you know what to look for in a folding lawn chair we'll get right down to business and review the top 10 models that we found in the market. Go through the pros and cons of each model before making your choice to buy the best folding chair to rock in 2022.
Our top pick for a folding chair is the Quad Chair from Coleman. It is available in different shades and is sold at an affordable price, with a range of convenient features that make it the best overall folding lawn chair. The special features of this model are better than any other in the market and the polyester material of the chair combined with cozy design and convenient built-in cooler guarantee relaxation and comfort outdoors with your friends.
It has a foldable and collapsible design that allows you to store it in compact spaces, and it comes with a carry bag for easier transportation. There's also a storage pocket and cup holder for keeping magazines and your personal items. The sturdy steel frame of the chair and durable construction can support a weight of up to 300 pounds. It also features a 4-can cooler pouch for keeping your drinks cold and within reach. After considering all the features, this model is without a doubt the best folding chair to buy in 2022.
Pros
Fully cushioned seat and backrest for maximum comfort

Easy to travel with and store

Comes with a cooling pouch for keeping drinks cold

Large enough for comfortable seating 
Cons
Limited color choices

The backrest doesn't reach the head 
Coming in at second spot on our list of best folding lawn chairs in 2022 is this model from Rawlings. It is priced on the lower end of the spectrum but manages to offer features that are found in more expensive models to provide you with unmatched comfort outdoors. It has a firm powder-coated steel frame that can support the weight of up to 25 pounds.
It is made of 600D polyester material and comes with a built-in mesh cup holder in the armrest. This folding chair is designed with the team logo and has a dual-color pattern providing it with a stylish appearance. You also get a matching carry case with the team logo for easier transporting.
Pros
Lightweight chair for easier traveling

Comfortable cup holder built into the armrest

The seat doesn't sag offering stable comfort

Its elegant dual-color pattern 
Cons
L-brackets aren't built to be sturdy

Pattern design may not attract everyone 
Sale
The standout feature of the Kijaro dual lock chair is that you have greater flexibility for getting a folding  chair in the color you want. There are 10 different shades, and you get a no-sag experience when sitting on the chair thanks to its dual lock-ability. It provides you with plenty of seating space and you can lock it once closed so that you can carry it conveniently in your bag. It has a seat height that is 20 inches above the ground along with a cell phone holder, mesh pocket, and zip pocket for storing your items near you. There is also a mesh cup holder for keeping your drinks near you.
The seat and headrest are cushioned to provide you with maximum comfort when you're relaxing, and you get a 300-pound weight capacity, ensuring that it's perfect for anyone, who wants to spend time and relax in the cool breeze outdoors.
Pros
Comes with pockets, cup holders, and carry bag for storage

Suitable for outdoor use

Locks outwards for stability

Breathable mesh material for healthy seating 
Cons
Weight limit of 300 pounds

The backrest isn't high enough to support the head 
This excellent folding chair can support up to 250 pounds of weight and has a sturdy powder-coated steel frame. It comes with Spring-Action Rocking Technology™, so you can move the chair back and forth easily while enjoying the weather outside. The chair can be folded easily for storage and it is easy to carry around due to its lightweight nature.
Opening and closing the folding lawn chair is easy thanks to its patented EazyFold technology while you also get a built-in beverage holder so that you can keep your drinks near you.
Pros
Comes with a cup holder for storing drinks

Padded back and armrests for comfort

Easy to transport and store

Spring-action technology for outdoor use 
Cons
Squeaking noise when you rock the chair

The cup holder isn't ideally placed 
The Coleman deck chair is dual-colored and can be easily folded for storage while carrying it easy with the handle. This is the ideal folding lawn chair for picnics, patio barbecues, camping and for your lawn, and has a maximum weight capacity of 225 pounds with a durable steel frame.
You also get access to personal items and food with a side table and cup holder designed at the side of the chair. You get structured and supported seating, thanks to its square frame. The padded armrests add another layer of comfort so you can relax in the company of your friends and family outdoors.
Pros
Carrying handles for easier transportation

Heavy-duty construction guaranteeing long-lasting durability

Designed with side table and cup holder for food and personal items 
Cons
Uncomfortable cup holder, so you may spill food or drinks

Only limited to people of up to 225 pounds in weight 
Sale
If you want a durable folding lawn chair this model is the best option as it features polyester fabric that guarantees years of durable use. The chair is both stain and water-resistant which makes it perfect for outdoor use and has a seat height of 18-inches above the ground. The chair only weighs about 9 pounds, so it is easy to carry around.
The durable steel frame can support users of up to 225 pound in weight and it comes with an adjustable canopy to block sun or rain from any angle. You can fit this folding chair in compact spaces and can carry it with you anywhere you will require respite from the sun when resting outside.
Pros
Easy to use and assemble

Foldable and lightweight for portability

Durable steel frame ensuring long-lasting use

Comes with shades for protection from the sun 
Cons
Pockets aren't well constructed

Can only support a maximum weight capacity of 225 pounds 
Sale
Another great option for a chair is the Max Shade by Quik Shade, which has a seat height of 18.5-inches above the ground and only weighs 9 pounds. The chair has a maximum weight capacity of 225 pounds and comes with an adjustable shade canopy for protection against the sun and rain. This is the perfect transportable chair for a trip to the beach or a tailgating party or any other place where you'll need shade outside.
You also get a mesh storage compartment for storing your personal belongings like phone, wallet, keys, and you get 2 cup holders for added convenience, so you have your drinks nearby. This model is made from polyester fabric, which is stylish, durable, and is mold and stain-resistant. You can raise, tilt, or lower the shade of the chair based on your needs, and can also store the chair in compact spaces due to the folding design. You can carry it anywhere easily as it comes with a carry bag and shoulder strap. 
Pros
Polyester cover is stain-and-water resistant

The chair is highly portable and lightweight

2 cup holders for convenient handling

Comes with adjustable canopy 
Cons
Back of the canopy or shade doesn't come down

Only supports 220 pounds of weight 
If you're looking for a chair that has the highest weight capacity, then this is a perfect choice; it can support individuals who are up to 300-pounds heavy. It provides you with the perfect relaxation and comfort experience outdoors with a thick foam padded back, plastic armrests, and a soft headrest. The chair is also very durable as it is made from durable polyester material.
The foldable design of the chair and the fact that it only weighs about 9.5 pounds makes it easy to transport for all kinds of outdoor activities. This is the perfect chair for trips to the beach and other outdoor activities.
Pros
Soft and comfortable backrest padding

Suitable for any outdoor activity

High-quality aluminum frame for easy portability

Easy folding and unfolding feature 
Cons
The storage bag isn't the best

The chair isn't wide enough 
One of the best options out there for folding chairs is the FirePit Rocker from GCI Outdoor. It is designed with patented spring-action rocking technology, allowing it to provide a smooth rocking action on any surface outdoors. It has a durable powder-coated steel frame and is lightweight, making it very easy to carry on outdoor adventures.
With a maximum weight capacity of 250 pounds, this chair has comfortable padded armrests, a built-in beverage holder, and a carry handle. The Eazy-Fold technology allows you to easily open and close the chair. It is ideal for tailgating, camping, patios, and your lawn.
Pros
Suitable for all outdoor functions

Large support capacity of 250 pounds

Comes with padded armrests for comfort

Folds flat for storage and portability 
Cons
Only the best for children

Low height for a chair 
Our last option for the best lawn chairs is this offering from CORE. With a maximum weight capacity of 300 pounds, the CORE Chair is perfect for watching sporting events and camping. The chair comes with padded armrests and has a sturdy steel frame, offering you the perfect balance of support and comfort.
There's also a built-in cup holder so that you can keep your drinks near you. It also collapses easily for storage. You can also store your phones, keys, and wallet in the integrated gear pocket. It comes with a convenient carry back and a carry strap for easy transportation and storage. 
Pros
Integrated pockets for extra essentials

Quality steel and polyester frame for durability

Quality padding for comfort and support

Comes with a carry bag for easy travel 
Cons
Soft polyester isn't water-resistant

Not suitable for people over 300 pounds 
Folding Lawn Chairs Buyer's Guide
Buying folding chairs doesn't need to be complicated, but most people have no idea what to look for when making the purchase. They end up buying any chair they come across not knowing that there are hundreds of different options that are better and available at affordable prices. This is why we are going to reveal what features and characteristics you should consider when buying folding chairs in 2022. Here's our buyer's guide to the best folding chairs:
The main characteristic of the chair is that it should be portable so that you can easily take it with you anywhere. Therefore, when choosing folding chairs go for lightweight models so that they're more convenient to carry with you. Irrespective of their size, make sure that the model you end up buying doesn't take much space when it's folded. You can also buy models that are meant for children since there are plenty of unique designs meant for children in the market.
When purchasing a folding chair opt for models that are designed with waterproof fabric, since they will dry quickly and are also easier to clean. The chair should also have breathable fabric so that it doesn't absorb heat from the sun. Make sure that the seam is of good quality, as you don't want to fall on the ground when you're enjoying the breeze and relaxing with a book. Look for chairs with stainless steel material, as they're more durable and sturdier for the long-term.
There are various models of chairs in the market, but they generally come in three frame materials:
Metal

Plastic

Wood
The most durable models are the metal chairs, and are perfect for outdoor use, while the plastic models are lightweight and easier to clean. If you want elegance and strong foldable lawn chairs the wooden models are the right choice. For the seat material, opt for a padded seat in either fabric or vinyl material.
If you want complete relaxation, choose chairs that are lower to the ground, as they're great for relaxing in a stable position. However, you may struggle to get up from them. If you'll be getting up and move about frequently, buying high-version chairs is the better choice.
If you're looking for additional convenience go for folding chairs that have cup holders, so you can keep your drinks within reach while relaxing. You will also find models that have extra pockets for storing items like phones, keys, and books within your reach. 
Best Folding Lawn Chairs Conclusion
Once you've decided to buy a folding chair, there are some important considerations that you must keep in mind before making the purchase. It's important that you choose a chair that matches all your needs, like a chair that comes with room for bottles and cups, and armrests so you can relax in comfort. Some additional features you should consider are heat protectors, headrest, food compartment, and storage pockets.
The best folding lawn chairs in the market will provide you with the luxurious experience you want, but you must consider that the more comfortable the chair, the higher the price point is going to be. Cost is a crucial consideration when buying a folding chair, and you need to find one that suits your budget. Some chairs will cost you $200 but you can also find one that is for $20 only.
You should also consider how difficult or easy it is to set up the chair, and the best ones will only require a minute of your time. You don't want to be fiddling around for minutes setting up the chair so look for one that is convenient. Weight is another important consideration; the steel frame models are sturdier and more durable, therefore can withstand a lot of weight. Buy a model that can support your weight comfortably as you don't want to end up on the grass. Lightweight folding models are easier to carry but aren't suited for larger people, so take that into consideration. 
Related Articles
11 Best Leather Recliner Chair
10 Best Small Patio Tables With Umbrella Hole 
11 Best Hanging Chaise Loungers