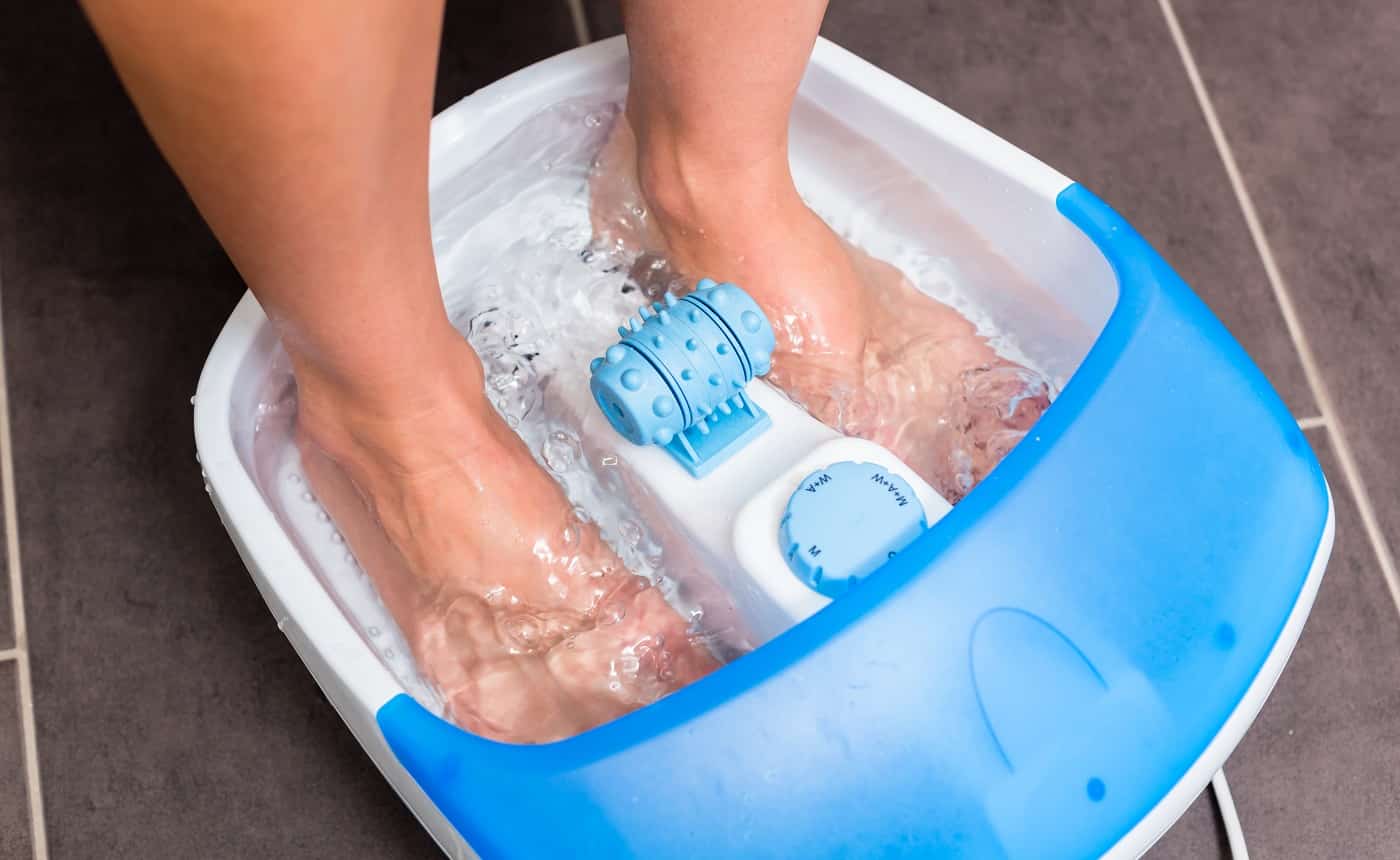 Who doesn't love a toasty and relaxing foot spa! Sounds like the perfect way to call it a day, doesn't it?
Our feet keep us going throughout the day so it is only fair that we pamper them too. More so if you suffer from foot pain or other foot conditions like bunions, flat feet, etc. But heading to a spa every now and then is not feasible. That is when you need a foot spa that can mimic a spa date's conditions without hurting your budget.
However, with tons of options available, one can get confused about which one to pick. After all, a foot spa is not just a hot tub of water! Thus, we have handpicked nine best foot spas that cater to everyone's varying preferences. While one is the best budget buy, another promises a luxurious jacuzzi-like experience.
So, without further ado, let's take the plunge!
Top Foot Spas
IMAGE
PRODUCT
DETAILS

Our Top Pick

Our Top Pick

MaxKare XKAM-SPA18

Digital display screen
Built-in box for spa materials
Heats and maintains water temperature

VIEW LATEST PRICE →

Conair FB3

Pinpoint massage attachment
Toe-touch control

VIEW LATEST PRICE →

HoMedics FB-55

Removable pumice stone to treat calluses, corns, etc.
Toe-touch controls for convenient use

VIEW LATEST PRICE →

Zircon ZR

Tea tree foot soak included
Intelligent temperature control and overheat protection
Known to ensure sound sleep, relieve flu, improve metabolism, etc.

VIEW LATEST PRICE →

MaxKare Foot Spa/ Bath Massager

Digital display screen
Foot spa material box included
3-in-1 function includes heat, bubbles, and vibration

VIEW LATEST PRICE →

Misiki Foot Spa Bath Massager

Oxygen bubble massage and infrared light
Additional foot stone attached
Safe built-in timer

VIEW LATEST PRICE →

Gasky Foot Spa Bath Massager

Ergonomic shiatsu massage rollers
Oxygen bubbles
Convenient digital display panel

VIEW LATEST PRICE →

Entil Foot Spa Bath Massager

Digital control panel
16 massage rollers and pedicure stone
Anti-roast PTC heating unit

VIEW LATEST PRICE →

FOOT CURE Foot Spa Massager Basin

Automatic roller massage nodes
Convenient drain hole, folding handle, and dust cover
Spinning callus remover

VIEW LATEST PRICE →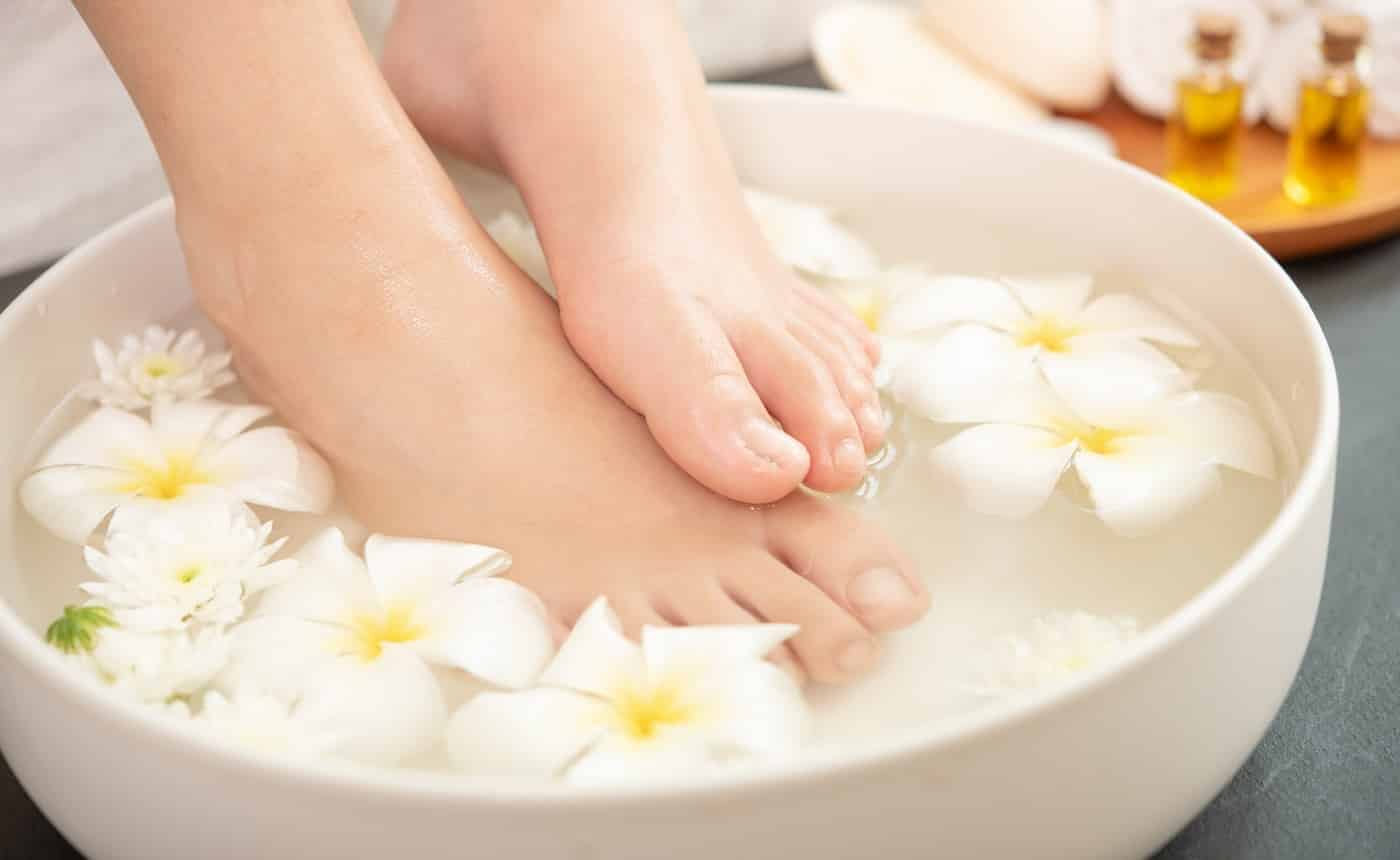 This stylish foot bath from MaxKare provides the most superior and luxurious jacuzzi-like experience with its 16 rollers and mini-massage points. Its digital display makes it easy to track and control various functions like temperature, bubbles, and vibration. A little cavity allows you to add spa materials of your choice.
Sale
Why Did We Like It?
MaxKare left no stone unturned in terms of design and style. From the aesthetically pleasing colorway to the display screen— everything about this foot spa looks amazing! Also, the digital display makes the settings conveniently visible.
The heating elements work efficiently to maintain the temperature throughout the massaging session. Also, turning on the bubbling option helps accelerate heat.
Each foot is given utmost attention and care with four pairs of massaging rollers on either side. The rollers are dotted with acu-nodes with sole reflexology that help relieve sore muscles. Also, the rollers are removable if you just want to soak your feet without the friction.
Adding to that, the foot spa features overheat protection so you can rest assured of your safety. All these features provide a fulfilling massage and jacuzzi-like experience, justifying the high price tag of this product.
What Could've Been Better?
First is the fact that you need to pour in hot water instead of relying on the product to heat it. It maintains the temperature quite well but does not stand true to its claim of heating the water in the first place.
Another drawback is the spikes on the massage rollers. However, deciding if it is too sharp or not depends on personal preference.
Pros
Stylish and convenient digital display screen

Removable massage rollers with acu-nodes with sole reflexology

Efficient temperature control, bubbles, and vibrating system

Overheat protection

Built-in space for spa materials
Cons
Does not heat water

Massage rollers may be too sharp for some users
This budget-friendly foot spa by Conair is your quick fix for overworked feet. Its toe-touch control is an impressive and practical feature that promises uninterrupted relaxation. The removable pinpoint massage attachment helps in soothing sore, swollen feet by targeting pressure points. Perfect for those who are always on the go, this foot bath will rejuvenate your feet in no time!
Sale
Why Did We Like It?
The Conair foot spa boasts of a deep reservoir that accommodates feet of various sizes. This is definitely a plus if you plan to share your foot spa with friends and family members. You might want to be careful about their hygiene routine though!
The toe-touch control is practical and allows an undisturbed spa session, much to our liking. The massage nodes and bubbles provide gentle vibration, and if that's not invigorating enough, the pinpoint massager comes in handy. It can be used to alleviate pain from various trigger points.
Despite its large size, this foot bath is lighter than most other products on the list. It is also easy to use, and the non-slip feet keep it sturdy.
Long story short, if you are looking for an affordable foot massager, this offering from Conair does the job without burning a hole in your pocket.
What Could've Been Better?
This inexpensive option also lacks some essential features that help in providing a rejuvenating spa-like experience.
Without quick heating, temperature control, and massaging rollers, it might not be everyone's cup of tea or… tub of water! Of course, we get what we pay for, but a better heat maintaining mechanism would have pushed this product higher in our recommendations.
Pros
Budget buy

Deep reservoir

Toe-touch controls for uninterrupted relaxation

Pinpoint massager attached

Lightweight design
Cons
No heat controls

Bubbling effect is not strong enough
This soothing vibration massager is quite similar to the previous product in terms of functionality and price. Instead of a pinpoint massager, the HoMedics foot spa features a removable pumice stone that can be used to remove dead skin, soften calluses, and more. In a few minutes only, this massager can work wonders on the most hardworking part of your body!
Why Did We Like It?
Firstly, the removable pumice stone takes things up a notch. Corns and calluses are a pain in the… foot! Thus, HoMedics played it smart by increasing its target users, including those who suffer from specific foot conditions. Also, its bubble massager is gentle on your feet, ensuring a calm and relaxing massage.
The toe-touch control may seem random at first glance, but we were impressed with how practical the feature is. You wouldn't have to wet your hands or bend over to switch it on and off. Sounds too good to be true?
Well, it is also lightweight and features an integrated splash guard. This makes the foot spa easy to carry around and ensures an overall mess-free experience.
With this product, HoMedics stands true to its objective of relaxing the body, destressing the mind, and simplifying life for a healthy home environment.
What Could've Been Better?
Sometimes less is more, but not with the Bubble Mate falling short of some crucial features like temperature maintenance. Just the thought of having to refill warm water after a while sounds like a task.
Unlike some expensive products on the list, this foot bath does not feature any massaging nodes or water jets. This leaves no room for customization and variation.
Pros
Budget-friendly

Convenient toe-touch control

Removable pumice stone to get rid of dry skin, corns, calluses, etc.

Lightweight design

Splash-proof
Cons
No options for heat control

Not as stimulating as other foot spas featuring rollers, jets, etc.
An excellent product from the Zircon Store, this 5-in-1 Foot Spa is worth every penny. The best option for foot pain and cracked heels, this product comes with a Tea Tree Oil foot soak. Its instant heating foot bath combined with the goodness of tea tree will transform a quick massage session into a therapeutic experience.
Why Did We Like It?
With 14 removable massage rollers dotted with acu-nodes, this foot spa provides instant pain and stress relief. The nodes feature sole reflexology that provides an in-depth and stimulating massage. Moreover, the rollers are removable with adjustable intensity, providing you the freedom to customize your experience.
The heating system is efficient and quick as it maintains the selected temperature, eliminating the hassle of refilling. Just dip your feet in and let the massager do its magic!
Although we were drawn to its fashionable design, what made us stay was the ergonomic feet outline. Also, the rubber stands prevent splashes and maintain stability throughout its usage.
The complimentary foot soak provides the goodness of various essential oils and Epsom salts. Hence, transporting you to a fragrant state of bliss and making your feet feel fresh and supple.
What Could've Been Better?
Although the massager claims to induce sleep, the vibration noise makes us doubtful. Since the product is quite noisy, using it may get inconvenient in some situations. Even if it does manage to facilitate sound sleep, we cannot promise the same for your roommates or family members!
Also, the bubbling effect does nothing to enhance the pedicure. Perhaps, it is just for show?
Pros
Removable massage rollers with acu-nodes based on sole reflexology

Fashionable and ergonomic design

Efficient heating and temperature control

Leakage and overheat protection

Tea tree foot soak provides better relaxation
Cons
Vibration produces a lot of noise

Adding bubbles seems useless
Another effective product from MaxKare is the 3-in-1 foot spa that offers heat, bubbles, and vibration. These features can be used individually or all together for the most calming spa session. Its transparent and large body is not only stylish but also compatible with feet of varying sizes. Also, a removable box for spa materials helps jazz up your 'me-time'!
Sale
Why Did We Like It?
What's not to like in this all-rounder product? First is its intelligent water heating mechanism. Add some bubbles and intense vibrations to that, and your feet will thank you. These features can be used separately or all at once, so there is much room for customization.
The digital screen is easy to use and displays all the settings clearly. Once you set the preferred temperature, the foot bath heats the water and maintains it for a long, uninterrupted spa.
Also, the tub features four removable rollers that gently yet effectively massage the pressure points. Regular use of this versatile foot spa relieves foot pain caused by plantar fasciitis, improves blood circulation, etc.
Furthermore, there is a little space provided for placing spa materials for a fabulous and fragrant experience. The bottom of the tub also features anti-slip rubber sleeves to ensure stability.
What Could've Been Better?
Like most other products, this offering by MaxKare also has some shortcomings, if not many.
First is the sharp rolling massagers. One will require quite some time to get used to it, which may cause some scratches along the way!
Additionally, the bubbling effect has nothing to offer and falls flat in terms of practicality.
Pros
Removable massage rollers with acu-nodes

Fast heating and temperature control

Large enough for men's feet

Additional space for spa materials

Stylish design with digital display
Cons
Pointy massage rollers

Bubbling effect is unnecessary
Available in two attractive color options, the Misiki foot spa boasts of exceptional feedback from its customers. Featuring oxygen bubbles with infrared lights, this massager does a lot more than just relieve stress. From improving metabolism to sterilizing your feet, enjoying an all-in-one spa time is no biggie with Misiki!
Why Did We Like It?
The Misiki foot massager provides many benefits with its oxygen bubbles and infrared lighting system. Boosting blood circulation, promoting fast metabolism, sterilizing your feet— this foot spa is truly an all-rounder!
Moreover, the dotted rollers offer shiatsu massaging that stimulate the feet's pressure points for better stress relief and improved sleep. However, these rollers are removable, in case you are in the mood for a warm foot soak. The additional footstone is excellent for exfoliating and treating corns, calluses, dead skin, and so on.
Sore muscles will be a thing of the past with its powerful heat therapy and temperature control. Dip in your feet and rest assured since this foot soak also features an auto shut off feature. After an hour of continuous heating, the massager shuts off, keeping electrical hazards at bay.
What Could've Been Better?
For a foot spa that offers so many distinct features, one would expect a deeper and larger reservoir. After all, who would like their feet hitting the walls of the tub while using the massage rollers or the pumice stone?
Besides, the bubbling feature does not add much to the massaging factor but manages to get noisy.
Pros
Unique oxygen bubbles and infrared lighting system

Shiatsu massage rollers

Therapeutic heating with temperature control

Digital display screen

Additional footstone for removing dead skin cells and more
Cons
Tub is not big and deep enough

Bubbles are not strong enough yet produce noise
Gasky's electric foot spa is what you need after a long day at work. Its oxygen bubbles, thermotherapy, and 14 shiatsu massagers work together to provide the perfect pedicure treatment. With a user-friendly digital display and overheat protection, anyone can use and enjoy the benefits of this effective foot spa.
Why Did We Like It?
Much like the previous product on this list, the Gasky foot spa also sports shiatsu massage rollers. However, the latter boasts of 14 rollers along with an ergonomic outline, designed to fit different sizes.
The gentle vibration of the O2 bubbles, along with its efficient heating system, offers a relaxing experience. Additionally, to ensure a safe and secure spa session, the machine is powered by 500W and provides overheat protection.
Don't we hate the idea of refilling the foot bath with hot water again and again? Fret not because this massager does the job for you. You can easily choose the desired temperature using the display screen, and let your feet down!
Designed to help prevent insomnia, headaches, arthralgia, and more, the Gasky foot spa makes a great gift for all age groups.
What Could've Been Better?
Although the Gasky foot bath, with its 14 rollers, has an edge over its Misiki counterpart, there are various reasons why it ranks lower. The first being its sharp, jagged rollers that may dig into delicate feet.
Moreover, the short cable and low quality of the tub make it inconvenient to use.
Pros
14 T-shape massage rollers and ergonomic fit

Gentle oxygen bubbling effect

Quick heating and temperature control

Digital display panel

Storage box for spa materials
Cons
Pointy rollers may be too sharp for some users

Wire is too short
Another mid-budget buy is Entil's foot spa that features 16 massage rollers for a refreshing experience. Just like a few other products on the list, this foot bath also has a small box for adding spa materials. You can add foot salts or essential oils and top it off by rubbing away dead skin cells with the attached pumice stone.
Why Did We Like It?
With intelligent temperature control and automatic shut down feature, the Entil foot bath provides a warm, rejuvenating salon-like spa at home. The oxygen bubbles add to the massaging experience while the vibration mode relaxes sore muscles.
The digital display screen makes the controls clearly visible, making this product user-friendly. Adding to that is the anti-roast heating system and hydroelectric separation system that prioritizes user safety.
Moreover, you can put your favorite bath salts or essential oils in the storage box and follow with a pedicure using the attached pumice stone.
All of these features promise instant pain relief, making this product a must-have for those suffering from plantar fasciitis. Elderly users and those engaged in hectic jobs can benefit significantly from this foot spa.
What Could've Been Better?
This otherwise competent product ranks low in our list of best foot spas because of its few drawbacks.
With manual rollers, the reservoir should be big enough to allow the feet to move. However, doing so ends up being a task without spilling. Also, the bubbles and vibration are not strong enough to add to the overall massaging experience.
Pros
Effective heating offers therapeutic pain relief

16 massage rollers and pedicure stone for treating corns, calluses, and more

Lightweight design

Digital display screen

Additional space for storing spa materials
Cons
Not spacious enough

Bubbles and vibration system is not invigorating enough
One of the higher-end options among our list of the best foot spas, this massager basin offers both beauty and health benefits. This 6-in-1 luxury foot spa delivers a gentle, therapeutic massage to relieve swollen and sore feet after a productive day. With speed jets, an infrared heating system, and a spinning callus remover, this product is a bang for the buck!
Why Did We Like It?
Unlike most products on the list, the Entil foot spa features a unique spinning callus remover. Combined with the shiatsu massage rollers, the pumice stone helps complete a refreshing pedicure session. Thus, this foot spa is perfect for treating cracked heels, hard calluses, and other foot issues.
Another distinct feature is its automatic massage rollers with adjustable intensity. Other controls include temperature, timer, and jets/ bubbles, which can be toggled from the digital display.
Also, kudos to Entil for designing a foot basin with a convenient holder that makes it easy to carry around. Furthermore, the dust cover and drain hole come in handy while cleaning.
All this functionality without compromising on style— Entil really outdid itself with this versatile product.
What Could've Been Better?
Although the automatic rollers were added for more convenience, not being able to manually control it is a huge disadvantage for some. The intensity may cause discomfort among some users.
Also, one can barely feel the bubbles, so the feature has nothing to add to the massage.
Pros
Great temperature control

Adjustable controls offer plenty of room for customization

User-friendly design

Automatic massage rollers and spinning callus remover

Digital display screen
Cons
Automatic rollers may be uncomfortable for some users

Inefficient bubble effect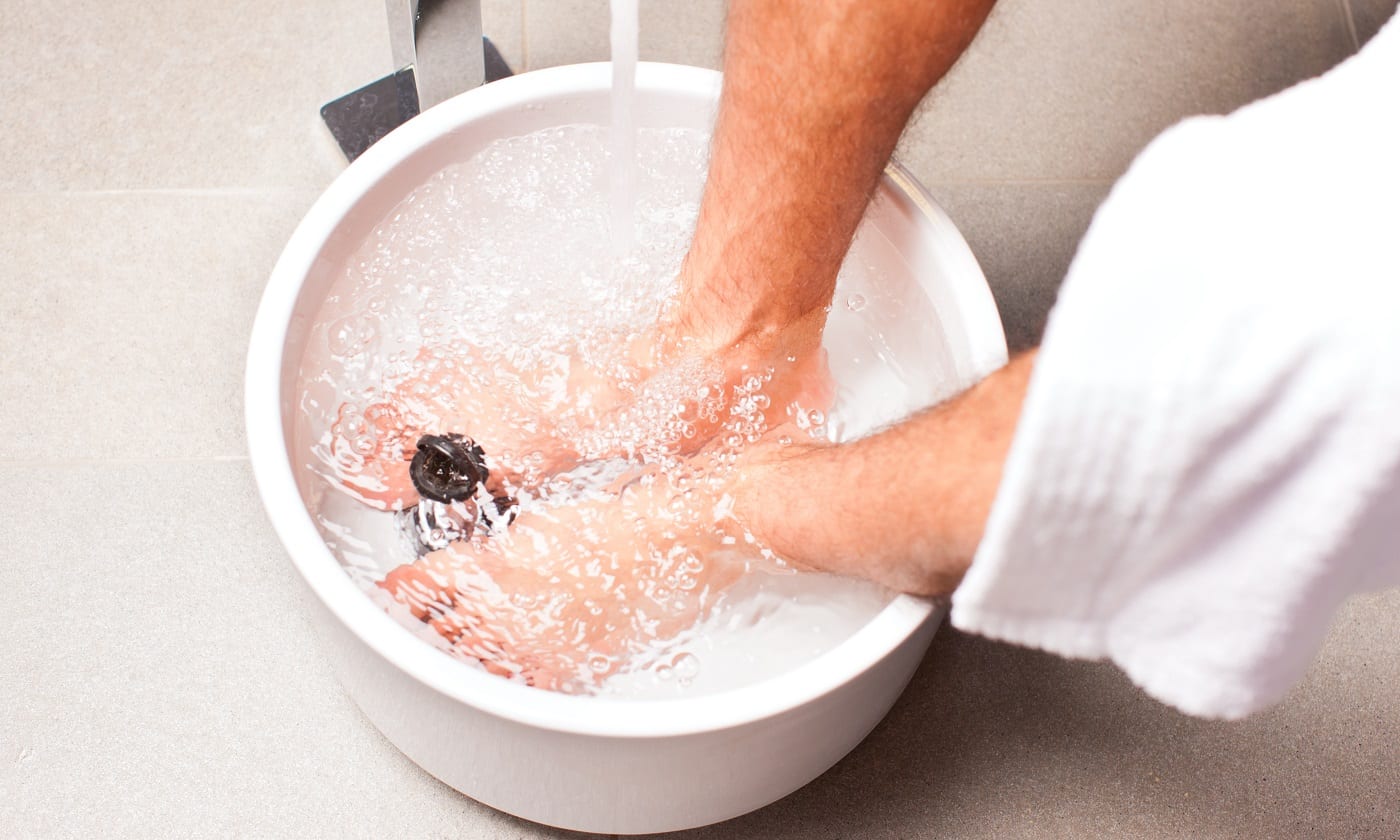 Foot Spa Buyers' Guide
Now, those were the top 9 foot spas you can get your feet in! But which one is the best for you?
To decide which foot spa works for you, you need to know certain factors about these products. But do not worry because we have broken everything down to basics with this buyers' guide. Take a look…
Foot Size
Most cheaper alternatives usually do not offer a deep reservoir. Hence, if you have larger feet or are willing to share your foot massager, it is best to invest in a spacious one.
Manual vs. Automatic Massage Rollers
Among our suggestions of the best foot spas, FOOT CURE is the only product that offers automatic massagers. While it does make the process convenient, one might need some time to get used to the intensity.
On the other hand, manual rollers may sound tedious, but you can choose the amount of pressure you would like. Hence, such massagers offer more customization.
Easy Usage and Handling
One might think handling a foot spa is no big deal. But not when you have to control the temperature, time, vibration, bubbling and massaging intensity, and sometimes even more!
Especially with elderly users, it is essential to have a user-friendly foot spa. Foot baths with digital displays are a good choice since the controls are visually clear and convenient.
Noise
Foot spas are supposed to calm you down and ensure better sleep. And that is nearly impossible if it produces unnecessary noise. While the bubbling and vibration do cause some noise, there are several quieter options that are just as powerful.
Thus, it is best to opt for a foot spa with low operating noise if you live with roommates or young children.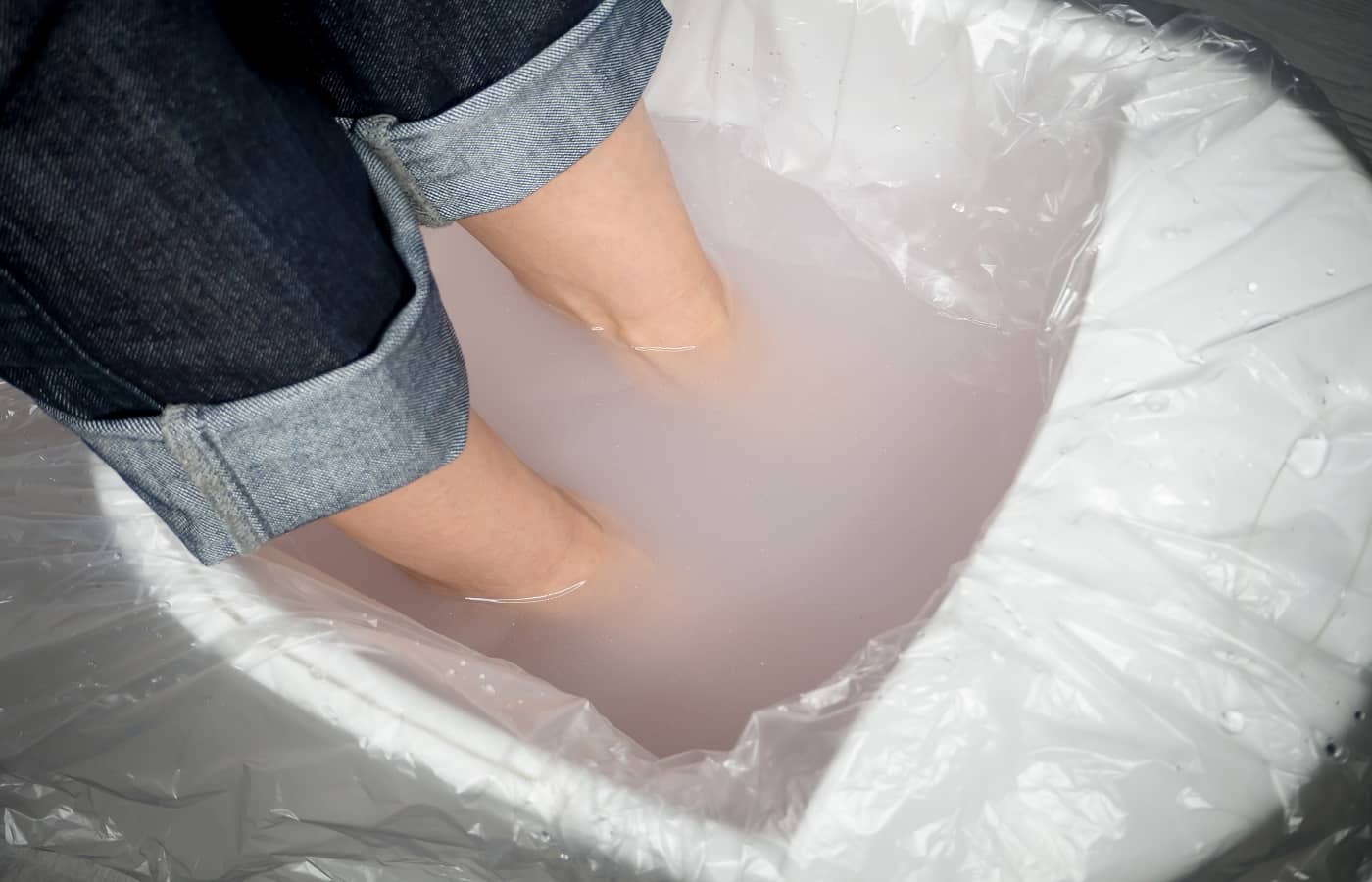 Verdict
With the ongoing pandemic, we are stuck with our 9-to-5 routines with no escape. This has resulted in overworking, stress, insomnia, and more. Hence, treating ourselves with a foot spa has turned into a necessity from a luxury. With several budget-friendly options, there is no reason not to invest in a good quality foot spa.
From our list of the best foot spas of 2022, we hope you can find the perfect pick. While Zircon, MaxKare, and FOOT CUREoffer luxurious foot baths with efficient and stylish features, HoMedics and Conair provide affordable options with manual controls. However, all of these promise excellent comfort and will help you de-stress in minutes.
Comment below and let us know which foot spa is your pick.
Wishing you happy feet and a stress-free year!