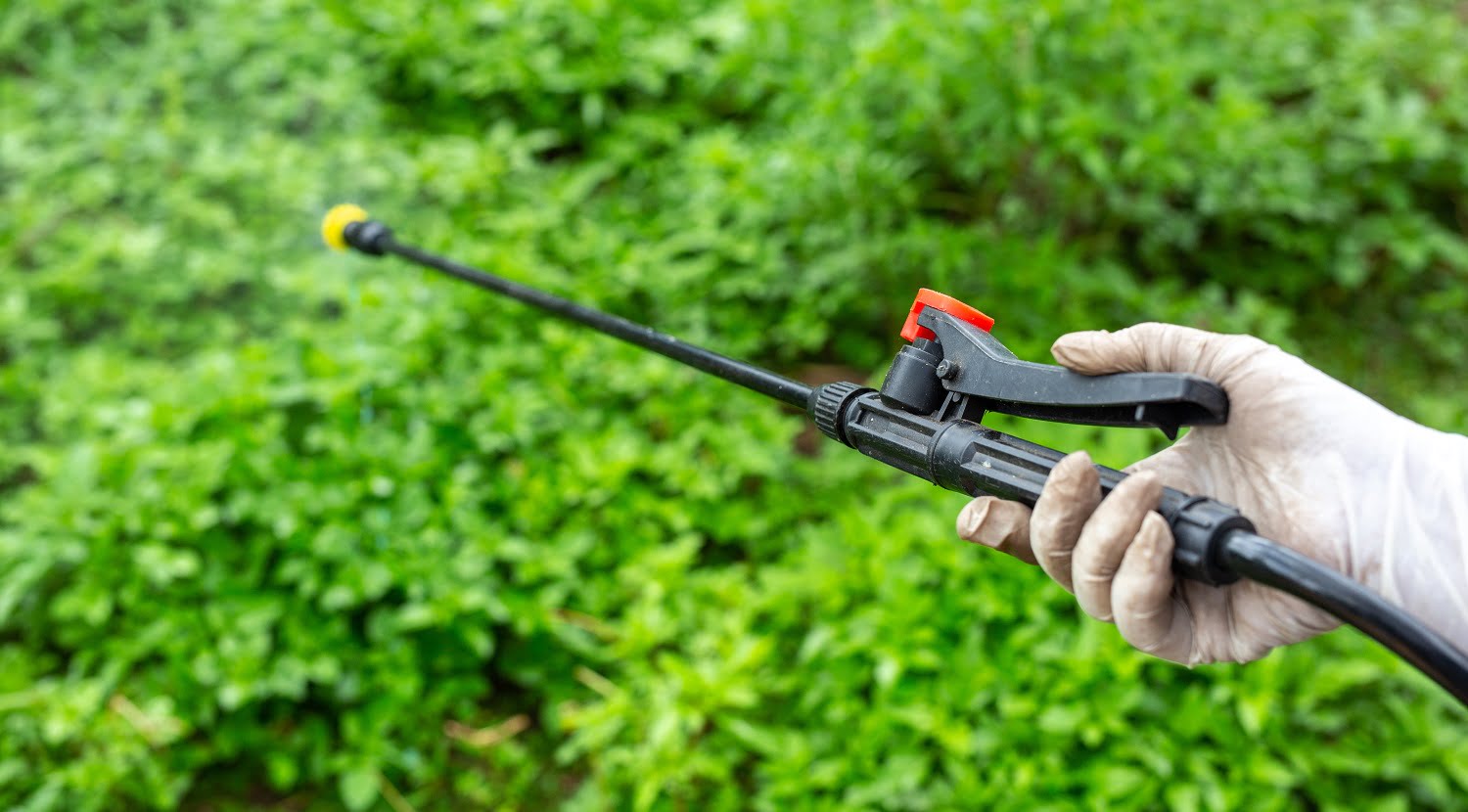 Nobody likes dragging a hose around if you have to apply weed killers, fertilizers, or even water to your gardens.
This is where the garden sprayers come in to make work much more efficient. While the importance of such sprayers can hardly be understated, when it comes to maintaining the beauty of the garden, one must acknowledge that making the right choice isn't easy. And that's because there are several variants available on the market.
When you're choosing the right garden sprayer, you have to consider a few things, including how you want to use it. Luckily, we have prepared a comprehensive guide after testing out some of the best garden sprayers.
Expect to be well acquainted with the features, upsides, and downsides of purchasing them to make an informed decision. After all, we'd love to help you keep your garden fresh and lush.
Now, without further ado, let us jump right into the details.
Top Garden Sprayers
IMAGE
PRODUCT
DETAILS

Our Top Pick

Our Top Pick

Scotts 190567 Lithium-Ion Battery Powered Pump Zero Technology Sprayer

Rechargeable lithium-ion battery
Valve for pressure relief
Best quality Viton seals for chemical resistance

VIEW LATEST PRICE →

Chapin 20541 Garden and Multi-Purpose Sprayer

Adjustable cone nozzle
Funnel with a wide opening
Shut-off assembly can be serviced

VIEW LATEST PRICE →

Chapin 20000 Garden Sprayer

1-gallon tank with funnel top
Easy to clean and fill
Ergonomic handle allows easy carrying and pumping

VIEW LATEST PRICE →

VIVOSUN 1.85 Gallon Lawn and Garden Pump Pressure Sprayer

Comes with an oversized bowl
Valve designed for safety
Nozzle is adjustable

VIEW LATEST PRICE →

ITISLL Garden Pump Sprayer

Comes with complimentary spare parts
Comfortable and strong pressure bar
Comes with a super large mouth bowl

VIEW LATEST PRICE →

Home Decision HOMEDECISION 3L Lawn and Garden Pump Pressure Sprayer

Comes with a safety valve
Has thickened bottle and independent buckle for spray bar
Lock switch can be pushed forward

VIEW LATEST PRICE →

GARTOL Pump Sprayer

Completely adjustable wand with nozzle
Pump action sprayer
Designed in a funnel shape

VIEW LATEST PRICE →

TABOR TOOLS 1.3 Gallon Lawn and Garden Pump Pressure Sprayer

The spray nozzle can be adjusted
Funnel-shaped top
The handle comes with a trigger

VIEW LATEST PRICE →

Spear & Jackson Pump Action Pressure Sprayer

Wand nozzle is adjustable
5-liter sprayer with pump action
Translucent bottle with granulations

VIEW LATEST PRICE →

Petra 4 Gallon Battery Powered Backpack Sprayer

Comes with an extra-wide mouth and has a filter
Different spraying options by adjusting the nozzle
Replaceable batteries

VIEW LATEST PRICE →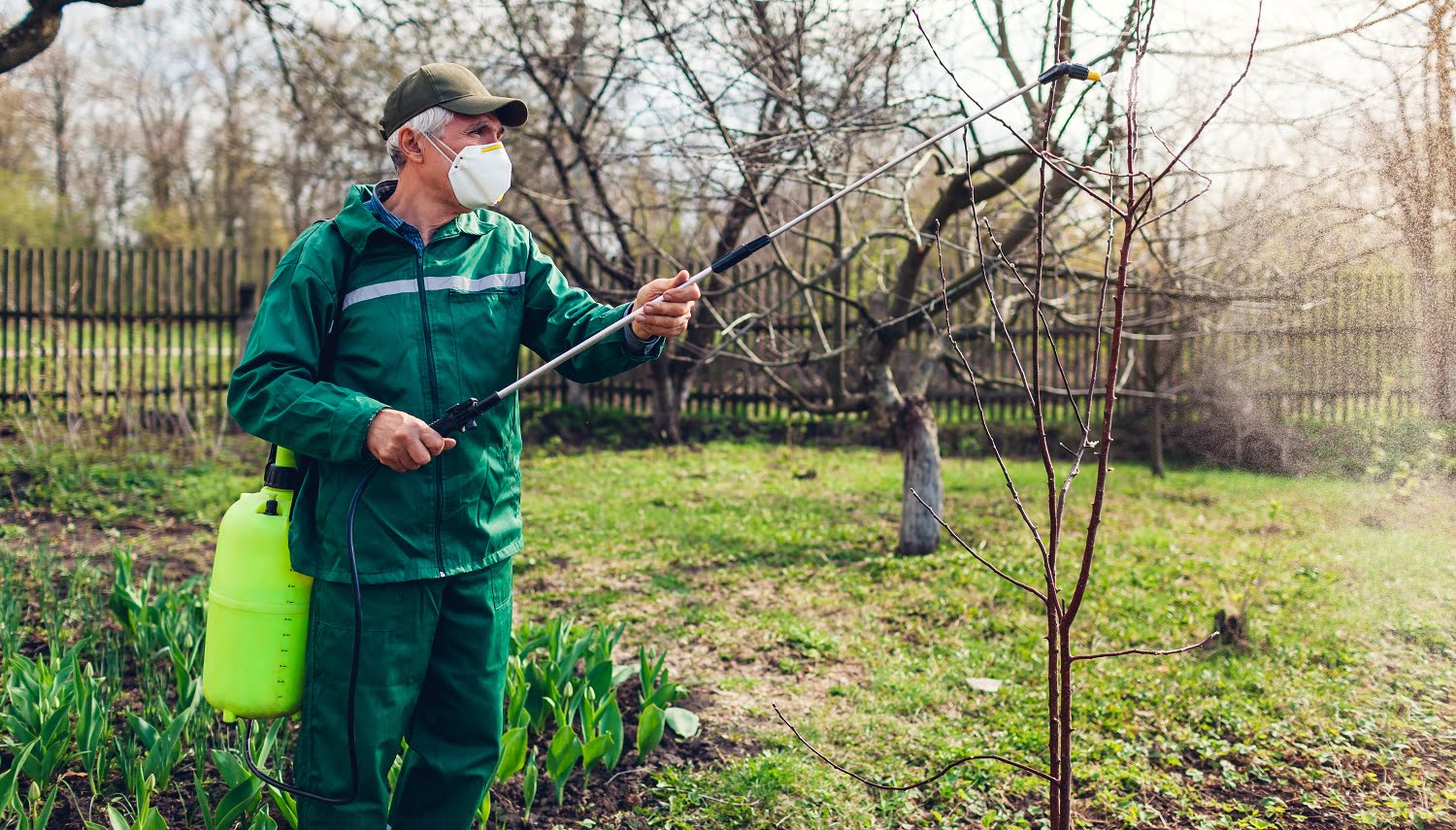 Say goodbye to pumping when you choose this Scotts sprayer. With an internally rechargeable battery, you'll find that the sprayer has been designed to deliver a more convenient and consistent alternative to manual pumps. In fact, you can spray herbicides, liquid chemicals, or pesticides with ease.
Why Did We Like It?
Thanks to the incredible capacity of the sprayer, you can get twelve full tanks when fully charged. The in-line filter is easy to clean and comes with a lock-on feature. When you start using the sprayer, you'll notice how the Viton seals make it resistant to the effects of chemicals.
Before opening the sprayer, it is best if you can release the pressure, which can be done easily here, thanks to a thoughtful valve in place. Even the design of the tank is well-thought-out, so that the teardrop shape adds a degree of stability. This happens due to the lower center of gravity.
Furthermore, we especially liked how there is built-in protection and storage for the nozzle. There are three available settings, too, including fan, stream, and cone spray, which allows the product to be more versatile. When it comes to protecting and maintaining your garden, this sprayer easily gets the job done.
What Could've Been Better?
Despite being a reliable sprayer, if you don't use it for a long time and leave it unplugged, you might notice some issues. Customers have complained that after a hiatus, the battery refuses to recharge. Thus, focusing on improving battery life and quality would be a big perk for the sprayer.
Pros
Designed for better balance

Resistance to chemicals enhances longevity

Easy to clean filter

No fatigue for hands
Cons
Battery quality could be better
If you're in the mood for the ultimate tool to maintain your lawn or garden, you don't have to look any further. The Chapin product is well-equipped to accommodate various applications for foaming. Beyond that, it can disperse a traditional mist or steam from a cone nozzle. In fact, you can even find it handy for home projects.
Why Did We Like It?
This Chapin product immediately made a mark because of the wide funnel. Thanks to a proper opening, it is not just easy to fill the tank, but also clean it when the time comes.
Depending on how you plan on using it, you can pick between the two nozzles. With the foaming nozzle, the material used is fewer but more accurate. On the other hand, with the cone nozzle, you can get different spraying patterns. Ultimately, it improves the diversity of use.
As far as reliability goes, the sprayer is made in the USA with the best quality materials. There is an anti-clog filter inside the tank for smoother operation, and you'll find the sprayer compatible with fertilizers, pesticides, and weed killers.
Since you have to lug the sprayer around, special thought has gone into the design, which comes with an ergonomic handle. This makes carrying the sprayer and pumping it much easier. Finally, it ensures that the user is comfortable while also maintaining an irreproachable degree of effectiveness.
What Could've Been Better?
While the sprayer works well in most cases, some buyers feel that its longevity isn't too impressive. There are cases where the pressurizing mechanism fails, preventing the sprayer from working at all. Some complaints have also come in about the sprayer not being compatible with all kinds of fertilizing solutions or pesticides.
Pros
Made in the USA

Customer-oriented

Easy to fill and maintain

Ergonomic design
Cons
Pressurizing mechanism could be better
We have yet another Chapin product that you can rely on for a degree of effectiveness when it comes to controlling weeds or pests. With the unique filter, you know the sprayer will never clog, allowing you to maintain your gardens, lawns, and take care of home projects. Thanks to the translucent nature, you can check to see how much fluid is left as well.
Why Did We Like It?
The Chapin sprayer has our heart for the steady and clog-free spray it offers. If you're worried about continuously pumping or carrying it, you can rely on the ergonomic handle to make things easier.
Looking beyond that, the tank is designed to be rust-free and lightweight. It is made of polyethylene and is translucent, so that fluid levels can be easily checked. Be it your garden, lawn, or home project; the sprayer can handle the task with ease.
Since the company has been manufacturing similar products for a long time, they're focused on innovation and aided by knowledge of the industry. With an adjustable-rate of flow and spray, you can use it in even more diverse situations.
If the product itself isn't enough to sway you, then look at the company's goodwill and their willingness to be customer-oriented. Once you purchase the Chapin product, you can rely on thorough technical support.
What Could've Been Better?
The plastic tab, which helps in locking the product, could be better. You'll see that if you don't tighten it properly, there's an issue with the spraying. On the other hand, if it becomes too tight, then the tab is liable to break. If it were made of sturdier materials, customers would have a better experience.
Pros
No hassles in maintenance

Application and portability is easy

Compatibility with fertilizers and pesticides is high

Strong technical support
Cons
The locking mechanism could be sturdier
Vivosun is committed to providing the best gardening and spraying equipment, no matter what activity it might be required for. Their sprayer makes the activity easy and fun since it is controlled by a hand pump.
Apart from the easy mechanism, adding water to the pump is simple too. Thanks to the length of the wand, the product helps you reach difficult places.
Why Did We Like It?
The multi-functionality of the product definitely gives it an edge. Be it indoors or outdoors; you can rely on this sprayer. Thanks to the super-large bowl at the top, you can easily fill the product. Just pumping up the pressure makes it poised to function effectively.
Due to the translucence of the bottle, you can check the levels of liquid in it, even while you're spraying it. If you plan on using it for a long time, the sprayer is designed to guarantee your comfort. Thus, it comes with a strap that will allow you to effortlessly carry it on your shoulders.
While we're praising the overall design, a word must be mentioned about the length of the wand, which allows you to make sure that the sprayer reaches in less accessible places.
Thanks to the year-long warranty, buyers can be sure that the company will handle all problems that might arise in the sprayer.
What Could've Been Better?
There isn't much scope for improvement, but some customers have pointed out that the wand is awkwardly connected to the side of the sprayer. By ensuring a better location of the wand, the sprayer would be more comfortable and efficient to use for many. Perhaps, using sturdier materials would work as well because, over time, the sprayer shows wear and tear.
Pros
Varied applicability

Easy maintenance

Can monitor liquid levels

Greater access thanks to the wand
Cons
The wand is awkwardly attached to the side
The product you see here is incredibly easy to use and maintain. On top of that, you will find that it has a wide range of applications. Even when it comes to portability, the sprayer comes in handy, and the pressure system helps it fulfill multiple purposes. But, one should keep in mind that the ITISLL product isn't compatible with acidic or corrosive solutions.
Why Did We Like It?
Be it cleaning cars or maintaining your garden and lawn; this sprayer does the trick. With an adjustable brass rod, you can also customize it further, ensuring the intensity of the spray is to your liking. Thanks to the length of the wand, you can now access tougher spots for a more thorough job.
The handle is designed to be ergonomic and comes with a locking trigger. Thus, you can now make use of the sprayer for a longer time without fatigue setting in. Thanks to the adjustable shoulder strap, you'll find the sprayer is easy to carry as well.
This yard sprayer is convenient and safe. Since it is made with the best quality PE material, there's a degree of translucence. You can see the amount of fluid remaining and can refill it in a timely fashion to avoid interruptions at work.
On that note, we should also mention the safety valve that helps relieve the pressure. The company is also customer-oriented and provides assurances for the sprayer, including free replacement within a year of purchase.
What Could've Been Better?
While most customers are satisfied with how the product works, there have been some discrepancies between what's shown and what's delivered. Many believe the nozzle and end to be made of metal when, in reality, it is made of plastic.
Pros
Easy to carry and use

Varied applicability

A simple assembly as well as maintenance

Designed for greater accessibility
Cons
The discrepancy between the advertised product and the actual item
Home Decision's sprayer is easy to operate and maintain. Moreover, the varied diversity in use makes it a favorite among customers. Thanks to a lock switch, you can now ensure uninterrupted spraying. With a large bowl design, the water spill can be prevented too, which saves the liquid you're using.
No products found.
Why Did We Like It?
When we first started using the sprayer, the first thing to catch our eye was the large bowl, which prevents the liquid from spilling. On top of that, the mechanism is designed in a way that the spraying takes place smoothly.
Careful thought is placed into the machine since there's a valve to release pressure inside the tank. It helps remove excess gas as well, improving the longevity of the product.
Once we started using it more frequently, it became evident how the pumping system can be easily moved up and down. Not only were we amazed by the efficiency of the sprayer, but by its varied range of applicability as well.
Be it maintaining lawns or gardens or carrying out small commercial and personal projects, we have seen that this sprayer is entirely reliable. The portability is a plus point too, which helps users easily carry it to spray fertilizers or pesticides.
What Could've Been Better?
Although the product is steadily usable, some customers have complained about the lack of instructions. The use itself might be straightforward, but the sprayer comes with some parts, which need to be fitted accurately. Without any clear guidelines, this might become confusing for certain buyers.
Pros
Easy to carry

No chance of spillage

Product longevity assured

Varied applicability
Cons
Lack of clear instructions regarding assembly and use
The Gartol pump sprayer is used for a variety of purposes, from maintaining your lawn to cleaning your car. Thanks to the comfortable handle, fatigue doesn't set in, allowing for vigorous and uninterrupted use. With the added option of regulating the spray of water, this product comes in handy however you want it.
Sale
Why Did We Like It?
The best thing about the sprayer is the diversity in use. Since it is multipurpose, one can really get the most out of the product. Precise care goes into designing the product, and there are some simple additions that make using it easier.
For example, the tank has precise scales, which lets you see how much fluid is going in and being mixed. The nozzle allows you to switch between mist and spray. Thus, you can clean it out any way you want to.
You'll find the pressure releasing valve to be a strategic addition that aids the overall functioning of the sprayer. Portability is made easier, too, with a shoulder strap that lets you sling it on and use it.
Finally, the funnel shape makes pouring liquids easier while preventing leakages. Sturdy materials go into the overall design so that the base doesn't give way over time. The anti-clogging filters ensure smooth functioning too.
What Could've Been Better?
Although most people have loved the functioning of the Gartol sprayer, some customers have found that it's ceased working after the first few times. It would be beneficial if a greater focus was given to the longevity of the sprayer to ensure that people get their money's worth.
Pros
Designed for easy portability

Easy to see liquid levels in the tank

Sturdy to prevent leakages

Varied applicability
Cons
Sometimes ceases to work after the first few uses
Tabor designs tools for those who love gardening and want their tasks to be effective. With the wonderfully designed sprayer, Tabor looks to make its mark. Users can be sure of quality tools that'll make an impression for years. You'll find this all-purpose sprayer great for herbicides, pesticides, and other home applications too.
Why Did We Like It?
As far as practicality is concerned, the Tabor pump sprayer does a fantastic job. Not only is it suited for both outdoor and indoor use, but it can also work well with commercial fertilizers, herbicides, and pesticides.
Even filling in the tank is easy, thanks to the funnel-shaped opening. You simply have to unscrew the top to pour in the liquid. Once the fluid is inside, the pressure has to be built up, and you're good to use it. Special thought has gone into making the tank translucent. Thus, you're aware of the levels of liquid and can fill it as needed.
When it comes to ease of access, the spraying wand works wonders. You can enjoy better reach while the shoulder strap saves your back. There's a shut-off valve on the handle for gripping. This allows you to rest your hand and keep a steady flow.
Tabor is also focused on customer satisfaction, so their after-sale service is unparalleled.
What Could've Been Better?
Despite the effectiveness in functioning, the Tabor sprayer is not made with long-lasting materials. Thus, several users have faced issues where parts have broken off or needed repair. If the manufacturer takes greater care in using sturdier materials, the sprayer would be more preferred by customers. Even the pump handle has a tendency to break, rendering it useless.
Pros
Great customer service

Ease of access

Can check levels of liquid in the tank

Varied applications
Cons
Could be made of sturdier materials
The Spear & Jackson sprayer can be manually operated to help deliver the best results. Not only is the product easy to use, but it is also compatible with various fertilizers and pesticides. It even comes with smart additions for easy portability. Thanks to the adjustable nozzle, you can now access tough spots with this sprayer too.
Why Did We Like It?
The adjustability of the sprayer is a definite perk. You can regulate the flow of the water and turn the nozzle settings to a spray or mist mode. Thanks to the thoughtful design, your work can now be uninterrupted. Check the granulations on the translucent tank to see the levels of liquid so that you know when to refill it.
We've seen that the pump is rather large as well, allowing a lot of liquid to be stored. The valve for releasing pressure provides a chance for efficient functioning. Finally, when it comes to the shoulder strap, we've found it makes things easier for us to carry the sprayer around.
Usually, inaccessible places in the garden or lawn remained untreated, but thanks to the wand, these spots can now receive the same treatment. On that note, the diversity of application should be mentioned, as the sprayer is compatible with pesticides, fertilizers, and fungicides, among others.
What Could've Been Better?
Despite the many perks of this sprayer, we have seen that the build is on the flimsier side. Thus, after repeated use, the wear and tear are noticeable over time. Sometimes, you'll see that the product gives way as well. If the company were to focus more on using sturdier materials, the sprayer would definitely be more popular.
Pros
Varied applications

Ease of access

Higher compatibility

Easy portability
Cons
Could use firmer materials
Petra combines technology and agriculture in a way it has never come together before. With the battery-powered sprayer, the company provides the modern farmer a chance to spray without interruptions. The sprayer has the features and capacity for intense and uninterrupted work. Moreover, the products are made and tested in the USA for additional reliability.
Sale
Why Did We Like It?
Compared to all the manual pumps, the battery-powered product surely makes the job easier. It can function for up to eight hours on a single charge. In order to allow users to access all types of liquids, the sprayer comes with an acid bleach wand too.
Understandably, people don't want to waste time carefully pouring in the liquid when it is needed. To hasten the process, this sprayer has been designed with a large mouth, which also comes with a filter. Not only will there be no clogging, but the sprayer won't witness any spillages or leakages either.
Thanks to the multiple attachments for nozzles, you can use various types of sprays. There's never any fear of losing the nozzles either, as they can be kept in a secondary lid. Careful design ensures that customers can use the product easily.
Thus, we have a translucent tank with markings, which helps us monitor the levels of fluid inside. When it dips, we know to replace it in a timely fashion for uninterrupted work.
What Could've Been Better?
The Petra product looks splendid on paper. But, customers have found that it is often difficult to get this sprayer to work. If it comes with a sturdier base, the chances of leaking would be lesser. Moreover, conducting thorough tests will ensure that all parts function well post-purchase. With improved longevity, this would be a preferred pick.
Pros
Varied applications

Ease of use

Great customer service

User-friendly design
Cons
The base could be made of sturdier materials
Be it maintaining your lawns and gardens or preventing weed from growing; this battery-operated garden sprayer is perfect for the job. Thanks to the large capacity, and the ability to recharge the battery, the sprayer works well outside and inside. It is incredibly easy to use as well, which is why the sprayer appeals to a wider customer base.
Why Did We Like It?
This garden sprayer comes with new age technology that operates whenever we need it to. It has a powerful battery, so you can be sure that the sprayer can work for a long time without the constant need to charge it. On top of that, some components are waterproof, improving the overall efficiency.
Thanks to the coil, the sprayer has a variable flow. With the trigger of the handgun, you can further make use of the different spray patterns. The adjustable cones are smart additions, which makes the sprayer useful in multiple areas.
Portability is not an issue either, thanks to the wheels. You can easily roll the sprayer to places if you're worried about where to store the wand while movement; the smart design takes care of that as well. There are clips attached to the side, where you can hold the wand.
Finally, great focus is given to keeping customers satisfied, which is why the product has a five-year warranty.
What Could've Been Better?
Although the garden sprayer is best in most cases, some attention could be paid to quality control. Users have found that the hose comes off at a slight tug, which results in chemicals getting sprayed all over the place. This becomes a problem since these liquids can be harmful.

Pros
Five-year warranty

Easy portability

Various spaces of application

Powered by battery, removing the need for manual pumping
Cons
Better quality checks would make the product safer
The electric fogger makes its mark by being more efficient than a manual alternative. Although it is used mostly for home projects, the product is perfectly capable of delivering desired results outside as well. It is extremely easy to operate and has an impressive distance of spraying. You can be sure of this fogger getting the job done in almost no time.
Why Did We Like It?
When we look at the fogger, it becomes clear how easy it is to operate. Apart from the irreproachable functioning, you'll also find that the product can be cleaned and maintained with a degree of ease. All you have to do is to turn on the fogger to make it work.
Due to the distance of spraying, you can maximize the effectiveness. With screws that can be adjusted, users can even change the direction of the machine. There's never a doubt about the efficiency or reliability of the fogger since parts are factory tested beforehand.
You can be sure that the fogger has its applicability in various areas. Be it gardens, lawns, or home projects; the product always lives up to expectations. On top of that, it is designed in a way that there are no difficulties in filling the fogger.
For the ultimate smooth and effortless experience, this is the right choice.
What Could've Been Better?
There can hardly be any complaints about the functionality of the product. But, some users have found it to be too bulky and noisy. Essentially, this renders it unfit for interior projects for many. If some focus were diverted to reducing the sound levels and making the sprayer more compact, it would go a long way in turning this into a preferred product.

Pros
Easy to operate and maintain

Efficient functioning

Simple portability

Factory tested parts
The Birdrock garden sprayer is the best product to maintain your garden and lawn. Equipped with a multipurpose pump, you'll see the sprayer is suited for a variety of occasions. Thanks to the smart design, you can now know exactly how much fluid is in the tank to help you with an uninterrupted workflow.
Why Did We Like It?
The Birdrock sprayer has various purposes, and you can easily use it in your home or garden. Thanks to the adjustable wand, your sprayer can now reach the previously inaccessible places, doing a more thorough job. You can even decide on the kind of spray you want, depending on the nozzle.
As it is a battery-operated product, you should have no worries about manually pumping it. If you're worried about the battery life, you can rest assured that it works for a long time when fully charged. Moreover, recharging the battery is a hassle-free process as well.
The sprayer also comes equipped with a strap that allows you to sling it over the shoulder for ease of use. With a simple power button, you can turn the sprayer on and off.
Now, the design is also made in a way that the translucent tank warns you when you're low on liquids. You can fill it up whenever you notice the levels getting low.
What Could've Been Better?
Although most customers have been pleased with the product, there have been some complaints about the pressurized system not working properly. Beyond that, we've seen the sprayer does not come with compact instructions. Thus, following the guidelines becomes hard for those who don't know their way well around the product.
Pros
Has various uses

Easy to carry around

Designed with sturdy materials

Battery life is long
Cons
Instruction manual could be clearer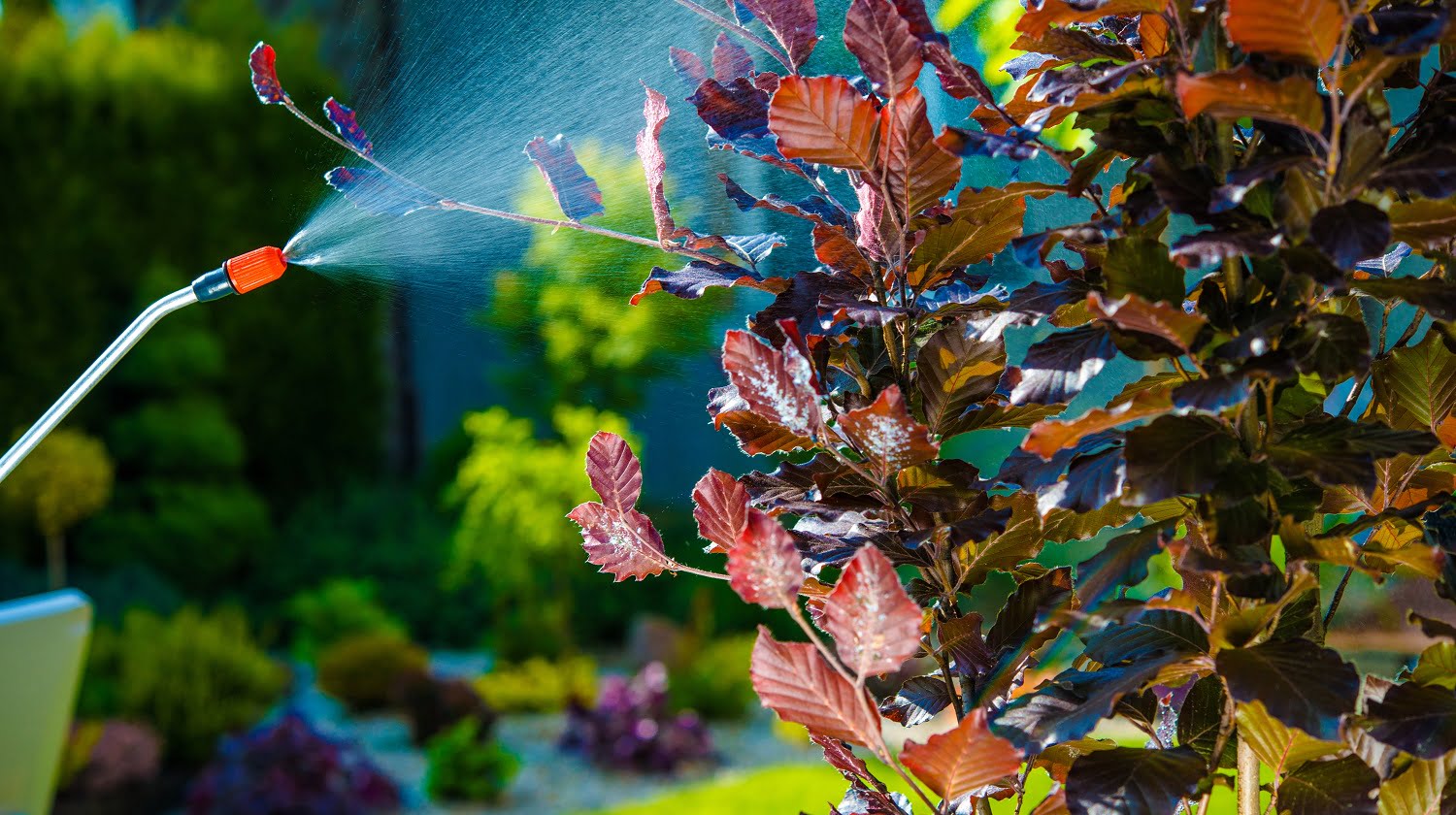 Garden Sprayer Buyers' Guide
Now that you're familiar with some of the top picks in the market, you have to decide on which garden sprayer suits your needs the best. There are a couple of considerations to keep in mind in this regard.
Wand Length
When considering which sprayer is best suited for you, take a look at the wand length and whether it is adjustable. If your wand is longer, then there is a greater chance that you'll be able to access tougher areas. Thus, the job will be more thorough.
Nozzle Adjustability
When buying a sprayer, you want one which has various applications. Most users don't shy away from using sprayers inside and outside their homes. With adjustable nozzles, you can determine what type of spray you get. Regulating this helps use the sprayer for different purposes.
Portability
Carrying a sprayer around is no easy task, especially when it is filled with the liquid you'll be using. Therefore, you want one which is lightweight and comes with provisions for easier movement. You'll find that most items included here have shoulder straps. But, if you want it even easier, then choose sprayers which move on wheels.
Compatibility
Compatibility is a big aspect that should be carefully pondered on before narrowing down on the ideal sprayer. You want one which can work with most liquid fertilizers, pesticides, and herbicides. Be careful to check which liquids they don't support because you wouldn't want the sprayer to get clogged up with a vicious mixture.
Operational Ease
Understandably, you want a sprayer which is easy to operate. Since most users spend long hours on their maintenance projects, these products are designed to prevent the hands from getting fatigued. But, that said, in manual alternatives, the physical efforts put in are much more.
On the contrary, when you opt for battery-operated or electrical options, then the sprayers work autonomously without much human interference.
Durability
If you are choosing the ideal sprayer, you have to ensure that it is sturdy enough. Otherwise, over time, you'll notice wear and tear. In worst-case scenarios, the base might even give way, or there may be leakages. When choosing from the products listed, keep an eye out for those that have been factory tested, or come from reliable manufacturers.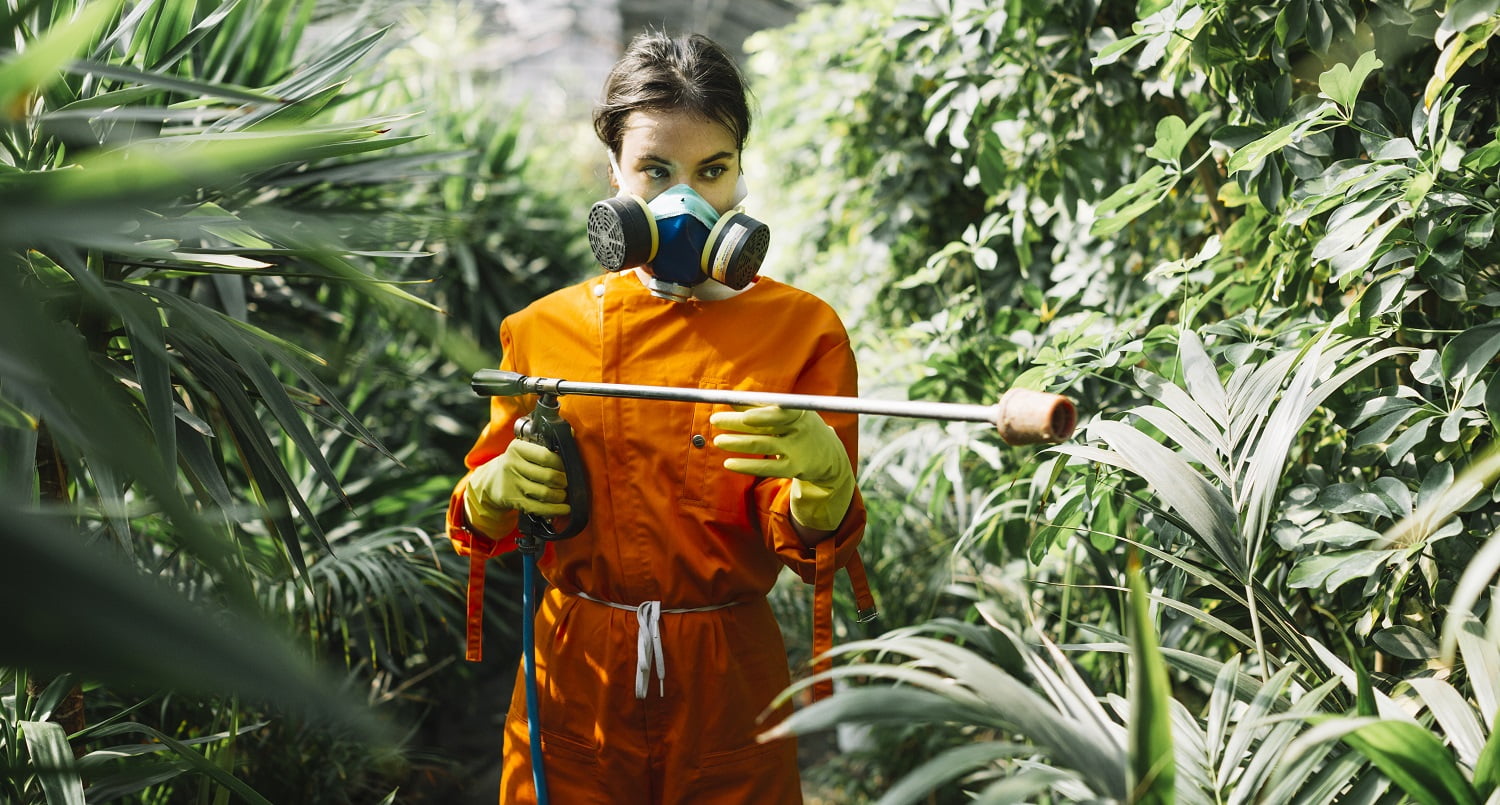 Verdict
There is no doubt that you'll find some of the best items listed here. Hopefully, the comprehensive guide will help you narrow down the product that will work for you.
First, decide if your sprayer is meant for internal or external use. For example, the Gesundhome fogger is a great choice but makes too much noise. Thus, it is more effective outside. Similarly, opting for battery-run options like the Petra or Birdrock products will reduce your effort in manually working a pump.
Some users might prefer products made in the USA because they're usually made of reliable materials and last longer. Both the Chapin and Petra products stand out in this regard.
Ultimately, your choice should rest on multiple factors, and you should weigh the upsides and downsides before zeroing in on the final purchase. That said, if you have any other queries while buying the garden sprayer, feel free to reach out to us.
Till next time!
Related Articles
13 Best Fertilizer for Fruit Trees  
13 Best Fertilizer For Blueberries 
13 Best Organic Lawn Fertilizer 
13 Best Fertilizer for Tomatoes  
13 Best Fertilizer For Succulents Reviewed 
13 Best Fertilizer for Hibiscus 
13 Best Liquid Lawn Fertilizer Right Now 
9 Best Fertilizers for Hydrangeas
9 Best Fertilizers for Petunias Right Now
11 Best Fertilizer for Citrus Trees Right Now 
13 Best Fertilizer for Hydrangeas
13 Best Fertilizer for Green Grass
11 Best Lawn Fertilizer Options
13 Best Fertilizer for Vegetable Garden
13 Best Potting Soil For Herbs To Consider Today
13 Best Backpack Sprayer [Buyer's Guide]
13 Best Fertilizer for Palm Trees 
13 Best Fertilizer for Zoysia Grass