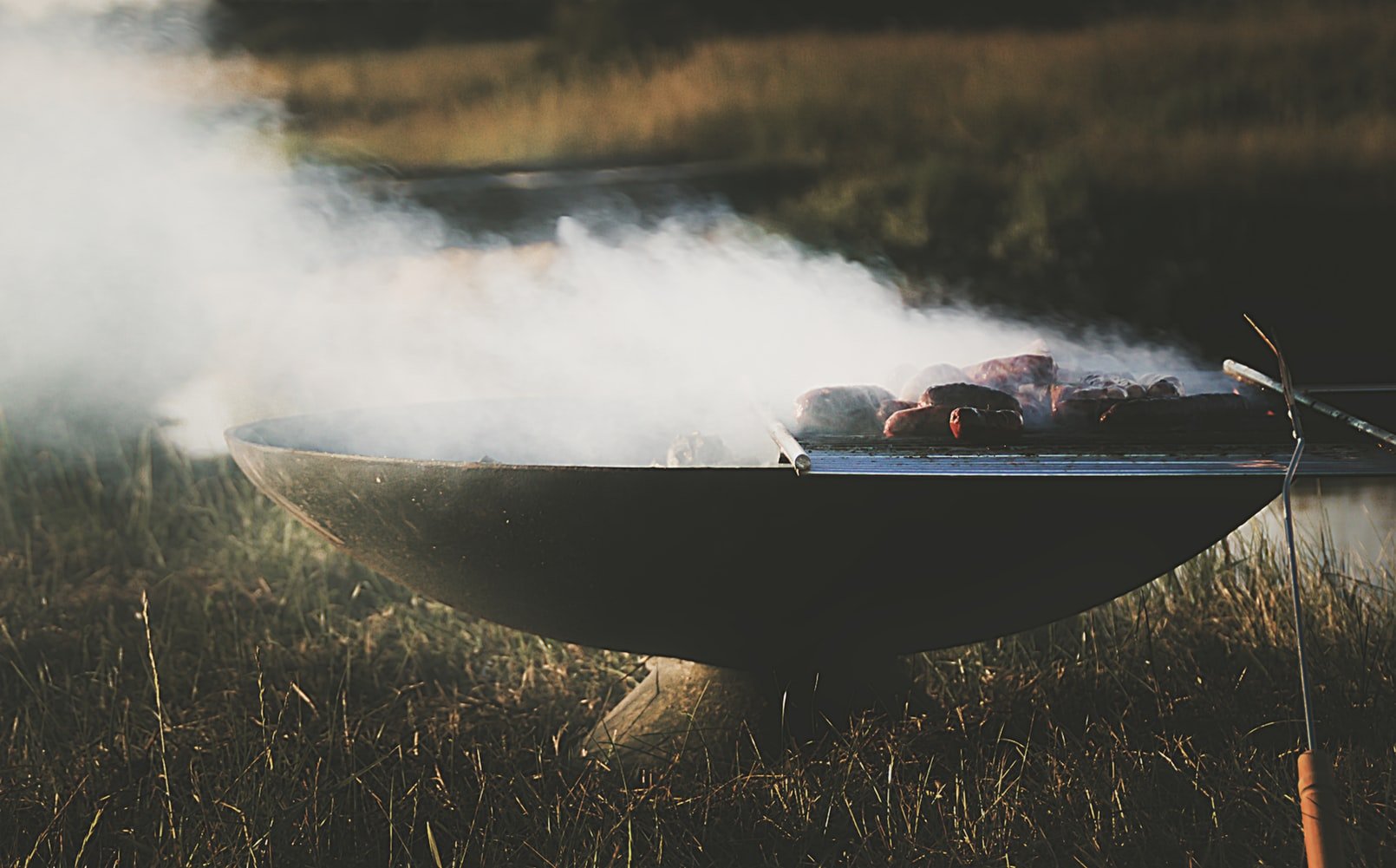 We don't know if science has figured out the reasons why we are so in love with barbecued, grilled, and smoked food. Maybe it's our primitive genes that pull us towards juicy grilled meals. Irrespective of the underlying cause behind this penchant, one must have a good grill system in the house to treat own self, friends, and families.
Yes, you can certainly get your food prepared from barbecue corners and other roadside joints. However, it's not the most feasible option in the long run. To begin with, it will get quite expensive if you are a true grilled food aficionado and like to have it every other day. Moreover, these shops might not serve you out-of-hour to satisfy your untimely cravings.
Lastly, as the saying goes, the process is more important than the outcome. Seasoning and marinating the raw food ingredients and grilling them while chatting and laughing with friends in nice outdoors has its own delight that you can only get to experience on your home-based grill system.
George Foreman is the leading name among  grill manufacturers. We are going to review seven of the best George Foreman grills here. The grill systems listed here are considered as the best for their own distinctive reasons. We haven't ranked them in any particular order. The numbering is used just for reading convenience.
Best George Foreman Grill Models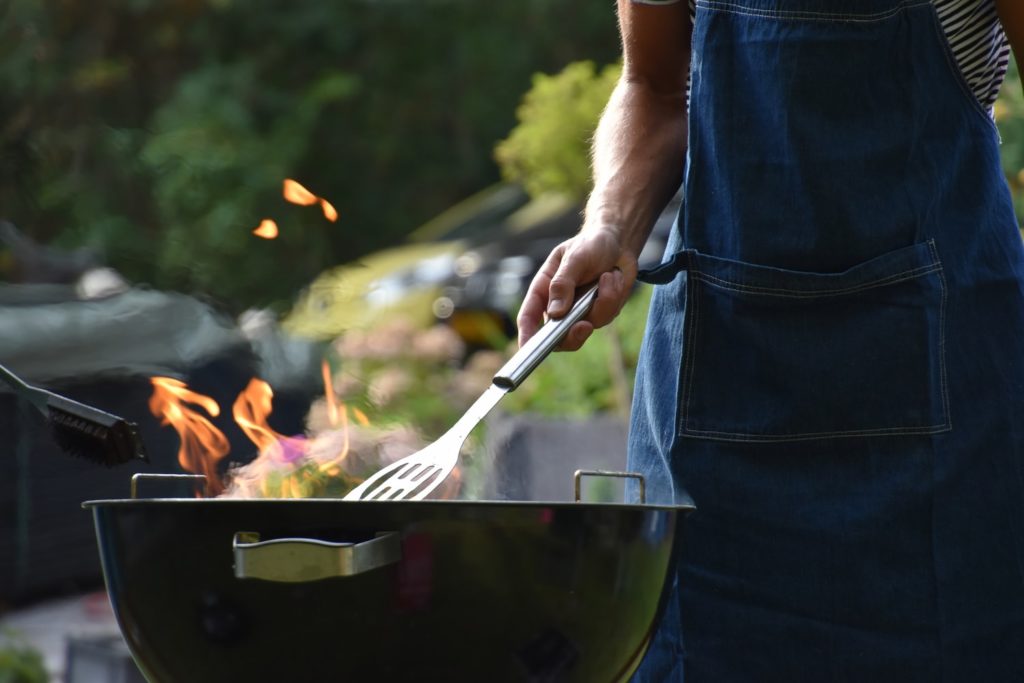 Highlights
Unique sloped surface for excessive fat removal

Tough non-stick coating

Cooking surface caters to up to 12 people 
If you are someone who throws a barbecue brunch every now and then, then you should own a George Foreman GFO201R 12-serving grill. This versatile grill is one of the best deals you can find on the block. The 200 sq-inch nonstick surface is enough to prepare a lavish meal for a gathering of at least 12 people.
Moreover, GFO201R let you use it in your preferred setting. It is equally ideal for both indoor and outdoor use. The grill comes with a strong removable stand on which you can easily slide on the grill. This feature also allows you to quickly adjust your plan and parties.
Is there a heavy overcast with strong chances of rain? No worries. Remove the grill from the stand and take your party from the patio to the dining area. One of the most interesting features of George Foreman GFO201R is its unique sloped cooking surface that drains more than 40% of fat to the drip tray. Not only does it make the cleaning hassle-free, but it also keeps the prepared food healthy by taking out half of its fat and without compromising on the taste.
People who love to cook are well-aware of the fact that how precise temperature treatment plays an integral role in the preparation of different dishes and maintaining some distinctive textures. George Forman has taken care of that cooking nuance in its GFO201R, which comes with plug-in variable temperature control. Adjust the heat of the grill for all your precision cooking needs.
The sleek and ergonomic design is meant to set up on any patio, backyard, and kitchen counter size. Setting up the grill parts is also quite convenient. You can do it all by yourself within half an hour. You will only need a single Phillips head screwdriver for that.
Pros
Equally suitable for indoor and outdoor feasts

Easy to use, clean, and set up

Price is quite reasonable given the number of features 
Cons
The removable stand could be a bit stronger

The thermostat is not part of the assembly
Sale
Highlights
240 sq-inch tough and non-sticking cooking surface

Countertop stand for safe, elevated use

Apartment-approved 
If you are going to throw a tailgate party this summer or plan on inviting over a large group of friends in your home or apartment and looking for a grill that could serve all of them, then your search should end here. George Foreman GGR50B offers a large cooking surface of 240 sq-inches that will help you in preparing grilled food for up to 15 people in a single go.
GGR50B also comes with a removable stand so that you can easily set it up for indoor and outdoor use. Moreover, George Foreman also offers a low-profile countertop stand with GGR50B so that putting the grill on your kitchen counter doesn't result in chipping or staining. The plug-in adjustable temperature control is also part of the package for the preparation of all different foods.
One of the most distinctive features of George Forman GGR50B is its doom-shaped lid that can come in really handy in controlling the moisture while preparing the food.  Also, GGR50B is fitted with a thermostat so that the probe can automatically maintain the temperature. It runs on electricity and hence, it is apartment-approved too.
Even if you don't have a backyard or patio, you can use George Foreman GGR50B with all the ease inside the house since no charcoal and propane emissions are involved. And if you are a tenant, you don't need to take prior permission from the landlord to use it.
Get yourself George Foreman GGR50B if you are looking for a clean grilling option to serve a large gathering of family and friends in both outdoor and indoor settings.
Pros
Thermostat makes it convenient to control temperature cycles

Comes with a removable stand to allow both indoor and outdoor usage

Doomed-shaped lid makes it easier to control food moisture

Easy to set up
Cons
It might get difficult to handle the lightweight body and lean stand in windy outdoors

You will need to properly clean the drip tray after every use
Highlights
Multiple ceramic grilling plates

Digital control panel

Adjustable grill angle for plain-surface cooking

A restaurant-grade searing option
What if you were able to use your grill setup to make muffins or waffles? This is not a hypothetical question anymore with the launch of George Foreman GRP4842MB. This multi-plate grilled system allows you to heat cook any food that you can think of. The grill comes with multiple nonstick ceramic plates in different casts. So whether it's about making delicious paninis, steaks or waffles, fit in the right plate in GRP4842MB and you are good to go. The depth of these ceramic dish trays actually allows you to do all the deep-dish baking.
It is important to mention here that these ceramic plates are not that heavy. They are also dishwasher-safe. So, you can easily interchange and clean them. In short, using a multi-plate feature of GRP4842MB is not that cumbersome. Trying to grill a thick cut of beef? Well, no worries, the floating hinge of George Foreman GRP4842MB allow you to easily accommodate it.
In order to give your home cooking a dash of mastery, George Foreman has introduced a digital panel and searing option. Now, you can easily see and adjust the cooking time and grill temperature on the panel and use the 500-Fahrenheit sear to give a delicious crust to steaks and sandwiches. Getting the feel of restaurant-grade food in your cooking has become rather easy with this searing burst.
George Foreman GRP4842MB is also apartment-approved and comes with a unique sloped cooking platform for excessive fat drainage. However, the grill can also be adjusted on zero-angle for handy preparation of baking and toasting items on a flat surface.
This wide range of features is available in the George Foreman GRP4842MB at quite a reasonable price.
Pros
The grilling plates are cool-to-touch and dishwasher-safe

The 500-Fahrenheit searing option is a unique selling point of GRP4842MB

The hanging lid allows any food thickness on the grill

Easy-to-handle compact size
Cons
Cleaning overflowing grill is quite difficult

Grilling plates need constant oiling

Some users might find it difficult to operate the digital control panel
Highlights
Comes with five cooking plates: 2 grill plates, 2 Panini plates, and 1 griddle

Apartment-approved heating mechanism

Cool-to-touch handles 
If you are going to buy a grill and want to get all the cooking accessories in a single deal, then you should consider George Foreman GRP90WGR. This is another state-of-the-art offering from the grill manufacturing maestro and includes five different ceramic cooking plates: two for Paninis, two for grilled items, and a single plain plate for griddle cooking.
All the plates contain George Foreman's patented tough nonstick triple coating so you can work with a lesser amount of oil and butter to cook and also easily sweep-clean them afterward. The ceramic plates are dishwasher-safe. So, you can also wash the plates to maintain better cooking hygiene. George Foreman GRP90WGR comes with an easy-to-read and control temperature knob. It operates on low (1"), medium (2"), and high (3") levels.
The manufacturer has also taken care of functionality with GRP90WGR. This is the reason why even from this compact grill setup, George Foreman offers 72 sq-inches of cooking surface. In other words, you can easily prepare the meal of 4-5 people in one go. Also, its ergonomic design comes with cool-to-touch handles so you can easily move it around. The George Foreman GRP90WGR is not just meant for use in the kitchen. From backyard brunches to backcountry dry-camping trips, it can make your outdoor cooking plans a success; just make sure that you have the electric supply to power it.
The apartment-approved feature ensures that your landlord doesn't complain about propane and charcoal spills and flare-ups. All in all, George Foreman GRP90WGR is good for preparing all types of food in different settings in the most convenient way possible.
The price of the item is also affordable or rather inexpensive in comparison to the features it offers. Get George Foreman GRP90WGR Next Grilleration if you want to get an all-in-one cooking platform for the preparation of a range of different dishes.
Pros
Compact, lightweight body with cool-to-touch handles allowing hassle-free movement

Five different cooking plates allow you to prepare all sorts of foods

The grill plates are dishwasher-safe and easily removable

Easy-to-use temperature knob
Cons
It's difficult to find replacement parts

The top grill contains a pattern that is hard to clean and maintain

No digital display
Highlights
Digital temperature panel with the option of searing burst

Adjustable cooking angle and lid to offer versatile cooking

Advanced cool-touch nonstick ceramic plates 
George Foreman GRP4800R is another multi-plate grill system that offers you the most versatile cooking experience. The deal includes four different cooking plates including a grill, a panini press, a muffin pan, and a baking dish. Whether it's about making gourmet panini sandwiches or you want to sauté, griddle or bake something or looking to make meatballs, muffins, and quiches— George Forman GRP4800R can help you with every heat cooking.
The 75 sq-inches cooking surface allows you to make the food for a group of five people all at once.  Like the earlier reviewed multi-plate grill system, this George Foreman grilling system also comes with the adjustable cooking platform.  Want to drain the excess oil from the juicy steak? Need a plain platform for muffins and other baking items? You can get that and more with the surface tilt of your choice with the adjustable cooking angle.
Many grilling systems come with fixed lids where you don't get to choose the vertical cooking volume. George Foreman has freed GRP4800R from this constraint. Its adjustable hinge allows you to accommodate the cooking of all the thick cuts, hearty paninis, and double-decker delights.
The digital temperature control panel is also a distinctive feature of Foreman's GRP4800R multi-plate grill system. You can adjust and see the real-time temperature readings on the panel for all your precision cooking. Moreover, you also get the restaurant-grade sear burst from the control.  Now, it is really easy to get those chef-like crisps on your steaks and paninis.
It is also easy to handle and maintain. You can use the adjustable cooking angle to drain all the excessive oil into the drip pan. Also, the cooking plates are removable and dishwasher-safe (except the muffin pan). Prepare the food, remove the plates, wash it, and there is your George Foreman GRP4800R all brand new again. The cool-touch release lets you remove the plates right after usage without getting a burn.
We would recommend this George Freeman grill if you are looking for a complete cooking range for your family of 4-5 people.
Pros
Searing burst gives you the crisp of restaurant-made dishes

Multiple cooking plates for all different foods

The lightweight body ensures easy handling 
Cons
Some people might find it a bit expensive

Muffin pans are hard to clean
Highlights
Compact size and lightweight

Grill plate and panini pressing are part of the deal

Quick heat-up time for instant cooking 
Grilling is not always about tailgate parties and backyard brunches. Sometimes, we want to devour delicious grilled food with our family in the comfort of our own dining rooms amid the least hassle. To get on with this vibe, George Foreman has introduced a specialized grill option in the form of GRP1060B.
It's a compact grill system that comes with a grill and a panini press. Its 60 sq-inch cooking surface allows you to simultaneously prepare food for a group of four. Both of the cooking plates are nonstick. So, you are not required to drown your food in oil and butter. And if you feel there is excessive fats, the unique cooking slop—a trademark of George Forman grills—can help you in draining up to 40% of oil from the prepared food.
We all know how impulsive and untimely a food craving could be. George Foreman has taken care of that basic human instinct in the manufacturing of George Forman GRP1060B. As per its claim, GRP1060B offers 35% faster heat-up process. This means from plugging in the grill to get the mouthwatering sandwich all you need is to wait for a mere 10 minutes. Satisfying your late night cravings can't get convenient than that.
If you are looking for the most compact grill system on the block that can be accommodated in the kitchen and dining area without stressing over space, then George Foreman GRP1060B is a tailor-made option for you.  
Pros
One of the most compact grill systems out there

Faster heating up mechanism delivers quick meals

Least number of buttons and knobs make it really easy to use for beginners

Affordable price
Cons
No digital temperature control panel

Not for serving parties and large gatherings

Precision cooking is not possible

Short cord restricts the grill's mobility
Highlights
120 sq-inch grilling surface can easily accommodate food preparation for five adults

Compact size allows indoor and outdoor use

Comes with the unique sloped grill of George Foreman 
If you are looking to get a compact system for your bigger grilling needs, then George Foreman GR2121P is the item to opt for. With its 120 sq-inch of cooking surface, GR2121P offers you to quickly prepare all the grilled delights for a group of eight people in one go. GR2121P comes with George Foreman's classic grill that doesn't just serve as a platform for all your thick and lean cuts but it is also used as a panini press.
With the adjustable cooking angle, you are able to grill your food at your own convenience. We would recommend you to use the unique grilling slope of George Foreman to keep your meals free of excessive fat since it helps in draining more than 40% of the oil content. The nonstick grilling surface also allows you to keep your food less oily. This feature also helps you in keeping the assembly clean post-cooking.
The floating hinge of George Foreman GR2121P also gives you more room to prepare your dishes. All the thick cuts and stuffed sandwiches are easier to accommodate in the presence of a floating hinge. Its exceedingly lightweight (just 7.1 pounds) also allows you to take it on trips.
If you want to make the meal itinerary of your dry-camping and RV trips more exciting, then we would recommend you to get a George Foreman GR2121P. With an AC power source, you can use it anywhere. Meanwhile, the presence of removable drip tray and nonstick grill plates also make it a more feasible option for all your remote grilling needs.
Pros
A lightweight and compact grill system that can serve up to eight people

Temperature control allows you to adjust the heat for different food preparations

Ideal for remote grilling

Comes at a reasonable price
Cons
Some people might find the non-removable grill plate difficult to clean

Limited food preparation options
Final Words
We are not going to conclude this review piece by declaring the absolute best George Foreman grill. As you have noticed, all these George Foreman grill systems are good for their own distinctive reasons. For instance, GFO201R and GGR50B are best suited for outdoor parties. Similarly, GRP90WGR is the best options to prepare all sorts of food that need different cooking platforms. GR2121P and GRP1060B are space-efficient sizes and best suited for instant grilling requirements. So, pick the George Foreman grill system that is best as per your unique grilling needs.
Related Articles
Traeger Renegade Pro Review – Traeger Pellet Grills
Blackstone 28" Griddle Review – One of the Best Flat Top Grill Today
5 Best Small Traeger Grill For Backyard & RV BBQs
Saber R50SC1417 Gas Grill Review Under the Microscope
Weber Spirit E-330 Review – Handpicked Gas Grills Reviewed
Napoleon Prestige Pro 500 Under Review
Weber Summit S-470 Gas Grill Under the Microscope
7 Best Electric Smokers Reviewed – Buyer's Guide
Nexgrill vs. Weber | Budget Grills Product Comparison
Broil King vs. Weber Grills | Two of the Best Compared
13 Best Grills For Apartment Balcony at Tasty Prices
7 Best Portable Electric Smokers 
5 Best Cast Iron Hibachi Grill