Grilled delicacies have a special appeal for anyone who loves food! And who doesn't love food!
But grilling is an art in itself, which some people are better at than the others. After all, not anyone can come up with the perfectly roasted kabobs or grilled pork ribs unless they are seasoned grillers.
Finding a perfect grilling gift for such a person can be quite a task, considering the multitude of grilling products available online.
That's where this guide can help you, as it includes a comprehensive list of the 27 best grilling gifts for barbecue lovers everywhere.
Without further ado, read on to know more.
Best Grilling Gifts for BBQ Lovers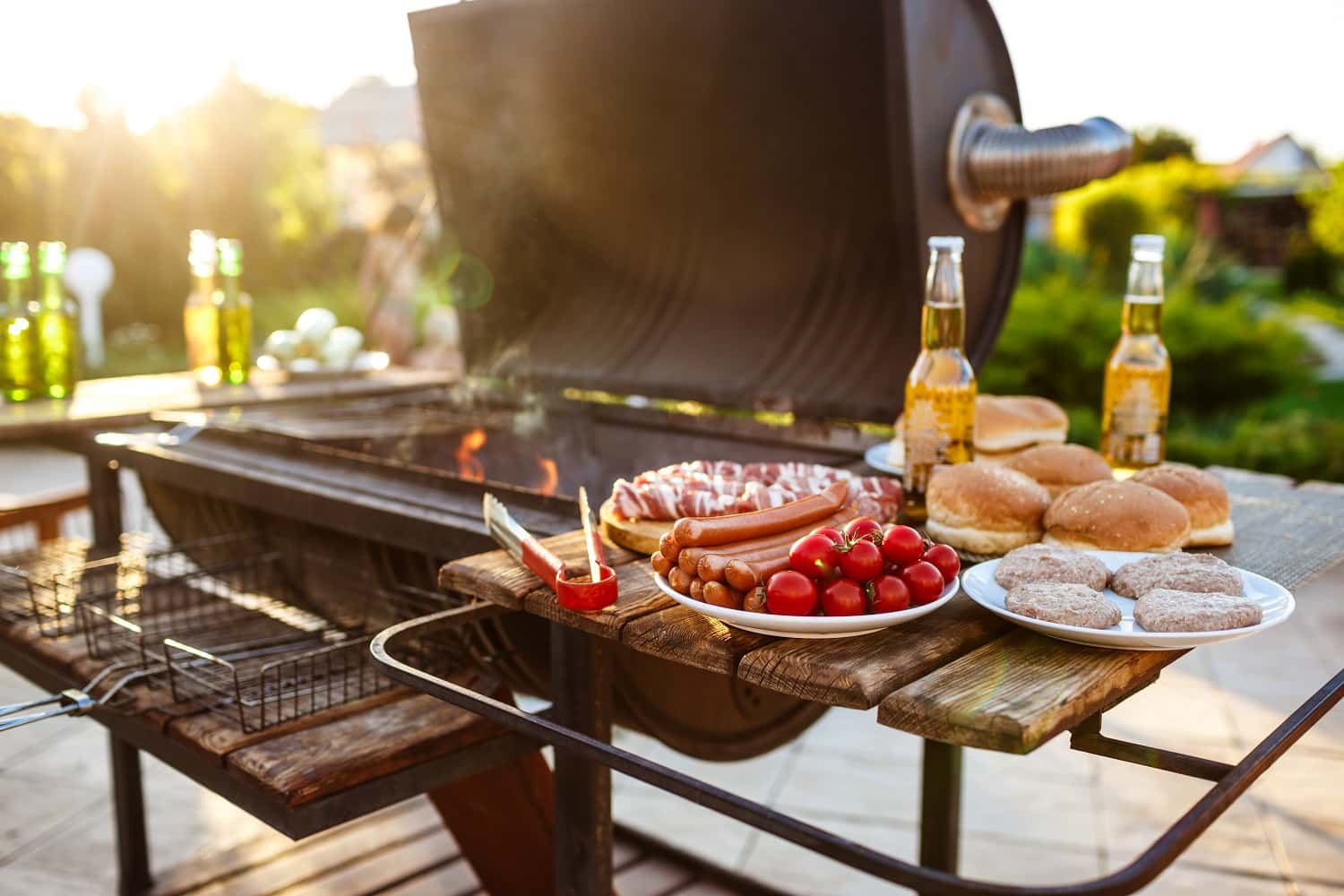 An efficient pair of tongs is a basic requirement for a perfect barbecue meal. This pair from OXO is made of brushed stainless steel, which makes it a great choice. It has soft and comfortable non-slip handles that lock in a closed position. The product also comes with a Better Guarantee from OXO, wherein users are eligible to get a repair or replacement in case of any issues.
The soft non-slip handles made of stainless steel allow the user to get a good grip of meat and vegetables with ease. Thumb-rests on the handles make grilling with these tongs quite comfortable. Besides, it also locks most easily when closed, facilitating easy storage of the product.
All these convenient features make grilling almost effortless with this pair of tongs. It can thus be one of the best grilling gifts for any barbecue lover who wants just the right smokiness in the meal.
Wearing an apron in the kitchen can be called an unwritten rule, as it ensures protection from the general hazards of preparing the meal. This professional grade apron from Hudson Durable Goods stands out from other options available in the market.
Made from a breathable variety of 10 oz cotton, the apron has cross-back straps and four large pockets, each of 6.5 x 8 inches, in the front.
The heavyweight but soft 10 oz cotton material enhances the durability of the apron. Also, four strong and deep front pockets help the user store several tools and gadgets, including mobile phones. Furthermore, cross-back straps help to prevent neck pain and ensure maximum comfort for the user.
Being made of superior quality material, this apron is definitely more effective than ordinary ones available everywhere. It is a great grilling gift for someone who values safety and protection as much as the taste of the food being cooked.
With a varied range of tools in one place, a barbecue grill toolset is an all-in-one solution for any barbecue lover. This product from Home Complete is one of the best you will come across. All its tools are made of high-quality stainless steel, and it also comes with a heavy-duty aluminum case.
The presence of different types of tools in the set makes it easy for users to cook a variety of meals, be it hot dogs, meat steaks, or grill kabobs. Also, all the tools are extremely reliable in terms of durability, thanks to the highly rust-resistant and crack-proof stainless steel material.
The aluminum case allows you to store the tools easily in between each session and can be carried easily. All these fantastic features make the tool set an apt gift for that friend who is an avid griller.
Though we were really satisfied with the performance of the product, we felt that the grill cleaner could have been better as it did rust a bit after a few months of use.
The fire source of the grill is key to ensuring a well-cooked, delicious meal. Modern-day fire starters make lighting the grill fire hassle-free and quick. Among the range of Fire Starters available online, we found this Home-Right Electro-Torch C900085 to be pretty impressive. This product uses hot air as the fuel and can be used by putting on a dual ignition switch.
With its 1500 degree hot air source, this product can be used to light charcoal barbecues, campfires, fireplaces, or fire pits. Most importantly, there is no need to use matches or starter fluids. This rules out the presence of any chemicals in the food. Furthermore, with the dual ignition switch, the fire takes just 2-3 minutes to start.
As such, this fire starter is the perfect accessory for all occasions, be it weekend tours, backyard-barbecue parties, or long trekking tours. It can be one of the best grilling gifts for a BBQ enthusiast who loves traveling.
This rapid charcoal chimney starter set from Homenote is the complete solution for making burnt charcoals at home. The accessories included in the set are a charcoal chimney starter, heat resistant mitts, lighter cubes, and a portable air blower.
Made of galvanized steel, the chimney starter is rust-resistant and has high longevity. It has a heat-resistant wooden handle with a shield that prevents heat-transfer. Furthermore, ignition takes place by fire lighter cubes that are made from natural recycled wood and wax. Being completely tasteless and odorless, they do not hamper the flavor of the meal in any way.
For those barbecue enthusiasts who would prefer charcoal to any other fuel source, this chimney starter just does the job flawlessly. It can be a great gift for a friend who can't do without charcoal smoked food and wants perfect results.
For people who want to munch on to juicy stuffed burgers at their convenience, this burger press from Cuisinart is just perfect. It is a three-in-one tool for making sliders, regular burgers, and stuffed ones and is equipped with a non-stick coating.
You can start by preparing a regular burger patty or some amazing burgers stuffed with the flavors you love. A convenient slider insert included in the set allows you to shape some perfect sliders as a delicious snack. Besides, the non-stick coating helps you to make burgers and patties at a stretch without creating any build-up on its surface.
Thus, this product lets all burger-crazy people munch on to their favorite snack at their convenience. If that barbecue lover friend is one of those people, then this would be the best gift you can find for him or her.
Aprons are, of course, essential protective equipment while barbecuing, but the hands require utmost protection. A pair of high-quality gloves would provide the necessary protection. These silicone grilling gloves from Geekhom seemed the best to us among several others available online. Being heat-resistant and waterproof, the gloves come with extended protection for forearms and a two-layered design.
While the external silicone layer of the gloves provides easy grip and flame resistance, the comfy internal cotton layer absorbs sweat during work. Furthermore, unlike gloves that leave the forearms exposed to burns, the pair extends mid-way to the elbow to ensure maximum protection. As such, these gloves are highly suitable for handling different cooking devices that need attention on any hot grill.
For the BBQ lover who tries out different delicacies with exhaustive recipes, this pair of gloves providing ultimate utility and comfort will be a great gift.
For people who love a touch of innovation in their grill accessories, this Charcoal starter and grill lighter fan from BBQ Dragon will be the perfect grill companion. On being clipped to the edge of any charcoal grill, the fan will start the charcoal within a short while. The grill is then ready for barbecuing. A heavy-duty clamp is included with the fan and is used to clip it to a barbecue source.
The fan is in itself the fastest possible way to light charcoal and keeps the fire strong. It makes a barbecue grill ready for smoking the meal in about 10 minutes. Furthermore, the sturdy spring-loaded clamp included with the fan is highly versatile, attaching to any kind of grill.
On the whole, with this innovative product, anyone can prepare a barbecue meal super-quickly, without having to soak the coals with harmful chemicals. For a friend who loves to grill food with charcoal but wants his or her meal quick, this would be quite a nice gift.
A smoking grill is a treasure to any barbecue lover and needs adequate protection for sustained performance. A grill mat thus becomes a necessity for ensuring proper maintenance. This product from Kona is a great option to go for. It has a thickness of 0.39 mm and can withstand temperatures of up to 600 degrees Fahrenheit.
The O.39 mm thick design of the grill mat gives it the toughness to deliver perfect results during every cooking session. Furthermore, each side of this mat can be used over 1000 sessions, which is much more than what other grilling mats offer. Also, the high-temperature threshold of 600°F indicates that this mat provides many options for the user's grilling experience.
On the whole, this grill mat can be a unique gift for any barbecue lover. They will love it even more after seeing the results for themselves after a few cooking sessions.
For people who are very particular about the smokiness of their grilled recipes, this Smoking Gun Pro from Breville PolyScience is simply great. It consists of a handheld cold smoker with an easy-turn dial and an integrated stand.
Wood smoke is infused in a measured amount through the cold smoker, which enhances the flavor without preserving or cooking the food. Besides, it has an easy-turn dial that enables complete control over the intensity of the smoke and airflow. Furthermore, the lightweight and compact integrated stand allow anyone to comfortably operate the smoker single-handedly.
This handheld food smoker is very suitable for quickly cold smoking any fish, desserts, meat, vegetables, and beverages in just a few minutes. This smaller and more versatile product can thus be a great gift for a friend who is a fan of any cold smoked food.
A meat claw is, in effect, a tool allowing you to tear into the meat with greater control than the usual shredders. This pair of claws from Cave Tools, in our opinion, is the best that you'll find online. It has high-quality shredder claws. The high-quality shredder claws are heat resistant and BPA free and come with comfortable handles.
The efficient shredder claws allow you to shred meat at high speed. For instance, a big chunk of pork can be shredded in just about 3 minutes. These are highly heat resistant too, allowing easy and safe carving of any kind of food, that will hardly be possible by using plain forks. Added to this, the handles are just perfect for picking up hot foods.
The unique look and efficiency of these meat claws make it an ideal gift for anyone who is in love with shredded meat recipes. This pair is also more pocket-friendly compared to other options available online.
With food thermometers, you can eliminate any guesswork about the temperature and achieve perfectly cooked meals each time. The ThermoPro TP20 has dual probe monitors with a receiver range of 300 feet and also features count up and countdown settings.
Equipped with dual-probe technology, the thermometer allows you to monitor two types of meat at the same time. Moreover, you can also use one sensor as the oven probe to get an accurate reading of the temperature therein. Also, the large receiver range of 300 feet keeps you updated on the temperature of a meal while you are at your daily chores.
On the whole, this thermometer will help bring perfection in all the sought-after grill meals. This product is an ideal gift if your favorite person is a meticulous barbecue lover.
A few cloves of roasted garlic can go really well with meals, and a good garlic roaster would let you have them beautifully roasted with minimum effort. This Fox Run product is made of terracotta material and has a fitting garlic-shaped handle. Its interior has approximate dimensions of 7"x7"x4.25".
The attractive terracotta material makes this garlic roaster ideal for baking, serving, or storing the flavor enhancing items. This roaster is also safe to use in both microwave ovens and convection. Furthermore, the garlic-shaped handle enhances the look of the product and also makes it easy to grip.
This attractively designed garlic baker would be very useful for anyone who regards roasted garlic as a constant. It is quite a unique gift idea for barbecue enthusiasts.
For making sure that a grilled meat rib delicacy comes out perfect, a good rib-rack ids essential. This stainless steel product from Soligt is one of the best captions available online. It holds up to three racks full of ribs vertically and is designed to maximize the use of grill space.
The extra-long rib racks of the product also have the proper width to hold up to 3 full racks of spare ribs, baby back ribs, and other kinds. These also prevent the meat pieces from falling onto each other. Moreover, the design of the product is such that ribs are kept separate and upright, maximizing the use of space available in a smoker or grill.
As such, the efficient features and large cooking capacity of the Soligt rib rack make grilling for a crowd super-easy. It can be a great gift for the friend who is a who often loves to grill pork or beef rib delicacies for the family.
This product from AIZOAM is another convenient as well as useful grilling tool for barbecue lovers. With a cooking surface of 12.6X 8.6 inch, this grilling basket has a creative lockable grill grate and is easily portable.
Foods are locked in place and can be flipped very easily, thanks to the lockable grill grate of this product. It ensures that the user gets a perfectly grilled meal. A fairly large grilling surface of 12.6X 8.6 inch makes the product ideal for grilling large portions of vegetables, fish, seafood as well as other delicate food items. Also, the product is lightweight and has an elongated wooden handle, giving it the portability that anyone will love.
All in all, this grilling basket can be easily taken along on weekend tours to enjoy delicious BBQ recipes along with friends. This can be a great gift for any barbecue lover with a wanderlust.
A pellet smoker can be a great barbecuing companion, as it generates quality smoke to greatly enhance the taste of the meal. This product from Buzzlett is one of the best pellet smokers available currently. It has a convenient size of 5×8 inches and can be used for hot as well as cold smoking of foods.
With this smoker, you can add an unmatchable delicious smoky flavor to any kind of food that fits in the smoker. Thus be it hot smoking your favorite meals or having some cold-smoked nuts for breakfast, you can achieve it all by this pellet smoker. The convenient size of the smoke gives it the versatility to be used in any smoker or grill.
As such, this small, portable and light smoker is just perfect for any occasion, be it a camping tour or a backyard party. It is an ideal gift for that barbecue lover friend who prefers to use smokers that are easy to clean and use.
Cooking grates are basically interlocking panels fitting across the surface of a grill, which help to ensure that the food gets the right amount of heat. The hinged cooking grates from Weber rank high in terms of performance and are also quite pocket-friendly. These plated steel grates that fit in 22" charcoal grills have flip-up sides and curved hand grips.
Flip-up sides of the grates enable easy addition of coal briquettes during cooking, while their curved hand grips allow the user to get an easy grip. Furthermore, the grates are made of plated steel, which provides durable performance.
Weber is a trusted name in the world of grilling accessories, and this product completely lives up to the brand's reputation. These cooking grates can hence be another wonderful and unique gift for barbecue enthusiasts.
As the name suggests, grilling planks are actually single-use wood pieces used to place food items on the grill. The 12 pack grilling planks from Cedar are textured, with each plank measuring 5.5"x11"x1/3".
It is the textured design of a Cedar grilling plank that helps to infuse more flavor and smoke in the meal. In fact, these planks enhance the taste of the meal to a greater extent than many modern smoke infusers. In addition to this, the upgraded thickness of the plank also helps to retain the moisture better for improved grilling.
Thus, these grilling planks can surely be used as smoke infusers for a change. Barbecue enthusiasts who are particular about the flavor would love this product. It can be quite a unique gift choice.
After munching on to those smoky and juicy meals prepared on the grill, barbecue lovers must always ensure it gets a proper cleanup. Grill brushes have been traditionally used for the purpose but are not up the mark as far as a thorough cleaning is concerned.
It is the innovative grill cleaning robot from Grillbot that does the magic. This fully automatic cleaner has three independent and powerful motors, three strong brass brushes and a rechargeable lithium battery.
A powerful and thorough cleaning is ensured by the dual action of the motors and brushes. While the brushes scrape away the deposits on the grill, the motors keep moving the cleaner around to make every inch of the grill seem spotless. Furthermore, the cleaner is very easy to use as it works through a rechargeable battery, a convenient push-button operation and an easy to read LCD alarm and timer.
On the whole, this fascinating product makes cleaning the grill as much fun as making a good smoky meal out of it! It is the best possible gift ever for any grilling and barbecue enthusiast.
Many lovers of grilled food prefer rotisserie grilling as this slow cooking process bastes the meat while it turns, making it moist and tasty. This rotisserie kit from Dyna-Glo has universal brackets, a 34.4"spit rod with an extension and a motor 4 watt motor.
While the brackets are designed to fit most charcoal and gas grills of up 32", the spite rod of 34.4" has an extension of 6.6" to adapt to wider grills. Besides, the motor with a 4 watt power ensures the consistent rotation essential for evenly cooking roasts weighing upto 26 lbs.
As such, this kit lets a barbecue lover roast both small and large chunks of meat and explore different spice-meat combinations for new tastes and flavors. It would be a great gift for grilling enthusiasts who love experimenting with different roasted meat recipes.
Using wooden skewers to roast kabobs is no longer considered a healthy practice and also involves much hassle. In comparison, steel skewers are much more healthy as well as convenient to use. The 17 inch recyclable barbecue skewers from BearMoo come with an ergonomic handle design, a polished surface and perfect pointed ends.
Waved handles of the skewers make them easy to manipulate, and also safe and convenient to hold and turn while roasting. Besides, the ends have a perfect inclination, making it easy to skewer the food items without spoiling them or hurting the fingers. Furthermore, the polished surface of the skewers prevent food residues from adhering to it.
All in all, these stainless steel skewers are quite hassle-free to use and let you prepare a variety of evenly-cooked foods in a limited time. Barbecue enthusiasts would love to own such efficient grilling accessories.
All barbecue lovers would agree to the fact that grilled vegetables add immense flavor to any meal. These stainless steel grilling clips from Charcoal Companion enable easy roasting of vegetables anytime. Each set comes with four grill clips having serrated teeth and spring-loaded hinges.
Serrated teeth in each clip make it convenient for grilling individual portions of the vegetables and keeping them in position. Besides, the hinges facilitate easy handling of the clips. Also, the clips can be used for grilling any long vegetables such as green onions, asparagus and zucchini sticks.
Thus, with such grill grips at home, barbecue lovers can forget about the hassle associated with corralling them on the grill. It can be a great gift for that friend who loves adding grilled veggies to all meals or even having them solo with some salt and pepper.
Grilled pepper recipes are a hit for all parties or gatherings, be it a family get-together or a back-end barbecue party with friends. Making such fine recipes whenever you please becomes super-easy with this Cave Tools Jalapeno Pepper Grill Rack. The sturdy rack has a capacity of 24 holes, and includes a curved pepper corer.
With the large capacity of 24 holes it becomes easy to grill enough peppers for the entire family. Also, the pepper corer included with the rack pulls out Jalapeno cores and slices of the serrated edge flawlessly. Furthermore, the sturdy legs of the rack lock in position to ensure that it never collapses or tips over when full.
Thus, this grill rack makes for an amazing gift for any barbecue lover, be it a friend, a colleague or your mom. They can even use it for making juicy and smoky chicken drumsticks.
Ensuring the availability of a good light source is the key to a nice and proper grilling session. This barbecue grill light is the perfect solution in such a case. Having a powerful magnetic base and a flexible gooseneck, this product features 9 Ultra Bright LED lights.
A glare-free and super-bright light beam illuminates the cooking area to ensure that the user does not have problems cooking at any time during the day. Besides, the magnetic base lets the user easily mount the torch without any kind of installation. Added to this, the flexible neck of the torch can be adjusted by 360 degrees, allowing easy projection at any particular place.
Hence,with this super efficient grill light, barbecue lovers don't need to worry about spoiling the good meat during the night. This product will be a great utility-based gift for any grilling enthusiast.
We all love those bright grilled vegetables spread over a crispy pizza, don't we? This grilling basket from Weber enables easy grilling of vegetables, small meat pieces and delicate fish. It has a flexible wire design and elevates the food from grill grates.
A variety of foods with different shapes and sizes can be held in this basket, thanks to the flexible design of its wires. Also, the basket holds the food securely in its place and elevates it from the grill grates, protecting it from sticking or burning.
All in all, this product would be ideal for preparing light meals or evening snacks for the family. If your barbecue lover friend prefers seared veggies or grilled fish to any other larger roasted food items, this product would be a perfect gift for him or her.
This sound beam grill light from RVZHI acts as both a light source for grilling and a music player. This 2.01×5.31×6.01 inches light can be paired via bluetooth and is compatible with both Android and Apple phones.
A bright beam of light gives better visibility when clamped on to the grill top, while the sound beam plays music when connected to a smartphone via bluetooth. Users can play songs from their favorite playlist or can even listen to FM radio through the device. Furthermore, the sound beam also allows users to respond to incoming calls while it is connected to the smartphone.
On the whole, this product works perfectly in amping up a barbecue party, a campfire or a cookout on the weekend. It is an amazing gift for any barbecue enthusiast who wants some good music to accompany the delicious smoky meals.
Still regarded as one of the most favorite fuel sources for grilling, wood chips infuse a delicious wood smoke flavor in any meal. This variety pack from Western BBQ is the best you can find online. It contains wood chip bags of four flavors, namely, Hickory, Apple, Mesquite, and Cherry, with 180 in cu of chips in each bag.
Users can infuse woodsmoke of different flavors in the foods to enjoy different flavors in their meals. Also, the smoking chips can be combined to create unique flavors, thus adding a personal touch to the meal. Moreover, each bag in the pack has as many as 180 wood chips, which are enough for preparing delicious flavoured grilled meals for days to go.
If you want your friend to experiment with different wood smoke flavors, this could be an ideal gift. It would add an exciting touch to their usual grilled recipes.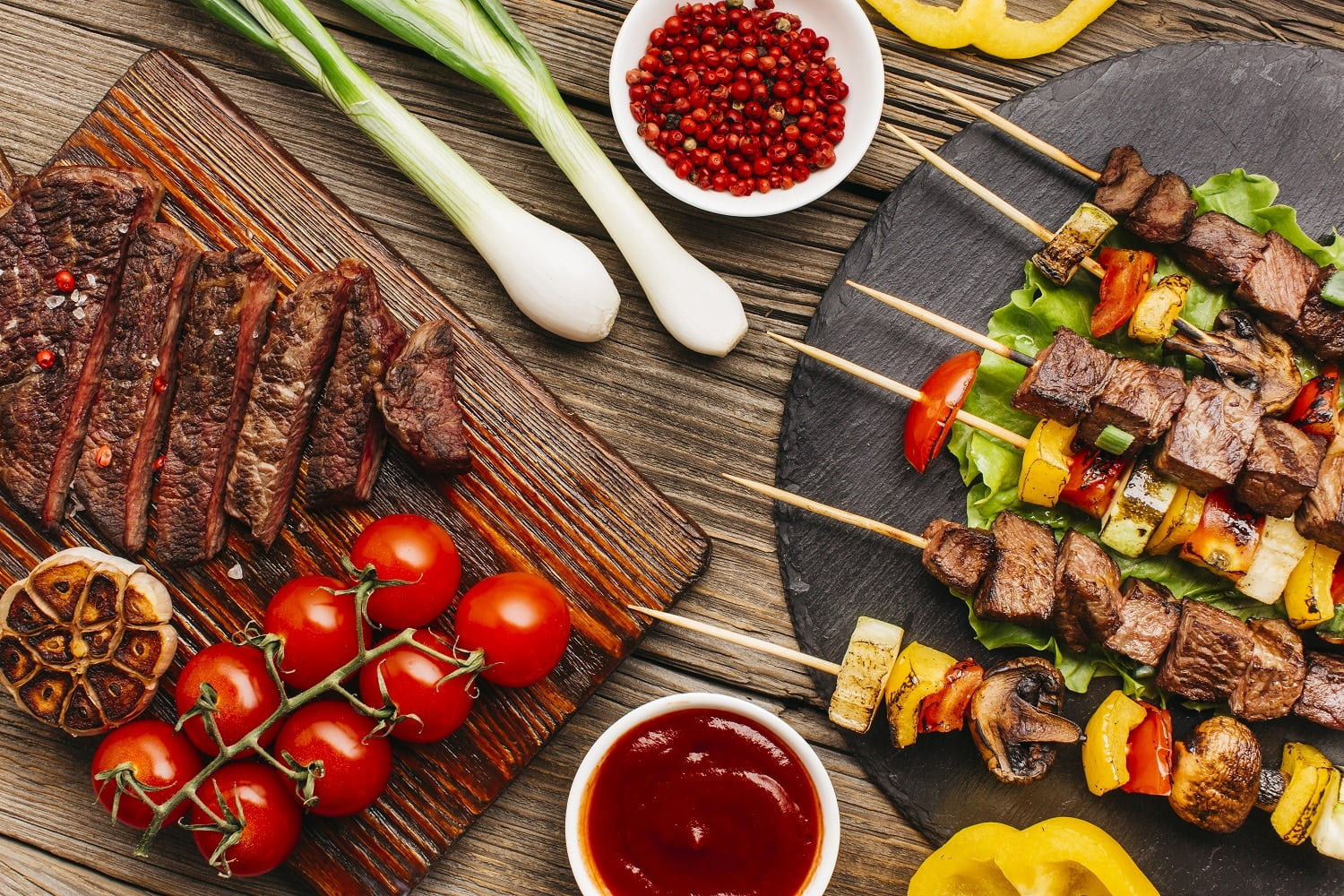 Best Grilling Gifts Conclusion
With this, we come to the end of our list. All the products that we've mentioned are powered with the latest technology, and have made barbecuing more convenient and fun-filled than ever before.
Before we sign off, we would like to put forward the products which appealed to us the most. The Home-Complete BBQ Grill tool set will be ideal if you think your friend needs a brand new set with all grill accessories. It is also more affordable than many other grill tool sets available online.
If you'd rather want to go for an eco-friendly and truly efficient product, the HomeRight Electro-Torch Fire Starter would be just perfect. On the other hand, an AIZOAM Portable Stainless Steel BBQ Barbecue Grilling Basket would be a budget-friendly buy.
Let us know in the comments section whether you agree with our choice. Till next time!
Related Articles
63 Best Star Wars Gifts for Him
28 BBQ Recipes for Fall & Winter Grilling
46 Best BBQ Forums, Websites & Broadcasts
7 Best George Foreman Grill Models
Traeger Renegade Pro Review – Traeger Pellet Grills
Blackstone 28" Griddle Review – One of the Best Flat Top Grill Today
Saber R50SC1417 Gas Grill Review Under the Microscope
Nexgrill vs. Weber | Budget Grills Product Comparison
Broil King vs. Weber Grills | Two of the Best Compared
13 Best Grills For Apartment Balcony at Tasty Prices
7 Best Portable Electric Smokers