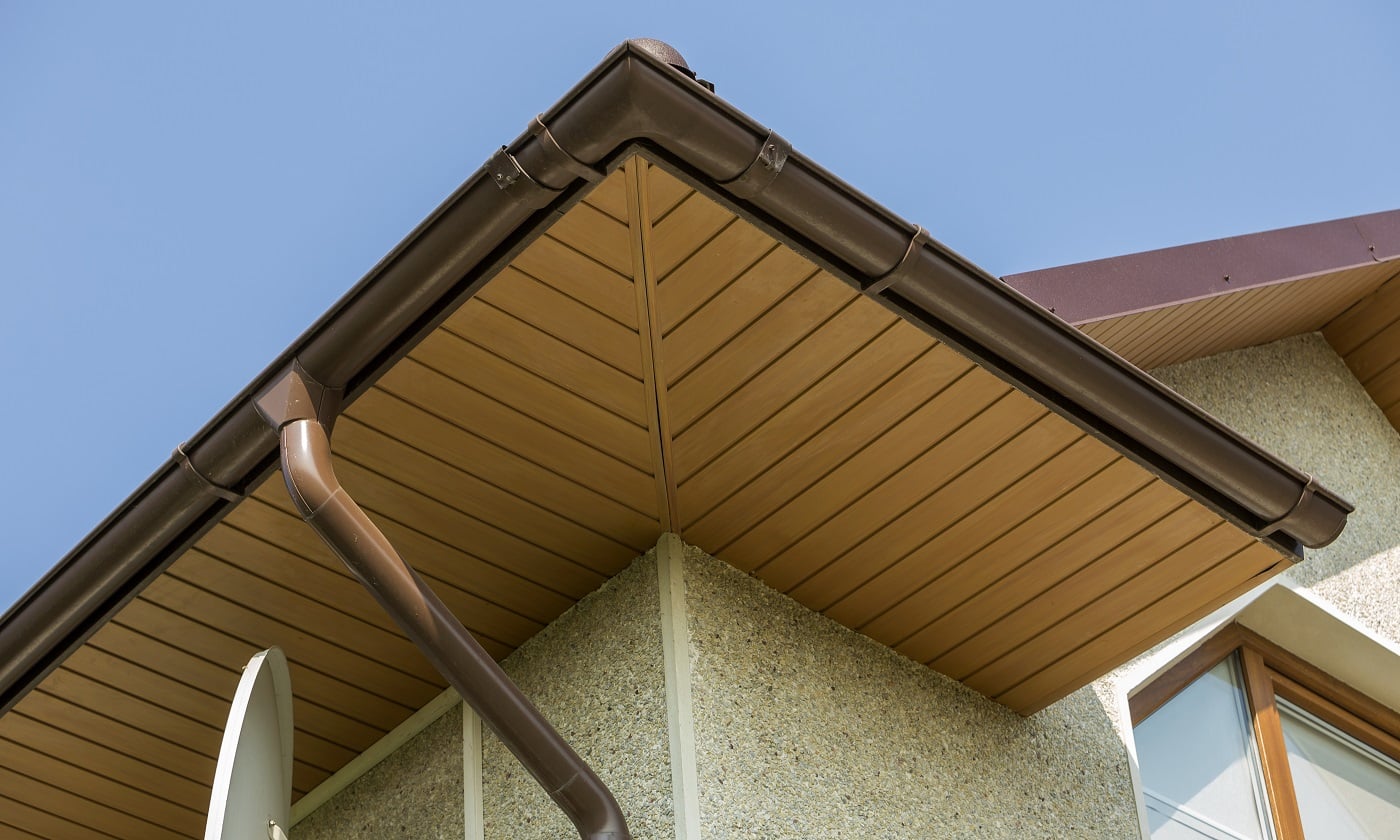 For tourists, there's nothing better than taking a walk through a pine cone forest, but what about the homeowner? 
Well, for people living alongside pine forests, pine needles are a recurrent problem that clogs up gutters. So, to save you the trouble of cleaning your gutters every week, today we're reviewing the 13 best gutter guards available in the market. 
Now, these tools aren't revolutionary and have been around a long time, so what makes today's products unique? Not only does a gutter guard stop stuff from getting in, but it also blows away leaves stuck on the surface, thanks to the superior air-flow design. 
With help from the latest technology, manufacturers have produced innovative designs to keep your gutters clog-free all-year-round. Apart from that, you'll find a buyer's guide section where we mention the essential aspects of gutter guards for your benefit. 
Without further ado, let's delve into the reviews before you go shopping. 
Top Gutter Guards For Pine Needles 
IMAGE
PRODUCT
DETAILS

Our Top Pick

Our Top Pick

Raptor Gutter Guard

V-bend technology 
Advanced trough technology 
Micro-mesh filters

VIEW LATEST PRICE →

A-M Gutter Guard

Aluminum construction 
Rust-resistant 
380 holes per foot 

VIEW LATEST PRICE →

Frost King Gutter Guard

Plastic guard 
Corrosion resistant 
Mesh pattern 

VIEW LATEST PRICE →

E-Z-Gutter Guard

4 foot sections 
40 feet coverage 
Rust-resistant 

VIEW LATEST PRICE →

Amerimax Gutter Guard

Lock-in design 
Metal mesh pattern 
Powder-coated steel 

VIEW LATEST PRICE →

LeafTek Gutter Guard

Aluminum body 
Stainless-steel 
Enamel nail finish 

VIEW LATEST PRICE →

GutterStuff Guard

Foam inserts 
6-inch width 
192 feet coverage 

VIEW LATEST PRICE →

Amerimax 86670 Gutter Guard

75 feet coverage 
PVC construction 
Mesh design 

VIEW LATEST PRICE →

Smart Screen Gutter Protection

Aluminum construction 
Rust-resistant 
Weighs 9.3 ounces 

VIEW LATEST PRICE →

Amerimax 638010 Gutter Guard

Dam design 
Powder-coated steel 
Staggered design 

VIEW LATEST PRICE →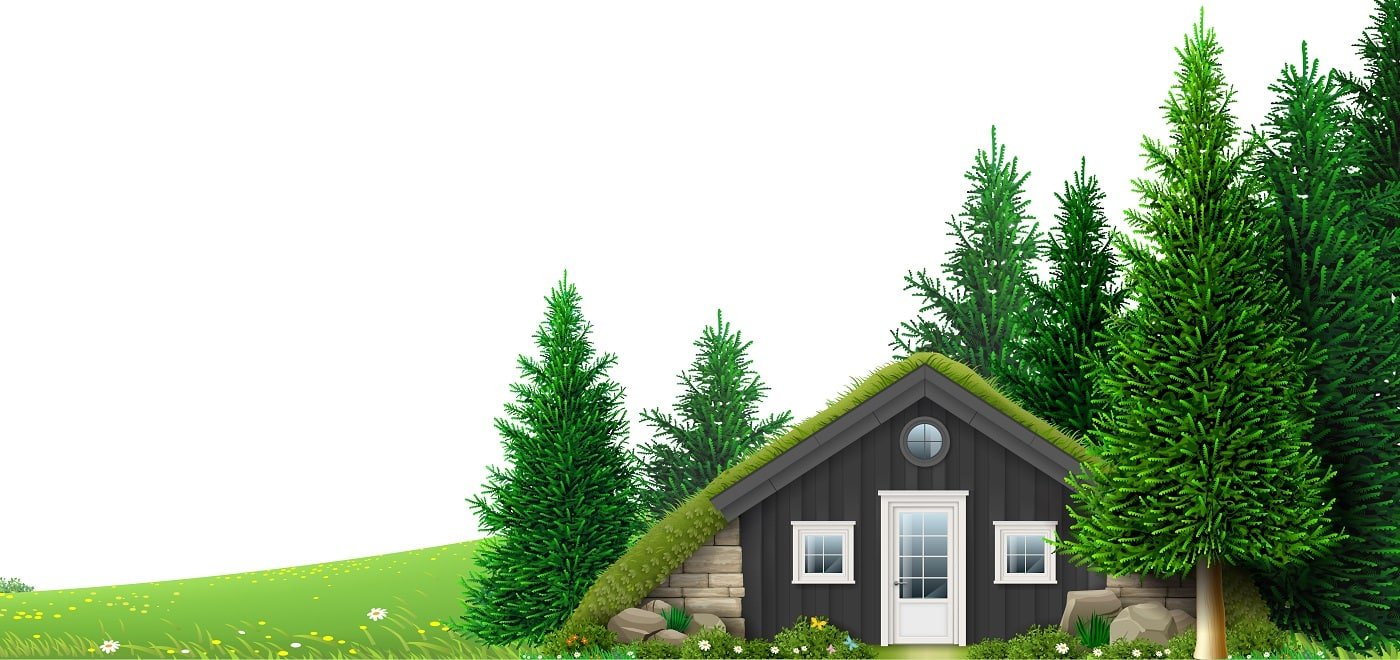 When we began creating this list, one product that immediately grabbed our attention was the Raptor Gutter Guard. Designers have paid a lot of attention to the finer aspects of the model, making it stand out. There's a lot to like about it, and we assure you won't be disappointed.
Why Did We Like It?
When you're looking to buy a gutter guard, the primary purpose would be to keep out all possible sources of debris. This product from Raptor does well in that regard, thanks to the stainless-steel micro-mesh construction. Not only does it deliver longevity, but it keeps out leaves, pests, root grits, and of course, pine needles.  
Now, let's discuss some other aspects of the model, specifically with regards to installation. We should tell you that it's the ideal unit for gutters measuring a maximum of 5 inches in width and it won't take much time to set-up. Significantly, it keeps your roof warranty intact despite having sufficient sturdiness for different conditions. 
Furthermore, to make the assembly more convenient, Raptor has made it a point to add all relevant components. So, inside the box, you're likely to find a magnetic hex head driver along with self-taping, rust-resistant screws. 
What Could've Been Better? 
The price is a niggling factor for buyers, which leads to a serious debate about its purchase. We'll venture so far as to say that quality should be your most important consideration, but obviously, there's a limit to what you can spend. Therefore, if it's too expensive, you can choose some other model. 
Pros
Magnetic hex head driver

Self-tapping screws

Easy to assemble

Durable

User-friendly
For those who liked our earlier recommendation, we request you not to make up your mind just yet because the products keep getting better. Next up is the A-M Gutter Guard, and it comes with all relevant features for a reliable experience. So, you're bound to get your money's worth.
Why Did We Like It?
While reviewing this product, an adage comes to mind – "the devil is in the details." There's no need to be concerned however, for all we mean is that the unique design merits a discussion. It features heavy-gauge construction, topped-off by an aluminum body providing resistance to rust, but that's just the external characteristics. 
As we unearth the nuances of the tool, the bubble filtration system stands out, ensuring a clear passage for rainwater. Additionally, the debris is blown away, thanks to air-flow from the top and bottom, meaning there's no chance for it to stick to the surface. 
Another essential aspect of making the gutter easy to use is the inclusion of hangars for various purposes. From K-style to other standard models, you can keep the hangars hidden for a more refined look. But that's not all; bearing in mind that several gutters fail to handle excess water, the designers have provided 380 holes per foot. 
What Could've Been Better? 
While there are no issues with performance per se, users have had to dedicate more time to installation. The problem occurs when the gutter guard brushes right up against the shingles, becoming challenging to maneuver. If you're wondering whether more clearance solves the issue, we're afraid to say that's not the case. 
Pros
Handles heavy rain

Durable

Seamless joints

Blends in

Compatible with hidden hangars
Another product without which the guide would be incomplete is the Frost King Gutter Guard, and with good reason. It comes with exciting improvements, which is why it's a common addition to most wish lists. No surprises that customers have had mostly positive things to say so far.
Sale
Why Did We Like It?
Let's start with the basics and talk about how Frost King has designed their gutter to keep out leaves, pine needles, and other debris. The answer is pretty simple and visible in the net-like pattern of the plastic mesh-gutter guard. Now, since it's made of plastic, all worries of rusting or damage are quickly allayed. 
Using plastic has other advantages also but most important among them is flexibility. It allows for adjustments to be made, ensuring you get a tight-fit along with maximum coverage for the best results. Moreover, the guard can be shaped or trimmed to size, which comes in handy for different settings. 
Okay, so we've touched upon coverage and performance, but there's one other thing that needs a mention. We loved the range of choices available, permitting you to choose anywhere between two to five packs. Plus, you've got the option of purchasing an aluminum filter strainer, which is like the icing on the cake. 
What Could've Been Better? 
As with most gutter guards, you need to be flexible with installation and have correct knowledge about the area that needs to be covered. After installation, vacant spaces are a common issue with this product, and there's nothing to do but purchase more units. Also, smaller seeds from specific plants may find a way into the gutter. 
Pros
Efficient

Adjustable

Flexible

Can be easily trimmed

Forms a tight fit
Cons
Space may be left vacant

Small seeds could fall in
If it's spelled E-Z (easy), the least we can hope is that this gutter guard will be user-friendly, and in that regard, it doesn't disappoint. But that's not the only good thing about the E-Z-Gutter Guard, and a closer inspection reveals the series of fantastic features, endearing it to customers. 
Sale
Why Did We Like It?
One aspect that's often overlooked when it comes to gutter guards is coverage. Predominantly, manufacturers concern themselves with durability or price, so it's heartening to see that this product can cover close to 40 feet for a reliable experience. The coverage is backed up by the aluminum construction, which isn't prone to corrosion, thereby forming a potent combination.
Some of the other aspects that caught our eye include the easy installation for greater user comfort. You won't need screws to get a tight fit, but it's important to note that it only works with 5-inch K-style gutters with a hidden hangar. Therefore, keep that in mind before opting to purchase it. 
What else? Oh! We haven't mentioned the tight mesh pattern, preventing the smallest of debris from finding a way through. Besides, if you live in an area with mild weather conditions, E-Z-Gutter will suit you well since it's tension engineered to handle the climate. 
What Could've Been Better? 
These gutter guards aren't suited to deliver the best results in winter for people living in extremely cold areas. The mesh openings may freeze, and you'll have to climb up to break the ice. Another issue is that it isn't ideal for handling excess water, which leads to runoff over the edge. 
Pros
Expanded aluminum construction

Suitable for K-style gutters

Low-maintenance

Easy installation

Tight mesh
Cons
Mesh openings may freeze

Can't handle excess water
The Amerimax Gutter Guard has been making all the right noise so far, thanks to the excellent design complemented by the superb functions. You'll find it comfortable to work, while the gutter remains well protected for a seamless experience. So, let's take a closer look at the details.
Why Did We Like It?
For a change, let's start the review by discussing compatibility, and you'll be pleased to see that this gutter guard is exceptionally versatile. It works well with 4-inch, 5-inch, or 6-inch K-style gutters made from aluminum or steel to back up our claims. 
Now that you've learned how to use it let us tell you why you should use it. The gutter guard features a tight metal-mesh pattern, but more importantly, there's room for expansion to deliver extensive coverage. As per reports, it does well to keep out leaves, pine needles, and other debris to prevent clogging. 
Finally, durability is a critical factor, and luckily, it does well in this department, thanks to the double powder-coated steel for a long lifespan. Interestingly, if you're picky about your home décor, it'll please you to know that the guard blends in with the roofing line. It may not seem like a significant aspect, but it does highlight the manufacturer's focus on every detail. 
What Could've Been Better? 
You'll need to make minor adjustments to the model, so it's essential to understand the intricacies of the unit. However, it's easier said than done, and we fear the instructions aren't sufficient if you're new to the world of gutter guards. Besides, installation takes longer than usual. 
Pros
Extensive coverage

Compatible with standard gutters

Natural color

Blends with roof-line

25 components
Cons
You'll need to make minor adjustments

Installation takes time
If you're primarily concerned with durability, then you'll love what the LeafTek Gutter Guard has to offer. Not only will it last a long time, but the robust build supports all other features, making for a fantastic acquisition. You'll find numerous variations of the model suitable for many purposes.
Why Did We Like It?
Usually, the words low-maintenance and gutter guard aren't uttered in the same sentence, but LeafTek puts all that to bed. No longer will you need to climb up to clear the passage, thanks to the innovative box-like construction. It keeps debris on the surface so that that water can pass through unimpeded. 
It stops leaves, pine needles, dirt, and seeds and doesn't succumb to heavy downpours like other units. Plus, if you're worried about the holes clogging up, you must know that the 404 ⅛-inch holes per square feet are tiny. Therefore, it stops stuff from falling in a while, allowing sufficient air-flow to clear away debris. 
Other than that, you won't come across any issues during installation with the easy-to-assemble corners, reducing time and effort. Once you set it up, the aluminum, stainless-steel body coupled with the enamel finish provides longevity. 
What Could've Been Better? 
If you're looking for a high-end model, then you'll love this product; otherwise, it's better to opt for some other gutter guard. It has many great functions, but the downside is that the manufacturers have upped the market price. So, you need to be flexible with your budget. 
Pros
Reliable

Efficient

Raised air-flow design

Easy to assemble

Handles various weather conditions
We're at the halfway point of our list, but there are several quality units we're yet to review. Our next recommendation for you is the GutterStuff Guard, which has most bases covered, cementing its place among the top products. Understandably, most users have taken an active interest in its features. 
Why Did We Like It?
So far, we've talked about durability, compatibility, and coverage; therefore, let's change it up a bit. It's only right that GutterStuff features on our list, given their ability to make user-friendly tools. More specifically, it's the perfect model for people looking to do things themselves, seen with regards to the DIY installation. 
Also, you don't need to spend much money, but that takes nothing away from the quality of the model. The designers have reinforced the gutter with foam inserts, making it convenient to keep out leaves and debris. The foam is cut into a triangle shape, offering just enough space for water to flow through but not enough for leaves to lodge in. 
Interestingly, it's very safe, and although you need to carry out maintenance, there won't be too many issues. This aspect gives it an edge over other models and prevents mosquitoes from breeding in the gutter. 
What Could've Been Better? 
The one major flaw is that specific debris gets stuck in the gutter and stays there for a long time. Therefore, it's essential to carry out regular maintenance to maintain the quality of the model. Apart from that, water shoots off the edge of the guard during the monsoon season. 
Pros
Prevents clogging

Easy installation

Safe

Highly compatible

Affordable
Cons
Maintenance needed

Fails to hold excess water
The Amerimax 86670 Gutter Guard has many similarities with some of the other units available out there. But significantly, the designers have made the necessary upgrades, so it has quickly climbed the charts to be listed among the top products. No wonder it solves most of your problems for a smooth performance. 
Why Did We Like It?
The first thing that caught our eye is the unique snap-in style, providing added convenience at the time of assembly. Needless to say, it considerably reduces effort, making work more manageable with the unit being broken down into 25 pieces for comprehensive coverage. It covers an area of 75 square feet, which is suitable for most houses. 
You must remember that it works with K-style gutters, measuring anywhere between four and six inches. While it may seem like a disadvantage, let us tell you that it forms a tight fit with this guard for added reliability. On top of that, if the gutter is made from steel or aluminum, the durability is further enhanced by the PVC construction of the guard. 
Next, we need to discuss the mesh pattern, which keeps out the tiniest of seeds for a clog-free experience. It can withstand mild cold or rain, but more of that in the following section. 
What Could've Been Better? 
The mark of an outstanding gutter isn't how well it deals with debris but how it manages excess water runoff. In this second aspect, the Amerimax 86670 doesn't do well, and we've seen that water tends to accumulate near the front of the guard. So, it fails to contain water flowing over the edge. 
Pros
Longevity

Works with K-style gutters

25 components

Snap-in style

User-friendly
Cons
Water shoots off the edge
The Smart Screen Gutter Protection lives up to its name and is backed up by the relevant functions for terrific output. Even a cursory glance at the model leaves you coming back for more, and you won't be disappointed by its range of functions. You'll love all that it offers and then some. 
Why Did We Like It?
Let's start by clearing a common misconception among buyers. Most customers believe that a gutter guard has to carry sufficient weight, which is a marker of its durability. Thankfully, Smart Screen proves this theory wrong and has come up with a lightweight model in spite of having an aluminum construction. 
On the surface, you'll notice hundreds of tiny holes per square feet which help clear debris. Are you surprised? Well, the holes are not large enough for leaves and seeds to pass through but have the necessary diameter for air-flow. So, light debris can be blown away from above or below, saving you the trouble of maintenance. 
Furthermore, you'll be pleased to know that it's cost-effective, which is remarkable considering its many functions. Therefore, not only will you get fantastic coverage through the changing seasons, but there's also no need to spend an exorbitant amount. 
What Could've Been Better? 
From time to time, we come across a product that's difficult to install because of inadequate instructions, and unfortunately, Smart Screen fits that bill. The laziness is apparent in the lack of instructions, making it difficult for first-time users to have an error-free assembly. It's something that could easily have been avoided. 
Pros
Efficient air-flow

Quickly removes debris

Durable

Easy to use

Affordable
The Amerimax Gutter guard is all the rage right now, and, thanks to the latest improvements, it can top rival brands. It's highly compatible and presents the perfect balance of functions so that you've everything you need for consistent output. You'll see that substantial research has gone into the making of the model.
Why Did We Like It?
So, where shall we start? The innovative dam-design, perhaps, is an excellent way to introduce you to this tool. As the name suggests, the dam-design is built to handle the most challenging conditions, from heavy rain to snowfall. It keeps water in and debris out while the leaves remain dry, ensuring it's blown away. 
It comes with double powder-coated steel, delivering much-needed longevity and excellent protection against the elements for durability. Moreover, the natural color blends in with the surroundings, which is sure to please the homeowner in you. It easily fits with K-style gutters that measure a maximum of six inches.
Apart from that, the box includes all components, so you don't have to make additional purchases. It's convenient for various users and reduces the need to climb up and check on the gutter guard. Plus, the cost has been kept with reasonable limits, leading to increased demands. 
What Could've Been Better? 
If you like placing the gutter guard underneath the shingles, this isn't the ideal unit. Keeping in mind the first nail line and the width of the product, it's not easy to find space beneath the shingles. What you can do is leave them on top or trim it down to size for better coverage. 
Pros
Filters leaves and debris

Long lifespan

Works with K-style gutters

Affordable

Handles heavy rain and snowfall
Cons
Challenging to install underneath the shingles
Although it's called Roof Gutter Guard, there can be no doubts about the multi-dimensional nature of the model, turning quite a few heads among buyers. It has generated substantial buzz, culminating in a positive response from users, and it delivers unmatched output to handle various outdoor factors. 
Why Did We Like It?
There's a lot to like about it, and we start with mesh roll design, highlighting the user-friendliness. You can adjust the structure as needed by unrolling the mesh, trimming it to size, and installing it in the desired area. The flexibility reduces effort and is supported by 24 easy fastener clip hooks to keep the guard firmly in place. 
Although the primary purpose of the screen mesh is to keep out debris, you'll be pleased to see that it's multi-purpose. The screen keeps overflow in check to prolong the longevity of the model, ensuring water flows only through the gutter. You can, therefore, use it in changing weather conditions, thanks to the resin plastic construction. 
Another critical factor is that it's corrosion-resistant, further adding to the sturdiness. What's more, choose any one of its three available sizes for maximum coverage without having to pay a lot of money. 
What Could've Been Better? 
For all that's good, there's a recurring problem in some cases. While the guard has suitable dimensions, you might not have enough overhang, which is slightly inconvenient. The problem is that it's challenging to find the right balance to adjust how you want to place it above or below the shingle. 
Pros
Flexible

User-friendly

Multi-purpose screen

Sturdy design

Rust-resistant
Cons
Challenging to find the right balance
The Gutter Protection Service is taking the market by storm, and we couldn't help but add it to the list. You'll find it has most aspects covered, making it a dependable unit, which is why it has received positive reviews from customers. So, read on to learn more about its excellent features. 
Sale
Why Did We Like It?
At the very outset, you'll see that many of the functions are seen with other models, so why should you purchase it? The primary reason would be the convenient design, which may seem innocuous, but is certainly useful. Once you're done with the assembly, it should acquire a box-like shape comprising 20 parts. 
All the components are made from high-quality aluminum, which is sure to last a long time. It withstands various weather conditions, except for heavy downpour, as we'll discuss in the following section. For now, you should know that the mesh screen keeps the gutter clog-free from the smallest of debris. 
Finally, it's easy to use, and there's no harm in too much user-friendliness. In that regard, the suitable coloration proves useful and blends in with the rest of your property. It's a low-maintenance unit that delivers consistency for several years. 
What Could've Been Better? 
It suffers from some of the common issues with a gutter guard and, more so, during heavy rainfall. When a lot of water gushes down, you're likely to find it dripping over the front and rear end of the structure. Therefore, if you live in an area of torrential downpour, reinforcements are a necessity. 
Pros
Lightweight

Durable

Easy to use

Low-maintenance

Blends in
Cons
Can't contain excess water
Ultra Flo is a well-known brand, and it has been around a long time, thanks to its exceptional range of products. The Ultra Flo Gutter Protection is no different, and it has made some exciting innovations to keep the gutter clean and clog-free. No surprise, it's quite a favorite among users. 
Why Did We Like It?
When we talk about coverage, it's difficult to look past what Ultra Flo has up its sleeve. This particular unit offers 100 feet coverage, and needless to say, it's suitable for most homes. You won't need to buy extra materials, and most probably, you're likely to have some leftover, highlighting the overall cost-effectiveness. 
Other than that, we liked how users can select the hole spacing based on different needs. But if you've speed-screw or quick-screw hangars, it's better to opt for the step-down panels. It can effectively keep out leaves, twigs, pine needles, and seeds throughout the year, in spite of the changing conditions. 
Also, once installed, the guard is virtually invisible and blends in with the rest of the roof lining. It comes in black and features powder-coated steel construction for durability. Besides, many users have enjoyed using it with 5-inch K-style gutters. 
What Could've Been Better? 
Now, let's come to the not so good bits about the model. You should know that although it blocks pine needles, a heavy downpour might cause water to drip over the front and rear of the guard. Also, installation isn't smooth, requiring you to squeeze the structure for a tight fit, which is difficult, perched on a ladder. 
Pros
Black in color

Works with K-style gutters

Cost-effective

Blends with roof lining

ProNumerous hole spacings
Cons
Requires more effort to install

It doesn't hold excess water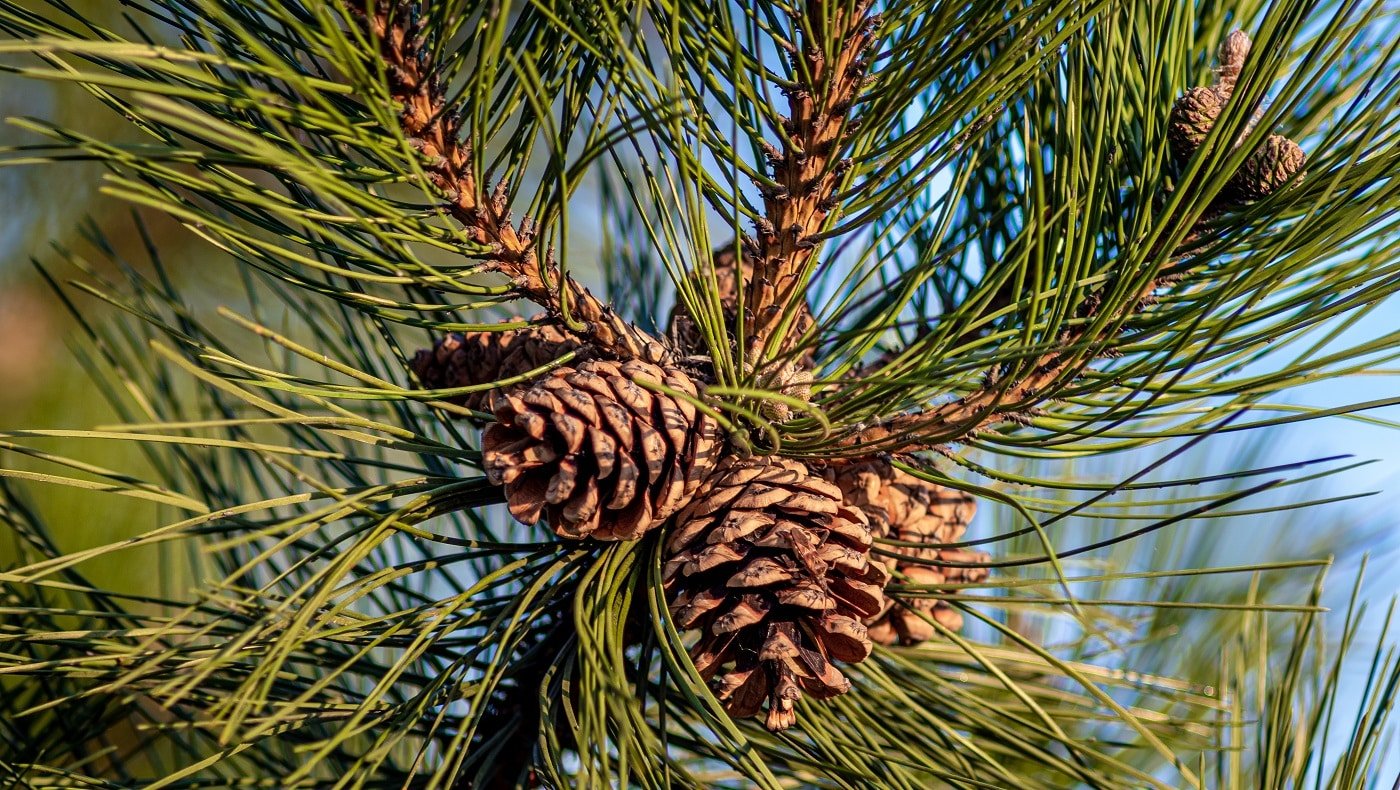 Buyer's Guide 
Those were our picks of the best gutter guard for pine needles, but there are several important points we're yet to cover. This section is designed for buyers to learn about certain intricate aspects of the tool that we've come across. 
By keeping the points listed below in mind, you'll find it easier to distinguish between two similar products. Plus, you'll realize the characteristics of a gutter guard you need to focus on to make the correct purchase. 
Get ready with a notepad, and let's begin. 
Sturdiness 
We've to start by discussing the guard's robustness, which is vital to get a long lifespan. There is no point in buying the model if it doesn't last a long time. As a gutter guard, it's destined to spend its life outdoors, and designers must use quality materials to handle changing weather conditions. 
Not only must it block debris but also endure the impact caused by falling branches, seeds, or other stuff. 
Installation 
The assembly has to be easy because first-time users may not be adept at handling a gutter guard. It might be difficult for certain people to make the necessary adjustments and, so the instructions should be available in an uncomplicated manner. 
Furthermore, it should be user-friendly to use, and if you do need to carry out maintenance, the structure shouldn't be too difficult to separate. And then, of course, to put back together. 
Coverage 
Another area of focus is coverage, and irrespective of the unit you purchase, it must cover any area in its entirety. Other factors like flexibility come into play for maximum coverage, and essentially, it should form a tight fit over all available openings. 
More coverage also means faster installation and reduced cost, which we will discuss next. 
Price 
Finally, we come to price, and it's an essential consideration for most buyers. Given the many available options, users may not want to spend too much on a particular model. So, designers must strike the right balance between cost and providing the relevant features.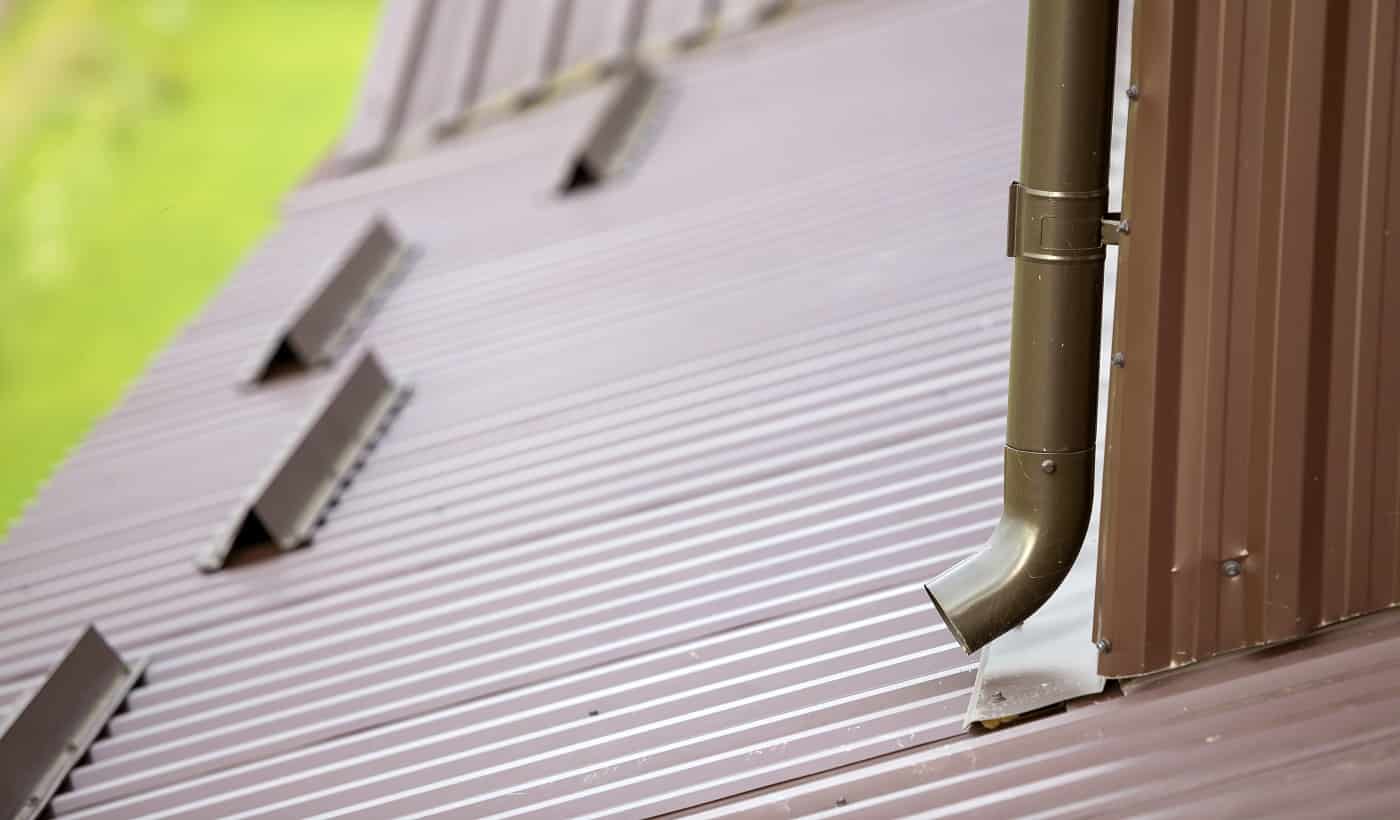 Verdict
We're down to our final section, having covered our selection of gutter guards to provide a better understanding of the tool. 
We've now decided to list down our favorite models in different categories for further assistance to help you make an informed decision. For instance, the Raptor Gutter Guard is a high-end option, providing excellent value for money. Apart from that, the A-M Gutter Guard has the best overall performance, while the Frost King Gutter Guard is highly durable. 
That's all the time we've got, but we'll be back soon with more exciting product reviews. Till then, make sure you mark out the size of the area first and then purchase the necessary gutter guard. Also, keep in mind the weather to choose the mesh pattern that will work best. 
Take care and as you're up on the roof completing the installation, always wear a mask. Adios, and stay safe! 
Related Articles
23 Hip Roof Types & Styles for Your Future Home
Learn About the 20 Most Popular Roof Types for Your Future Home
What is the Mansard Roof, Advantages and Disadvantages Sheltered
6 Eco-Friendly Roofing Materials and Why You Need Them
How To Clean Gutter Guards Efficiently
Shur Flo Gutter Review | All You Need to Know
EasyOn Gutter Guard Review 101 | All You Need to Know
5 Best Foam Gutter Guard [Reviewed & Buyer's Guide]
9 Best Micro Mesh Gutter Guard Today | Buyer's Guide
11 Best Gutter Guards for a Low Maintenance Home
23 Extraordinary Beautiful Ways to Repurpose Rain Gutters in Your Household