Headboards are an integral part of any bed, regardless of the size, the shape and the material that's been used to make it.
Hence, choosing a headboard should be an utmost priority for anyone who's getting their own bed made. Today, we're helping you do exactly that – choosing the best headboards on sale today based on a number of factors.
There are hundreds of options on the market today when it comes to headboards. We present compact reviews for the products listed below, which have been chosen on the basis of their suitability for varied situations – such as the best headboards for a budget, for dorm rooms, based on materials etc.
Without further ado, let's move ahead for the best products on the market today!
Best Headboards
This product comes with a number of cubbyholes and storage spaces, wherein you can store pretty much anything you want to – including books, alarm clocks, as well as small pieces you want to keep on the shelves. The Carolina Oak build is wonderful as well and is likely to last for years at a stretch.
It's relatively easy to attach to most wood-based beds, and offers plenty of storage space. The finish is decent if not brilliant, though that is a matter of subjective taste. Overall, it's the most spacious headboard there is on the market which is built out of good quality wood and doesn't burn a hole in your pocket.
If you're a fan of panels on top of beds, this should be right at the top of your list. Paneled headboards tend to be quite a bit more expensive than regular headboards, though they do require a lot more effort in order to be manufactured. However, these headboards come in at an astoundingly low price point compared to what you'd pay to have your own headboard built.
These come with a patented Simple Mount™ system which means you spend all of five minutes setting up this wonderful headboard. It is available in two variants: one which is 30" wide and the other comes in at 39". The panels also come with proper soundproofing which has a 0.95 NRC rating, among the best on the market today.
Another wonderful choice you get is with colors – there are around 30 colors available readily! Hence, there's something for everyone with this headboard and the paneling itself is worth writing home about – it is that good.      
The Leggett & Platt headboard we consider here is a highly reviewed and quite popular headboard which has one particular USP: you can adjust the height! It's made out of wood, and it's upholstered with a 100% polyester material. The colors on offer include ivory and putty – both look great individually.
Further, the adjustability comes in at 3 different heights – 54", 58" and 62". This bed is perfect for small bed-and-breakfasts where a lot of people come and go – having a bed that adjusts is absolutely perfect for travelers! It's available in Twin, Queen and King sizes. It's priced economically too – this gives it the upper hand compared to other adjustable height beds.  
This absolutely gorgeous modern headboard from Zinus comes with all that you'd expect from a great headboard – it is easy to install, comes in a Queen size, and comes with a long warranty to ensure that your experience is fully satisfactory. The upholstery comes in a shade of grey over an espresso brown-black metal finish, which goes well with a number of surfaces and finishes.
There is one thing you should know, however – you will need to buy the brackets and base separately in order to attach them to your bed. Also, the pieces will need some force before they can get attached to the bed. Other than that, it's a brilliant product – and not just for the price.
For a Queen sized bed with light metallic construction, this headboard is right there among the top – whether you consider the build quality, the heft of the build and the joints, or the overall finish. They also have some more expensive options available in King's size and Queen size beds. The color is called "Blackened Taupe" and goes well with almost all bed finishes.
The headboard comes with 10 years of warranty, thus ensuring a trouble-free experience for years to come. The build is carbon steel, which is topped with certain detailed castings. Further, the shape of the headboard is quite unique – it's a concoction of spindles which are capped by a detailed casting. For the price, you're unlikely to get this combination of materials and quality!
A dorm is quite a different living situation than a proper bedroom, and hence you need something heavy-duty and long lasting – the design and aesthetics take a back step when it comes to this. However, there is this one headboard which does it all – it's long lasting, gives a great look to your room, is quite comfortable and comes in at a decent cost!
The Modway Lily comes in a number of colors and is made out of 100% premium polyester which can withstand all the use (and abuse) one can think of in a dorm room. It's available in all bed sizes – but for dorms, seeing as Twin size is the most popular, this is the one we prefer. It also comes with a customizable headboard height from 45" to 52.5".
All in all, this headboard delivers and then some.
Winged headboards give you some extra padding over at the sides, which often results in a more comfortable sleeping experience, especially if one tends to move a lot while asleep. Further, it's a good place to secure your back with. It also has a solid feeling. While installation, you may require some support in order to hold the wings in place.
The Pulaski Mirabella is not only full of foam to support your head and back, but it is also tufted to ensure you get the softest possible finish. The ironing instructions come included with this headboard, so you can have the softest possible sleep. However, this is only available in king size. Other than that, this is one of the most comfortable headboards you can buy!
Some headboards are all about function – this is one does form and function both, and does them very well. The design is a throwback to the antique headboards of the 50s and 60s. The material is incredibly soft and comfortable, and the foam is supportive yet firm. The colors on offer are neutral and relaxing – all you need before a good night's sleep.
This bed comes in a curved design with a finishing done in linen, which sets it apart from a large crowd of headboards which usually come with synthetic materials. The breathability of natural materials is unparalleled. Hence, this linen headboard is one of the best ones you can get with natural materials, even though it's a bit on the expensive side.
For the best headboard for twin beds, you need to take the relatively small size of twin beds into account. Making normal headboards for queen and king size beds is a very different proposition than making twin bed headboards – and Flash Furniture brings their A-game here. Flash Furniture's take on the headboard for twin beds gives you a wonderful all-around experience.
It comes in around 15 different colors and the side stands have adjustable bed rail slots. The design is modern and contemporary, and the small width of the headboard which makes small rooms look much larger and roomier. Paired with rooms which are smaller, it's a wonderful combination.
Wooden headboards are a match made in heaven with wooden beds. Further, even for beds which aren't made of wood, this particular headboard makes a lot of sense, mostly because of the way it's been designed. It's a very simple headboard, one which blends well with most kinds of furniture and in most color schemes which rooms may have.
It comes in a variety of dimensions, which vary right from twin to king beds. There are multiple colors available, including rich espresso which is a deep brown which almost appears black. There's also a white shade available for lighter rooms. Wooden boards are the oldest headboards available on the market, yet they're very dependable and easy to install!
A tuft is a wonderful feature to have on a headboard. Tufts are super soft and give an exquisite, luxurious finish. Though tuft finishes won't be everyone's cup of tea, Modway's Emily range of headboards finished in Navy will be a beautiful addition to your bedroom, regardless of the colors you have in the room.
That softness is what clinches it for the headboard. It's the softest headboard that's been tested here and the luxurious upholstery of the tufted material elevates the headboard experience to the next level.
With this, we finish up our set of headboard reviews. There are other kinds of headboards available, though they are more niche than the ones reviewed. They include iron headboards, headboards which come with electrical socket plugs, and so on.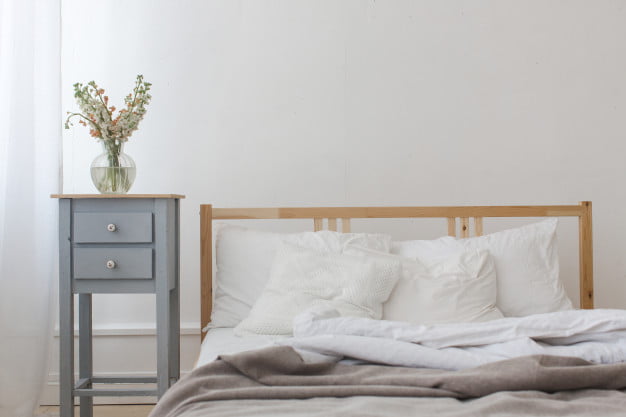 Headboards FAQ | A Guide to Buying a Wonderful Headboard 
Now that we're done with reviewing eleven odd headboards to cater to the widest possible variety of tastes, budgets, and materials, we move on towards a few important questions which are bound to come up when you're getting a new headboard for your bed.  This is especially important when you're getting a headboard for the first time.
– Which materials should I look for in a headboard?
It all depends on your personal choice, as well as the material which your bed already has. A mismatch between the material of the headboard and the bed is only recommended when there's some kind of padding/upholstery on the headboard. Otherwise, you should stick to familiar materials which gel well with your bed.
A large variety of headboard materials has been covered in the reviews. Just as a refresher, though, the materials on offer include iron, steel, different types of wood (you can even match your headboard and bed by choice of wood!),
– How do I measure the height of the headboard?  
The proper way to measure the height of a headboard is from where the mattress ends i.e. the height above the mattress. You should not measure the height from where the bed is kept on the ground, though that may seem like a logical thing to do. Also, do make sure you consider the fact that the headboard does generally go 3-4 inches below the mattress once installed.
– How well should the headboard fit my bed?
It should at least have the semblance of being in sync with the bed. That is, there should be a definite way in which the bed and the headboard "fit" properly, though they don't have to stick together all the time.
Consider paneled headboards, for example – they are unlikely to "fit" with your bed, but they should be close enough so there's no extra space between the headboard and the bed.
– What should be the height of my headboard?
There's no right answer to this – it depends on your personal choice. However, as a general rule of thumb, the general headboard size ranges from 14" above the mattress' top for a small twin-sized headboard, to around 29"-30" for a taller king/queen sized headboard. If you wish to go a bit higher, it shouldn't be taller than the bed is long.  
The Best Headboards – Ending Thoughts 
With this, we come to the end of today's discussion on the best headboards you could buy right now. Headboards are an essential part of any bed and buying one means making a decision which will affect how you live for many years at a stretch. Thus, you should make this decision knowing the kinds of headboards you can buy, at the very least.
Even if you can't find the headboards we suggest, you can still go in for a wonderful headboard by reading our FAQ and the reviews above to gain some insight into what makes a good headboard – whether it's the height, the width, the materials or the colors which you're taking into consideration. Happy shopping!
Related Articles
11 Best Fuzzy Blankets to Hug This Year
Intex vs. SoundAsleep vs. King Koil | Air Mattress Comparison
13 Best Loft Bed with Slide Reviews
10 Best Full Size Bed Frame Reviews
8 Best Headboards for Epic Bedrooms Reviewed
19 Best Loft Beds for Kids Reviews & Buyer's Guide
10 Best Single Mattress Reviewed
33 Simply Brilliant Cheap DIY Nightstand Ideas