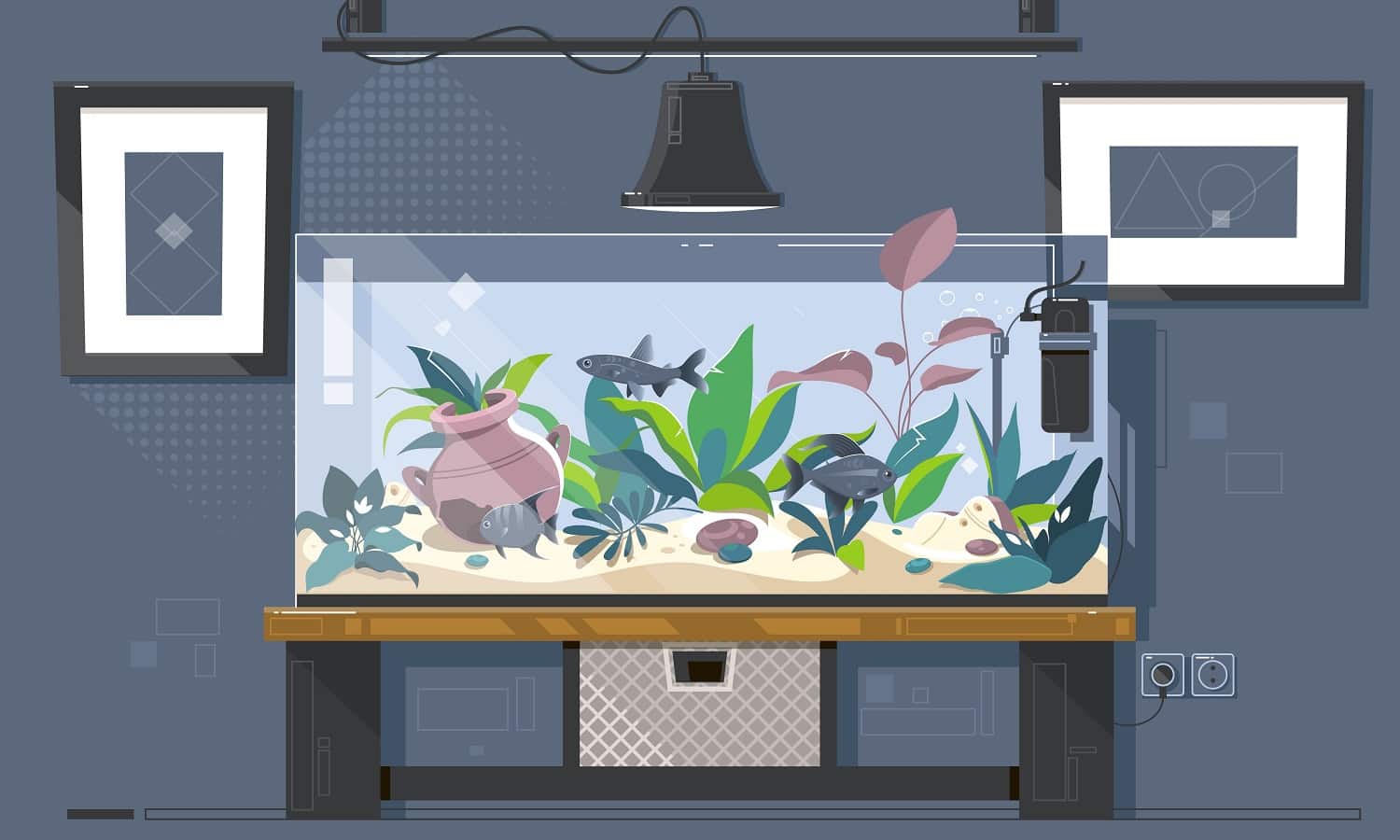 Maintaining the water quality in your fish tank is vital for the survival of your fish friends. Now, you can make it happen with the right protein skimmer.
Also known as foam fractionators, these water filtration devices will ensure that the water stays clean and the fishes can live a long life. They also keep the nitrate levels in check, and you will find the water to be more clear.
Choosing a HOB or a 'hang on back' model will ensure that you utilize the least amount of space possible. We had a shortage of space inside the tank, and that's when the HOB versions came to our rescue.
But the problem is that there are multiple choices in the market, and choosing one can be quite challenging.
To save you from a stressful expedition, this comprehensive and unbiased list of 13 exceptional options has been curated. We have also included a buyer's guide to help you choose the right one for your needs.
So, without further ado, let's dive in!
Top HOB Protein Skimmers 
IMAGE
PRODUCT
DETAILS

Our Top Pick

Our Top Pick

AquaMaxx HOB-1.5 Hang-On-Back Protein Skimmer

Fits aquarium rims up to ¾" thick
Powerful submersible pump
Rating up to 90 gallons

VIEW LATEST PRICE →

Coral Vue Technology BH-1000 Octopus with External Pump

Made with high-quality acrylic
For 100 gallon tanks

VIEW LATEST PRICE →

CPR Bak-Pak 2 Protein Skimmer

Fits aquariums up to 60 gallons
Low deflect rate

VIEW LATEST PRICE →

Coralife 05271 Super Skimmer with Pump

Needle wheel aspiration system
3 models of 65, 125 and 220 gallons
Broad neck collection cup

VIEW LATEST PRICE →

Instant Ocean SeaClone Protein Skimmer

Turbo-Venturi injector system
Maxi-Jet 1200 pump

VIEW LATEST PRICE →

Eshopps Hang On Protein Skimmer PSK-75H

Removable external pump
Capacity of 75 gallons
Silent-running Italian Sicce pump

VIEW LATEST PRICE →

Macro Aqua M-50 Mini Hang-on External Protein Skimmer

For tanks upto 60 gallons
Needle-to-wheel impeller included

VIEW LATEST PRICE →

Bubble Magus QQ1 Hang-On Nano Protein Skimmer

Equipped with Rock SP600 Pump
Needle-to-wheel impeller
For tanks up to 25 gallons

VIEW LATEST PRICE →

Red Sea Fish Pharm Prizm Hang-On Skimmer

Only 2.4 inches wide
Convergent-divergent reaction chamber

VIEW LATEST PRICE →

Coral Vue Technology AC20197 Octopus Hang-On Back Skimmer

For tanks up to 75 gallons
Made of high-quality acrylic
Has a Hailea OTP pump

VIEW LATEST PRICE →

SCA-302 180 Gallon Protein Skimmer by SC Aquariums

Works with 180 gallons capacity
Compact size
Atman 2000 pump needle impeller pump

VIEW LATEST PRICE →

Reef Octopus Classic 100-HOB Protein Skimmer

For aquariums up to 105 gallons
Equipped with an Aquatrance pinwheel pump

VIEW LATEST PRICE →

Coralife Biocube Protein Skimmer

Heavy-duty air pump
Fits in BioCube Aquarium
Contains a limewood airstone

VIEW LATEST PRICE →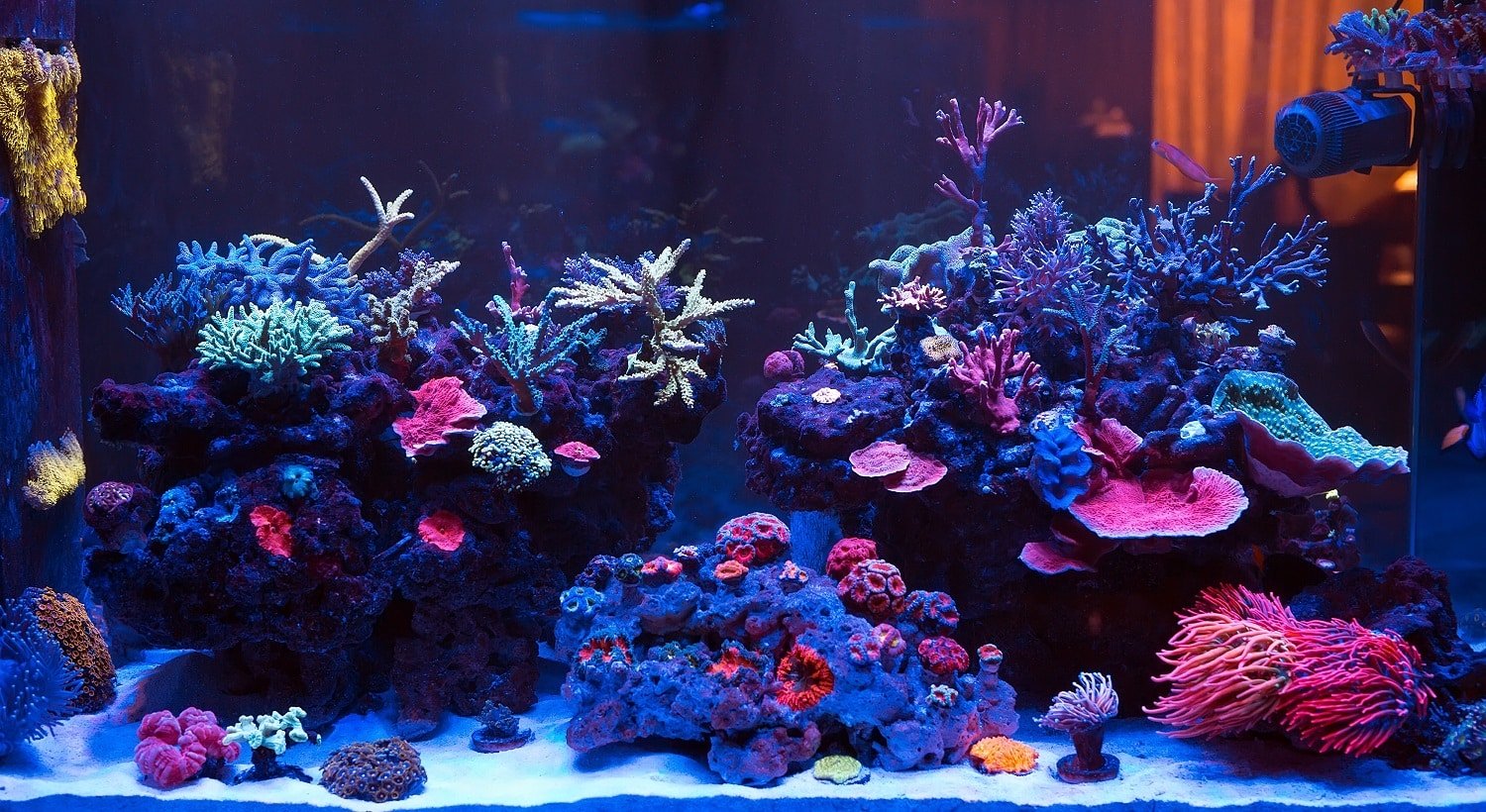 In the first position, we have the AquaMaxx HOB-1.5 Hang-On-Back Protein Skimmer, which is known for its brilliant performance. It will help eliminate all your algae problems inside the tank and will give you a sparkling clean aquarium to boast of.
Why Did We Like It?
We loved the upgraded AquaMaxx Shark pump, which could draw up ample amounts of air and break it down into bubbles. This boosted the overall performance of the fish tank. Furthermore, the pump is placed inside the skimmer to save space and improve efficiency. If you are expecting the pump to be noisy, rest assured that you will have a completely silent experience.
Besides, it is very easy to set up and maintain. We found a collection cup that can be easily removed and cleaned separately.
It is also compatible with 90 gallons of water, making it fit for small to medium-sized aquariums. We were thrilled with the versatility of this option.
Lastly, it works very quickly and takes no time to fit in. We attached the skimmer in the morning, after which we fed our fishes. Immediately the skimmer started working, and a thick layer of foam formed on the top.
What Could've Been Better?
Our only problem with this product was that the manual was not very clear. We had to watch videos online to understand how to assemble the parts. The process in itself is not very difficult, but easier and detailed instructions in the installation guide could have saved us more time.
Pros
AquaMaxx SHARK 1.0 pump used

Comes with a compact design

Does not make noise

Equipped with a drain fitting
In the second position, we have a unit that works very well with tight spaces. The Coral Vue Technology BH-1000 Octopus with External Pump can easily fit behind the tank because of its compact nature. It will also not heat your aquarium while functioning, keeping the water temperature in control.
Why Did We Like It?
This product can deal with a large capacity of 100 gallons and will work with medium to large-sized tanks very well. Also, it will hang behind the outer wall with the water pump just under the skimmer.
Another great advantage is the easy cleaning process. Most models do not allow complete dismantling, and that makes it difficult to clean some parts. But here, the body can be taken apart entirely, and can hence, be cleaned adequately.
Not only that, but the process of setting it up is also straightforward. You will be getting a booklet with the pack, which will guide you throughout. Follow it carefully, and you will be done within half an hour.
Made with high-grade acrylic, the body is sturdy and is 8 inches wide, 17 inches tall, and 3.5 inches deep.
What Could've Been Better?
We felt that the constant humming sound could be annoying if the aquarium is placed near your bed. While it skims well, the noise can be bothersome, so we suggest that you keep the tank at a distance from the sofas or beds. The best place would be to keep it in the hallway.
Pros
Easy to clean

Set-up process is easy

Incredibly sturdy

Cost-effective
Next up is another protein skimmer that is designed to impress with its high quality built. The CPR Bak-Pak 2 Protein Skimmer is a second-generation model that is very efficient in biological filtration and protein skimming. We have been using it for a few months now, and it has delighted us with its incredible features.
Why Did We Like It?
Firstly, the cup which collects the protein is adjustable, and you can slide it up or down according to your requirements. It usually depends on the amount of foam and the wetness of it. This model is perfect for aquariums up to 60 gallons, but it is best to use it for 55 gallons or less. This is recommended for better performance.
Furthermore, it is very easy to clean the system which can be taken apart when necessary.
Also, the outflow tube is enclosed and hence eliminates salt sprays. It stops tiny bubbles from entering the aquarium, too, which is an added benefit here.
To top it all, we found the product to be very easy to set up. All you need to do is hang it behind the aquarium, make sure it is correctly leveled and then turn it on. You would not need to watch videos for any extra help.
What Could've Been Better?
This product does its job perfectly well but needs a bit more maintenance than usual. The airline often gets clogged, but it is easy to unclog it. Fill a syringe with hot water, and this should unclog it completely. It needs to be done often to keep your skimmer working for long.
Pros
Comes with an enclosed outflow tube

Durable body

High-quality design

Easy to assemble
Cons
Requires more maintenance
In the 4th position, we have the Coralife 05271 Super Skimmer, which is known for its unique patented needle wheel aspiration system. This is also popular for the different models that take care of aquariums with a capacity of 65 gallons to 220 gallons covering big and small versions.
Sale
Why Did We Like It?
You can attach the pump in two ways. Either it can be used inside the aquarium, or it can be hung with a mounting bracket supporting the frame. This means it works for all kinds of aquariums regardless of there being sufficient space inside or not. Our product had a capacity of working with 65 gallons of water; we were easily able to fit with our small-sized tank.
Also, this is equipped with dual injection inlets. This feature helps in increasing the contact time between the water and bubbles. The bubble production diffuser then stops the bubbles from entering into your aquarium.
We loved the amount of thought that the company has put into manufacturing this highly detailed unit. One thing about this is that if you can keep it clean, it will last for long.
Coming to the collection cup, we were delighted to find a wide-neck one with a very simple twist feature, which enabled us to clean it easily too.
What Could've Been Better?
We found that the product was difficult to set up. The manual was not efficient, and it lacked clear instructions. You will also not find any pictures of the process. It is best to look up videos on youtube and then proceed with the assembly. This is indeed one area where the company can improve.
Pros
Features dual injection inlets

Bubble production diffuser

Can be fixed in two ways
If you have been in search of a budget-friendly option that will impress you with its wide range of features, we have an excellent one to consider. The Instant Ocean SeaClone Protein Skimmer is a powerful product that is perfect for mid-sized aquariums and will do a great job of keeping it clean.
Sale
Why Did We Like It?
The Maxi-Jet 1200 pump, paired with the Turbo-Venturi Injector system, is extremely efficient in forming foam and protein-laden bubbles. It mixes water with air present inside the pump impeller and creates froth, which then is turned to microbubbles. We loved the fact that the machine aims for maximum skimming and improved infusion technology.
There is also a Vortx Reaction chamber where the air and water are made to swirl around at high speed, thus creating a tornado effect. This draws more proteins and wastes from the water, making the process extremely effective.
Adding to these features, the device is also very easy to clean. The parts are easy to detach and washing them regularly increases the durability. It has been working fine for around 9 months now with an occasional cleaning.
What Could've Been Better?
Our device turned out to be pretty noisy for the initial few days. But then after readjusting it and giving it a few days to break in, we found that the sound was drastically reduced. If the product continues making a loud sound, we recommend contacting the customer service for help.
Pros
Hang-on or in-sump installation options

Works with tanks of 100 gallons or less

Maximizes skimming efficiency

Has a high-capacity collection chamber
Next up is a device from a very well-reputed brand that is recommended by many customers. The Eshopps Hang On Protein Skimmer PSK-75H is one of the quietest options you will find, and it starts to skim immediately without taking time to fit in. The pump is placed under the skimmer outside its glass wall, and this reduces heat transfer to a great extent.
Why Did We Like It?
The device works very well for tanks with a 10-75 gallons capacity. So, you can use it safely with small to medium-sized aquariums. Powered by a silent-running Italian Sicce pump, it is truly one of the most efficient products listed here. It uses a needle-wheel impeller and venturi system, which works to release tiny bubbles into the water.
Additionally, there is a bubble plate that will eliminate these microbubbles from entering the tank. The whole mechanism is well-coordinated and left us completely satisfied.
Besides this, there have been no issues with overflowing or leakage. It is super easy to maintain and clean. Try cleaning it every week to keep the machine functioning well.
To top it all, the acrylic construction gives this equipment the sturdiness that it needs. The brand promises a trouble-free experience, and we have not faced any major issues with the parts for over a year.
What Could've Been Better?
According to us, customer service could improve a lot as we faced major issues with them. They would not receive our calls on multiple occasions when we tried to get in touch for minor doubts. We ended up calling a local aquarium shop for help, but this was indeed disappointing.
Pros
Sturdy acrylic construction

Body diameter of 3 inches

Easy to clean cup

The installation process is simple
Cons
Customer service is not efficient
If you are looking for a high-quality product to take care of your small fish tank, the Macro Aqua M-50 Mini Hang-on External Protein Skimmer is an incredible pick. It is perfect for tanks with a capacity of 60 gallons and will efficiently remove all the protein wastes from it.
Sale
Why Did We Like It?
Like most of its peers, this unit can be hung from the back of your tank and will take up very little space. It is one of the most compact models, and you would not have any problems with fitting it in.
We loved the collection cup, which can be removed easily to dispose of the organic wastes. It has sufficient holding capacity, and you will not have to clean it daily. Just keep a watch on this cup and clean it once the foam reaches the top.
Also, this device is equipped with a needle-to-wheel impeller, too, which increases the infusion of air and water, creating microbubbles. A bubble plate will keep these bubbles from entering the tank.
 To top it all, it is moderately quiet and will not disturb you at all. Being the smallest skimmer in this list, if you place it correctly, it will not be noticeable at all. The guest's attention will only be drawn to your beautiful fish tank.
What Could've Been Better?
The only issue here is that there are far too many holes than we would like on the closing lid. These holes lead to a part of the foam escaping instead of moving towards the overflow tube. This should not be a big problem as most of the foam is cleared efficiently, but a lesser number of holes would have been better.
Pros
Easy to install and operate

Waste disposal is very simple

No priming required
Cons
Too many holes in the closing lid
Next up is a small product which delivers just the right amount of power. The Bubble Magus QQ1 Hang-On Nano Protein Skimmer is a perfect option to choose to take care of your tank's filtration needs. It is the best fit for smaller tanks with a capacity of 25 gallons or less.
Why Did We Like It?
For all those with a severe shortage of space, this product will be a great fit as it takes up only 3.5 inches behind the fish tank.
Like most of its peers, this is very easy to handle. Adjust the cup height according to your tank, and that's all the setting up that is required. You can hang it behind your tank and plug it in. It will work efficiently without making noise. We placed it in our study and were very happy with the noise-free functioning.
Furthermore, to reduce the microbubbles from entering the aquarium, this product has a bubble reducer. It is an essential part and prevents the mixing of proteins back into the water. But to keep the water clean, you should clear the collection cup as soon as it is full.
What Could've Been Better?
The overflow tube works well but is a little too short. This may lead to the cup overflowing at times. We would have preferred a bigger cup or a longer tube, which would have served the purpose better. But for the price it comes in, this is a great deal.
Pros
Adjustable body

Foam bubble reducer

Easy to assemble

Takes only 3.5 inches of space
If you want a skimmer that can be discreetly hung to the back of your aquarium, the Red Sea Fish Pharm Prizm Hang-On Skimmer is an exceptional choice. With a width of only 2.4 inches, it will almost be invisible while it works well and will keep the tank clean.
Why Did We Like It?
This product comes with a surface skimmer, which will help you get better results while skimming the biological and chemical wastes. We found that after 10-12 hours of its functioning, a brown foam layer formed inside the collection cup. This assured us that the product is working fine. Make sure that you clean it as soon as it fills up.
Another great benefit is that it does not make too much noise. You will be able to hear a slight noise because of the water flow, but that is it. It is very minimal and would not cause any kind of disturbance with your work.
Besides this, it was very easy to set up the product. Within 15 minutes, we had a perfectly functioning aquarium with well-adjusted water flow. You can do so by just turning the valve above the water intake pipe. If you open it more, the water flow increases, and on closing it, the flow reduces. Once you have achieved the perfect balance, it is set to function perfectly.
What Could've Been Better?
We were disappointed to see that there was no instruction manual at all with the pack. This is a problem for everyone who is buying a skimmer for the first time. We would recommend watching video tutorials online to learn the technique before you try to install it.
Pros
18-blade "Turbojet" air injector

Affordable product

Collection cup is easy to access

Does not make noise
Are you looking for a user-friendly product that will serve the basic needs perfectly? The CoralVue Technology AC20197 Hang-On Back Skimmer is a compact product that is made for small-sized tanks. We found it to be very efficient and easy to use.
Why Did We Like It?
First of all, this is powered by a Hailea OTP pump, which aims for top-quality performance. It is accompanied by a gate valve, which will help you adjust the water level. If you want more water flow, just open the valve further. If you tighten the valve entrance, it will immediately decrease the flow.
Along with this, the 4-inch cone neck makes this process quicker. It enables the easy transferring of biological wastes in the form of bubbles to your collection cup. The collection cup has adequate capacity and will be able to hold a lot of foam at one time.
Also, it is very easy to clean once the cup is full. Just take it out carefully and wash it. This should clear the water and give you a hygienic aquatic world.
Overall we were satisfied with the working and the affordable price that it comes in.
What Could've Been Better?
The device will work really well after the break-in period, but you might be facing trouble before that. We found that there was a strange sound coming from the motor which completely disappeared after 15 days. It would have been better if the break-in period was shorter.
Pros
4-inch cone neck

Easy to clean

Gate valve for water level adjustment
Do you want to have the company of your marine friends while at work? The SCA-302 180 Gallon Protein Skimmer by SC Aquariums will enable you to place the aquarium very near your desk without getting disturbed by any sounds emitted from it. We truly appreciated the extensive bells and whistles that this has.
Sale
Why Did We Like It?
The best part about this product is a large collection cup, which will ensure that you can collect a larger amount of organic proteins at one time. Also, it will last for longer without needing to be cleaned.
Designed to be compatible with big aquariums, this one will work efficiently with 180 gallons of water.
Another great feature is the in-built silencer. This reduces the sounds of the bubbles, and you can easily place it in your study or workplace without any kind of disturbance.
Also, the equipment is compact in size, and even though it is made for large fish tanks, you can fit it snugly without taking too much space.
Lastly, because of the laser-cut edges, assembling the product will not take much time. They have a manual inside the kit which will guide you well, and you can set it up within 15 minutes. As soon as you plug it in, it begins working perfectly with no break-in time needed.
What Could've Been Better?
The only problem is that it is difficult to remove the cup without spilling its contents. As the cup is pretty large, it will also have a lot of foam, and you will have to be extra careful while picking it up from the tank. But again, this is not a big drawback, and we will not be holding it against the brilliant features.
Pros
Fits most sumps easily

Extra-large collection cup

In-built silencer

Laser-cut for easy assembly
Cons
Cup is difficult to remove
If you are looking for a skimmer that is easy to operate, the Reef Octopus Classic 100-HOB Protein Skimmer will serve you excellently. It is a hang-on product that takes up very little space and can be easily mounted to the back of the fish tank. Plug it in, and it starts skimming immediately with no break-in time required.
Why Did We Like It?
Made to fit tanks with 105 gallons capacity, this unit is known for heavy-duty skimming. Our aquarium water had turned greenish, and we knew it had a lot of biological wastes in it. But after letting this product work for a day, the water cleared up, and finally, the fishes are properly visible. This has also led to the fishes surviving for longer.
The reason behind its brilliant functioning is a sturdy pump. It is powered by an Aquatrance pinwheel pump and has the ability to work for long hours without any hindrance. Rest assured that you will always have a clean tank. All you need to do is clean the collector cup whenever it is filled.
Also, the maximum water flow rate is 350 l/h, and it can be adjusted according to your needs. You would just need to tighten or loosen a screw to adjust the flow.
Additionally, this unit also has a silencer which eliminates sounds and ensures quiet running.
What Could've Been Better?
We found that the product is heavier than most of its peers. It weighs 8.6 pounds, and hence, the tank has to be strong enough to handle the weight. Since you will have to hang it onto the backside, ensure that the tank is sturdy before opting for this. Also, check the size of the rim to see if it is thick enough to support this.
Pros
A maximum flow rate of 350 l/h

8-watt pump power

Has silencers to eliminate sounds

Easy to clean
Designed to fit 14 to 30-gallon tanks, this product is known for its extremely great filtration system. The Coralife Biocube Protein Skimmer will be a great addition to your aquarium and will come with all the needed parts in the kit. You will get a flow valve, air pump, and tubing with the pack itself.
Sale
Why Did We Like It?
This is a perfect fit for BioCube aquariums of sizes 14, 16, 29, and 32. Powered by a heavy-duty air pump, and sturdy flow valve tubing, you can expect a consistent flow of air and water to create the microbubbles. We loved how fast it started skimming without faltering at all.
Besides this, it fits in easily with your tank, and you simply have to hang it inside within the back wall filtration chamber. Being lightweight and compact, it takes up less area and will not add to the overall weight of the tank.
Also, it is known to be very durable, and we have been using it for a year without having to replace any of the parts. In case you need to replace, the parts are very easily available, and you can order them online. Just make sure that they are compatible with the product before purchasing.
What Could've Been Better?
The product worked very well, but the instructions are not sufficient. They do not help at all, and you will need additional guidance. Call up customer care to ask for assistance, or you can watch youtube tutorial videos. There are multiple ones that can help with information about how to use it.
Pros
Easy to clean

Fits most built-in filtration system

Efficient airflow valve
Cons
Instructions are not sufficient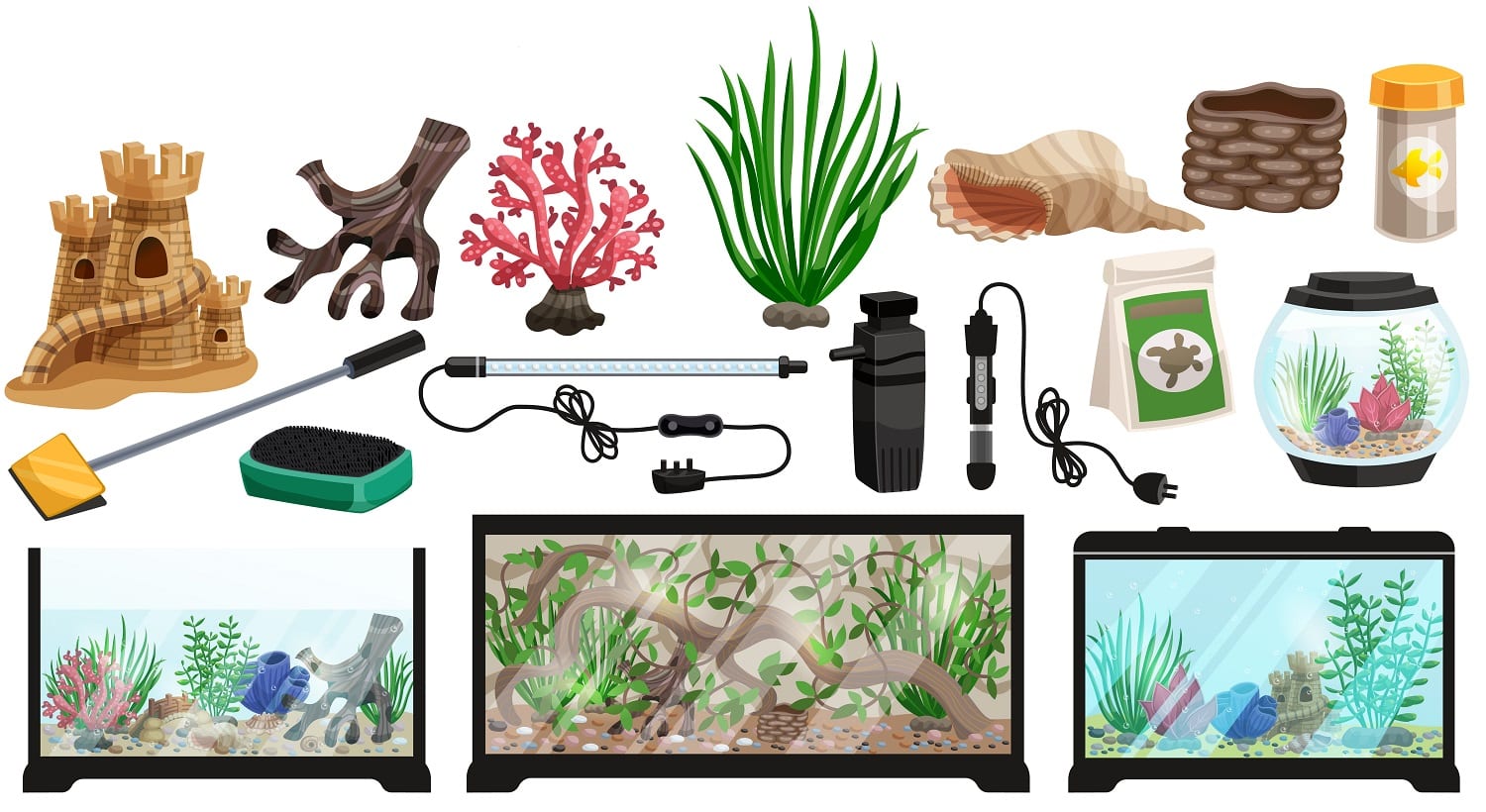 HOB Protein Skimmers Buyer's Guide
HOB skimmers are essential in keeping the water inside your fish tanks clean and in maintaining a healthy aquatic life. They can be placed inside or may be hung on the back in case there is less space. These will assist you in chemical and biological filtration while increasing the lifespan of the fishes.
Now that you have gone through the 13 top products, you will know that each one is unique in its own way. They have different capacities and come with variations.
To help you make a choice, we have detailed down the critical points that need to be kept in mind. We hope this guides you towards buying the one that fits the best.
Air Bubbles
It is through air bubbles that the contamination and protein are taken out of the aquarium. Also, one should know that smaller bubbles ensure better performance. But again, on the other hand, too tiny bubbles would not be able to clean all the organic wastes.
Pay attention to the type of bubbles as they will determine the overall functioning.
Bubble Reducer
While it is important to have the bubbles form by mixing air and water, it is also essential that the bubbles are prevented from entering the aquarium. This would only mean that the impurities re-enter the tank.
To prevent this, many aquariums come with a bubble reducer or a bubble eliminator plate. This is of great benefit as it acts as an extra layer of protection in keeping the water clean and free of protein. So check for this feature before purchasing.
Capacity Of The Tank
What is the size of your tank? This is a vital factor in choosing a model, as every skimmer will not work with every tank. If you have a nano-sized tank, you can choose smaller options that are fit for 25-30 gallons of water.
If you have a medium-sized tank, a skimmer with a capacity of 60- 100 gallons will work well, while for larger tanks, there are options that can deal with even 220 gallons of water.
Noise
Although these devices are not extremely loud, the sound of bubbles forming may be slightly irritating if it occurs constantly. If you are going to place an aquarium in the study, you will want a silent device that would not be a source of distraction. So, pay close attention to this factor before purchasing.
Installation process
The process of installation may get complicated for some models. It is important to adjust your product carefully according to the height of the water in your tank. Also, the cup has to be attached in a way so as to collect the maximum foam without overflowing. The overflow tube also needs to be adjusted to prevent leakage of any kind.
If this is the first time that you are purchasing a skimmer, follow the instruction booklet carefully, and do not skip steps. Also, if the booklet is not sufficient, then watch video tutorials on youtube, which will guide you further.
We had even contacted customer service when we were stuck. It is always better to take help to ensure efficient performance.
Material Used
Although these skimmers are not made of very sturdy material, it is important that you draw a line somewhere. While most of them are made with plastic, check to see if they are sturdy enough. Weak plastic may cause leakage and may wear out with time.
So, make sure that you inspect the product well on receiving it. In case you are not satisfied, ask for a replacement or turn to another product.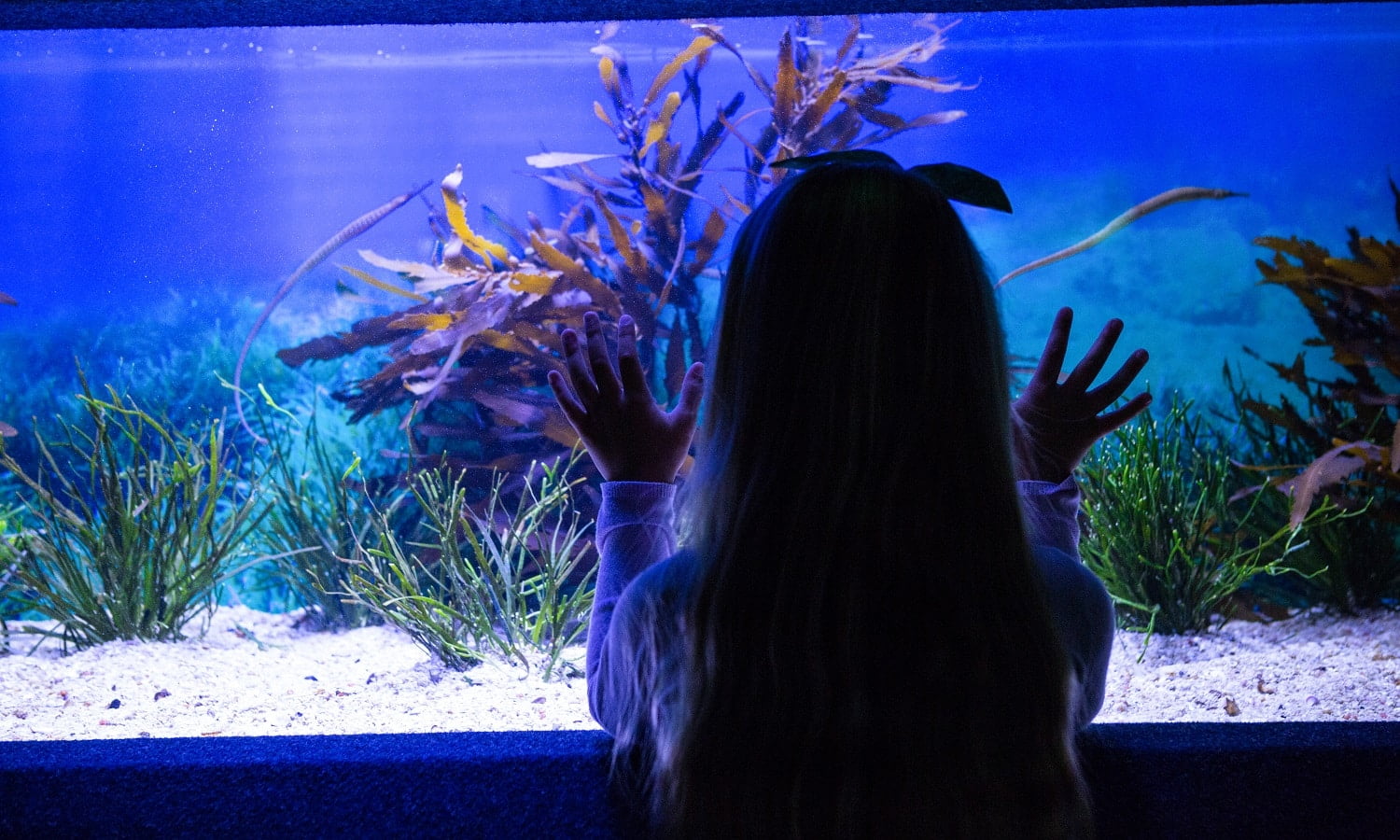 Verdict
Let's face it; you do not want aquariums with greenish algae-filled water. It adds to the decor of the house, and a skimmer will help you keep it clean and healthy.
With this, we come to the end of our comprehensive guide of the best HOB protein skimmers. We hope that it has given you enough insight and will help you make a decision. Protect your fishes and help them live a long life with a good skimmer installed.
However, before concluding, let's go for a quick recap of our favorites. The AquaMaxx HOB-1.5 Hang-On-Back Protein Skimmer is our favorite overall because of its adequate size and brilliant performance.
If you are looking for a product for a large aquarium, go with the Coralife 05271 Super Skimmer with Pump. And if you want a small and compact product that works superbly, it has to be the CPR Bak-Pak 2 Protein Skimmer.
With this, we will take our leave. Happy shopping!
Related Articles
13 Best Portable Fish Finders to Enjoy Today
10 Best Fish Cleaning Tables Right Now