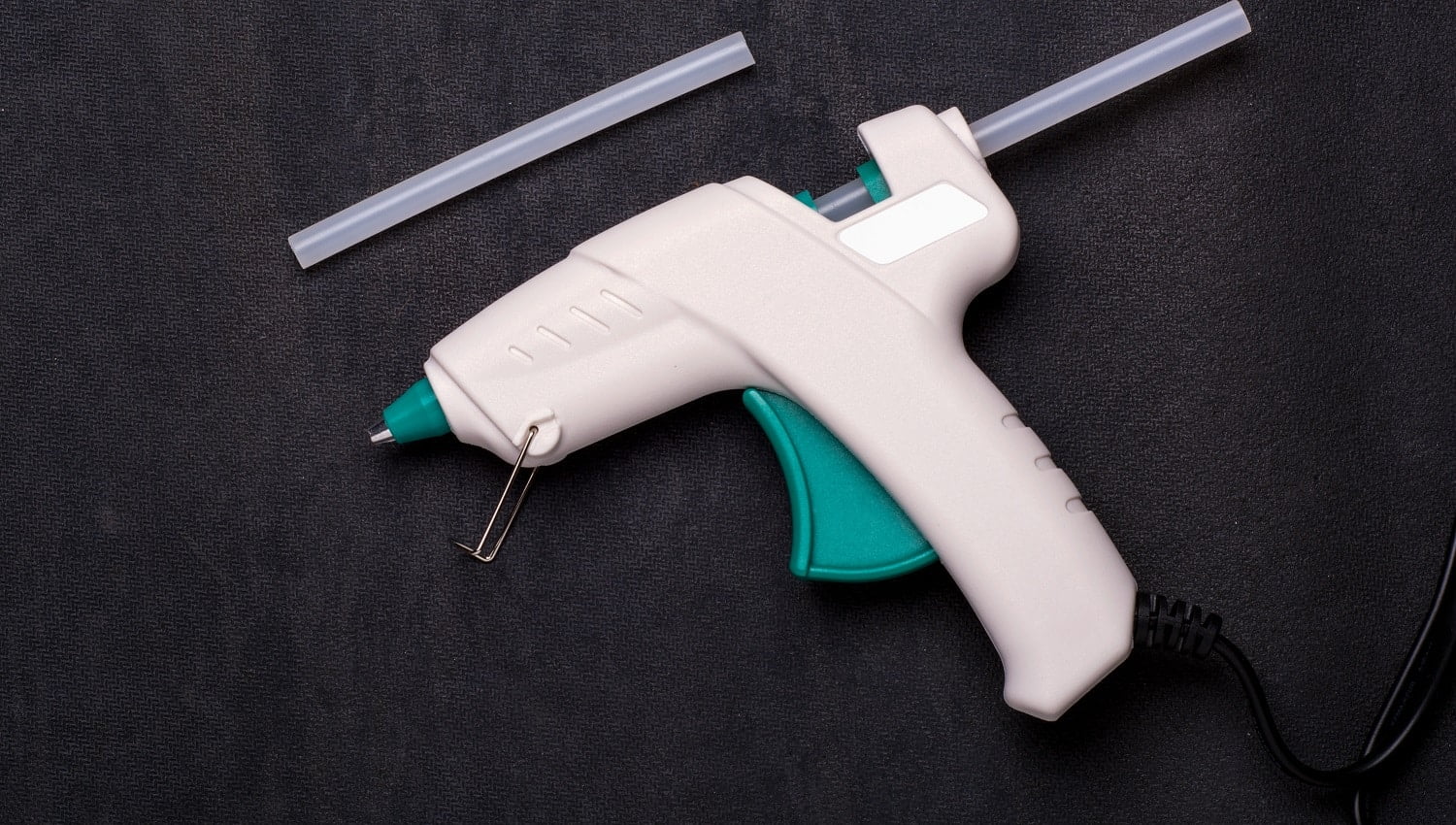 Be it craftwork or home fixations that need your immediate attention; a glue gun has become a necessary piece of equipment.
Art and craft require a certain level of precision, and with the right glue gun, you can achieve it easily! The same goes for items that need to be fixed. From ceramic plates to wooden surfaces, a glue gun can work wonders on everything.
But the problem occurs when you go to choose one from the numerous options available online. We faced a similar issue, and that is when we decided to make the search easier for all of you.
You will find detailed, unbiased reviews of the 13 best glue guns and the pros and cons of each. Sit back and read through!
Top Hot Glue Gun 
IMAGE
PRODUCT
DETAILS

Our Top Pick

Our Top Pick

CCbetter Mini Hot Melt Gun

Warm up time of 3-5 minutes
Cable length of 55 inches
Working power of 20W

VIEW LATEST PRICE →

Surebonder PRO2-220 220

Offers 220 watts of power
Adjustable temperature control
Uses 7/16-Inch diameter glue sticks

VIEW LATEST PRICE →

H-195F Specialty Series 20 Watt Mini Glue Gun

Maximum power of 20 watts
Detachable auxiliary stand
Insulated nozzle

VIEW LATEST PRICE →

Lifegoo Mini Hot Melt Gun Glue

With multi-colored glue sticks
Compact, ergonomic design
Power capacity of 15-25 watts

VIEW LATEST PRICE →

AdTech 0453 2-Temp Dual Temperature Hot Glue Gun

Rated at 540 watts
Works with all surfaces
Dual temperature control switch

VIEW LATEST PRICE →

Stanley Tools GR20AX

Maximum power offered is 30 watts
Trigger feed mechanism
Ideal for art and craft

VIEW LATEST PRICE →

Cobiz Gun Kit

Made with high-quality plastic
Adjustable power of 60 and 100 watts
In-built safety features and smart temperature control

VIEW LATEST PRICE →

Chandler Tool Mini Glue Gun

Stand-Up base
No drip design
For professional and personal usage

VIEW LATEST PRICE →

BSTPOWER 100W Hot Glue Gun

Power capacity of 100 watts
Trigger Propulsion
Power switch with LED light mode

VIEW LATEST PRICE →

Blusmart 54953

Power capacity of 100 watt
Heats up in 3-5 minutes
On/Off power switch

VIEW LATEST PRICE →

Attican Mini Craft Gun

Offers 20 watts of power
Comes with 15 glue sticks

VIEW LATEST PRICE →

PONECA Hot Glue Gun

Safety Intelligent temperature control feature
Offers power of 300 watts
Overheat-proof housing

VIEW LATEST PRICE →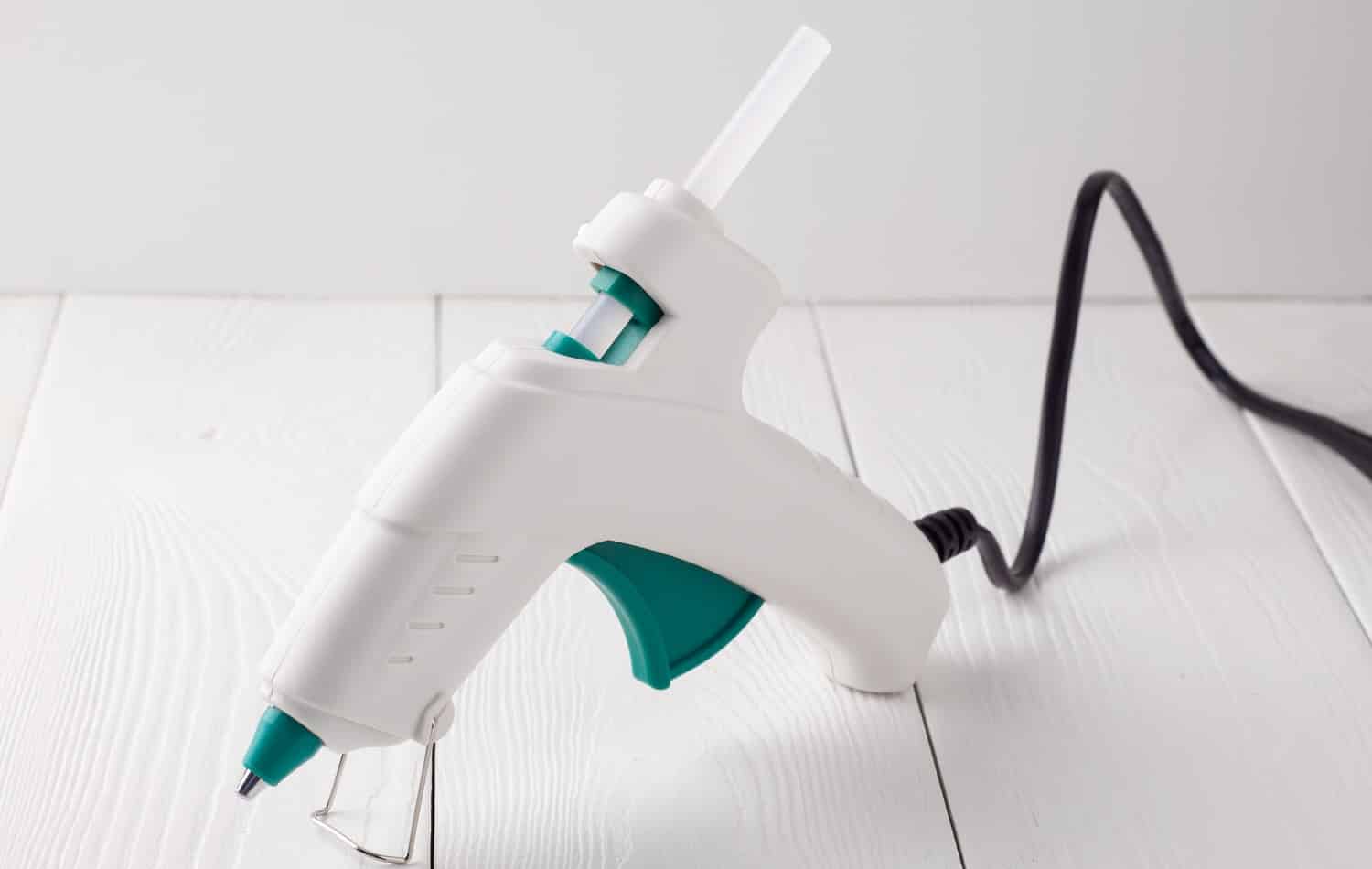 We will begin with the product that won over our hearts. The Mini Hot Melt Gun is a favorite among DIYers who are looking for an affordable and reliable device. With easy-to-use features and a durable yet lightweight body, we were in awe of the efficiency offered.
Why Did We Like It?
First and foremost, let's talk about the heating time. It takes 3-5 minutes maximum to heat up with a working power of 20 watts. For a product as small as this, we were delighted with the low heating time. It works with a temperature of 356 to 392 degrees Fahrenheit.
We appreciated the smart temperature control, which enabled it to hold a constant temperature throughout. It helps the surfaces to bond immediately, and the cooling time is low too.
Another pleasant bonus is the on and off switch, which adds on to the convenience. It has a LED light indicating the status making it user friendly and easy to use even for beginners.
For added protection, this device comes with an anti-hot cover. If you are worried about your kids using it, this makes it safer. The cover protects the hands from touching any hot part, and you can rest assured that anybody can handle it.
What Could've Been Better?
Although the product has functioned brilliantly well and has not shown any signs of decreased efficiency, we hope it would use less amount of glue. The glue sticks that come with the pack are large but get consumed quickly, and we needed to buy glue sticks soon.
Pros
Switch with LED light for convenience

Features smart temperature control

Anti-hot cover

Trigger propulsion enables controlled glue flow
If you are a professional looking for the best solution, the Surebonder PRO2-220 220 hot glue gun will impress you a lot. It is a premium gadget that is meant for heavy-duty work and has the capacity to work with 2.5 lbs of glue in half an hour.
Sale
Why Did We Like It?
Known to be one of the most powerful products in this list, it offers 220 watts of heating power. We are into commercial and industrial grade work, and not every glue gun is a perfect fit for what we do. But the sheer efficiency offered by it really impressed us.
Also, the stainless steel heater that is provided comes with a brilliant facility for adjusting the temperature between 220 and 420 Fahrenheit. Every type of material needs different amounts of glue and separate flow capacity. With the correct temperature and a glue stroke adjustment screw, you will be able to get the right amount of glue every time.
We loved how it came with an on/off switch, which made the device user friendly. Along with it, the nozzles with heat resistant covers and an insulated cord added to the overall convenience.
Lastly, we should mention the wire stand, which helps a lot in keeping this device in the right position and preventing any dripping of glue.
What Could've Been Better?
The built-in check valve could be better, according to us. This is because we found the product to be leaking after a few months of usage. This was slightly disappointing though we had used it vigorously throughout. Make sure that you take breaks while using it for long hours to prevent the valve from getting damaged.
Pros
Heat resistant nozzle covers

Rubber trigger and handle for comfort

Strong wire stand

Auto shut off feature

Dual temperature for different needs
Cons
May leak after a few months
Another offering from the house of Surebonder, the H-195F Specialty Series 20 Watt Mini Glue Gun, is a gun you need in your toolbox. It ensures safety and works towards conserving energy making it one of the most sought-after items in the market.
Why Did We Like It?
First up is the best feature of this gadget. The extendable tip that it comes with ensures accuracy and precision in the job that you are doing. You can achieve high levels of details and can ensure the gluing of micro parts with this.
It also focuses a lot on safety measures and offers a safety fuse in case of overheating. Along with it comes a detachable wire stand and side fins, which keeps the tip away from the surface on which you keep it. You will get a drip-free experience every time this product is used.
Further, it has a rubber grip handle and a strong trigger for easy and comfortable usage. It prevents any kind of fatigue and stress on your hands, which may occur due to working for long hours.
What Could've Been Better?
You may face a slight difficulty in inserting a glue stick. We had initially thought we had to wait for the device to cool down before the insertion of every stick, but that is not so. You just have to push the stick and wiggle it in from the back. It may take a few times to get used to, but once you do, it works fine.
Pros
Safety fuse for better protection

50% more power than standard products

Dual temperature for any kind of application

Auto shut off function
Cons
Difficulty in inserting glue stick
Next up is a portable device that is made, especially for kids. The Lifegoo Mini Hot Melt Gun Glue is going to be the star of your kid's craft box. We caught our kids boasting about their one to their friends; such is the impact! Read on to find out why!
Why Did We Like It?
The best part about this product is the glue sticks that are given along with. They are made in multiple colors and can be quite an attractive package for the younger generation. Also, it is suitable for use by any individual without an age restriction.
One can also shift between high and low settings according to requirements. Larger art projects would need more glue than smaller ones, and you could change between settings accordingly.
Further, it heats up quickly and maintains a constant temperature throughout. This ability helps in attaching items quickly, and paired with the quick-drying capacity of the sticks; there is nothing to complain about. It is a perfect fit for homes and schools.
To top it all, the device is super affordable and can be a valued addition to the craft box.
What Could've Been Better?
We would have liked it if the grip could be improved a little more. It may be a little hard to hold and fit into small hands. If you are looking to use it for short spans, then this should not be a problem. Issues may only arise if you plan to use it for longer periods.
Pros
Comes with a high and low setting

Especially made for kids

Heats quickly

Equipped with adequate safety measures
Cons
Grip could have been better
The AdTech 0453 2-Temp Dual Temperature Hot Glue Gun left us in awe with its bells and whistles. It is impressive, to say the least, and works with most surfaces. With its quick heating time paired with safety features, there is nothing more left for us to desire.
Sale
Why Did We Like It?
This product impressed us with the temperature adjustment switch. You can easily shift between the two while working with various surfaces. A button would only need a lower temperature to be attached to the fabric while a metal pin would need higher temperatures to get fixed. We were able to work with glass, metal, fabric, wood, to name a few of the materials.
Also, the gun is rated at 40 watts and is known to be energy conscious. It reduces energy demand when the desired temperature is reached.
The 5-foot long cord gives you the ability to move it around. We do not have too many power points, and a fairly long power cord allowed us to still sit at our work desk while connecting to a plug point a little farther away.
Besides, the machine is protected by a hard and sturdy plastic case preventing any damage even if dropped.
What Could've Been Better?
A device with such a list of features will not come cheap. This one stands true to the statement and is expensive. If you are an average householder like us, it would be a tad bit above your budget. But for those not restricted by a budget, this is an excellent choice.
Pros
5-foot long cord for ease of usage

Perfect for use in schools offices, homes

Durable plastic shell

Body does not get heated up
Being one of the reasonably priced options, the Stanley Tools GR20AX, is a prized possession for every DIYer and art and craft enthusiasts out there. It works well for kids and adults alike, and the vibrant yellow color makes it stand out from among the rest. Read on to find out more about the features.
Why Did We Like It?
We will begin with the trigger feed mechanism, which enables the device to heat up quickly. It also controls the glue flow and makes sure that you do not end up with glue dripping on your hands.
The quick heating process makes it a very desired choice for DIYers. Craftwork often demands that you have a steady and constant flow to enable fixing an object in a particular position. To top it, we were amazed at how quickly the drying process was. The surfaces bonded in less than 60 seconds!
Also, the company paid attention to the grip and made it super comfortable. If you are planning to use it a lot, you will know how strenuous it may get for the hand. But with a sturdy and durable grip, you will face none of that.
What Could've Been Better?
We found that the cord is pretty short, making it challenging to work with it anywhere. You will need to be near a power point while doing the job, and you have to be careful about not pulling on to the cord. This is a minor flaw and can be avoided by using power extension cords along with.
Pros
Glue flow can be controlled

Heats up instantly

Lightweight and compact

Bonds in 60 seconds
For all the art and craft enthusiasts who do not like the feel of a mini gun and want something bigger, the Cobiz Gun Kit is a boon! It has adjustable features and will adapt according to your specific needs. What more, if you are on a budget, this will prove to be a great choice.
Why Did We Like It?
One of the best options for DIYers, this glue gun has a PTC thermal heating system, which helps it to heat up immediately. A copper tip ensures that the heated glue is evenly distributed on to the surface.
Many feel that mini guns are difficult to hold and work with, and that is true. This device, with its big size, will make holding it easier. Also, the ergonomic grip and design make it more user-friendly.
Another feature that enhances the efficiency of this gadget is the adjustable wattage. One can easily adjust the wattage between 60 to 100 watts making sure that it performs well in every case.
 Be it a ceramic plate that needs to be fixed or a wooden surface that needs to be attached; this gun can deal with it all. And the fact that it is so affordable adds icing on the cake. For this price, it is one of the most popular choices in the market.
What Could've Been Better?
We have to deduct a few brownie points for the stand, which is not strong enough. Now, if you place your device carefully, then there is no chance of it falling over. But if it is done in a hurry, there is a big chance of the stand tipping over. This will make the tip touch the surface.
Pros
Power selection switch

Heats very quickly

Very affordable

Attractive yellow colored body
Cons
Stand is not sturdy enough
Next up is a very attractive product that boasts of premium quality and exceptional features. The Chandler Tool Mini Glue Gun will provide you with everything you require from a glue gun without making it too bulky to be carried around.
Sale
Why Did We Like It?
We will begin with the feature which stands out the most. If you have been using glue guns, you will know how it keeps tipping over and creating a mess. But this device literally stands up against it. With a sturdy stand-up base, the gun will never fall! We loved the amount of thought that went into creating this product.
Another brilliant feature is the no-drip mechanism. While cheaper products often tend to drip a lot creating a mess that is difficult to remove, this company has made sure that they only use high-quality materials to achieve the exact amount of finesse required. It is time to bid farewell to wasted glue.
Also, we loved the attractive colors that have been used. Our kids wanted this product, especially for the color that it came in. The soft pink and grey compliments each other adding a touch of class to your toolbox.
What Could've Been Better?
The only issue we saw was that the gun tends to heat up more than usual when used for long. Now we will not be holding it against the exceptional features as the heat is not too much to lead to burns. You may have to switch off the gadget at times and let it cool down.
Pros
Comes with a lifetime guarantee

Lightweight and easy to use

Very attractive design

Made from impact-resistant plastic
This is a brilliant product known for its versatility in usage. The BSTPOWER 100W Hot Glue Gun is made to work with delicate and the toughest of surfaces with utter ease. If you need different heat and material settings, go for this wonderful option.
Why Did We Like It?
This is a full-sized gun that can toggle between 100 to 200 degrees Fahrenheit with ease. A dial allows one to control the temperature making it extremely user friendly.
We had wanted a glue gun for household fixations, and this gave us the bandwidth to work with gluing wooden ends of chairs to fixing ceramic plates. Metal needs higher temperatures, and this machine allows you even to reach that level too.
The adjustable thermostat adds on to the benefits making it very easy for dent repairs and dent removal. You can control this device with the trigger. This indirectly regulates the flow of the glue. It constantly flows in a single line adding to the efficiency.
 Also, it provides a comfortable grip to prevent fatigue. All of this is valued at a very affordable price, making it a very sought after product in the market.
What Could've Been Better?
The pack mentions that two extra replaceable tips are provided, and makes one believe that they are of different sizes. But on arrival, we found that all the tips are of the same length. This is not really an issue, but it could be a disappointment for those who expected otherwise.
Pros
Multifunctional and can be used widely

Heats up in 3-5 minutes

Ceramic PTC thermistor prevents overheating

Automatic thermostat to save energy
Cons
Extra tips provided do not match the specifications
Next up is a product made for small projects. Are you helping your kids with artwork for school? Make them stand out with their flawless models and craftwork with the Crenova 43237-2 Kit. The glue dries instantly, making the process quick. Your kids will be grateful to have this in their art kit.
Why Did We Like It?
Are you looking to fix buttons, emboss cards, or create rings and bracelets? It is time to bring out the artist in you with this amazing product. Not only will it take care of your art needs, but it can also be used to repair wood fabric and ceramics around the house.
Further, the Positive Temperature Coefficient or PTC testing component ensures that the machine is not heated up too much. You do not need to be scared anymore to let your kids use it. An additional fuse inside also prevents temperatures from going up. A constant temperature is maintained to help work in ease.
Another feature we got to mention in the trigger propulsion design. You can switch on and off with this without having to reach out to the power switch. Also, it enables you to control the glue flow and toggle between heavy and low application.
What Could've Been Better?
We noticed one issue while using this product. The glue does not constantly flow in one line and breaks off. The only way you can get a continuous flow of glue is if you keep pushing the glue stick inside with another glue stick from the top. This might make it difficult to handle for some.
Pros
Can be used for a wide variety of applications

Very reliable and easy to handle

Lightweight and compact design

Durable body
Cons
No continuous flow of glue
Next up is a superior product from the house of Blusmart. It has taken on the market with its brilliant performance and exceptional bells and whistles. Be it a householder looking to fix items around the house or a DIY enthusiast wanting to create something new; this will be a great companion to have in every endeavour.
Why Did We Like It?
We will begin with a high-tech electronic ceramic PTC used, which is the secret behind the anti-hot surface and impressive insulation capacities of this product. It is accompanied by a copper metal gun nozzle, which is sleek and replaceable.
Also, the product is energy conscious and shuts off by itself when you stop using it. This is an important feature and is a boon for those who tend to get absent-minded.
Another feature we liked is the glue sticks that came along. These have high levels of viscosity and adsorbability, something every Diy-enthusiast would love. From household usage to factory work, it works stunningly well and can fix ceramic items too.
Compared to most devices, this gun is big and has a larger capacity to handle glue. We have been using it for long hours at a stretch, and the anti-hot nozzle covers proved to be very helpful. You do not need to be worried about getting burns at all.
 What could've Been Better?
The only drawback that the product came with is a weak trigger. The trigger needs to be handled carefully to prevent it from breaking. It is slightly weaker and may not be able to take rough usage. Handle it with care, and we assure you that it will last long.
Pros
Strong adhesive and can stick almost anything

Best for industrial use

Premium built quality

Anti-hot cover on nozzle
A perfect choice for the hobbyist in you, the Attican Mini Craft Gun, will give you a drip-free experience. It is versatile and affordable, making it one of the most desired products in the market. We were super impressed with the cost and the hoard of features that came with it.
No products found.
Why Did We Like It?
We wanted a device for our kids who are very interested in DIY craftwork. This mini glue gun does its job perfectly and is lightweight, making it easy to carry for anybody. The 20 watts working power is enough to quickly heat it up in 3-5 minutes.
The body is made of plastic, which makes it so light. It comes with a smooth trigger that can be used by individuals of all ages easily. From cardboard to wood bits and pieces, it works fabulously for everything. With the ease of usage offered here, it is time to shift to glue guns and move away from the general messy liquid Glue.
Further, it comes with 15 glue sticks to get you to begin work immediately. We found the gun to be very easy to clean and maintain and can be used out of the box.
What Could've Been Better?
Though the product has pleased us to a great extent, we felt the quality could have been better. The wire stand is not very sturdy and may tip over if kept on uneven surfaces. But at the cost that it comes in, we will not hold this against it. Overall, it works well for personal use.
Pros
Very affordable

Heats up quickly

Works for beginners

Lightweight and compact
Known to be one of the safest gadgets to use, the PONECA Hot Glue Gun surely stands out. It pairs comfort with safety, giving you the benefits of utter precision while working. Save yourself from any kind of burns by choosing this fabulous option.
Why Did We Like It?
First, we will talk about the temperature control feature. It helps maintain the desired temperature without the device getting overheated. The brand has taken overheating seriously and made sure that every measure is implemented to prevent it.
Additionally, the gun has a heat-insulating coating which prevents heat from getting transferred to the body. So now, there is no chance of you getting hurt.
The nozzles are also coated with a heat-insulating material so as to not cause burns. Any kind of dripping is also prevented thanks to the design of the nozzle. We know how dripping can damage a surface, and thus we were impressed by how the company took it into consideration.
Further, this is a perfect choice for professionals. A professional needs a strong device that can be used for long hours without overheating, and this already provides that benefit. Also, it conserves the right amount of glue with no wastage.
What Could've Been Better?
The major drawback here is the time that it takes to heat up. The product does not get heated instantly, making the process time-consuming. But once it reaches the perfect temperature, there is no stopping it. It continues to function brilliantly well.
Pros
Highly professional and durable

Prevents overheating

Handle made of heat-insulating material

Buttons provided for switching on and off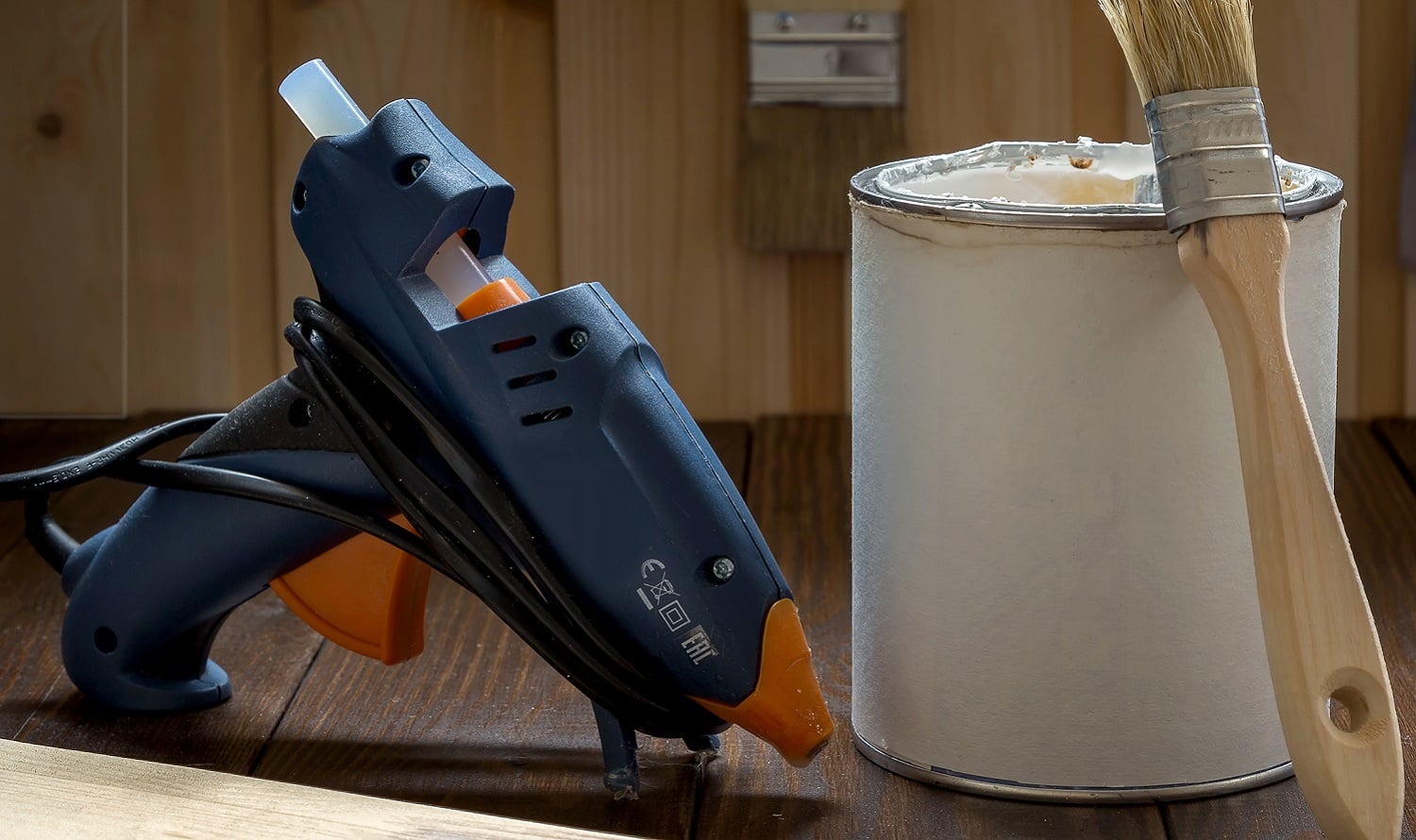 Hot Glue Gun Buyer's Guide
By now, you must have realized what a good glue gun can help you achieve. But the task does not end with you knowing about the different types available. You will also have to make a note of your requirements.
The best device in the above list may not guarantee full satisfaction if you have different needs. So it is essential that you take the following points seriously and you will be good to go!
Power Capacity
The wattage determines the usage of this gun. What is it that you need the gun for? A lower wattage will suffice if you are looking at minimal to average usage for school projects and craftwork. Anything around 20-25 watts should be enough.
On the other hand, if your needs include working with harder surfaces and for professional usage, a 100 watts gadget would be a better option.
Type of Surface
Determine the kind of surface you will be working with. If it is fabric or plastic, a mini gun will suffice with lower wattage. These devices are cheaper and will not have you spending too much.
Now, if you are going to work on metal and wood, these are harder materials and take a lot of power and glue. A bigger gun is required, which can run for a longer time without facing issues with overheating.
Grip
The kind of grip that the product has is also essential. Sometimes some of the handles do not fit into smaller hands properly. Also, if the grip is not good, it may lead to increased stress on your hands.
A comfortable grip is key to working long hours smoothly. We have faced issues with bad grips where the strain left us unable to work for days. So we have to emphasize how important the grip is.
Tip of the Nozzle
Would you need a larger flow of glue, or do you need the glue to flow in a thin string? Your answer will help in determining the kind of tip you may need.
 If the surface is big, the diameter of nozzles have to be broader to allow a lot of glue to flow out. This is essential to make the process less time-consuming. While for smaller items, a thin stream is required to achieve precision.
Types of Glue Sticks
Glue sticks vary in size, and different guns work with different sizes of these sticks. Firstly if you already have glue sticks from beforehand, check the device which matches them.
If that is not the case, buy according to the kind of usage you are looking at. Bigger and thicker glue sticks will be needed for large scale work while smaller glue sticks will suffice for craft and school projects.
There are color options too, where some devices come with multiple colored sticks, which make it a treat for the kids. While it may work for them, the color may be a hindrance if you are trying to attach a button on the fabric. A transparent option is all you need.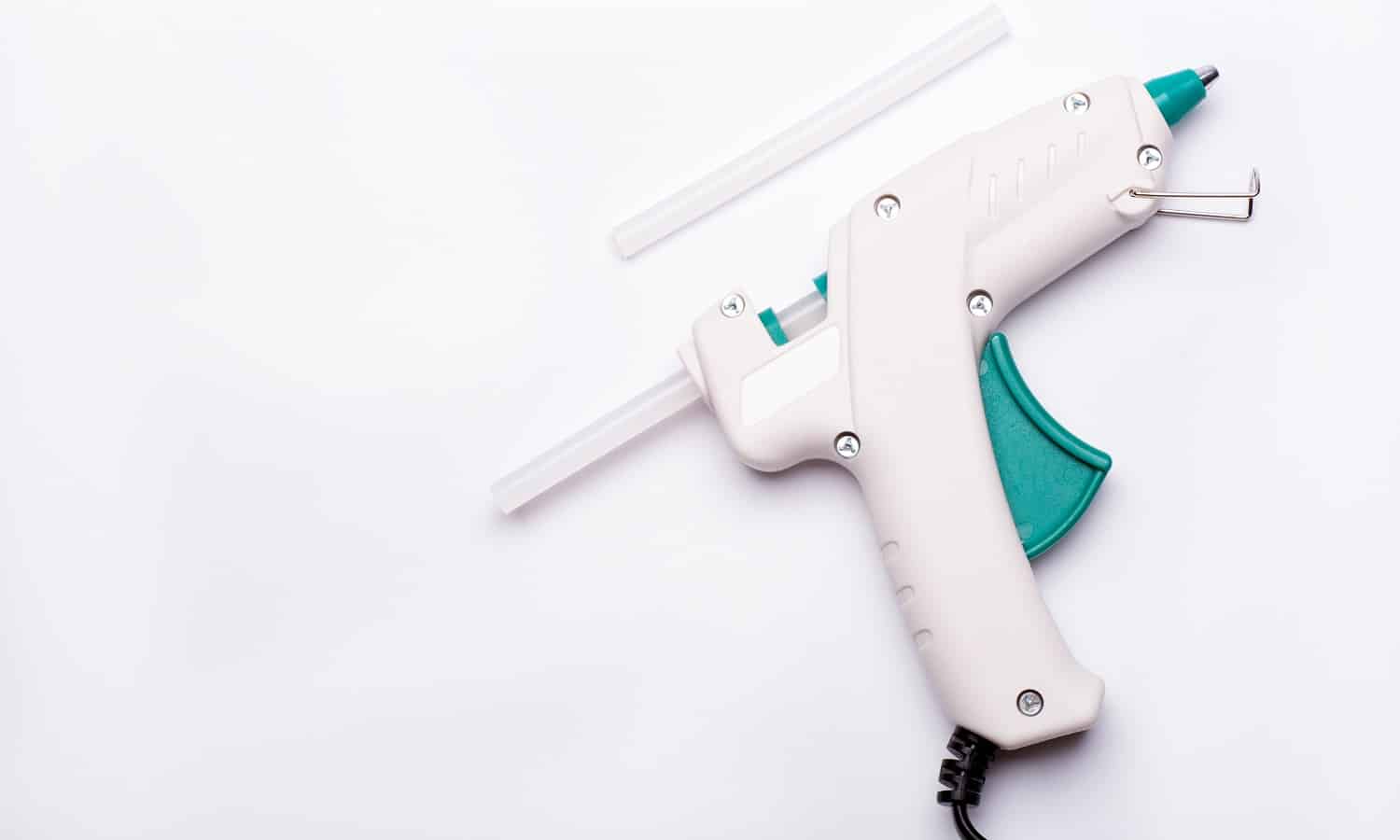 Verdict
Our favorite from this list is the CCbetter Mini Hot Melt Gun for the brilliant performance that it shows. It is everything that you may want in a mini glue gun. It will meet all your needs without leaving a hole in your pockets. What more could you ask for!
If you are looking for a bigger gun for professional purposes, the Surebonder PRO2-220 220 is the best in the market. It is made for heavy-duty usage and can withstand any amount of work pressure.
With this, we reach the end of this comprehensive guide. A glue gun can solve a lot of your troubles only if you use it right. After reading through, we hope you now know how to choose a great option. Let us know in the comments section below if you have any further queries.
Till next time, happy shopping!
Related Articles
How To Glue HDPE 101 + Best HDPE Adhesive
The Difference Between Epoxy & Super Glue
How to Remove Gorilla Glue From Skin Safely & Easily
14 Different Types of Glue – How They're Used + Tips
Can I repair a broken LEGO brick with glue?
11 Best Permanent Fabric Glues
11 Best Glue For Paper & Paper Mache
10 Best Ceramic and Porcelain Glue
11 Best Glue for Polypropylene
Polyurethane Glue 101 | All You Need to Know  
Gorilla Glue vs. Super Glue | Strengths, Weakness + Winner?
9 Best Glue For Hardwood Floors
7 Best Glue For Particle Board
5 Best Glue To Fix Fridge Plastic