Be it craftwork or home fixations that need your immediate attention; a glue gun has become a necessary piece of equipment.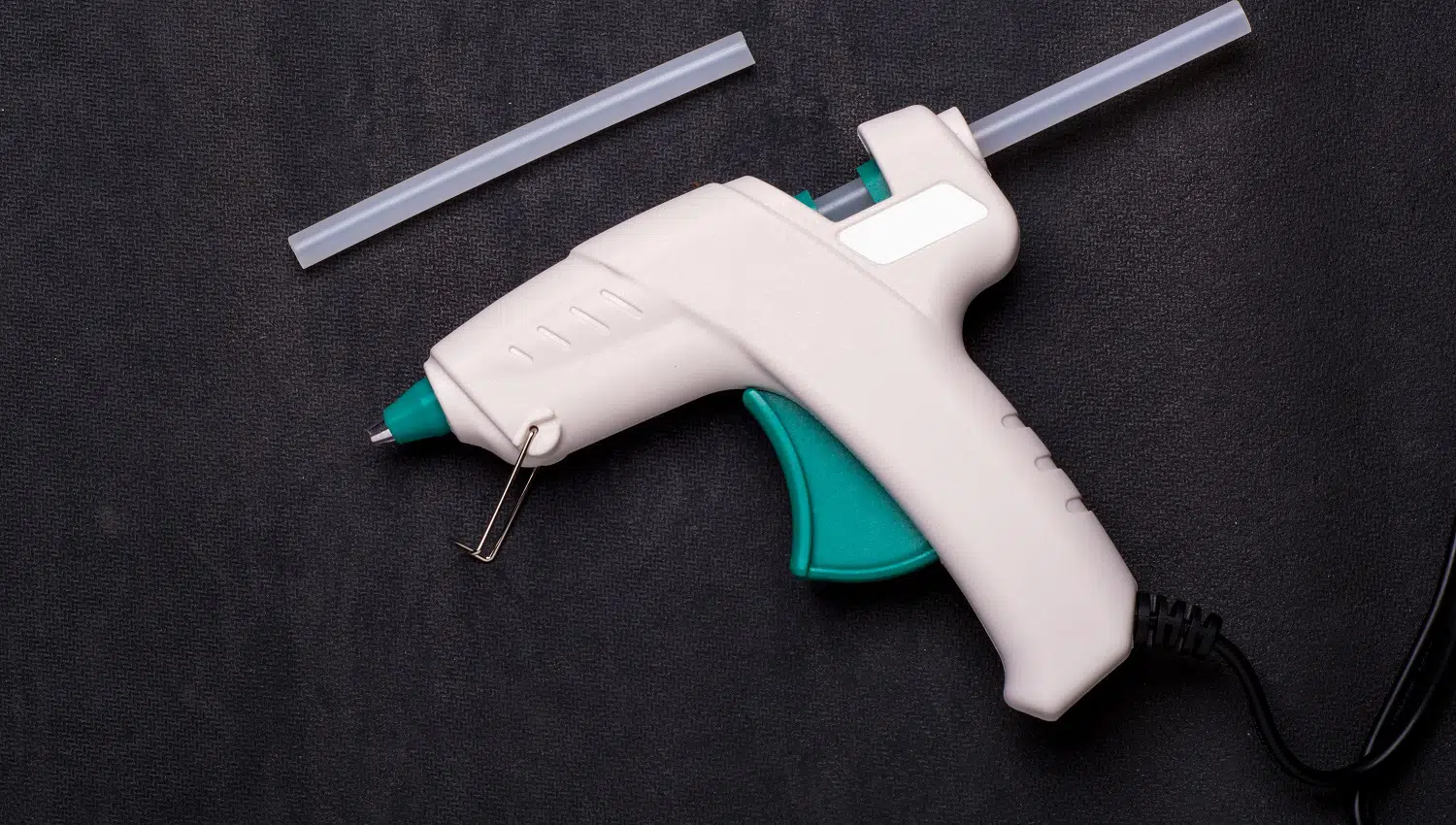 Art and craft require a certain level of precision, and with the right glue gun, you can achieve it easily! The same goes for items that need to be fixed. From ceramic plates to wooden surfaces, a glue gun can work wonders on everything.
But the problem occurs when you go to choose one from the numerous options available online. We faced a similar issue, and that is when we decided to make the search easier for all of you.
You will find detailed, unbiased reviews of the 6 best glue guns and the pros and cons of each. Sit back and read through!
Best Hot Glue Guns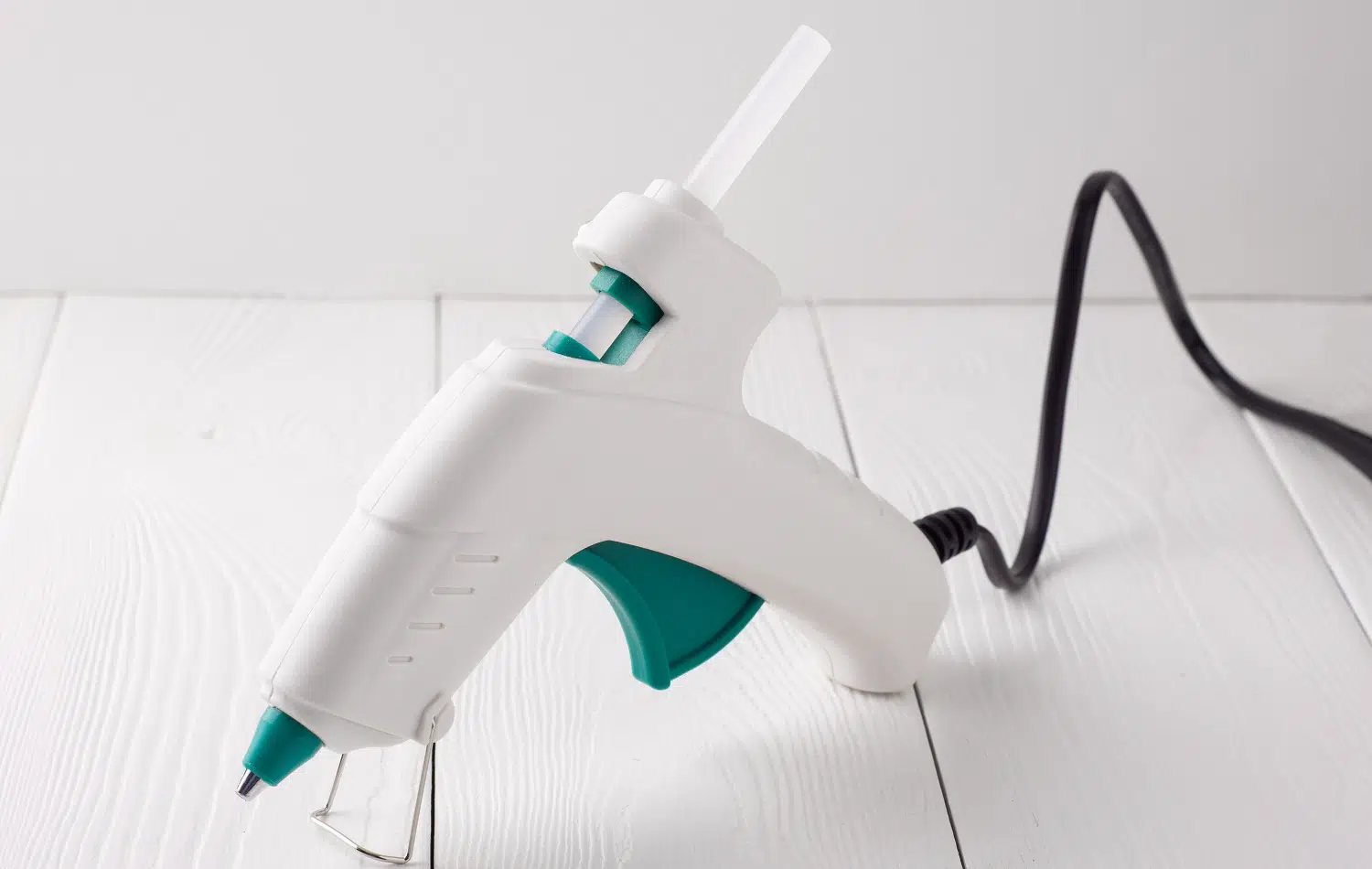 Here is the list of the 6 best hot glue guns that you can use to make crafting projects, repairs, and DIY projects easier and faster.
If you are a professional looking for the best solution, the Surebonder PRO2-220 220 hot glue gun will impress you a lot. It is a premium gadget that is meant for heavy-duty work and has the capacity to work with 2.5 lbs of glue in half an hour.
Sale
Why Did We Like It?
Known to be one of the most powerful products on this list, it offers 220 watts of heating power. We are into commercial and industrial-grade work, and not every glue gun is a perfect fit for what we do. But the sheer efficiency offered by it really impressed us.
Also, the stainless steel heater that is provided comes with a brilliant facility for adjusting the temperature between 220 and 420 Fahrenheit. Every type of material needs different amounts of glue and separate flow capacity. With the correct temperature and a glue stroke adjustment screw, you will be able to get the right amount of glue every time.
We loved how it came with an on/off switch, which made the device user-friendly. Along with it, the nozzles with heat-resistant covers and an insulated cord added to the overall convenience.
Lastly, we should mention the wire stand, which helps a lot in keeping this device in the right position and preventing any dripping of glue.
What Could've Been Better?
The built-in check valve could be better, according to us. This is because we found the product to be leaking after a few months of usage. This was slightly disappointing though we had used it vigorously throughout. Make sure that you take breaks while using it for long hours to prevent the valve from getting damaged.
Pros
Heat-resistant nozzle covers

Rubber trigger and handle for comfort

Strong wire stand

Auto shut-off feature

Dual temperature for different needs
Cons
May leak after a few months
Dimensions: 10" x 2.5" x 8.25" | Weight: 38.4oz | Power Source: Corded Electric | Voltage: 120V | Wattage: 220W | Temperature Range: 220°F to 420°F | Glue Stick Diameter: 0.5", 0.43" | Glue Stick Length: N/A
Another offering from the house of Surebonder, the H-195F Specialty Series 20 Watt Mini Glue Gun, is a gun you need in your toolbox. It ensures safety and works towards conserving energy making it one of the most sought-after items in the market.
Why Did We Like It?
First up is the best feature of this gadget. The extendable tip that it comes with ensures accuracy and precision in the job that you are doing. You can achieve high levels of detail and can ensure the gluing of micro parts with this.
It also focuses a lot on safety measures and offers a safety fuse in case of overheating. Along with it comes a detachable wire stand and side fins, which keep the tip away from the surface on which you keep it. You will get a drip-free experience every time this product is used.
Further, it has a rubber grip handle and a strong trigger for easy and comfortable usage. It prevents any kind of fatigue and stress on your hands, which may occur due to working long hours.
What Could've Been Better?
You may face slight difficulty in inserting a glue stick. We had initially thought we had to wait for the device to cool down before the insertion of every stick, but that is not so. You just have to push the stick and wiggle it in from the back. It may take a few times to get used to, but once you do, it works fine.
Pros
Safety fuse for better protection

50% more power than standard products

Dual temperature for any kind of application

Auto shut-off function
Cons
Difficulty in inserting glue stick
Dimensions: 36.4" x 7" x 0.5" | Weight: 6.7oz | Power Source: AC/DC | Voltage: 120V | Wattage: 20W | Temperature Range: N/A | Glue Stick Diameter: 0.31" | Glue Stick Length: 4", 10"
The AdTech 0453 2-Temp Dual Temperature Hot Glue Gun left us in awe with its bells and whistles. It is impressive, to say the least, and works with most surfaces. With its quick heating time paired with safety features, there is nothing more left for us to desire.
Sale
Why Did We Like It?
This product impressed us with the temperature adjustment switch. You can easily shift between the two while working with various surfaces. A button would only need a lower temperature to be attached to the fabric while a metal pin would need higher temperatures to get fixed. We were able to work with glass, metal, fabric, and wood, to name a few of the materials.
Also, the gun is rated at 40 watts and is known to be energy conscious. It reduces energy demand when the desired temperature is reached.
The 5-foot-long cord gives you the ability to move it around. We do not have too many power points, and a fairly long power cord allowed us to still sit at our work desk while connecting to a plug point a little farther away.
Besides, the machine is protected by a hard and sturdy plastic case preventing any damage even if dropped.
What Could've Been Better?
A device with such a list of features will not come cheap. This one stands true to the statement and is expensive. If you are an average householder like us, it would be a tad bit above your budget. But for those not restricted by a budget, this is an excellent choice.
Pros
5-foot long cord for ease of usage

Perfect for use in schools offices, homes

Durable plastic shell

Body does not get heated up
Dimensions: 7.75" x 2.25" x 10.5" | Weight: 8oz | Power Source: Corded Electric | Voltage: 120V | Wattage: 40W | Temperature Range: N/A | Glue Stick Diameter: 0.44" | Glue Stick Length: N/A
Next up is a very attractive product that boasts premium quality and exceptional features. The Chandler Tool Mini Glue Gun will provide you with everything you require from a glue gun without making it too bulky to be carried around.
Why Did We Like It?
We will begin with the feature which stands out the most. If you have been using glue guns, you will know how it keeps tipping over and creating a mess. But this device literally stands up against it. With a sturdy stand-up base, the gun will never fall! We loved the amount of thought that went into creating this product.
Another brilliant feature is the no-drip mechanism. While cheaper products often tend to drip a lot creating a mess that is difficult to remove, this company has made sure that they only use high-quality materials to achieve the exact amount of finesse required. It is time to bid farewell to wasted glue.
Also, we loved the attractive colors that have been used. Our kids wanted this product, especially for the color that it came in. The soft pink and grey compliments each other adding a touch of class to your toolbox.
What Could've Been Better?
The only issue we saw was that the gun tends to heat up more than usual when used for long. Now we will not be holding it against the exceptional features as the heat is not too much to lead to burns. You may have to switch off the gadget at times and let it cool down.
Pros
Comes with a lifetime guarantee

Lightweight and easy to use

Very attractive design

Made from impact-resistant plastic
Dimensions: 5.51" x 1.25" x 4.45" | Weight: 7.8oz | Power Source: Corded Electric | Voltage: 12.5V | Wattage: 25W | Temperature Range: Up to 305°F | Glue Stick Diameter: 0.43" | Glue Stick Length: N/A
This is a brilliant product known for its versatility in usage. The BSTPOWER 100W Hot Glue Gun is made to work with delicate and toughest surfaces with utter ease. If you need different heat and material settings, go for this wonderful option.
Why Did We Like It?
This is a full-sized gun that can toggle between 212 to 428 degrees Fahrenheit with ease. A dial allows one to control the temperature making it extremely user-friendly.
We had wanted a glue gun for household fixations, and this gave us the bandwidth to work with gluing wooden ends of chairs to fix ceramic plates. Metal needs higher temperatures, and this machine allows you even to reach that level too.
The adjustable thermostat adds to the benefits making it very easy for dent repairs and dent removal. You can control this device with the trigger. This indirectly regulates the flow of the glue. It constantly flows in a single line adding to the efficiency.
 Also, it provides a comfortable grip to prevent fatigue. All of this is valued at a very affordable price, making it a very sought-after product in the market.
What Could've Been Better?
The pack mentions that two extra replaceable tips are provided, and makes one believe that they are of different sizes. But on arrival, we found that all the tips are of the same length. This is not really an issue, but it could be a disappointment for those who expected otherwise.
Pros
Multifunctional and can be used widely

Heats up in 3-5 minutes

Ceramic PTC thermistor prevents overheating

Automatic thermostat to save energy
Cons
Extra tips provided do not match the specifications
Dimensions: 12.52" x 10.31" x 2.17" | Weight: 14oz | Power Source: Corded Electric | Voltage: 110V to 220V | Wattage: 100W | Temperature Range: 212°F to 428°F | Glue Stick Diameter: 0.43" | Glue Stick Length: 10"
The Gorilla Dual Temp Glue Gun is a versatile tool designed for both professionals and DIY enthusiasts. This high-quality glue gun offers dual temperature settings, making it compatible with a variety of materials such as wood, plastic, and more. The package includes 30 mini glue sticks to get you started right away.
Sale
Why Did We Like It?
We appreciated the Gorilla Dual Temp Glue Gun for its user-friendly design, which features a lightweight body and an easy-to-pull trigger that prevents hand fatigue during extended use. Moreover, its dual temperature functionality allows users to work efficiently with different materials, ensuring a strong bond every time. The inclusion of 30 mini glue sticks adds to the product's overall value.
 What could've Been Better?
The only minor drawback with this glue gun is that feeding glue sticks into the device requires manual effort. However, this is a common feature among glue guns and doesn't detract from the overall performance and usability of the product.
Pros
Easy-to-pull trigger

Dual temperature settings

Suitable for materials like wood, plastic, & more

Comes with 30 mini glue sticks

Comes with 30 mini glue sticks
Cons
Manual effort required to feed glue sticks into the device
Dimensions: 10" x 8" x 2" | Weight: 11.3oz | Power Source: Corded Electric | Voltage: 120V | Wattage: 12W | Temperature Range: N/A | Glue Stick Diameter: 0.27" | Glue Stick Length: 4"
Best Hot Glue Gun Comparison Table
Buying Guide For The Best Hot Glue Gun
By now, you must have realized what a good glue gun can help you achieve. But the task does not end with you knowing about the different types available. You will also have to make a note of your requirements.
The best device in the above list may not guarantee full satisfaction if you have different needs. So it is essential that you take the following points seriously and you will be good to go!
Power Capacity
The wattage determines the usage of this gun. What is it that you need the gun for? A lower wattage will suffice if you are looking at minimal to average usage for school projects and craftwork. Anything around 20-25 watts should be enough.
On the other hand, if your needs include working with harder surfaces and for professional usage, a 100 watts gadget would be a better option.
Type of Surface
Determine the kind of surface you will be working with. If it is fabric or plastic, a mini gun will suffice with lower wattage. These devices are cheaper and will not have you spending too much.
Now, if you are going to work on metal and wood, these are harder materials and take a lot of power and glue. A bigger gun is required, which can run for a longer time without facing issues with overheating.
Grip
The kind of grip that the product has is also essential. Sometimes some of the handles do not fit into smaller hands properly. Also, if the grip is not good, it may lead to increased stress on your hands.
A comfortable grip is key to working long hours smoothly. We have faced issues with bad grips where the strain left us unable to work for days. So we have to emphasize how important the grip is.
Tip of the Nozzle
Would you need a larger flow of glue, or do you need the glue to flow in a thin string? Your answer will help in determining the kind of tip you may need.
 If the surface is big, the diameter of the nozzles has to be broader to allow a lot of glue to flow out. This is essential to make the process less time-consuming. While for smaller items, a thin stream is required to achieve precision.
Types of Glue Sticks
Glue sticks vary in size, and different guns work with different sizes of these sticks. Firstly if you already have glue sticks from beforehand, check the device which matches them.
If that is not the case, buy according to the kind of usage you are looking at. Bigger and thicker glue sticks will be needed for large-scale work while smaller glue sticks will suffice for craft and school projects.
There are color options too, where some devices come with multiple colored sticks, which make it a treat for the kids. While it may work for them, the color may be a hindrance if you are trying to attach a button to the fabric. A transparent option is all you need.
Hot Glue Guns FAQs
Are hot glue guns safe to use?

Hot glue guns are generally safe to use but require caution, as the glue can reach very high temperatures. Always handle the gun with care, use it on a heat-resistant surface, keep out of reach of children, and wear proper safety equipment like gloves and goggles to prevent burns or injuries.

Can hot glue be used outdoors?

Hot glue can be used outdoors, but it may not be as durable in extreme weather conditions. Look for glue sticks specifically designed for outdoor use or consider using other weather-resistant alternatives.

Are all glue sticks compatible with all hot glue guns?

Not all glue sticks are compatible with all hot glue guns. You should always check the glue gun specifications and use the corresponding glue sticks. Consider the glue stick diameter, temperature range, and compatibility with the materials you plan to adhere.

How long does it take for hot glue to dry?

Hot glue dries very quickly, often taking just about 30 seconds to 1 minute to set. However, the bond will continue to strengthen over time. Reaching full strength may take from a few minutes to several hours, depending on the materials and environmental conditions.

Can hot glue be painted over?

It is possible to paint over hot glue, but the process may require some preparation. Lightly sand the dried glue with fine-grit sandpaper to create a better surface for the paint to adhere to, then apply an appropriate primer before painting.

Can you remove hot glue once it has dried?

Hot glue can be removed after it has dried by using a flat-edged tool like a scraper, spatula, or knife to gently lift the glue from the surface. For more stubborn residue, apply heat using a hairdryer or heat gun to soften the adhesive before attempting to remove it.

How do you clean a hot glue gun?

Unplug the hot glue gun and allow it to cool completely before cleaning. Use pliers or tweezers to remove any hardened glue from the nozzle tip. If the nozzle is removable, you may also soak it in rubbing alcohol for at least 15 minutes to soften the residue before cleaning.

How do you store a hot glue gun?

After allowing your hot glue gun to fully cool down, store it vertically in a safe area, away from direct sunlight, extreme heat or cold, and moisture. Ensure any leftover glue sticks are stored in a cool, dry environment to avoid issues with melting or hardening.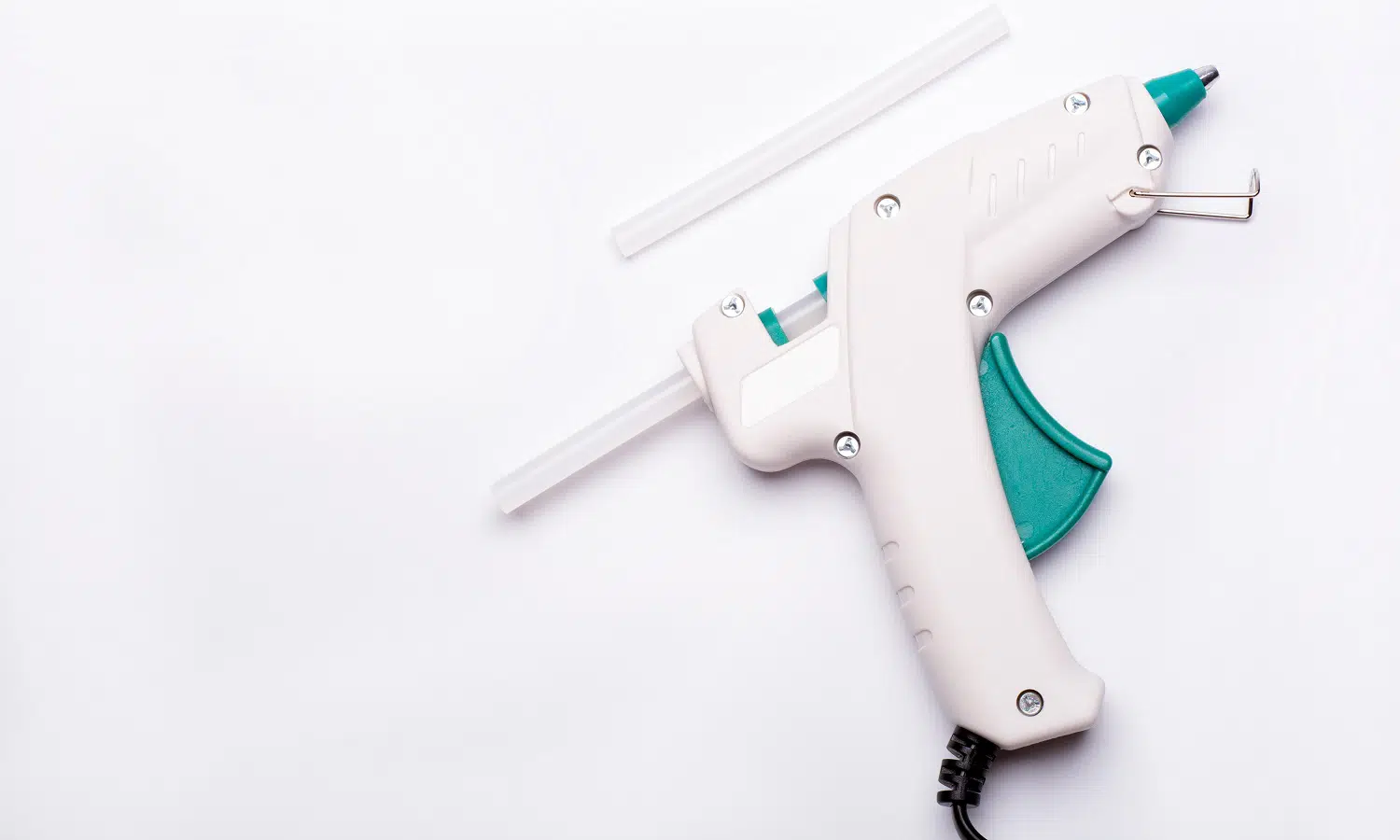 Conclusion
Choosing the best hot glue gun depends on your specific needs and intended usage, as each product offers unique features suited to different tasks. When making your selection, consider factors such as power, temperature adjustability, safety features, and ergonomics.
From the above 6 best hot glue guns, here are the top three expert recommendations:
The Surebonder PRO2-220 220 is an ideal option for heavy-duty commercial and industrial-grade work due to its impressive 220 watts of heating power and adjustable temperature settings.
The H-195F Specialty Series 20-Watt Mini Glue Gun is a good option for those looking for precision and detail, thanks to its extendable tip and safety features.
Lastly, the AdTech 0453 2-Temp Dual Temperature Hot Glue Gun is the right choice for versatile material usage, as it has dual temperature settings that cater to a range of applications.
With this, we reach the end of this comprehensive guide. A glue gun can solve a lot of your troubles only if you use it right. After reading through it, we hope you now know how to choose a great option. Let us know in the comments section below if you have any further queries.
Till next time, happy shopping!
Related Articles
How To Glue HDPE 101 + Best HDPE Adhesive
The Difference Between Epoxy & Super Glue
How to Remove Gorilla Glue From Skin Safely & Easily
11 Best Permanent Fabric Glues
11 Best Glue For Paper & Paper Mache
10 Best Ceramic and Porcelain Glue
11 Best Glue for Polypropylene
Polyurethane Glue 101 | All You Need to Know  
Gorilla Glue vs. Super Glue | Strengths, Weakness + Winner?
9 Best Glue For Hardwood Floors
7 Best Glue For Particle Board
5 Best Glue To Fix Fridge Plastic