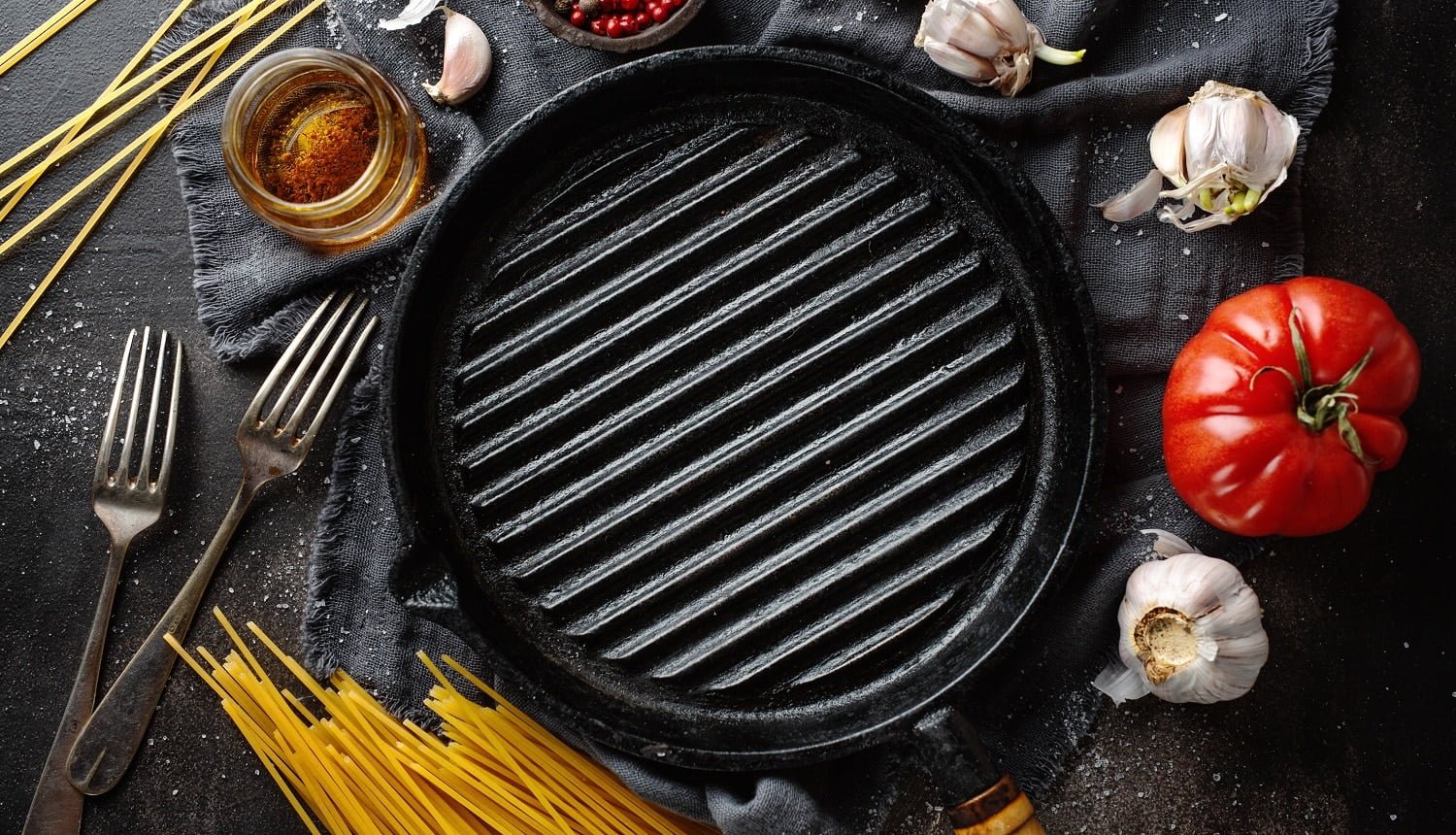 If you are planning to host a perfect barbecue dinner, grilling pans are a must-have to make it happen.
Grilling food on pans can not only provide for a good meal but is a recreational activity that one can pursue with friends and family. Be it a dinner you are planning with your close ones or a Sunday breakfast with grilled bacon and eggs, a grilling pan is bound to come in handy.
There is an extensive range of options and varieties when it comes to these pans. It is available in all shapes and sizes to choose from and one may find it challenging to choose the best of the lot.
That's where we come in. We will make sure that you find the perfect product within your budget and to make it happen, we have listed down the top 13 indoor grill pans.
Read on to know about the different cooking weapons that will bring out the chef in you.
Top Indoor Grill Pans 
IMAGE
PRODUCT
DETAILS

Our Top Pick

Our Top Pick

Cuisinart CI30-23CR Chef's Classic Enameled Cast Iron

Oven safe up to 500 degrees
Strong, durable finish
Dishwasher safe

VIEW LATEST PRICE →

Anolon Advanced Hard-Anodized Nonstick Square Grill Pan

Nonstick finish
Dual-riveted SureGrip handle
Raised ridges for proper grill mark

VIEW LATEST PRICE →

Calphalon Contemporary Square Grill Pan

Aluminum build
Deep ridges add authentic grill flavor
Non-stick surface

VIEW LATEST PRICE →

Le Creuset Cast Iron Signature Square Grill

Long-lasting exterior enamel
Dishwasher Safe
Strong iron handles

VIEW LATEST PRICE →

Lodge 10.5 Inch Square Cast Iron Grill Pan

10.5 inch
Can be used to barbeque

VIEW LATEST PRICE →

Lodge LPGI3 Pro-Grid Cast Iron Griddle

Very tough and durable
Unparalleled in heat retention
Compatible with oven, stove, grill, and even campfire 

VIEW LATEST PRICE →

Calphalon 1948254 Signature Grill Pan

Stainless steel handle
Dishwasher safe
PFOA free

VIEW LATEST PRICE →

Weber Style 6435 Professional-Grade Grill Pan

Stainless steel enables excellent heat retention
Wide carrying handles
1/8-inch slits

VIEW LATEST PRICE →

TeChef Stovetop Korean BBQ Grill Pan

Safe PFOA Free Teflon Coated 
Different swirled channel design
Exceptional quality

VIEW LATEST PRICE →

Calphalon Contemporary Panini Pan and Press

Healthy cooking with less fat
Heavy-gauge aluminum construction
Dishwasher safe

VIEW LATEST PRICE →

Rachael Ray Hard Anodized II Nonstick grill pan

Higher edges
Made with anodized aluminum
Dishwasher safe

VIEW LATEST PRICE →

OXO Good Grips Non-Stick Pro Grill Pan

Durable, scratch-resistant material used
German-engineered, PFOA-free surface

VIEW LATEST PRICE →

All-Clad 3011 Hard Anodized Square Grill Cookware

Easy-release nonstick interior
Tall rim 

VIEW LATEST PRICE →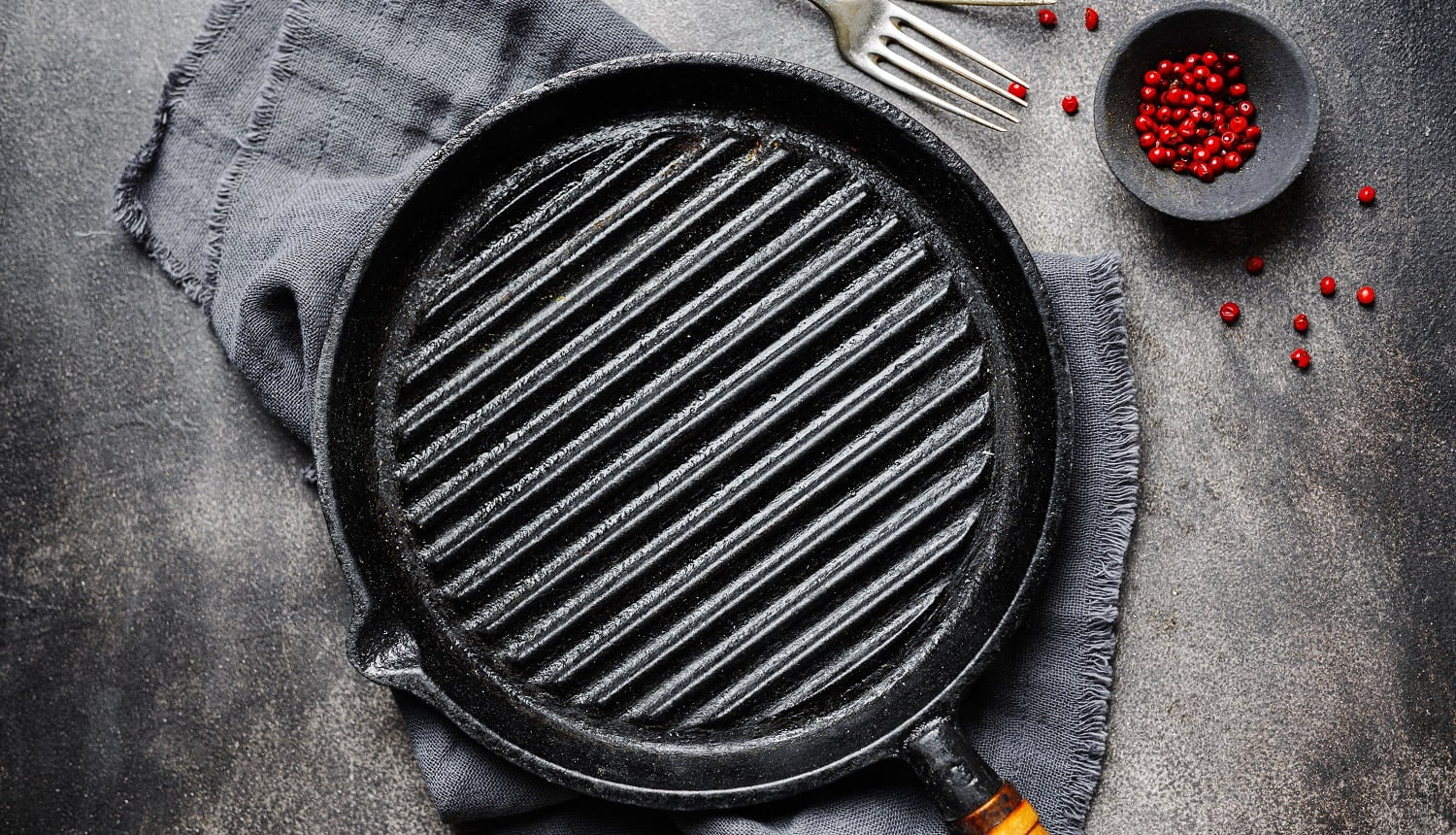 This is an excellent heavy-duty pan available in the market. We were highly impressed by the functionality of the pan after using it. It is made to survive continuous cooking without any change in the quality of the product. Long story short, its sturdiness and utility is just how we expected.
Why Did We Like It?
First things first, we are big fans of how it trapped heat in the center. Why? Because this enabled the heat to spread efficiently throughout the food and cook it evenly even when the lid is not placed on top. So, you can rest assured that the food will be cooked thoroughly without you having to check on it time and again.
Also, it is made with cast iron, which makes it very durable and you will not not need to replace it any time soon. To top it, the pan is microwave safe as well as oven safe. It can withstand very high temperatures without cracking or burning.
We know washing utensils is one of the least favorite things to do in the kitchen. But with this product, you need worry about that as you can put it into any dishwasher to clean it. To put it simply, you do not need to worry about washing it by hand.
Moreover, you get many bold colors to choose from. This just goes to show that the brand made sure that users get the most out of this pan, without compromising on their tastes and preferences.
What Could've Been Better?
The only issue we noticed with this model was that the handle also got heated up while cooking. Whenever we cooked at very high temperatures, we needed to use gloves or a cloth to hold the pan as the handle would be too hot to touch. This is one thing that somewhat disappointed us.
Pros
Incredibly durable

Cast iron frame

Retains heat well

Does not impact flavors
If you want to get rid of food fat from the pan or want to collect juices for the gravy, this pan is a great option to choose. It comes with built-in spouts, which enable you to cook anything while the fat drips away and collects separately.
Why Did We Like It?
The pan has an 11-inch cooking surface, which makes it very easy to cook big meals. We are a family of 4, and for any family with 4 members or more, it is difficult to grill meat for everybody in one go. But this product will allow you to do just that, thereby saving your time and effort.
Also, its non-stick features allows you to cook any kind of food without the fear of it sticking to the pan. Non-stick pans additionally let you cook with less oil, thus being beneficial to your health. We are quite cautious about our meals and our health, so this relieved us quite a bit.
Last but not least, the SuperGrip handle is an added advantage that enables you to hold the pan with ease. Moreover, the handle does not heat up, and you can hold it with your bare hands.
What Could've Been Better?
The one downside that we noticed about it is that it cannot be used inside ovens above 400 degrees. We learned it the hard way, and we were left disappointed after that. The pan was working just fine before we put it in the oven at high temperatures. Avoid this, and you will have a great experience.
Pros
Built-in spouts for pouring juices

Large cooking surface

Safe to use with metal utensils

Super-versatile

Easy to clean
Cons
Oven safe up to 400 degrees
Are you looking for a square-shaped pan that will take care of your family's dinner in one go? The Calphalon Contemporary Square Grill Pan is a great option and provides enough space for you to cook large pieces of meat without having any part of your food sticking outside.
Why Did We Like It?
One exceptional feature is that the pan has three layers of coating, which ensures it is non-stick. As we already mentioned in the previous review, nonstick pans make it easy to cook food with very little oil. Also, it saves you from having to scrub hard because food doesn't stick to the surface.
To add on, this pan is known for its durability. Not only does it exceed expectations with the surface, but the handles are also made of brushed stainless steel giving it an edge. 
Further, we felt the deep ridges gave the food grill marks, which our whole family appreciated. Our kids thought the food was from a restaurant owing to the enhanced flavors and proper ridge marks. 
Moreover, you do not need to wash the utensil by hand. It is safe to use a dishwasher for this purpose. This gave us added benefits as there was nothing to clean by hand post meals. 
What Could've Been Better?
The pan worked very well when we used it to grill or fry meat, but we faced issues when we tried to broil. The base will warp if you decide to do so, and the pan would not sit flat on any other surface afterward. This is one serious drawback this product has and we were disappointed by it.
Pros
Heavy aluminum construction

Three layers for added durability

Stainless steel handles remain cool

Dishwasher safe
Are you looking for a pan that will work consistently on different heat sources? The Le Creuset Cast Iron Signature Square Grill will work wonderfully well on gas ovens along with ceramic and electric stoves too to talk of a few. This is one of the most versatile utensils we have come across.
Why Did We Like It?
Le Creuset is known for its superior products, and this cast iron grill is one of their best products that are premium and is known to age really well. We bought this a year back, and it has worked beyond our expectations.
The cast-iron makes the product heavy, and it is a heavy-bottomed pan. You can proceed to cook anything for hours without fearing that the bottom may burn or lead to charring of the food. 
Additionally, imagine cooking on the grill, cooling it down, and storing leftovers in the pan itself inside your fridge. You can do so with this product! From an oven to the freezer, this grill will keep your food safe anywhere you decide to keep it. 
Lastly, the enameled grill makes sure that the food is cooked crisp, be it meat, fish, or veggies. You will be awed by the performance, and the smell of freshly cooked food will surely entice your whole family. 
What Could've Been Better?
Though the product comes with excellent specifications, the price is very high. So if you have the budget for it, this is a recommended unit. See if you require the specifications before buying it since it costs a lot. This is the only point of criticism we have with this. 
Pros
Enamelled cast iron

Made of even-heating

Compatible with most heat sources

Durable
If you are looking for cookware that will come pre-seasoned, the Lodge 10.5 Inch Square Cast Iron Grill Pan is a great choice. With 100% vegetable oil used for seasoning, you can rest assured that there is no synthetic coating or chemicals needed.
Sale
Why Did We Like It?
This pan is known to be unparalleled in heat retention and heating food evenly throughout the surface. If you are looking for a pan to braise, fry,sauté, bake and broil, this is the best product to make it happen. 
Also, the enamel of this pan helps in cooking any substance, even acidic ones without you worrying about peeling or stripping off the surface. Also, we would recommend you to use hot water and salt in case you want to clean it thoroughly. 
To top it all, the restaurant-style grill marks on the food along with enhanced flavors makes this product a very sought after one. We were very impressed with the overall features of this product. 
What Could've Been Better?
One thing which we should warn you about at the beginning itself is that you should never leave the pans wet. If you leave them wet for long periods, there is a chance that it may catch rust. This is also mentioned in the instruction manual that comes with the product. Make sure to read it carefully. 
Pros
Square pan

Deep ridges for marks

No bad coating

Scores high on durability
Cons
Can catch rust if left wet
If you want a sturdy cast iron pan in the kitchen, the Lodge LPGI3 Pro-Grid Cast Iron Griddle will fit your needs perfectly. It is made with tough materials and can withstand high temperatures. We took it with us on our RV trip and it served us really well.
Sale
Why Did We Like It?
It has enough space to sear a number of steaks at a time, giving them a delicious flavorful crust. From eggs and pancakes to bacon, stir fry, salmon and grilled cheese, you could cook all of them together in this pan at one time. 
Also, you can grill at very high temperatures without the need to worry about the pan failing you.Because the pan is heavy-bottomed, it can withstand high temperatures for longer periods.
To add on, the food is cooked evenly as heat spreads consistently throughout the cooking area. The meat pieces at the edges were also crispy and well cooked as those pieces in the center. We cooked pancakes using this grill and they were the fluffiest pancakes we have had in a long while. 
What Could've Been Better?
The one drawback of this product is that though the pack mentions that this griddle is pre-seasoned, it is not. We tried cooking a sunny side up and ended up with a half-burnt omelet. We recommend you to season it before you use the product. 
Pros
Heat-retentive

Easy to cook

Thoroughly cooks meat

Large cooking space
Cons
The griddle is not pre-seasoned
If you want a pan for heavy duty use and you would be cooking for long hours at one time, this pan can be very beneficial. We bought this keeping in mind recipes with a long cooking time and it worked wonders. We were able to peacefully leave it on the stove while we went around finishing off other work. 
Why Did We Like It?
This is a 12 inch round griddle pan that will take care of all your cooking needs with the benefit of draining all the fat. We especially loved this feature as it enabled us to cook with low-fat content.  
Also, we found out that this is a durable product with a body made of stainless steel. Created with a sear nonstick material, it is able to absorb a lot of heat and cook food fast. 
To add on, the stainless steel handle stays cool even when working on high flame. It does not conduct heat making it easy for us to move the pan around. 
Further another feature that we liked was the low sides of the pan which measured around 1 inch. The low sides made sure we could fry bacon and grilled cheese and turn it over easily which becomes a problem in pans with higher sides. 
What Could've Been Better?
We found that the center of this pan is slightly raised and not flat like the rest of them. This led to uneven cooking at times and the pan would not sit straight on an induction top. We were disappointed with this feature.  
Pros
Nonstick surface

Metal whisks spatulas can be used

Very versatile

Heavy-gauge hard-anodized aluminum
Cons
The center is slightly raised
This is the perfect pan for cooking your smaller and more delicate food items. The Weber Style 6435 Professional-Grade Grill Pan allows you to control and monitor your cooking with ease. If you have lesser cooking needs, this pan will help you out very well. 
Sale
Why Did We Like It?
The ⅛ inch slits in the pan actually help a lot by allowing you to cook with as little fat as possible. We were able to cook with very less fat consumption in this pan. Also, since this unit works very well with cooking small food items, they get cooked very quickly with the pan evenly distributing the heat. 
To add on, the pan is made in such a way that it helps retain the rich flavors of food keeping your food tasting and smelling good throughout. 
We had purchased this before a house party that was going to take place in the backyard and we were overwhelmed by the success of it. This grill works really well and can be successfully placed over a fire stove in the open if needed. 
What Could've Been Better?
The product worked very efficiently, the problem occurred when we tried to clean it. We have realized this is a difficult pan to clean up and it takes a lot of time to finally scrub off food and grease from all the edges. BIts of meat became particularly difficult to remove and we thought of this to be a hindrance.  
Pros
Fat reducing with deep slits

Cooks with consistency

Small plate optimized
If you want to eat healthily, bring this device home. It drains away all the fat in an instant and you can have your protein with almost no fat at all. We are a very health-conscious family and the TeChef Stovetop Korean BBQ Grill Pan helped us keep up with our diet while cooking very delicious food. 
Sale
Why Did We Like It?
With this unit, you can rest assured that it is very easy to clean up. We were able to do it in an instant but do use liquid washing gel while attempting to wash off the remaining fat and grease. 
Also, the product comes with a grease draining system which makes sure that every drop of fat is safely drizzled off. To add on, the swirling design that this product has will help in draining all the fat further. 
We were very happy with the increased thermal efficiency with which this pan concentrated heat towards the center of it. The heat then spreads evenly throughout. 
Lastly, the product is very affordable and does not make a hole in your pockets. The price accompanied by the varied features makes it a pretty impressive model to choose from. 
What Could've Been Better?
We faced one major problem with this device. The unit seemed to lose its nonstick ability after a few months of usage. Food started sticking to the base and we had to oil the pan very well before use. We thought this could be a specific problem with our product but then we found that other reviews on the internet also mention the same. 
Pros
Unique design

Teflon coated for better durability

Can be used to barbeque

Draining system
Cons
Loses its nonstick features
This is the best device to use when it comes to making paninis. With the Calphalon Contemporary Panini Pan and Press, all you need to do is put your panini inside this grill and apply the press. It is as simple and you can make delicious treats that will keep your family satisfied.
Why Did We Like It?
This grill gives you a perfect way to begin the day! With raised ridges and a nonstick surface, cook your favorite breakfast or grill that perfect steak for lunch with ease and perfection.
 We saw how fat and grease separated from the food and collected in the base of this pan while our food on top was almost free of fat. The napkins would not see a lot of oil and that is proof enough. 
To add on, the pans can be used in an oven safely and you can try out all your gourmet dishes with this one. The brushed stainless steel handles will stay cool and you would not need mittens to hold and move the grill after cooking. All in all, we had a satisfying experience with this product. 
What Could've Been Better?
The one issue you may face if you have a big family or want to cook a lot of food together is that the cooking area is small. Compared to most of the products mentioned above, this is a grill that is compact and may be a problem for larger food bits too. It works well with small to medium-sized food. 
Pros
Press to make paninis

Raised ridges

Equipped with stainless steel handles

Three layers of nonstick coating
Cons
Comparatively smaller in size
From the most complicated of recipes to the simplest ones, this pan is made to take care of them all. The Rachael Ray Hard Anodized II Nonstick grill pan is a wonderful addition to your kitchen and has the ability to please you with its varied features.
Sale
Why Did We Like It?
We loved how the edges of the pan are made pretty high. This makes sure that you can cook safely without worrying about hot oil jumping out of the pan. This is a problem we have faced before with other products and have gotten a lot of burn marks on the face and hands. Here, we could cook safely without worries. 
Further, the handle has a rubberized coating which makes it easy to hold and does not let the heat transfer to your hand till 350 degrees Fahrenheit. We could let our teenagers handle the pan and they did it easily without complaining about the heat. 
 Also, it is easy to clean as the surface is non-stick and your food would not stick to the surface. We used soap and water and the grease came off very easily. Make sure that you use a soft scrub to clean it. A nonstick surface also ensures that very little oil or grease is required. 
What Could've Been Better?
We have had a great experience with the product but there was a problem we faced with the quality of materials used. The silicone grip initially impressed us a lot but then within a few months, a chunk of the coating came off. We have not been able to figure out why but this incident left us disappointed.
Pros
Easy to clean

Microwave safe

Double-riveted handle

Very durable

Cooks evenly
Cons
A chunk of the silicone handle came off
Are you looking for a pan that can be used on any kind of surface with ease? The OXO Good Grips Non-Stick Pro Grill Pan was our go-to option when we were worried about scratches on our new glass top stove. Packed with a number of amazing features, this device is a hit. 
Why Did We Like It?
The best part of this product is that it is anti warp. Even if it faces higher temperatures, the center does not warp and this naturally increases the durability of this device. Also, the surface is PFOA free and nonstick. This ensures that it does not make any scratches on the glass surface of stoves. 
Another feature we liked is the heat conduction ability of the product. It conducts heat very efficiently and spreads it throughout the cooking surface with ease.
Adding on, there is a moat in the utensil around the sides. This may look like a very general feature but is an important one at the end of the day. The oil and grease that collects at the bottom of ridges are then collected in a moat. 
What Could've Been Better
One thing that disappointed us about this product is the grill lines. Yes, there were grill marks on the food but often the lines were really light and almost invisible. This is because the grooves were too shallow and too curved. If they were a little bit sharper, the marks on the food would have been more prominent.
Pros
Contoured handles

Unique rolled edges

Superior heat retention quality

Oven safe up to 430 Degree Fahrenheit
Cons
Shallow and curved grill lines
This is a square-shaped product which ensures that there is more space for you to fit in bigger food materials. The All-Clad 3011 Hard Anodized Square Grill Cookware allows one to whip up more food and will help you sort out the family's breakfast in a jiffy. 
Sale
Why Did We Like It?
If you are looking to flank steak, tenderloin or strips of zucchini, this device will be a great option to use because of the square shape that it has. We loved how we could fit in giant steaks perfectly inside the pan. 
Also, the tall edges ensured that hot oil did not splatter on us while cooking and you can cook without the lid safely. To add on we found that the surface is scratch resistant and will not be full of marks even if you use different types of ladles and spoons to stir. 
Further on, this is one of the lightweight pans with a weight of 4 pounds. This makes it easier to handle especially for those with less muscle strength. 
Lastly, we found that heat gets distributed fabulously well and the steak got cooked at medium temperatures perfectly. 
What Could've Been Better?
While the grill is on the stove it functions really well. The problem occurred when we removed our pan from the stove. It cools down very fast and by the time the table was set for dinner, the food had cooled down completely. We had to reheat it and this made the process time-consuming. 
Pros
A hard-anodized aluminum cooking vessel

Ridged bottom

Scratch-resistant surface
Cons
Does not retain heat for long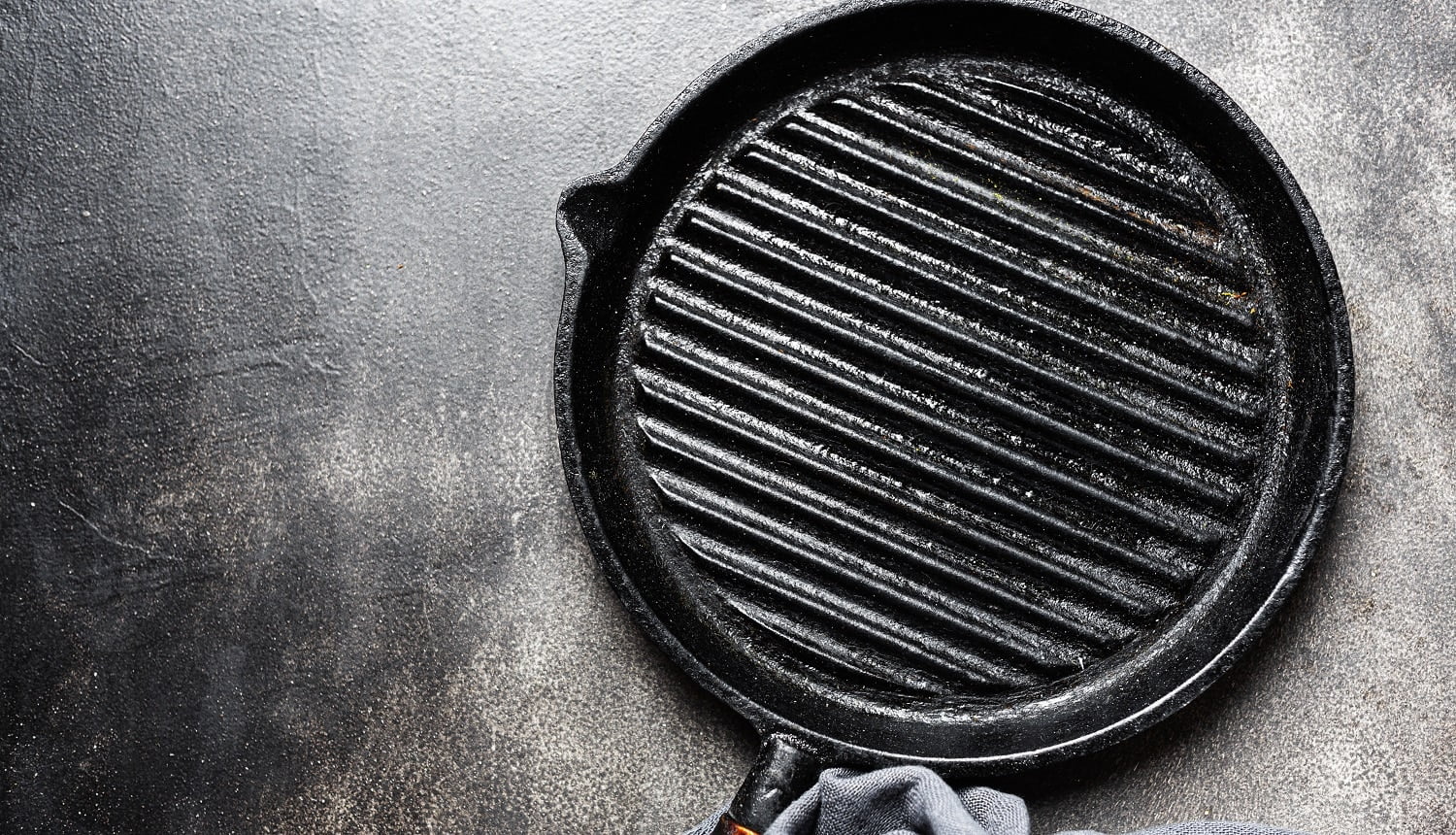 Indoor Grill Pan Buyers' Guide
Now that you know the different models which are the best in our market currently, it is time to take a step forward. One needs to understand the requirements that have to be kept in mind. 
Buying a grill pan does not seem difficult at first but on careful scrutiny, we have found out that there are different features that you should know about. This will help you choose a model of your choice. 
Size and Shape
You will find that different products come in various shapes and sizes. Some of the pans are square while some are rectangular or circular. Also while some models will work for smaller amounts of food, others will provide a bigger space for you to cook. 
Do you need one to serve a family of 4 or below or do you need it for larger groups? Your choice here will help you make the decision. Also, remember that a bigger product will require more space to store. So buy it only if absolutely necessary. 
Material
There are different materials used to make different cooking pans. Cast irons will help heat to spread quickly and evenly on one hand but it weighs a lot more on the other hand. It retains heat but comes with a disadvantage too. 
Similarly, aluminum pans have a nonstick surface and will have an additional coating. It is much lighter and food doesn't stick to it. But these have to be cleaned with utter care because the top layer has a tendency to peel off or get scratched. This could lead to the destruction of the whole pan Also, these cannot be used on induction tops. So make your decision carefully after thinking of your needs. 
Cleaning the Surface
Some pans are super easy to clean while for some pans, it takes a lot of scrubbing to get the grease out. When we are talking of nonstick pans, these are easiest and can be washed with water and soft scrub.
 Since food particles do not stick to them easily, it is not challenging to get the grease out. While for some pans, the grease gets very difficult to remove.
 Now if you are not going to use too much fat while cooking or you do not intend to cook greasy food, any pan would suffice. While bacon and pork belly are regularly cooked in your house, it is best to go for a utensil that is easy to clean. 
Height of Rim
The height of the rim is also a consideration while purchasing this product. If you are planning to cook bigger food pieces, it is best to go for lower rims making it easier to fit in the food. But lower rims mean oil may splatter more and thus you have to be careful. Keep a safe distance while you cook to prevent any injury. 
On the other hand, if you are opting for a taller rim, then the oil splattering is taken care of and you do not need to worry about it. But it may become difficult to fit in larger food pieces.
Oven Safe 
Most of the products we have listed above are oven safe. This is a necessary feature as this means the pan can be used anywhere and you do not need to buy separate cookware. Here again, different pans have separate temperatures that they can withstand.
 While some products cannot stand a temperature more than 350 to 400 degrees Fahrenheit, some can go up to 500 degrees easily. If you are going to use the pan in an oven very frequently it is best to choose one which can withstand 400 degrees Fahrenheit or more.
Handles
It is essential to make sure that the handles do not heat up too much. Hot handles are of no use and you would have to wear mittens or use a kitchen towel to hold and transfer food otherwise.
Some of the handles come made with brushed stainless steel while some come with an extra covering for better grip. A silicon grip may be beneficial but again, if it cannot withstand the heat and starts peeling, the point of having it disappears. So read the product specifications carefully before buying.
Tendency to Warp
Some models have a tendency to warp when placed on high heat. Once a product is warped, it does not sit straight and the heat does not get spread evenly through the pan while cooking. Also, this leads to the decline of its durability capacity.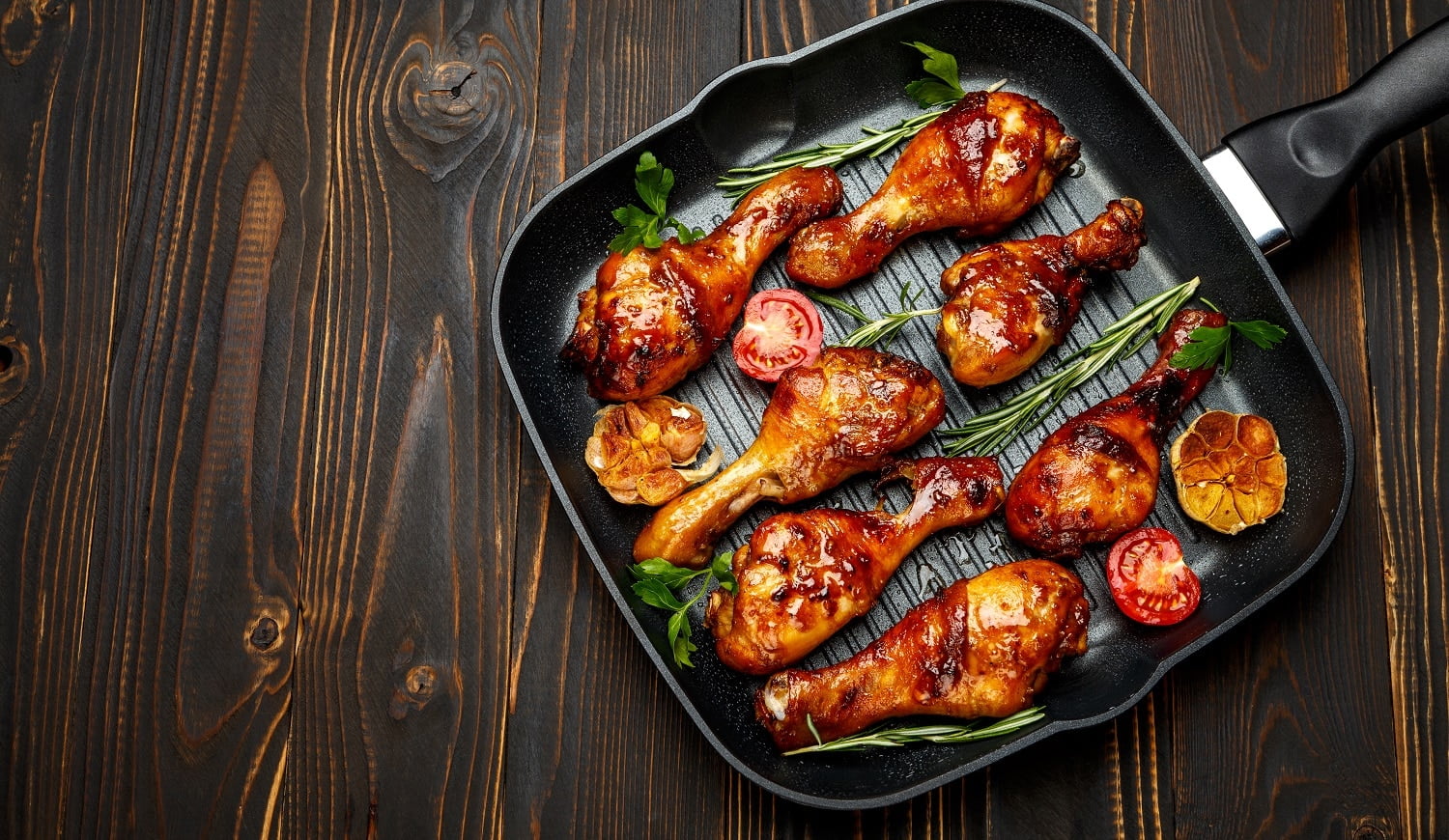 Verdict
It is time to select the winners of the list. This is a hard choice to make given that every product has its advantages and disadvantages.
Nevertheless, if we have to do it, the Cuisinart CI30-23CR Chef's Classic Enameled Cast Iron is a clear winner with an ability to stand strong and grill perfectly at higher temperatures. This model can withstand 500 degrees Fahrenheit inside an oven making it a perfect choice for those who are looking for a product for their ovens.
If you are looking for a nonstick option, the Anolon Advanced Hard-Anodized Nonstick Square Grill Pan is the best choice. With a surface that is super easy to clean, it comes with spouts that collect the fat and grease keeping your food healthy and full of flavors.
We have finally come to the end and it is time for you to hit the stores. Happy shopping!
Related Articles
13 Best Pastry Mat [Reviewed & Buyer's Guide]
9 Best Tamale Steamer [Reviewed & Buyer's Guide]
9 Best Chinese Cleaver [Reviewed & Buyer's Guide]
Are Red Copper Pans Toxic? [All You Need To Know]
Ceramic vs. Stainless Steel Cookware 101 [All You Need to Know]
11 Best Chef Knife Bags Under the Microscope
13 Best Steak Knives Right Now
11 Best Electric Knife Sharpeners
How to Build a Hidden Cabinet Knife Drawer Safe For Children