The iPad is one of the best gadgets to use for Drawing. It's compatible with many drawing apps that make drawing fun.
Through the years, several versions of the iPad have been introduced by Apple. Regardless of the iPad, you can always expect quality and performance from them.
The iPad has become one of the go-to gadgets by many artists. It's compact, easy to use, and versatile!
Today, I will review some of the best iPads you can find on the market. Are you ready to get creative?
5 Best iPads for Drawing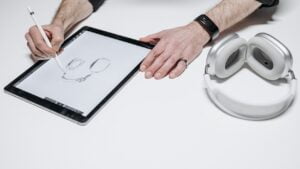 There are so many iPads out there finding the best seems like a challenge.
Besides the regular iPad, you've got the iPad Pro, iPad Air, and iPad Mini to choose from.
Which of these iPads is perfect for you?
What I Liked
Comes in different storage sizes starting from 128GB up to 2T
Impressive display resolution
Long battery life
Compatible with all Apple accessories
What I Didn't Like
Doesn't have the mini LED backlight the previous iPad Pro had
Apple never fails to amaze with its yearly new and improved iPad Pros. 2022 was no exception, especially when they released an iPad Pro with an M2 chip.
Apple fans went crazy and became intrigued with the M2 chip for the iPad Pro. 
The new iPad Pro comes in two different sizes: 11 and 12.9 inches. I will discuss the 12.9-inch iPad Pro later, but I want to focus on the 11-inch iPad Pro for now.
Who knew that 2 inches could make a difference? The 12.9-inch iPad Pro looks massive compared to the 11-inch iPad Pro, which I find intimidating. 11 inches is just the right size for a professional iPad. 
Although the 11-inch iPad Pro sports a Liquid Retina display, unlike the 12.9-inch iPad Pro that sports a Liquid Retina XDR display, it's hardly a deal breaker for me.
Even with only the Liquid Retina Display, everything looks stunning! The colors are vibrant, and the screen responsiveness is impeccable.
The new iPad Pro is everything I want for the best iPad for drawing. Couple it with a smart keyboard and the Apple Pencil, and you almost have a PC on your hands.
However, I wish it came in more colors instead of just space gray and silver. But overall, one of the best iPad for drawing has got to be this one. 
Chip: Apple M2 Chip | Connectivity: 5G & Wi-Fi | Display: 11-inch Liquid Retina Display with ProMotion Display and True Tone | Weight: 1.03 pounds
Sale
What I Liked
Lightweight and portable
Powerful with the M1 Chip
Impressive bright display
Compatible with most Apple accessories
What I Didn't Like
Limited storage capacity: 64GB and 256GB only
The Apple iPad Air has always been known for being powerful and lightweight. The new iPad Air is even more powerful because it now sports an Apple M1 chip! 
You can run graphic-intensive applications like Adobe Fresco, Illustrator, and Procreate without any lags. Now that screams total power. 
And all this comes in a lightweight iPad, weighing less than a kilogram!
You might be wondering how this is any different from the iPad Mini. Aren't they both lightweight? Yes, that's true. However, the Apple iPad Air doesn't sacrifice screen size.
The new iPad Air comes with a 10.9-inch display, making it one of the best iPad for drawing. It's even compatible with the 2nd Generation Apple Pencil, making drawing on the go much more convenient.
I also love that the iPad Air is more than a drawing tablet. It's an all-in-one tablet to scan documents, take photos, and even edit videos.
The new iPad Air is the complete package we need to have a productive day. It's one of the most portable iPad out there, despite its large screen size. 
But what stops me from claiming this iPad as the complete package is its limited storage capacity.
Unfortunately, the new iPad Air only offers two storage capacities which are 64GB and 256GB. For anyone who does a lot of projects on their iPad, storage might be limiting.
Chip: Apple M1 chip | Connectivity: 5G & Wi-Fi | Display: 10.9-inch Liquid Retina Display with True Tone | Weight: 1 pound
Sale
What I Liked
Comes in different fun and quirky colors: pink, blue, silver, and yellow
Can run multiple apps at the same time
Best entry-level iPad for beginner artists
Uses a USB-C charger instead of a lightning port
What I didn't like
Compatible only with the 1st Generation Apple Pencil
The regular iPad can do the trick if you're new to digital art and want a drawing table that can get the job done. The 10th-generation iPad has a few tricks that will make you want to have one now.
One of the reasons I love the regular Apple iPads is because it's one of the most affordable drawing tablets you can find out there. I don't have to sacrifice my budget to get a decent iPad for drawing. 
The iPad may not be as powerful as the iPad Pro models, but it's still equipped with one of Apple's bionic chips.
The standard iPad is powerful enough to run different apps simultaneously. More importantly, you don't have to worry about feeling limited by the applications you can download and use.
You can play around with the different iPad drawing apps and find different beginner drawing ideas to get you started! 
Note that the 10th generation iPad is only compatible with the 1st Generation Apple Pencil.
If there's one thing I don't like about the 1st Generation Apple Pencils, they're so easy to lose.
The 1st Generation Apple Pencil does not magnetically stick to the iPad and can easily roll off the table. Not to mention, it doesn't support wireless charging, unlike the 2nd Generation Apple Pencil. 
Chip: A14 Bionic chip | Connectivity: 5G & Wi-Fi | Display: 10.9-inch Liquid Retina Display with True Tone | Weight: 1.05 pounds
What I Liked
Comes in different storage options starting from 128GB up to 2T
Versatile, fast, and powerful iPad Pro
Beautiful screen resolution
Can run many apps at the same time with ease
What I Didn't Like
Most expensive Apple iPad in the market
When it comes to being the best and most powerful iPad on the market, no one can doubt that it's the Apple iPad Pro I'm talking about. 
I've already discussed the 11-inch iPad Pro in this list, but I'll be talking about the 12.9-inch iPad Pro this time.
Now, the only main difference between the two is their size. This iPad Pro has a bigger screen size and sports a 12.9-inch Liquid Retina XDR display with ProMotion Technology.
Right off the bat, there's a comparable difference regarding the screen resolution and display quality of the 12.9-inch iPad Pro.
High contrast and brightness are made better with sharper graphics and high definition.
I don't know about you, but this makes it even more enticing and motivating for me to play with colors.
Couple this with its big screen size; you've got the best iPad for drawing, video, and photo editing.
You can almost see and feel the depth of your digital art, even if it's just behind the screen.
With that being said, I recommend the 12.9-inch iPad Pro for professional digital artists. This isn't just your basic iPad. It's practically a beast compared to all other iPads on the market.
The 12.9-inch Apple iPad Pro is significantly more expensive than the 11-inch iPad Pro version. But trust me, because the difference is worth it.
Chip: Apple M2 Chip | Connectivity: 5G & Wi-Fi | Display: 12.9-inch Liquid Retina XDR Display with ProMotion Technology and True Tone | Weight: 1.5 pounds
What I Liked
Impressive long battery life
As light as mobile devices
More affordable compared to other iPad models
Significant upgrades compared to older versions of the iPad Mini
What I Didn't Like
Only two storage options: 64GB and 256GB
The looks of the new iPad Mini are a complete overhaul of what its predecessors looked like.
At first glance, the 6th generation iPad Mini looks a lot like the newer iPad models, distinguishable only because of its size.
Am I complaining? Certainly not! I am in love with this new version of the iPad Mini because it is now compatible with a smart keyboard folio and even the second-generation Apple Pencil.
Despite its changes, the iPad Mini remains to be what we know as our favorite compact and portable device. At only 8 inches, I have no trouble holding this Apple iPad in one hand.
This is the best iPad for drawing for on-the-go artists who want a reliable drawing tablet. 
The iPad display is large enough to draw on, and the Apple Pencil makes drawing an even more pleasurable experience.
The pressure sensitivity on the Apple Pencil is just enough to capture each detail you want for your digital art.
Because of its many upgrades, the new iPad Mini is slightly more expensive than its older versions. 
This shouldn't be a deal breaker for anyone, considering how much power and versatility you're getting from this iPad. 
Chip: A15 Bionic Chip | Connectivity: 5G & Wi-Fi | Display: 8.3-inch Liquid Retina Display and True Tone | Weight: 0.65 grams
Things to Consider When Buying the Best iPad for Drawing
You're probably excited to check out the best iPad for drawing you found on this list. But I want to make sure you find exactly what you need.
To help with your search, I've listed down some of the important considerations you need to think of when buying looking for the best iPad.
1. Screen Size
The screen size for the iPad models ranges from 8 to 13 inches, which is perfect for drawing. How big of a screen is it comfortable for you to draw on?
If you're after portability, I recommend the iPad Mini, which typically has an 8-inch screen. You can fit it in any bag without worrying about weight and size.
The 8-inch screen size delivers the same efficiency and productivity, similar to larger iPad models such as the iPad Pro. You can sketch anytime and anywhere!
But if you want a larger screen size, the iPad Pro, iPad Air, and regular iPad should be enough for you.
These models' screen sizes typically range between 10 to 13 inches, which is fairly large.
A bigger screen size lets you draw without limit and at an impressive clarity. You can even do so much, such as video editing!
2. Processing Power
How powerful do you want your iPad to be? All the iPads are powerful in themselves.
Each version of the iPad is always equipped with a powerful processor, ensuring you don't experience any lags or delays when running apps in the background.
You can experience a smooth and seamless experience each time!
In recent years, Apple stepped it up and released iPads equipped with the M1 and M2 chip, which you can now find in the iPad Air and iPad Pros.
With the powerful M1 and M2 chips, you can expect a significant improvement on the iPad in terms of power and performance.
Nonetheless, iPads equipped with the traditional Apple Bionic Chip (iPad Mini, iPad Air, Regular iPad) still pack a ton of power that other drawing tablets can't compete with.
At the end of the day, you should decide the processing power based on how demanding your needs are. How many apps do you plan to run in the background?
3. Stylus Compatibility
Before the Apple Pencil was released, older generations of the iPad didn't have any dedicated stylus. 
Instead, people had to look for the best stylus from third-party companies for simple tasks such as typing and drawing. 
Today, we now have the Apple Pencil for the latest iPad model, which can do a wide range of actions to make our drawing experience much easier.
Apple Pencils are so precise they can capture every detail in each stroke.
Suppose you're looking for an iPad that's already compatible with the Apple Pencil.
In that case, I recommend picking among these models: 6th generation iPad and up, 3rd generation iPad Air and up, and 2nd generation iPad Pro and up.
4. Storage Capacity
What I love about Apple is that their devices come in different storage capacities, ranging from 64GB to 1TB.
If it were up to me, I would always prefer having more storage on my iPad because I don't have to worry about maxing out my storage anytime soon. 
I can save all my creations on one device, videos or photos, making the best iPad for me.
However, keep in mind that the higher the storage, the pricier the Apple iPad gets. If you're willing to spend a few extra bucks for it, it will be worth it.
5. Connectivity
The beauty of the iPad is you can choose between a Wi-Fi-only model or a Wi-Fi and LTE-capable model.
I find the Wi-Fi model to be sufficient because I'm always in a location with a Wi-Fi signal. I can even use my phone's hotspot in case I can't find Wi-Fi where I'm at.
I don't think the LTE function is necessary. Without it, it will not get in the way of you creating your digital art. 
Plus, you'll be paying a few extra bucks to have the LTE feature.
6. Battery Life
You could spend the whole day trying to perfect your digital art, sometimes even days. If this is the case, I'm sure you'd want a drawing tablet that can last with you.
The battery life of the Apple iPad is decent. It can last up to a day even after non-stop use, but it can be shorter if several other apps run in the background.
Luckily, charging time for almost all iPad series takes little time. Leave your iPad charging while you take a break, and you'll be back with a 100% battery life in no time.
WARNING
Avoid using the iPad in a hot room to prevent it from overheating. Heat can affect the battery life and performance of the iPad.
7. Price
Ultimately, it all boils down to how much you are willing to spend on drawing tablets, specifically for an Apple iPad.
Before buying an iPad, set a ceiling on how much you can afford. Doing this helps you narrow down your search and find exactly what it is that you need.
It's no secret that the iPad can cost a fortune, especially if you're eyeing the latest iPad Pro models.
But if you're trying to stick to a budget, the regular iPad and iPad Mini are great budget iPad options.
What Accessories Should You Get Before Buying?
The iPad alone is powerful in itself. It's everything you need to create digital art wherever you are.
But if you want to level up your experience and have a truly powerful iPad, I recommend getting some must-have accessories.
Let's review the different iPad accessories and how they can help you.
Apple Pencil 2
If there's one iPad accessory you can't miss out on, it's the Apple Pencil. It's what many digital artists are holding on to these days.
Believe me when I say the Apple Pencil will make your life much easier and your art even better.
Since its first release, the Apple Pencil 2 has received great reviews because of its natural and seamless use. It's just as if you're holding a pencil.
The Apple Pencil is perfect for taking down and marking notes, sketching and drawing, editing photos, and more!
All you have to do is pair the Apple Pencil with your iPad, and you're all set!
Do note that the Apple Pencil 1 and Apple Pencil 2 are different. The 1st Generation Apple Pencil sports a removable cap that must be charged manually on the lightning port.
Whereas the 2nd Generation Apple Pencil magnetically charges itself to the body of the iPad, which is very convenient. 
Tip
I recommend buying a case with an Apple Pencil holder to prevent misplacing your Apple Pencil.
Protective Cover
You can buy a case for almost all sorts of devices these days, and the same goes for the iPad.
There are various styles out there that you can match with your personality. Besides that, there's a wide range of protective covers, ranging from a slim to rugged design.
At its best, a slim protective cover can protect the body and the screen from your usual wear and tear.
Some people prefer this because it doesn't add unnecessary weight to the iPad, and they're easier to pack in the bag.
But I always go for thick protective covers with a rugged design. Most of the time, these protective covers have been designed to keep the iPad unscathed even after dropping it from a height.
I highly recommend buying a good protective cover for your iPad, especially with how expensive iPads can get.
Gloves
Some might think gloves are extra, but I don't think so. 
Creating digital art means serious business, and you need the absolute best accessories to make digital drawing fun and relaxing.
Gloves can help reduce friction between the screen and the palm of your hand. This is especially vital for people who are into digital drawing as a profession.
Today, you can find gloves specifically for digital artists. Always choose a glove made with high-quality material that has a comfortable fit.
Tempered Glass
One of the most fragile parts of an iPad has got to be the screen. Although the screen of the Apple iPad is made of tough glass material, it's still prone to breaking.
This is especially true if you drop your iPad face down and it doesn't have tempered glass on. Yikes!
A tempered glass protects your iPad's screen by taking the blow every time you drop it.
Magic Keyboard
A magic keyboard isn't exactly one of the things you need for digital drawing, but that doesn't mean you shouldn't have one.
Believe me when I say that having a magic keyboard can instantly transform your drawing tablet into almost a PC.
Most magic keyboards today are also equipped with a tracking pad, which makes it a lot easier to navigate on the iPad.
If you want an all-in-one device for digital drawing and typing notes, you'll need a magic keyboard with you.
Best iPad For Drawing FAQ
When it comes to performance and productivity, you and I can't doubt that the iPad is one of the best drawing tablets that can get the job done.
But I'm sure you still have a few questions about this powerful tablet that might make or break your decision.
I've answered some of the FAQs I usually get about the iPad, and I hope it helps you out.
Do I Need Wi-Fi or Cellular Connectivity for Drawing?
In general, you won't need Wi-Fi or cellular connectivity when you draw. You're all set as long as you have the drawing apps installed on your Apple iPad.
You can download your drawing inspiration beforehand, so you don't have to worry about having connectivity issues later on. 
Nonetheless, having Wi-Fi or cellular connectivity is very helpful, especially for sending files to other people.
How Do These iPads Fare in Terms of Latency?
You can expect low latency from all the iPads mentioned in this list.
However, note that the Apple iPad's latency is affected by several reasons, such as insufficient storage space or having so many apps running in the background.
Tip
If you are experiencing severe lagging on your Apple iPad, consider doing a quick restart.
What Apps Will You Need to Draw on Your iPad?
There are great drawing apps out there you can use on your iPad, and I've listed some of my favorites below:
Adobe Fresco – Free but offers in-app purchases

Adobe Photoshop – Free but offers in-app purchases

Illustrator – Free but offers in-app purchases

Inspire Pro – $9.99

Procreate – $9.99
Although some of the apps I've mentioned above are paid, they offer a fun user experience.
There are a bunch of tools and drawing templates you can check out, which makes them the best drawing apps you can have for your iPad.
Tip
You can also use the Note app on your iPad to sketch and draw ideas.
A Recap of the Top Picks
I've named some of the best drawing tablets you can find in the market, and I'm sure you've already spotted the perfect one for you.
But before I leave with my parting words, let me list down the Top 3 iPads I believe deserve one final mention.
If you want to save money, the standard Apple iPad can do the job just as well as other expensive iPads. It's perfect for beginners who want to get a feel of digital drawing. 
Although this is just an entry-level iPad, Apple still made sure to put its quality and performance at the same level as the iPad Pro, iPad Mini, and iPad Air models. 
For its price, the 10th generation iPad is one of the best drawing devices you can get today.
The iPad Air has got to be one of my favorites of all the iPad series. Not only is it the best iPad for drawing, but it's also versatile enough to be your very own pocket PC. 
Just pair it with an Apple Pencil and a smart keyboard, and you're all set for the day. 
I also love that the new iPad Air is equipped with the M1 chip because it has become even more powerful! 
Finally, ranking first in my list is no other than the 11-inch Apple iPad Pro. If you're ready to roll with the big boys, then the 11-inch iPad Pro is perfect for you.
The iPad Pro isn't called a Pro for anything. It's versatile, portable, and powerful, making it the best iPad for drawing!
The screen of the 11-inch iPad Pro is larger than most screens, and you'll be able to get a lot of work done.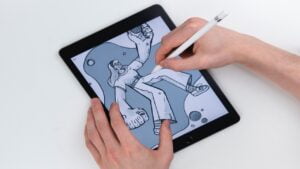 iPad For Drawing Conclusion
Creating digital art has never been this easy, thanks to the iPad! Whether you're a professional or a beginner digital artist, there's always an iPad for you!
Nothing can stop you now from editing pictures, creating detailed graphics, and drawing impressive art. Unleash your creativity and let your heart do the art.
Gone are the days when artists would only hold on to mechanical pencils for drawing.
I hope you enjoyed this article! Feel free to give it a like and share it with your fellow artists.
Let me know in the comments below which iPads I've mentioned are your favorite. I'd love to hear your thoughts!