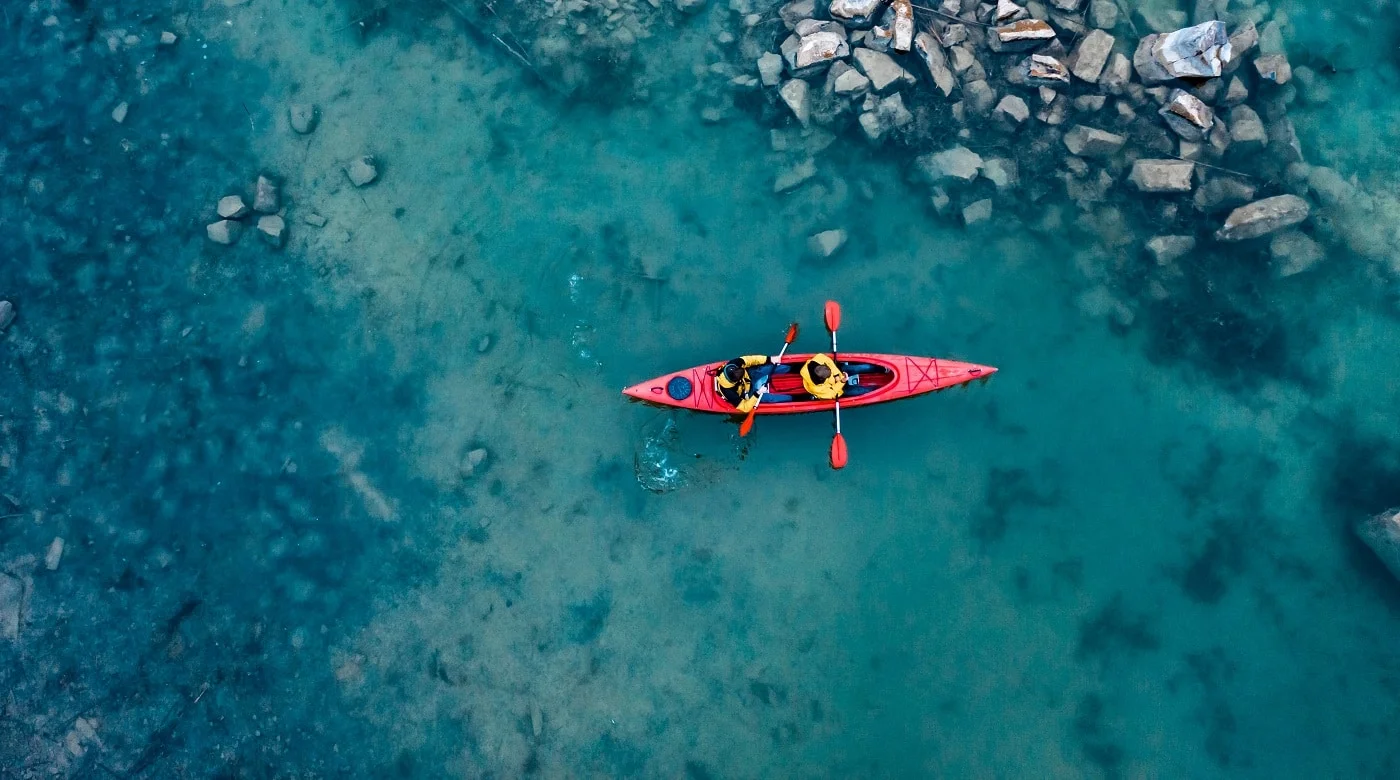 Are you missing out on all the fun and excitement kayaking brings because you dislike trudging the boat to the shore? 
Kayaks are swift on water but clumsy on land, which is why many of us have them tucked away in our garage or don't even bother purchasing one. No matter how riveting and tempting water exploits are, the mere thought of having to lug a boat across the shore is enough to take all the excitement out of it. 
Well then, we've got some good news for you. With kayak carts, you wouldn't have to haul a vessel ever again. 
There is no dearth of excellent kayak carts on the market, which is why purchasing one might be a little confusing. But, do not fret! We've rounded up some of the best choices, and reviewed them in detail for you. 
So, without any further delay, let's plunge right into it. 
Top Kayak Carts Of 2023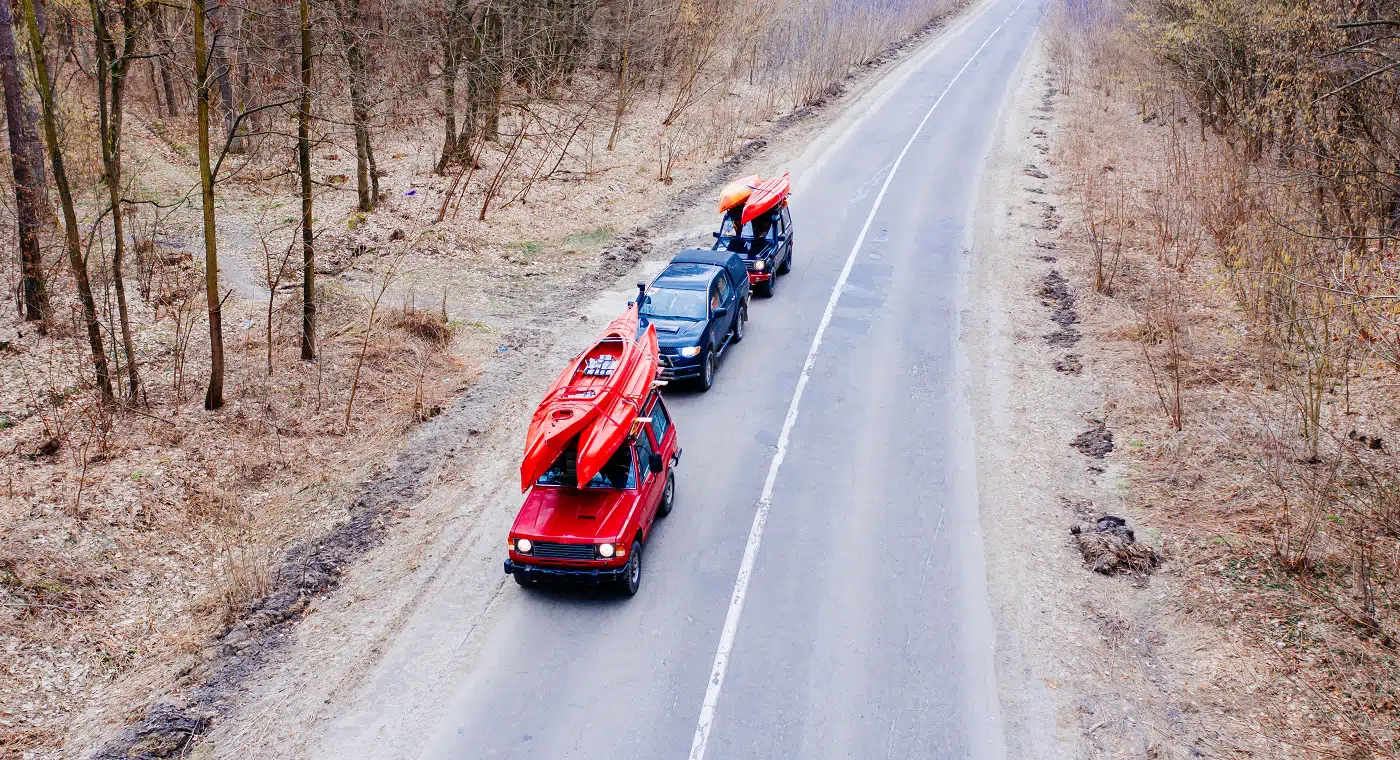 Sale
One of our top recommendations is the 2918 kayak carrier from ABN Universal, which helps you get onto the water without any struggle. It works smoothly with several types of boats, including jon boats, canoes, paddle boards, and floating mats, which gives it a reputation of being a "universal carrier." 
Why Did We Like It?
This kayak carrier from ABN is quite budget-friendly, and given its price, we weren't expecting much from it. However, we were left pleasantly surprised. The cart is constructed from anodized steel, which gives it added strength and longevity. Not just that, it also assists in keeping the cart weight to merely 8lbs.
Being lightweight, it is portable and the tires can be easily removed using the lynch pin. So, you no longer have to worry about the storage of the cart while setting out on any water adventure – just fold the frame and keep it in your vessel.
Moving on, we were impressed by its 9½-inch easily inflatable knobby tires that can smoothly move across rugged surfaces like gravel or sand. While the tires glide across smoothly, the foam bumper pads ensure that your vehicle remains free of any scratches or dents.
Lastly, the unit comes with a 12 ft. long tie-down strap, that tightly secures the water boat.
What Could've Been Better?
The strap that comes with the cart is not long enough for a rowboat, so you might have to purchase a longer strap, depending on your requirement. In addition to this, we would've really liked a larger frame or a locking mechanism in place to balance the slightly bigger kayaks.
Pros
Budget-buy

Anodized steel frame increases durability

Easy to carry around

Bumper tires protect the kayak
Cons
Not ideal for bigger kayaks
Next on our list is the Bonnlo Kayak Cart. They have big and solid PU tires that can balance heavy kayaks without flattening. It rolls across rocky terrain as well as sand and gravel smoothly. Read on to know all the details about this product. 
Why Did We Like It?
The tires of kayak carriers are notorious for emanating a chemical odor, which many find unbearable. However, the solid PU tires of Bonnlo kayak cart are free from any foul smell. Their solid aluminum frame and a 2mm metallic pipe kickstand can carry weight up to 165 lbs.
It also has foam bumpers on each side to prevent the canoe from scratches while you are dragging it across the sand. Besides, the foot of the cart has rubber bumpers that protect them from wear and tear that is likely to occur due to frequent use.
Like our previous recommendation, this model can also be easily assembled and folded for storage and transportation. The trolley is collapsible, and once the tires are separated using the lynch pin, they can be stored in your kayak.
In addition, the cart comes with two 7.75 ft. ratchet straps that are only fit to secure a big-sized water boat.
What Could've Been Better?
We've noticed how the carrier tends to fold up while it's rolling on a bumpy surface. Also, we did not particularly like the ratchet-style straps because they take some time to secure the smaller kayaks in place. Bungee cords would've been a better alternative.
Pros
Free of any chemical odor

Sturdy aluminum frame

Collapsible trolley

Lightweight
Cons
Longer straps do not secure smaller boats
Sale
It's time to talk about the C-Tug Kayak Cart from Railblaza. Before we talk about anything else, we have to mention its premium good looks. It is the best pick for first-time buyers as it requires no tools and assembles in a jiffy. The cart can also dismantle easily and be stored in a kayak or car.
Why Did We Like It?
The C-Tug carrier has a very sophisticated, rugged look and is a favorite among water sports enthusiasts. Its frame is built of durable engineering polymers that do not rust, and the cart can glide smoothly across all terrains.
Furthermore, the corrosion-proof stainless steel axles and the puncture-free rubberized wheels, made in New Zealand, make transportation very easy while ensuring that the kayak is not susceptible to scratches.
Moreover, it weighs merely 10 lbs., and you can carry it around in a backpack without the weight pulling you down. Despite its lightweight, it can carry up to 300 lbs.
The unit comes with several accessories to make your kayaking experience better. It includes a kickstand with a locking mechanism, crossbeams with a toggle lock, two hull pads, and a strap kit.
If you're tired of regularly inflating kayak cart tires, then this model should solve all your problems. Making impromptu kayaking plans has never been this easy!
What Could've Been Better?
Unlike some of our other picks, the C-Tug kayak carrier from Railblaza is not universal. It does not work with some rowboats and fishing boats. Since it also happens to be a pricey product, we are justified in expecting universal compatibility.
Pros
Easy to assemble and dismantle

Professional look

Portable

Sturdy construction
Next on our list is the TMS KY0001 Kayak Cart. Reliable and affordable, the product is made out of a solid metal frame and has a 150 lbs. hauling capacity. As with all our other recommendations, this cart can be easily dismantled and folded for storage.
Why Did We Like It?
The TMS kayak cart comes with 3 ½-inches foam bumpers attached to each arm, and it is designed to secure the kayak in a V-shaped cradle form. Its arms are attached using a 13-inch nylon strap to prevent the cradle from opening too wide.
The product is constructed out of a solid metal frame with anodized stainless steel fasteners and aluminum tubing. Along with the soft bumpers, the sturdy frame protects the canoe or kayak from scratches and dents when pulled on-shore or off-shore.
Additionally, it comes with two puncture-resistant tires 9 ½-inches in diameter that glide flawlessly across the shore. It works even on rocky terrain but is specially designed for sandy areas.
Lastly, it is quick to assemble and disassemble. All you have to do is use the chrome lynch pin to free the tires and keep them in your kayak.
What Could've Been Better?
We'd like to let you know that even though the tires are puncture-free, they are not solid tires and need to be inflated. Furthermore, buyers have often complained about a foul chemical odor being diffused from the tires, but most kayak carts have the same issue.
Pros
Perfect for sandy areas

Affordable

Metal frame adds to longevity

Compact storage
Cons
Unpleasant odor from wheels
We're halfway through our list, and here is another brilliant carrier for your consideration. The Suspenz Smart DLX Cart comes with a dark netted bag that can store the frame for ease of transportation. What's more, it has numerous additional features that make it such a favorite. Keep reading on to know more.
Why Did We Like It?
Right off the bat, it is a lightweight product, weighing less than 10 pounds, and can be carried around in the mesh bag that comes with it. All you need to do is separate the carrier's wheels using the accompanying lynch pin and store them.
The Suspenz Smart DLX kayak carrier frame is made out of solid aluminum, and the hardware out of stainless steel. This adds to the durability of the product and makes it stable, even under massive weight. As a result, the cart moves smoothly even when loaded with a heavy canoe and essential boating gears.
Now we come to the essential accessories. The cart comes with 10-inch airless tires and rubber bumpers that save the kayak from dents and scratches. The kickstand has dual arms that add to the unit's stability and arched axles that allow for adequate ground clearance.
We also quite like its striking yellow color!
What Could've Been Better?
We did not like the strap and buckle holding system. We also noticed that several buyers had a similar problem and complained about it not being sufficient to hold slightly larger canoes. Moreover, since the cart is not inflatable, it does not roll smoothly on soft sand, which might be an inconvenience for some.
Pros
Plastic wheels to avoid rusting

Solid aluminum construction

Easy to carry around

Rolls easily on firm surfaces

Arched axles enable good ground clearance
Cons
Not ideal for sandy areas

Strap and buckle doesn't secure larger canoe
It is time to make impromptu kayaking plans with the RAD Sports 1236 Kayak Trolley. Although the item itself weighs 9 pounds, it can carry water boats up to 140 pounds without any hassle. So, if your kayaks or paddle boards are slightly larger, this carrier will come to your rescue. Simply attach the kayak to the wheels of the cart and paddle right away!
Why Did We Like It?
The frame of the trolley is lightweight, made of powder-coated aluminum, that can hold the largest of water boats without giving way under pressure. Besides, you can rely on its 9 ½-inches tires to never give you any trouble – it is airless and therefore puncture-free. Gone are the days when you would've to spend time inflating tires to have the perfect kayaking experience!
Moving on, it comes with tie-down straps that secure the vessel efficiently, and once you no longer need the carrier, you can fold and store it away. Furthermore, it also has rubber cushions that protect the kayak from scratches, and the double kickstand adds to the cart's durability.
Also, you do not have to spend time reading the instruction manual and assembling the product since it comes fully assembled. They can glide through woods, sand, and roads – so, whatever adventure is on your mind, this cart is ready for it.
What Could've Been Better?
Although the product description claims that the tires are pneumatic, they are actually made out of plastic. Plus, some buyers have found the tie-down straps to be insufficient for their vessel and have bought a bungee cord instead. Neither of these shortcomings is a dealbreaker for us because the cart works smoothly nonetheless.
Pros
Fit for large canoes

Durable

Puncture-proof wheels

Easy storage
Cons
Tires are not pneumatic

Tie-down straps doesn't secure some kayaks
Our list will be incomplete without the inclusion of the Wistar Carrier Trailer. It is highly functional and easy to use, as well as quick to assemble. All you need to do is place the wheels on the cart, and you're good to go.
Why Did We Like It?
First things first, it is an extremely affordable model and transports your canoe to the lake with no issues at all. It comes with a V-shaped cradle with 3 ½-inches rubber bumpers on each of the arms to hold the kayak. It is easy to fold and can be carried around since it weighs just slightly over 8 pounds.
While we are still on the topic of design, the product has a solid metal frame with aluminum pipe and anodized stainless steel for fasteners. This makes the carrier sturdy and corrosion-resistant.
Furthermore, its pneumatic tires have a diameter of  9 ½-inches and provide adequate support, even on irregular surfaces. Thus, it is the perfect cart for all types of kayaks and canoes.
Lastly, it comes with a 7 ½-inch support stand that has springs. The springs keep the carrier propped up onshore.
What Could've Been Better?
The primary complaint that users had with the Wistar Carrier Trailer was the unpleasant chemical smell emanating from the wheels of the product.
We also found the included straps to be of sub-par quality and would suggest spending on better straps, especially if you've a larger kayak.
Pros
Rust-resistant frame

Budget-friendly option

Pneumatic tires

Hassle-free assembly

Portable
Cons
Average-quality tie-up straps

Presence of foul chemical odor
As we are nearing the end of our list, we have the Wilderness 8070121 Kayak Carrier to talk about. If you are looking for something heavy-duty, this is the best option you can ask for. It is specifically designed to haul bulkier carts with ease. Keep reading on to know why we picked this product for you.
Why Did We Like It?
The 8070121 Kayak Cart from Wilderness Systems is an award-winning launcher, so it shouldn't come as a surprise that it is among our top picks, and the spot is rightfully earned.
It can haul kayaks up to 450 pounds and requires no scupper posts or a kickstand to load the vehicle. It is constructed out of marine-grade aluminum alloy that adds to the product's durability and performance.
The wheels are 12-inches in diameter, and being airless does not need to be inflated. To make smooth transportation over beaches more conducive, it comes with separate balloon-style beach tires.
Moreover, the unit comes with two height options, and you can alternate it between high or low, depending on the shape of your kayak. The high setting option prevents the vehicle from scratches and dents.
Also, the kayak is unlikely to either twist or skid sideways because of the adjustable speed option.
Lastly, the cart can be dismantled and stored.
What Could've Been Better?
A minor disadvantage of heavy-duty carriers is that since they are designed to carry heavier kayaks, they are quite bulky themselves. This can make pulling them over soft sand difficult. Furthermore, the beach tires need to be purchased separately, which can be a pocket-pinch, mainly because the cart is expensive as it is.
Pros
Heavy loading capacity

Premium-quality aluminum construction

Height adjustment mechanism

Airless tires

Compact and easy to store
The Paddleboy cart from Seattle Sports is advertised as an all-terrain cart, and correctly so. With its 300 pounds loading capacity and heavy-weight construction, it can haul kayaks, canoes, and other similar water boats. When not in use, the cart can be separated from the wheels and stored away.
Why Did We Like It?
The 061115 Paddleboy Kayak Cart from Seattle Sports comes with a steel frame construction and urethane tires. The tires are puncture-free and reduce vibration that makes pulling the kayak very easy, even over rocky terrain. In addition, the steel frame adds to the durability of the product.
Moving forward, it comes with a spring-attached kickstand that provides stability and makes loading and unloading the kayak very convenient.
Besides, the carrier has a cinch strap to tie the kayak and adjustable top bars that are padded. The addition of padded top bars ensures that the cart holds the vessel stably without folding.
At last, we'd like to mention that like our previous recommendations, this product is collapsible and folds conveniently.
What Could've Been Better?
The Paddleboy cart is considerably heavy at 15 lbs., and although that is great for hauling bulky kayaks, it is not easy to carry it around. Also, the product doesn't come with any warranty. However, it's made of sturdy material and is unlikely to falter or break down.
Pros
Reduced vibration

Spring-attached kickstand

Puncture-free tires

300 lbs. carrying capacity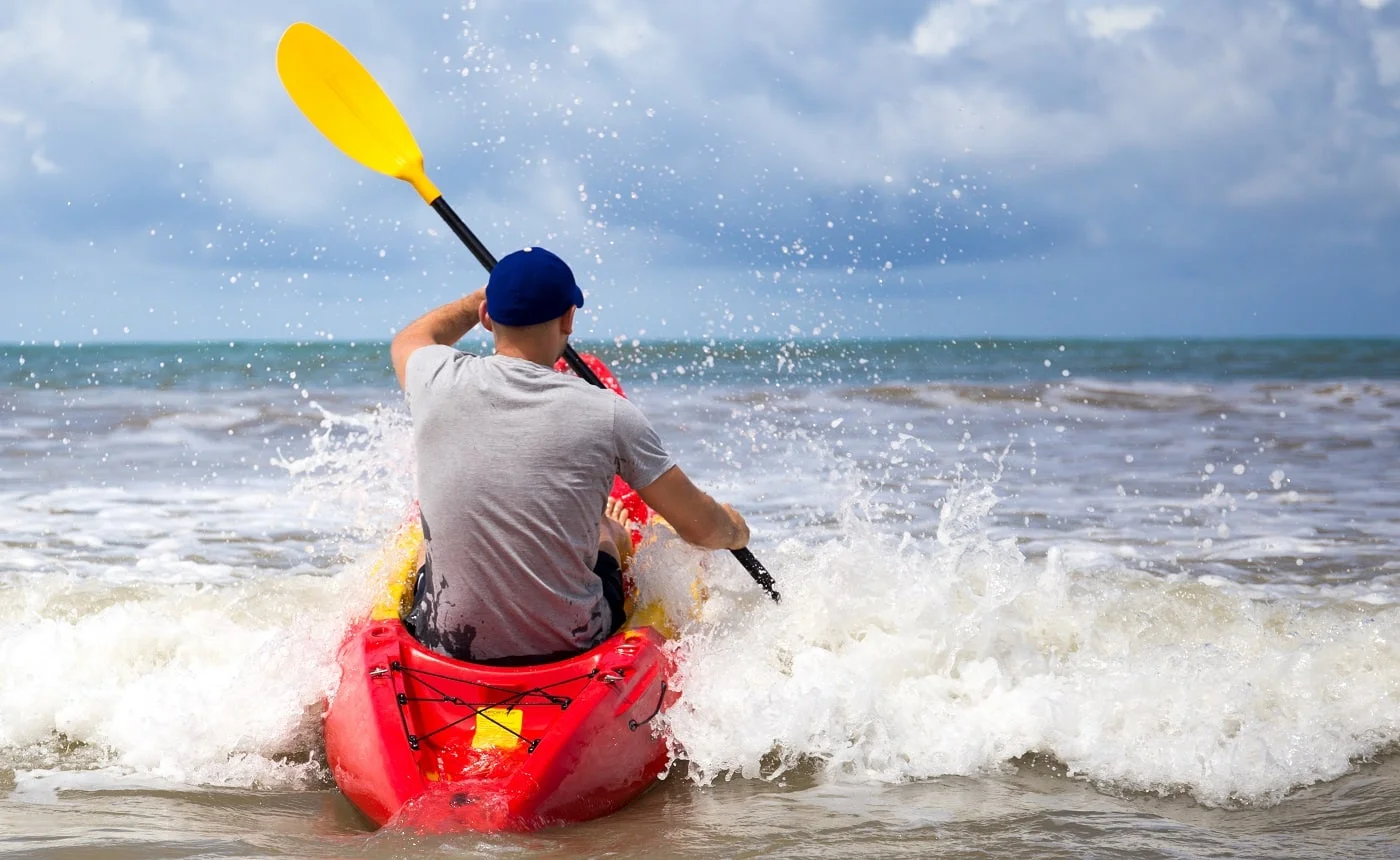 Kayak Cart Buying Guide
With that, we come to the end of our detailed reviews for the best kayak carts of 2022. Selecting a good launcher is essential to ensure the long life of your kayak or canoe. Therefore, a kayak cart should be viewed as an investment that requires the utmost consideration.
Without the right carrier, your water escapades will be tiring instead of enjoyable. We've given you some of the best options on the market, but choosing a product that suits your needs requires some more insight.
So, to make your job easier and your adventures fun, we have a buyer's guide right here.
Keep reading…
Type Of Frame
The most important aspect of any kayak cart is the type of frame it is made of. Since it is going to be exposed to water, it is crucial that you choose a frame that isn't susceptible to corrosion or rust. Usually, they are made either of anodized steel or aluminum. Steel is perfect for freshwater, while aluminum is often recommended for saltwater.
Apart from being corrosion-resistant, both these materials are also sturdy which adds to the longevity of the cart.
The Wheel
The type of wheel attached to your cart determines how effectively it glides across different terrains. So, before making a purchase, do think about what type of terrain you're most likely going to be met with when you take the carrier out.
There are two primary types of wheels: airless and air-filled. Airless wheels navigate over rocky surfaces with ease. The inflatable or air-filled tires can glide across sandy or bumpy surfaces, but you need to carry around a pump for inflating it.
Capacity
Another factor that must be taken into account is the weight of the load the cart is going to carry. Carriers have different weight capacities and it's always stated in the specifications. Purchase a cart that can not just carry the weight of your water boat, but also of the additional gear you'll be carrying.
 If your water boat is heavier, you can choose a heavy-duty kayak carrier. They are bulky and often pricey, but efficiently carry your kayak on and off shore.
Ease Of Storage
Kayak carts are frequently carried around and should be stored in a proper place to avoid any damage. The models we have recommended are all collapsible and can be stored in the car or the boat while you're on the water.
Using the lynch pin, the wheels can be removed from the frame, which can then be folded and kept aside. The portability and ease of storage make it ideal for people who're delaying the purchase of a kayak cart due to space constraints.
Miscellaneous Features
There are a lot of bells and whistles when it comes to a kayak cart. Adjustable wheel height, rubber bumpers that protect the watercraft from scratches, adjustable tire width, etc. All of these features make transportation on rough surfaces easier and prevent the boat from tipping over or sustaining any damage. The rubber bumpers also add to the life of the carrier.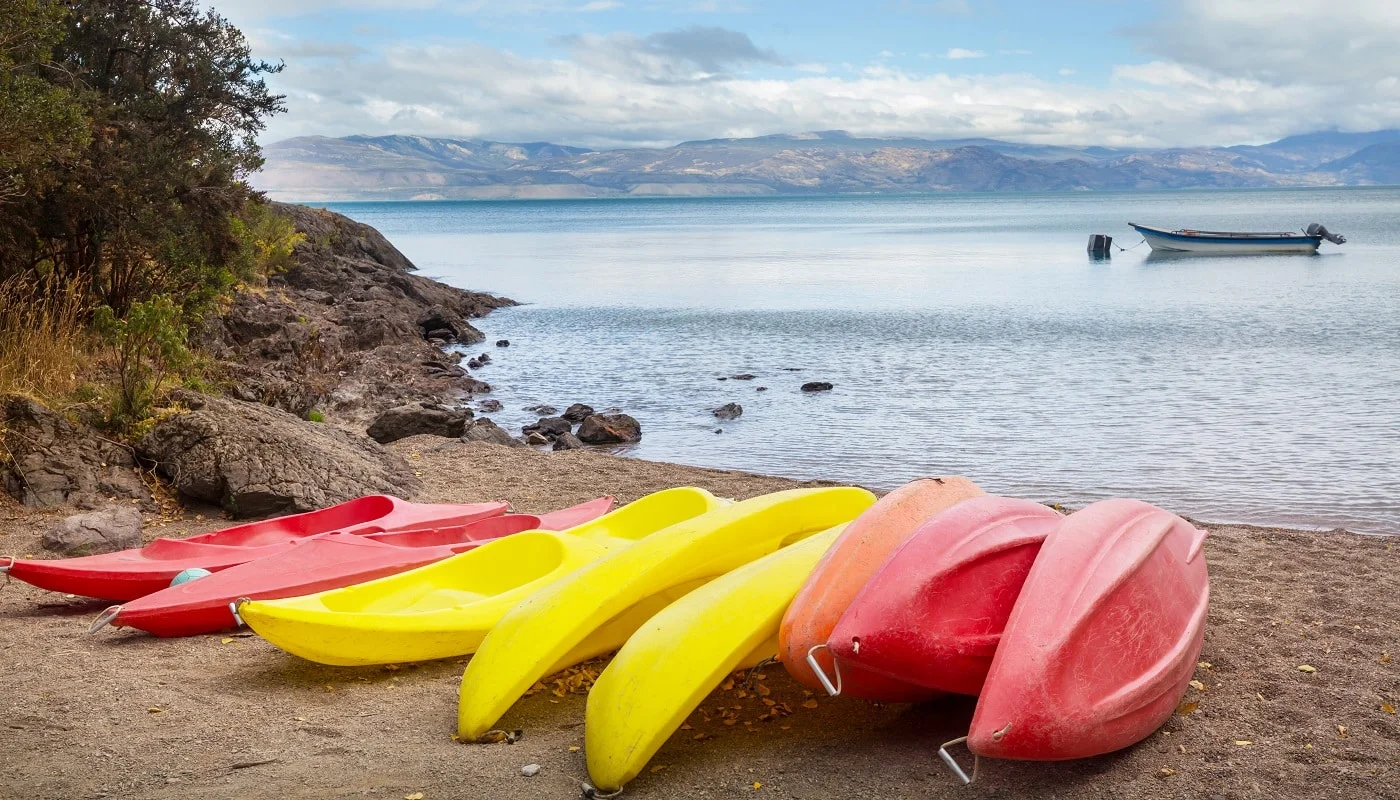 Verdict On Top Kayak Carts
A proper cart helps you make the most out of your watercraft. They make your water adventures fun and something worth looking forward to.
So, whether you want to go kayaking alone, or spend quality time on the shores with your friends, a kayak carrier will be of great help.
We hope our guide has been informative and you can finally choose a cart for your kayak. Now, it's time to take our leave but before we go, here are some of our top picks.
The Bonnlo Kayak Cart is fantastic if you're looking for a sturdy model that is free from any chemical odor. The Wistar Carrier Trailer is the best budget-buy and if you're on the lookout for a heavy-duty model, then the kayak cart from Wilderness System will be perfect.
That's all for today! Do let us know your favorites in the comments below.
Till then, happy kayaking!
Related Articles
8 Best Dump Cart for Lawn Tractor & ATVs