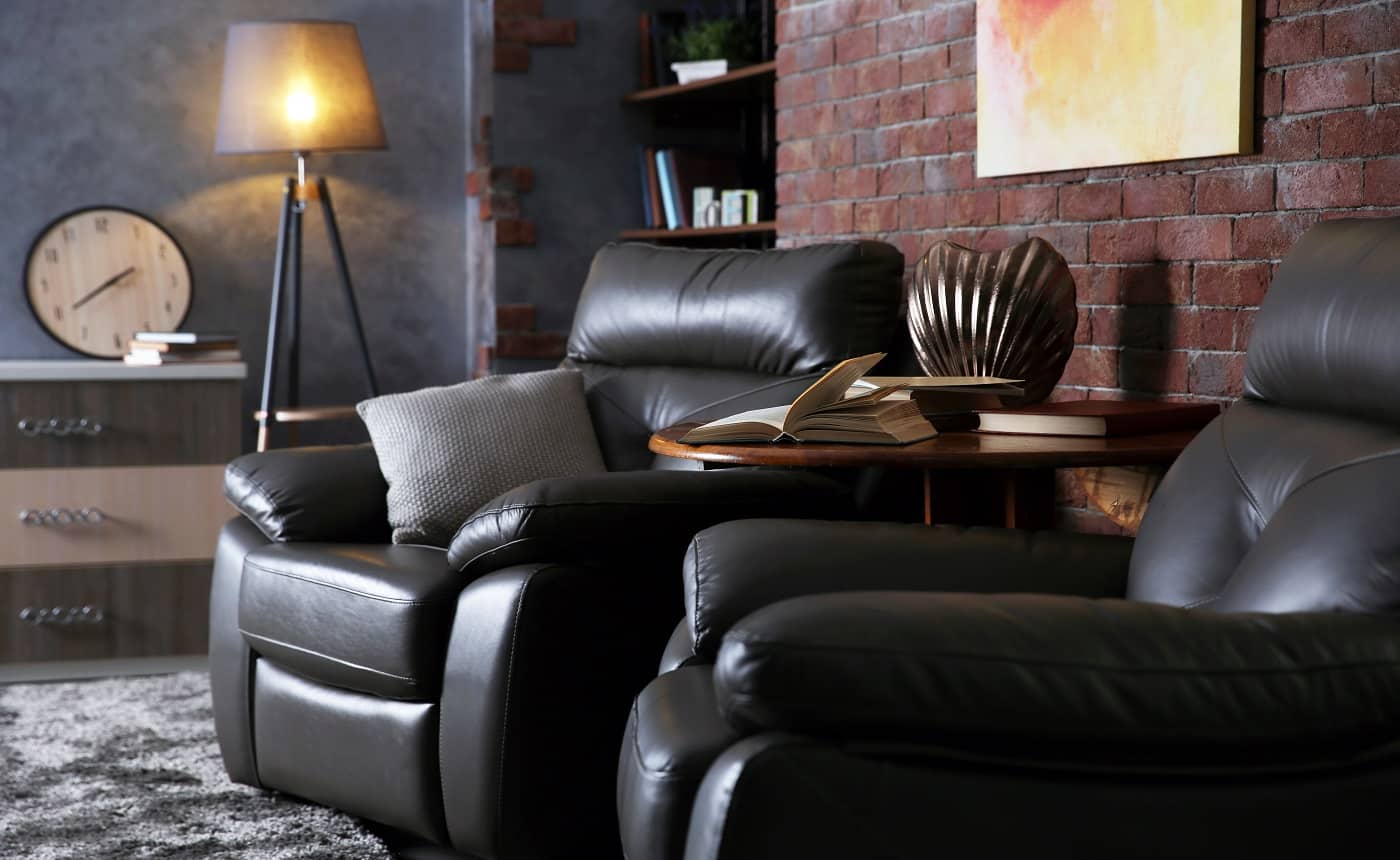 Do you want a recliner chair to spend a while relaxing sometimes? Select from the 11 best chairs mentioned in this review. 
Leather recliner chairs are ideal for relaxation. They can be used at home, work, in home theatre rooms, or even outdoors in the yard. Some advanced recliner chairs come with several features for you to enjoy a total leisure experience at the comfort of your home. 
Moreover, you can choose from a special range of recliner chairs that can be helpful when  someone has an injury or a physical disability. There are massaging modes and pain-relieving heat pads built into these chairs that can provide healing therapy. 
It's that easy to have a multi-purpose solution to your relaxation, stress management and therapy time. Select from the leather recliner chairs in this detailed review and buyer's guide to buy the right option for your relaxation. 
Best Leather Recliner Chairs
IMAGE
PRODUCT
DETAILS

Our Top Pick

Our Top Pick

FDW Recliner Chair

Sunlight-resistant cover
Dual function foot extension & reclining back
Water-resistant PU leather

VIEW LATEST PRICE →

Mcombo 7040 Recliner Chair

TUV certified actuator
Full-body vibration
Lumbar heating

VIEW LATEST PRICE →

YAHEETECH Recliner Chair

Protective feet
Three relaxation modes
Pocket spring coil feet

VIEW LATEST PRICE →

Ashley Yandel 1090012 Recliner Chair

Power-lift recliner
Saddle-brown upholstery
Oversized chair

VIEW LATEST PRICE →

Comhoma Leather Recliner Chair

360-degree swivel
Drink holders
Ergonomic chair

VIEW LATEST PRICE →

Magic Union Power Lift Chair

Remote controlled footrest
Cup holders and storage pockets
Five massage modes

VIEW LATEST PRICE →

Flamaker Recliner Chair

Soft PU Leather
Simple main controller (only two buttons)
Multi-functional recliner

VIEW LATEST PRICE →

ANJ Electric Recliner Chair

Has an electric reclining system
Can be used 25,000 times
Designed for physically challenged people

VIEW LATEST PRICE →

Waldo Brown 296610 Leather Recliner Chair

Simple pushback mechanism
Stain-resistant fabric
Beautiful and stylish recliner

VIEW LATEST PRICE →

Bonzy R9393H51-H042-HMJ-AT2P Recliner Chair

Made of faux air leather
Living room and bedroom recliner
One-pull reclining motion

VIEW LATEST PRICE →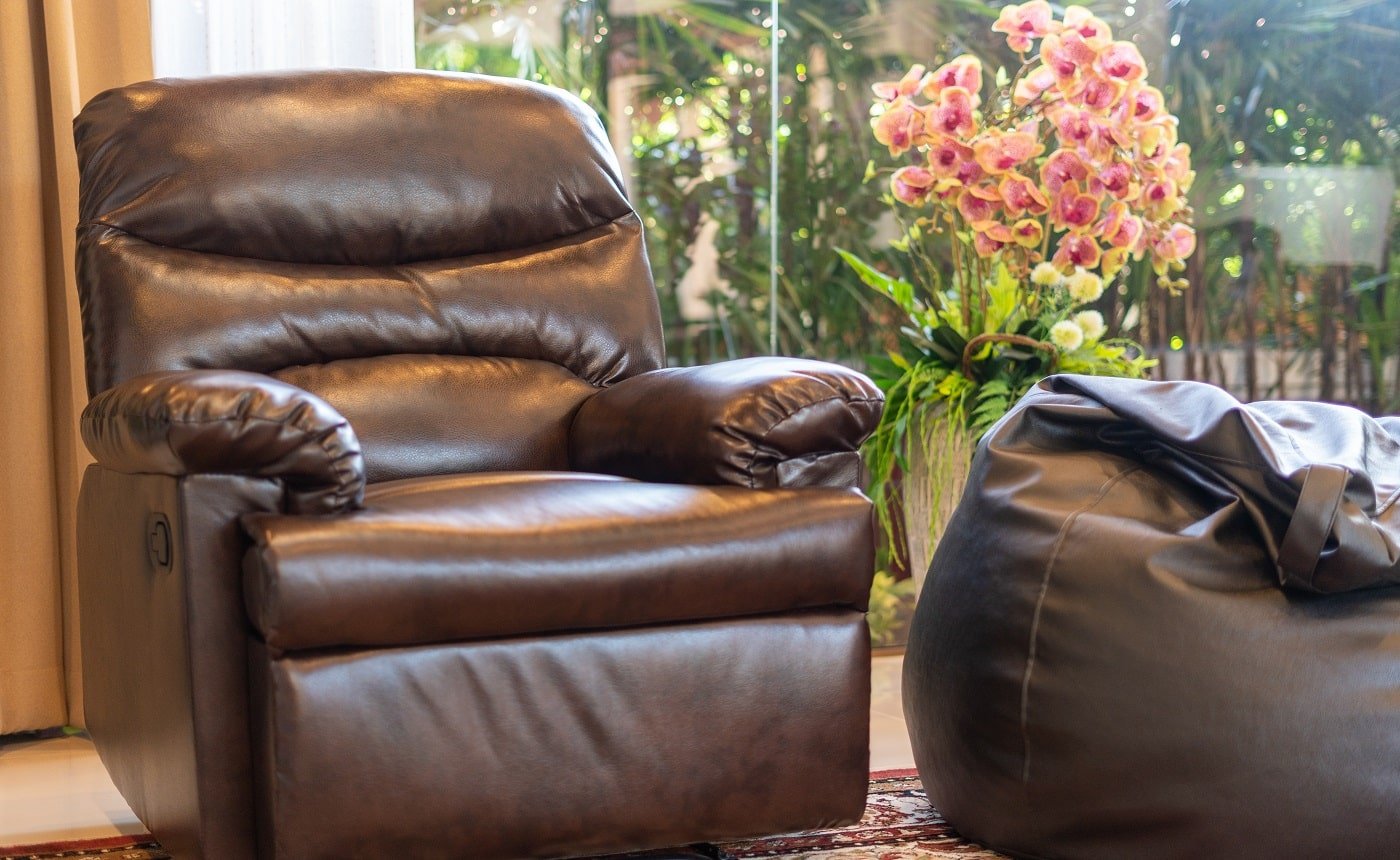 This chair has been specially designed for a relaxing time. Its backrest can be moved around at any angle to adjust the recliner according to your requirement. Just feel comfortable and ease out any stress after an exhausting day by spending as long as you want in this recliner chair. 
Why Did We Like It? 
The chair has water-resistant and durable upholstery that can be purchased in canvas or PU leather fabric. Both the materials can give a stylish look to the recliner chair and are comfortable to sit on. 
Also, the frame of the chair is made of hardwood that is solid on the inside. The legs too, are carved out of the same material. This increases the chair's longevity and makes it stable, and secure. 
The best part is that this model can be assembled in under two minutes! All you have to do is buy it from an online store and place it at a convenient location at home, or any other indoor environment. Just fix the legs to the base, which is a simple task that you can perform by yourself. 
Find comfort anywhere with this chair – at home, in a theatre, a fancy restaurant, or set it up in a hotel for guests. 
What Could've Been Better? 
The leather chair is not made of real leather. The upholstery is comfortable, and the whole unit has a good finish. But, this drawback might not appeal to people looking for genuine leather. Also, it might arrive in two boxes instead of one. You would have to watch out for the delivery. 
Pros
Easy assembly

Foot extension

Can be used anywhere

Made of hardwood
Cons
Delivery done in multiple boxes

Upholstery not made of real leather
This lift recliner chair is unique as it has a lot of additional features at an affordable price. These features can significantly enhance your relaxation experience. One of the best features of the recliner is that it provides power lift assistance to the elderly to help them stand up easily. 
Why Did We Like It? 
The chair is made of superior technology and has multiple features to maximize your relaxation experience. Firstly, it comes with a remote control with two buttons for adjusting the recline angle of the back support. It has one lumbar heating point and eight vibrating points for massaging the whole body. 
Secondly, you can set the timer of the heating and vibrating points to 10/20/30 minutes. Also, it is easy to clean. All that is required is a dry or damp lint-free cloth. There is no need to buy additional waxes or oils to maintain this recliner. 
Finally, it is made of faux leather that can give comfort and durability without compromising on the look of the chair. The material is quite easy to clean and maintain. The faux leather upholstery is one of the main attractions of the reclining chair. 
What Could've Been Better? 
The recliner is delivered to your location in two separate boxes. You might have to watch the delivery process so that you receive the packages together for assembly. Otherwise, there will be a waiting time before the chair is set up in place. 
Pros
Easy to clean upholstery

Long-lasting recliner cover

Easy assembly

USB charging ports and cup holders
Cons
Weight limit 300lbs

Delivery in two separate boxes
Sale
This chair is made of a blend of materials to give it strength and comfort so that you can relax. It is made of PVC leather, a composite board, rayon fiber, iron, foam, and PU leather. It is available in black that can suit any room or other location. 
Why Did We Like It? 
The recliner has three relaxation modes that you can use to the fullest to optimize your leisure experience. So whether you like to sit in an upright position, recline or simply lie down, the chair can be adjusted to the position you prefer. 
Also, the backrest has a mechanism that allows you to push it in order to move the footrest from 0 to 90 degrees. Adjust both the features and enjoy this unique relaxation experience right at home or anywhere else. 
The protective feet not only secure your leisure experience, they also keep the floor safe from scratches and undue chipping. In particular, hardwood floors are best suited for the feet to give their best performance. 
Finally, the feet are sturdy and there are non-marking pads on all four legs of the reclining chair. 
What Could've Been Better? 
The recliner is built so that the assembly is easy – in fact, it can be set up in less than 10 minutes if you have the instructions right! However, the metal channels in the backrest could be hard to line up when you put the chair together. 
Pros
Comfortable

Fashionable

Good performance

Durable
Cons
Weight limit 265 lbs.

Could be difficult to install
Sale
Rustic in style, this signature design recliner chair is available for specially abled and elderly people. However, anyone can use the features of the power lift chair to maximize their lounging experience. 
The upholstery is saddle-colored and made of leather, and the recliner gives good value for money. 
Why Did We Like It? 
The power lift chair has many features enabled by the latest technology. For instance, one click of a button can help a person slide back into the chair and raise the footrest for a great relaxation experience. 
Also, it has a dual motor function that blends with its rustic look to give a special touch to the lounging experience at home, office, or anywhere else. The upholstery is made of poly fiber material that is thick and resembles leather. 
That is in keeping with the design of the recliner, which is made for comfort and relaxation. The features included are a metal reinforced seat, high back and thick cushions. The oversized recliner measures 35″ x 40″ x 42.5″. It has a 20″ seat height and 69″ length at full recline.    
The tools and hardware for installation are included with the set-up of this power lift chair. 
What Could've Been Better? 
The brown-colored upholstery is smooth and suits the interiors of your home. It also adds ease and comfort to your lounging experience. But be careful of bugs attacking the recliner, as the upholstery may be prone to infestation. 
Keep the chair in a safe and airy corner of your home.
Pros
Easy to assemble

Smooth and cozy upholstery cover

Sturdy metal reinforced seat

Slow recliner movement
Cons
Could be prone to bugs

May not be wide enough
This ergonomic reclining chair is great to have at home, or office. It has multiple features to give you one of the best leisure experiences that a reclining chair can give. Made of leather and black, it can also suit any indoor environment you want to use to keep the chair. 
Why Did We Like It? 
The chair can massage and provide heat to relieve pain. It also reclines and swivels 360 degrees for a complete leisurely experience. What's more, you can even rock back and forth in the recliner, just like you would in an old rocking chair. 
It can also be used as an armchair with drink holders, so you can sit back and enjoy watching TV or reading a book. The chair has been made to provide high-quality performance to give you strength and comfort for a long time. 
Also, the chair is padded both for a relaxing time and giving support to the entire body. The padding is soft, and the chair can provide excellent lumbar support along with full chaise seating. 
To recline, all you have to do is rest the arms on the sides, press forward as you lean back to activate the simple pushback mechanism. 
What Could've Been Better? 
You can lift the leg rest with a lever in this chair when you want to put your feet up. But this method is not the best one; there are plenty of recliners out there with more sophisticated mechanisms. If you want better technology, weigh all your best options. 
Pros
Durable

Excellent lumbar support

Comfortable padding

Full chaise seating
Cons
Average leg rest lever

Zero-G inclination, but falls short by 15 degrees
Sale
The chair is made of faux leather and has a sturdy wooden frame. The color of the lift chair suits any indoor environment because it has a shiny, black hue finish. All the pockets and cup holders can be used as storage space for extra things. 
Why Did We Like It? 
The features include a power lift that can help an elderly person stand up easily from the chair. The footrest can be controlled by a remote and is connected to the recline of the chair. The most lucrative feature of this lift chair is the five-mode massage system. 
You can choose from press, pulse, wave, normal, and auto modes to meet your requirements. There is also a heat option for the lumbar region. All the features of massaging, reclining, and powerlifting can be controlled by two remotes included with the lift chair. 
Moreover, this chair is quite easy to assemble and place in any room. The footrest and the back of the lift chair work together. There are eight massage points in the chair for different areas of the body. The motor is built to give a quiet and durable performance that completes your relaxation experience. 
What Could've Been Better? 
The five massage operations in this chair have been built-in to relax and alleviate pain. While this feature is a really attractive one, the noise generated during the operation can be loud and disturbing. Check the chair out thoroughly before considering it for purchase. 
Pros
Easy to use

Designed for senior people

Easy to assemble

Headrest thickly padded
Cons
Weak recliner base

Noisy massage operation
The recliner chair comes with a remote control that can lift a person with a single press of a button. The lift helps minimize pressure on the back and knees. Reclining is also easy and remote-controlled for ease of operation. 
Why Did We Like It? 
The power lift chair offers four massage points for your legs, thighs, back, and lumbar region. It has five modes and two intensity options as well to give you different kinds of massages. You can even get a full body massage at your own home! 
The heating function available for the lumbar region can take all your tiredness and stress away. Just set the timer to 10/20/30 minutes and increase your blood circulation while relieving any pressure off the waist. 
Moreover, the chair comes with comfortable seating, padded armrest, back, and main seat for comfort and relaxation. It also has a headrest that is raised so that your neck is supported when you recline. 
There are cup holders and pockets for the convenience of storing away a book or holding a drink when you are relaxing on this recliner. 
What Could've Been Better? 
The power lift chair can be quite comfortable for a petite person. The dimensions of the chair might not be suitable, though, for a big person. It has been manufactured to accommodate people small in height. Someone of average height can use this chair comfortably as well. 
Pros
User friendly

Easy to assemble

High-density sponge cushions

Timer function
Cons
Seating inadequate for large-sized person

Insufficient padding
The ANJ is designed to give you gentle recline movement at the press of two buttons. The simple process and performance make it a great relaxation and massaging tool for people who need special care for physical injuries.  
Even the elderly with physical ailments can use this reclining chair. 
Why Did We Like It? 
This chair has comfortable back support and headrest to enhance the relaxation and wellness experience you need for any pain or discomfort. That has been made possible by the specially designed back support to meet various needs. 
The back support is overstuffed with pillows that support the neck, back, and lumbar while you sleep, read a book or watch TV to spend some leisure time with yourself. The steel construction of the reclining chair is durable; you can use it at least 25,000 times!
Moreover, the leather casing is manufactured to breathe easily, making it easy to clean. It is processed in a way where the material is not tightly packed together, which helps in keeping the casing clean. 
There is also a USB port on the right side of the electric chair where you can charge your gadgets. 
What Could've Been Better? 
The recliner can be uncomfortable because there is a gap at the base of the spine. That can hinder buying this chair, especially if it is being used for a physically challenged person. Someone with an injury might need to use it for long hours. 
Pros
Durable

Overstuffed pillows for comfort

USB charging port

Durable steel construction
Cons
Gap at the base of the spine

1-year warranty period
Sale
This brown recliner chair is also known as a wingback chair. It has a simple pushback mechanism without any gadgets and devices added to the basic features of the recliner. The chair is covered in a stain-resistant fabric that gives a reliable and extraordinary performance. 
Why Did We Like It? 
If you are looking for a relaxing chair to do your office work, this one should be perfect for leaning back and working on the laptop. Since it is specially made for relaxation and supporting the body, you can sit and work on it all day long. 
The armrests are comfortable, and there is a foot recliner should you want to stretch your legs out. Alternatively, use this leather chair for a quiet time, or leisure. If you are bothered about using it while having beverages, just put an additional table next to the recliner to keep your cups and other things. 
The fabric assures you that there would be no cleaning work to do if you accidentally drop something on the recliner. The assembly is easy and can be done in a short while without any hassle. 
What Could've Been Better? 
The back support is firm but may be uncomfortable for a tall person. That is because the reclining chair has a low back, so a tall person would not rest the body well enough to enjoy complete relaxation. 
Pros
Good quality fabric

Firm and steady frame

Durable

Full recliner
Cons
No lumbar support

Low backrest
The chair is overstuffed on the armrests and backrest to give one of the best relaxation experiences at home. What's more, this recliner can be used for working-from-home if you have a laptop and an internet connection.
Red and brown-hued, it is available in both leather and suede. 
Why Did We Like It? 
The leather upholstery is soft and made of high-quality material. It is easy to maintain, delicate and has good wear resistance. The overstuffed padding makes the chair comfortable to use. 
A combination of seating features, like the overstuffed armrests and a premium seat cushion, help you sit back, relax and be stress-free for as long as you want. You can also have the perfect leisure time experience at home by putting this chair in your home theatre room. 
Moreover, it is easy to assemble by yourself and is quite lightweight. So, even upon delivery, this reclining chair would not give trouble in shifting and testing the right place out at home. The warm hues of the leather recliner blend in perfectly with the environment of the house. 
Just place it to contrast or match the interiors of your theatre room, living room, or bedroom for the best possible experience. 
What Could've Been Better? 
The chair can hold a person up to 300lbs. A man or woman of average height can comfortably use it for leisure and relaxation, even work! However, beyond this weight capacity, and height, this recliner might be uncomfortable to use. We suggest precautions before purchase.  
Pros
Soft, genuine leather upholstery

12-months factory protection

Overstuffed recliner with extra-thick seat

Comfortable armrests
Cons
Weight capacity 300lbs

Cumbersome to pull up from an inclination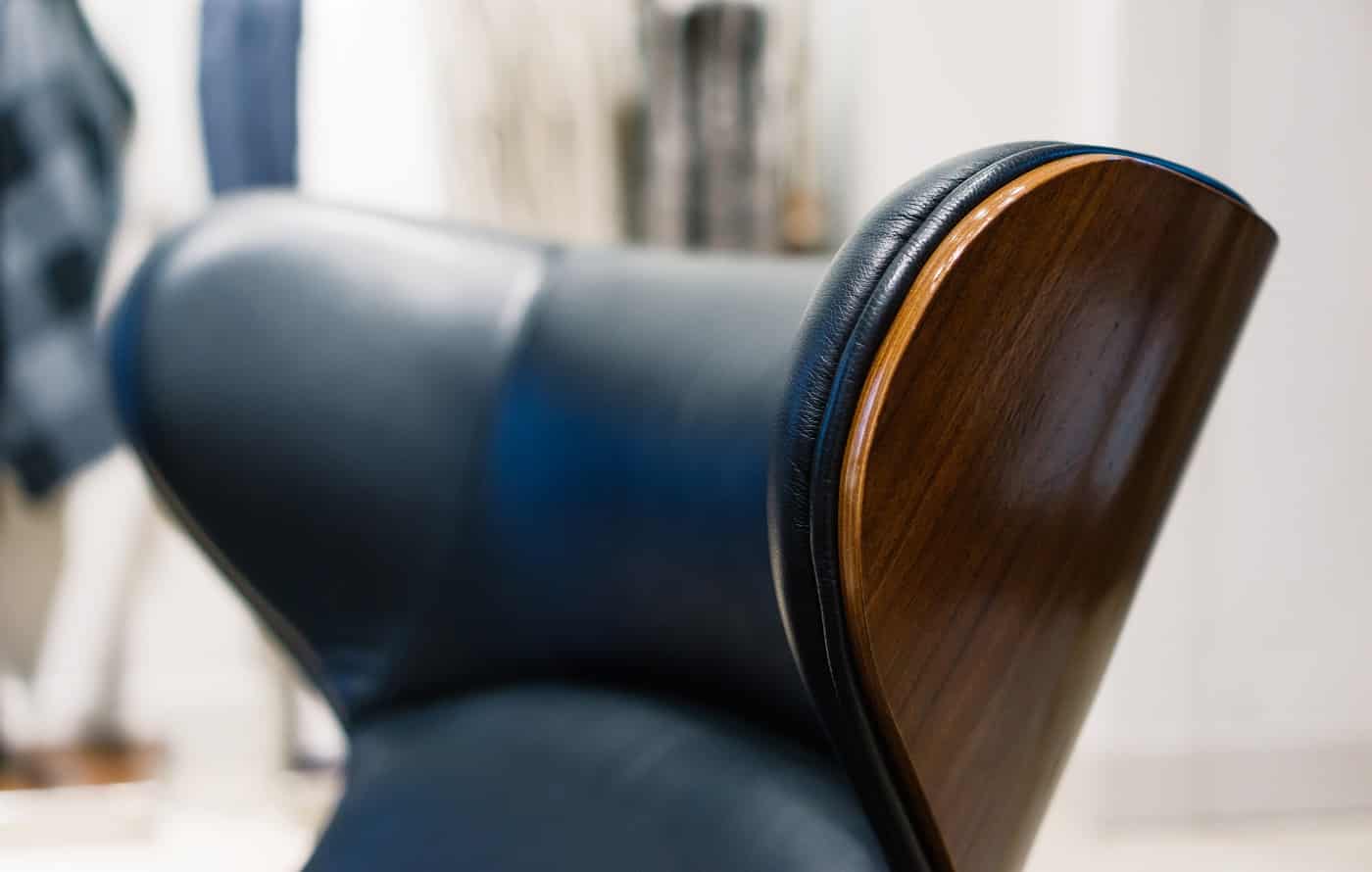 Leather Reclining Chair Buyer's Guide
The reviews for recliner chairs need insights to bolster your purchase options. So, we have put together the most important features to help you choose wisely in a buyer's guide here. That is because the recliner chairs have features and functions that are great to have at home when you know the best option for your comfort and relaxation. 
The main features of any recliner chair are:
Durability

The flexibility of the recliner

The performance of the entire chair

The chair type
We have discussed all these essential features below in a concise manner. 
Durability
A leather recliner chair is a one-time investment. You can upgrade the recliner chair to get the latest technology and functions at home. Still, any recliner you invest in needs to give you a relaxation experience that will last for a considerable length of time. 
As a rule, choose a recliner chair that outlasts the interior décor! Never compromise on the quality and the look of the chair.  
Flexible Recliner Performance
A recliner can be pushed back simply by a lever, a button on the remote, or a motor mechanism. However, the ease with which you can adjust the recliner is significant while choosing from the available options. 
Also, the recliner should be sturdy to take any amount of weight and have the strength to hold up at any angle or position. 
Relaxation
Relaxing is one of the most important features to consider before buying the recliner chair for your home, office, or other location. We suggest you test the recliner chair at a shopping mall to save time on research, customer support calls, and testimonials from other people. 
But, since the recliners are readily available online, you can always choose to spend some time before buying the best leather recliner chair for leisure time at home or another location.  
Recliner Types
Some of the most popular recliner chairs are known as Rockers, similar to rocking chairs. 
Then, there is the Double on which two people can sit comfortably. And Easy Roll recliners that can be moved around, unlike other recliner chairs. Massage recliners are designed especially for massaging and relieving back pain.
Some brands make heated recliners that can provide heat for relief from pain. Heated recliners also come with added massage facilities. Lifters are for elderly people. They help the old get up from the recliner by powerlifting them up.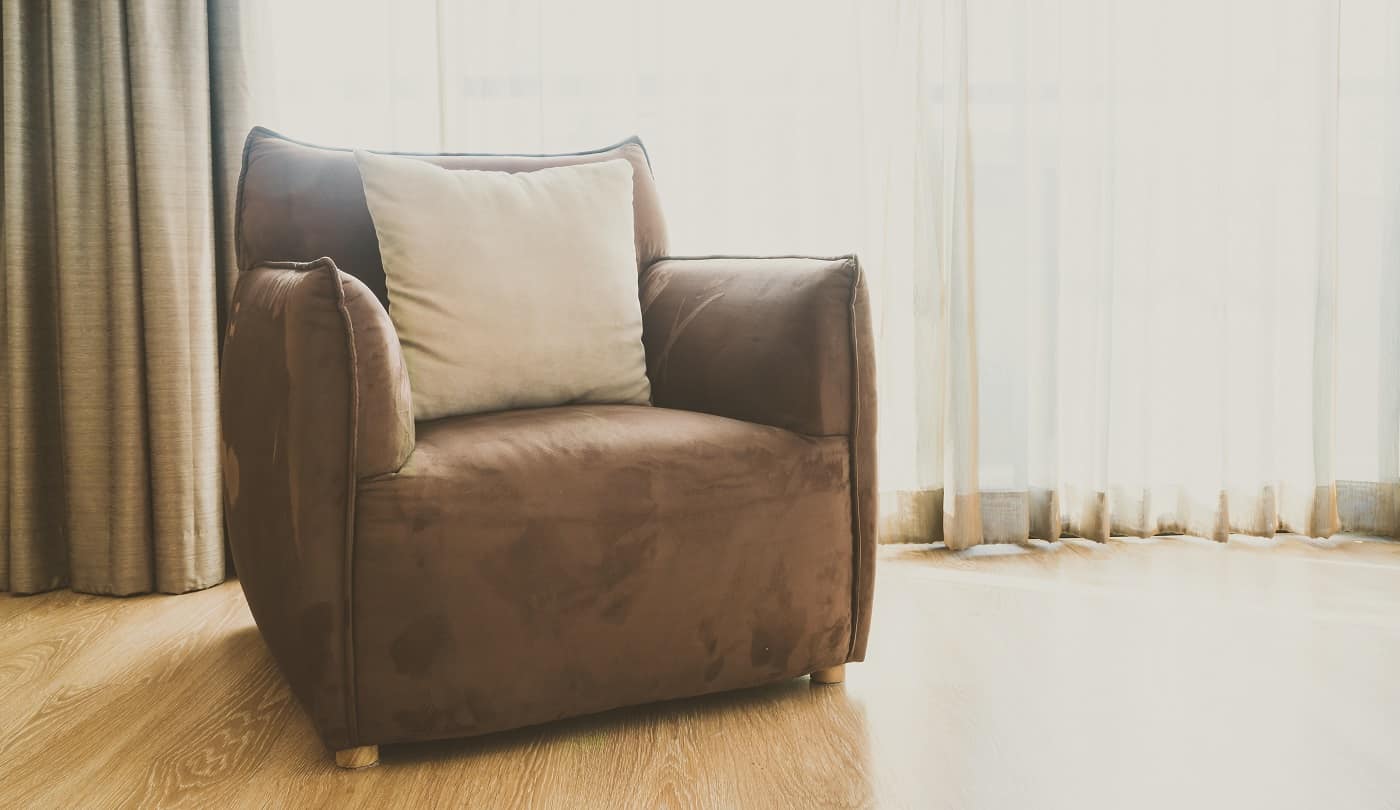 Verdict On Leather Reclining Chair
The best leather recliner chairs reviewed here offer leisure, pain-relief therapy and total relaxation. They come in varying sizes with multiple functions and great features to help you select the most suitable chair for your needs. 
So, whether you want a massage or a quick catnap, these leather recliner chairs will give you the exact performance you want. If the chair has to be in the yard, choose the FDW Recliner Chair which is particularly suited for outdoor relaxation.  
The Ashley Yandel Recliner Chair has a dual motor function that gives one of the most flexible recliner experiences ever. Also, the Comhoma Leather Recliner Chair is your best bet if you want a leisurely experience. 
After all, everyone deserves to spend some time relaxing and enjoying themselves. So, treat yourself to the ultimate luxury today!  
Related Articles
10 Best Folding Lawn Chairs to Rock
Best Massage Chairs & Recliners
Learn The 15 Massage Chair Benefits
How Many Types of Massage Chairs Are There?
What Are the Best Massage Chair Brands?
How Does A Massage Chair Work?
8 Best Battery Pack For Power Recliners