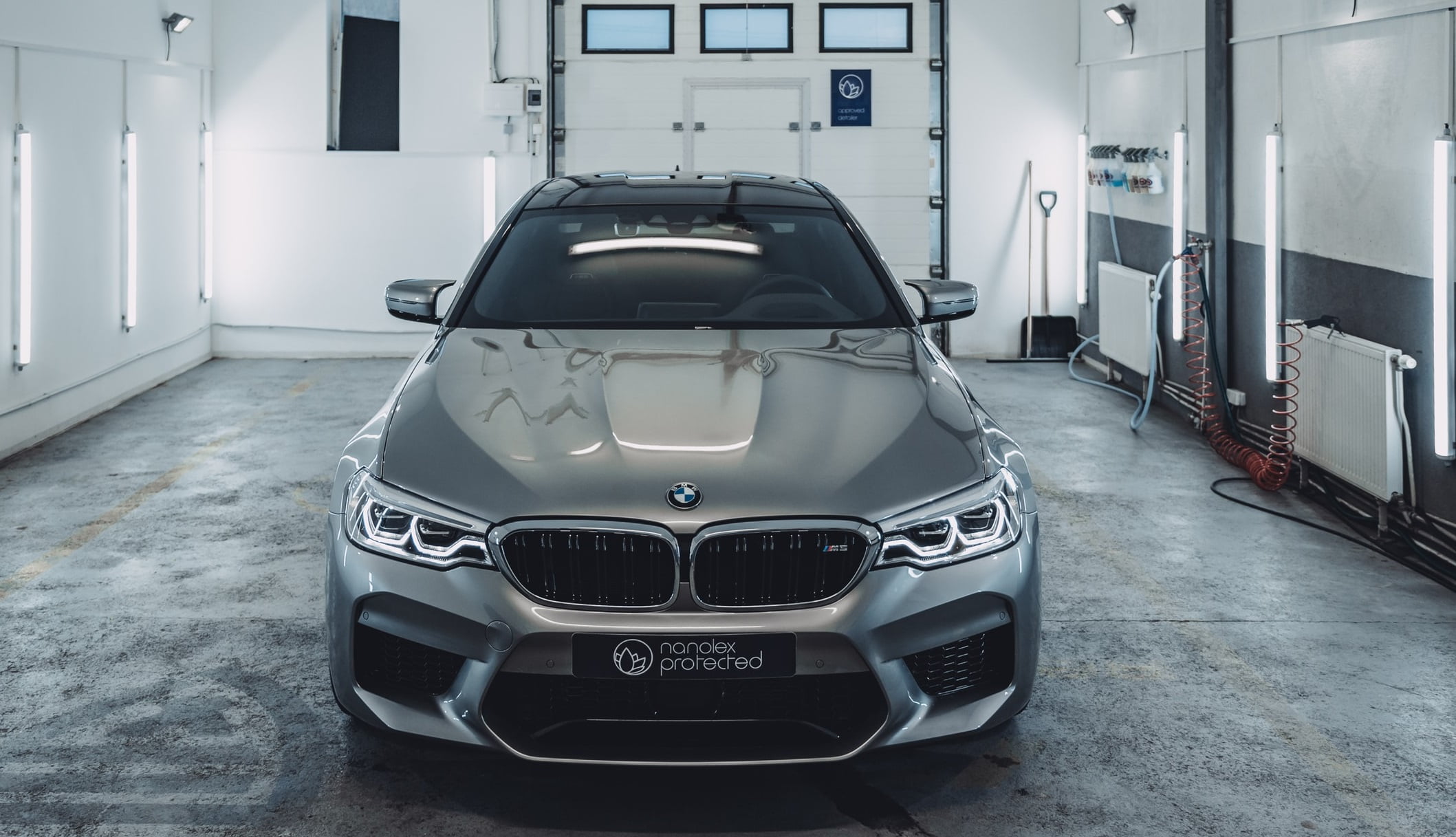 Lighting is one of the most essential parts of a garage, given that most garages have no access to outside or natural lighting. 
Hence, ensuring your garage gets the best lighting possible within your budget should be a priority for all homeowners with garages.
You can easily see pesky little parts and items which you otherwise wouldn't, or would need a torch to see. This process is highly problematic. 
There are tons of options on the market, fortunately, for anyone interested in lighting up their garage – and we review some of the best ones on sale today. 
Best LED Garage Lights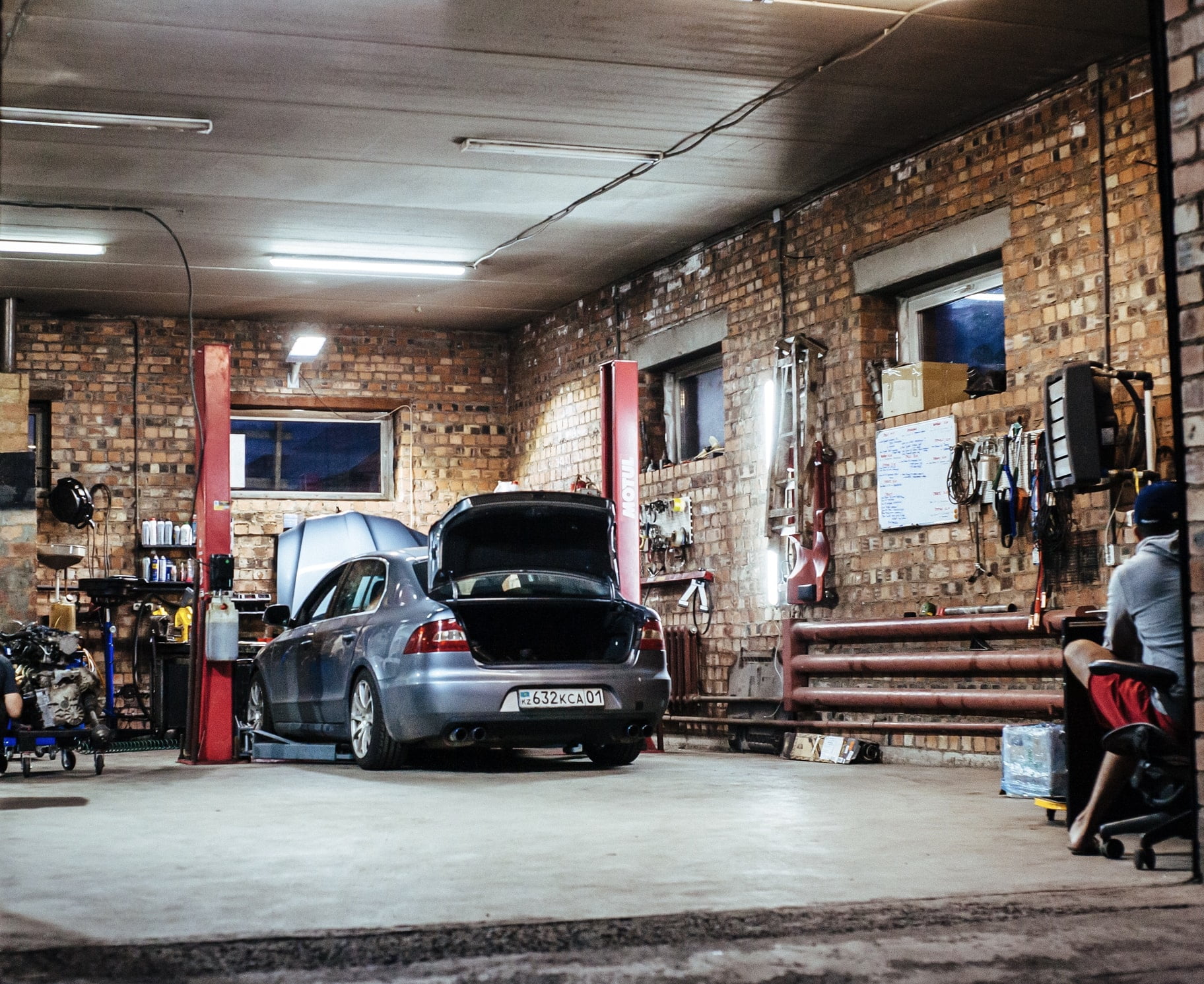 We start with the product reviews and follow it up with some small tips which are likely to help you in choosing and maintaining those new, shiny lights in your garage! 
Sunco Lighting has been in the LED manufacturing scene for a very long time. It's by far one of the oldest light solution companies out there today and has been hailed as one of the best for providing a very versatile range of LED light models for a variety of purposes.
Their 16 pack light set is one of the recent additions in their line-up and is simply just amazing when it comes to illuminating your garage. 
Experience
When put to the test, perhaps the most attractive quality of this Sunco model is its efficiency, compared to some of the other standard models out there, this light pack of 16 boasts one of the most energy-efficient designs.
Each of the bulbs contain a unique LED chip inside them which helps to control the power usage much more strictly and make them significantly more efficient.
Another aspect of the Sunco garage set which we absolutely loved was its sheer volume. When opting for it, one is not simply investing in just a single LED light, but 16 of them, and that is precisely what makes it such an amazing value for money. This also makes the set quite versatile as well. With the amount of LED lights provided, you can use the set to light up both small and large garage spaces perfectly well. 
However, we did not find these bulbs to be as durable or as long-lasting to our liking.
Pros
A pack of 16 LED lights, provides for a lot of volumes and versatile use
Can light up both small and large garage spaces perfectly well
One of the most energy-efficient models on our list today
Cons
Doesn't last as long as some of the others
The 40W 4ft LED garage lighting from LeonLite can be the perfect solution for you, if you're looking to light up a small to a medium-sized garage in a pocket-friendly way . LeonLite is quite a new brand and it's really not all that surprising that they want to enter the market with the best price budget option.
Experience 
Apart from the cheap price that this LED set comes at, what truly impresses us about this is the linking mechanism.
These bulbs possess some of the best linking features we have ever seen which vastly improves on its light quality and brightness of illumination.
Well, you can always choose to use these bulbs individually for smaller spaces, but for the medium-sized garages, the linking comes in very handy.
The unique feature of linking pertains to how one can connect two-unit flushes between the bulbs of this set. And as a result, you can use up to 5 units to make it essentially function as a single large LED garage light, instead of placing them around the space separately.
But when it comes to the cons, what truly disappoints us about this LED is (much like the Sunco model) the durability and directional lighting.
The bulbs are not at all long-lasting and are also not capable of providing light rays in every direction. This makes them one of the worst choices for lighting large garages and warehouses. 
Pros
One of the most budget-friendly LED lights on the market today
Has a unique linking system that enhances the overall illumination
Will allow 5 separate units to work as one large unit
Cons
Not at all a durable model
Provides only directional lighting
Being a subsidiary of a larger brand doesn't stop Hykolity in being one of the best go-to's LED lighting solutions. Their 4FT range of LED bulbs are our personal favorites and one can say that they are going to be the overall best purchasing option on the list today.
Experience 
What sets the Hykolity 4FT apart from the rest of the competition is the amazing light quality that it's able to provide. 
With a lumen count of 4400, it truly is one of the brightest garage lighting solutions on the current market. 
It puts forth a significantly higher volume than most standard options with a 40W bulb, thereby making it one of the best picks for garages and warehouses which are quite big and spacious. Durability and longevity are another aspect of this bulb model which makes it such an amazing choice. 
With a vapor and a waterproof design, these bulbs are capable of lasting a very long time and you will not need to consider a replacement anytime soon.
They are perfect for use in open-air garages or even for certain spaces where the elements are the biggest risk factor to bulb longevity.
However, all of these amazing features when combined together make this model one of the more expensive ones on our list today.
This is precisely the reason why, even though the LED is our favorite, we will not be recommending it to everyone.
It's best to employ them for the larger garages, preferably with commercial uses in mind.
Pros
Produces some of the best quality light
With 4400 lumens it indeed is one of the brightest LED models
Perfect for bigger garages and warehouses
Very durable with long-lasting features
Cons
Quite expensive and out of reach for average garage owners
Not fit for lighting small garages
Barrina much like LeoLite is pretty new to the LED manufacturing scene but has done a tremendous job in carving their own niche in the market and getting a stable fan following. And one thing about the company which we really admire is their specialization in all things LED.
Garage LED is not the only thing that they are good at; they make a wide variety of LED models to fit a variety of purposes.
Sale
Experience 
Very rarely can one look at an LED light and actually call its lighting to be 'warm'. It's a sense of a feeling and not color exact, but it is this very feeling that the Barrina bulb invokes in any viewer.
This sort of experience primarily has to do with the temperature of the bulb. However, by temperature, we don't mean the thermal capabilities of the LED but rather the temperature of the light.
The Barrina T5 LED might seem underpowered at first but it isn't by any regards, it is significantly hotter colored that the other LED garage lights on the list and puts out a light that is 6500K which makes it a bit bluer than the other LED models as well.
This means that the bulb emits color along the warmer spectrum which makes it stand out much more. 
But if you wish to opt for this LED model, do keep in mind that it has a tendency to mess with the electro frequencies of other electronics in the near vicinity. 
The circuitry design of the Barrina T5 is less than ideal and makes the bulbs incapable of cleanly processing the powering unit thereby emitting disruptive radio frequencies.
Pros
Has a neutral white light color of 6500k temperature
Has the ability to link up to 6 units

Durable and long-lasting design 
Cons
Flawed circuit design makes it emit frequencies to disrupt nearby electrical appliances
This linkable LED light from HoneyBay gives you 4800 lumens of solid lighting. This is probably as high as any of the lights on the market today go, so make sure you have protection in place so the glare doesn't blind you. 
It's a boon for the darker garages and large ones which don't have many light sources. 
Experience 
One of the first things which you immediately notice about this particular light is the ridiculously simple mounting system. 
You can either hang the LED on a chain, which is adjustable; or you can mount it flush to the ceiling. Both systems are easily interchangeable and equally simple to use. 
You can also connect multiple such lights in series to light up an especially dim garage. The chain itself is known to fail, so it's best to get a cheap spare chain (for if and when it does). 
The light itself costs almost twice as much as some 4000-lumen lights, and lasts half as long as they do. 
A few concerns apart, this is a reliable, solid light, which is capable of lighting up vast unlit expanses with relative ease. 
If you have enough to buy it, you definitely should – it's a user-friendly and high-quality product. 
Pros
Comes with ETL and DLC certificates

Can connect over 20 such lights in series if need be

Easy to install, lightweight 
Cons
The chain could have been of a higher quality 

Doesn't last as long when compared to the competition
The standard 4FT linkable LED Utility from Hykolity is all about balancing performance and price. It's one of the very few models on the market that can boast to cater equally to the needs of both private and professional garage lighting. So if you run a mid-sized auto repair shop then these LED lights might just be what you're looking for. 
Experience 
The standard Hykolity 4FT Utility bulb may not be the brightest LED model on the list, but it sure does provide a fantastic well-rounded performance. 
The price that each of the bulbs come in is quite pocket-friendly and best of all it has amazing linking and versatility which makes it such a great pick for professionals everywhere.
The Utility Shop has the ability to link up to 20 different bulbs. Now, each garage may need a different type of lighting arrangement to get the perfect illumination, some might need a bit more, some might need a bit less.
And this is precisely where the linking comes in handy. If you have a small to mid-sized garage or even a large warehouse, these Utility LED bulbs can be the perfect lighting solution.
However, unlike the previous Hykolity model, the Utility Shop is not as durable. It doesn't have a great waterproofing or even vapor resistant features, and hence do not last as long as one would like it to. 
The light is directional as well and will barely provide any 360-degree coverage, so you will need to invest in more bulbs and depend on the linking feature.
It may not be such a great choice for open garages.
Pros
Can be linked up to 20 bulbs making it immensely versatile
Provides great value for money and can be used for a variety of purposes
Can fit the needs of professionals perfectly well
Cons
Not as durable as the high-end LED models
Provides only directional lighting
Hyperikon may not be one of the more popular LED manufacturing brands on our list today, but that doesn't mean that their products are not good by any means. Their garage LED models are incredibly reliable, to say the least, and come with some of the best energy-efficient features that you will find today.
Experience
The Hyperikon Double Fixture Shop Light consumes just 38 watts as compared to the more standard 40, and is capable of producing an amazing lumens count of 4000.
This is precisely why the company was awarded the notable Energy Star certificate, as they are capable of making LED bulbs which are 60 percent more efficient than the rest of their competition.
But, efficiency is not the only thing that the Hyperikon Double Fixture Shop Light is known for. It is quite durable as well and comes with a whopping 45,000 hours of performance in its arsenal.
Mounting the LED set is pretty simple as well and you can turn it into a fun DIY project without having to rely on your local professional electrician.
In terms of versatility, we loved the fact that the set came in three different globule color temperatures of 3000k, 40000k and 5000k; allowing you to pick according to your garage interior.
However, when it comes to the light volume, this bulb model falls short of our expectations. Though it boasts a very bright light output, when it comes to overall visibility it's not as effective as some of the others on the list.
Pros
One of the most efficient light models in the market today
Has an incredibly high lumens count, allowing it to be incredibly bright
Easy to install and won't need professional attention
Cons
Lacks a lot of light volume, which hampers overall visibility
When it comes to versatility, not many manufacturers can compete with what Striker Concepts bring to the table. Their motion-activated LED Trilight set is not restricted to the garage itself and can be used anywhere in the house.With a lower lumens count of 3000, this light set is perfect for use in places which require a lot of ambient light.
Sale
Experience
With just a lumens count of 3000, this bulb set from Striker Concepts may not be the brightest LED on the block, but it sure is efficient, versatile and easy to install.
It just consumes up to 25 watts of energy, making it almost as efficient as the Hyperikon model.
Moreover, what makes this set even more efficient is the motion sensor setting. The fixture has a convenient sensor which turns the light on when a movement towards the room in detected, or when you are driving your vehicle through your garage space at night.
On the other hand, the light turns itself off when motion is not detected for a period of time, making it a great addition for those who often forget to switch off their room lights.
Installation is effortless as well, and you will not be needing the aid of hard wires or even a professional for the job.
However, there is one aspect of the Striker Concepts Trilight which makes it out of reach for a lot of the customers and that is their cost. 
The convenient and user-friendly features make this set a very expensive one, and we will be recommending it more for those, to whom price is not an issue.
Pros
With just 25 wattages this LED model is very energy efficient
Easy to install and will not need professional aid
Convenient motion sensor features goes a long way in conserving energy
Cons
One of the more expensive LED bulbs on the list today
The 4ft LED Garage Shop Lights from AntLux is all about providing the brightest light at a very low energy consumption rate.
It's also one of the more durable models out there today, with some of the easiest installation methods and comes damp rated. This means that you will not have to incur any maintenance expenses for the bulb as it will possess a decent life expectancy and produce radiant white lights consistently.
Sale
Experience
Now, AntLux is probably another LED manufacturer that you may not have heard of. 
But recently they have taken great strides in improving their overall product image in the market by making reliable and budget-friendly LED models for garages and other parts of the home.
The 4ft garage shop lights are capable of producing 4000k lumens at a 40-watt consumption, therefore being bright, efficient and reliable. 
 Installing it is particularly the best part about the whole set in our opinion, as it takes a very small amount of time to do it, and you can practically do it alone.
The set comes with its very own mounting brackets along with a customer supplied power cord. The set requires a 'hard-wire' installation which in the long run helps to provide a lot of protection to the whole lighting system. 
However, one disadvantage to the globules of these bulbs is that they are not dimmable. This can be quite disadvantageous to those who are looking for a more versatile LED set to add to their garage. 
Pros
The LED set comes with its very own brackets and chords with easy installation features

Hard-wired setup keeps the overall lighting system safe from damage and durable

4000k lumens makes the light bright and a 40 watts usage ensures higher volume 
Cons
Bulbs are not dimmable, which can be a dealbreaker for many 
This is another budget-friendly LED model on the list, but with 4000k lumens, it's as bright as the other high-end models. The Brightech LightPro LED comes with over 50,000 hours of lifespan and has the ability to last you for years. 
You will not need a replacement anytime soon, and along with a 3-year warranty from the manufacturer, there are honestly not a lot of things to worry about when opting into this LED.
Experience
Now, unlike the rest of the LED models on the list, this one from Brightech is a bit on the cooler side in terms of color temperature.
At 4,000 kelvins the LED is near the redder part of the spectrum, and this is precisely what makes it so unique.
The bulb is quite user-specific and comes with a frosted tubing which emits a form of an unclear light which again sets it apart from the more standard models. 
Moreover, this LED set is sold in both linkable and non-linkable models. Though the linkable one is a bit more expensive, it's really great to have a choice between the two, which in the long run improves on the overall versatility of the LED.
However, one of the biggest issues that customers face with the Brightech LightPro is that during installation it only allows suspended mounting. 
Hence, it turns out to be a rather disadvantageous investment for those who are looking for flush mounting features. And that's why, though a reliable LED set, it isn't as popular as some of the others on the list.
Pros
Has a 4000k color temperature which puts it on the redder part of the spectrum

A reliable and budget-friendly option for both homes and garages

Comes in both linkable and non-linkable models
Cons
It can only suspend mount with no option for flush mounting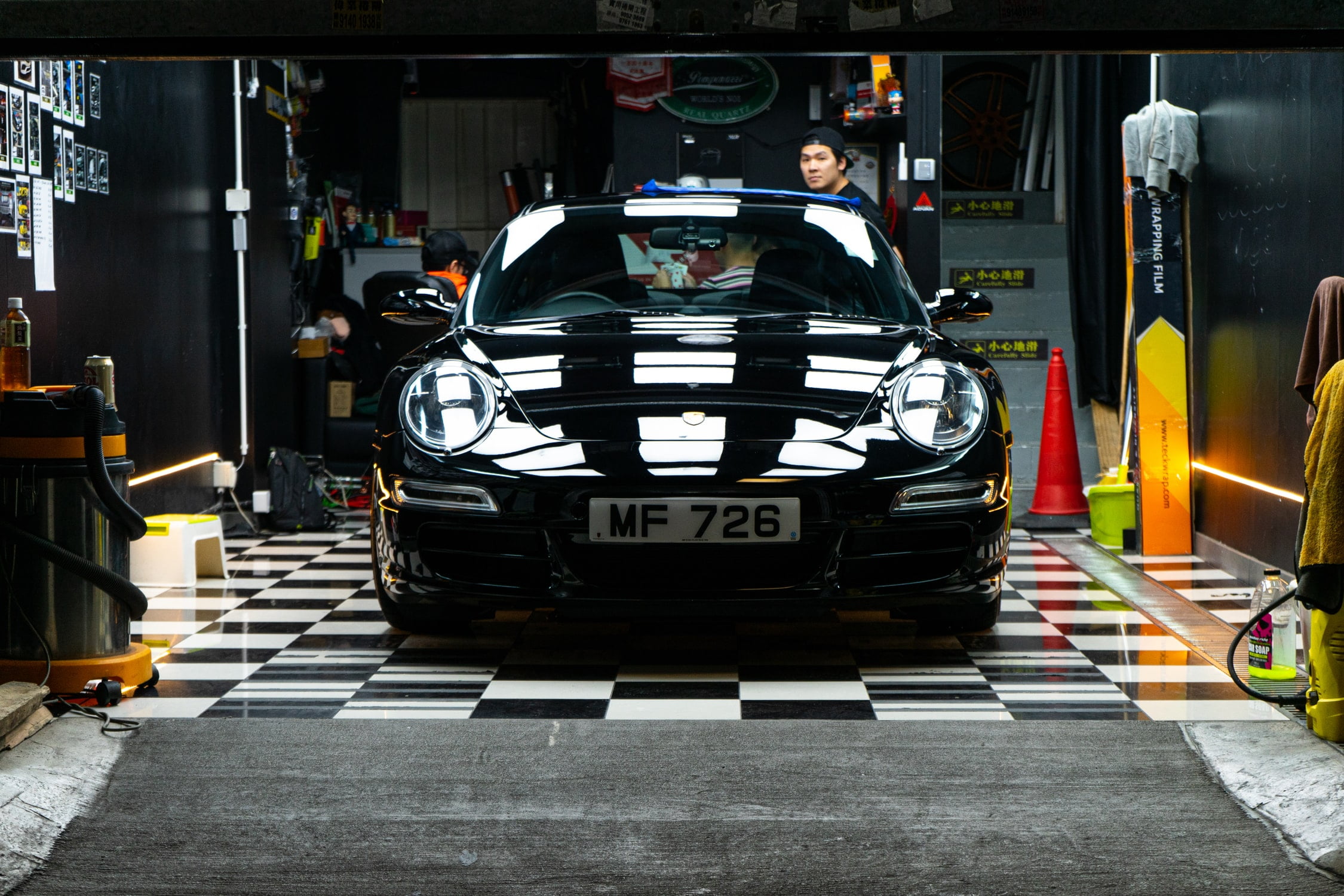 Garage LED Light Buyer's Guide
Well, there might not be any set rules which determine what the best-LED light is or even what features it should boast, but there are certain things you can look out for before investing in one.
The LED light you pick should be able to fit your preferences perfectly, and apart from that keep in mind to check for:
1. The Light Power
Checking the lighting power of the LED bulb that you wish to buy should be of utmost importance
The light power will determine how well it can keep your garage lit and illuminate the spaces near the corners. 
Now, under light power, there are primarily three things that you should consider: Watts, Lumens, and Temperature.
All of these are interlinked with each other and play a vital role in the overall performance of the bulb when it comes to effectively lighting small to large-sized spaces.
While Watts and Lumens primarily deal with illuminating a particular space, the Temperature, on the other hand, will only be relevant when it comes to illuminating a particular object.
A. Watts
The wattage rating of a particular LED bulb determines how well that bulb is going to light up a particular space. 
So a bulb that requires a higher wattage is generally going to be producing more light, or that's how principally it should be
However, here it's important to note that lighting quality is different from brightness. Wattage determines the quality of light and how it can illuminate a particular space, whereas lumens determines the brightness of the bulb.
Quality of the LED is essentially determined by how much volume of light, the bulb is able to produce. 
So in essence, a greater volume of dim light will be able to illuminate a space much better than a small volume of bright light.
But it's important to strike a balance between the two values.
B. Lumens
As we have mentioned before, the lumens of an LED determines the brightness of the bulb and is often the property that catches the eye of the average buyers.
For general seeing purposes and allowing the light rays to reach the various corners of the space, the wattage would be the more important factor.
However, if you primarily use your garage for different projects like for an auto-repair or anything of that sort, then a higher brightness and a lumen count should be the thing to look out for.
If you're purchasing an LED model for anything apart from general seeing purposes then it's always better to look for a set that has higher lumens. 
Projects such as auto-repair or even woodworks need a lot of concentration as it involves working with a lot of details.
So a brighter light will be able to illuminate individual given detail much better than a light with more volumes. 
It will allow you to take accurate measurements, keep track of lines, guides and even cuts so that you do not slow down at all.
However, if you generally work in a mid to large sized garage, then try getting an LED model that boasts both higher lumens and wattage. These sets might be a bit expensive, but their quality alone makes them a worthwhile investment.
C. Temperature
The temperature of the bulb has a lot to do with making out the various details than with gauging the overall illumination that is cast over your garage.
The temperature on an LED subtly influences how easily you can see the various objects which are lying around the space.
It is important in making sure how the various colors stand out against the light, and which objects are clearer and which aren't.
If we take sunlight as an example; as it's a neutral, it's color temperature is more or less around 5000 degrees Kelvin. This would then, in turn, will make the light look bluer if the temperature is increased, and redder if the temperature is decreased. 
Hence, if you pick an LED light whose color temperature is too far from the neutral, then your garage space will be washed away with the details of that particular color.
A bluer light with a higher temperature will make it very difficult to make out blue objects, while a redder light with a lower temperature will make it very difficult to make out red objects.
However, there are some studies which have shown that a slightly warmer color temperature towards the bluer spectrum can promote mental awareness and focused energy.
2. Manufacturing Materials 
By materials of an LED garage light, we basically mean the body and the frame of the LED light model which also helps to promote the overall performance of the model as well.
Each material used in the making has their individual benefits and disadvantages; so, before opting in for the model of your choice, it's better to keep in mind their build as well.
The make of an LED bulb will also give you an idea as to for what purpose the manufacturer designed and built them, making it much easier for many to pick the one that fits their needs the best.
And garage LED lights are typically made to be waterproof, which just goes to show that the manufacturers believe that their products will frequently come in contact with water (which is the case with open-air garages).
A. Polyvinyl Chloride or PVC
PVC is a form of plastic that sees a wide variety of usage in almost all fields of electronic applications, especially in those jobs which see a lot of environmental stress.
PVC has no reaction with water, and this is precisely what makes it such an amazing base material for water and vapor proofing. 
But best of all, PVC has a tendency to not interact with a lot of other chemicals as well. Especially those which are quite commonly used in garage and warehouse projects.
However, that being said, there are particular solvents like paint thinner and acetone which should not come in contact with PVC at all. 
As they can cause the PVC to swell and dissolve, they can harm the LED lights in the long run and damage them beyond repair.
But on the plus side, PVC is one of the least expensive materials and is an incredibly lightweight option to see the least.
B. Polycarbonate
Polycarbonate is a much superior plastic strain than PVC and frankly much more popular than PVC as well. 
The superiority of PC over PVC lies primarily with the durability of the two products. 
PVC doesn't exactly last all that long and it's lightweight build keeps it vulnerable to physical damage. 
But apart from being durable, PC is also almost as lightweight as PVC making it an ideal choice indeed.
However, there is simply another aspect of this plastic which makes it even more special, and that is its unusual thermoplastic property.
Polycarbonate makes it much easier to simply mold or rather shape the LED garage light's body into the frame than PVC.
But when it comes to the cons, PC suffers from almost the same thing as that of PVC, which means that it's equally vulnerable to the effects of solvents like paint thinners and acetone.
So, do try and be aware of the various chemicals which might be present in the garage.
C. Aluminum
Out of all the three materials mentioned, aluminum is simply going to be the all-round best when it comes to the manufacturing of LED garage lights.
But they are much more expensive than the other two alternatives; so, if the price is not a concern then going for an LED light with an aluminum build could be the best option.
Though a bit on the heavier side than PC and PVC, aluminum is still lightweight and twice as durable as them.
It's not susceptible to strong solvents as well and is much more resistant to physical impact, making it the perfect pick for professionals.
Moreover, aluminum despite being a metal itself is incredibly waterproof and you will never have to worry about rust or corrosion. 
The only concern that you may face with this base material is with its conductive nature. 
If the LED bulb has a bad circuitry or is not well-grounded then it may cause potential harm to those who touch the casing with their bare fingers.
Final Thoughts
With so many LED models to pick from for your garage, it honestly can get difficult to pick the one that fits your needs and garage the best. From color temperature to wattage and to even build material, there is a lot you will have to keep in mind before purchasing, but we hope that our list and guide today was able to light your way towards a decision, even a bit.
We hope that you enjoyed the read.
Till next time!
Related Articles
13 Best LED Work Lights Buyer's Guide and Reviews
13 Best Outdoor Motion Sensor Lights Today | Buyer's Guide
10 Best 240v Electric Garage Heater To Consider
7 Best Paint for Interior Garage Walls Right Now
23 FREE Detailed DIY Garage Plans With Instructions To Actually Build
19 Garage Makeover Ideas To Transform Unused Spaces
13 Most Powerful Electric Pressure Washers 
13 Brightest Light Bulbs For Garage 
10 Best Tire Pressure Gauges on the Market Today
13 Best Solar String Lights for Sustainable Designs | Buyer's Guide
10 Best Hand Cleaner for Mechanics and Grease 
13 Best Battery Chargers for Cars
13 Best Electric and Propane Heaters for Garage
12 Best Bi-Directional Scan Tools
11 Best Diesel Compression Testers  
13 Best Garage Openers Right Now