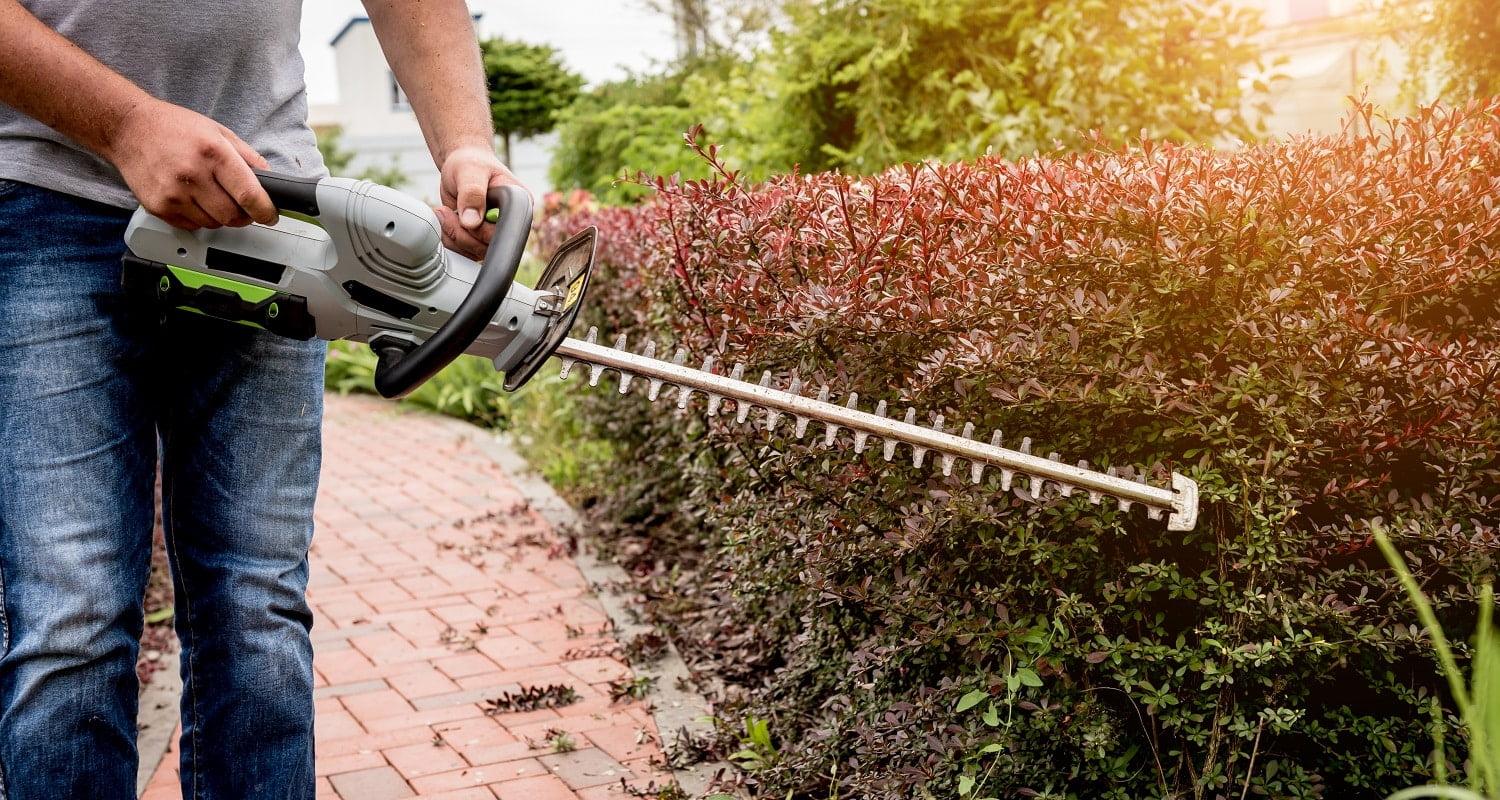 Gardening is not an easy job, and maintaining a well-manicured garden usually requires a lot of effort. But we are here to make your life easier!
With the right tool, you can increase your efficiency significantly. And that is why you need a lightweight hedge trimmer. It will make sure that you achieve perfectly manicured lawns with the least amount of effort. Lightweight products would also be easier to handle and prevent strains and body aches in the long run.
But when we set out to purchase one, we found multiple choices in the market, and choosing the best was rather challenging. To save you from such a confusing situation, this detailed and unbiased list of 7 excellent lightweight hedge trimmers has been curated. We have also included a buyer's guide to help you choose the right one for your needs.
So, grab a cup of coffee and dive in!
Top Lightweight Hedge Trimmers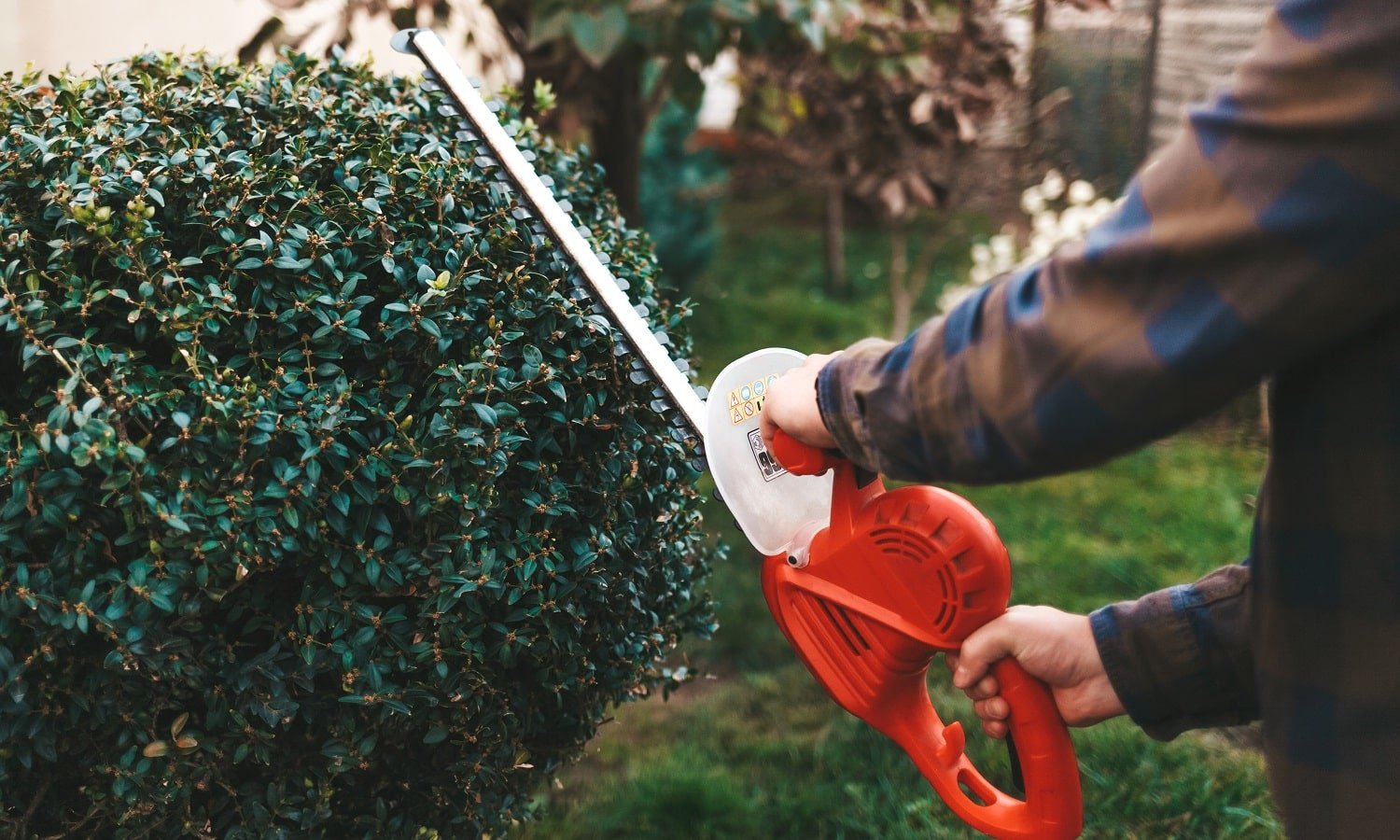 If you are a DIY gardening enthusiast who loves a well-trimmed and manicured garden, the BLACK+DECKER BEHT150 is going to be the perfect addition to your toolbox. It is powered by a robust 3.2 Amp motor and will clean the top of your hedges with absolute precision.
Sale
Why Did We Like It?
First of all, the steel blade that it comes with is very tough and will easily cut through branches. It is shorter than its peers, making it more efficient and easy to use. Since the height is less, it is lightweight, and anybody can use it. Long story short, you do not need to have a lot of physical strength to operate it.
Coming to the extension cord, you might be worried that it would often get disconnected with the slightest pull. But don't worry, as it comes with a secure cord retention capacity that will keep the cord in place while you work.
Besides, it has a built-in T handle and full-length trigger for more effortless operation. This will give you more control and allow you to work with the device efficiently.
To top it all, it is packaged very well, and you do not have to assemble any parts. It will arrive fully assembled, and all you need to get is an extension cord to begin working.
What Could've Been Better?
We had initially ordered an extension cord with it as suggested, but on receiving the product, we realized that it would not fit with the plug attached to the trimmer. This was disappointing as we could not start using it immediately and had to wait for another extension cord. Keep this in mind while ordering, and you can save yourself from that hassle.
Pros
Trims branches up to ⅝ inches

Lightweight and compact design

Cord retention capacity

Full-length trigger for better control
Cons
Not compatible with all extension cords
One of our top recommendations is the WORX WG261, which is designed to make trimming hedges quicker and easier. It provides extra-long runtime and is super easy to work with. Weighing just 6 lbs, even elderly people will be able to control it.
Sale
Why Did We Like It?
First of all, this is a versatile product that is equipped with a MAX Lithium battery. The battery is lightweight and does not make the body too bulky, and it also runs for a longer time when compared with standard batteries.
Besides, we loved the ergonomic design, which allowed us to comfortably trim the hedges without putting in a lot of effort. This results in less fatigue and a better grip. So, no matter which angle you need to cut it from, you should not be facing any troubles.
To add to the efficiency, it has an aluminum blade cover. This keeps it protected from moisture and is rust-proof itself. Hence, you can clean it easily when needed, and you can even leave the whole device outside without worrying about rain or snow.
Lastly, it is equipped with dual-action steel blades, which are very sharp and durable. These prevent vibration to a large extent and sport a 9/16-inch cutting diameter. We were able to trim leaves and twigs easily with this.
What Could've Been Better?
While this product works very well with thin to medium-sized twigs and branches, it will not be a good choice for very thick branches. This is because the motor is not very powerful, and you will take a lot of time to cut off a thicker branch. However, since you will use it on hedges, this should not be much of a problem.
Pros
Lightweight and durable

No cords needed

Absorbs vibration
Cons
The motor is not very powerful
Are you looking for a powerful gadget to take care of all kinds of bushes? The Scotts Outdoor Power Tools HT10020S is a planet-friendly product known for its brilliant performance and user-friendly design. We were impressed by its ergonomic grip and the ease of use that it offered.
Sale
Why Did We Like It?
Equipped with a 3.2-AMP motor, this is a powerful product that will easily cut through bushes and shrubs. It boasts of a 20-inch dual-action hardened steel blade that works with the help of a motor, and together they can cut through thick bushes.
Also, since this device runs on a motor, you will not need to refill it with gas or oil, which will save you a lot of time and effort. One does not have to face toxic fumes, too, because of it.
Coming to the operation, it is effortless to operate. There is an on/off button that activates the trimmer, and you can begin working instantly. An auxiliary handle is provided so as you can operate and maneuver it easily.
Overall we loved the functionality, and it came with a protective blade cover. This made it easy to store the unit, and you can rest assured that nobody will get hurt from it.
What Could've Been Better?
The only issue we had with this product is that the cord does not stay in place. If there is a slight pull, it will come off from the power outlet, and the machine stops functioning. This will not be a problem if you have a power outlet very close to the hedges; otherwise, we recommend using extension cables, which will prevent accidental tugs and pulls.
Pros
Easy to maneuver

Has an auxiliary handle for more comfortable use

Dual-action steel blade
Cons
The cord does not stay in place
It is time to bid goodbye to old fashioned trimmers which need a lot of effort to work with. Up next is a brilliant product that makes trimming extremely easy. The BLACK+DECKER 36V MAXLHT2436B is an instrument that is perfect for those with less physical strength and will enable you to get your work done easily.
Why Did We Like It?
We loved the soft grip that this equipment has. Because you will have to hold it tightly while working, a rough or a textured grip can lead to a sprain in hand. A softer grip ensures that your hands stay safe, and you do not have a painful night.
Furthermore, it has a dual-action blade, which is 24 inches long. The blade has very sharp edges and can cut double the branches when compared to a general one. With a Power DriveTM transmission, you will not need to stall.
Also, it is compatible with both 36V Lithium-Ion and the 40V MAX* Lithium-Ion battery and produces less vibration while running. The lesser the vibration, the easier it is to target a specific branch and cut it off easily. This can cut branches up to ¾ " thick, and that would include most hedges.
What Could've Been Better?
We tried approaching an authorized service center to service our product after 1 year of use. But they did not agree to do so, stating that they do not service battery-powered gadgets. This was disappointing, and we had to get it serviced at a local dealer.
Pros
Cuts branches up to ¾ "thick

Soft grip for comfort

6000 sq ft of hedges trimmed
Cons
Customer service is not helpful
Are you a gardening enthusiast who loves to keep their gardens in shape but does not have ample amounts of time to spend on it? The Toro 51490 is a sturdy option that will help you deal with the thickest of bushes with ease. Paired with a work grip handle, it is made to reduce strain and fatigue.
Why Did We Like It?
The product boasts of a 4 amp motor, which is known to be extremely powerful. It is designed to get the work done faster and is paired with a 22-inch cutting bar. The length will help you deal with long hedges faster. You can cut through 9/16-inch thick branches with no additional effort.
Besides, we were impressed with its dual-action cutting system, which would not only enhance the performance but will also reduce vibration in the process. It is made of hardened steel, which is known for its durability. It will not catch rust easily and stays functional for a long time.
Plus, the device has a cord lock system. There are times when you pull the cord by mistake, and that could lead to accidents or power failure. With this lock system in place, there will be no disruptive disconnects, and you can work in peace.
What Could've Been Better?
The only issue we found here is that the product is heavier than its peers, and you will need some amount of physical strength to work with it. Although it is user-friendly when it comes to performance, and people with less physical strength will find it difficult to use.
Pros
Can deal with 9/16-inch thick branches

Dual-action cutting system

Cord-lock system

Backed by a 2-year warranty
Cons
Not fit for physically weak people
If you want a product that can be used for long hours on a hot day without the body heating up, the Greenworks Corded 2200102 is an incredible option. It has a tough body and comes with rotatable rear handles. We were truly delighted with its extensive bells and whistles.
Sale
Why Did We Like It?
First of all, this has a brilliant safety feature that will reduce the risk of anybody coming in contact with the blades. There is a front-mounted guard that forms a barrier and keeps the blade away from direct contact.
Along with it is a 3-sided wrap-around handle, which will make it simpler to hold and operate the product. You can maneuver it easily as the handle extends on all sides, making cutting easier. It has a cushioned over-mold grip, which provides a softer surface to hold.
Another great advantage is that it is very lightweight and can be handled by anyone. Our teenage children as well as our parents, both can work with it easily. Paired with an integrated cord lock, one will face no problems while handling it.
Lately, it is known to be very affordable and will not burn a hole in our pockets. Paired with high durability, this is indeed an economical choice to make.
What Could've Been Better?
While this hedge trimmer works efficiently with medium-sized bushes, it may not be a great choice for thicker branches. This will take you a lot of time and can also lead to unwanted strain. So, make a note of the kind of branches that you need to deal with before you go and make the final choice.
Pros
Lightweight and compact design

Accidental unplugging is prevented

It takes seconds to start

Front-mounted guard
Cons
Does not work with thicker branches
Up next is a versatile product known for its powerful motor and adjustable features. The Sun Joe SJH901E will be a great addition to your gardening equipment box and will provide you with worry-free trimming ability. It also does not make much sound, and you can work at any time of the day with it.
Why Did We Like It?
This trimmer has a multi-angle pivoting head, which will allow you to turn it in any direction. You can adjust the angle to achieve absolute precision. In case you have bushes in the corners of your lawn, which are difficult to access, this one will work very well. It can be adjusted to -90°, -60°, -30°, 0°, 30°, 60° depending on the layout of your bushes.
To add to the user-friendly design, it has a telescoping pole that can be extended to 7.4 feet. This will provide a reach of 12.5 feet in total, and you can use this to reach very high bushes or prickly ones, which are more challenging to deal with.
To top it all, the unit boasts of an 18 inch long hardened steel blade, which is extremely sharp and is powered by a 3.8 amp motor. It will take care of the most difficult branches easily, and what's more! The blades remain sharp for a long time, adding to its durability.
What Could've Been Better?
We felt that the unit could have weighed a little less for us to work efficiently for hours at a stretch. It weighs more, and hence it is difficult to lift if you want to reach higher branches. You can use the pole, which can be extended, but for anyone with less physical strength, handling it can be tough.
Pros
Multi-angle pivoting head

Dual-action blades

Telescoping pole

Allows more precision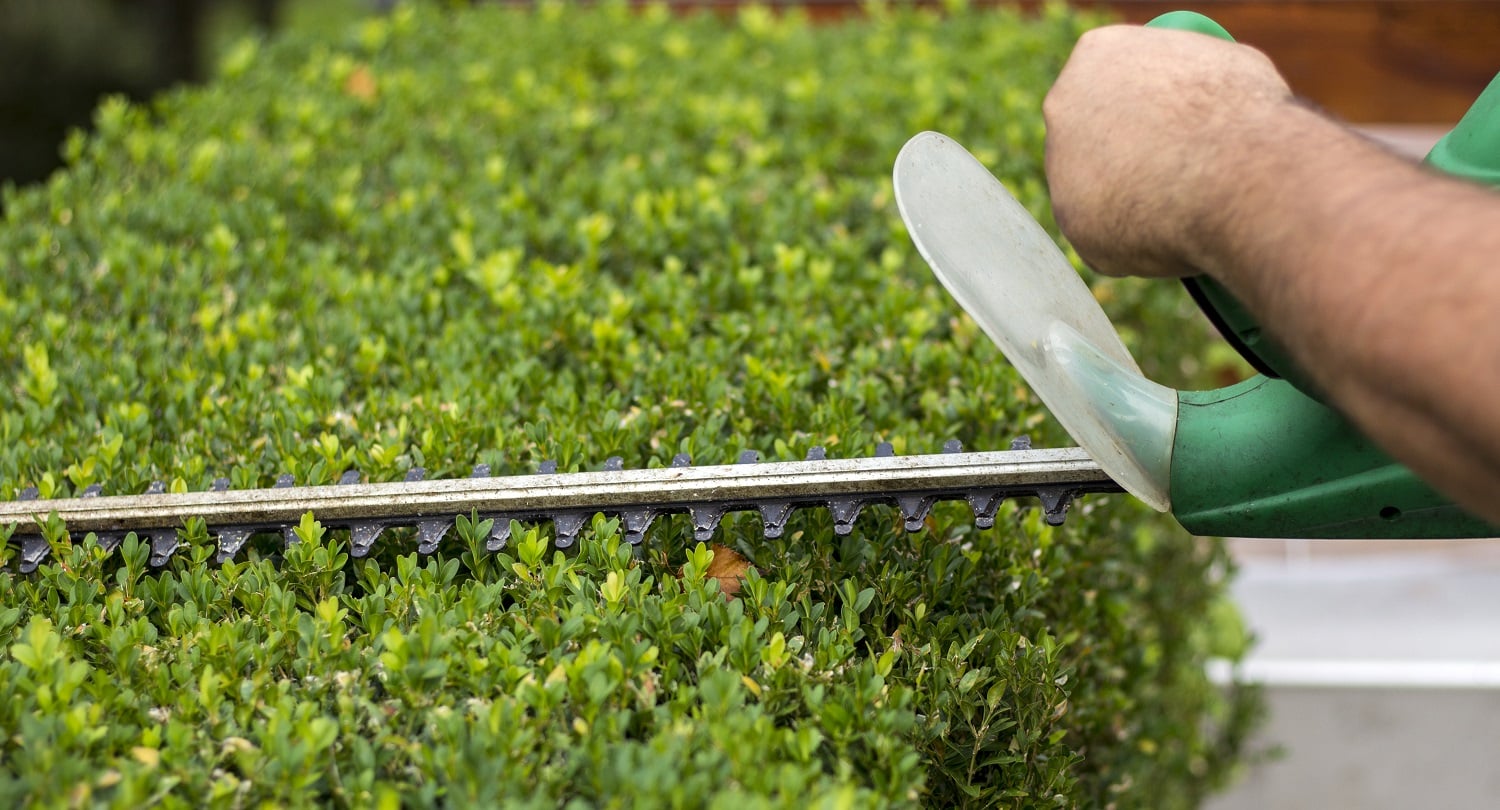 Lightweight Hedge Trimmer Buyer's Guide
To help you out, we have put together a list of essential factors that you must consider before buying any of these options. Take a look now. We hope this guides you towards buying the one that fits the best.
Weight and Portability
Check for the weight of the trimmer that you like. This is essential because not everybody can work with heavy options for long hours. This may be due to age or illness, but it is a very crucial point. Lightweight options will provide more versatility and will make it easier to use.
We found that battery-operated cordless products are lighter than gas ones and are easier to handle. They will provide more portability, and you can move about with them easily as there are no cords attached.
Corded trimmers, on the other hand, are a lighter option as it does not even have the weight of a battery, but these are less portable and tied to a cord.
Handle
You will have to hold on to the handle while working, and it is vital that it offers you a good grip. Without a good grip, it may slip out of your hand or cause muscle strains, both of which are dangerous.
We found that the easiest to work with are wrap-around handles that provide you with enough comfort and allow you to reach nooks and corners easily. Because the handle extends on all sides, you can maneuver and twist the machine, however, you want.
There are rotatable handles, too, which can be moved in all directions and is a piece of essential equipment to trim horizontally or vertically.
Cutting Capacity
What defines the cutting capacity? It is the distance between the teeth that tells you how thick a branch it can cut through. Most trimmers have a cutting capacity of ⅜ to ¾ of an inch, which works for almost all hedges.
A greater width ensures that you can deal with thicker branches while a thinner one is perfect for narrow twigs. Make a note of the kind of hedges and bushes that you have before purchasing one.
In case there are difficult areas that your trimmer cannot work on, you can attempt to use a bypass pruner along with it for proper finishing.
Blade Length And Quality
Most bar lengths vary from 16 to 24 inches in length, and you should ideally make a choice on the basis of the size of bushes at your house. A long blade for smaller bushes will not work well, and you will end up with uneven cutting. So, be very careful while choosing the size of the blade.
Also, the quality of a blade matters a lot, and you will want a hardened steel one for the best results. These are very durable, and most come with reduced vibration. Vibration leads to the blade slipping out of hand and has the power to reduce efficiency. But dual-action hardened steel blades will provide you with 2X performance and menial vibration.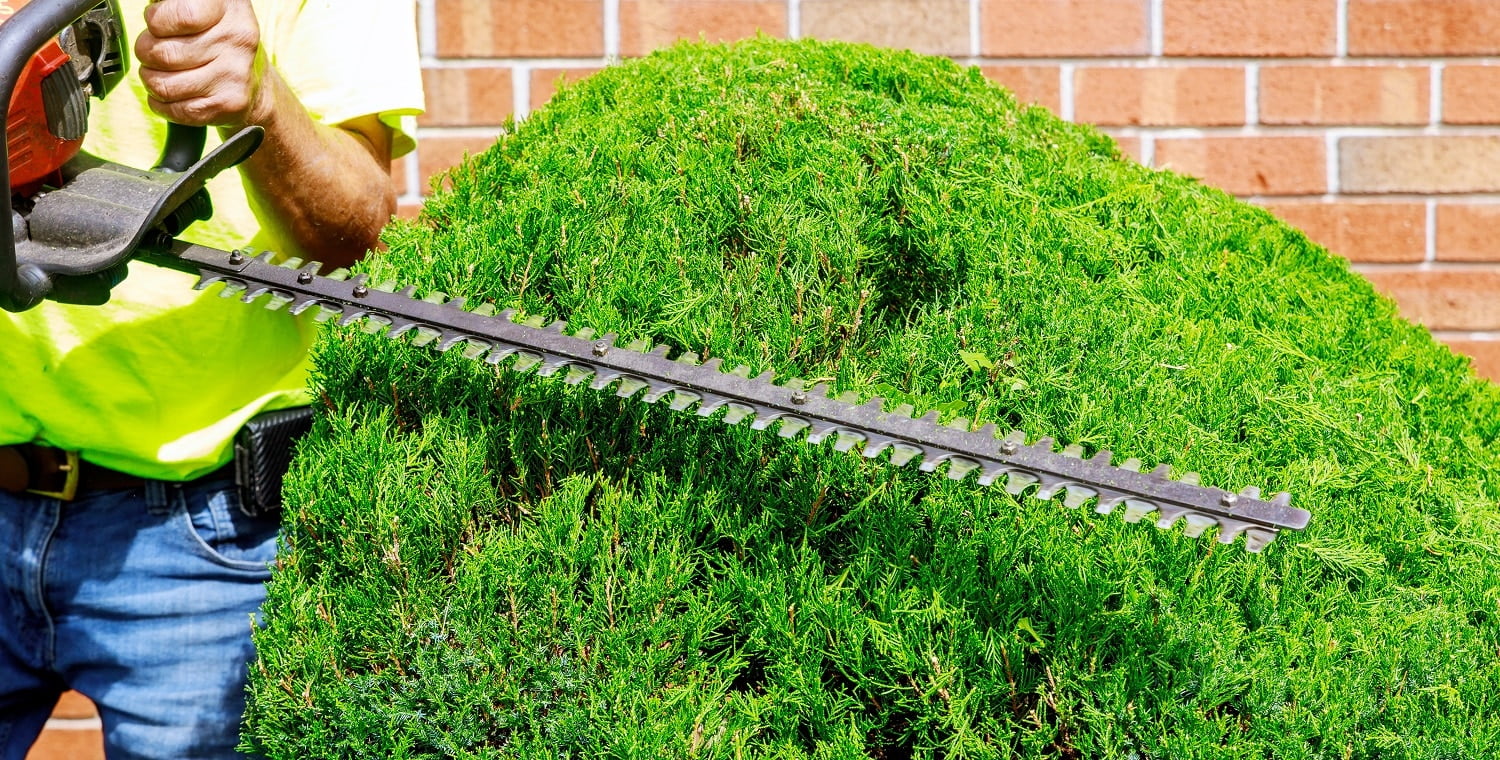 Verdict
With the best of products, trimming can be extremely quick, and you can do it without breaking a sweat. Surprise your friends with a manicured and well-maintained garden even when you are spending the better part of every day at the office.
On that note, we come to the end of our detailed guide of the best lightweight hedge trimmers. We hope that it has given you enough knowledge and helped in picking the one you require.
But before we sign off, here's a quick recap of our favorites. The BLACK+DECKER BEHT150 is our favorite overall because of its user-friendly design and brilliant performance.
If you are looking for extra-long runtime, go with the WORX WG261. And if you want an environment-friendly option, it has to be the Scotts Outdoor Power Tools HT10020S.
With this, we will take our leave. Happy shopping!
Related Articles
How to Sharpen Reel Mower Blades?
5 Best Self-propelled Lawn Mowers Right Now
The 5 Best Lawn Mowers for St Augustine Grass Right Now
Best Lawn Edging for a Legendary Garden 
4 Best Walk Behind Brush Cutter  
9 Best Ratchet Pruner | Reviews + Buyer's Guide